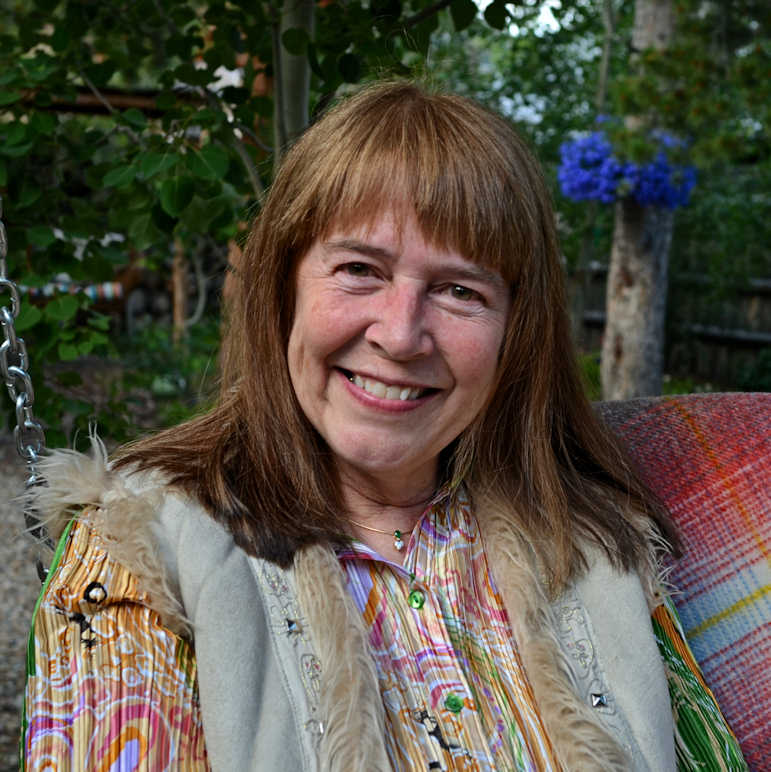 Donna Ready's cell phone: 970-531-3333. email: readydonna@gmail.com
Main Office Telephone: 970-627-3103 ~ ~ open every day, often into the evening ~~
#1133 Grand Ave, Grand Lake, CO 80447
700 page website: www.MountainLake.com front splash page ...

Serendipity ... luck ... relatives ... everyone has their own way of getting into the Grand Lake area.
Now that you have found this Shangri-la, we hope you tap into all that it has to offer.
Mountain Lake Properties has been at its pedestrian friendly boardwalk location
near the end of Grand Lake's main street for over 20 years helping people find Their Place in the Mountains.
The few times in which a family acquires or parts with real estate come with much
exploration to build up a familiarity an understanding of different locations.
A background of fortuitous events and family connections may lead up to a particular
property; for both the buyers and the sellers, time spent in the location continues to
color their lives. A family may choose to acquire adjoining land or to move to a
differently designed home in the same area ~ ~ the highest compliment an area can get.

Donna Ready of Mountain Lake Properties has a keen sense of how to match a person's stage of live with what happens to be available.
Donna can tap into her twenty plus years of experience and give succinct advise as to sort of offers to expect between buyers and sellers.

Donna's friendly greeting continues long after a purchase to ensure that people feel welcomed to community events and know who to call for additional help.

Donna started in the Title Company business, first in Boulder Colorado and then
and then continued with a different company in Hot Sulphur Springs. This was her
employment by the court house while her husband built their "honey moon" cottage
on land purchase at Columbine Lake in 1978. After their cabin was ready,
Donna worked as a secretary in a real estate office in Grand Lake,
she learned first hand just how many questions people ask. Over the years and
continuing to the opening of her own company in 1992, she has learned how to
answer the ten thousand questions. It's amazing to see how she can tap into
Grand Lake's past and come up with a golden nugget of local history
that explains in part how a property has come to have its particular character.

When you come in and sit at one of Donna's tables, the world revolves around you and your concerns.
The larger sphere of issues and connections that accompany you get her attention.
Time spent with Donna, whether for urgent business or a relaxing moment between transactions,
becomes time created with Donna as she opens up new avenues for you.

Like a chess master playing a dozen tables at a time, Donna keeps in mind the sequence of events for each customer
complete their life-changing closing. Most everything can be handled electronically and through e-mail, however,
the twenty step process can take many weeks to accomplish. Donna has navigated through so many different situations
that she know just how to manage your own details.

If you are already working with another agent and plan to buy property through them, please let us know
before we talk you to view properties. We will make arrangements for your agent to show the properties to you.
Otherwise, we thank you for letting us be of help and hope the Grand Lake area becomes second nature for you.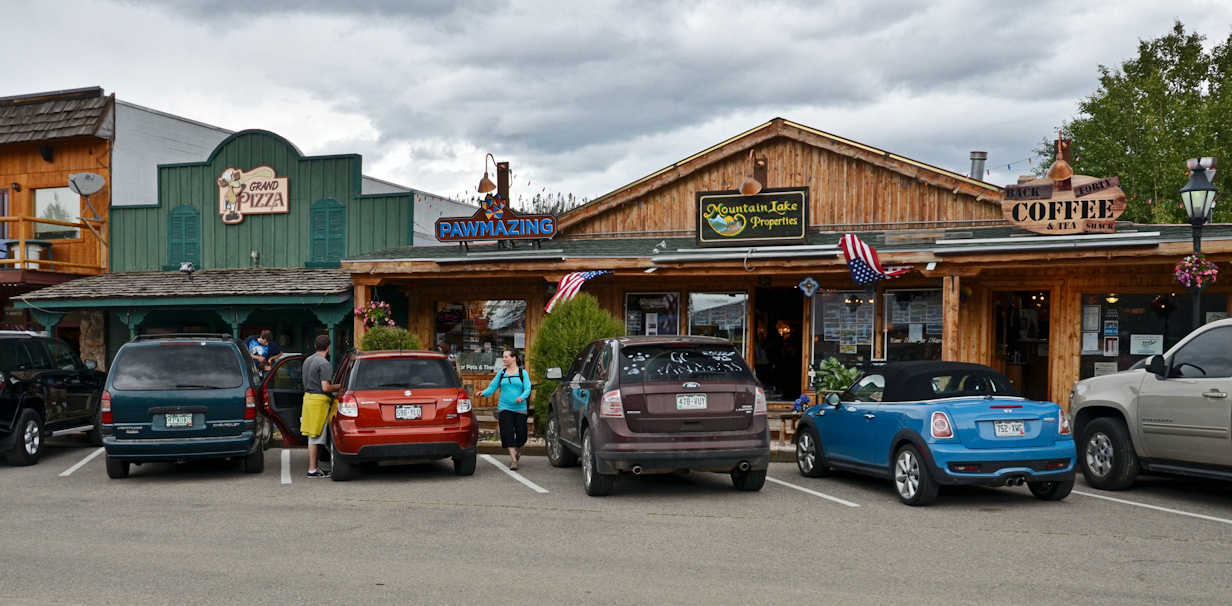 We are near the east end of Grand Lake's Boardwalk, one block from Grand Lake's Beach!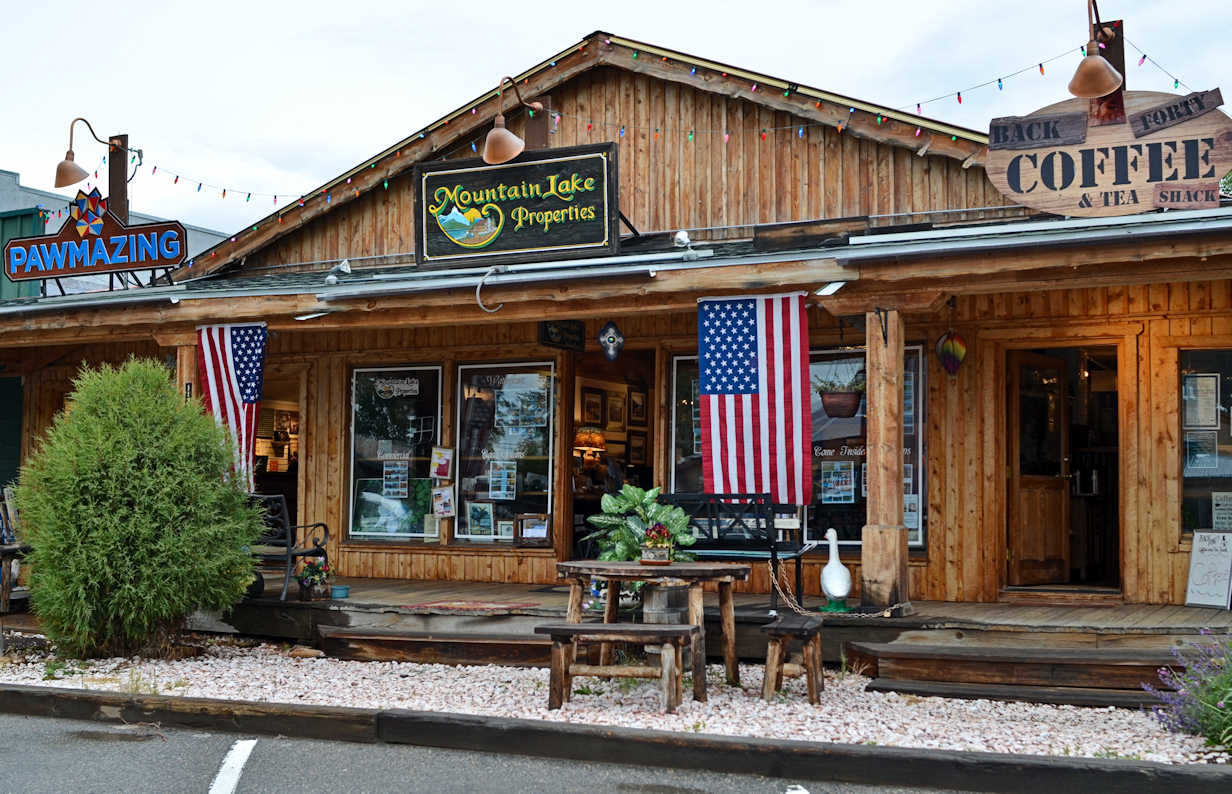 To the left of our office you'll find an gifts for pets and pet owners.
To the right, the Back Forty Coffee Shop! We are delighted to have these wonderful businesses as our neighbors.
If you also would like to have a shop (large or small) in Grand Lake's unique environment, we know the challenges.
Visit with Donna and her team members and share with us what you wish to do.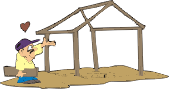 The owners of Mountain Lake Properties, (Scott and Donna Ready)
purchased a vacant lot at Columbine Lake in 1978 and started building their year-round honeymoon cabin
there in 1979 (after moving from Boulder, Colorado)."We have raised a family and are now completing
our 3rd and final home in the Grand Lake area. Years ago we upgraded a cabin in town (which is now rented
from month to month). We have a second cabin which we hope to improve in the years ahead to make available
for visitors as they get to know the area. For over 30 years we have been involved in all phases of construction
and have worked with a great many families who typically purchase or build a vacation home
when their children are young. After 5 to 10 years of making memories, their home is typically sold
(to help pay for college expenses) and passed on to a new family, unless the owners are fortunate
enough to keep their home as a legacy property. Thanks in part to the protected National Park and
Forest around Grand Lake, people can return to the same places where fond memories began,
as if time had stood still."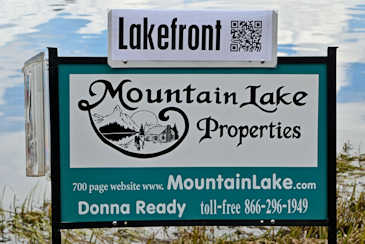 Mountain Lake Properties : small in size, big in sales.
Watch for our emerald green signs.


Click here for services for purchasers .... Click here for services for sellers.
Scroll way down this page for photos of our office, today and yesteryear.

Our web site is designed to save you time and to help you plan your visit.
We prefer that you speak with us directly by telephone or walk into our office
on main street, just past the town square and one block from Grand Lake's public beach.
#1133 Grand Ave, Grand Lake, Colorado 80447 ~ ~ Telephone 970-627-3103
. . .


email: relax@MountainLake.com . . . . . Fax line: 970-627-3003 Fax line

For printed documents, please use P.O. Box 1350, Grand Lake, Colorado 80447.
Donna Ready's email address for discussing property details ~ readydonna@gmail.com
When you arrive in Grand Lake, you'll find us at #1133 Grand Avenue, one mile from Highway 34,
near the far end of Grand Lake's main street. Drive/walk one block east of the Town Square,
past the 4 way stop sign. We are on the north (sunny) side of the last block of The Boardwalk.
(If you do not see a parking space, turn left and park in the large lot behind
our office, or better, turn right and park next to Grand Lake's beach!
Scroll way down this page for photos of our office.
Click here for a walking tour of the beach and boardwalk.
See Maps & Orientation for directions to Grand Lake.
Click here for » spectacular Road Trips to Grand Lake.


Send general e-mail to relax@MountainLake.com. Our Fax line is 970-627-3003.
Scroll down to see our office and team ...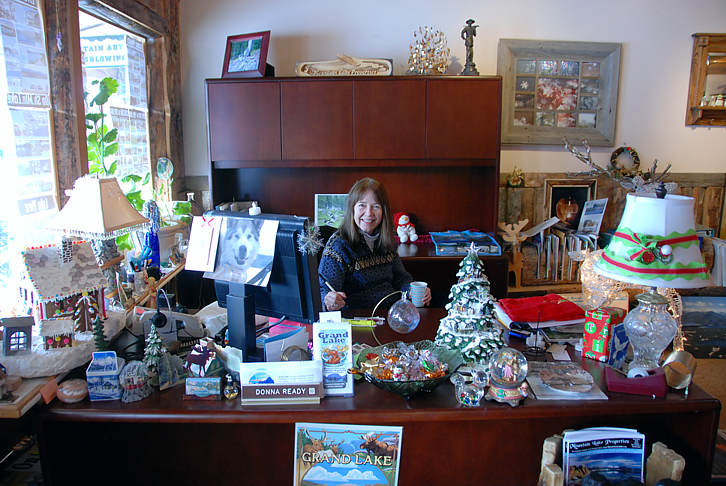 Scroll down for many more views ... inside and outside ...
Meet our Team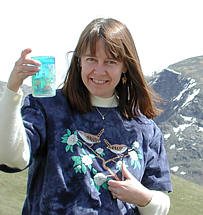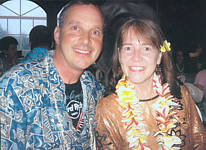 Meet Donna Ready and Scott Ready, owners of Mountain Lake Properties. Donna and Scott moved to
Grand County in 1979 with Donna first working at a Title Company in Hot Sulphur
Springs and Scott building their honeymoon cottage on a hill overlooking Columbine Lake,
on land that they had purchased in 1978. Donna started in real estate in Grand Lake in 1980,
and met many of the folks who still come in to see her today. Please see her essay on
Living in Grand Lake.Scott and Donna opened Mountain Lake Properties on the boardwalk
in 1992, with Donna as Broker/Matchmaker and Scott handling much of the field work and
also the 700 page web site. Scott loves to share on the website the deep back country places
he has visited, in hopes that you too will get out there, by foot, by snowmobile or even by boat!
Click here for more on Scott Ready, marketing.

A few team members . . . . .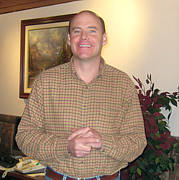 Meet Will O'Donnell. Will knows the lake and surrounding mountains
incredibly well after spending all of his summers growing up on Grand Lake. He has been with
Mountain Lake Properties since the start of the millennium. Previously, he did real estate related
work at Stewart Title right out of college, worked with Dana Crawford, a pioneer in Lower
Downtown Denver urban renewal/development, with Liberty Savings as a loan originator, with
Byron Miller Custom homes as a carpenter and with Grand Lake Plumbing in operations support.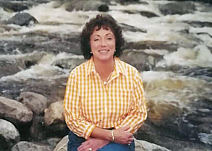 Meet Sylvia Baldwin who has been with us since 2002. In her words:
"As a native of Denver and the daughter of an avid fisherman, I spent a considerable amount of time
growing up in our beautiful Colorado Rockies. I always particularly enjoyed our trips to Grand Lake.
I have such fond memories of our quaint historic town and of boating and fishing in the beautiful lakes!
I first purchased property in Grand County in 1978–two beautifully wooded acres with gorgeous views
for $7,000--so I've certainly seen the growth and appreciation that has gone on in our area! I worked
in nursing for almost 10 years (including 2 years at the Granby Medical Center). From 1988 to 2002,
I had a very successful career with Mile Hi Culligan Water Treatment winning many sales awards
including "Salesperson of the Year" for a five state region. I love having the opportunity to introduce
others to our beautiful area and enjoy helping them to locate and purchase their little 'piece of the
Rockies' just as I did so many years ago."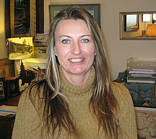 Meet Shelley Langlois, our office manager. In her words: "A true native of
Grand County! I grew up in the Fraser Valley. We spent most weekends in the summer tubing down
the Fraser river, jeeping and camping at Strawberry Lake, or boating at one of the three lakes.
In the winter we would snowmobile to places many people will never get the chance to see.
I worked for Grand County Title and Escrow Company in both their Winter Park and Grand
Lake offices as their escrow officer for over 10 years, becoming familiar with every aspect
of closing a real estate transaction. Whether you come into our office as a potential buyer or
seller, I will look forward to meeting you and assisting you with any questions you may have."
Meet our Agents at Large! These include the agents from all of the other real estate offices in the
Grand County area. We all work together closely, sharing information on every property that is on
the market, and showing and selling each other's property listings.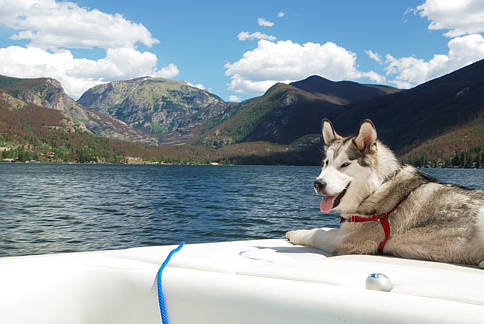 Meet Loki, our mascot:
a big and friendly Alaskan Malamute. Loki is our official pack animal for treks into the mountains.
Look for him in the virtual hikes on our web site and also where he poses,
especially while exploring the larger acreages that we have for sale.
Welcome to Grand Lake! Are you looking for mountain property?

Welcome to Grand Lake! Are you looking for mountain property?
Relax and enjoy your visit! Browse through information about the area and about
available properties at your own pace. We offer detailed maps to each property
if you choose to explore on your own, and when you are ready,
we will help by answering all of your questions.
When you get home, you will enjoy our 700 page web site, www.MountainLake.com.
Please take a look and share it with family and friends. It features scenery and wildlife,
properties, views, interiors, details, links to the full selection of properties in our area,
current weather, suggested hikes, and much more. We have a toll free number 866-296-1949,
so feel free to call—or, we are happy to keep in touch by email: relax@MountainLake.com
We are open seven days a week, and will meet with you at your convenience to see inside
if you are considering a home, or to walk property lines with you if land is a better choice
for you right now. We put information in your hands and can give you lots of local expertise.
First and foremost, enjoy what our area has to offer, surrounded as it by a national treasure
trove of protected lands.
For each property in which you have an interest, we will provide you with an information
packed flier. Our goal is to help you to find the right property for you, no matter which
office has their sign on it. When you narrow down your choices, we will review with you
the estimated closing costs & time frames. We want to be sure that you feel comfortable
with a lender (if needed) and that you are treated professionally in all other aspects:
home inspections, title insurance, etc.
Would you like to sell your property?
We offer fabulous marketing from our choice boardwalk location.Our full color wish books
are updated regularly, so new properties are included and correct prices appear. They are
picked up every day from the welcome box in front of our office. They are mailed to prospects
who have walked through our door and said, "We want to buy property in the Grand Lake area."
They are distributed through the Chambers of Commerce here, in Granby and in Winter Park.
We also have a distribution point at the large and popular City Market grocery store.
The wish book is available on the world wide web as
the companion magazine to our 700 page web site.
Your property will have its own information packed color flier for prospective purchasers;
these fliers are personally delivered to every local real estate agent and are also made available
in a brochure box attached to an attractive green sign on your property (if you choose to have
a sign). With other local offices, we offer a generous commission split that encourages them
to share your property with their prospects, and they do! After thirty years in real estate here,
we are familiar with your particular area and will have a map to your property to offer to
prospects who choose to drive around on their own first, to narrow down the selection.
Our best marketing by far is our 700 page web site, www.MountainLake.com. Please take a
look and share it with family and friends. It features scenery and wildlife, properties, views,
interiors and, links to the full selection of properties in our area, current weather, suggested hikes,
etc. We have been advertising our site in the glossy magazines (Grand Lake Chamber brochure,
etc.), in our popular Grand Lake calendars and on vivid keepsake shopping bags. You will
find that our web site is easy to find on the search engines.
When your prospective buyers are ready, we help them by answering their
questions, we prepare the contract to present to you, and assist you both
through the closing process. Donna Ready is an agent for you, the seller,
and will advise you on how best to respond to offers.
Mountain Lake Properties has ADS running in the following:
Mountain Homes Illustrated Magazine (Summit County edition + website)
Sky Hi News (local weekly)
Winter Park Chamber of Commerce
Granby Chamber of Commerce
Various publications and web sites
Denver Boat Show (annual event in January, visit our booth)
Additional advertising in glossy magazines including
Grand Lake's Summer Theatre program (a collectors item)

Mountain Lake Properties helps with the marketing of
a number of projects from Grand Lake to Lake Granby. It is not financially
involved in any of them. Since 1981, Donna Ready has been helping builders
and homeowners to market and sell their properties. The builders, owners,
lenders, inspectors and public officials who are directly involved in the
projects (big and small) love to hear your input. We can pass along
messages and introduce you to the people who are deeply involved
and attached to these projects / dreams.
"Will the Broker be showing me the properties I choose to preview?"
Real estate transactions are typically complicated. Donna Ready can
walk you through specific properties. She prefers, however, to delegate
the property showings to our wonderful agents and to concentrate on
the piles of paperwork immediately at hand which are necessary to close
each transaction. One glance at her desk, even on what you think is the
slowest day of the year, and you'll know that she always has a handful
of contracts to walk down the aisle (Hello, Dolly!).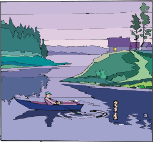 Jump to Homes ... Land ... Businesses ... Main Menu .. What'sNew

Weather Page with Graphs, WebCam and this week's magic.

Click here for a walking tour of the beach and boardwalk.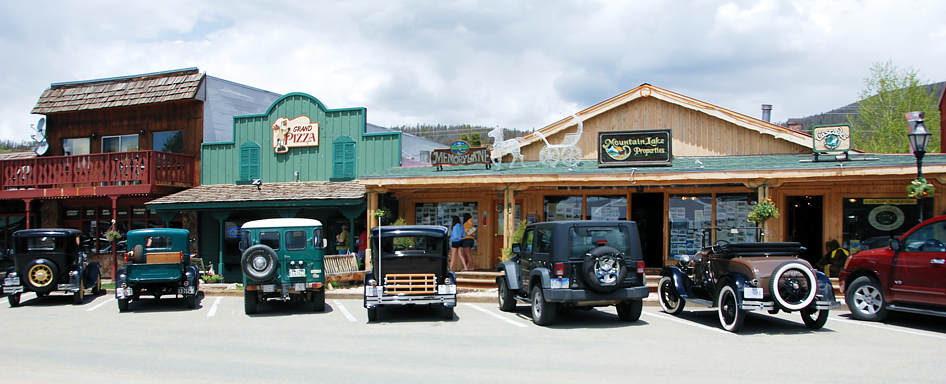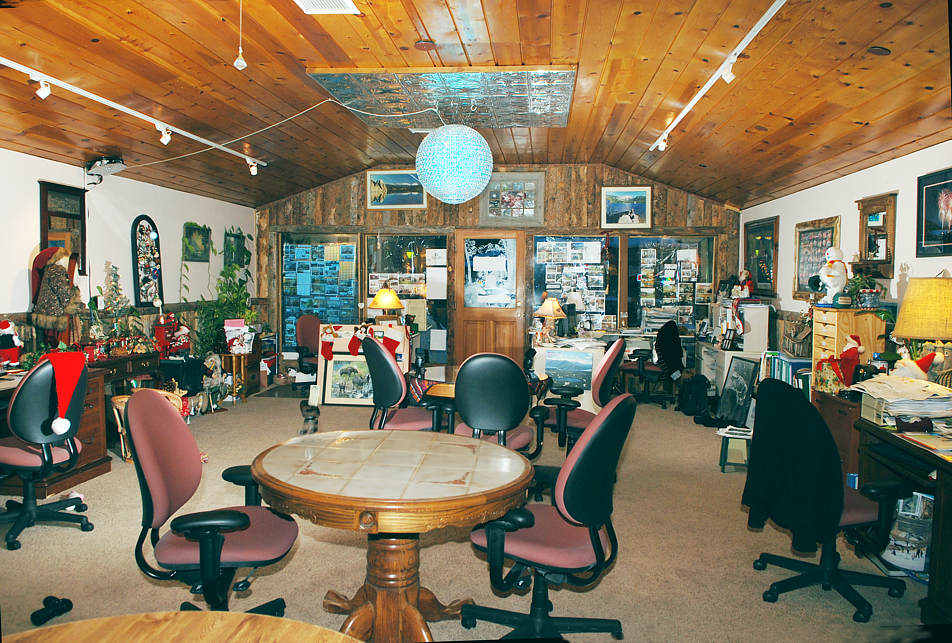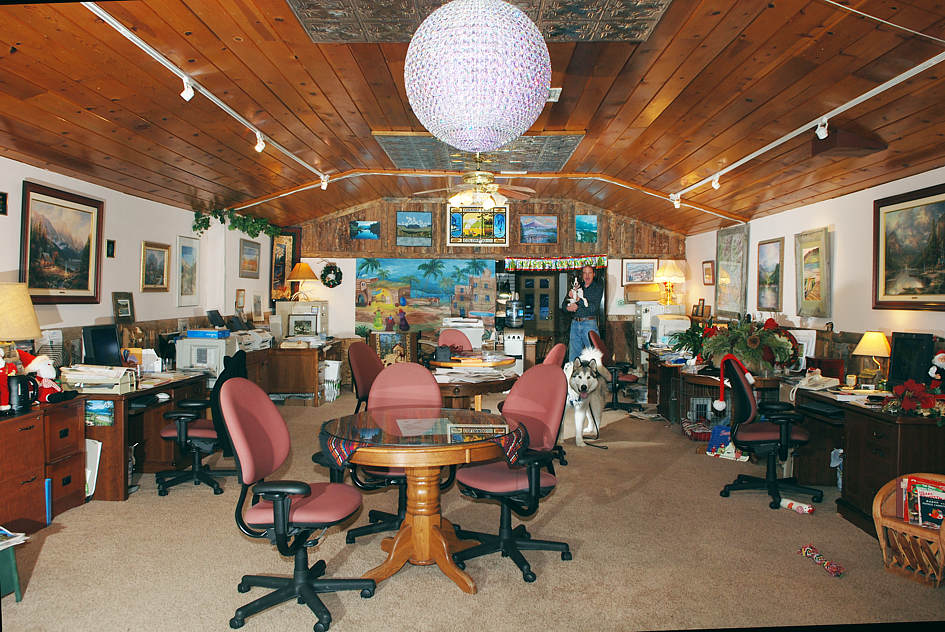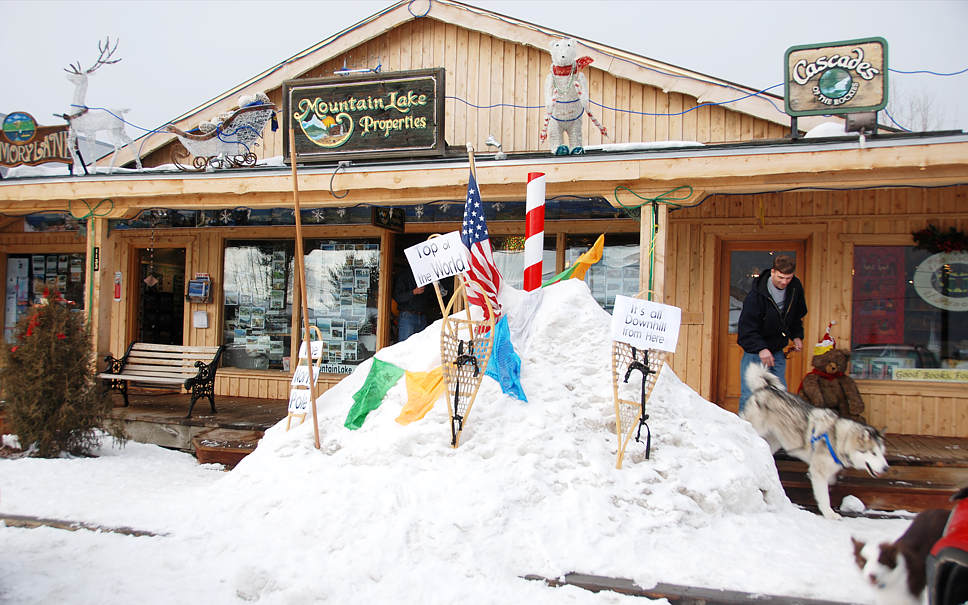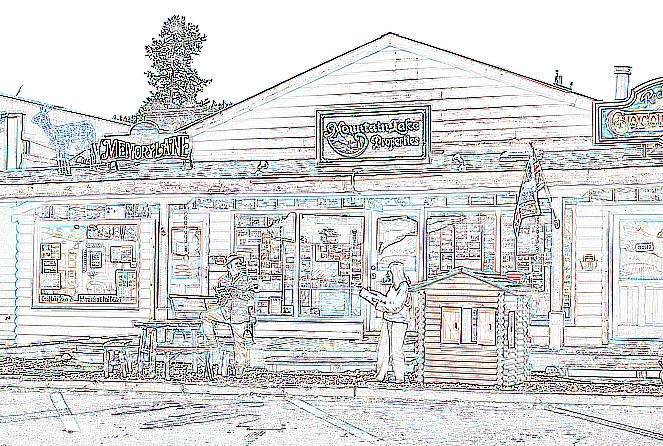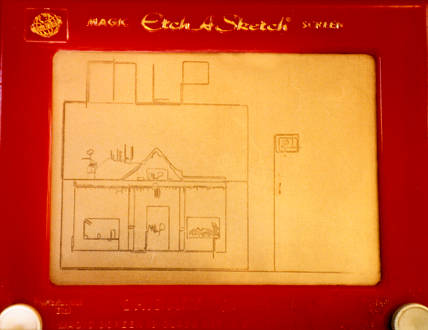 pre-AutoCad sketch of the MLP office.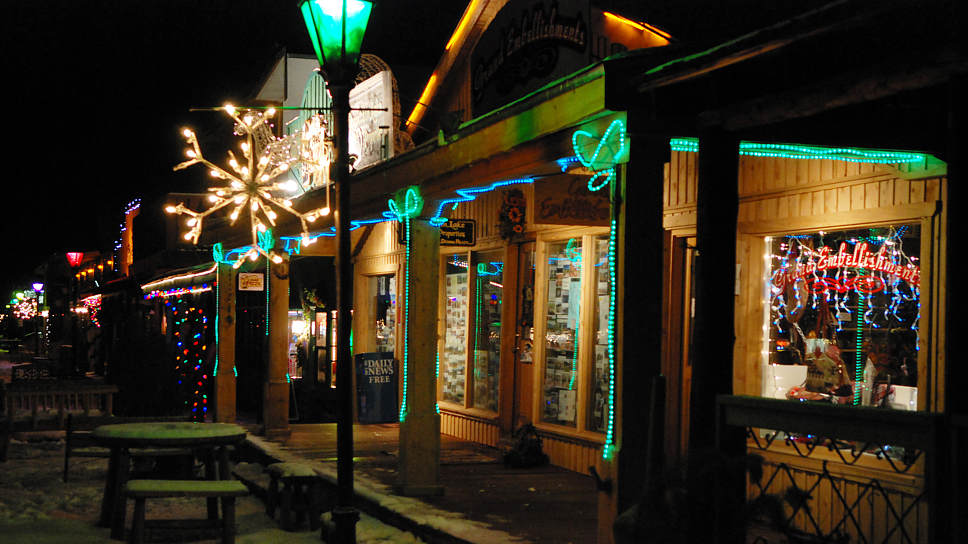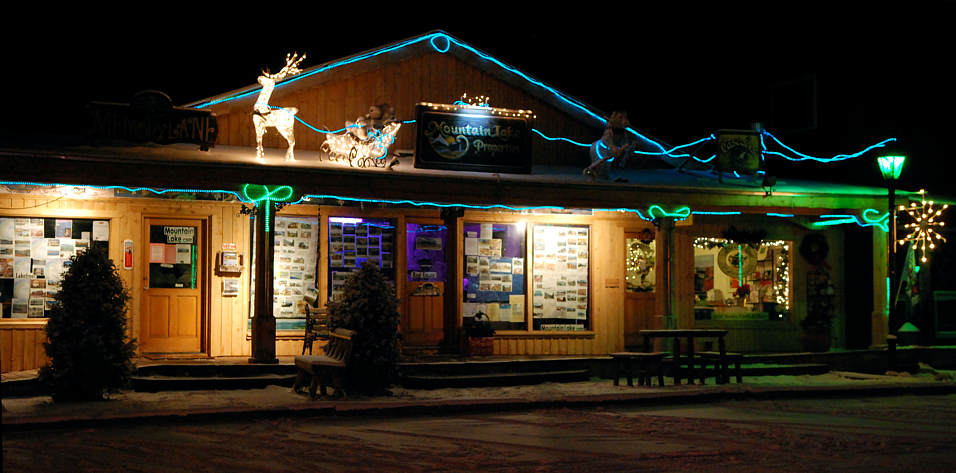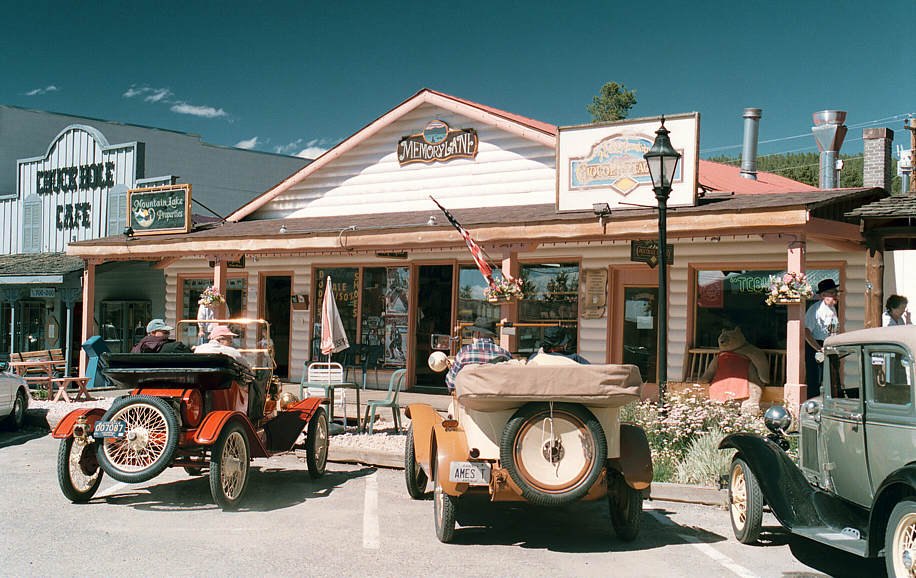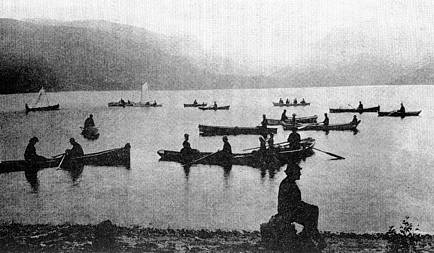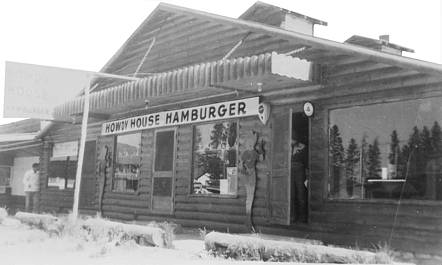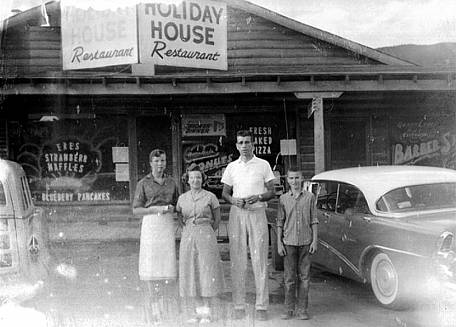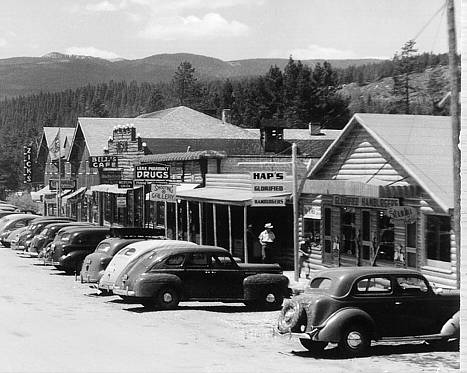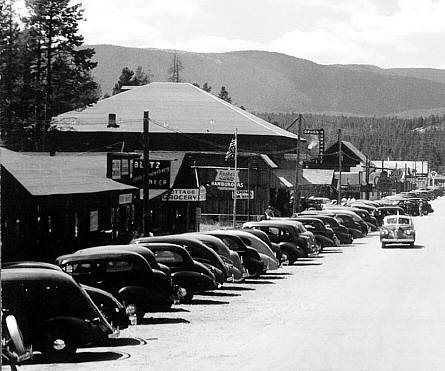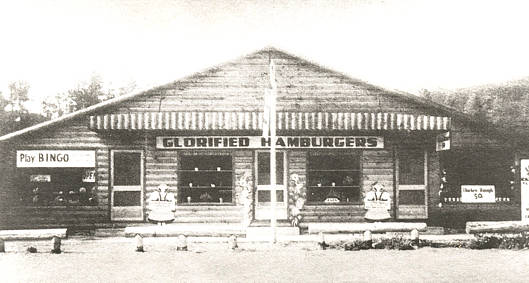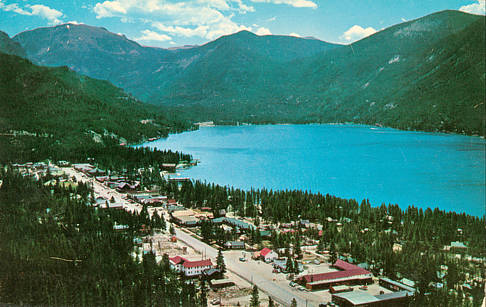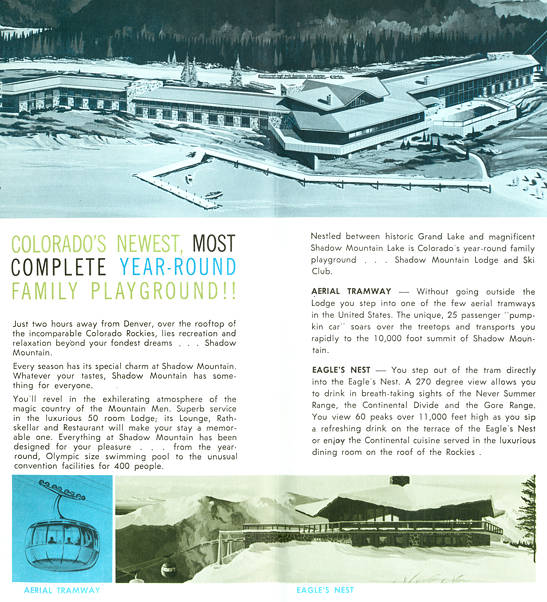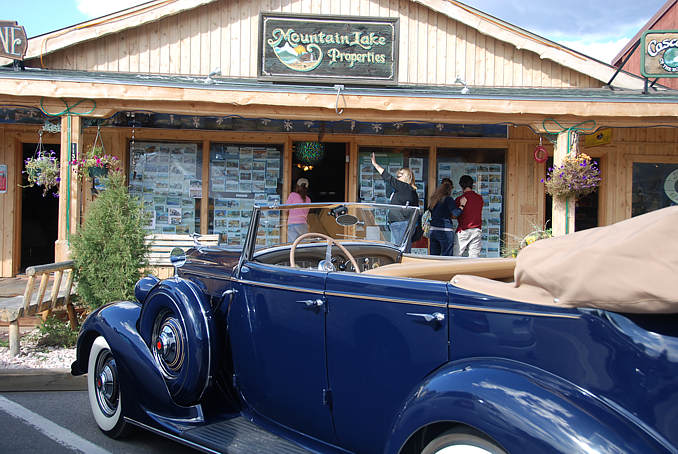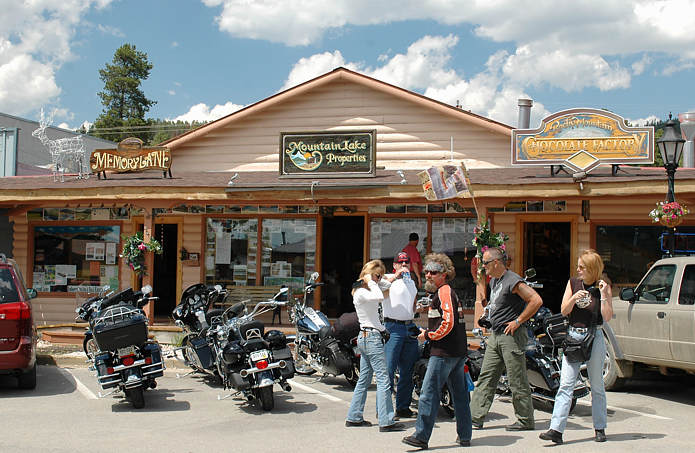 Click here for a walking tour of the beach and boardwalk.

This site allows you to surf anonymously. We do not track activity;
we do not serve cookies. Your privacy is respected here and in our office.
We prefer that you talk in person or on the phone with our agents
concerning what really interests you. We can send you electronically everything
you need (via mail, web links and PDF attachments). Please send your email address
to relax@MountainLake.com if we do not have it already. After viewing a property,
the "return to list" link will put you in our Homes .. Land or Commercial
properties list right next to similarly priced choices for immediate comparison.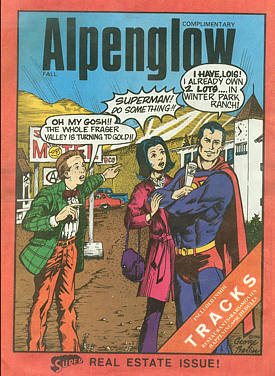 Alpenglow Magazine cover from 1981 or 1982.
Illustration is by George Berlin, the same artist who painted a number of popular
posters in Grand Lake area homes, including the stagecoach crossing the stream by Grand Lake.
© Text & Structure of this site is Copyrighted 5/1/96.
var gaJsHost = (("https:" == document.location.protocol) ? "https://ssl." : "http://www."); document.write(unescape("%3Cscript src='" + gaJsHost + "google-analytics.com/ga.js' type='text/javascript'%3E%3C/script%3E")); try { var pageTracker = _gat._getTracker("UA-11272212-1"); pageTracker._trackPageview(); } catch(err) {}