»» .. to splash page »» www.MountainLake.com ««
Relish the Drive over Berthoud Pass. Put FUN back into your driving. Your unique and special How to get to Grand Lake guide.
Click here to -> jump to our Trail Ridge Road video and pages.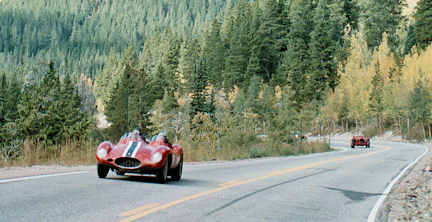 The focus here is to help you
ENJOY the driving experience, the journey. The photos show you the spectacular scenery
that comes with the road trip. The first set is Berthoud Pass to Winter Park. The second set
is the summer and fall route through Rocky Mountain National Park. Auto clubs and motorcyclists
have Grand Lake on their list of favorite routes. We are sure you can find us at the southwest corner
of Rocky Mountain National Park. What Google or your car's navigation system (or your "smart" phone)
cannot do is tell you how to maximize your enjoyment of the ride. Another item that is not going to
help is … your automatic transmission! As convenient as it may be, it does not prepare your car to
enter a curve or to go up a mountain … or down a hill. In fact, it does everything the exact opposite
as should be done. We want you and your family to savor the mountain driving experience and to
arrive in Grand Lake, happy and refreshed. This driving manual has photos of the terrain to keep you motivated.
Scroll down ... there are almost 20 high definition photos for you to see here.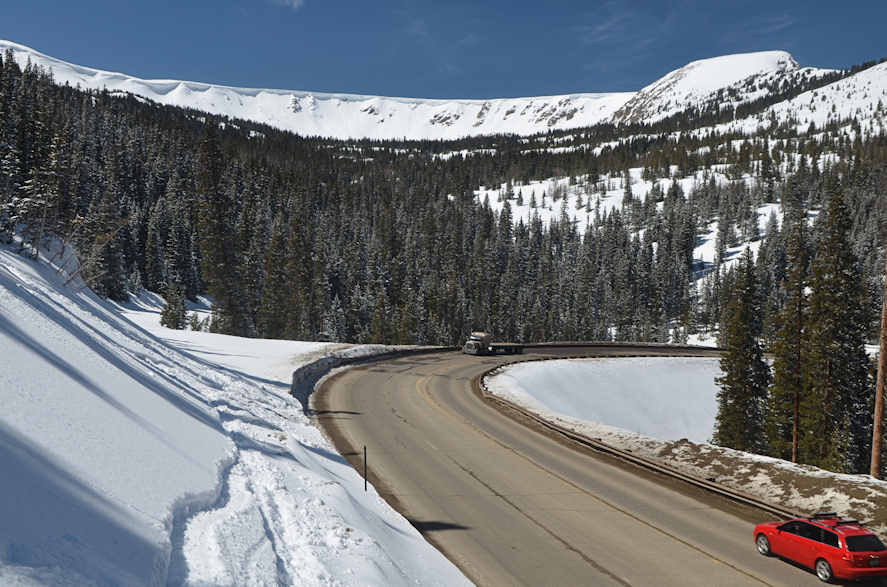 When you approach a curve, you naturally let off the gas and then your automatic transmission does a no-no.
It shifts up into the highest possible gear. The same boo-boo occurs when you are climbing a hill and let off
the gas for a moment. These shifting actions are not only unsafe; they take away from your driving pleasure.
You do not want to be freewheeling in a high gear as you approach a curve. Doing so only forces you to put
the brakes on while you are in the curve … which is neither fun nor safe. If you are going to need to put on
your brakes, do it in the straight section before each curve, or better, downshift.


After you are three-fourths of the way through a curve, you can push the yes pedal …
and whoosh out of the curve with good form. Wheee!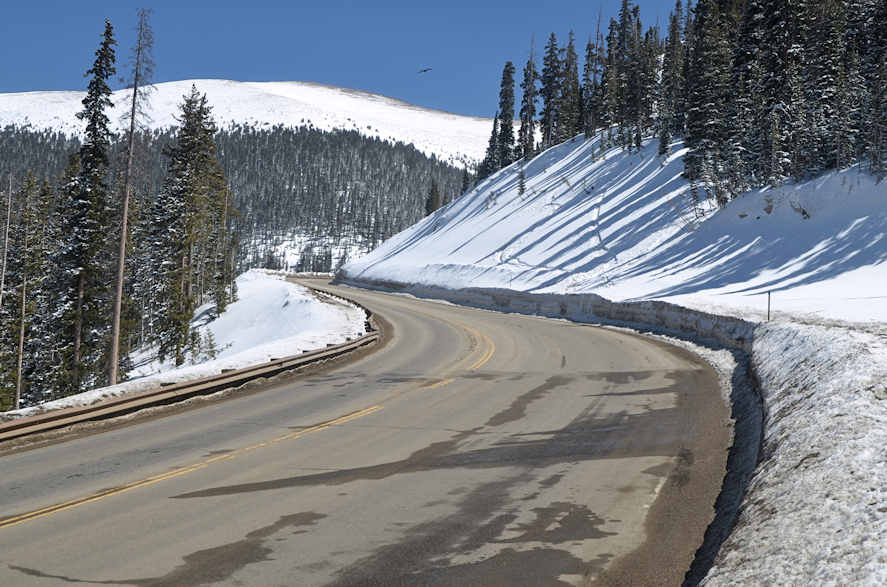 More people would come to Grand Lake if they simply knew better how to enjoy the journey.
Its alpine environment is less than two hours from Denver and worlds apart. If mountain driving
makes you grit your teeth and use your brakes, you are missing out on one of the high points of
being in Colorado. Every time you see a car in front light up its brake lights as it is descending
or curving, its driver and its occupants are getting a little less out of life than they could be savoring.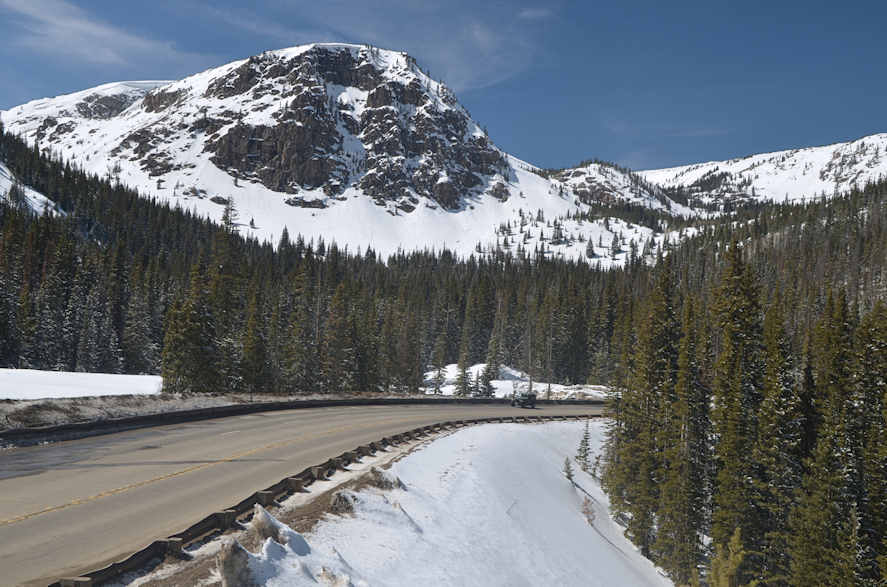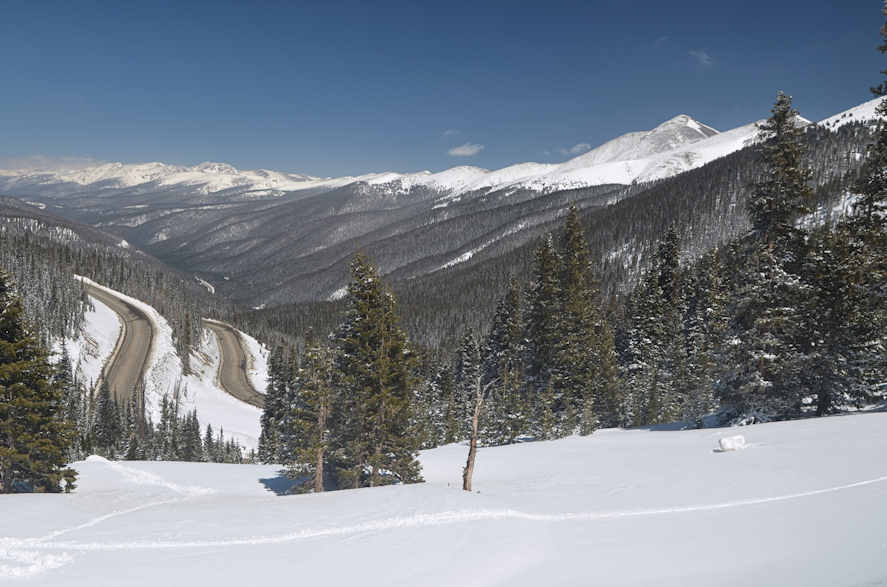 Zero in on that automatic transmission. Learn how to work it manually. Some cars are designed to make
the manual shift override as natural as driving a sports car. If you are shopping for a car that puts the fun
back into driving, look for how this feature functions. Test it out. Even on a flat road, you can experiment
with downshifting before you enter a curve, accelerating in the last part of it and then shifting up a gear.
When you are back in more boring terrain, put the automatic in its regular mode … so that you can eat your
lunch and talk on your cell phone or whatever it is you do with your free hands. You can also turn on the
cruise control, but please, do not use cruise control while driving in the mountains!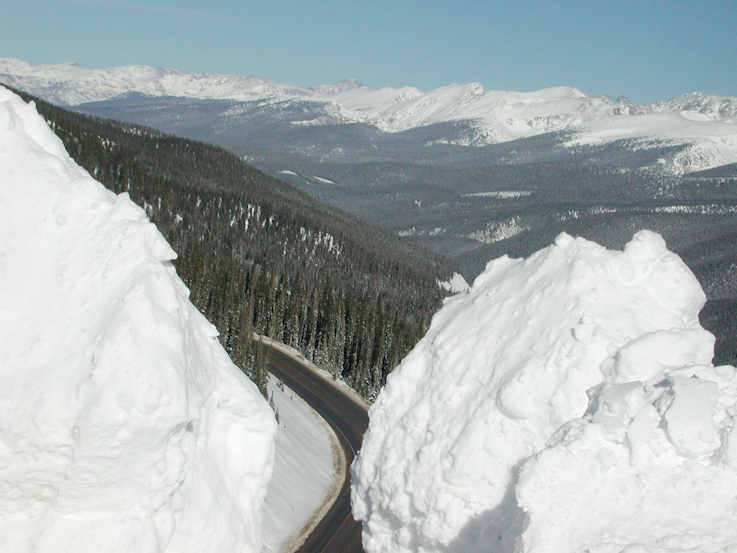 It helps to have some horsepower. Internal combustion engines run at only a fraction (three-fifths to
three-fourths) of the power they have at sea level. The initial 3-mile climb out of Denver on I-70
immediately separates the champs from the wimps. With a good and comfortable car packed with
goodies for a mini-vacation, it can be exhilarating. For the long grades up or down, take the transmission
out of its default overdrive setting. The engine will run smoother and the car will have a little more
braking power in case wildlife or wild-drivers get too close … or if it's snowing. You can fuel up
before you start or wait until you get to Winter Park or Granby and thereby carry a little less weight
over the mountain and have a wee bit more power for climbing and a less momentum to contend with
for braking. For quick meal stops, there are excellent restaurants in Empire and Winter Park.
FOR RESTROOM BREAKS, there is a nice 24-hour public restroom on the south side of Empire's
short main street, just east of Jenny's and the Hard Rock Cafe; take the steps down to the little blue
building. There is also a magnificent heated restroom on the top of Berthoud Pass (see photos below)!
While relieving yourself and pets on top, you can muse whether your effluence will enter the Atlantic or Pacific basin.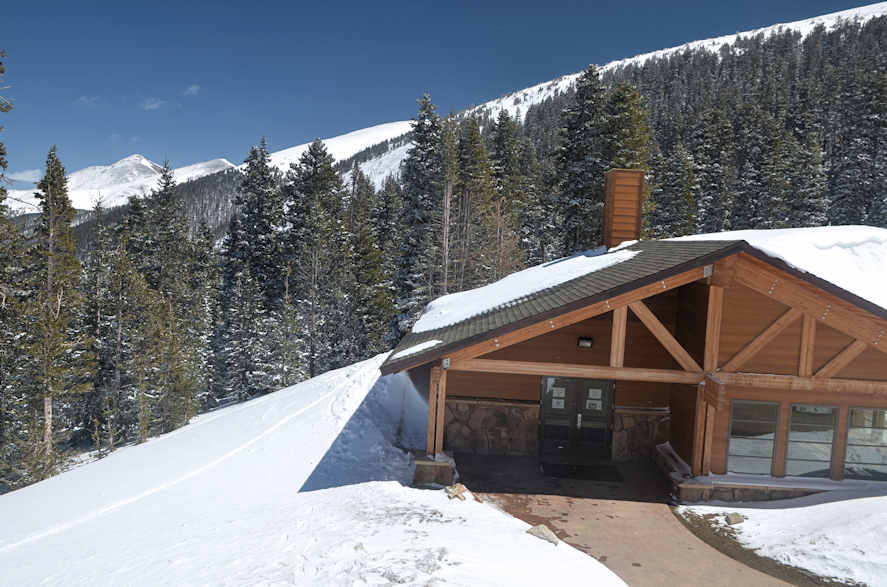 Scroll down for 5 more scenes at the top of Berthoud Pass and much more. After this break and tailgate party,
we will glide on down to Winter Park. From there it is a mostly level cross-country tour to The Great Lakes of the Rockies.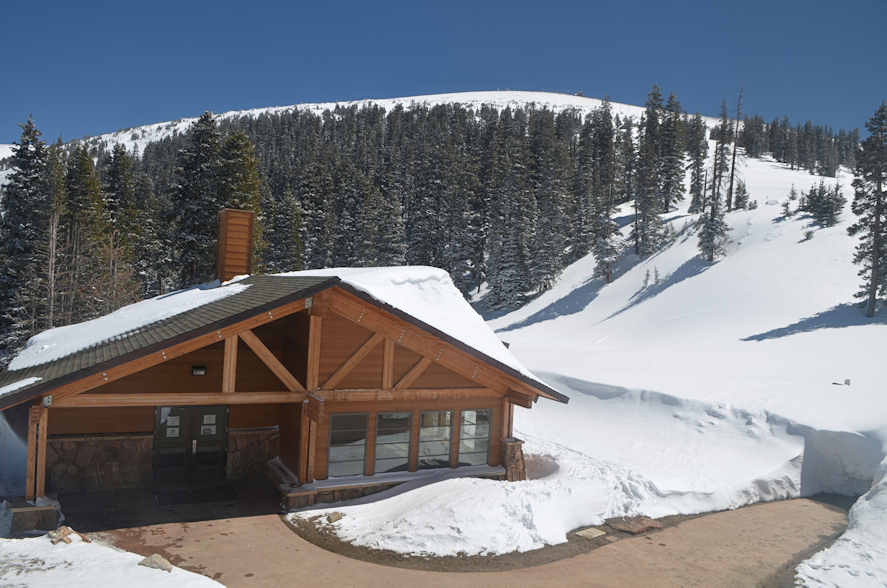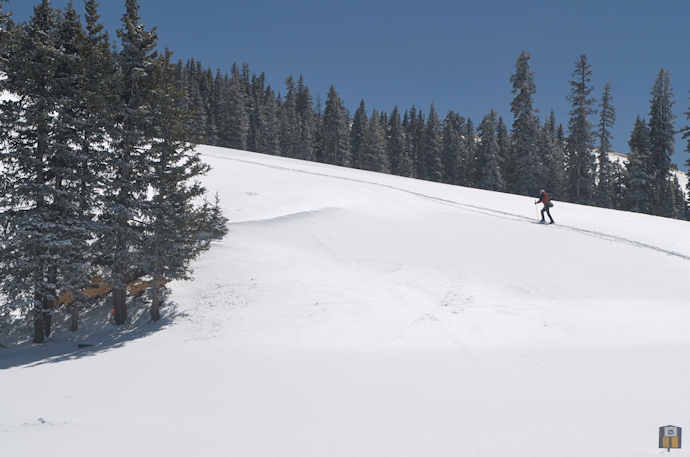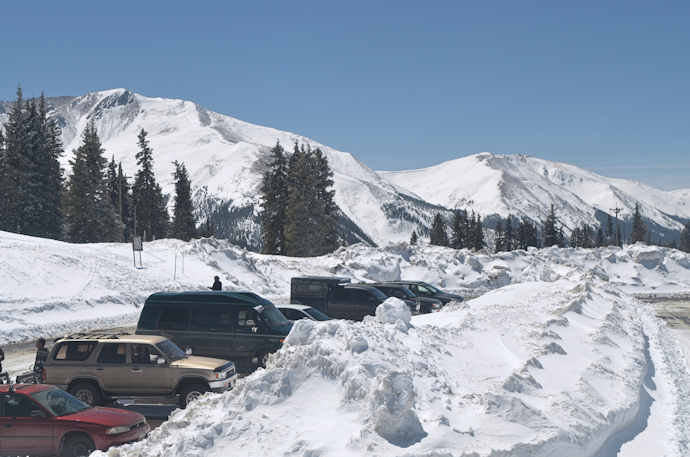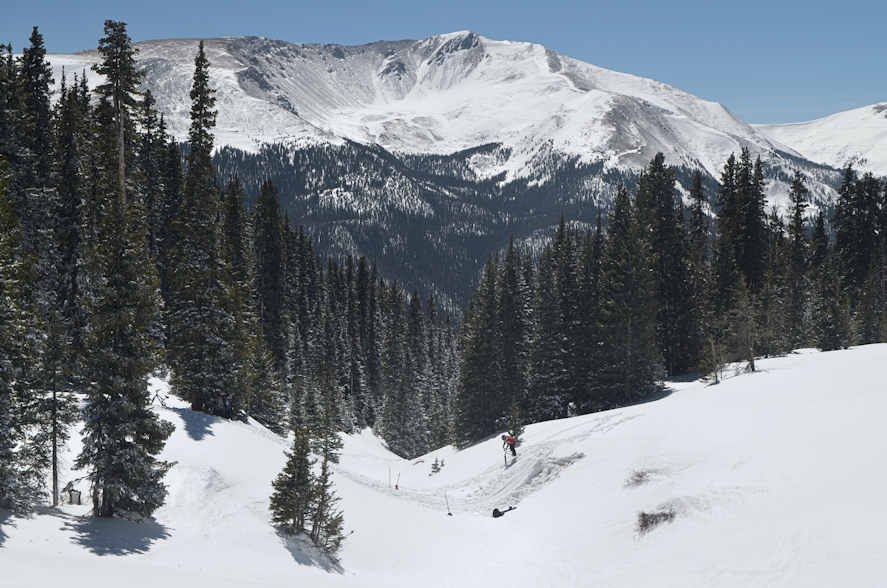 Look carefully and you can see a fellow trying out his snowbike. Scroll way down for photos of crazy skiers.
For picnic table stops in the summer, there are classic Colorado streamside locations on the bottom of both
sides of Berthoud Pass, near the final hairpin curves. Enjoy the journey. Some people bring skis or snowshoes
to do some exploring, without any lift tickets or crowds. (Scroll down for photos of people taking advantage ….).
If you have good bikes (and helmets), imagine bringing them and letting yourself or a passenger coast down though
parts of the journey! Roll the window down for the dog. Smell and taste the air.
There are many places to refill the water bowl with cool mountain water.
Click here for » a short summer hike right by Berthoud Pass (use your back button to return to here).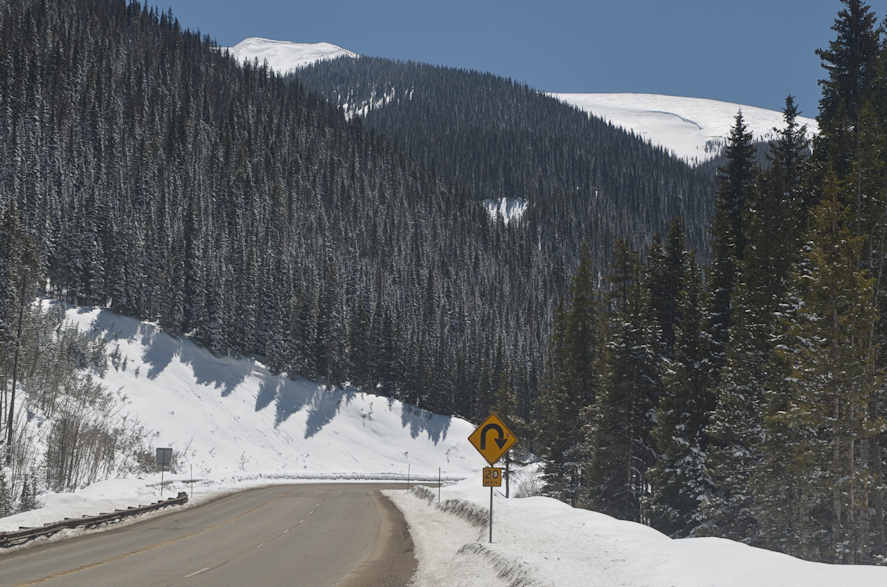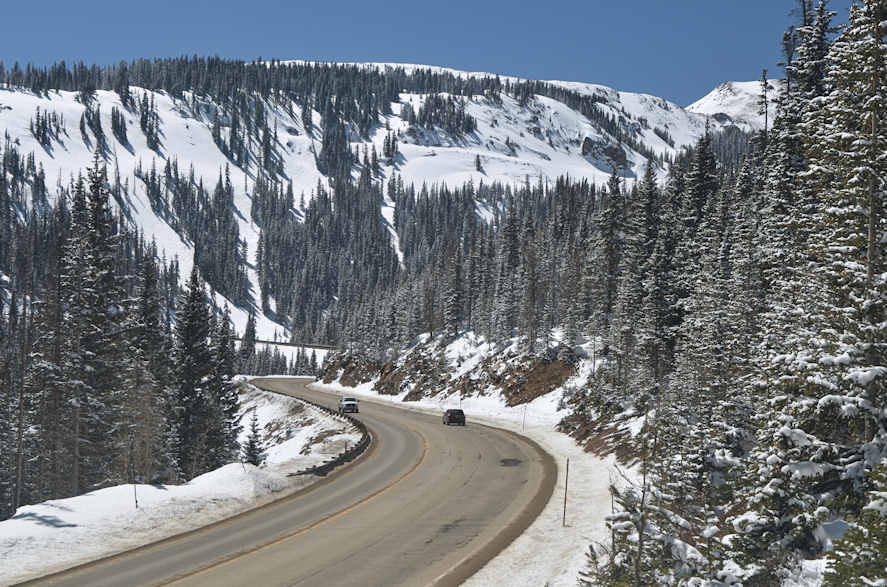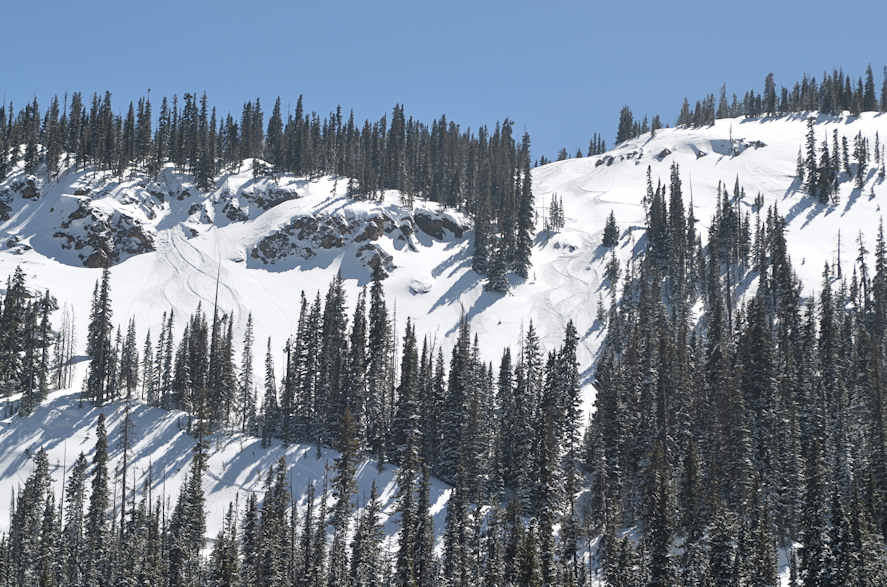 Watch for skiers and snowboarders coming down insane terrain. Scroll down ...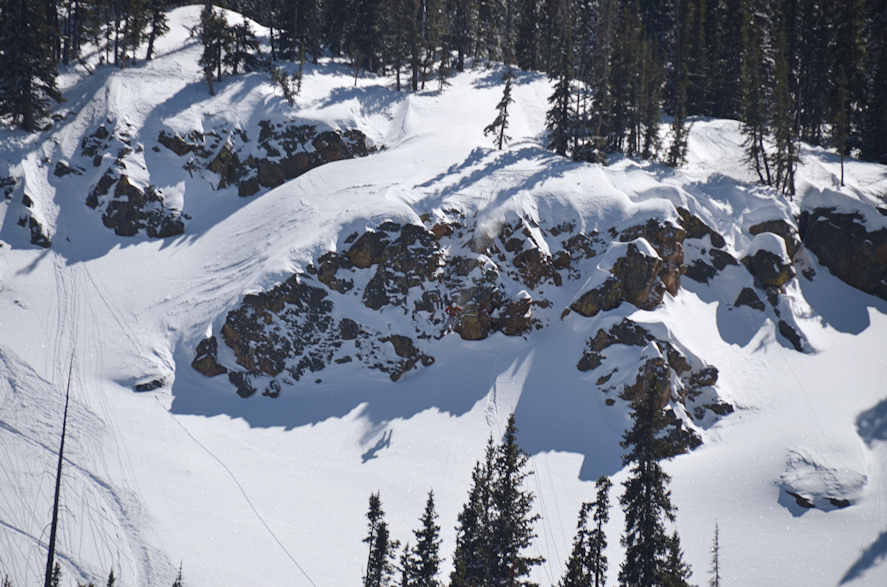 See the skier's shadow .... he has just launched from a cliff. Scroll down to see if he sticks the landing.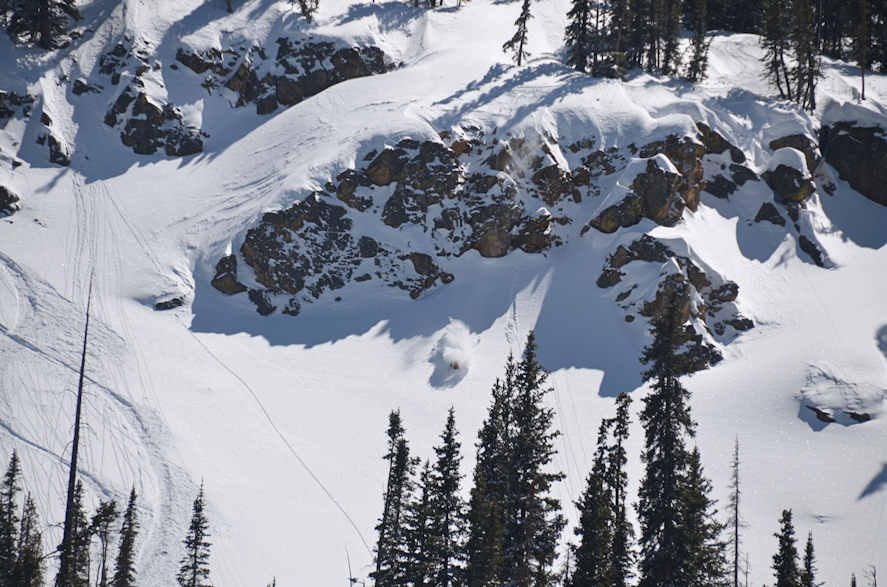 Actually he tumbles head over heels. People can practice stunts like this at the Chutes of Mary Jane. Scroll down.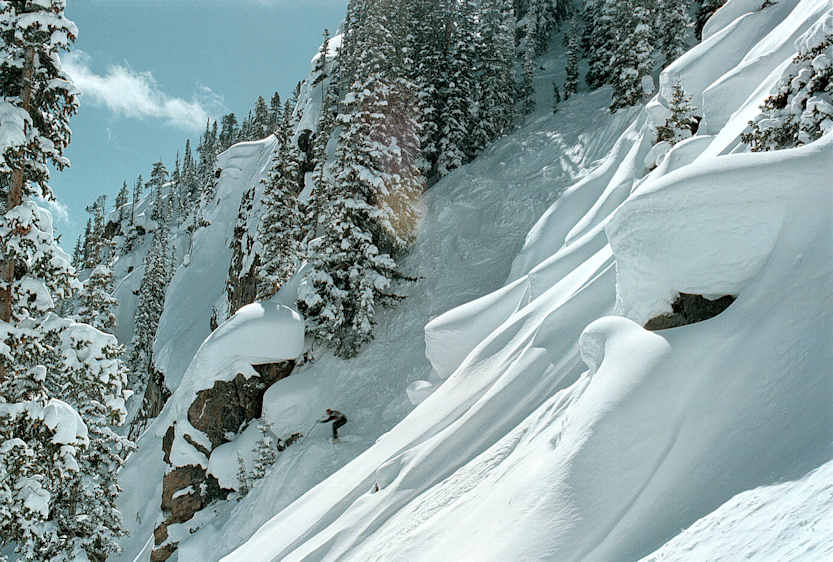 Scroll down ...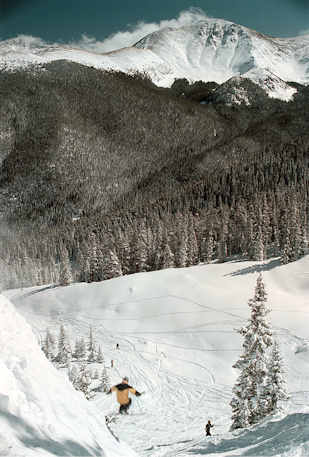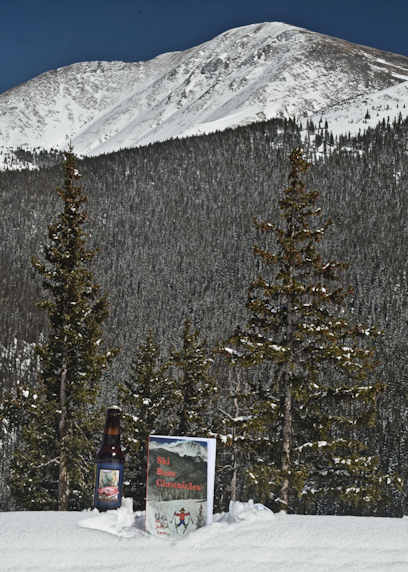 This scene graces a book that was just released in April of 2011. Two views of 13,391' Parry Peak
are shown above. The cover image is from the Mary Jane Chutes. Right image is from along the
Berthoud Pass road.. To the left of the book is Trail Ridge Red from Grand Lake's microbrewery.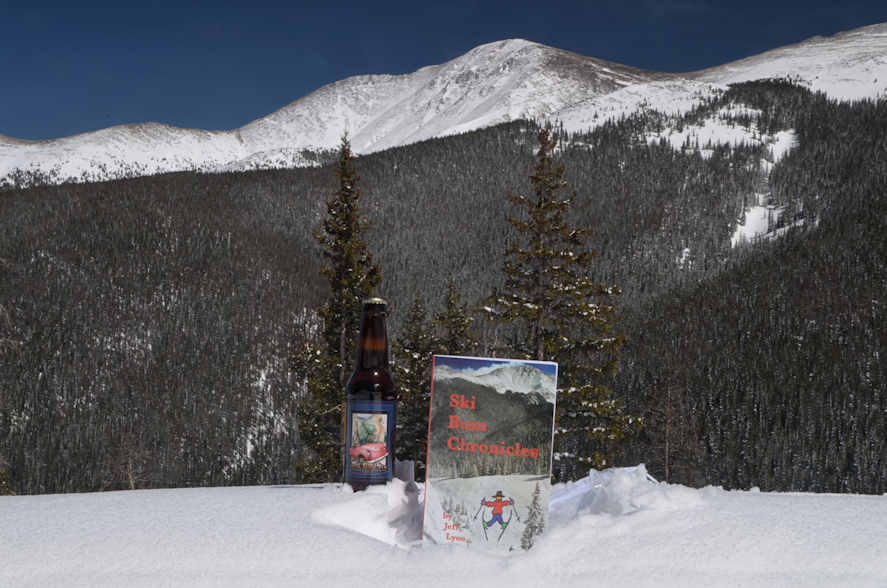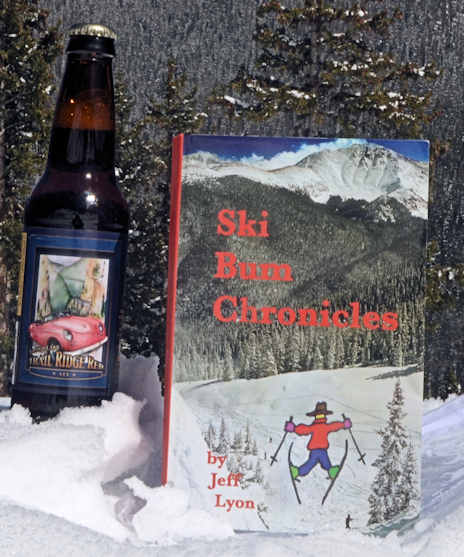 Everyone is reading it ...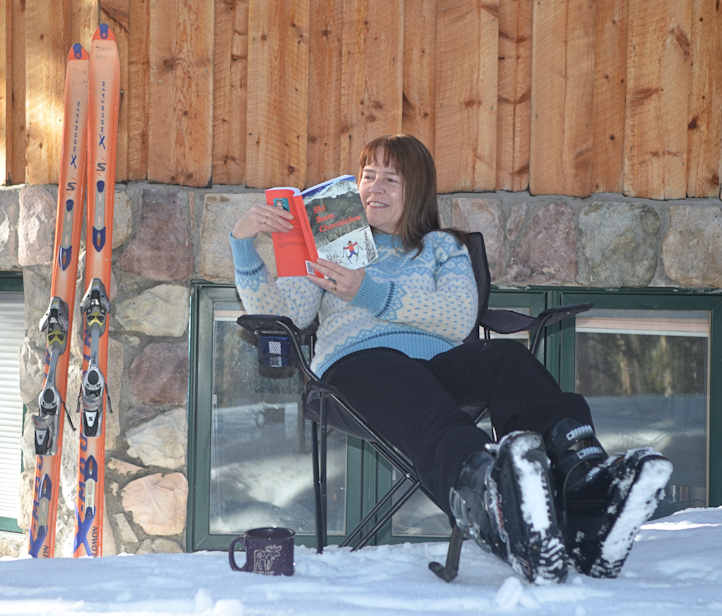 More to follow on this book and other books inspired by Grand County, Grand Lake and Winter Park.
In our Trail Ridge Road series you can see a www.MountainLake.com photo that has been on a
Colorado road map for many years. Scroll down for a few more photos from the Berthoud Pass road.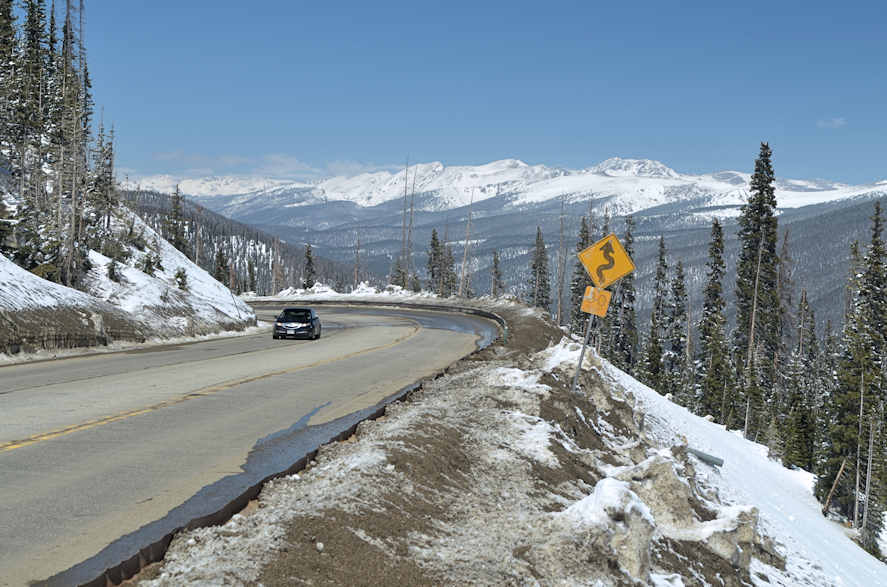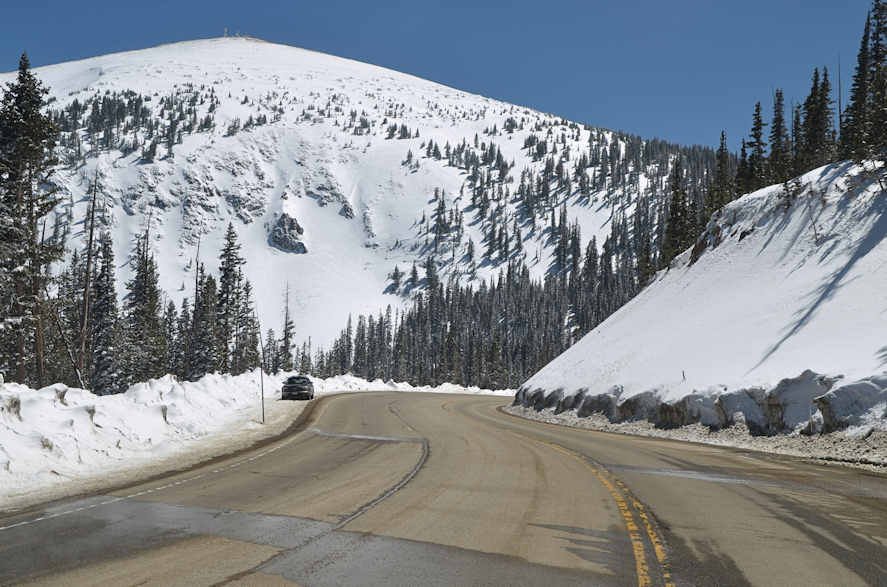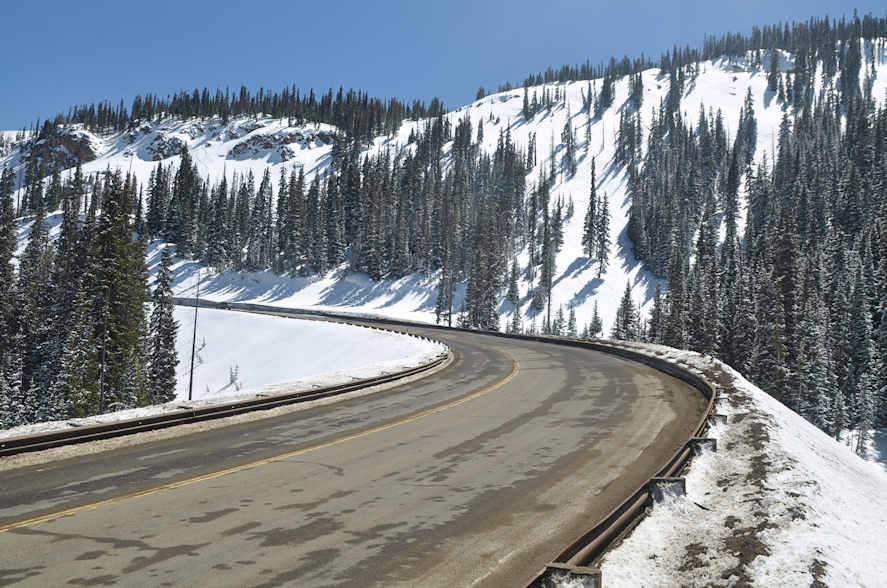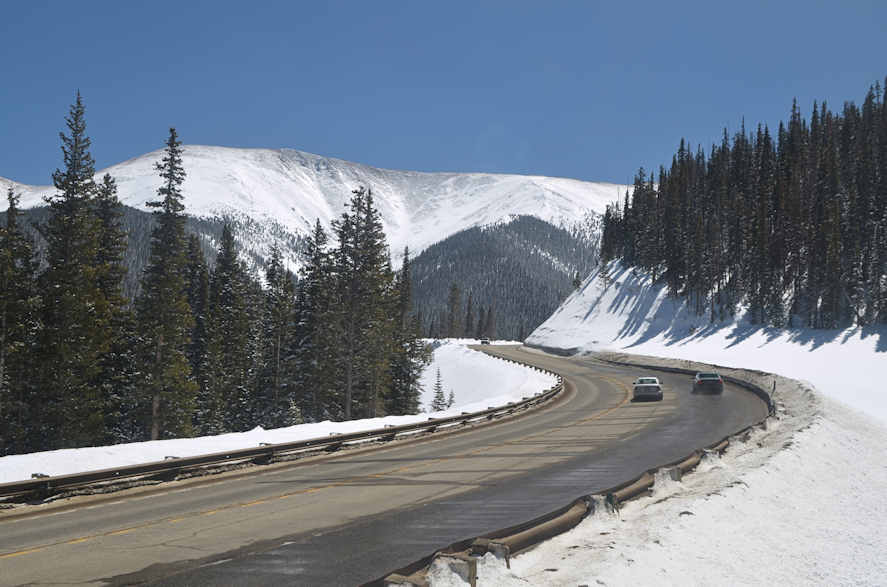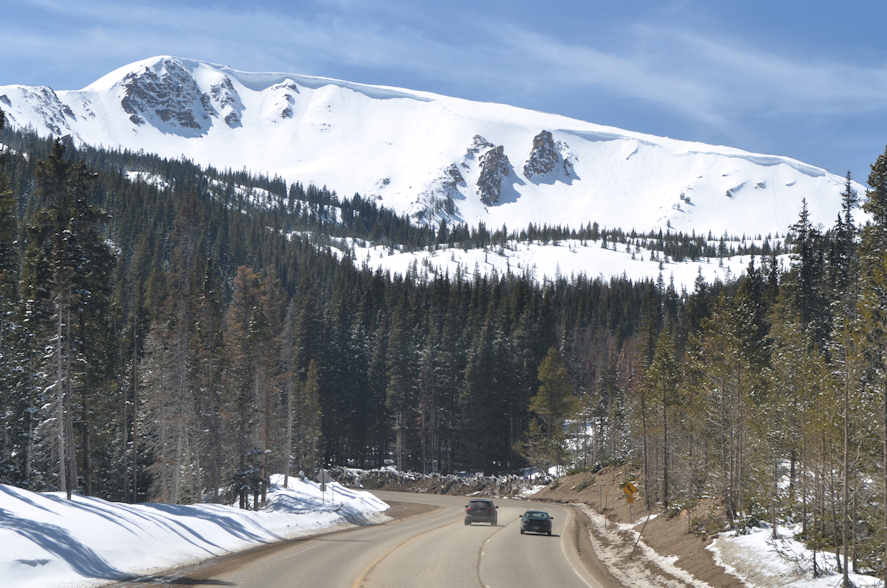 Defensive driving tip: when a passing car enters a curve, it may drift out of its lane. If there is ice,
it could slide. If you are in this situation, whether you are being passed or doing the passing, avoid creating
a setup where if one car breaks out of its lane, another car is right there in its theoretical slide path.


Here's a defensive driving tip for anywhere. If you see a vehicle ready to pull out onto the road,
slow down and focus on whether its front wheel spokes are moving. This movement is easier to pick up
than is its alignment with its background while you yourself are moving.
Here's an easy tip: if you see ice, wildlife or a curve ahead, slow down, ideally by downshifting,
well before you are upon it. If an emergency vehicle, police car, or anyone is along the side of the road,
slow way down and/or move over a lane (if you can do so safely). There's a new law about this.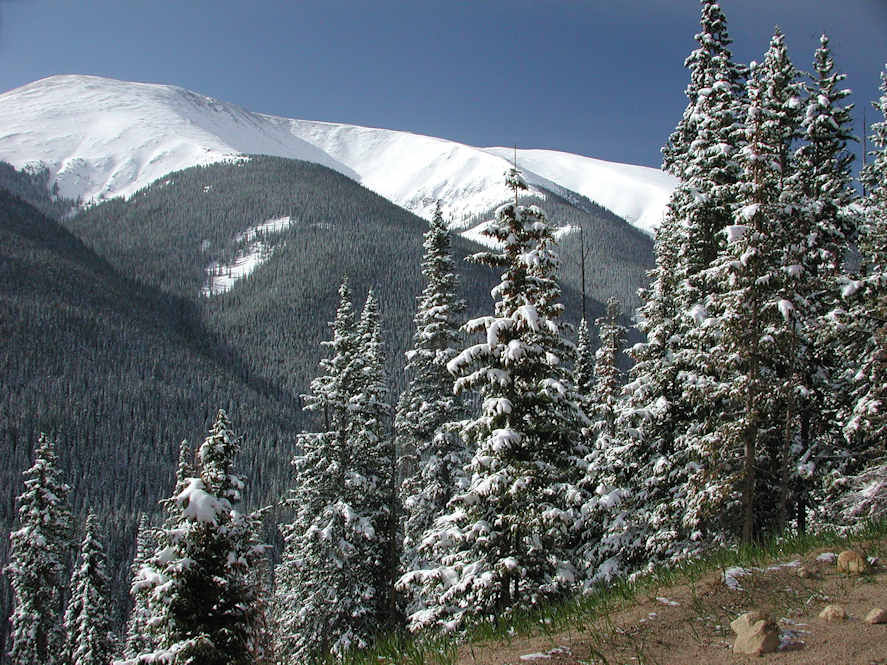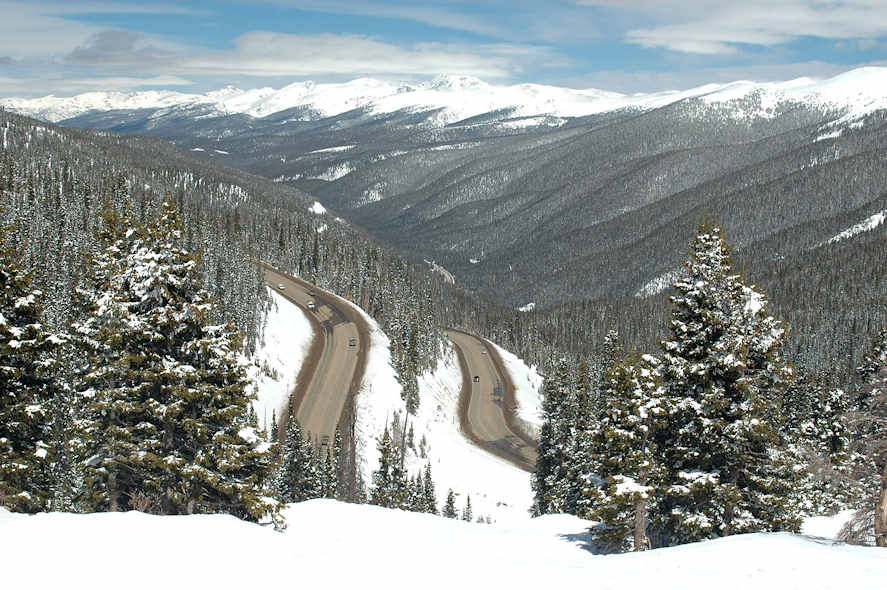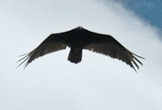 A brief word about tires …. yes, they make all the difference. Unfortunately, consumers
are forced into hidden compromises to get long life, year round convenience and fuel efficiency. None of these
desirable properties will get you a soft rubber tire that sticks to the road when the road surface is below
15 degrees Fahrenheit. There is no substitute for studs on ice or a rugged tread for deep snow. So compromises
are made. We generally like Blizzaks or tires from Finland …. yet every vehicle and every year is different.
There is no magical dashboard switch that can give you James Bond prowess. If in doubt, slow down and
turn on your hazard lights so that you will not get rear-ended.

If you are buying rims and want the look of super-wide tires …. think again. For winter driving, narrow is better.
The more pounds per square inch on the road, the better the grip … yet that is not an excuse for putting extra
weight in the trunk. Any weight increases your vehicle's momentum and the Force F=ma that is needed to
decelerate it in a straightaway and also on a curve. Speaking of physics … the coefficient of static friction
is always greater than the coefficient of dynamic friction. Therefore once a tire starts to slip or spin, it
continues to slip. Spinning just slicks up the road surface even more, so don't race the engine to get traction.
It looks very unprofessional.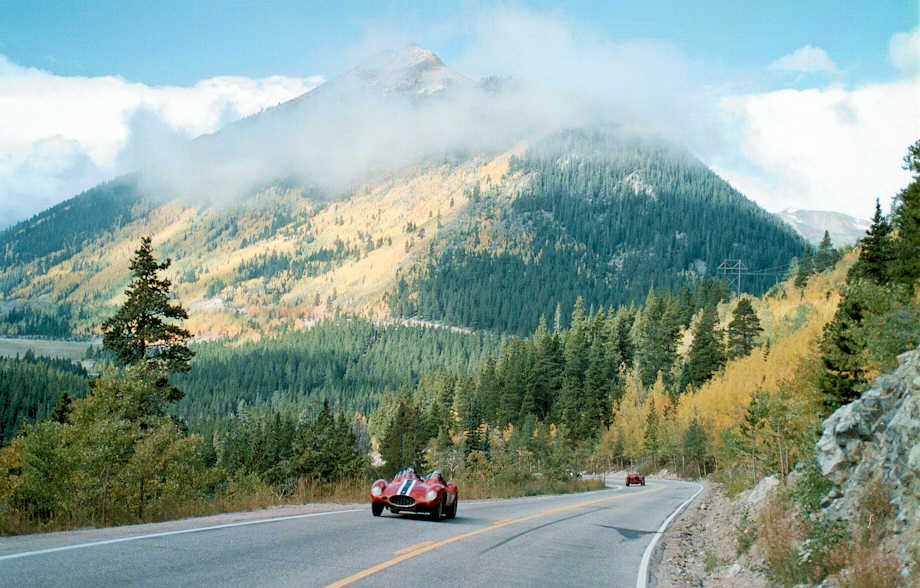 Thanks for traveling with us. Now it's your turn to do it for real. Click here to -> jump to our Trail Ridge Road video and pages.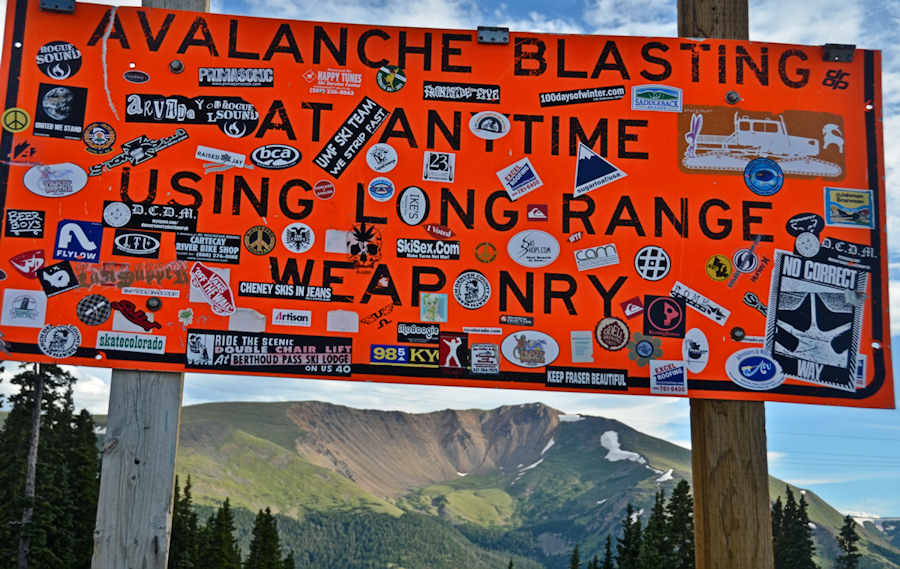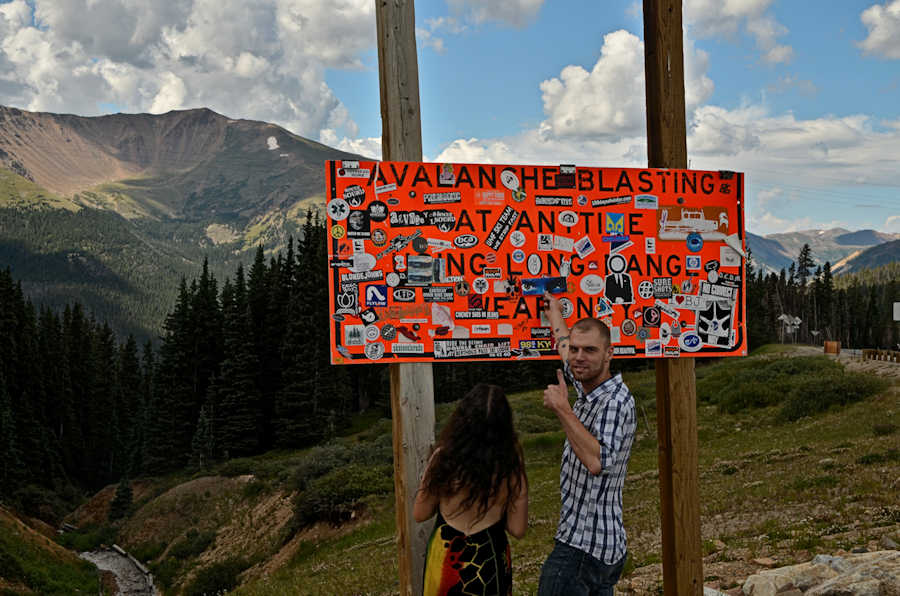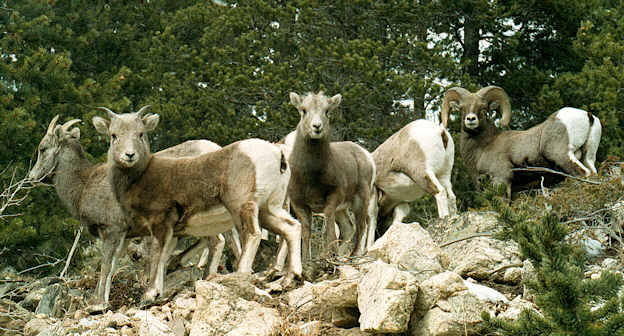 This family of Bighorn Sheep
was spotted near Empire. Photo was taken through a sunroof. Photo below is from within Winter Park, near the home of an author ...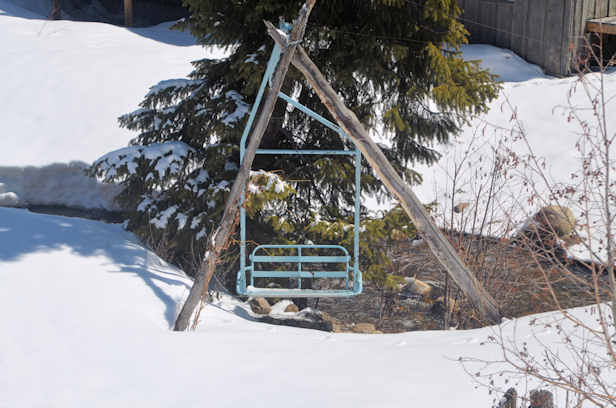 Here's to wishing you many pleasant driving experiences and for you to visit Grand Lake often
and to give your car and self opportunities to relax at your own Mountain Lake property.

Save on gas and see more! Park your car and »» explore the deep back country ««
Buy a cabin in the mountains so that you'll be ready and rested when the hills and skies beckon.
Learn to work from your home, located where YOU want to be. Telecommute.
Ready for another Road Trip? Click here for the High Tundra summer route via
Trail Ridge Road through Rocky Mountain National Park ... between Grand Lake and Estes Park.


We have our own channel now to bring Grand Lake to you.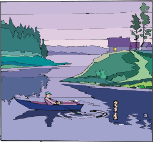 Jump to Homes ... Land ... Businesses ... Weather .. What'sNew



to .. Main Menu .. .. to Real Estate choices ..
Enjoy this media while you peacefully dream of visiting Grand Lake.
Please do not save photographs without explicit permission from Mountain Lake Properties.
© Text & Structure of this site is Copyrighted 5/1/96.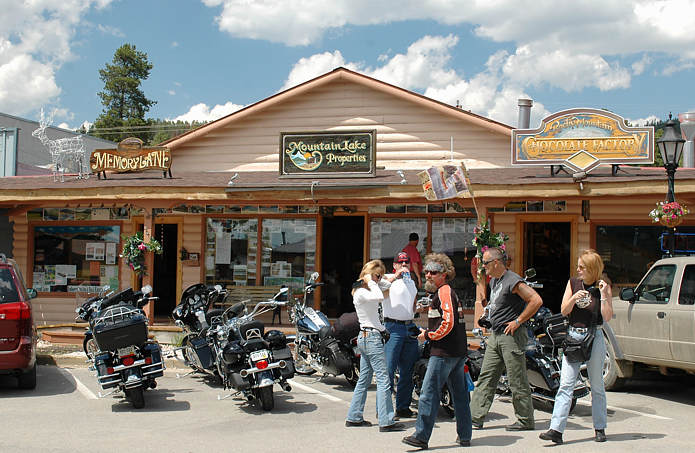 Let's meet in Grand Lake, on the boardwalk by Mountain Lake Properties, near the east end of main street.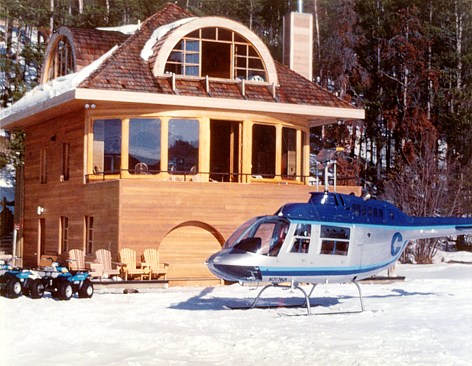 If you can fly ... that's another story.