Grand County Weather & Snow Reports
Scroll way down the page to see all of the recent images.
or jump back to Homes ... Land ... Businesses ... Main Menu ... What's New
»»» link focusing on Grand Lake from the National Weather Service.
»»» loop video from satellite giving you the Big Picture.
»»» loop video color-enhanced to show Water: the staff of life.


Click here for » Rocky Mountain National Park webcam near Grand Lake. Use your back button to return to here.
The webcam link above shows well the view to the northwest where clouds are likely to form before coming to Grand Lake.

Sunday, morning Feb. 9, 2014: Mountains of snow! We are all snowed in through Valentine's Day!


Click here for Winter Park and Mary Jane Snow Report.

Click here for snow depths at all of Colorado's Ski Resorts.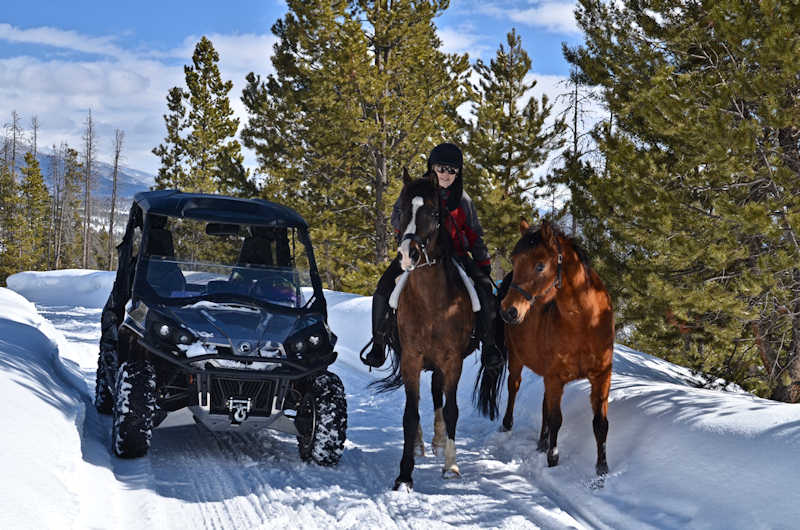 Monday, March 5, 2013: Grand County traffic jam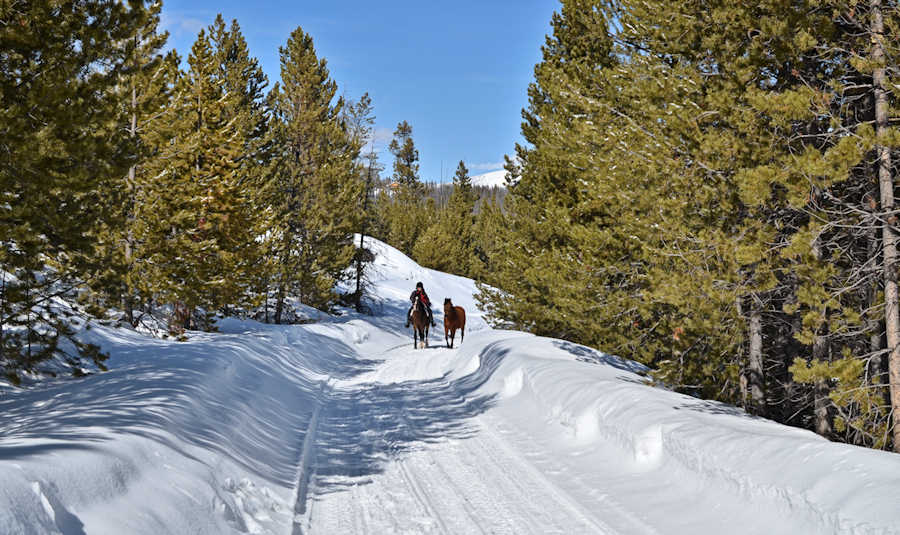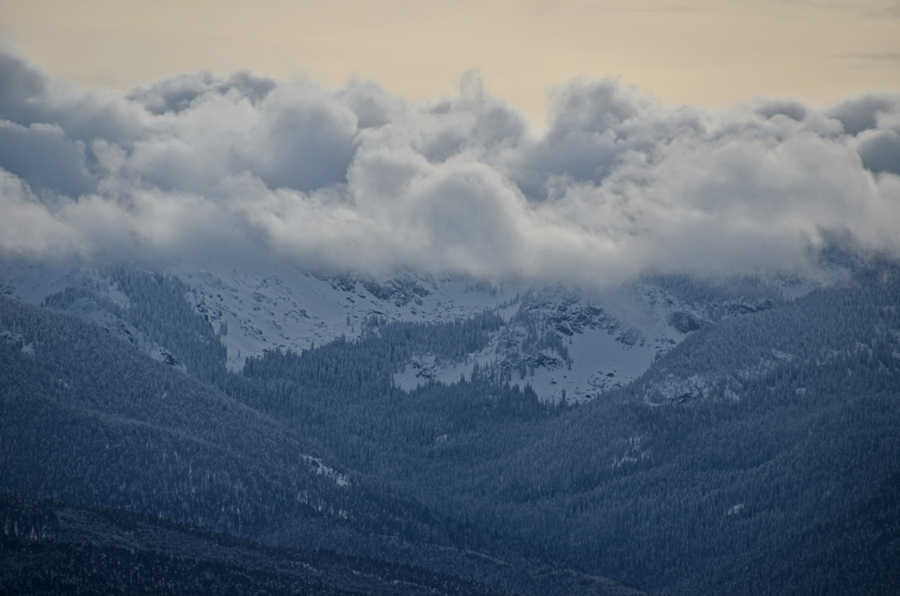 Lots of clouds and snow in February making everything wild and alive! Scroll down for two views of clouds clinging to The Continental Divide.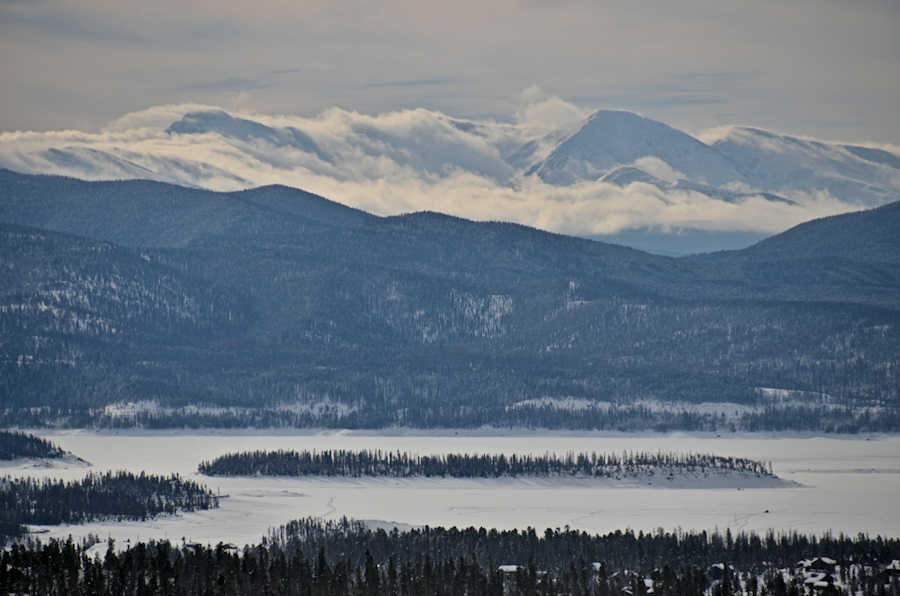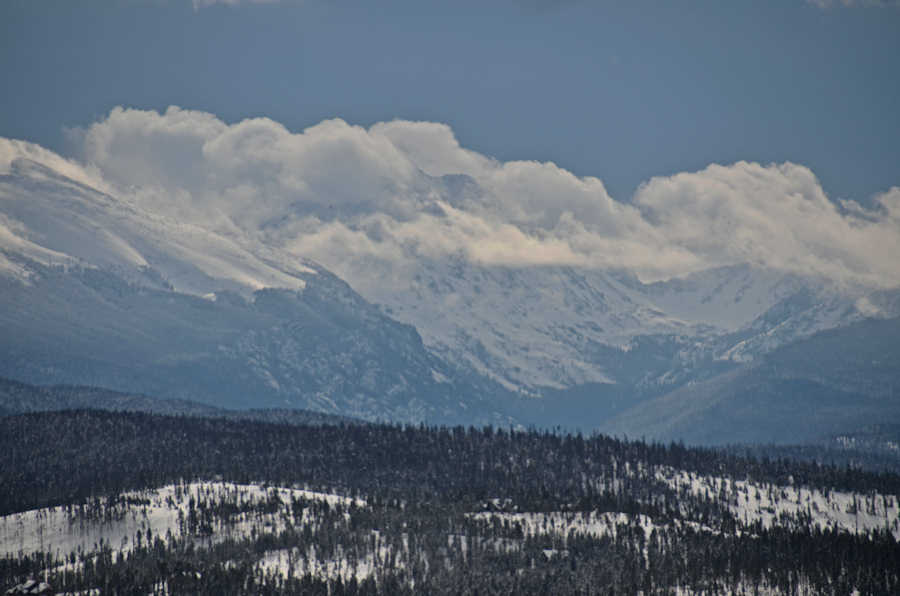 Scroll down for recent scenes from Grand Lake's main street and boardwalk.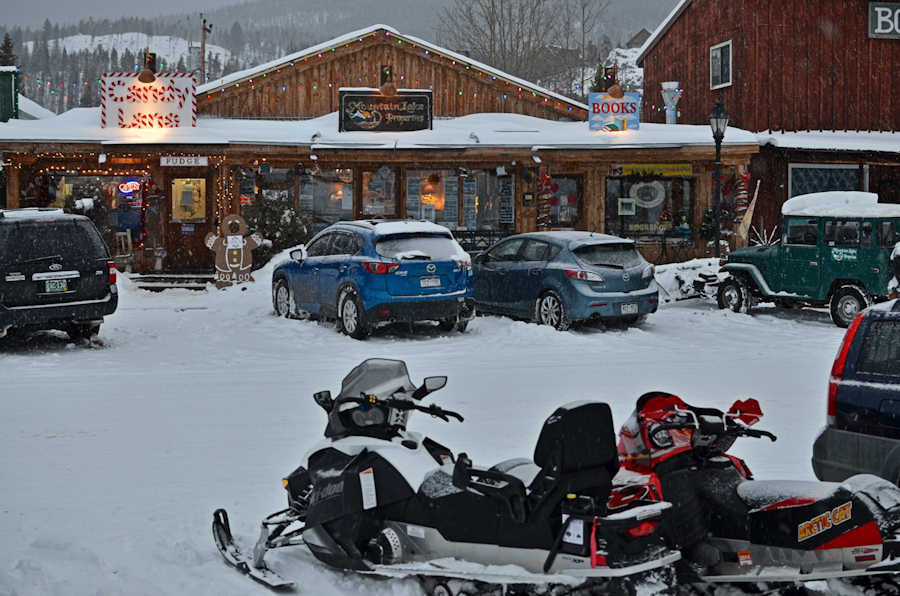 Saturday eve, Feb. 8, 2014: Scenes around town along the Board portion of Main Street. Scroll down for 5 more images.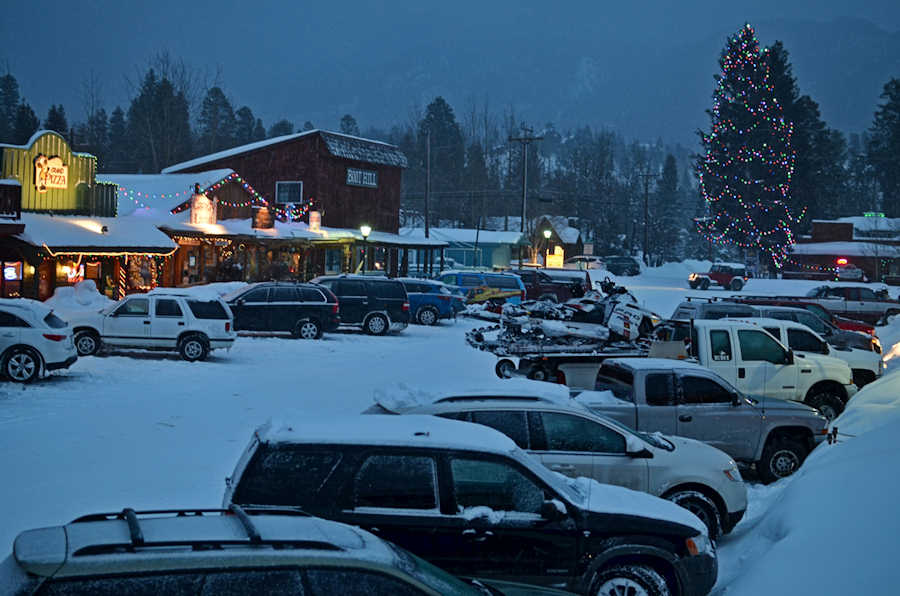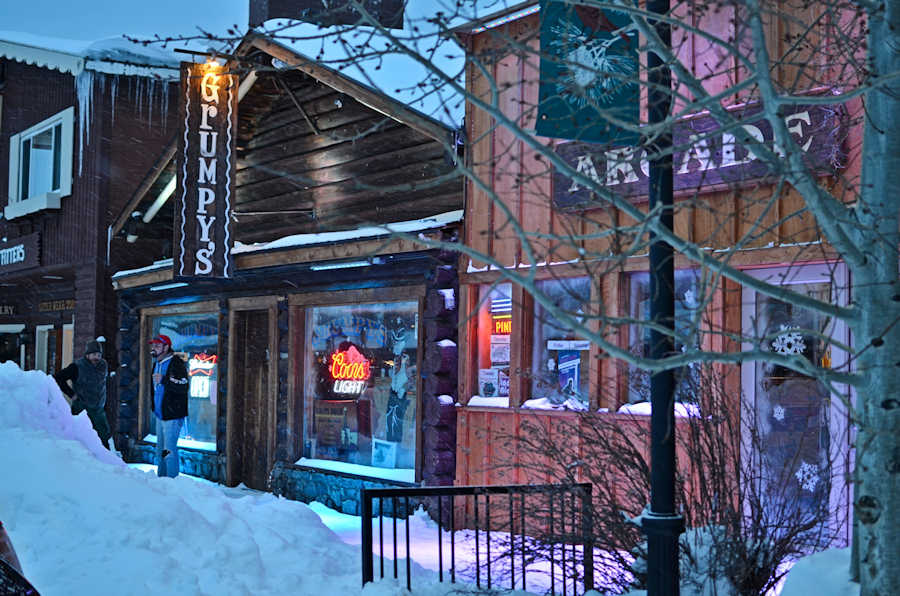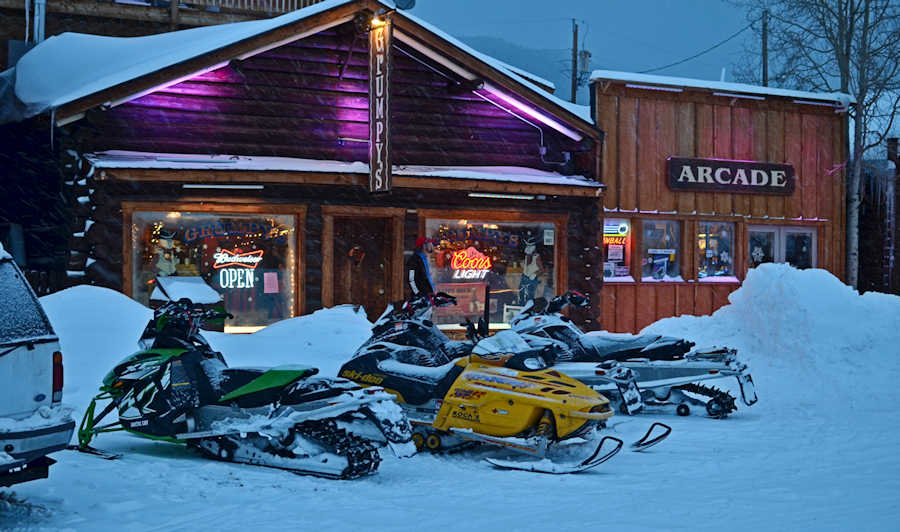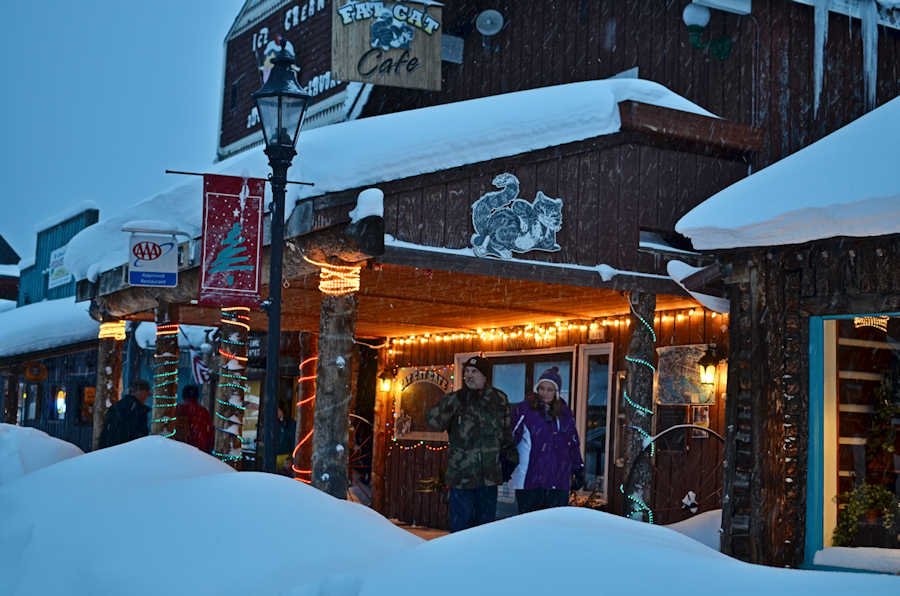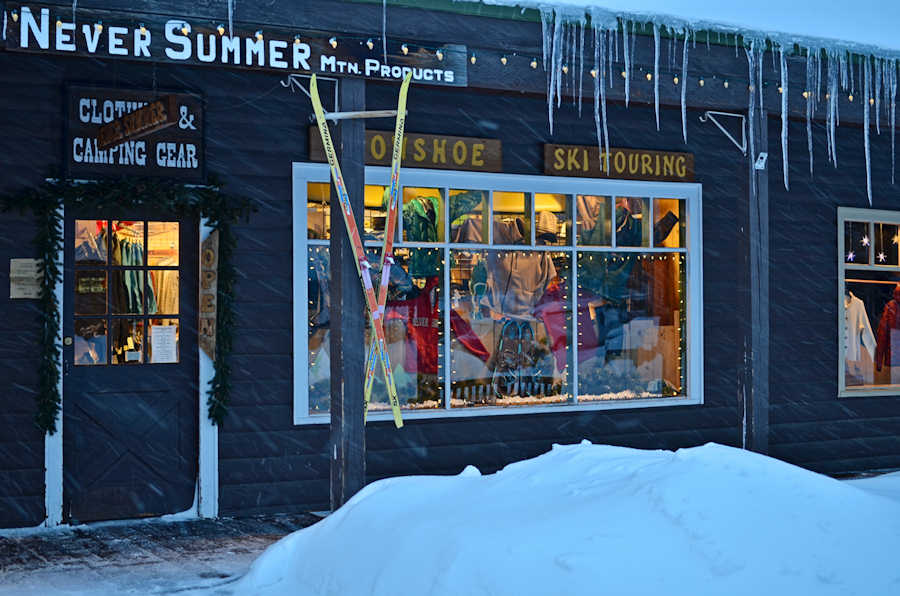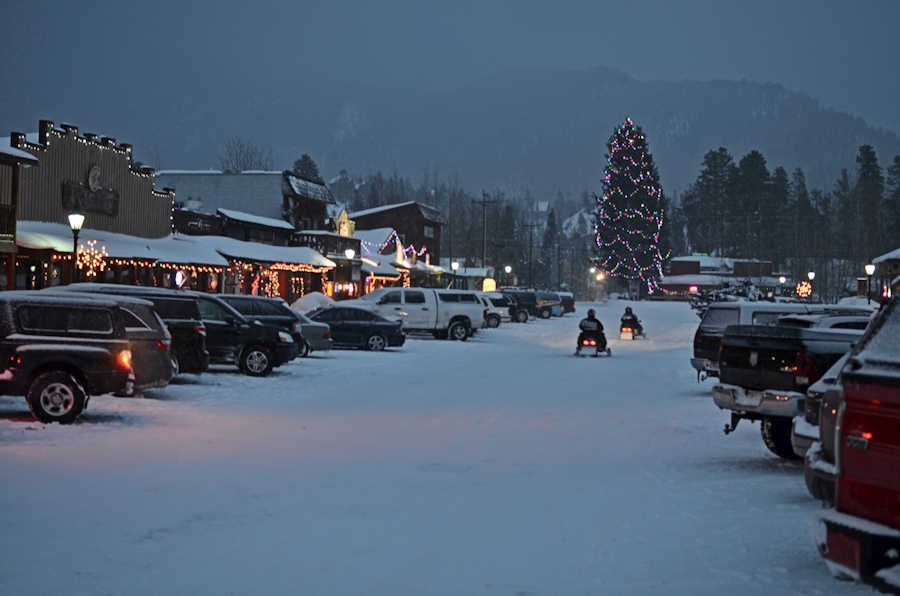 Click on the elk bedded down to explore the cabin to the left along a big irrigation stream.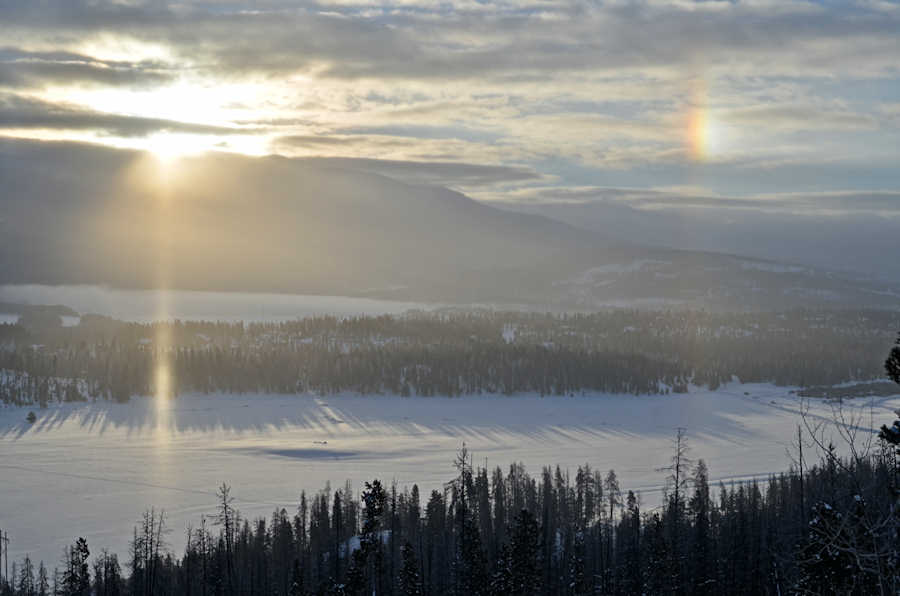 Snow Bow at sunrise.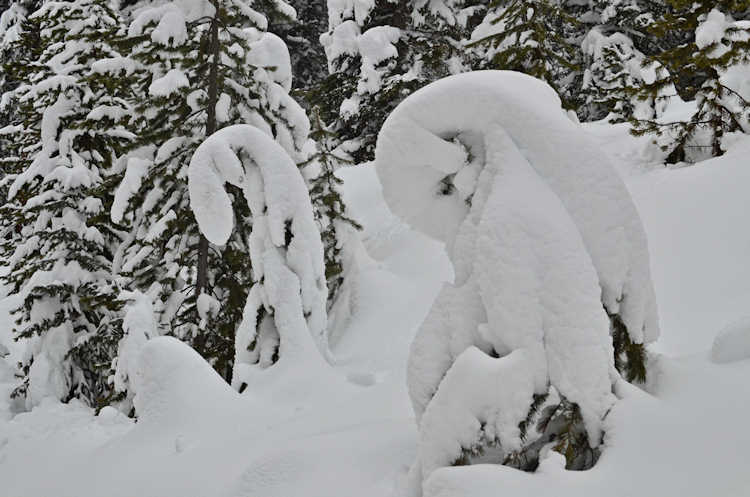 Saturday, February 1, 2013: Natural snow topiary art near the Mary Jane ski area. Scroll down for another view from the same day.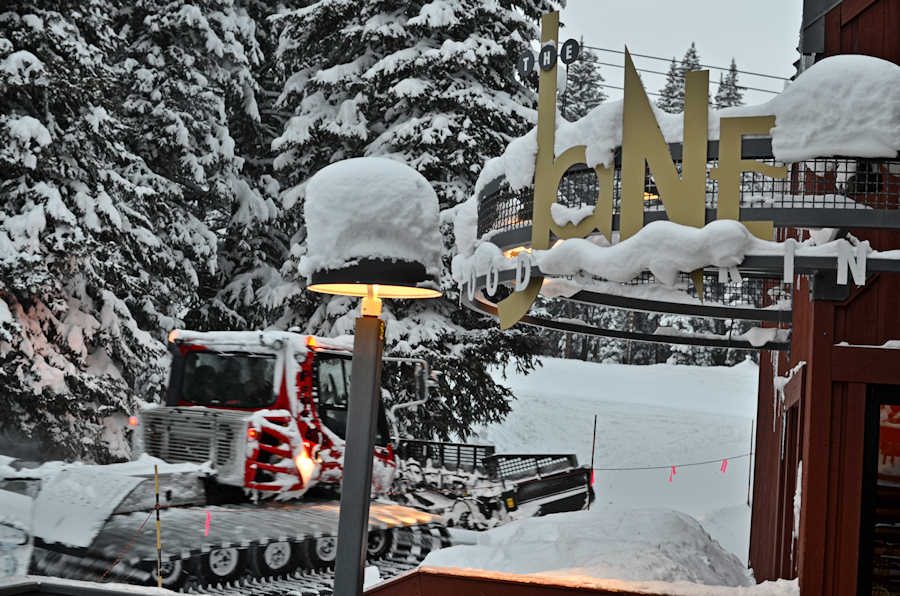 Snow cat tooling past the Club Car lounge and restaurant at Mary Jane. Visit at the end of the day and you can park a few feet from the door!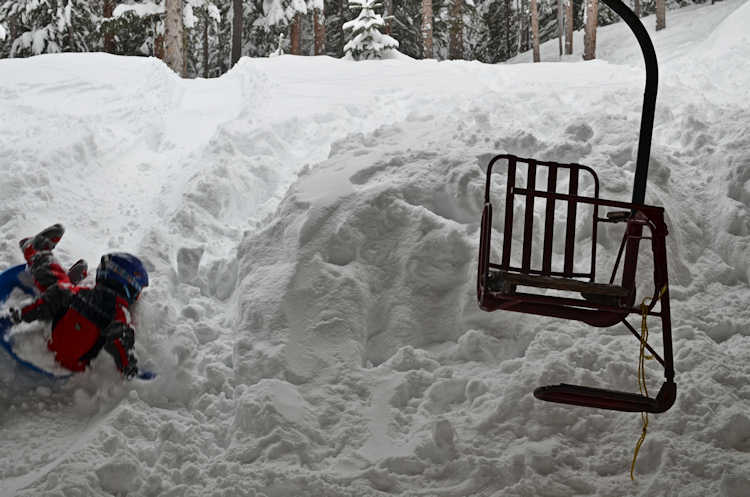 Original (red) chairlift with arm and foot rests at the Arlberg Club by Mary Jane. Probably from when lift tickets looked like the following.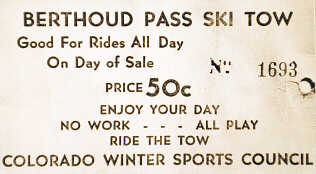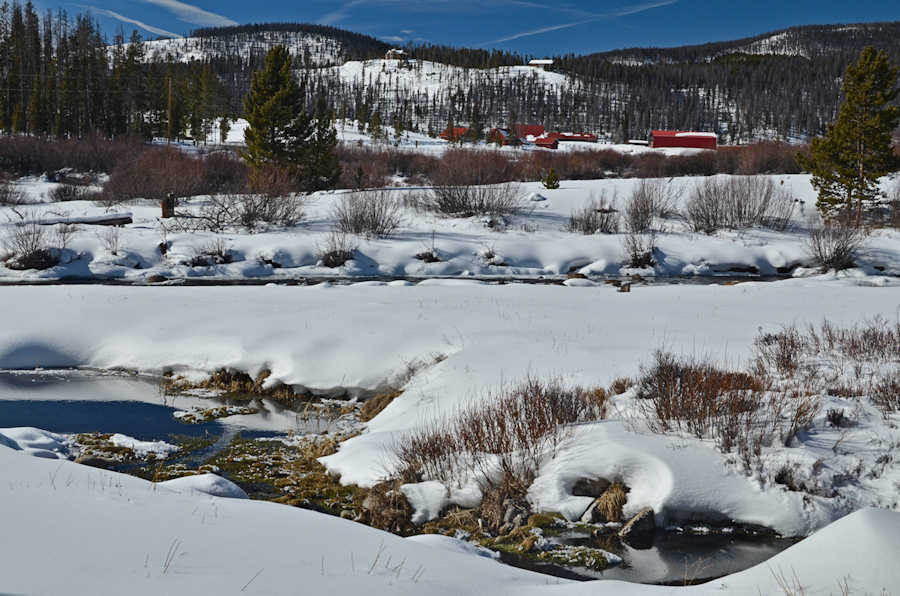 Monday, January 27, 2014: view over the Colorado River. Six fluffy inches of snow fell AFTER this photo was taken. More is on its way.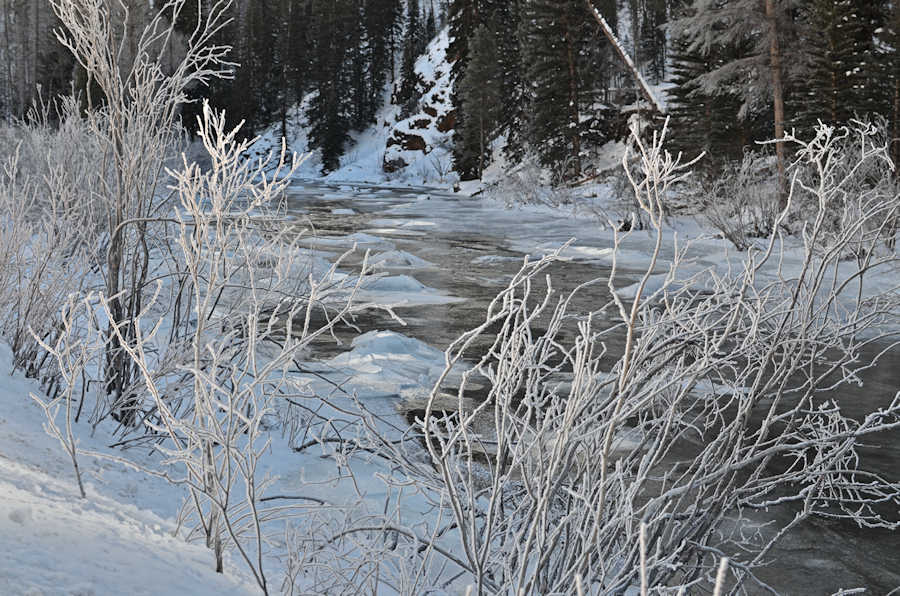 Colorado River at noon below Lake Granby on Sunday, January 19, 2014.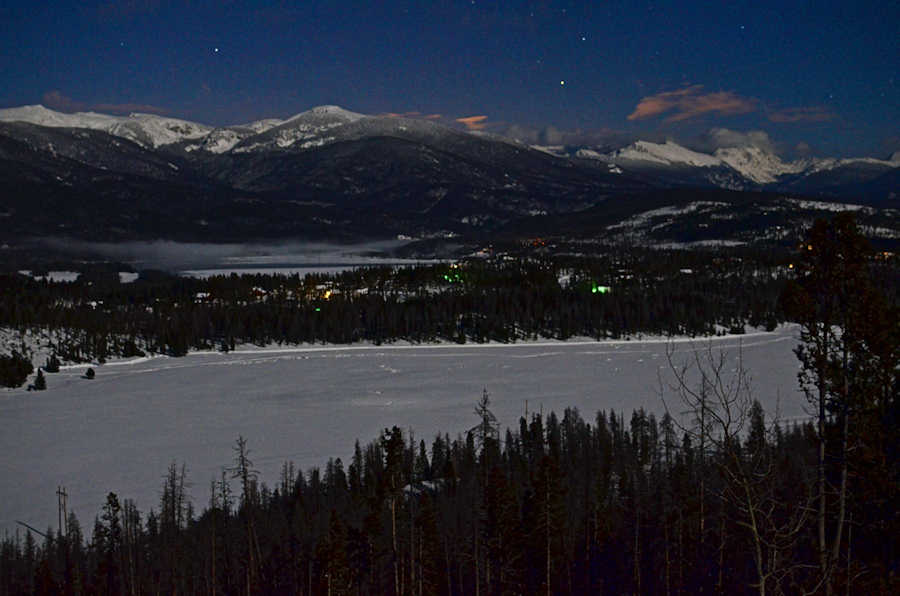 Moonlight bathing the Rockies ....

Fresh snow keeps on coming. We are in a snow-globe!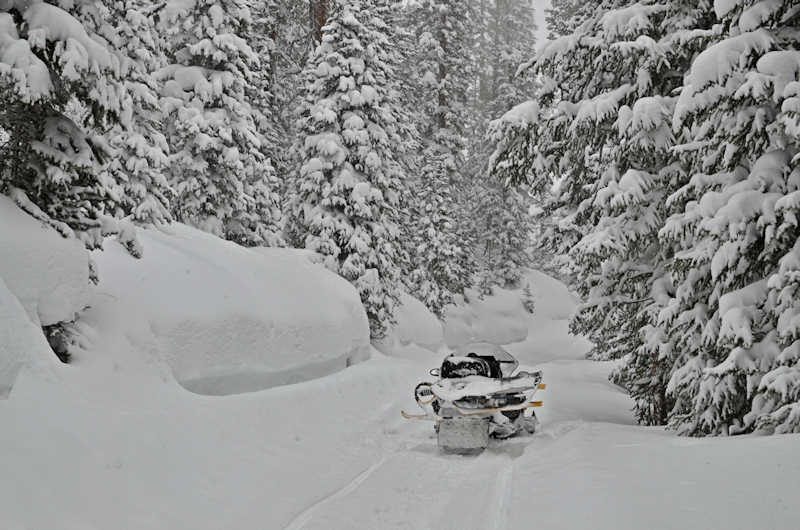 Tuesday, January 14, 2014: did someone leave the snow machine turned on? We have been getting fresh snow every day.
The snow up high (as shown above) is about as deep as it gets for mid-January.
The winds have swept the landscape and made it look like no one has been around.
Even the main trails have deep powder, so be careful and try to stay on the
hidden packed surfaces or you may be up to your neck in snow.
The forecast for the weekend is for warm temperatures and lots of sunshine.
You are going to love it. Here is a link to » Grand Lake Trailgroomers.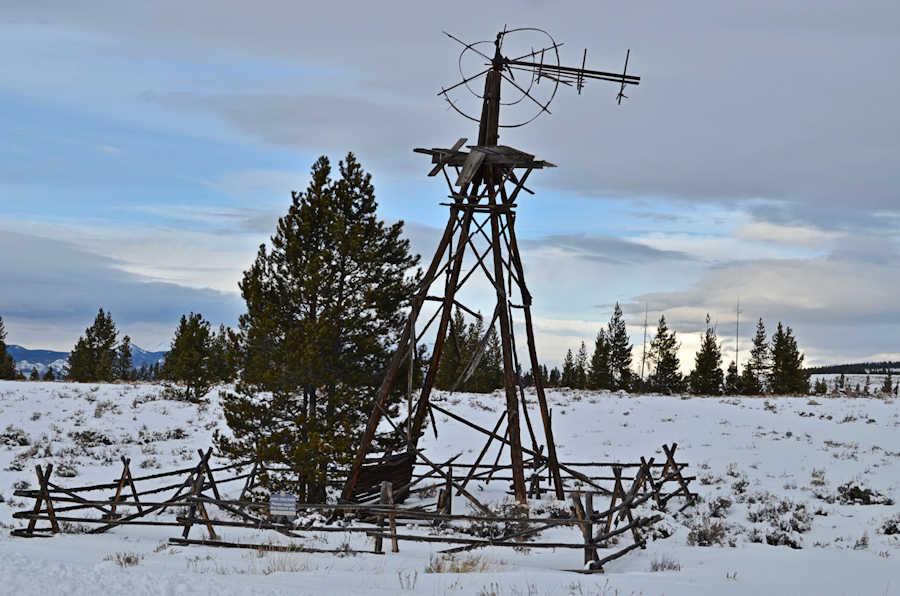 Picturesque windmill in Legacy Park Ranch on January 8, 2014. Click here or on the windmill to » visit land for sale very close to here.
The presentation has a map to show you where is the land and also the windmill.



Arapaho Peak with evening aplengow on Christmas Day. Scroll down to see more to the left.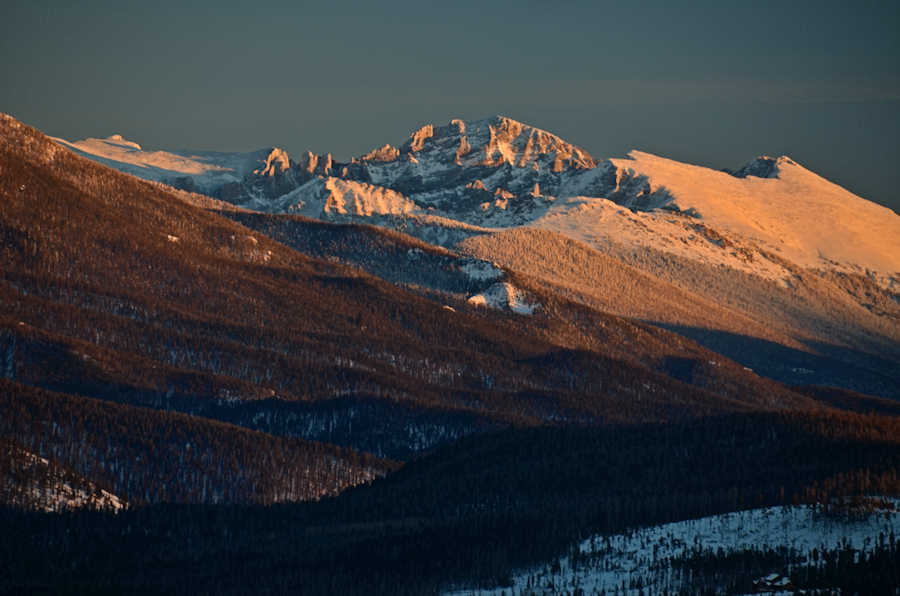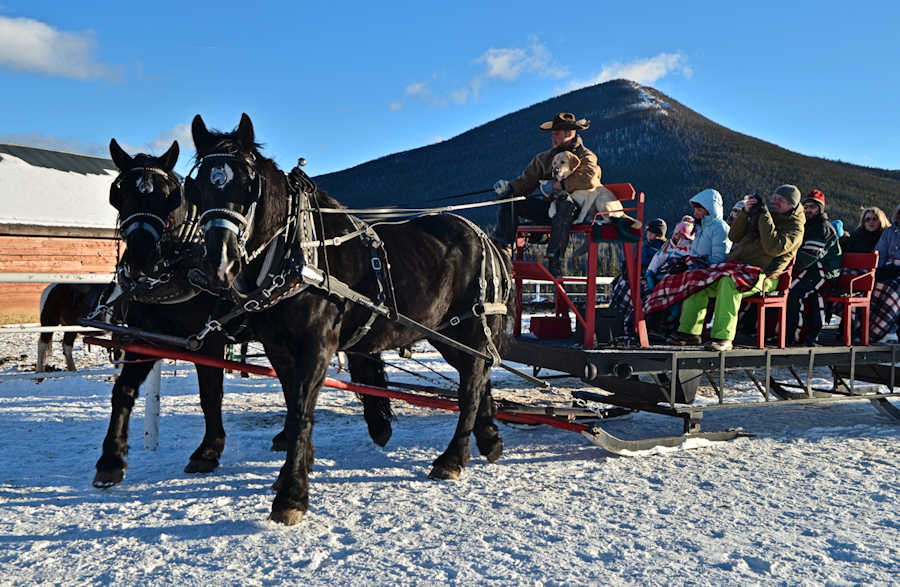 Sleigh Ride at Snow Mountain Ranch (YMCA of the Rockies in the highlands between Winter Park and Granby).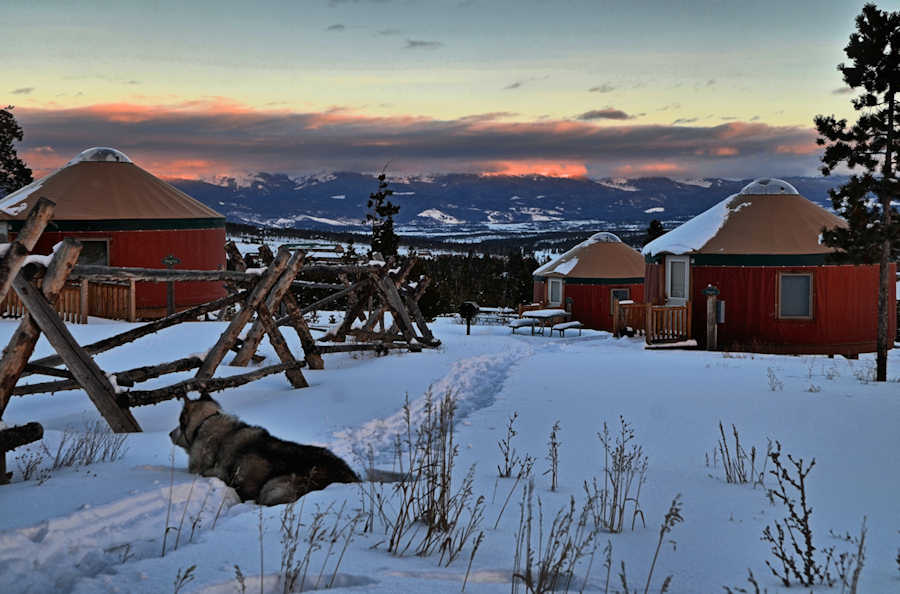 Yurts at the YMCA of the Rockies ~ Snow Mountain Ranch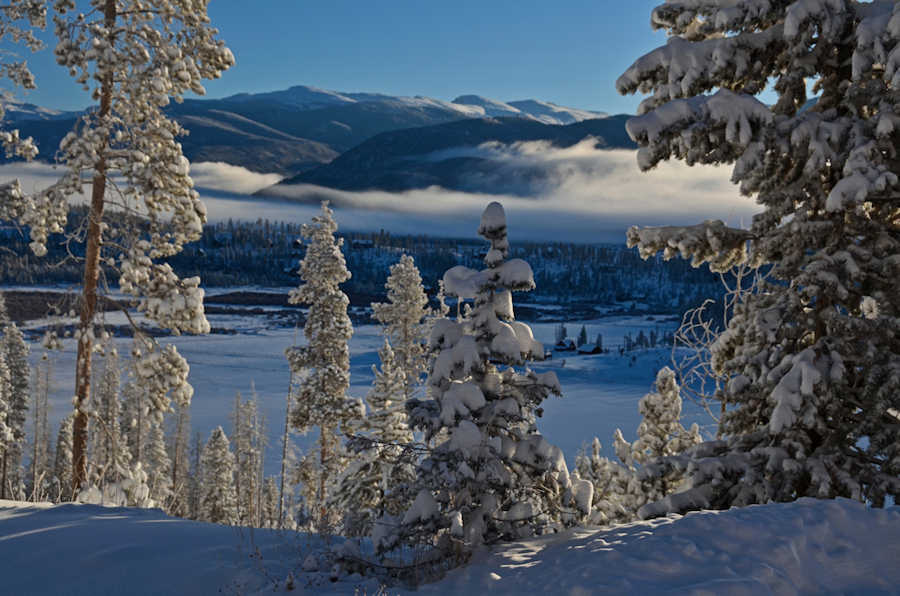 Thursday morning, December 5, 2013: fresh snow over a misty valley ....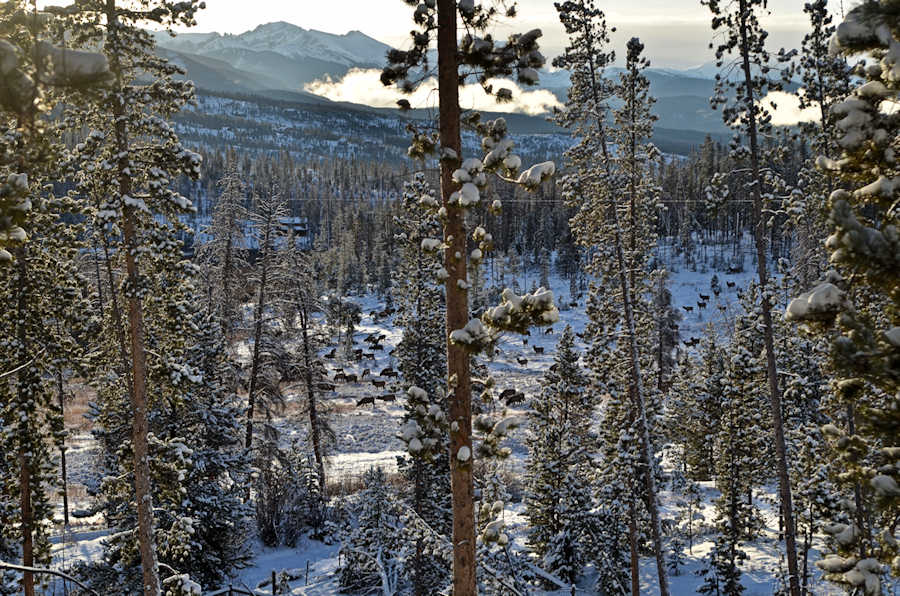 Elk on the move early in the morning on November 23, 2013.




Saturday, November 9, 2013: Elk on the Run. Click on the video below to see them run or go to our YouTube channel: 2GrandLake


Elk on the Run. Saturday, November 9, 2013: Grand Country, Colorado south of Grand Lake and Rocky Mountain National Park.
200 elk in a big valley. This was overlooking a big valley during the peak of hunting season in a no hunting zone. The lively herd
vanished off to right and was not seen again! Shadow Mountain Lake and the Continental Divide are beyond the meadow.
Shadow Mountain Lake and the Continental Divide are beyond the meadow. Sunrise at the beginning is from the same day.
The brief sound is an elk bugle we recorded a previous year. The males produce this sound during the fall rut as they assemble their harems.




Let it Snow! Click here for timely reminders to ensure
that your experience in Grand Lake's Winter Wonderland is magical.

.
First Light on Byers Peak on Monday, October 7, 2013. There was a huge cloud bank over Lake Granby that lasted well into the morning.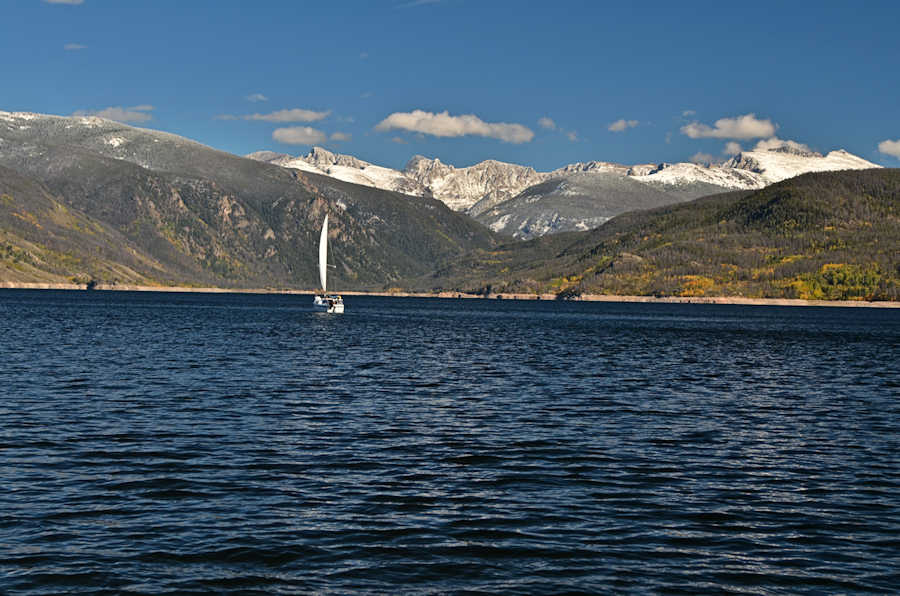 Saturday, September 28, 2013: Lake Granby and The Indian Peaks. Scroll down for a close view of the rocks along the shoreline in the distance.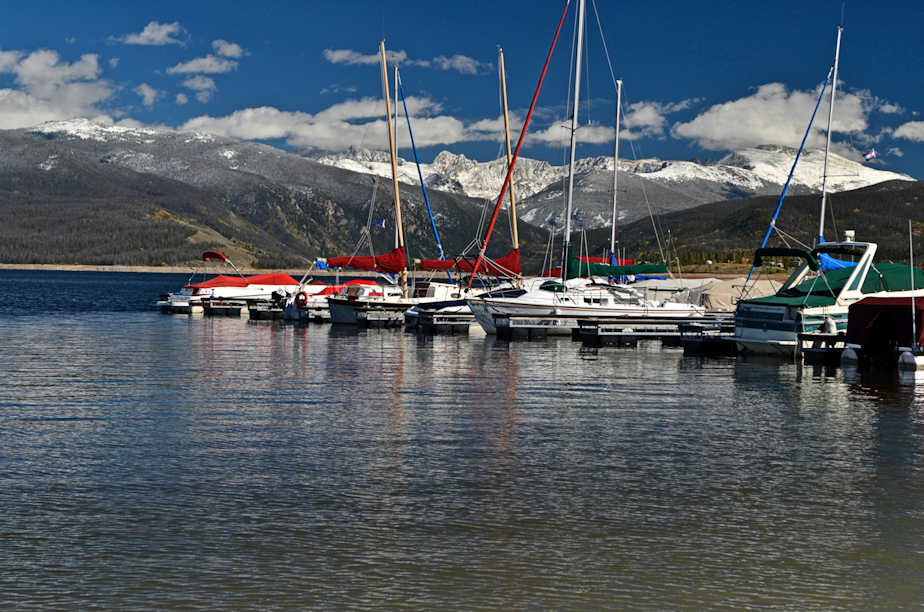 Sailboats docked at Grand Elk Marina on Lake Granby.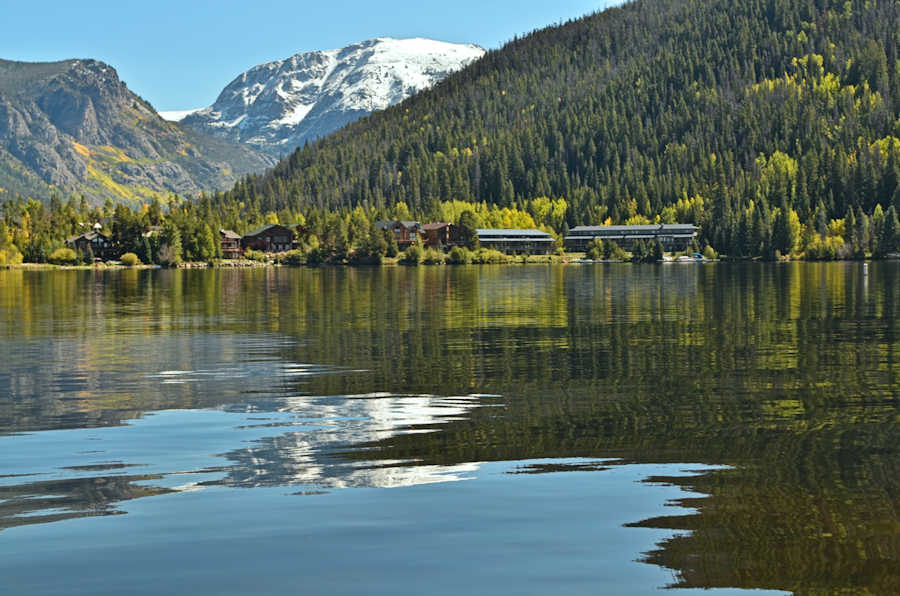 Fall colors and fresh snow. Click on photo to explore the lakefront condominium at Shoreline Landing in the center building for only $538,000
Temperatures will be way below freezing for early Saturday morning, on September 28. It's time for our annual reminder of what to do to ensure
that your home will be a warm and happy place to gather this coming winter. At the very least, please have your water turned completely
turned off while you are away. Let the new photos below inspire you to get out and enjoy all that Colorado has to offer. The end of
September will be spectacular with aspen colors and lots of snow on the high peaks. Get out and enjoy while the days are still long and
the temperatures are mild in the daytime.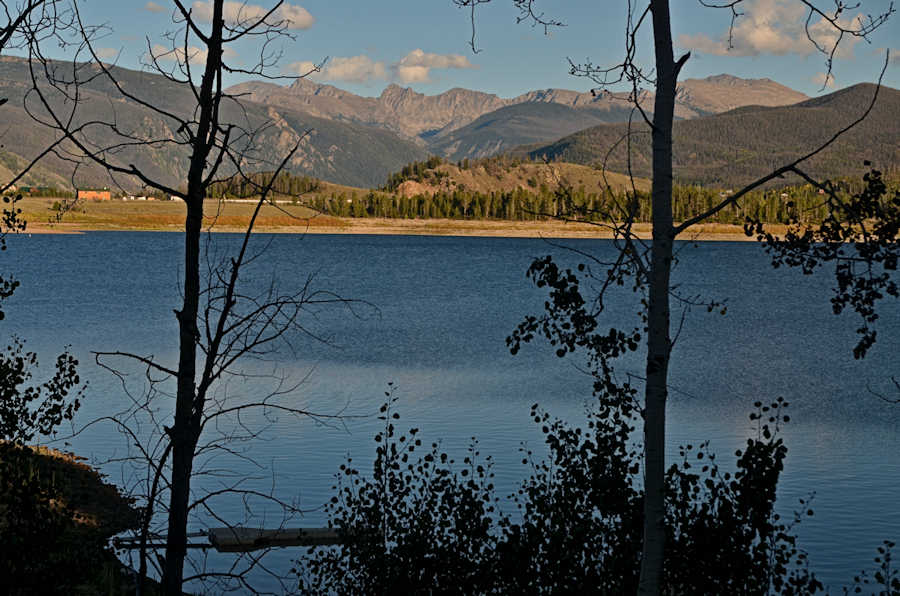 Abe in repose on the Continental Divide ... Click on this photo to learn how this can be the setting for your cabin on the lake!

Tuesday, September 24, 2013: Never Summer Mountains from the south end of Shadow Mountain Lake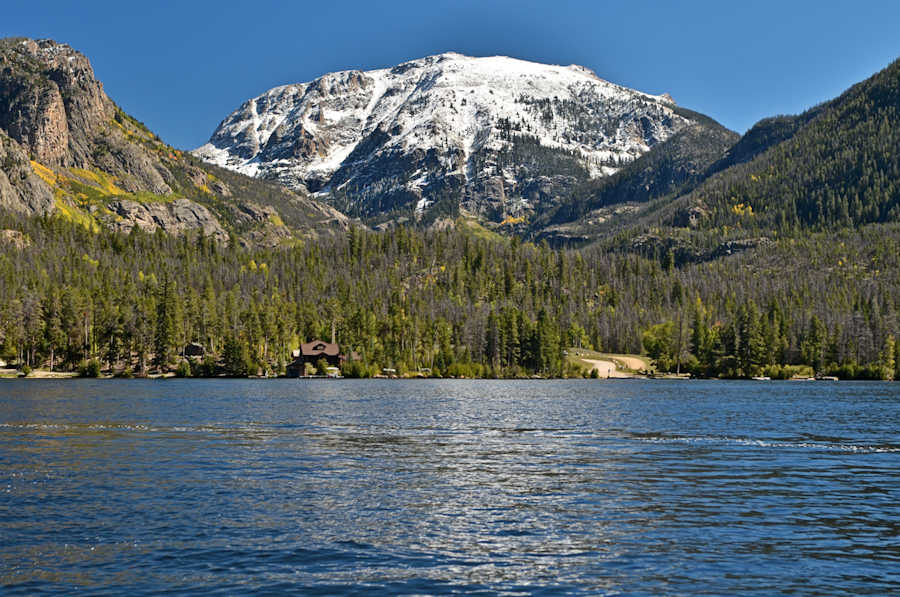 Mount Baldy from the east end of Grand Lake.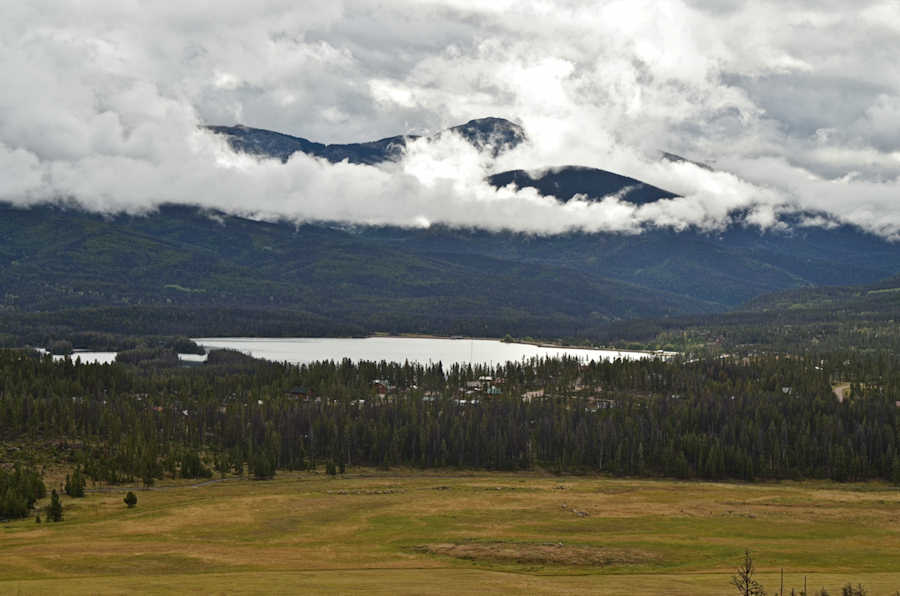 Thursday morning, September 12, 2013: Picturesque clouds over Shadow Mountain Lake. This is the setup from the Grand County side
before the huge rains and flooding commenced over these mountains on the east side of the Continental Divide.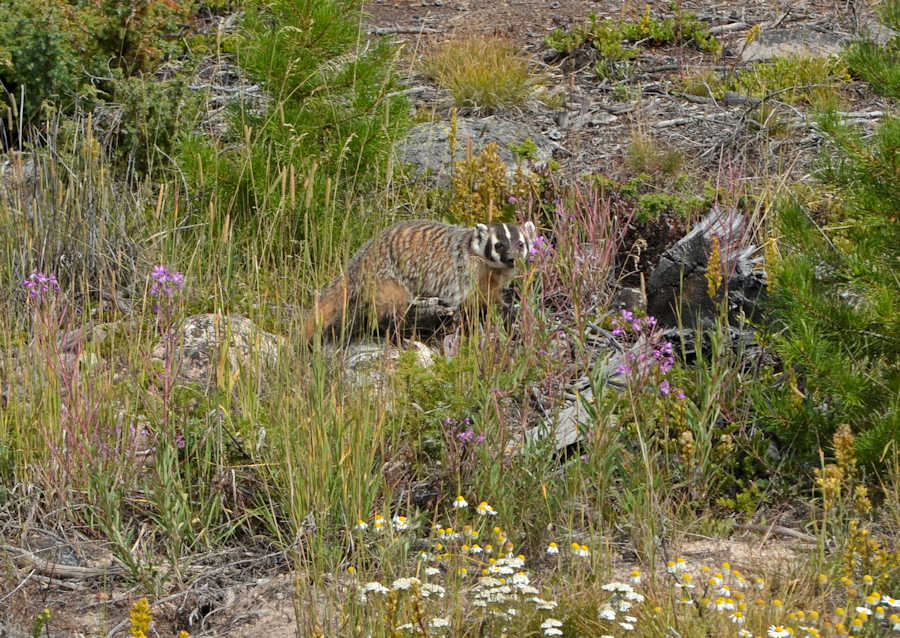 Click on the badger for close-ups. Scroll down for more recent area photos.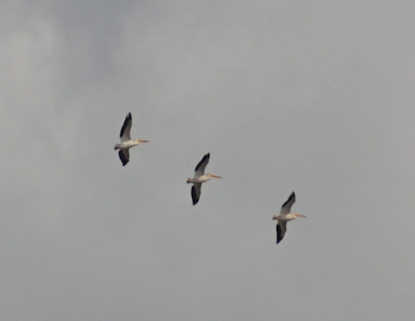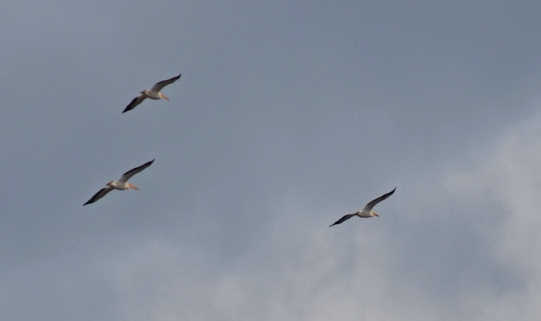 Watch for these graceful birds over the south end of Shadow Mountain Lake. These Great American White Pelicans have been showing up each summer.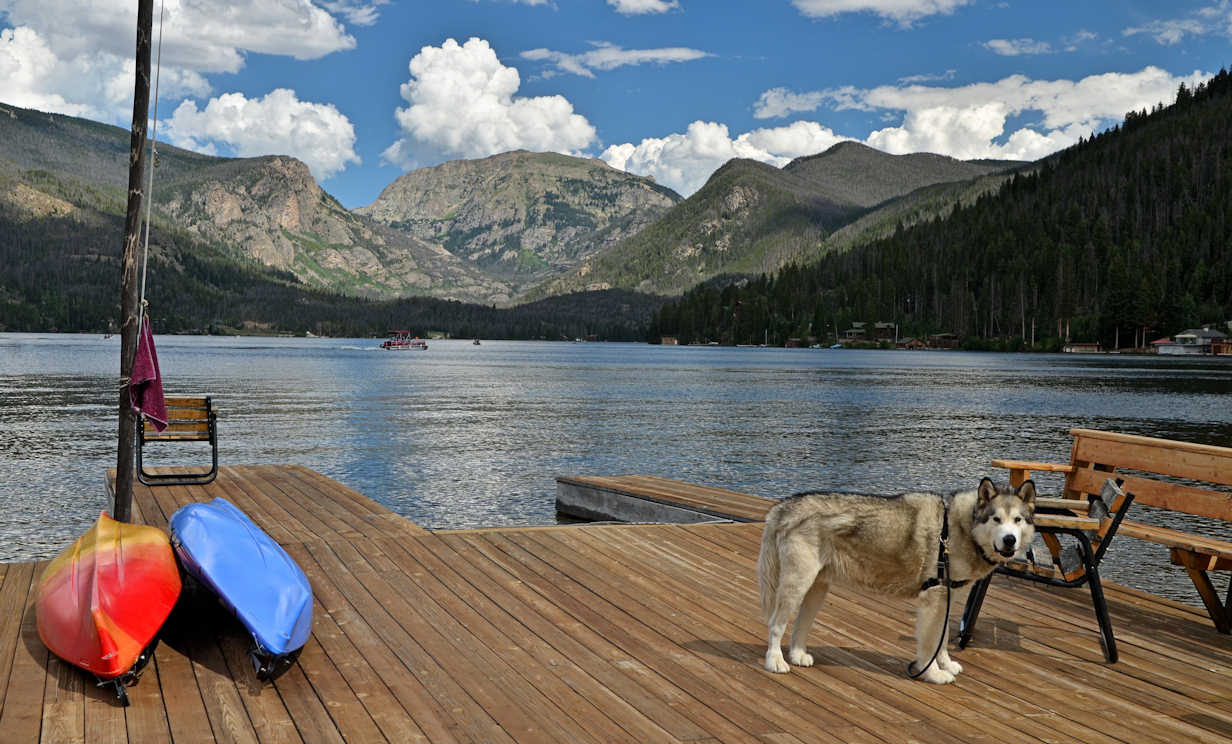 Click on photo to learn how you (or someone you know) can have this as your boat dock on Grand Lake.

We have our own channel now to bring Grand Lake to you.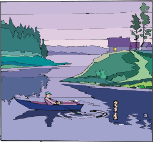 Jump to Homes ... Land ... Businesses ... Main Menu ... What's New
Grand Lake Village is about 8400' high (2570 meters).
The lake surface is kept at 8369'; homes a few miles away can be several hundred feet higher.
Latitude = 40.25° North; Longitude = 105.85º West.
The best prognosticator of our weather is the serpentine Jet Stream.
A huge amount of moisture is carried in this lofty stream. When it is
flows over Colorado, we get lots of rain and snow. Often a high pressure
dome in Utah causes the jet stream to arch far to the north of Colorado.
Our precipitation (if any) is then quick (with rain and rainbows) and
concentrated around our higher ridges and peaks. Climate models for the
northern Colorado Mountains are remarkably uncertain. There is a well
understood branch of the jet stream through Montana and Yellowstone
National Park in northern Wyoming. There is also a predictable branch
through Arizona and southern Colorado. We are between these branches
and in a very difficult to predict area. Our weather is often the inverse of
what is occurring in Denver and Boulder; media reports on Colorado are
often quite misleading for Grand County.
For our high and rugged setting, our weather is remarkably sunny. We have
deep, verdant forests and enough snow in the winter to give Winter Park,
Colorado the highest ten year average for snow among all of Colorado's ski
resorts. How do we manage to sneak in enough rain and snow to fill our lakes
and water our forests and yet provide hundreds of beautiful days for relaxing,
skiing and snowmobiling? The key is our unique location on the west slope of
the Continental Divide where it projects further to the east than anywhere else
in North America. Arapaho Peak defines this eastern most projection.
© Text & Structure of this site is Copyrighted 5/1/96.