Grand County Weather & Snow Reports
Scroll way down the page to see all of the recent images.
or jump back to Homes ... Land ... Businesses ... Main Menu ... What's New
»»» link focusing on Grand Lake from the National Weather Service.
»»» loop video from satellite giving you the Big Picture.
»»» loop video color-enhanced to show Water: the staff of life.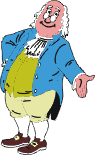 Your weather page is becoming an almanac. For a one week forecast, use the National Weather Service link at the top.



The art and architecture tour for June of 2015 featured a wonderful selection of home's on Grand Lake steeped in history.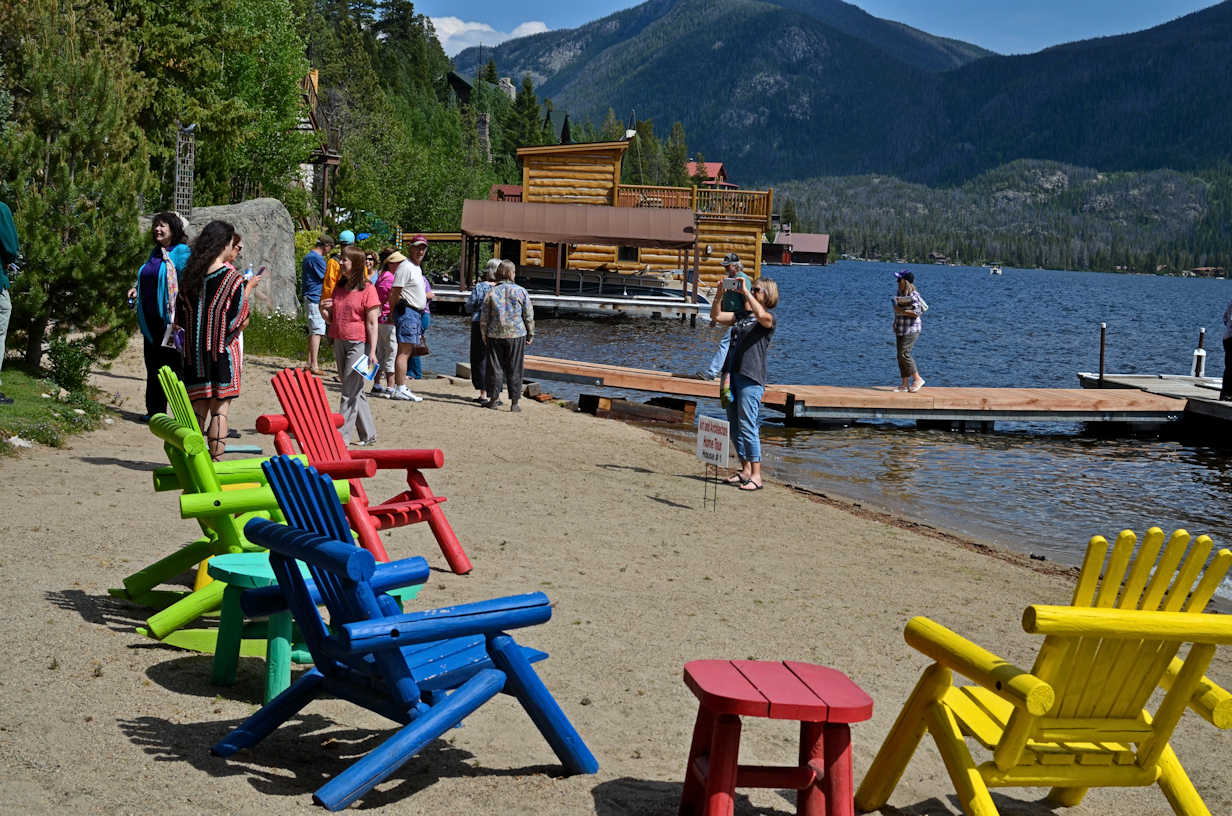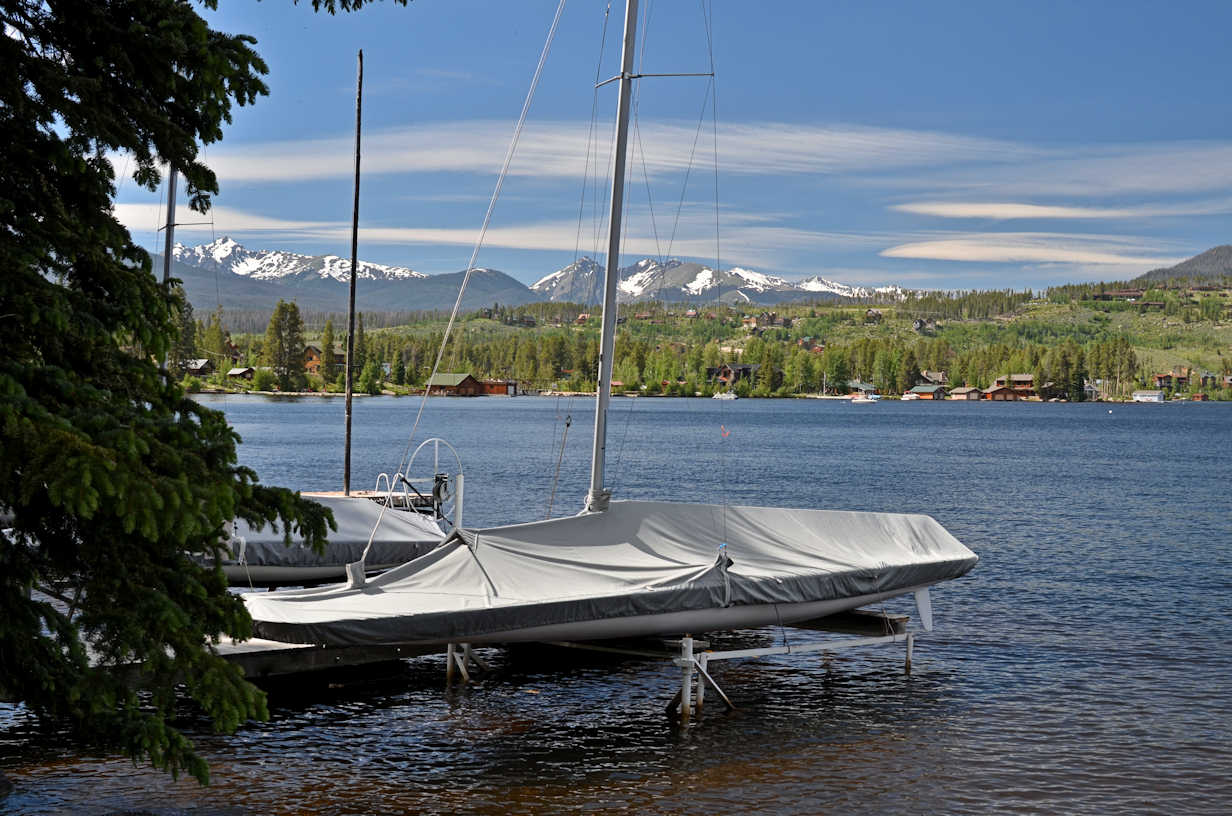 Be a part of the scene. Explore by foot, car, this website and inside our busy office.
For boat lovers, two more images are directly below and deep down . . . . .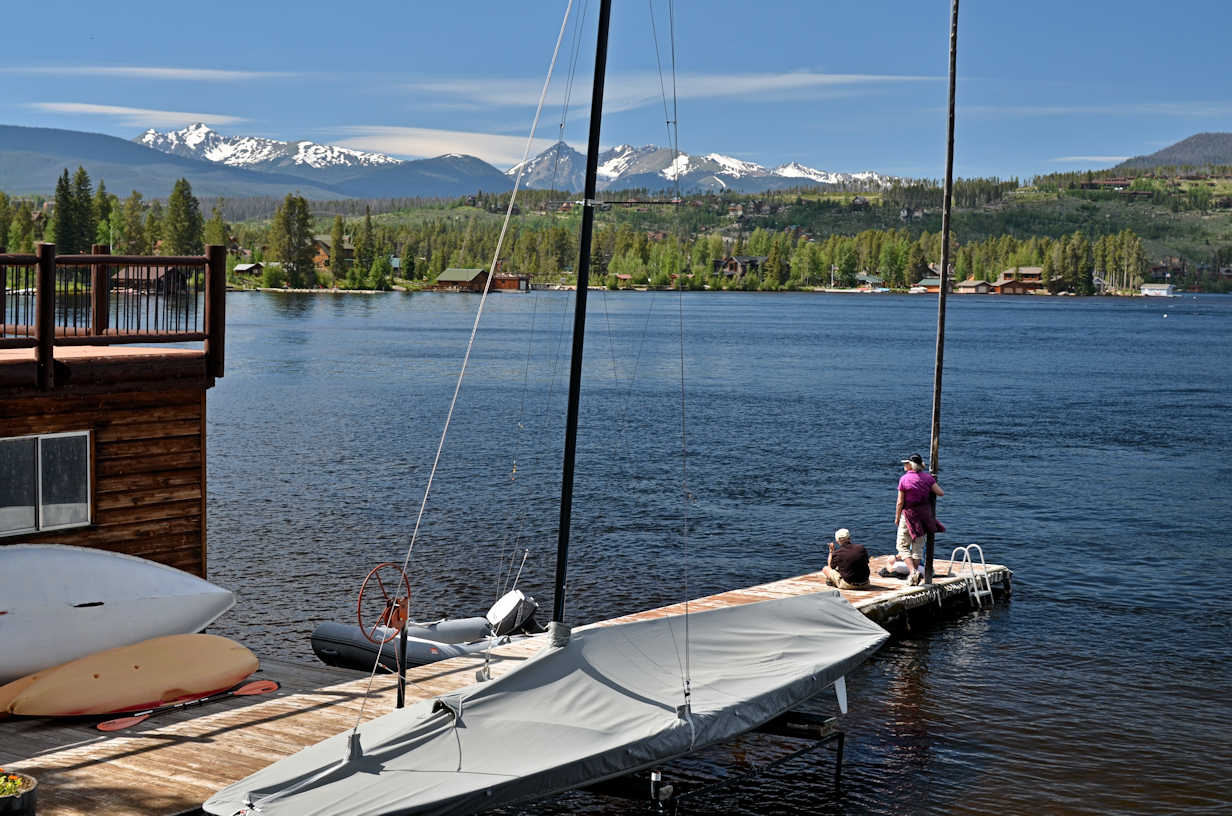 scroll down mate ...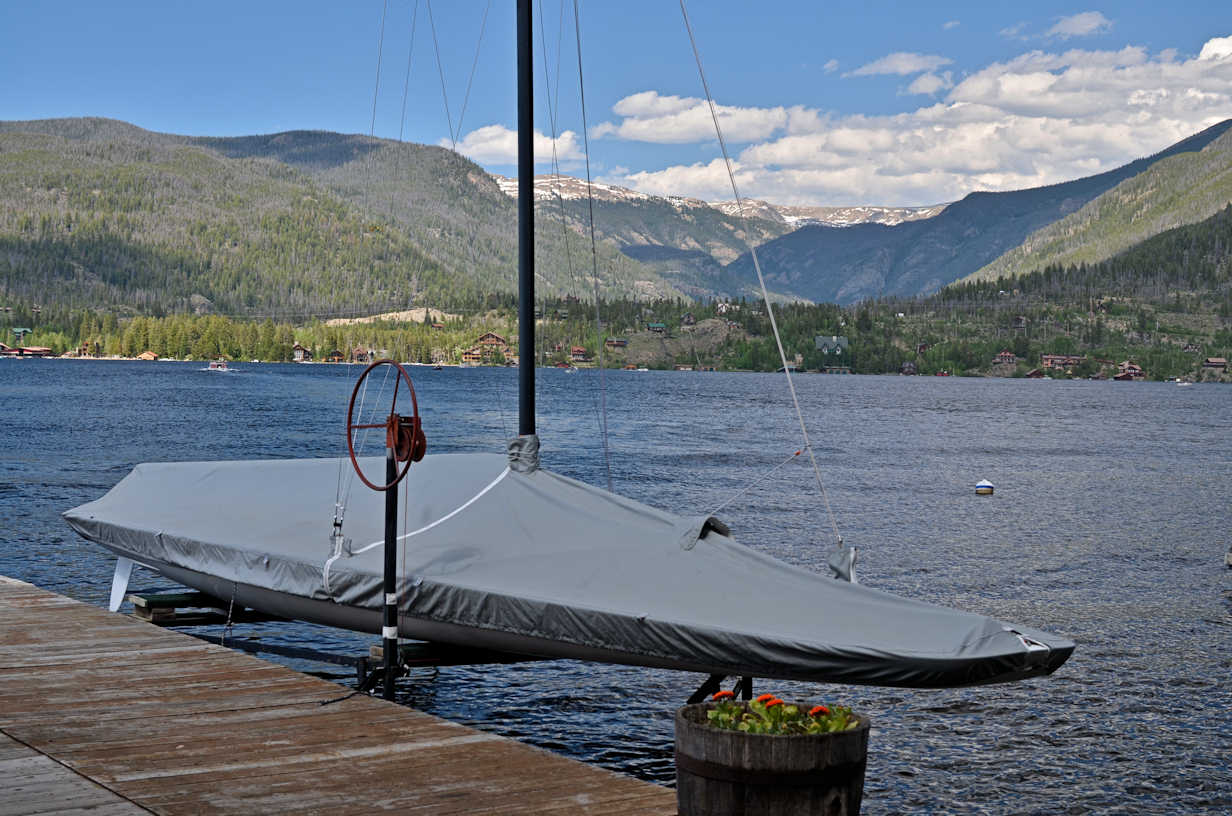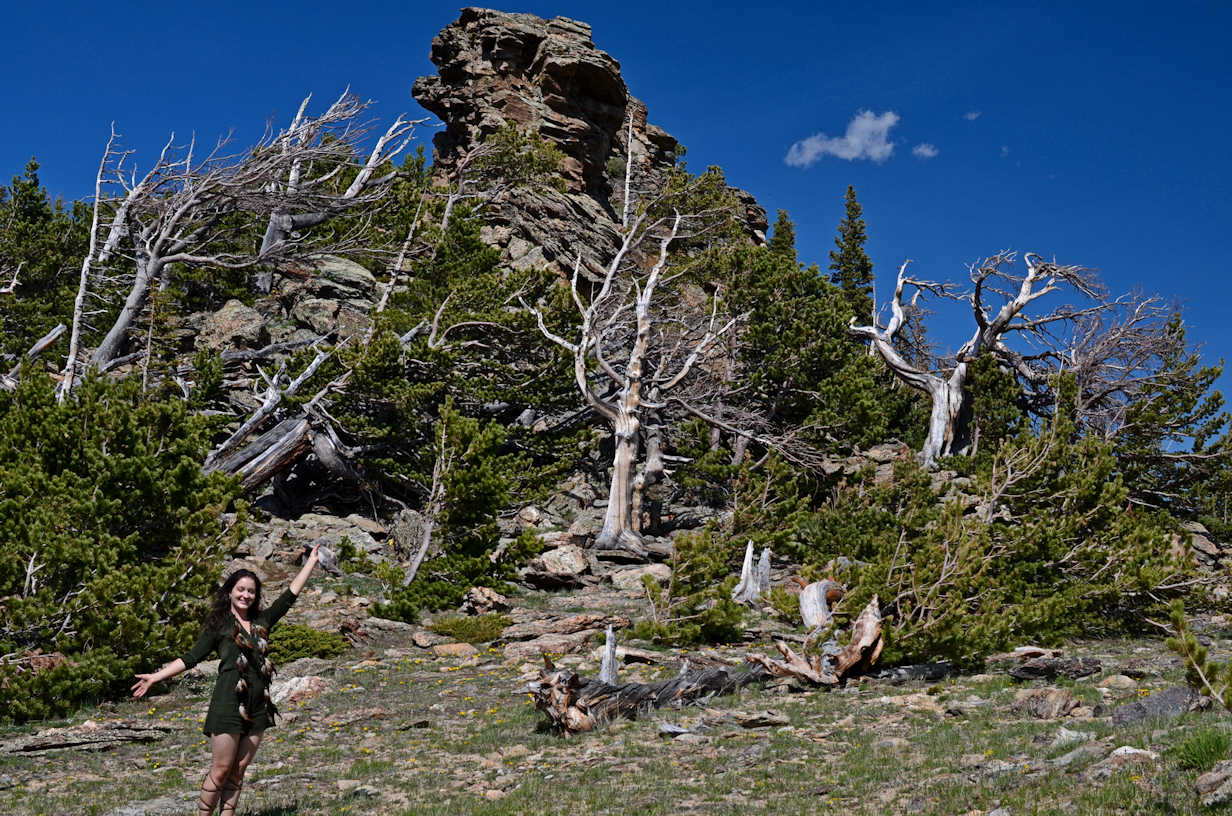 Rocky Mountain National Park has visitors from around the world for its 100th birthday party.
The iconic mammals from Big Horn Sheep, to Goats, Elk, wolf*, bear and marmots .... watched over by eagles ...
everyone has stepped out, even the plants after vigorous rains to create a bouquet of wildlife for the centenary.
Scroll down for recent images and if you have a moment, enjoy the 3 minute druid walk into one of The Park's 100 unique folds and pockets.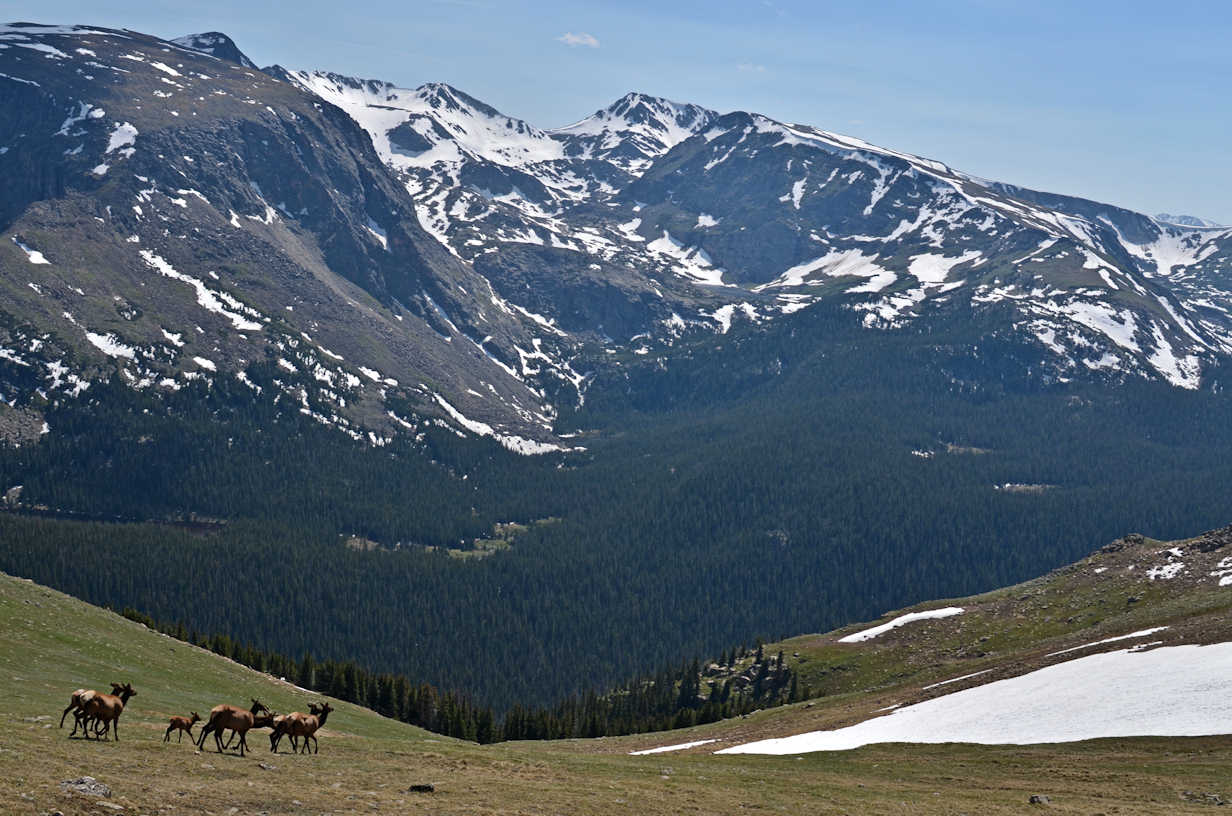 I remember crossing Trail Ridge Road at night. I pulled over in a level area, walked a bit out onto the soft tundra and laid down.
The stars of course were magnificent. I could hear footsteps, lots of them, some from elk and some coyote crossing over in the starry night.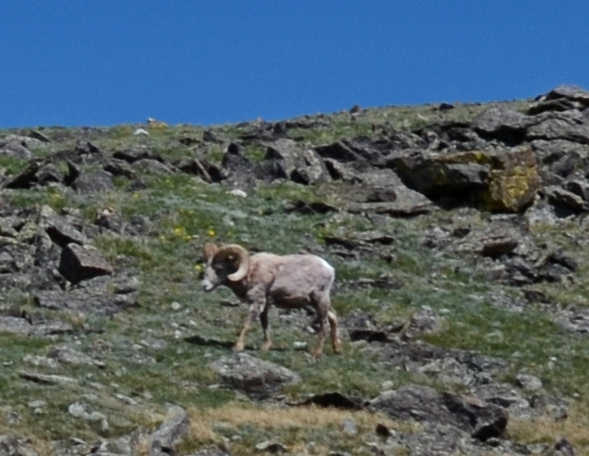 Scroll down ...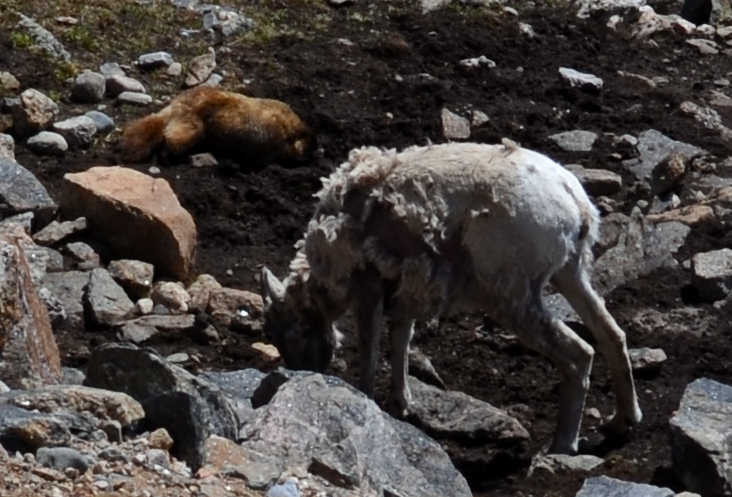 Scroll down ...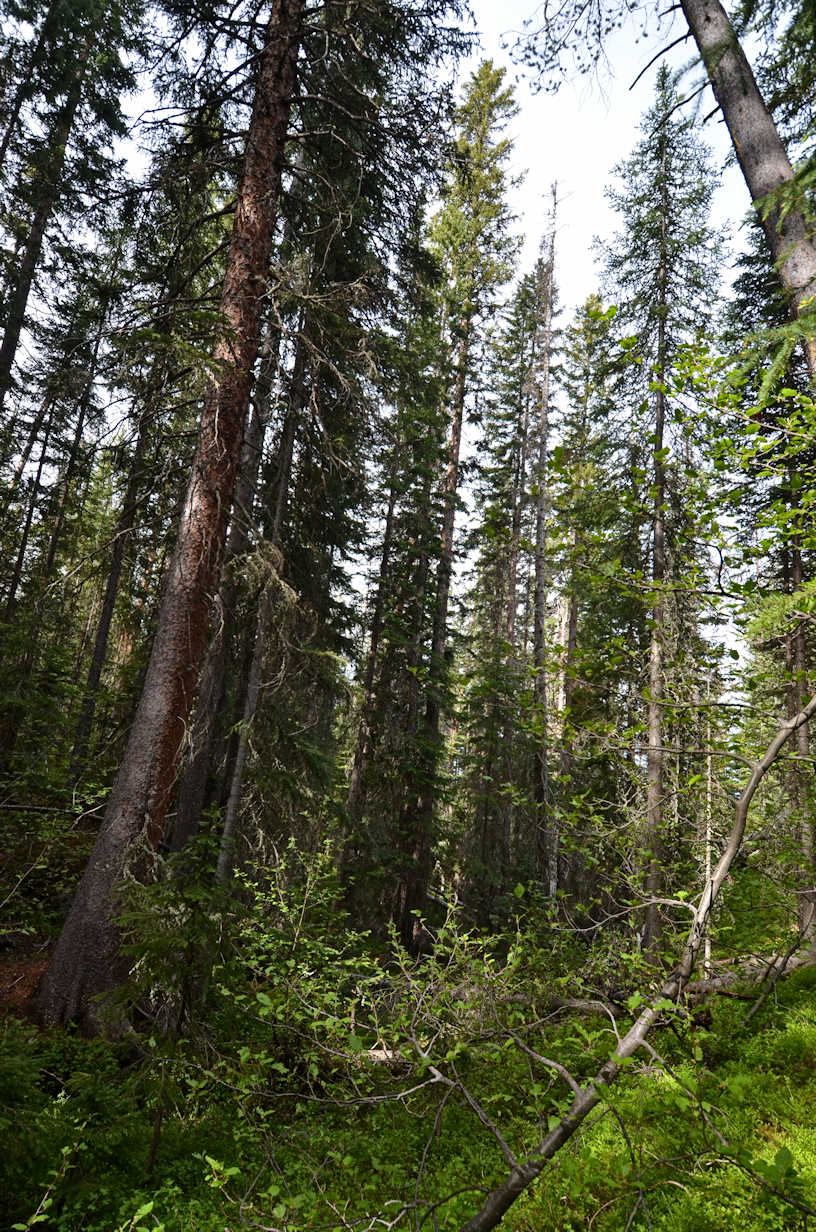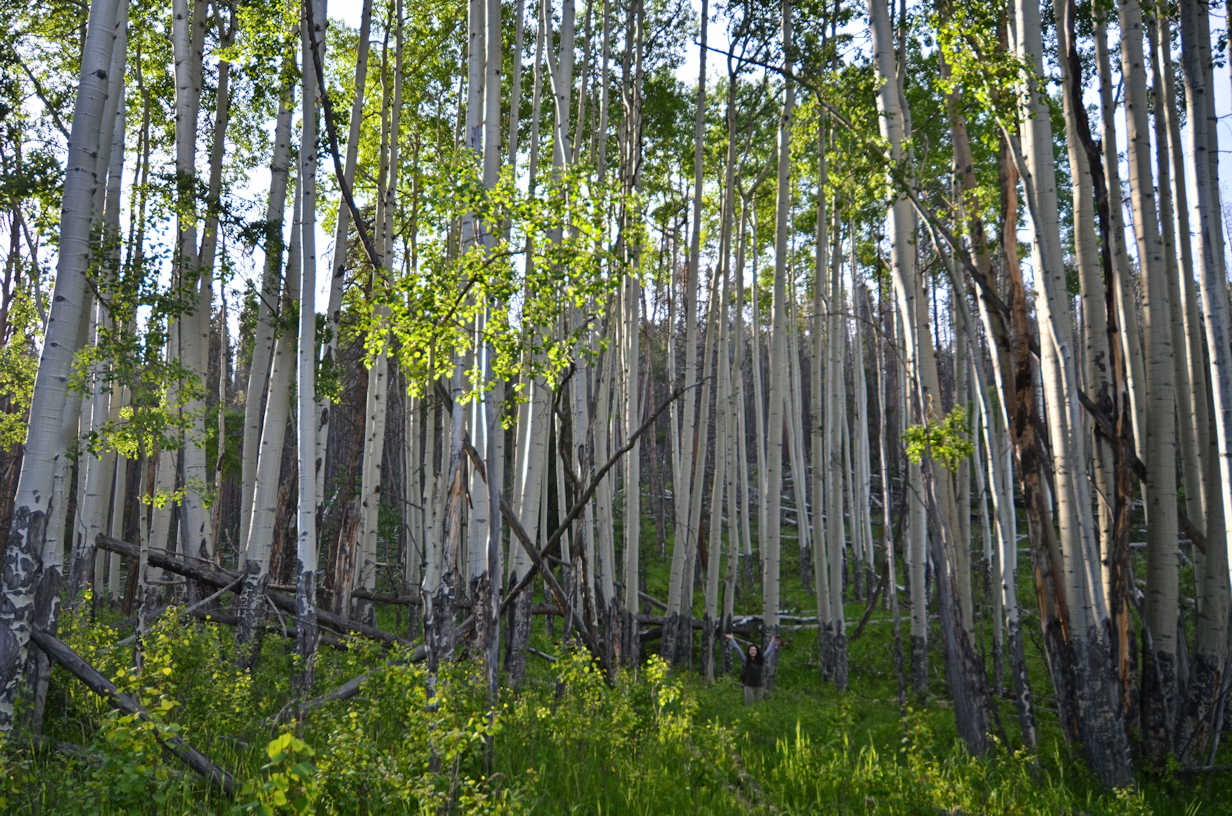 3 minute video into a druid woods below a sun 'n moon etched on Mount Bryant.


Summer Solstice, June 21, 2015 druid walk to below the sun and moon etched on Mount Bryant over Shadow Mountain Lake.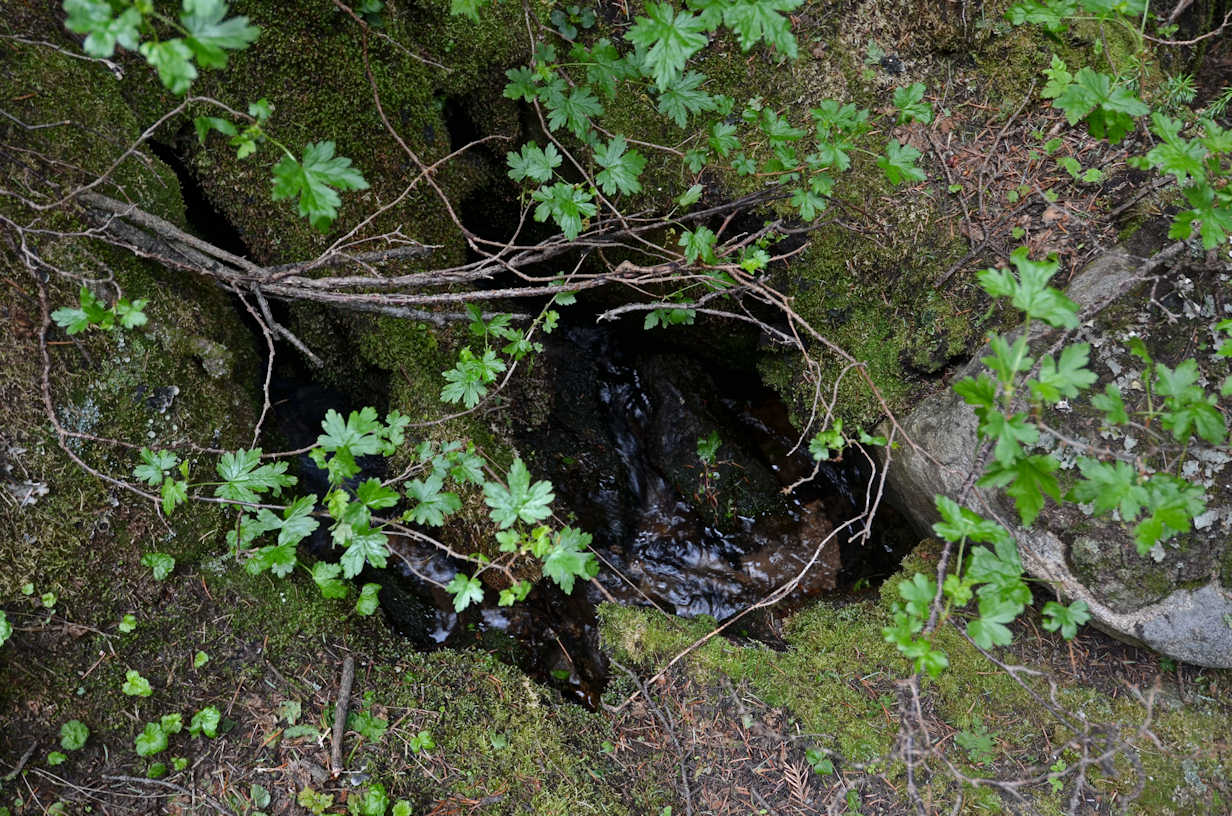 Mountains have pockets ....

Moss land ... Click here to » see on the video at our youtube channel 2Grand Lake.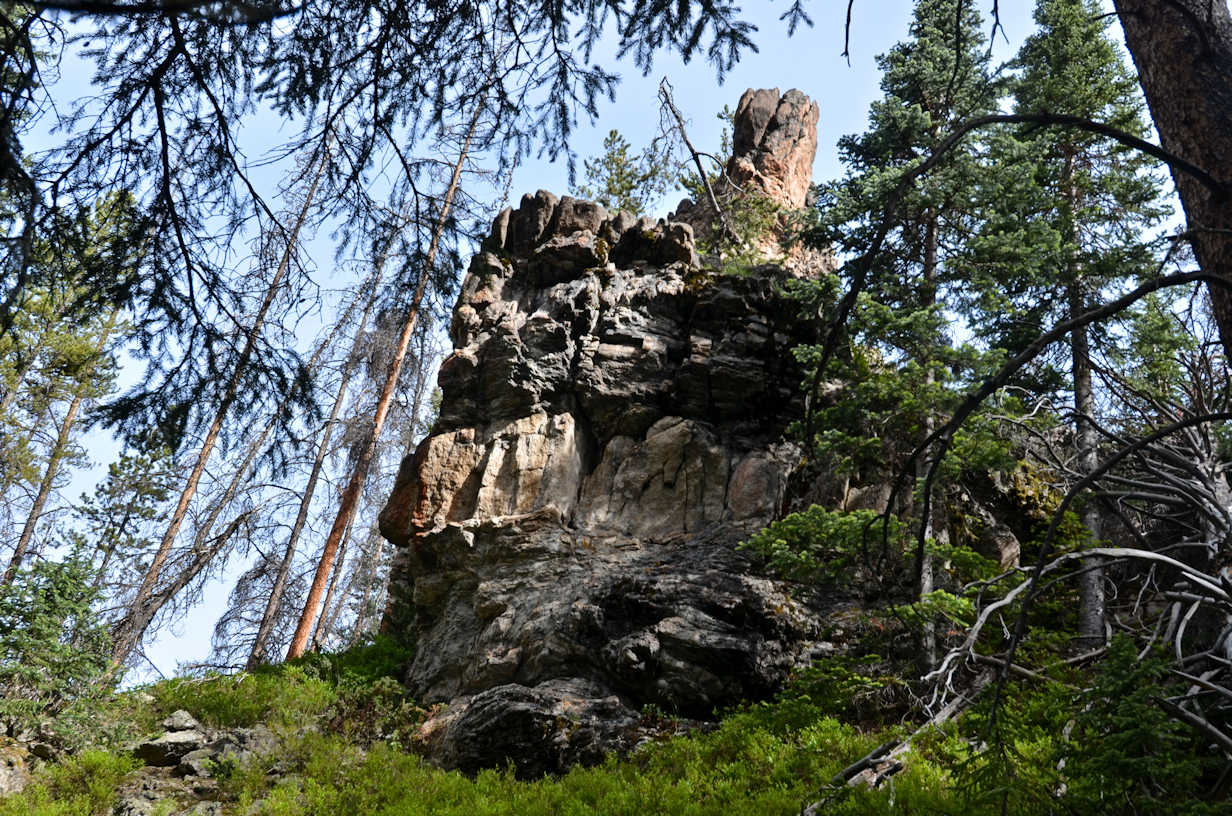 Standing Stone ... with filigree along the edges.




Never Summer Mountains from Ranger Meadows at the base of Mount Bryant. Click here to » see on the video at our youtube channel 2Grand Lake.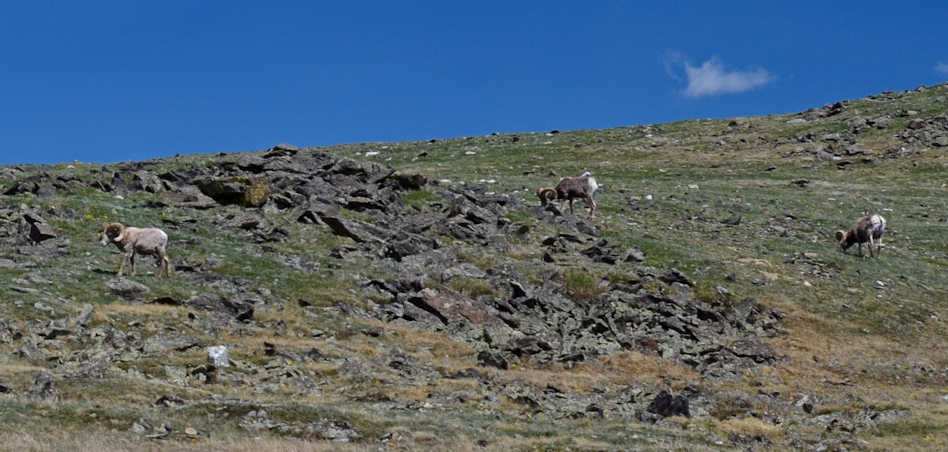 The iconic images of Rocky Mountain National Park are on full display. Goats, sheep, elk, wolf or coyote going after marmots have all been seen
along the 12 miles of rolling tundra at the top of Trail Ridge Road. With a quarter million acres of extremely varied land, there are
going to be some especially deep pockets, little Edens, where the buzzing and humming of life has been going on since the last Ice Age.
Every mountain has many pockets. We hope you find yourself in one this summer in celebration of Rocky Mountain National Park being 100 years old/young.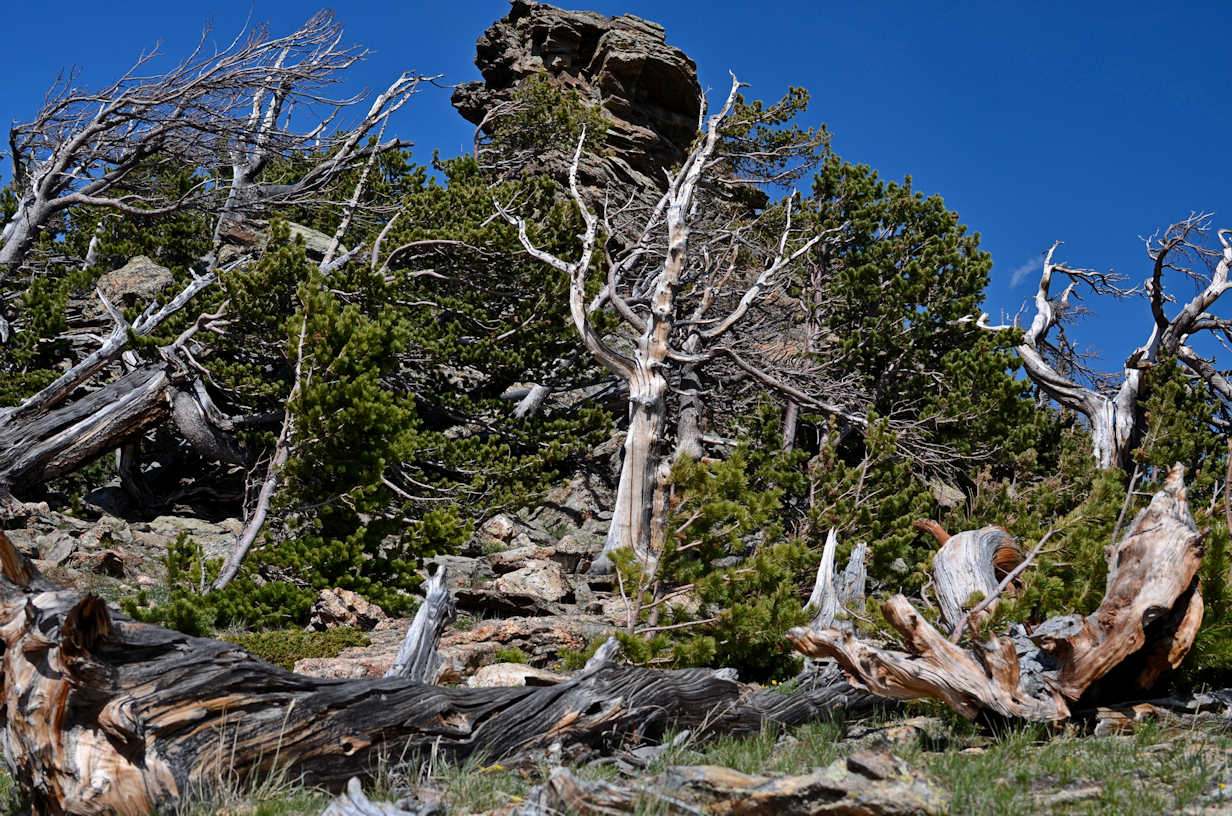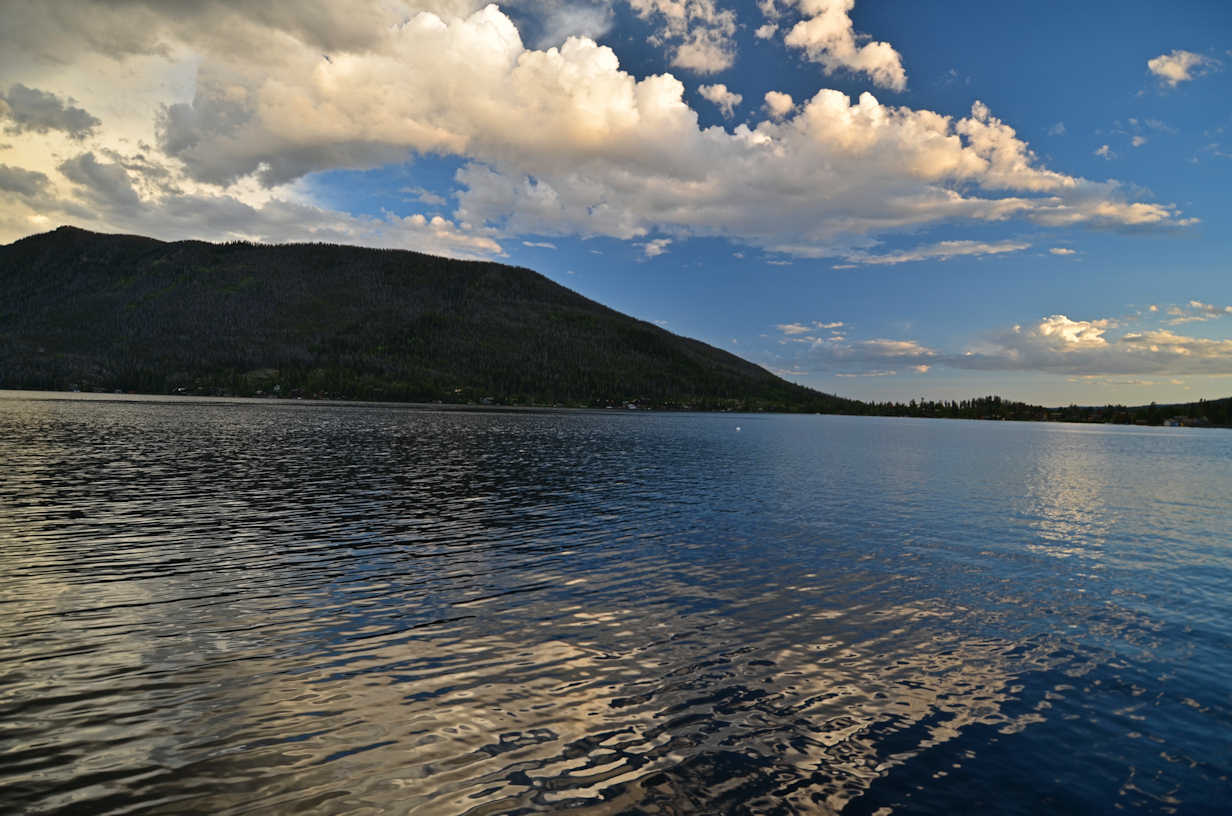 Grand Lake on the eve of Thursday, June 18.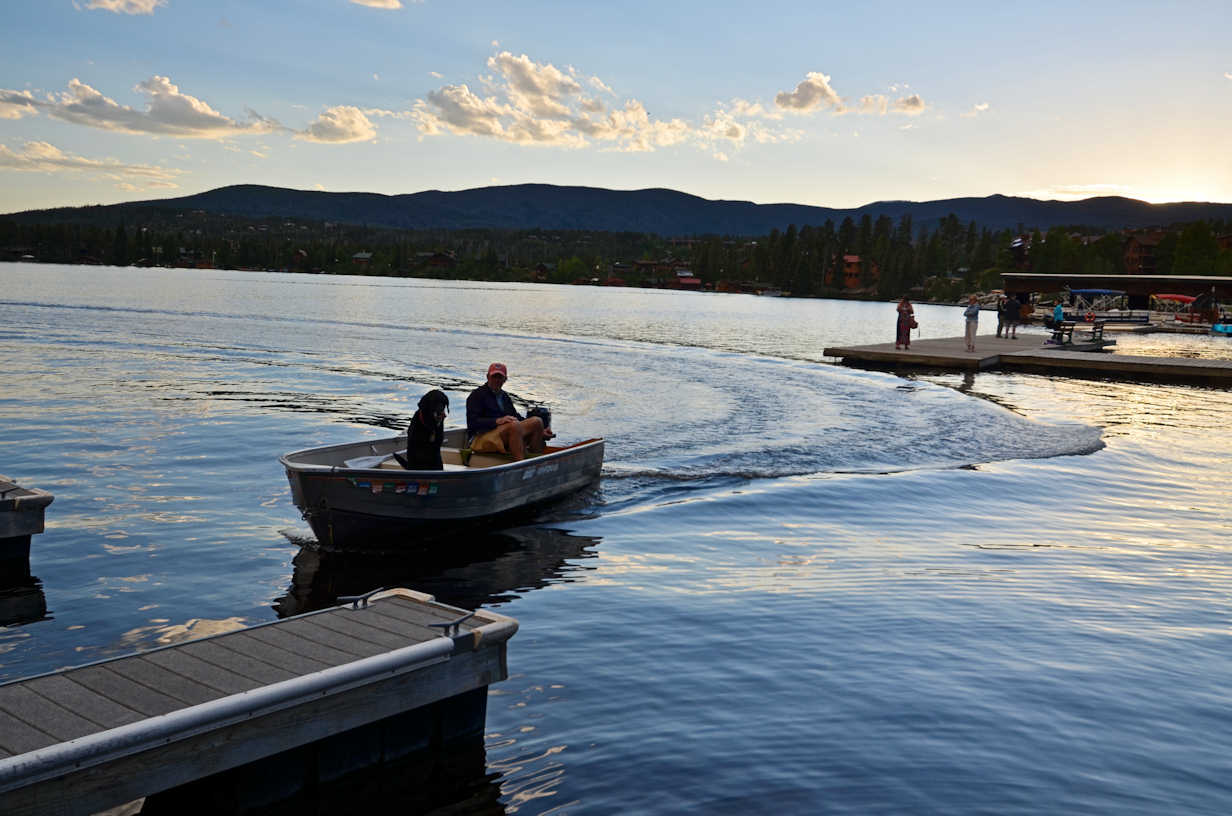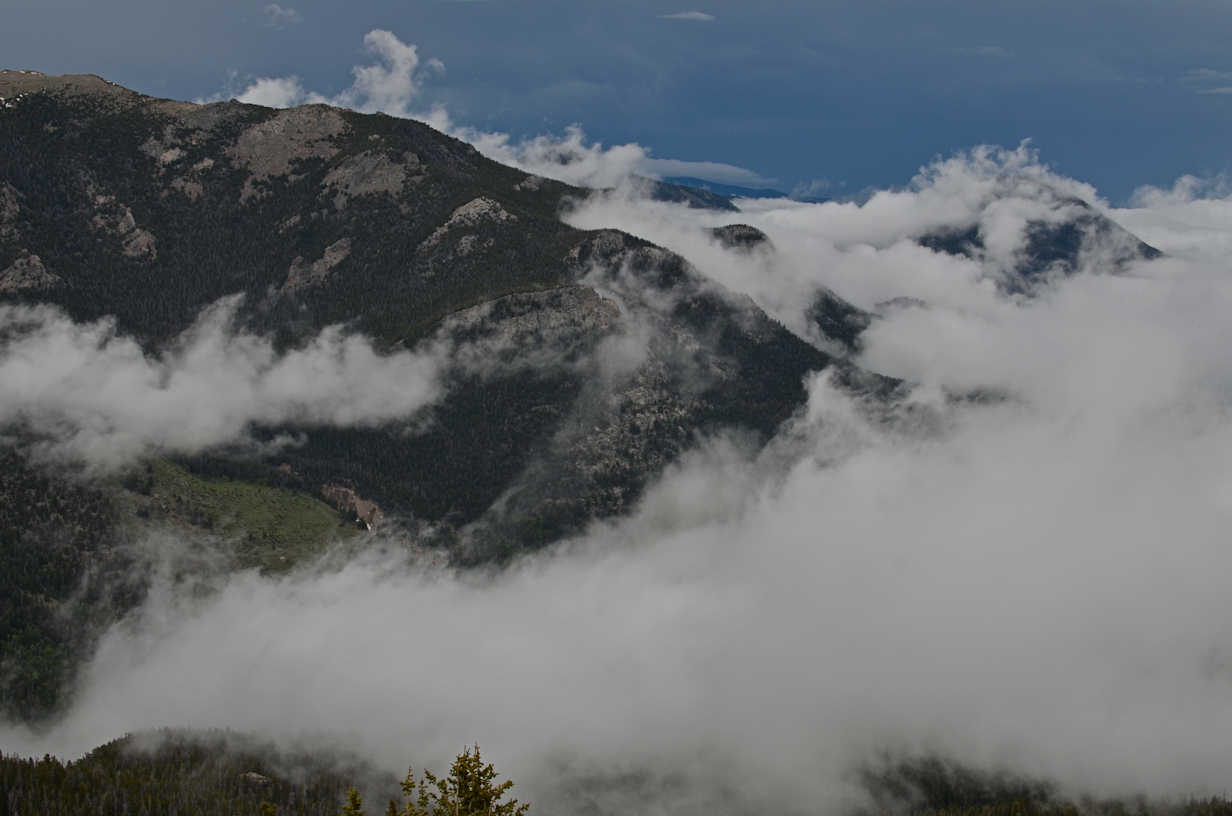 Rocky Mountain National Park was founded 100 years ago in 1915. Scroll down for more recent photos, including a lone wolf at 12,000 feet.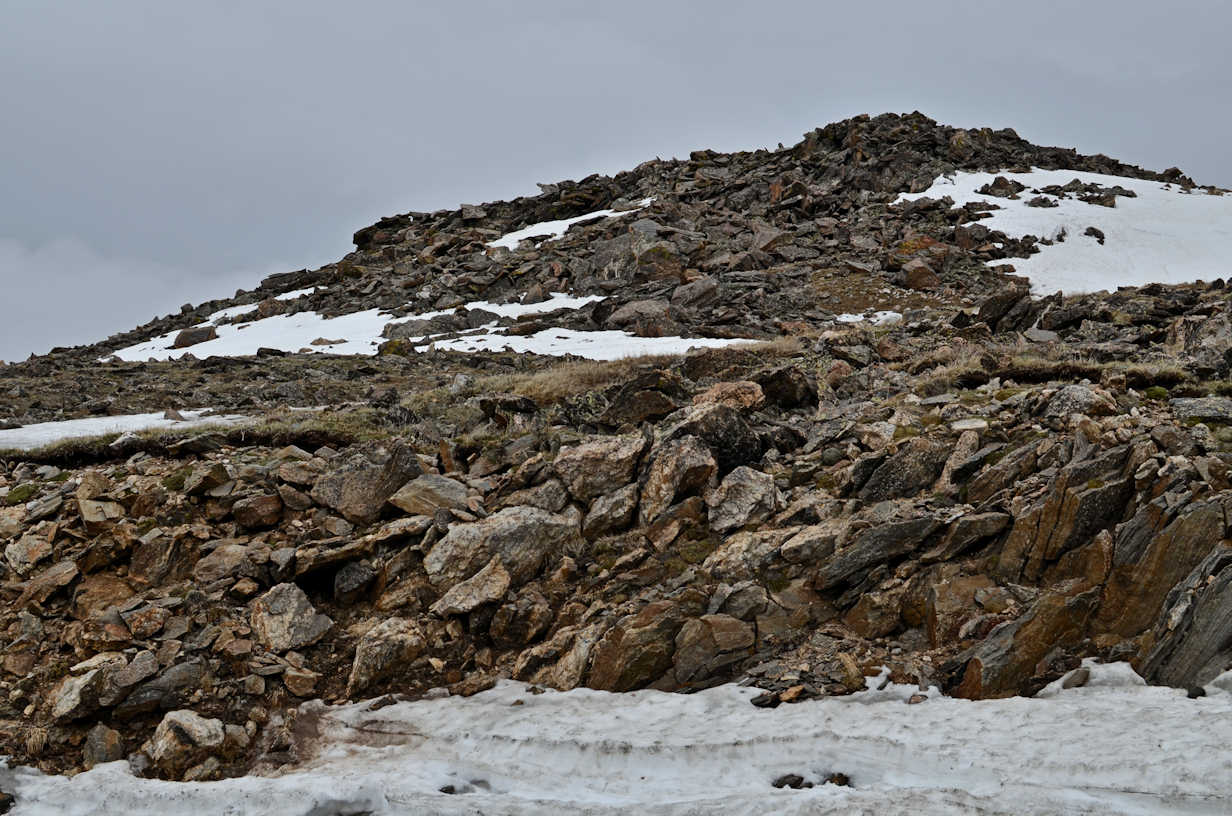 * In the upper middle, a wolf or coyote has a colony of marmots on high alert. Scroll down to zoom in on the hidden fellow.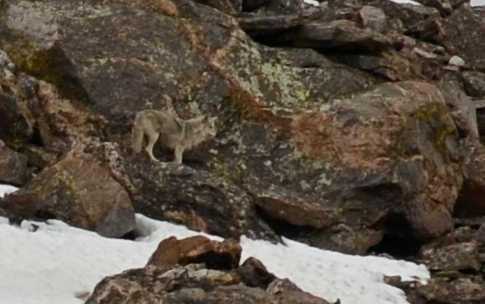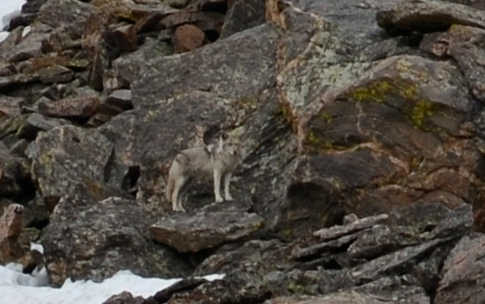 Wolf or coyote blended into its 12,000 feet high setting. Scroll down to see the wintery landscape on June 11, 2015.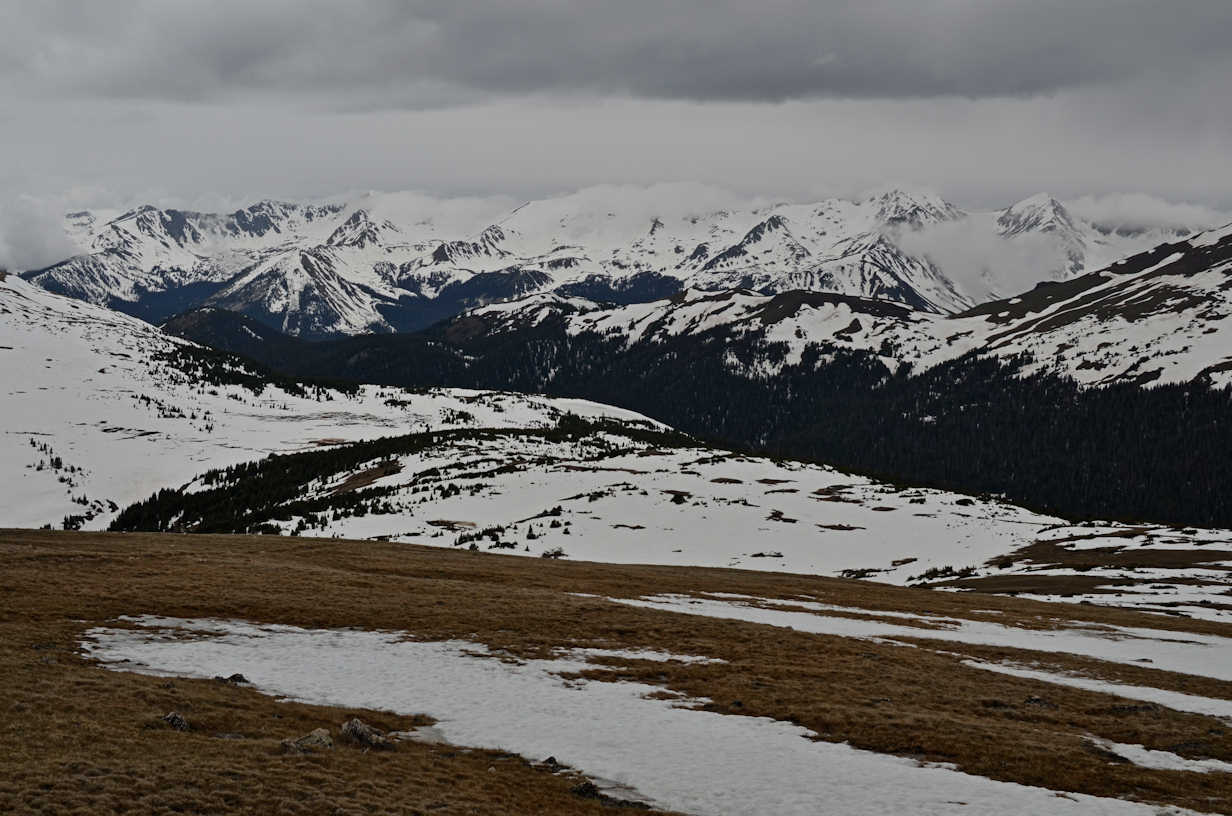 Scroll down to look into the green Colorado River Valley below The Never Summer Mountains shown above draped in snow.
As you can see, the mountain streams have all summer to rush along with fresh snowmelt.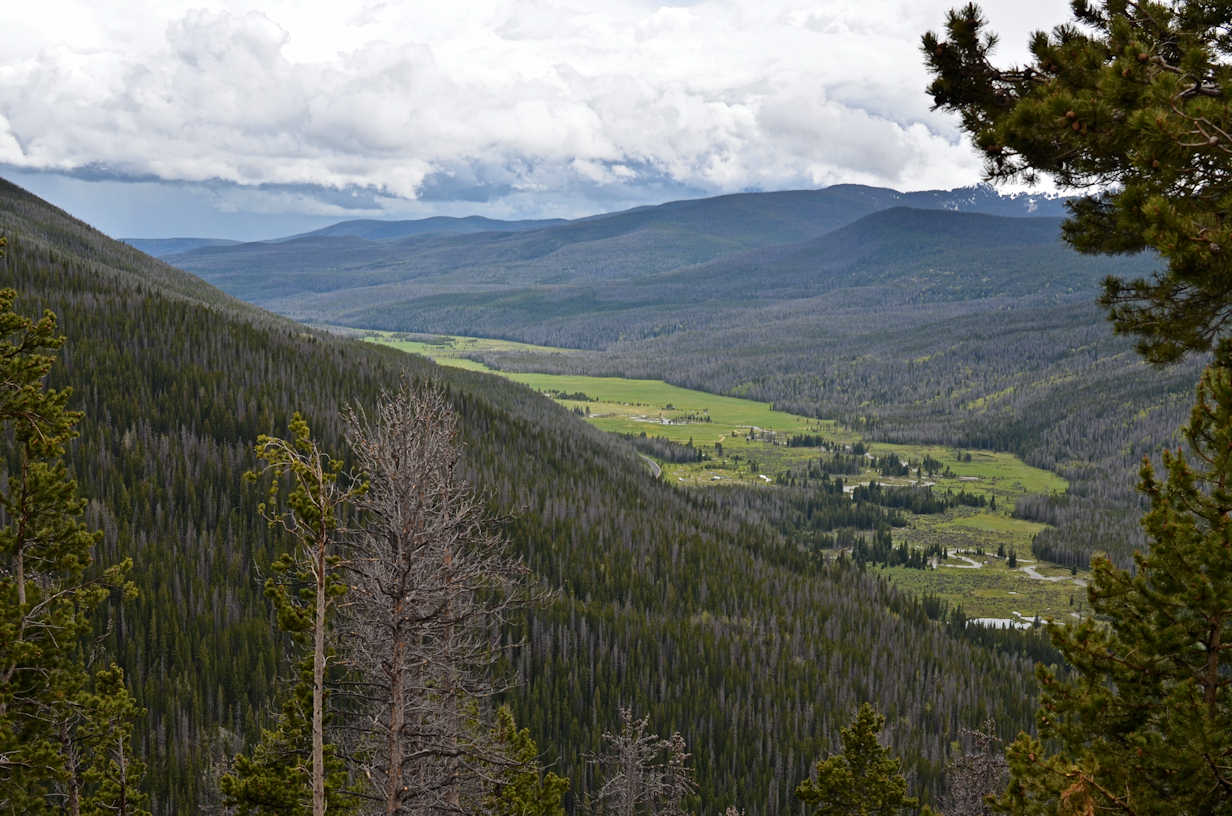 Scroll down to descend into the west side of The Park.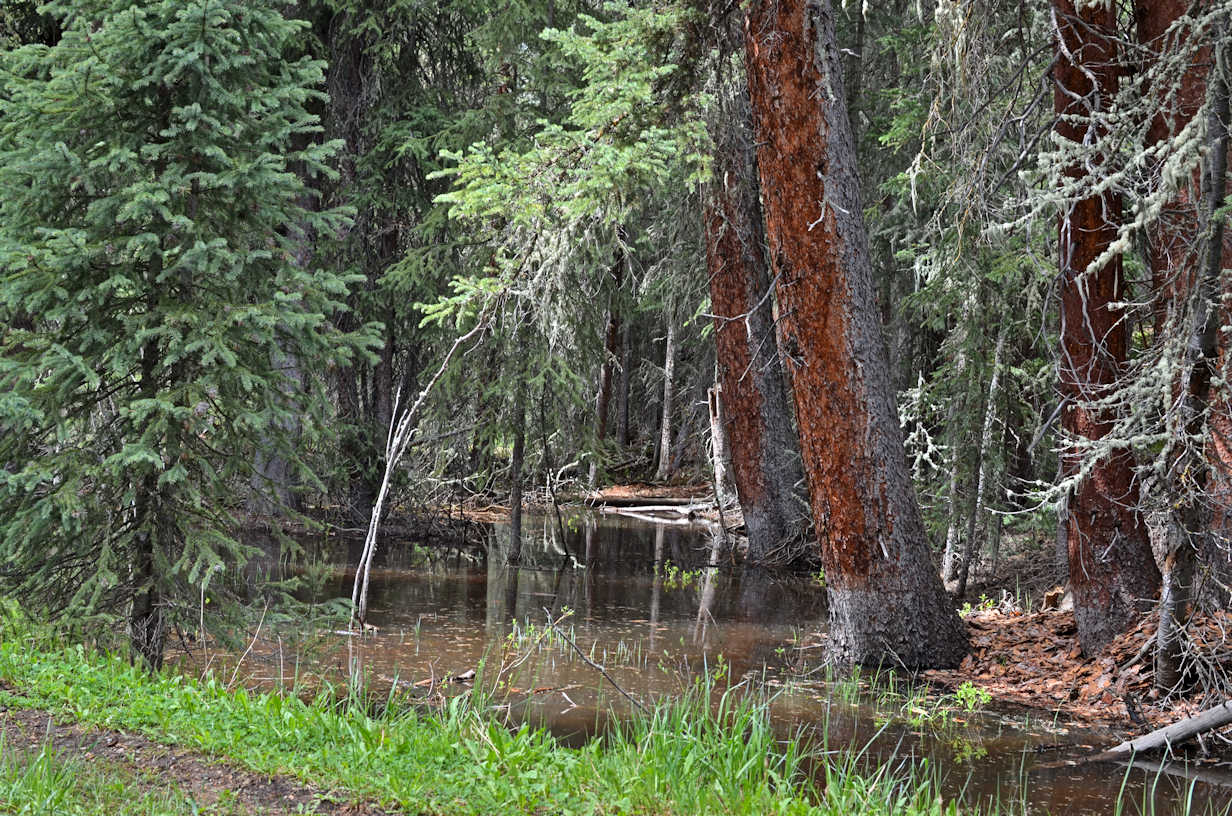 Wet and old growth in the Kawuneeche Valley (named for its coyotes calling to one another).
With all of the heavy rain from coast to coast (except California), a genuine concern for home buyers
is the elevation of a home and its nearby roads and utilities. Home owners fortunate to be in the Grand Lake area
can declare that there home is poised at 8400 feet with mountain streams ready to whisk away heavy rain or snowmelt.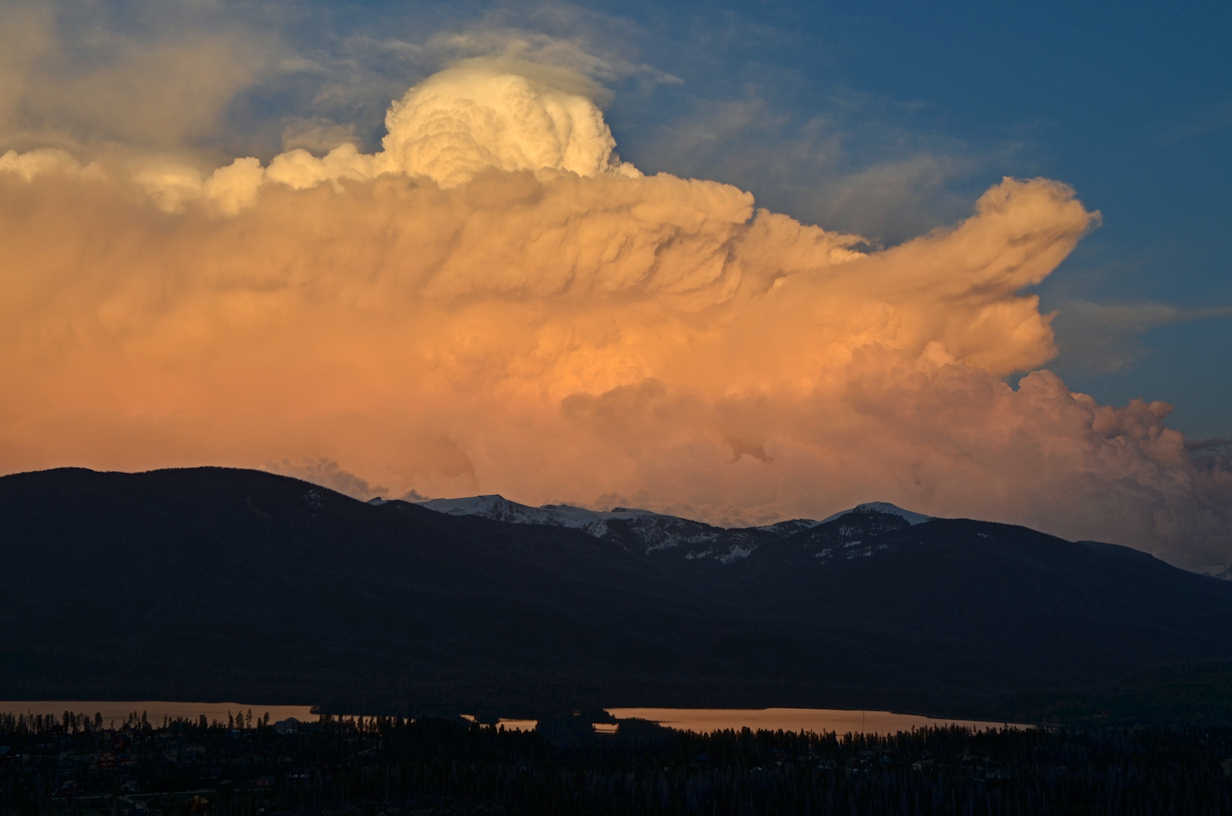 In praise of clouds and immense beings that flicker and vanish. Photo above of a stratospheric dome topping a super-cell preceded
the lightning spectacular that rocked Denver and Boulder on the eve of June 4, 2015. Here we see it all develop in a tranquil manner
over shining lakes on the Western Slope of the Rockies. Scroll down for more views showing moisture responding to the backbone
of the Continental Divide. We love seeing these formations rising along the high rim and ramparts of an Island in the Rockies known as Grand County.
Their immensity matches that of the mountains and yet their lives are brief in contrast with longevity of the mountains.
Each shape, young or old has its own signature and filigree. One mixes air, fire & water, the other defines the earth's surface
and sets the ridges.



Scroll down for a wide view from a few minutes earlier.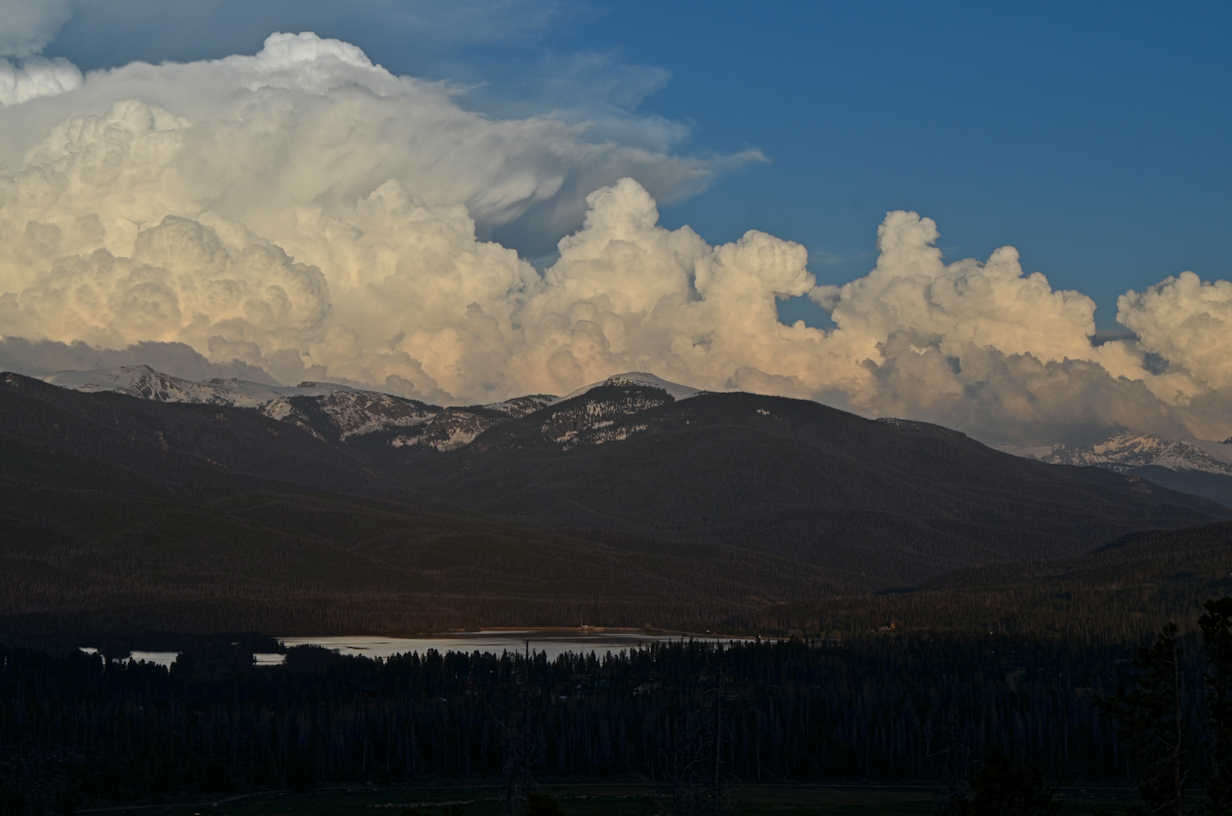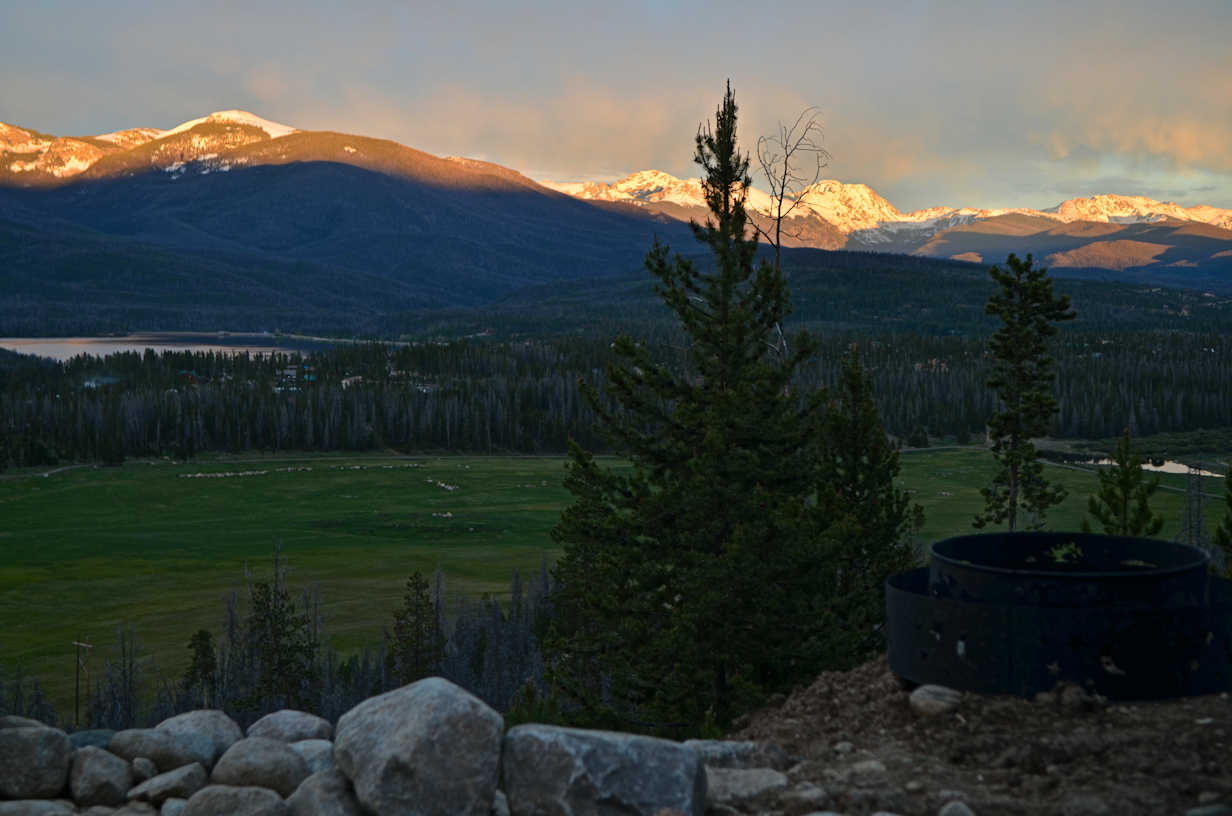 As the great shadow of the earth ascends the mountains pushing the alpenglow every higher, evening takes hold and brings out the stars that were there all along.
Scroll down to see newly-born elk in a meadow.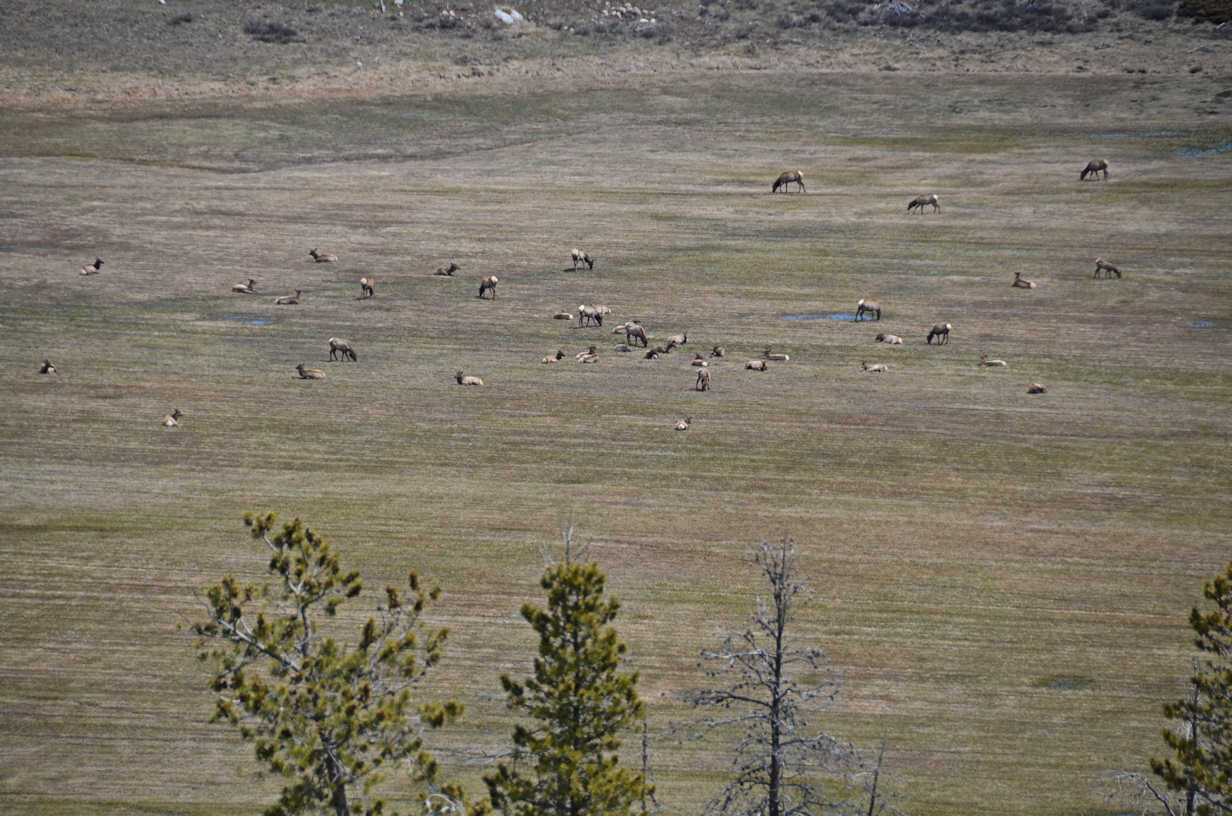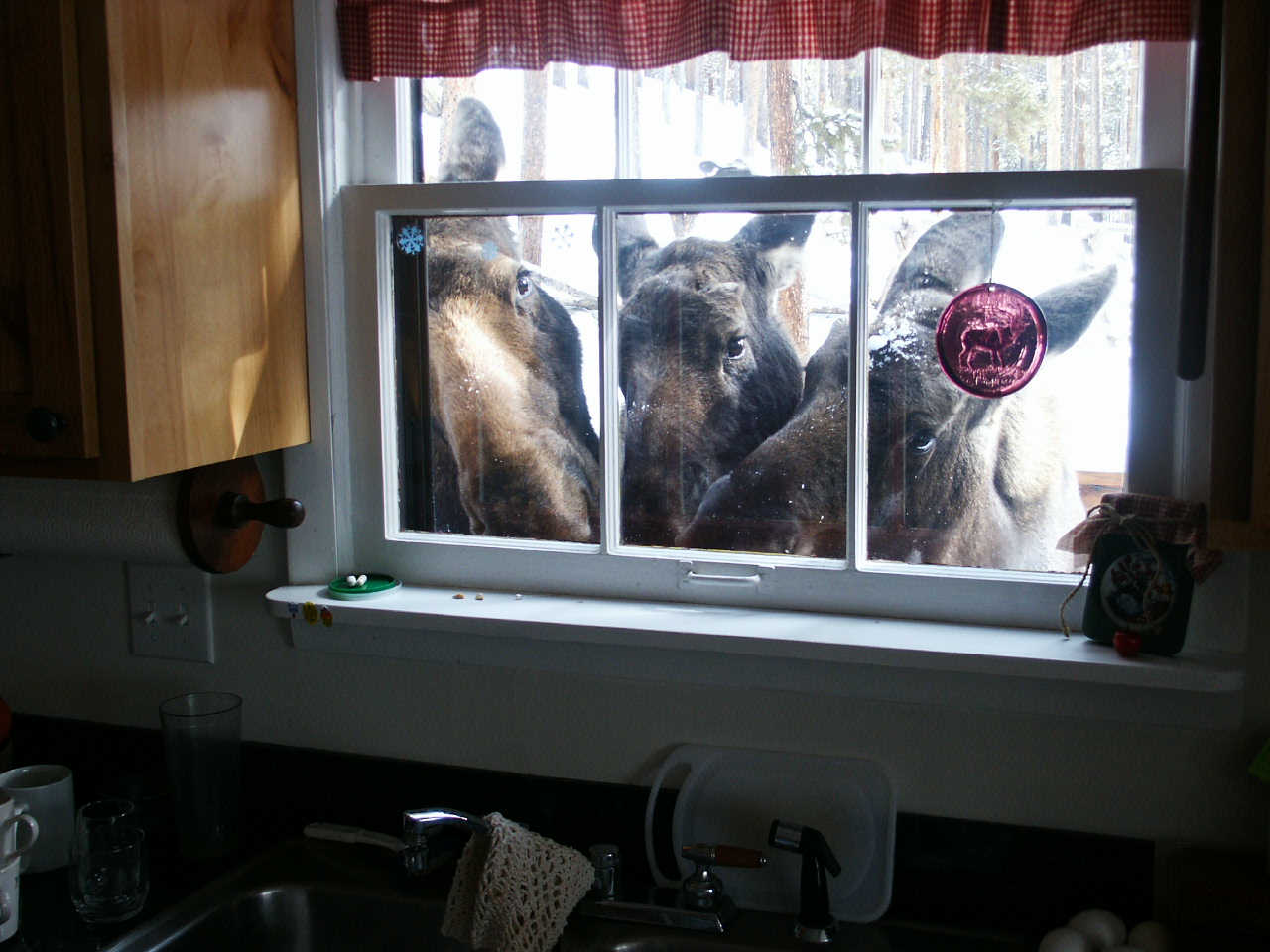 Scroll down to see these fellows on the deck.





====================


We have our own channel now to bring Grand Lake to you.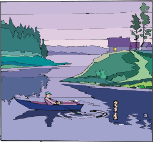 Jump to Homes ... Land ... Businesses ... Main Menu ... What's New
Grand Lake Village is about 8400' high (2570 meters).
The lake surface is kept at 8369'; homes a few miles away can be several hundred feet higher.
Latitude = 40.25° North; Longitude = 105.85º West.
The best prognosticator of our weather is the serpentine Jet Stream.
A huge amount of moisture is carried in this lofty stream. When it is
flows over Colorado, we get lots of rain and snow. Often a high pressure
dome in Utah causes the jet stream to arch far to the north of Colorado.
Our precipitation (if any) is then quick (with rain and rainbows) and
concentrated around our higher ridges and peaks. Climate models for the
northern Colorado Mountains are remarkably uncertain. There is a well
understood branch of the jet stream through Montana and Yellowstone
National Park in northern Wyoming. There is also a predictable branch
through Arizona and southern Colorado. We are between these branches
and in a very difficult to predict area. Our weather is often the inverse of
what is occurring in Denver and Boulder; media reports on Colorado are
often quite misleading for Grand County.
For our high and rugged setting, our weather is remarkably sunny. We have
deep, verdant forests and enough snow in the winter to give Winter Park,
Colorado the highest ten year average for snow among all of Colorado's ski
resorts. How do we manage to sneak in enough rain and snow to fill our lakes
and water our forests and yet provide hundreds of beautiful days for relaxing,
skiing and snowmobiling? The key is our unique location on the west slope of
the Continental Divide where it projects further to the east than anywhere else
in North America. Arapaho Peak defines this eastern most projection.


© Text & Structure of this site is Copyrighted 5/1/96.