Grand County Weather & Snow Reports
Scroll way down the page to see all of the recent images.
or jump back to Homes ... Land ... Businesses ... Main Menu ... What's New
»»» link focusing on Grand Lake from the National Weather Service.
»»» loop video from satellite giving you the Big Picture.
»»» loop video color-enhanced to show Water: the staff of life.


Click here for » Rocky Mountain National Park webcam near Grand Lake. Use your back button to return to here.
The webcam link above shows well the view to the northwest where clouds are likely to form before coming to Grand Lake

Click here for Winter Park and Mary Jane Snow Report.

Click here for snow depths at all of Colorado's Ski Resorts.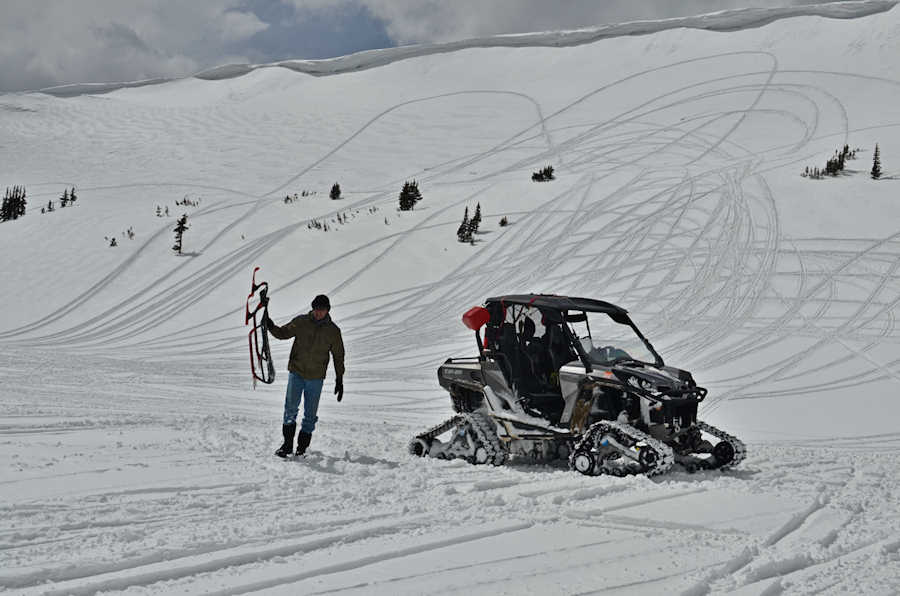 Saturday, April 5, 2014: Mountains of snow. Scroll down for sledding action.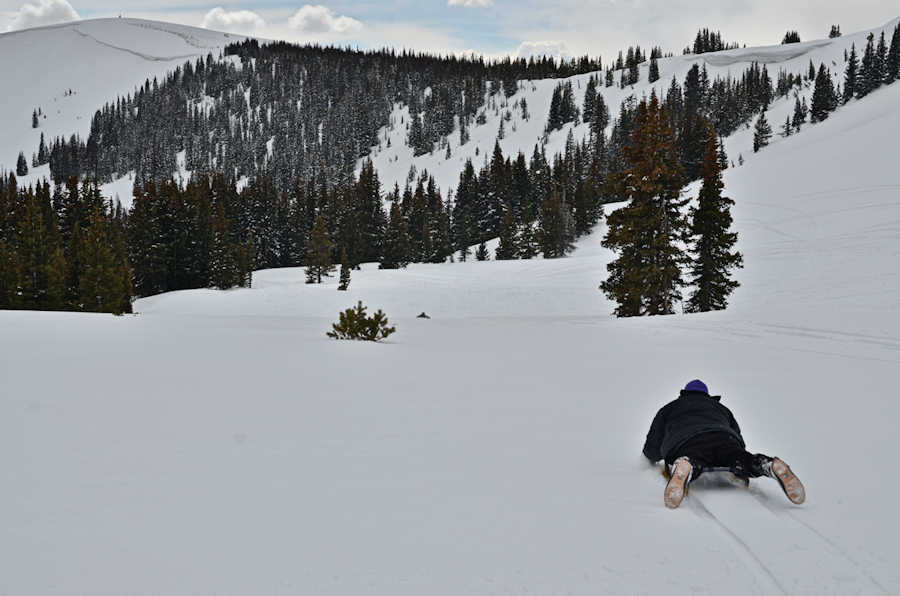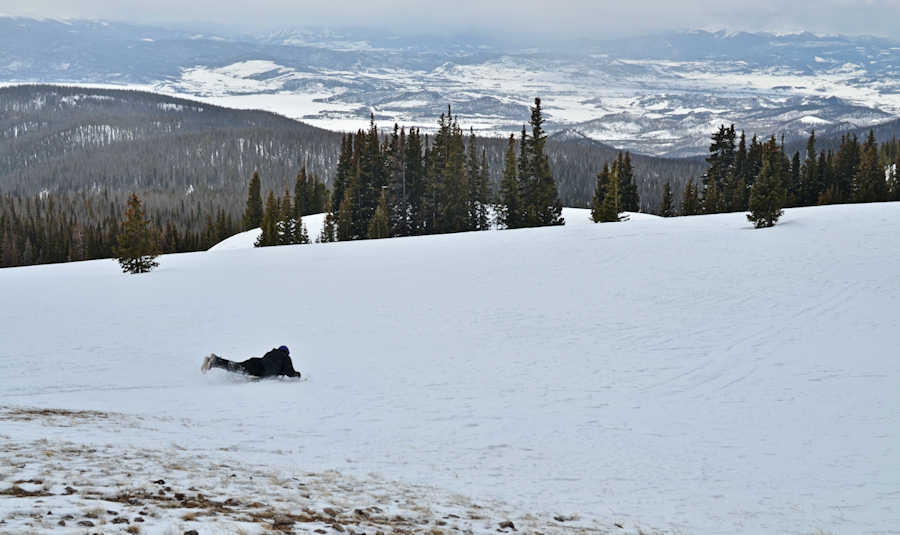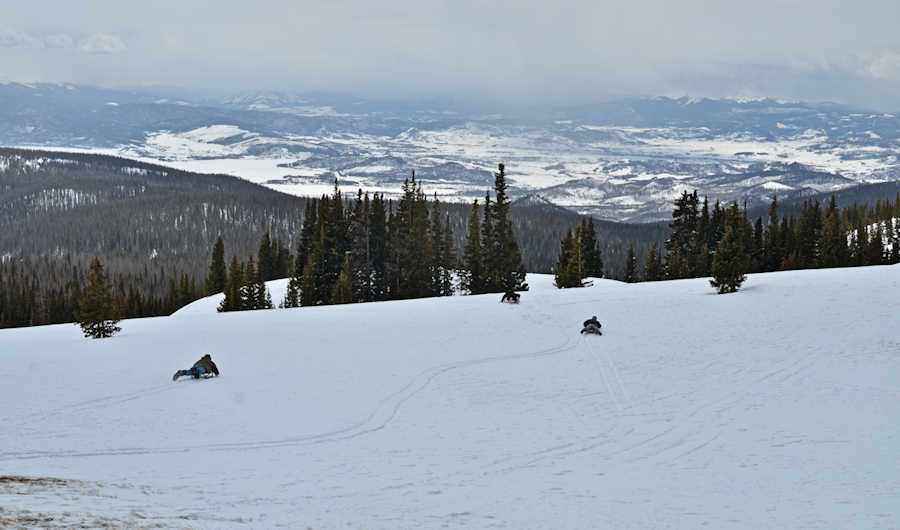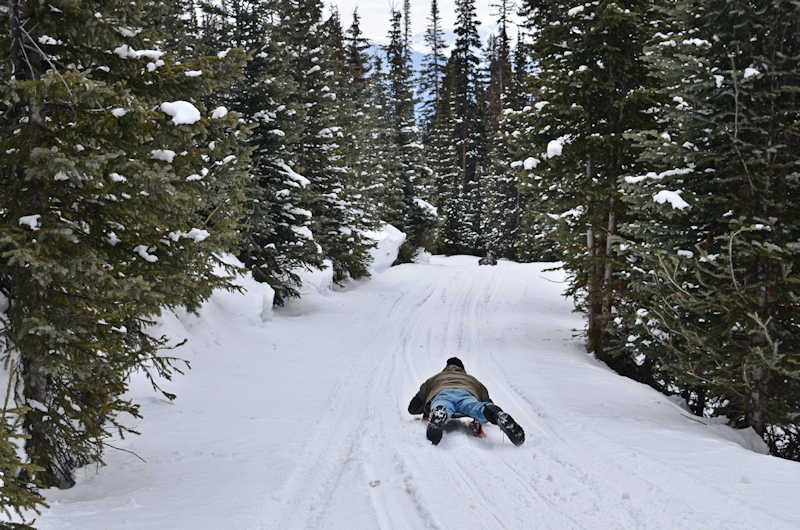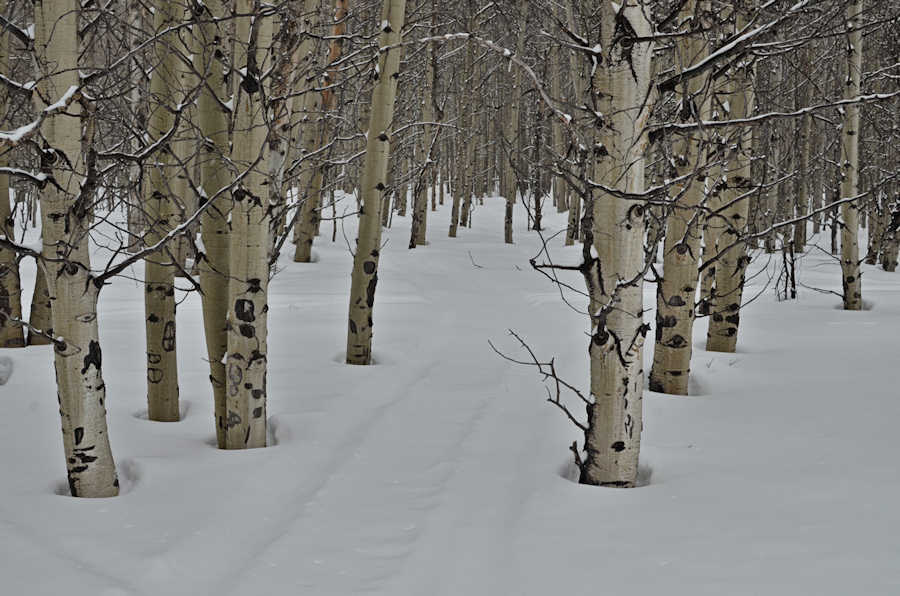 Scroll down for more winterscapes.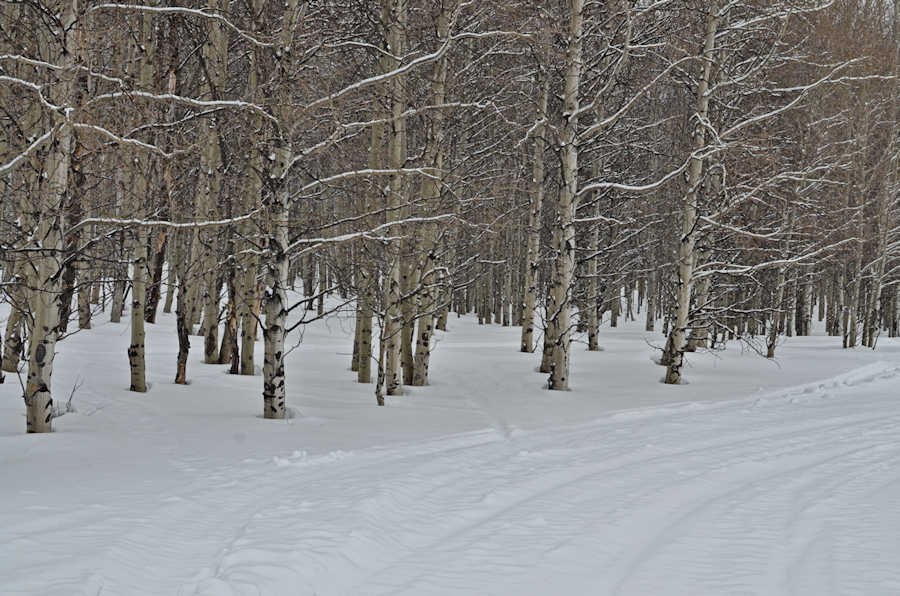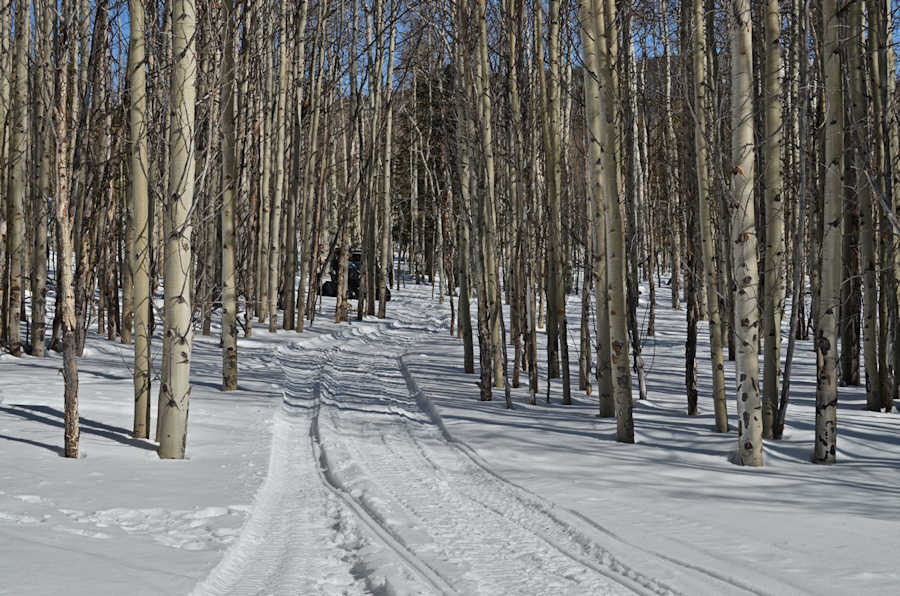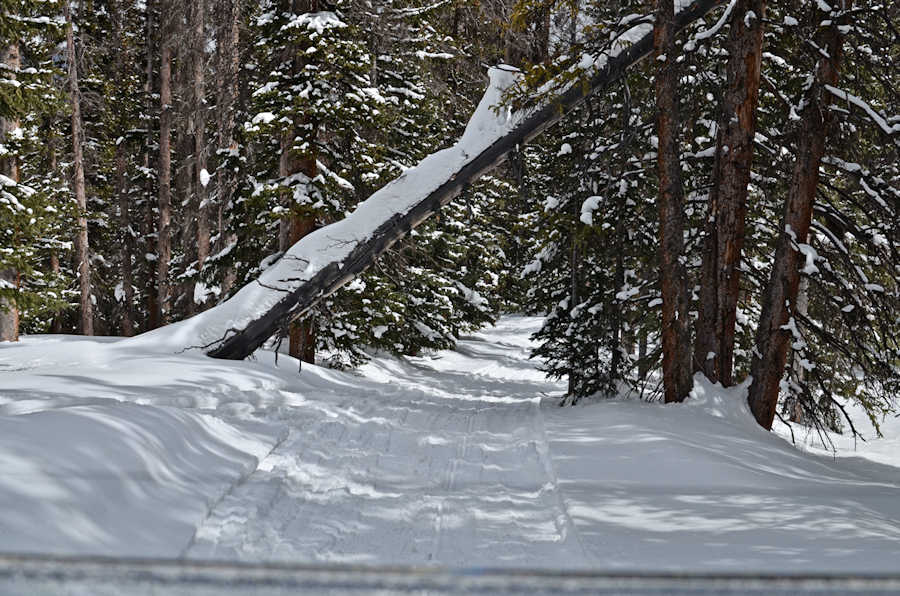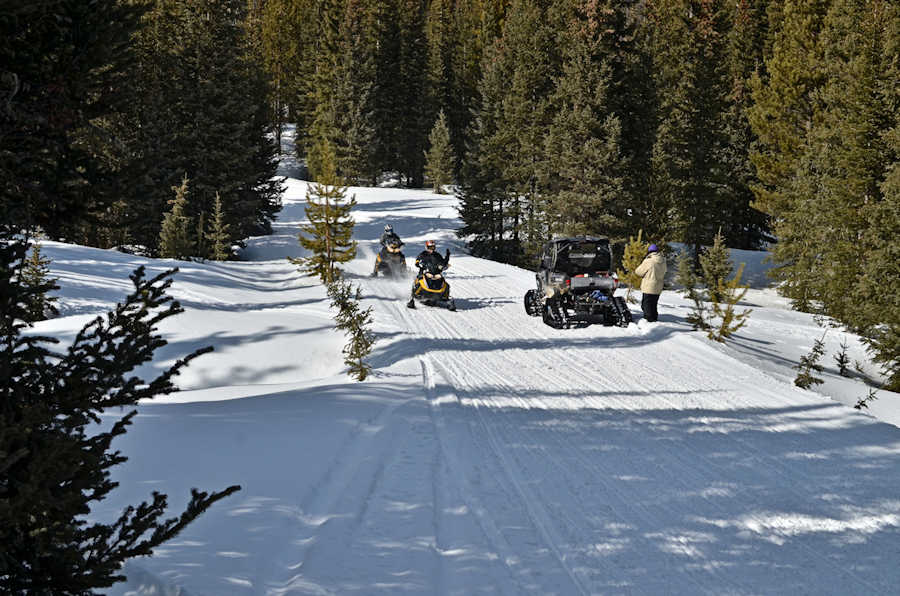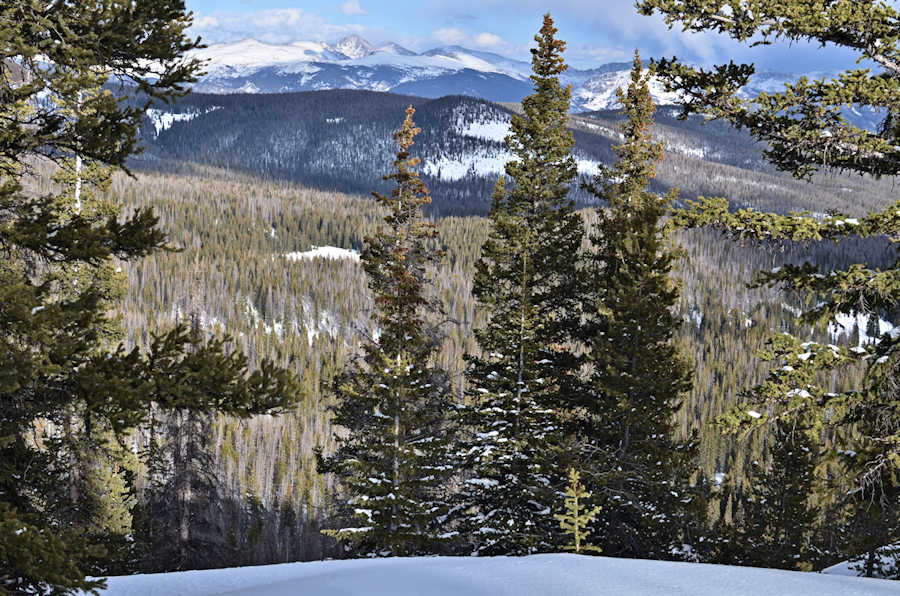 April 5, 2014: view to Longs Peak from a high "road" west of Grand Lake, close to Gravel Mountain.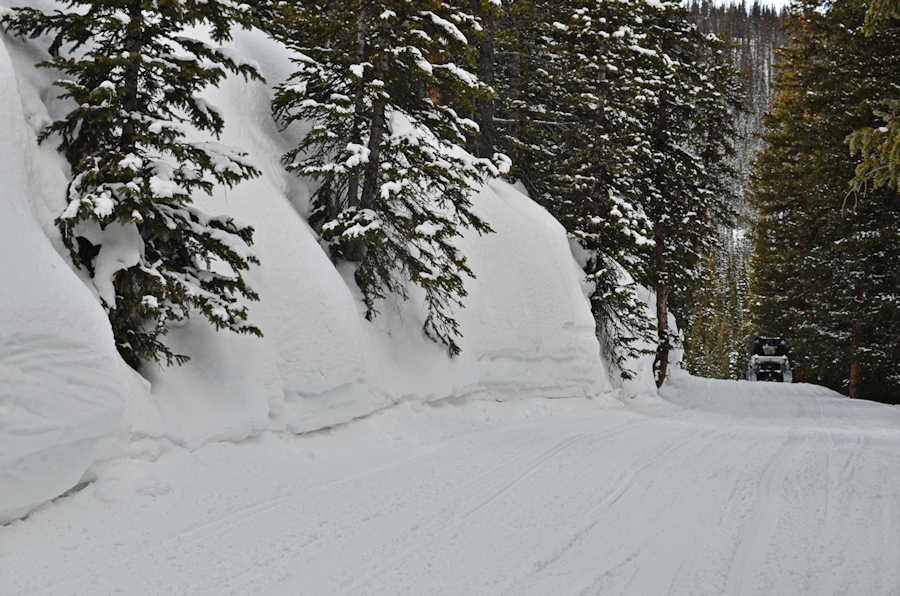 Grand County "road". Scroll down for more paths to explore.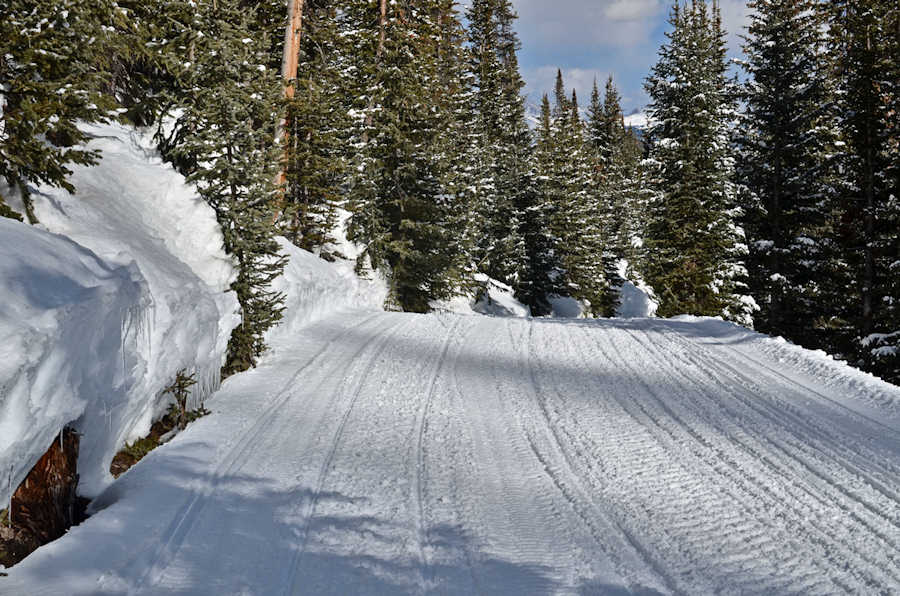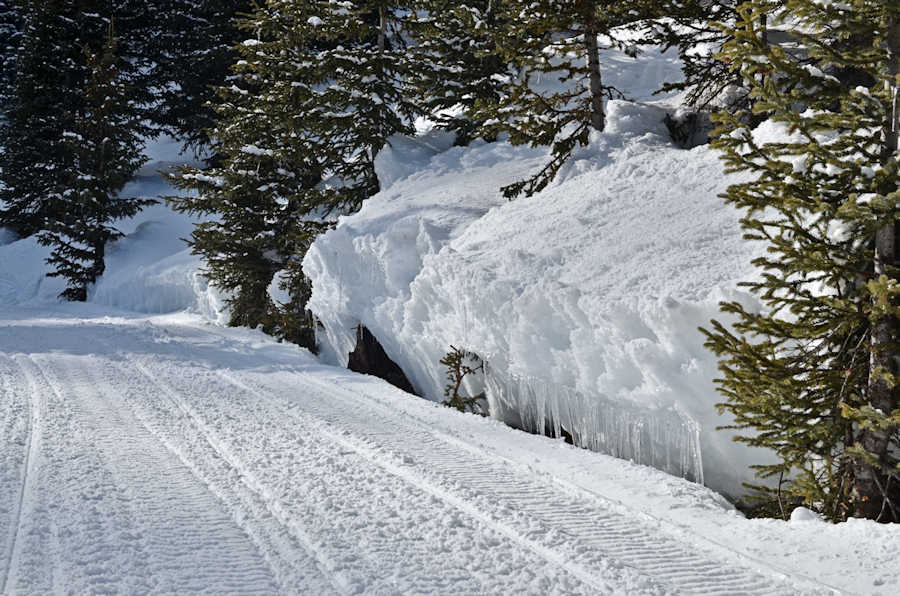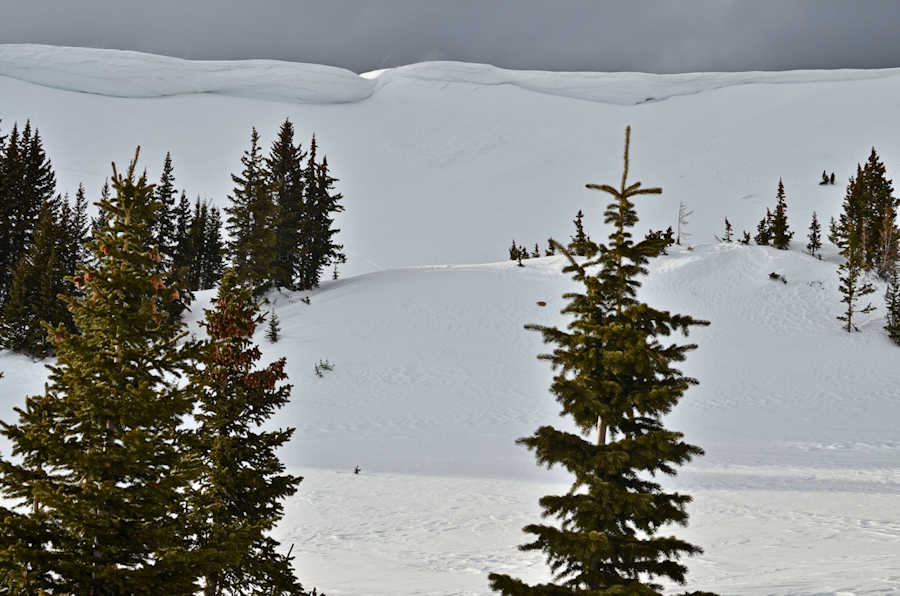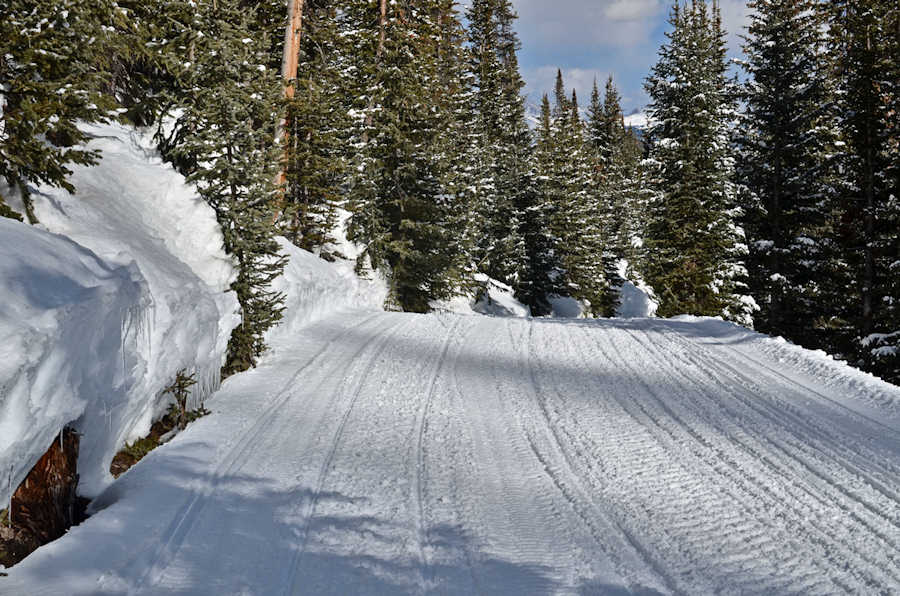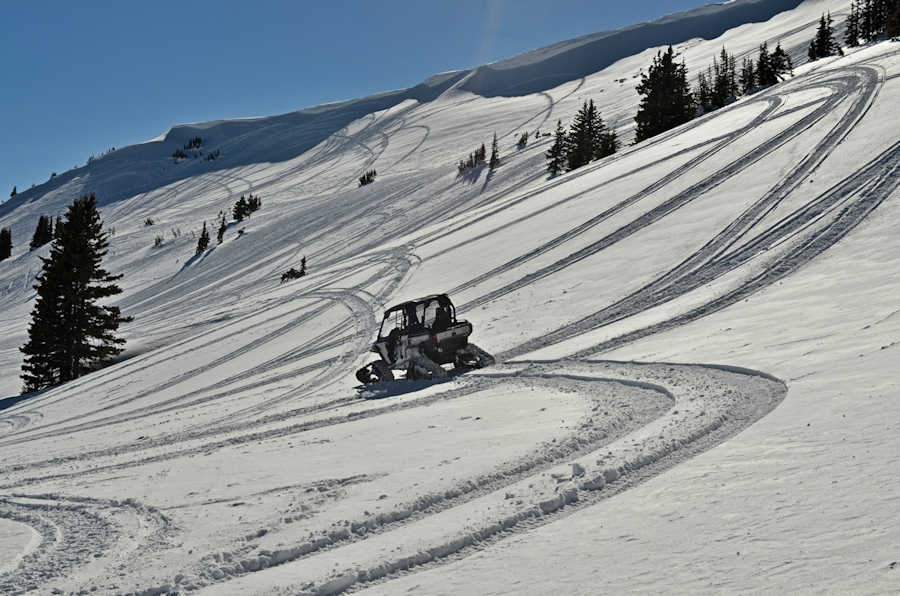 Scroll down for mid-March scenes of the high country west of Grand Lake.
Winter Park Ski Area is well on its way to being blessed with
365" of snow for the 2013-2014 season. This coincidence with
the number of days in a year happens often enough that one can buy
T-shirts celebrating the 365 inches. The snow is piled up like giant dollops of whipped cream.
We have mountains of snow and more is coming. In our photos above and below,
snow tracks below the crest of Gravel Mountain are reminiscent of fabulous play areas for dune buggies!
Further down is a fairy-like scene of an approach to the White Cliffs of Dover!
We had the opportunity to test-drive a side-by-side ATV outfitted with tracks for over-the-snow travel.
The tracks need not come off in the spring. For less than half the cost of a snowmobile,
you can have 4-season year-round use of your ATV or UTV (side-by-side).
It's like micro-Snow-Catting. Have your very own snowcat skiing and sledding.
Have a picnic at 11,000 feet! Relish being at the upper edge of a rich and green alpine forest.
From the huge jamboree grounds, you'll love the sweeping views of The Continental Divide and our Three Great Lakes.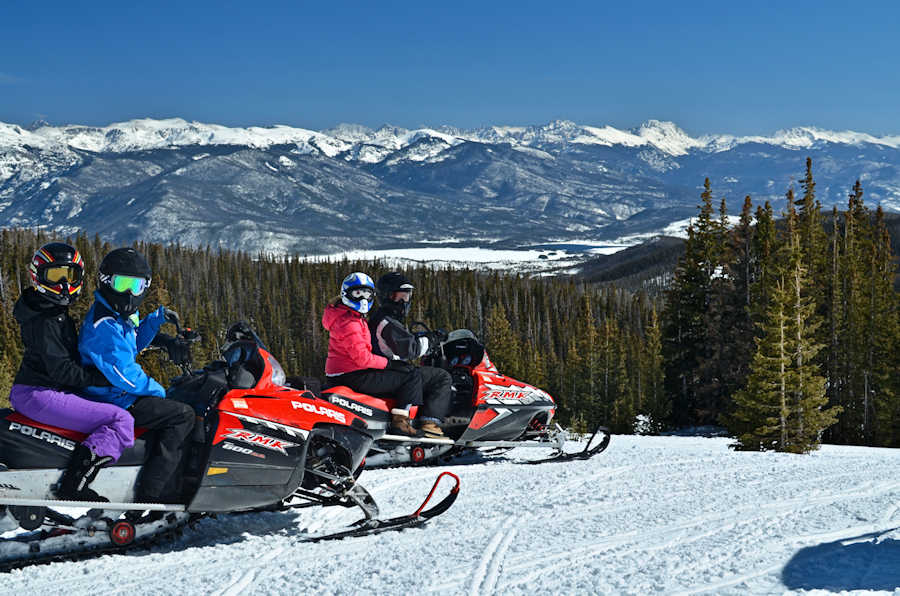 Scroll down. Below the Indian Peaks Wilderness along the Continental Divide is a thawed portion of Shadow Mountain Lake (a frozen over reach of the lake is to the left).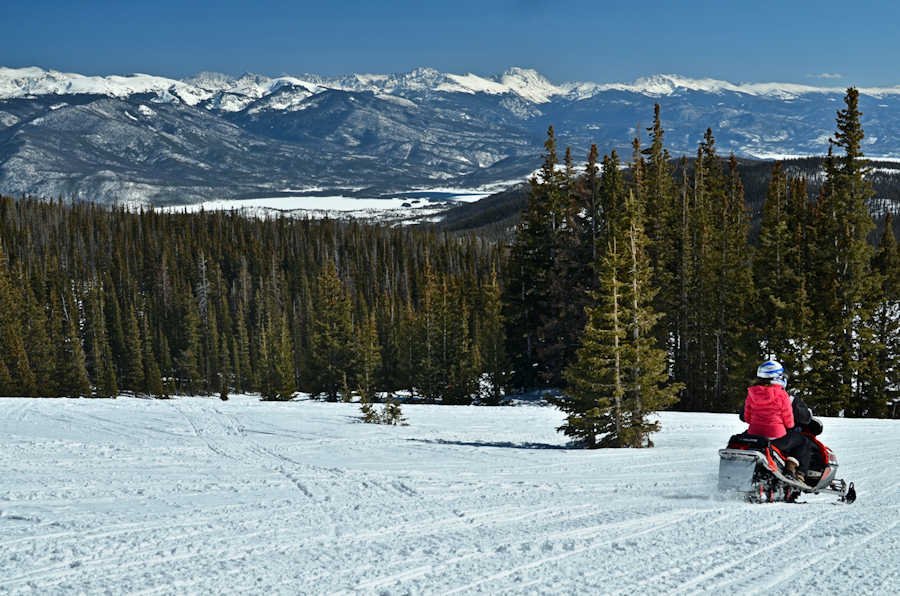 f
Scroll down for many more views from this playground west of Grand Lake.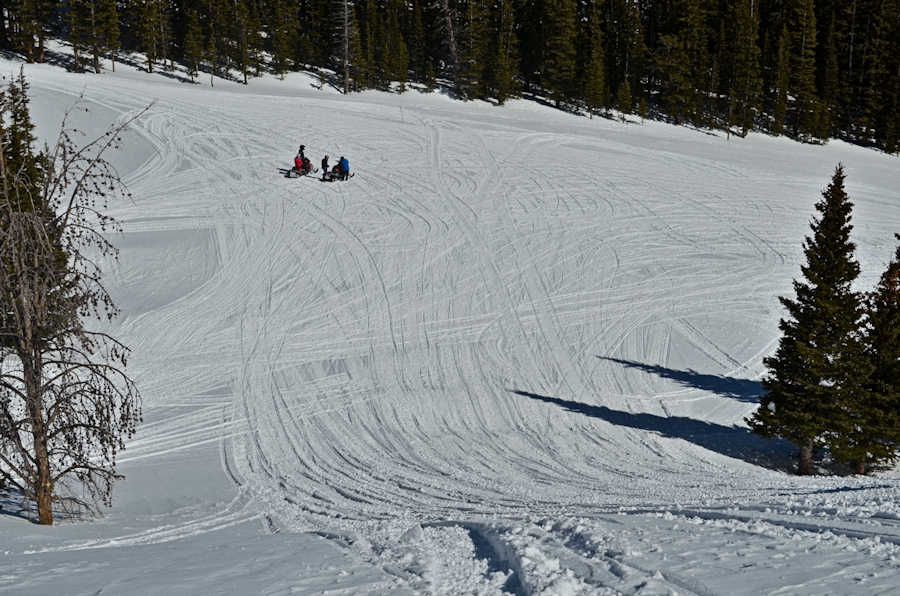 There are plenty of steep challenges plus lots of wide open play areas as shown below.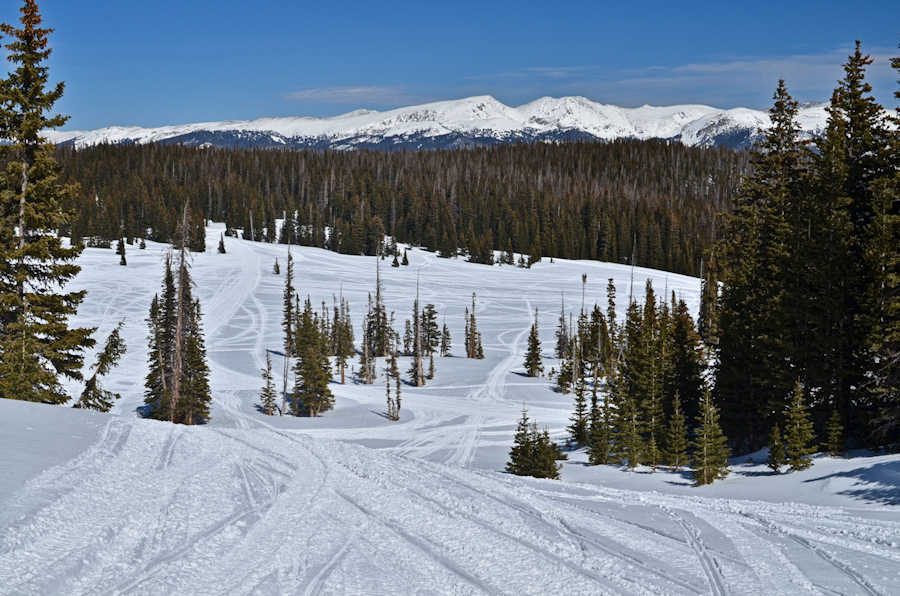 Scroll down for more tracks in the snow.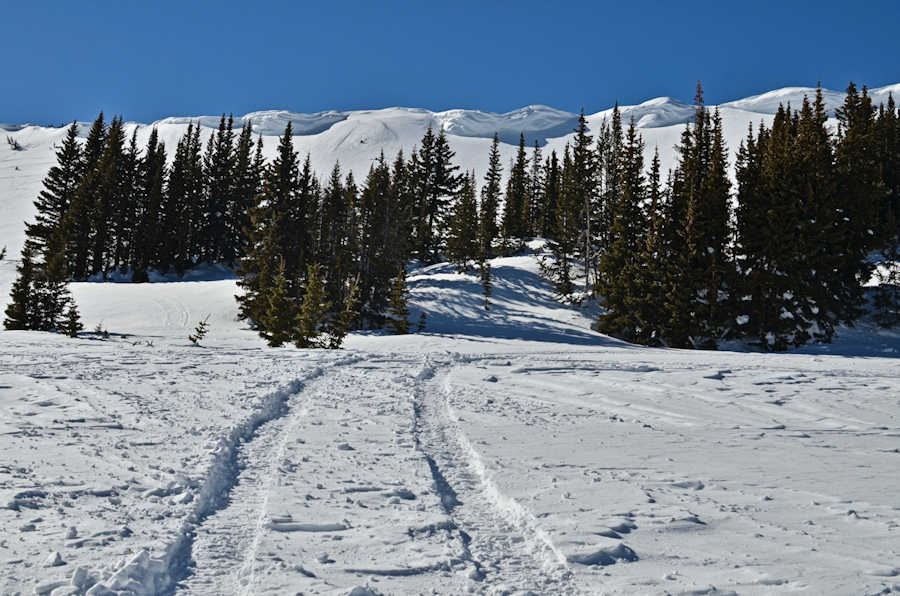 An imaginary approach to the White Cliffs of Dover. Scroll down to see more to the right.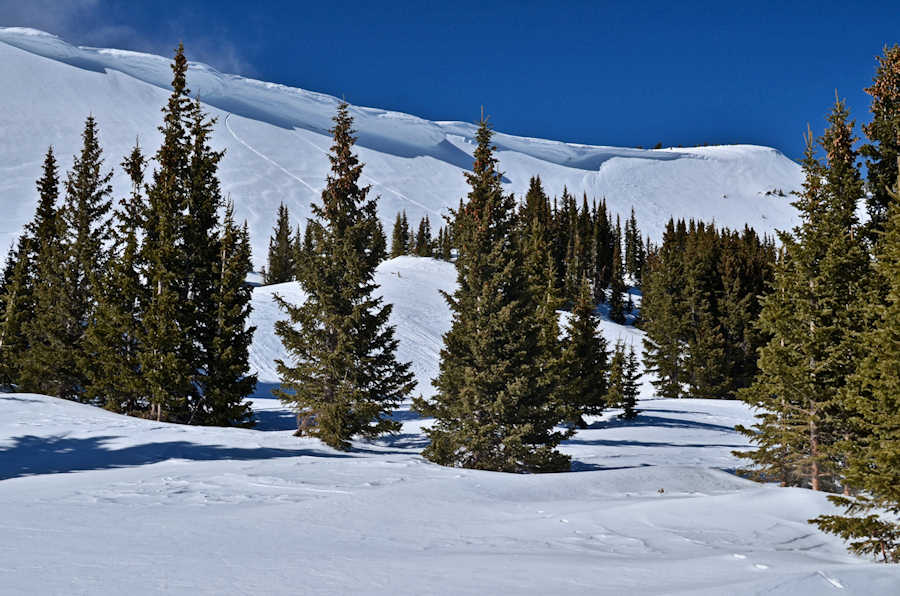 Scroll down for Trails into the White Forest.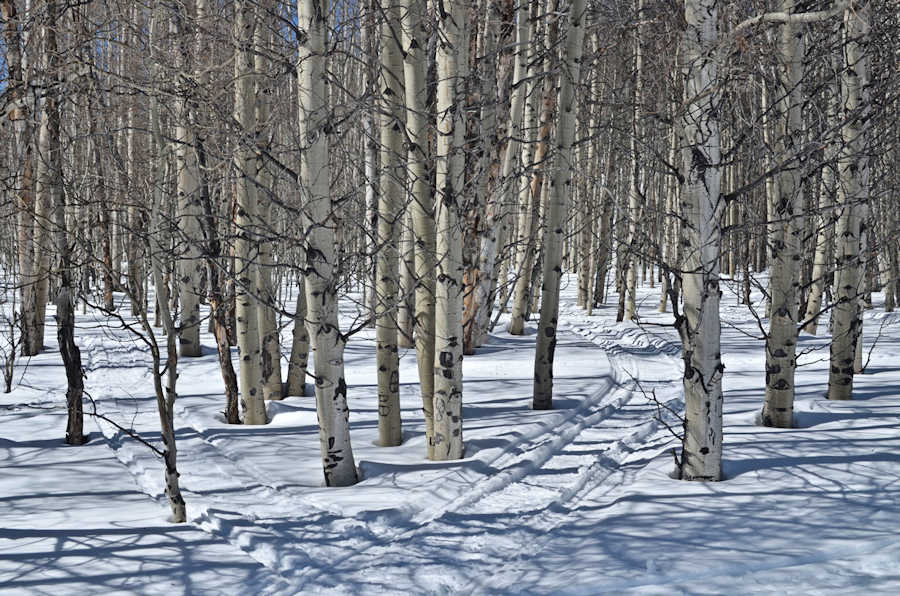 Scroll down to look around a bend to Mount Baldy.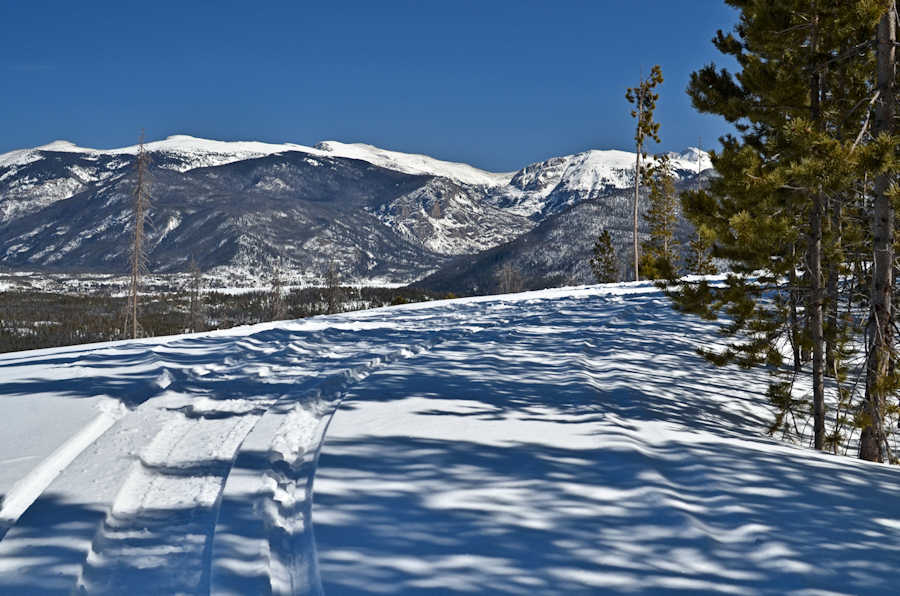 Scroll down to see the alpine forest.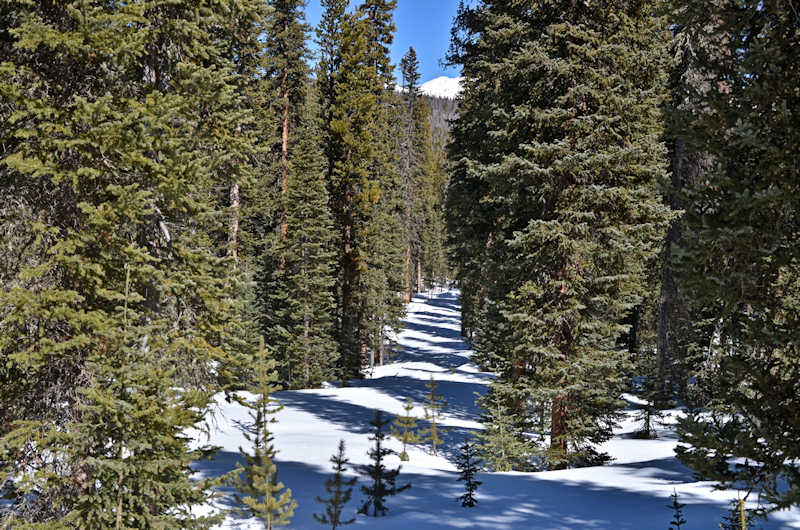 Scroll down to see the "road" to Gravel Mountain and its snow-dunes.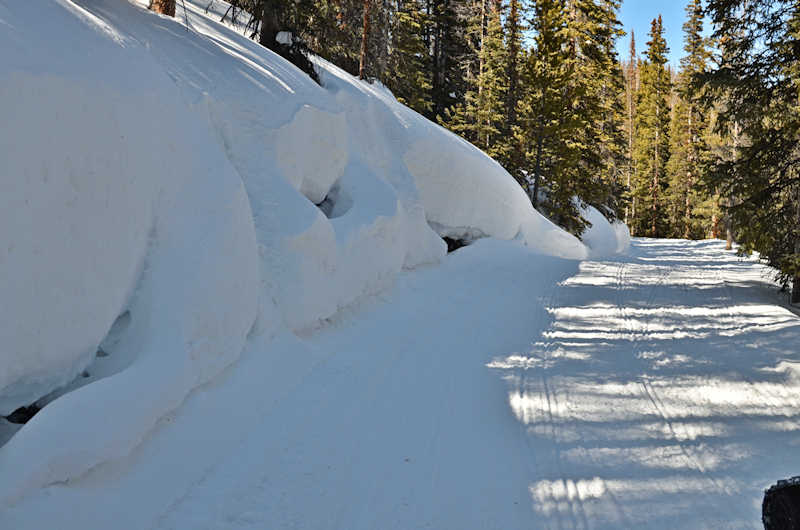 Scroll down to the approach to Gravel Mountain.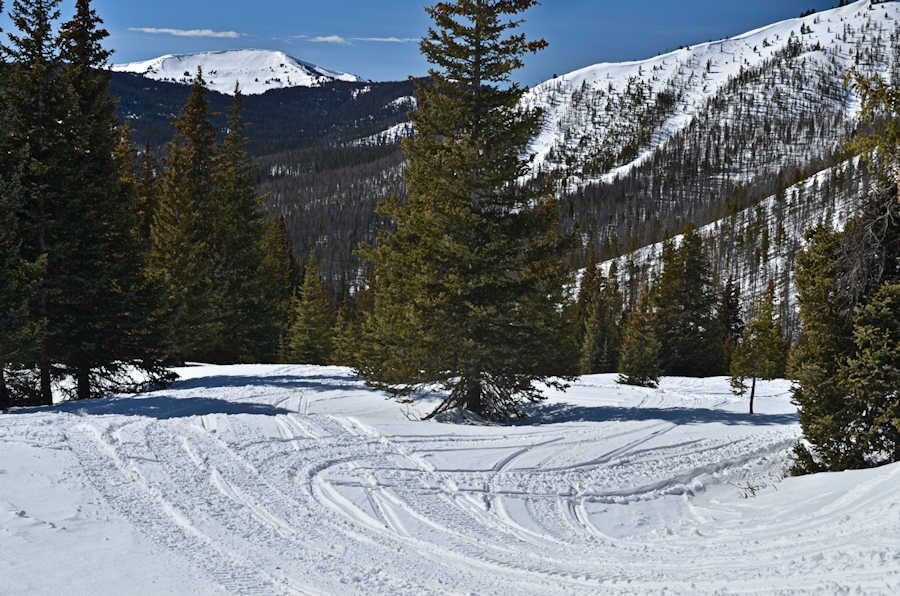 Scroll down to see the snow-dunes.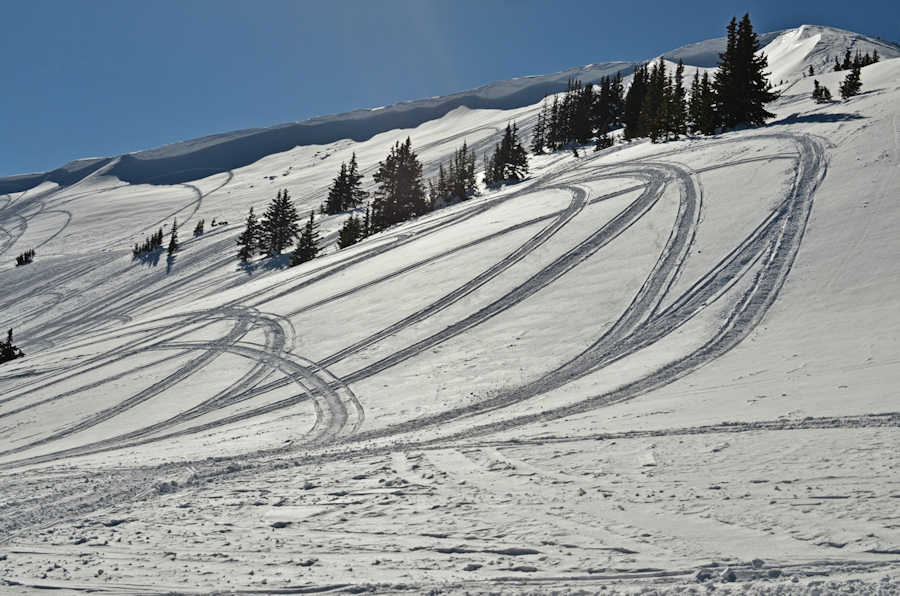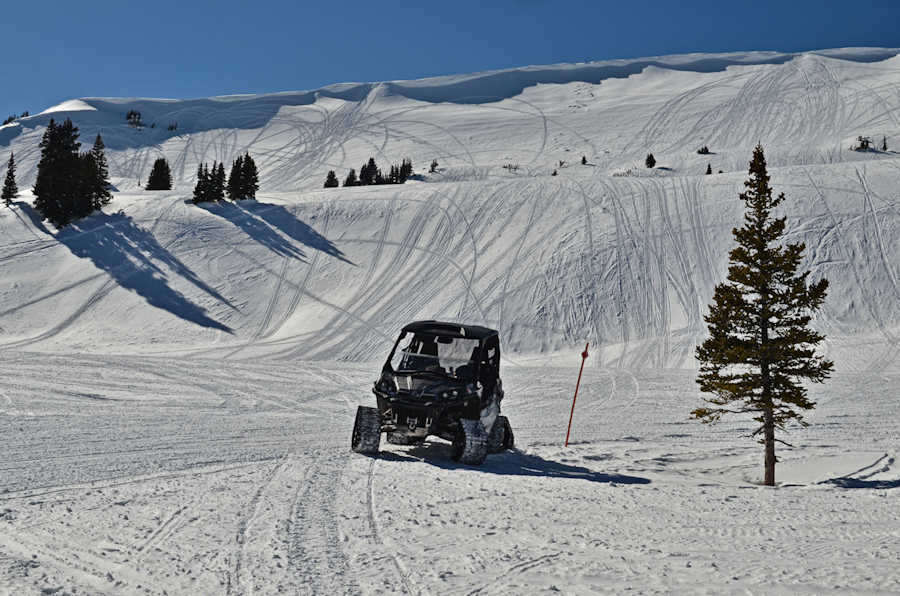 On the trial maps this is "Super Chicken Hill. " Thanks for taking our micro snowcat tour. Let us know how we can help you enjoy Colorado 365 days a year.
Hot Line to our office is 970-627-3103. If busy, send email to relax@MountainLake.com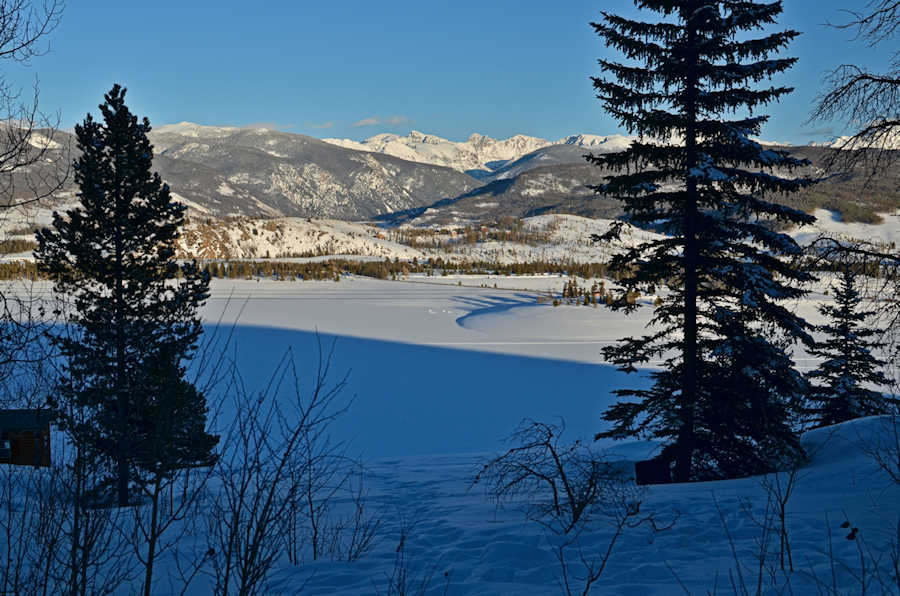 Sunday eve, March 9, 2014: click on photo above to learn how this can be the view over Lake Granby from your Mountain Home. Scroll down for more.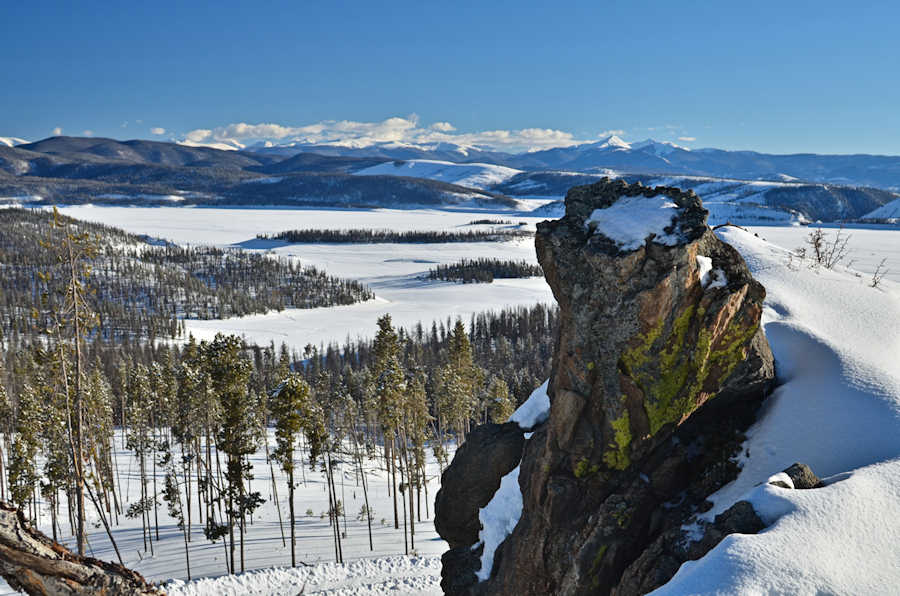 Sunday, March 9, 2013: rock with lichen. In the distance is Lake Granby and Byers Peak. Click on photo to learn how this location can be the setting for your home in The Great Lakes of the Rockies.



We have our own channel now to bring Grand Lake to you.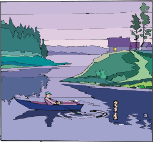 Jump to Homes ... Land ... Businesses ... Main Menu ... What's New
Grand Lake Village is about 8400' high (2570 meters).
The lake surface is kept at 8369'; homes a few miles away can be several hundred feet higher.
Latitude = 40.25° North; Longitude = 105.85º West.
The best prognosticator of our weather is the serpentine Jet Stream.
A huge amount of moisture is carried in this lofty stream. When it is
flows over Colorado, we get lots of rain and snow. Often a high pressure
dome in Utah causes the jet stream to arch far to the north of Colorado.
Our precipitation (if any) is then quick (with rain and rainbows) and
concentrated around our higher ridges and peaks. Climate models for the
northern Colorado Mountains are remarkably uncertain. There is a well
understood branch of the jet stream through Montana and Yellowstone
National Park in northern Wyoming. There is also a predictable branch
through Arizona and southern Colorado. We are between these branches
and in a very difficult to predict area. Our weather is often the inverse of
what is occurring in Denver and Boulder; media reports on Colorado are
often quite misleading for Grand County.
For our high and rugged setting, our weather is remarkably sunny. We have
deep, verdant forests and enough snow in the winter to give Winter Park,
Colorado the highest ten year average for snow among all of Colorado's ski
resorts. How do we manage to sneak in enough rain and snow to fill our lakes
and water our forests and yet provide hundreds of beautiful days for relaxing,
skiing and snowmobiling? The key is our unique location on the west slope of
the Continental Divide where it projects further to the east than anywhere else
in North America. Arapaho Peak defines this eastern most projection.
© Text & Structure of this site is Copyrighted 5/1/96.