Grand County Weather & Snow Reports
Scroll way down the page to see all of the recent images.
or jump back to Homes ... Land ... Businesses ... Main Menu ... What's New
»»» link focusing on Grand Lake from the National Weather Service.
»»» loop video from satellite giving you the Big Picture.
»»» loop video color-enhanced to show Water: the staff of life.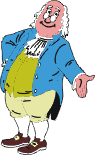 Your weather page is becoming an almanac. For a one week forecast, use the National Weather Service link at the top.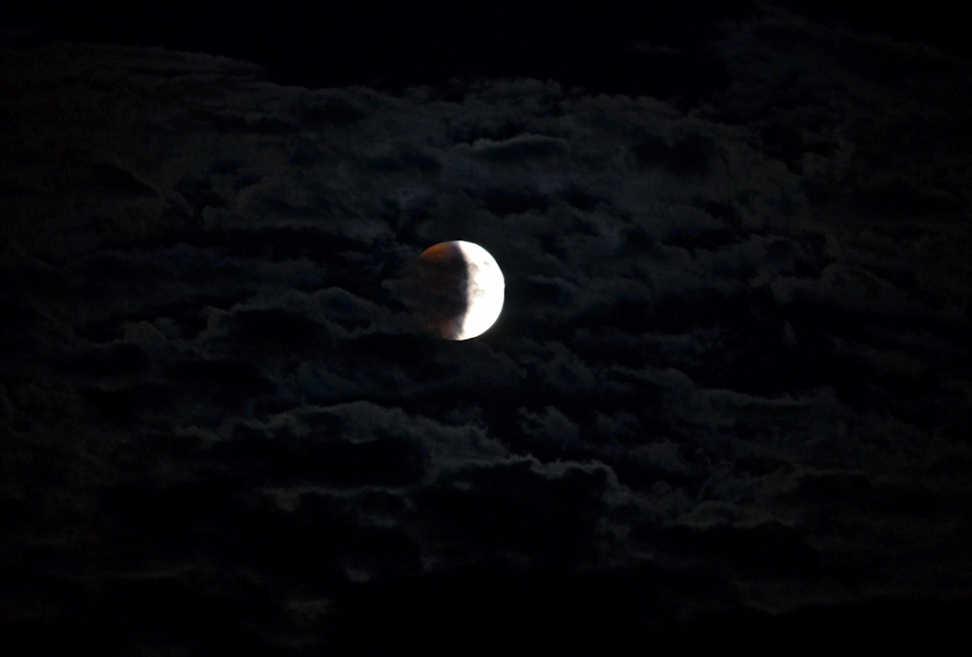 Half-eclipsed moon in a scree of Disney clouds. Scroll down to see the moon rise over Baldy.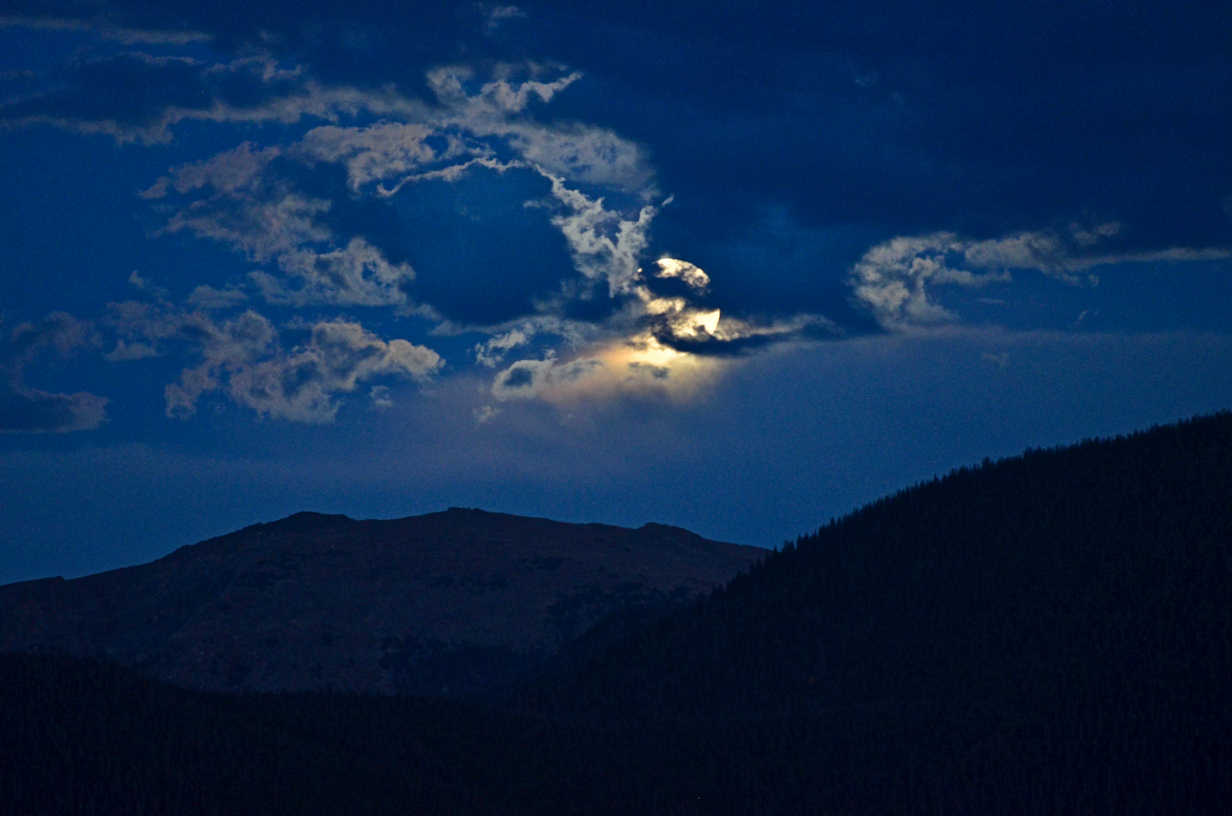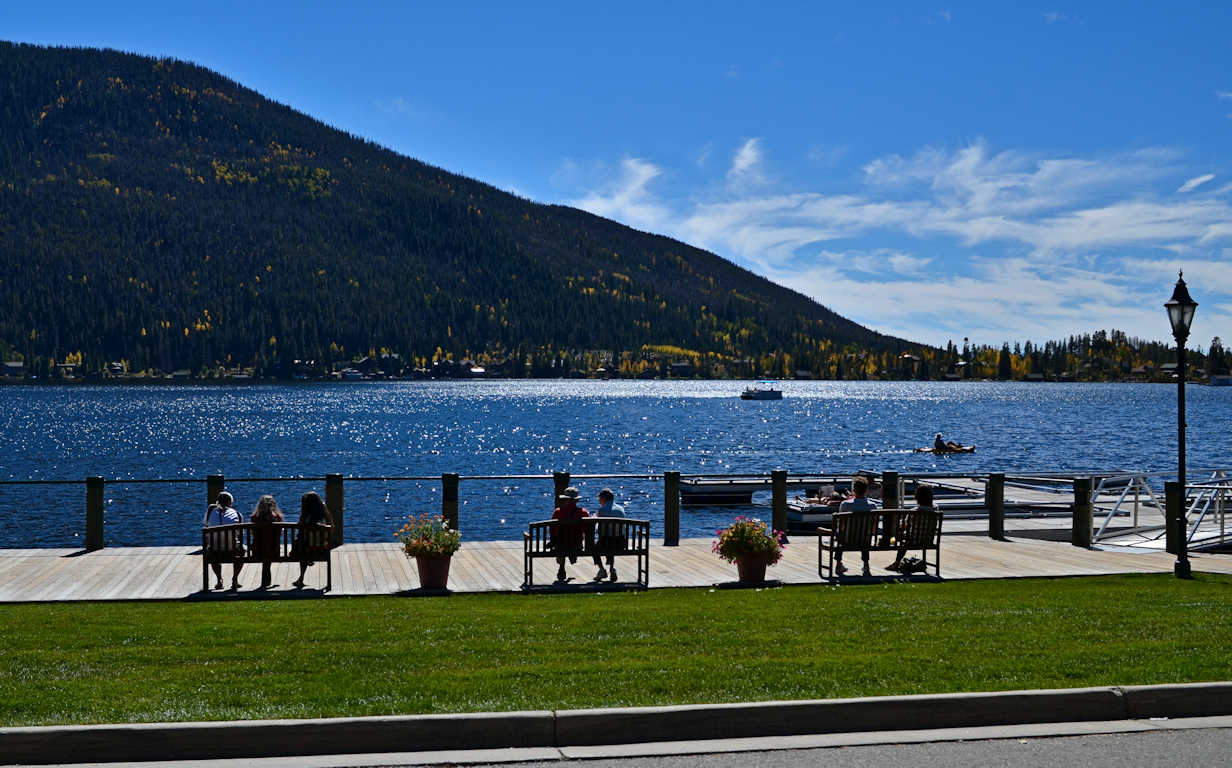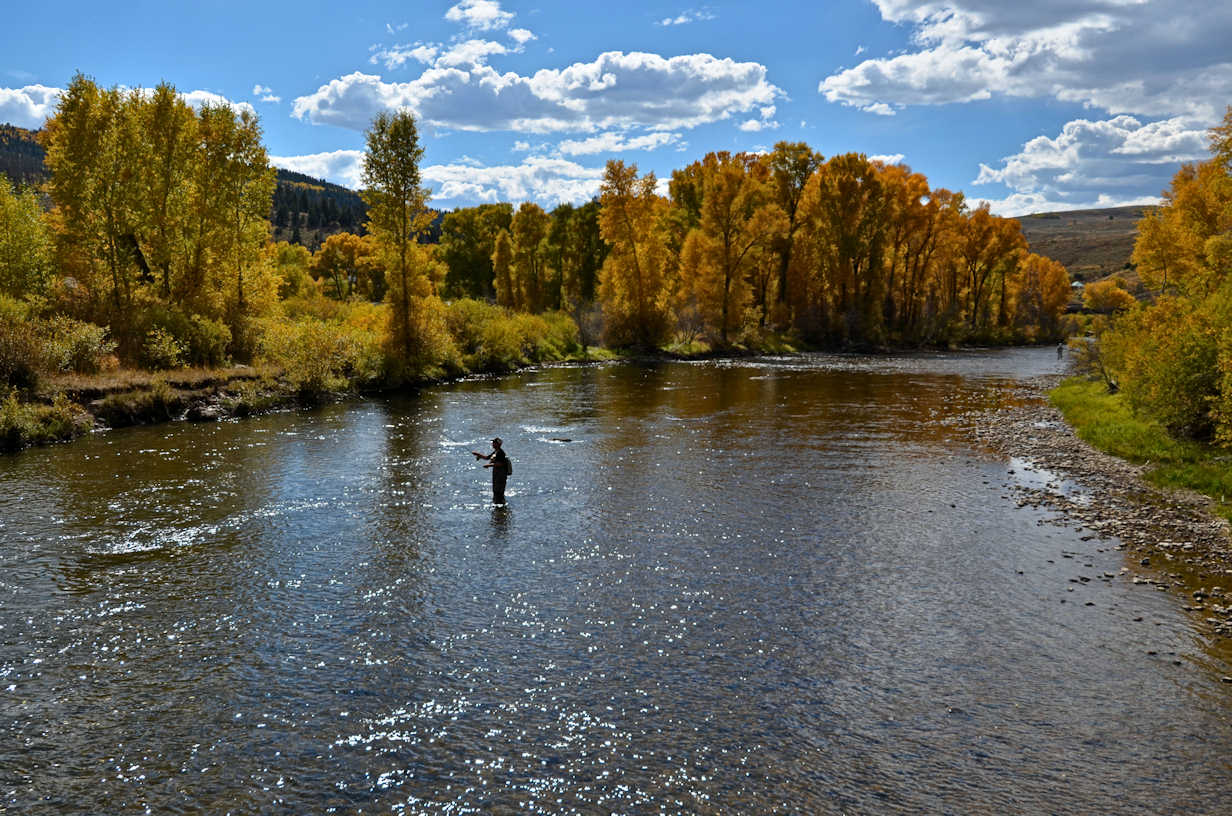 Fall splendor in nearby Hot Sulphur Springs. Scroll down to see more of the public lands close to Highway 40.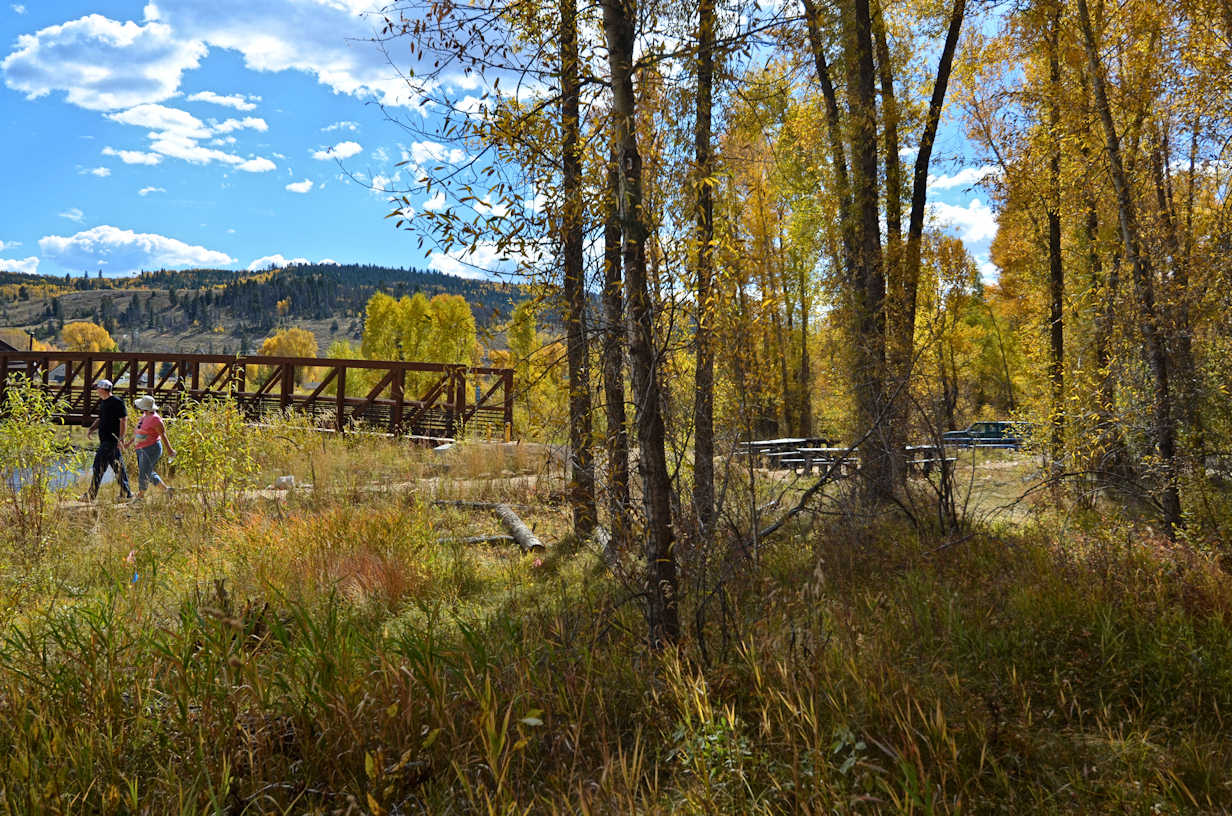 Scroll down . . .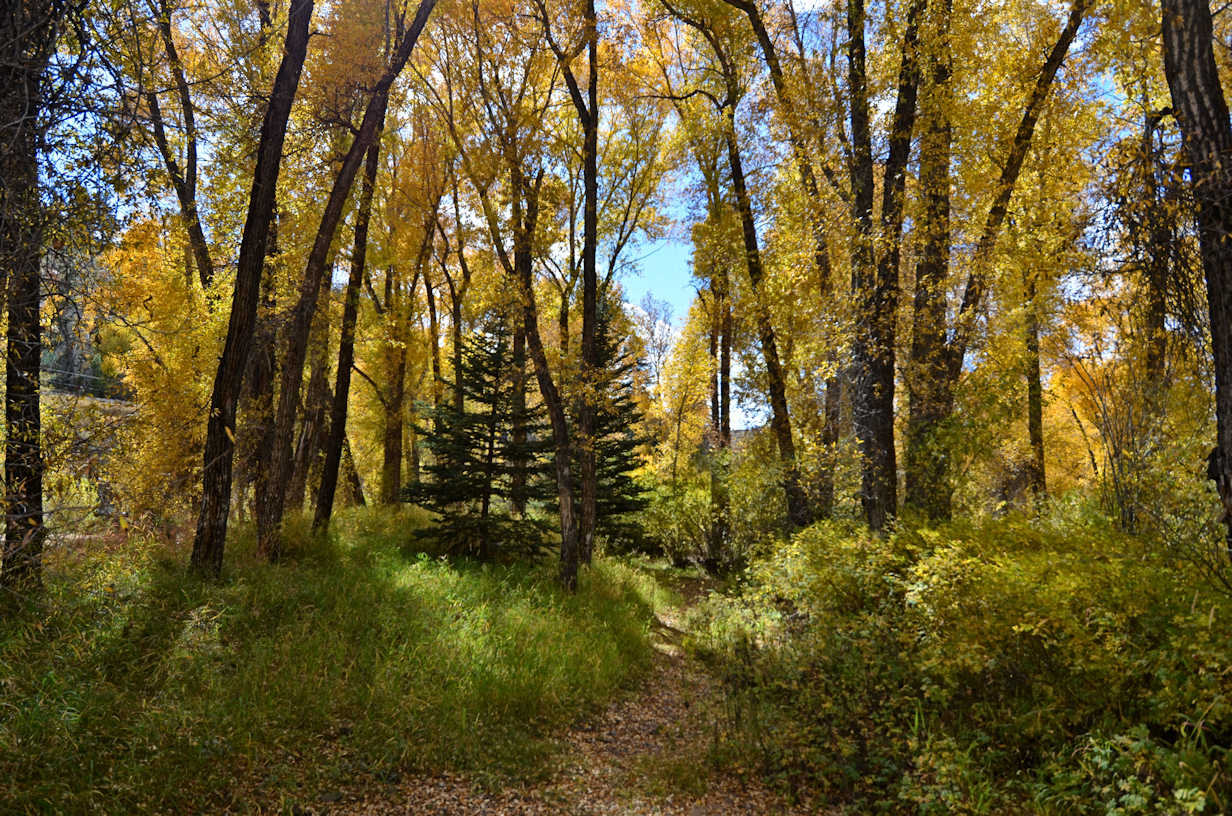 Scroll down . . .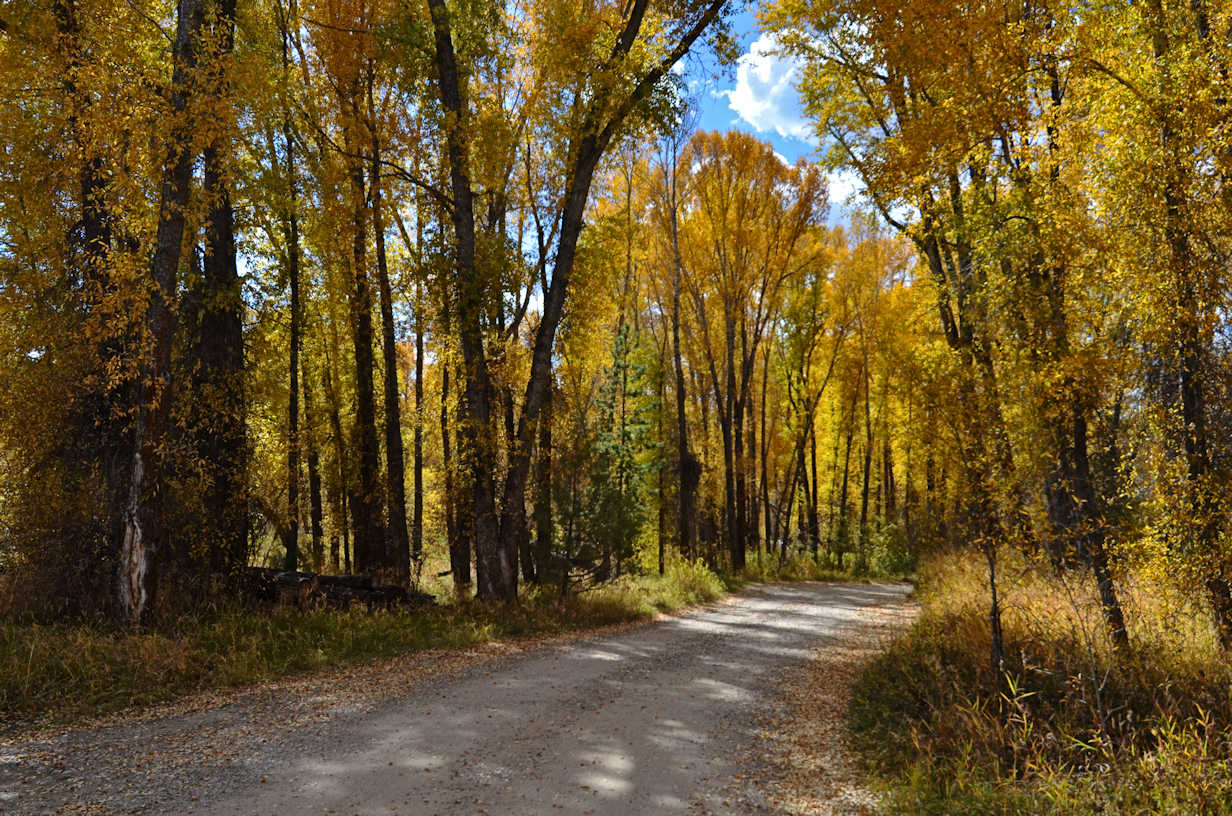 . . . .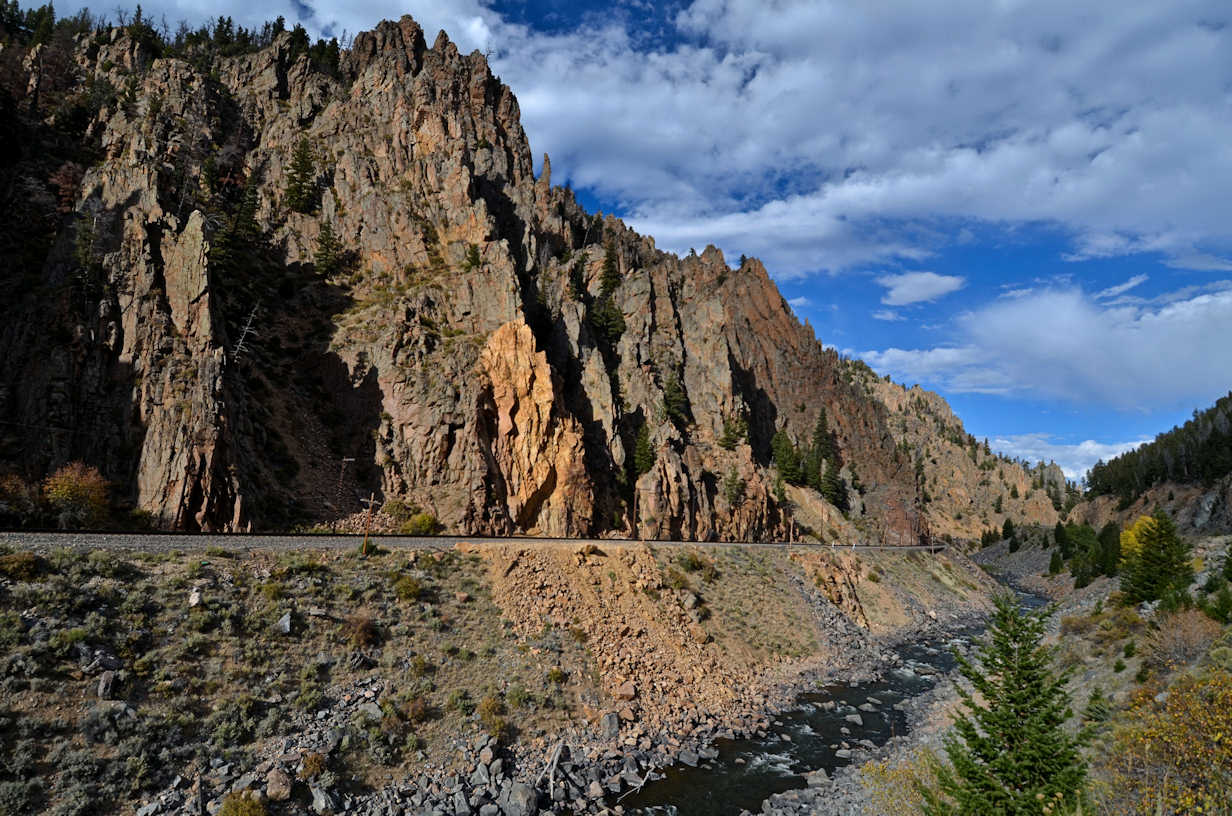 Byer's Canyon between Hot Sulphur Springs and Parshal. Drive through with the sunroof open and stop at the The Parshal Inn PI for good food.
Scroll down to look directly across the Colorado River threading its way through the canyon.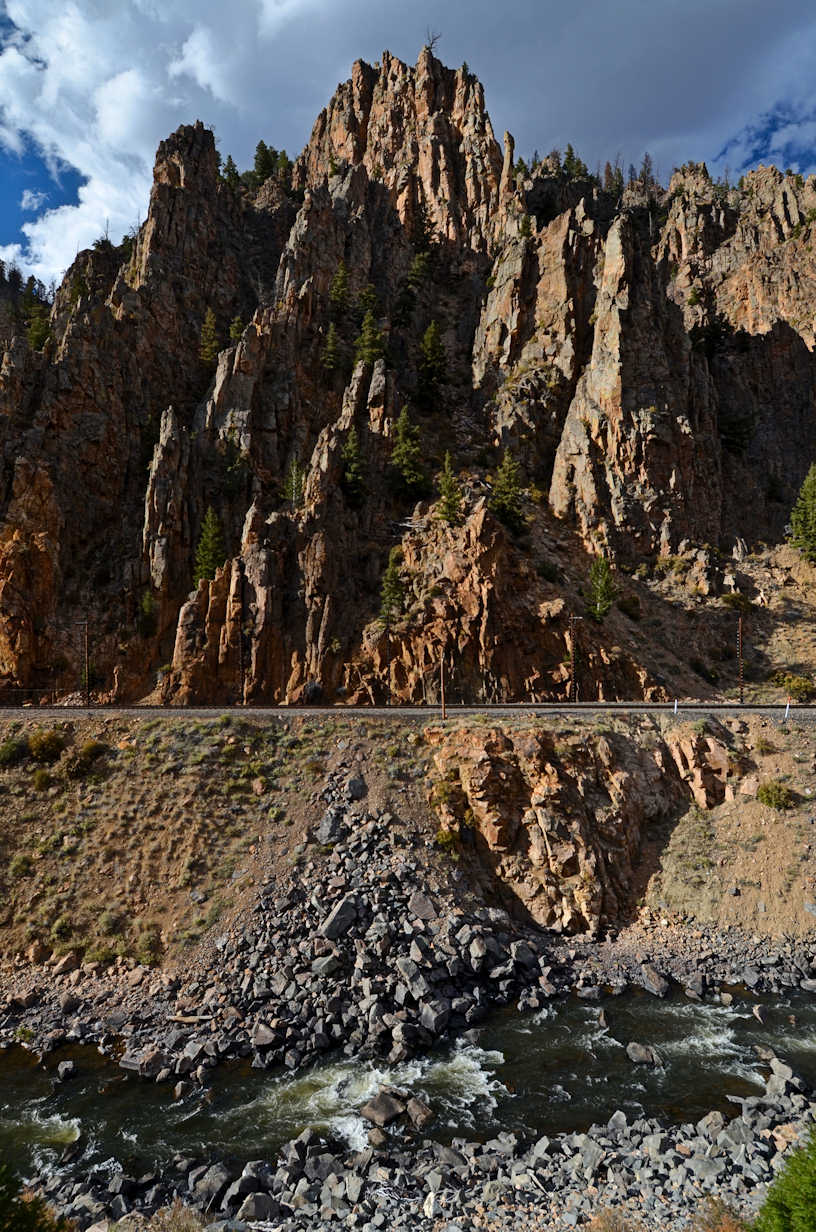 Scroll down . . .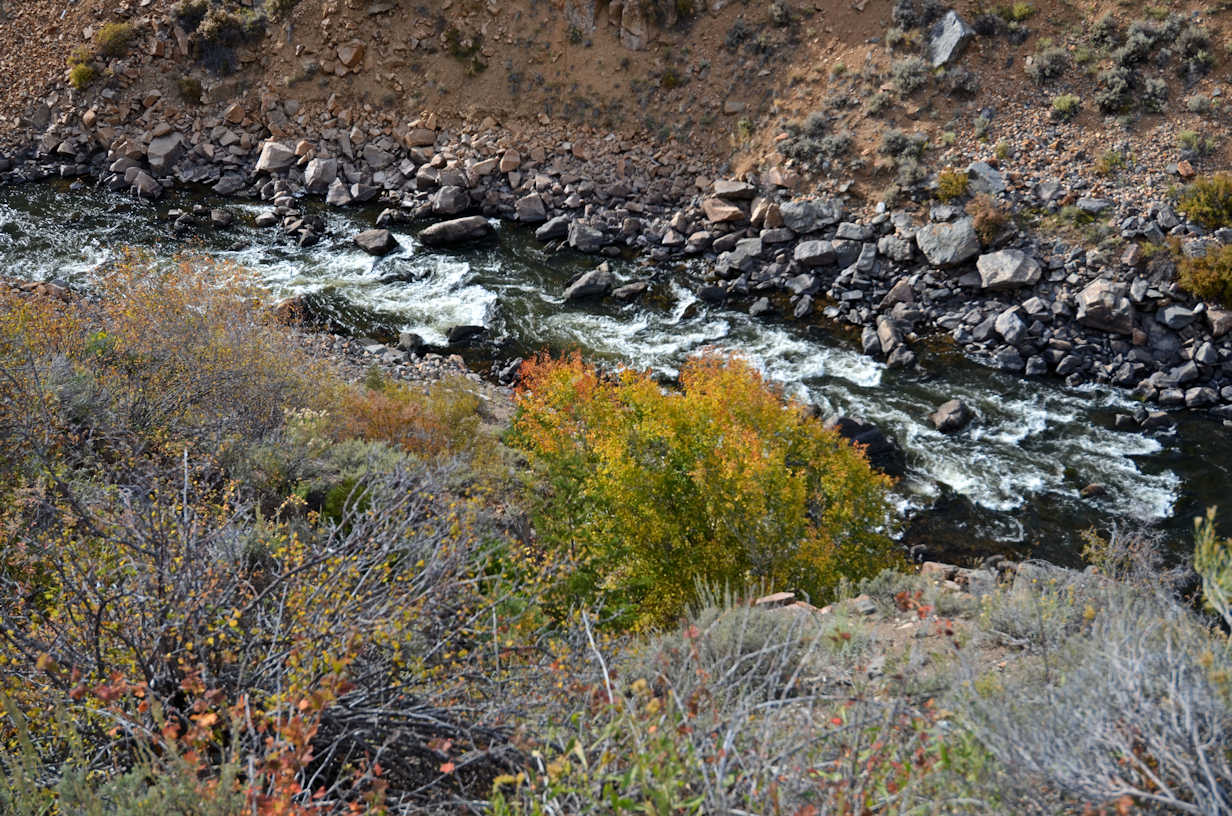 Scroll down . . ..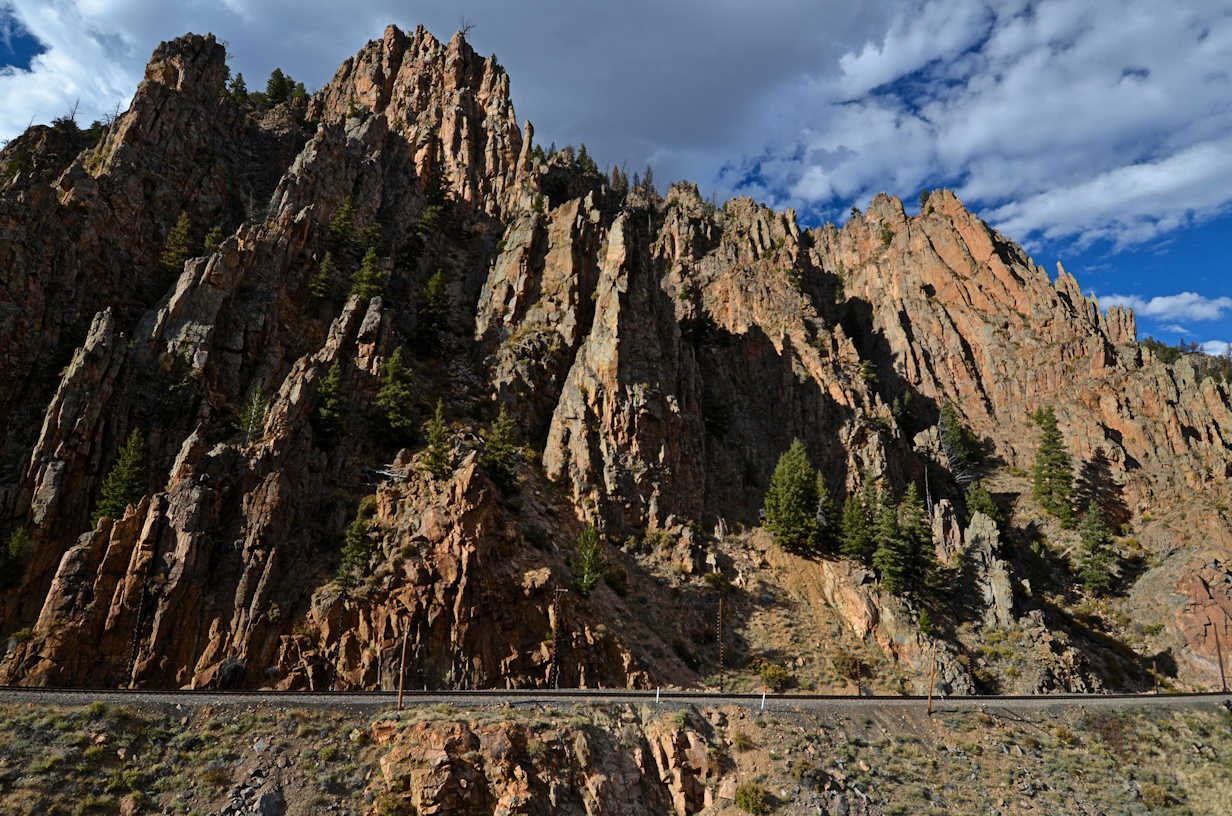 Scroll down to come closer to the source of the water.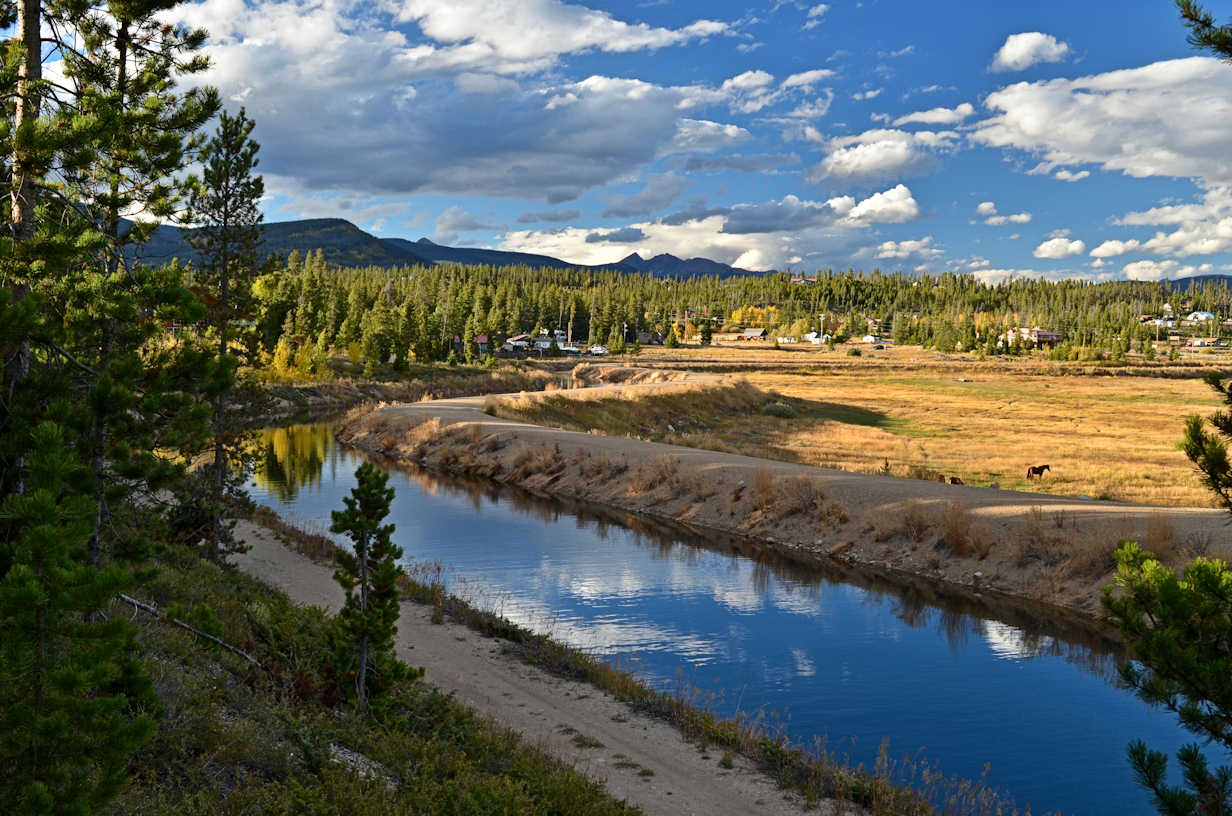 Click on the photo to visit a log-sided home near here for $399,000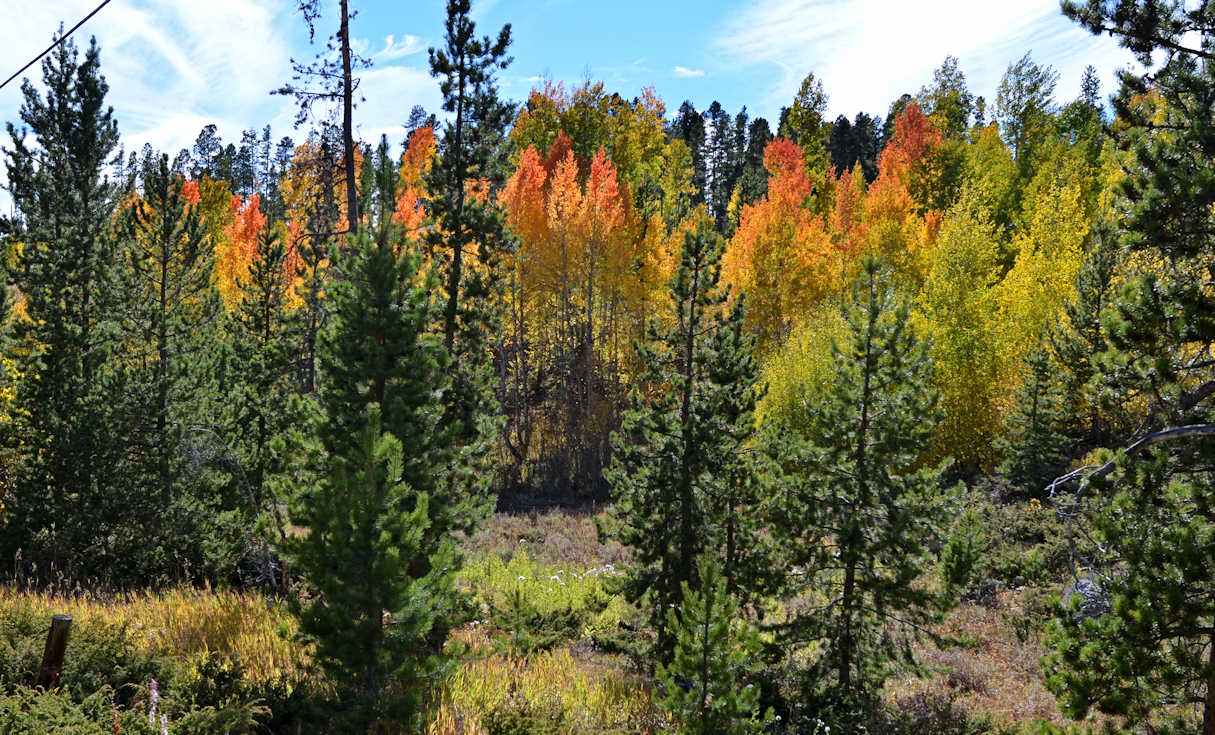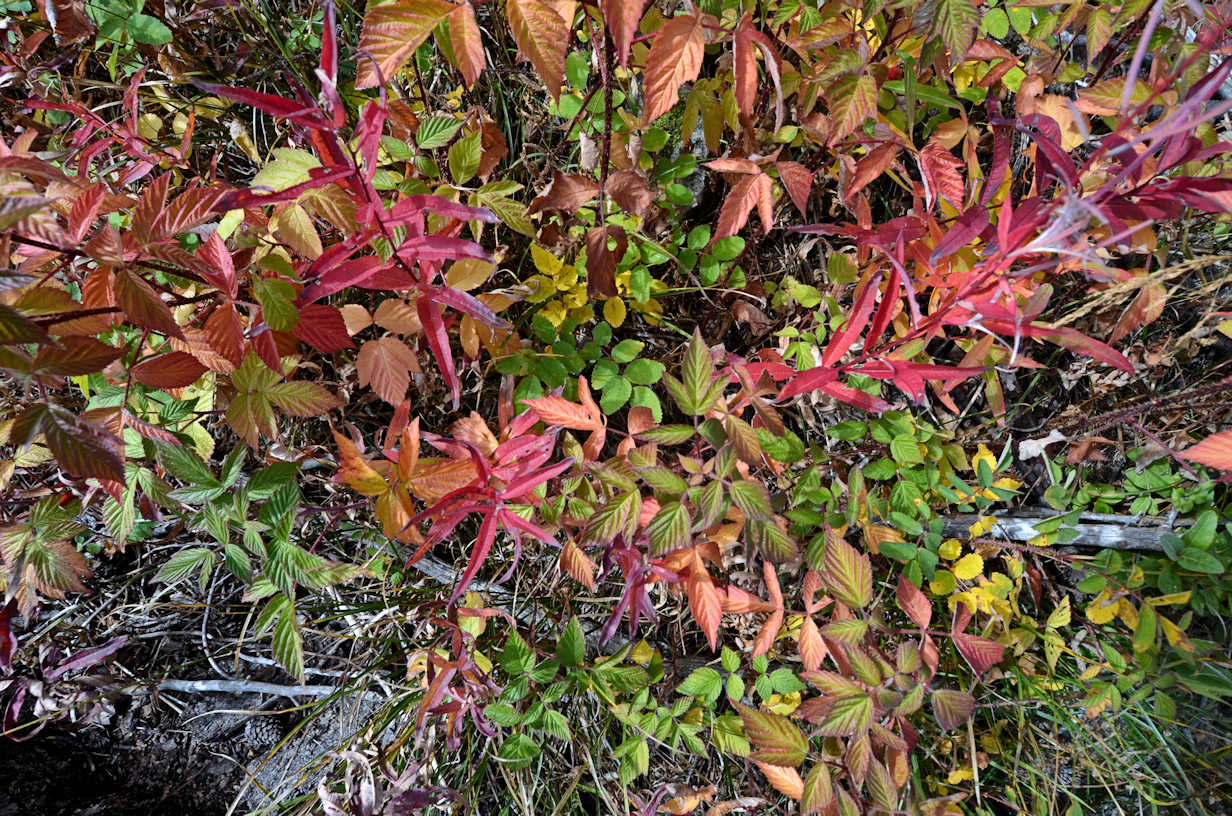 Click on photo to visit the home with this view of Shadow Mountain Lake and through the islands to 13,500' Arapaho Peak.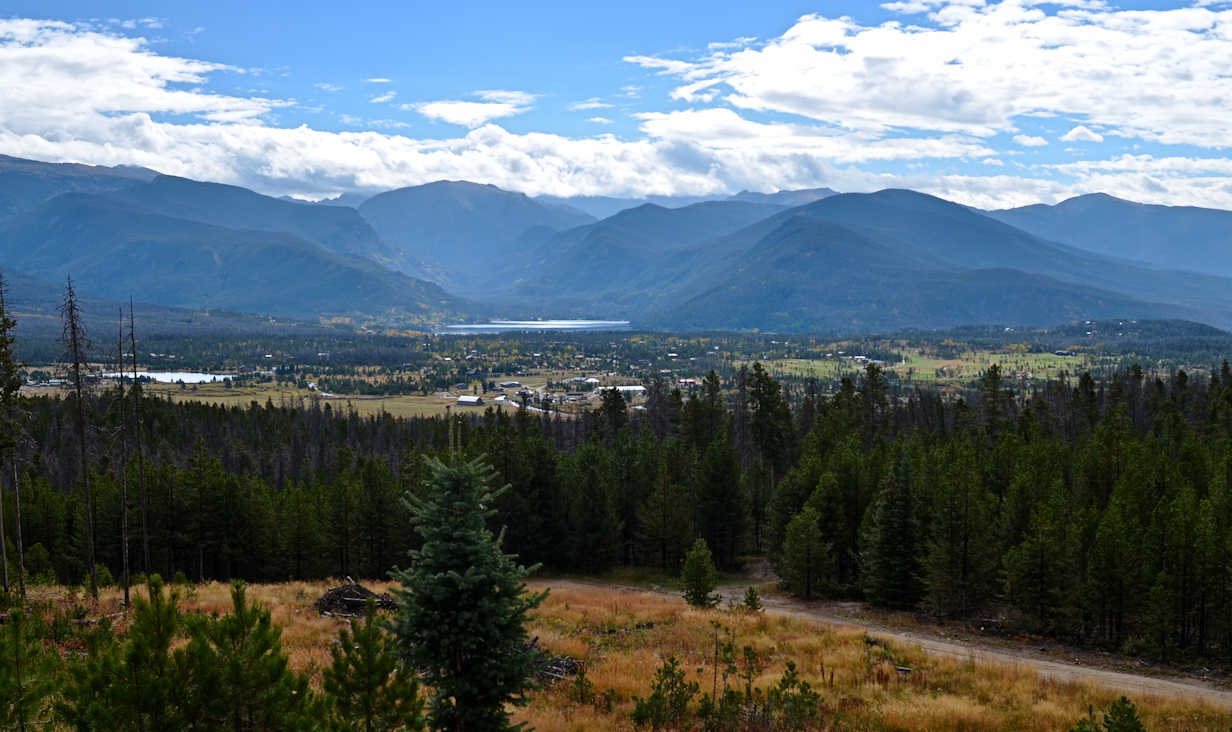 Grand Lake in shining in the center. Scroll down for a closer look at the green sward to the right.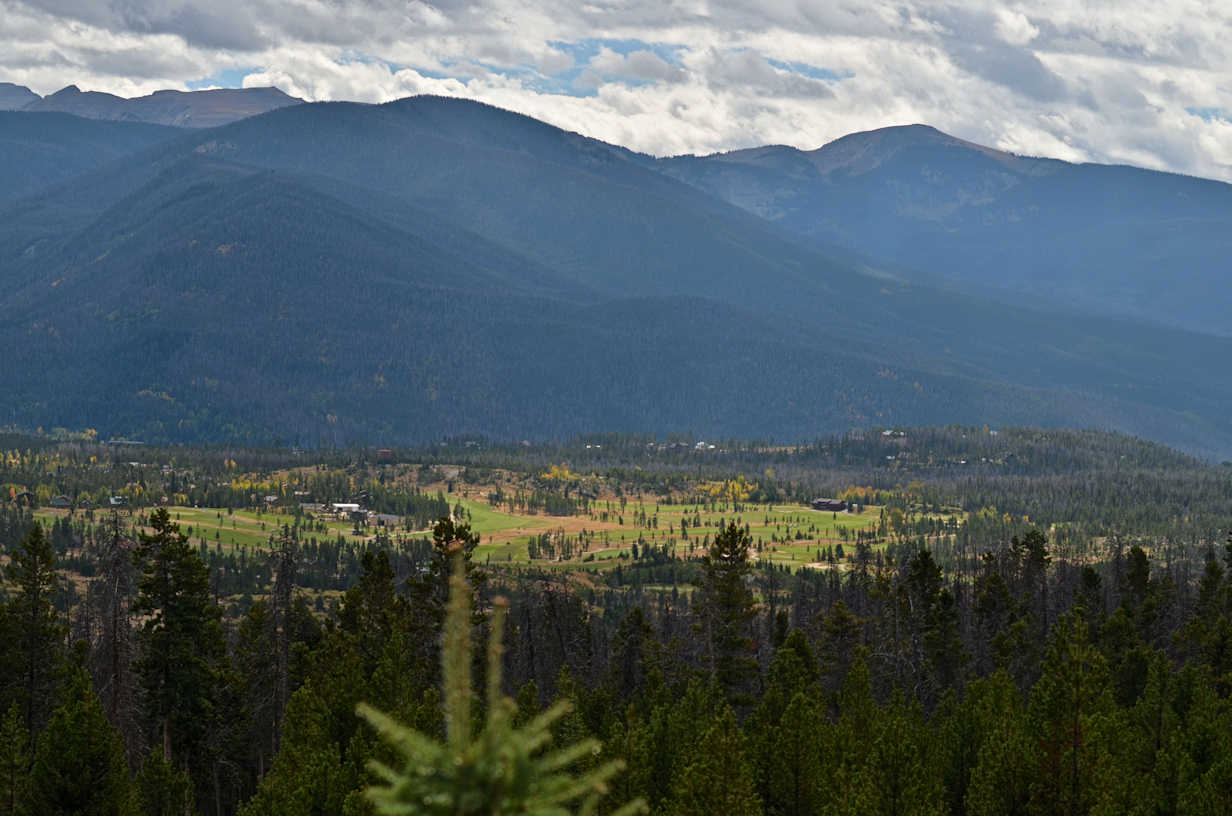 Grand Lake's community golf course. The Sly Fox Restaurant can be see at the beginning of the driving range.
In the winter, this area opens up to 500 acres of cross country skiing, dog friendly trails and gentle mountain biking.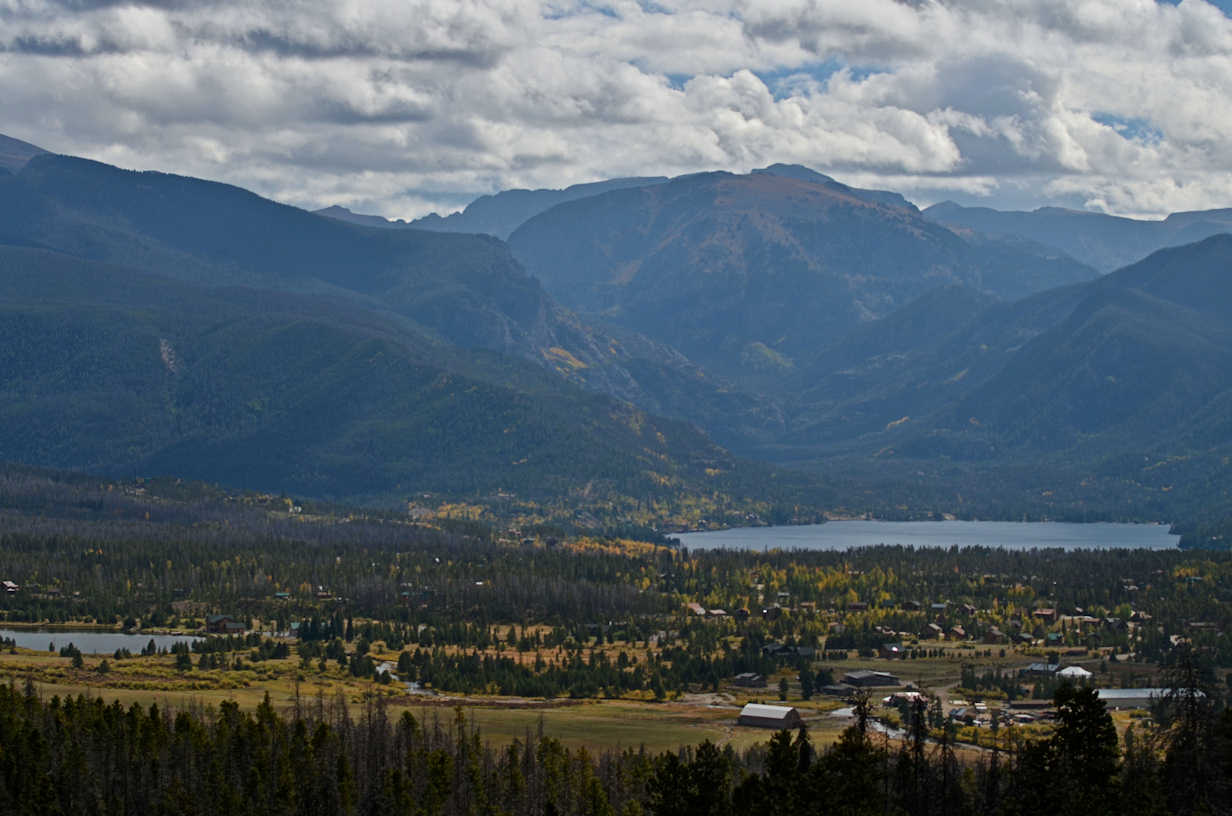 This view and the one's directly above and below are from the South Supply Creek trail in the National Forest west of Grand Lake.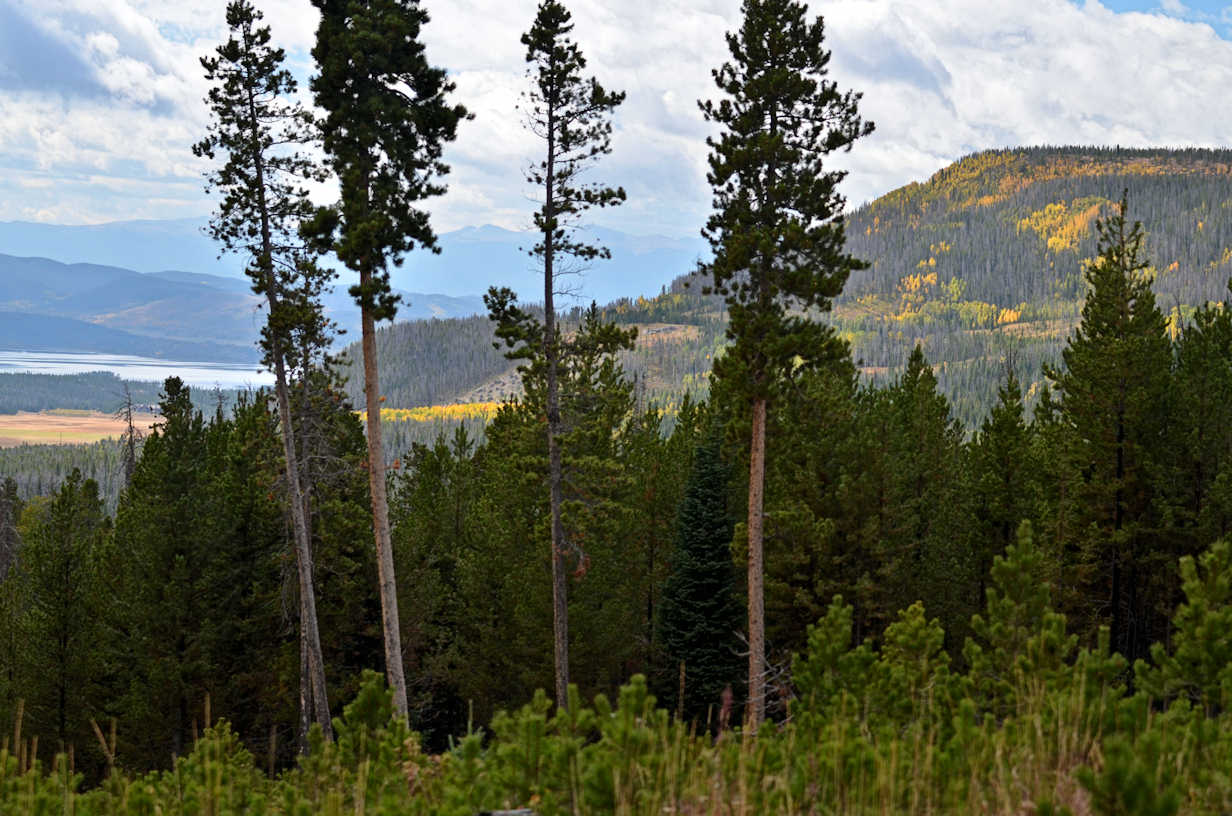 Scroll down . . .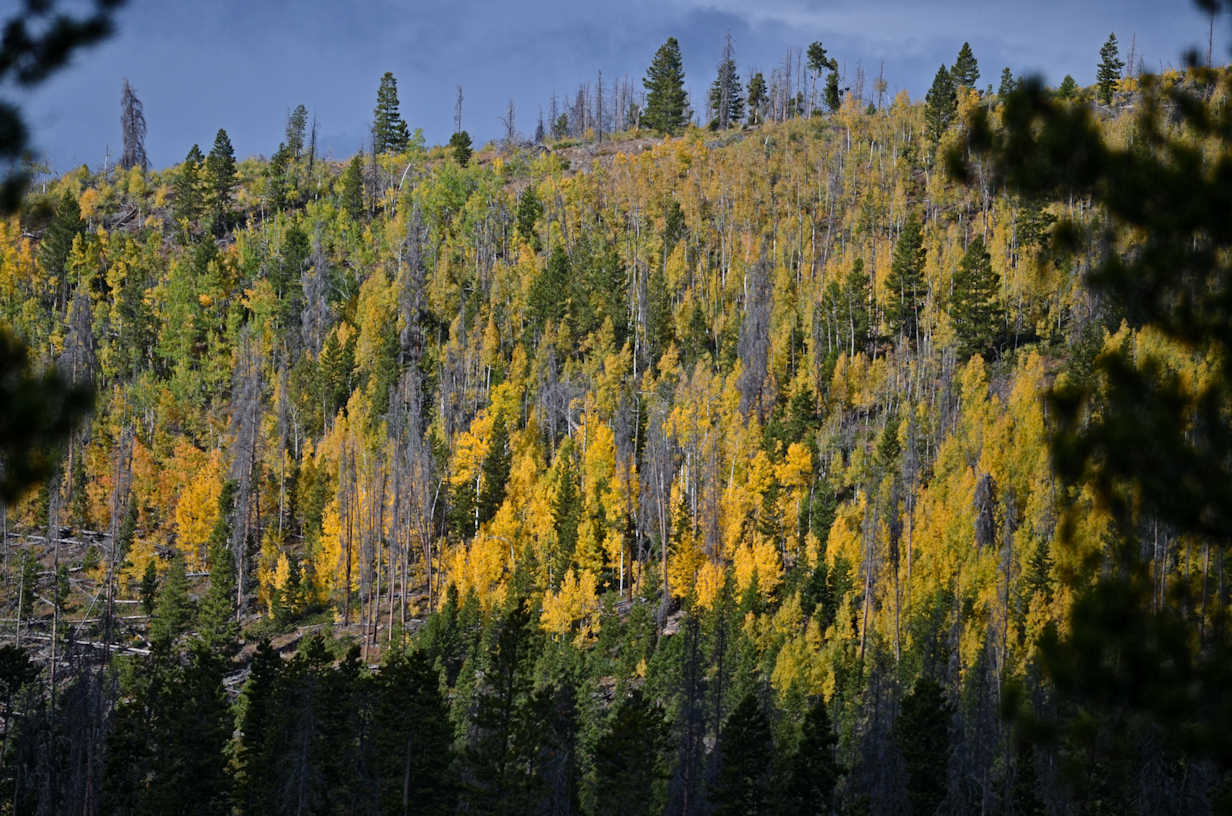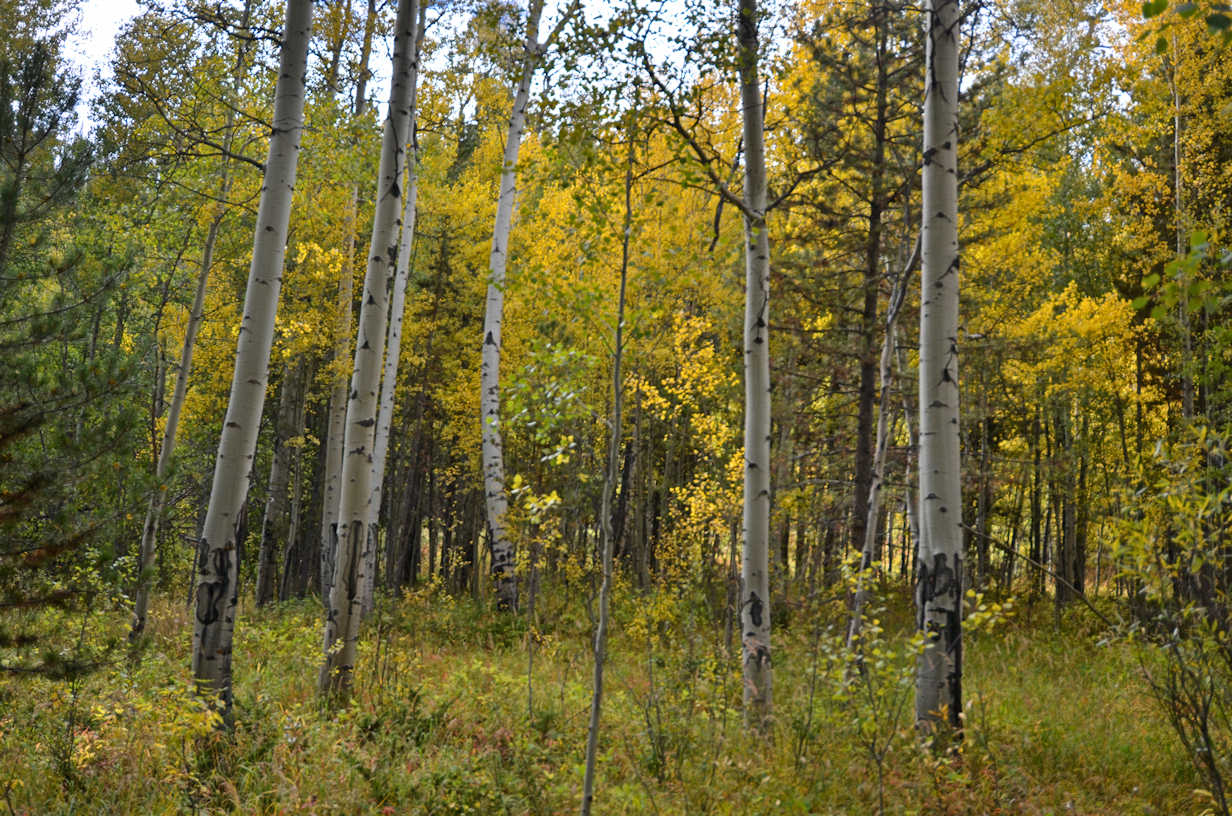 Click on meadow to learn how it can be an essential part of your Colorado High Country Ranch.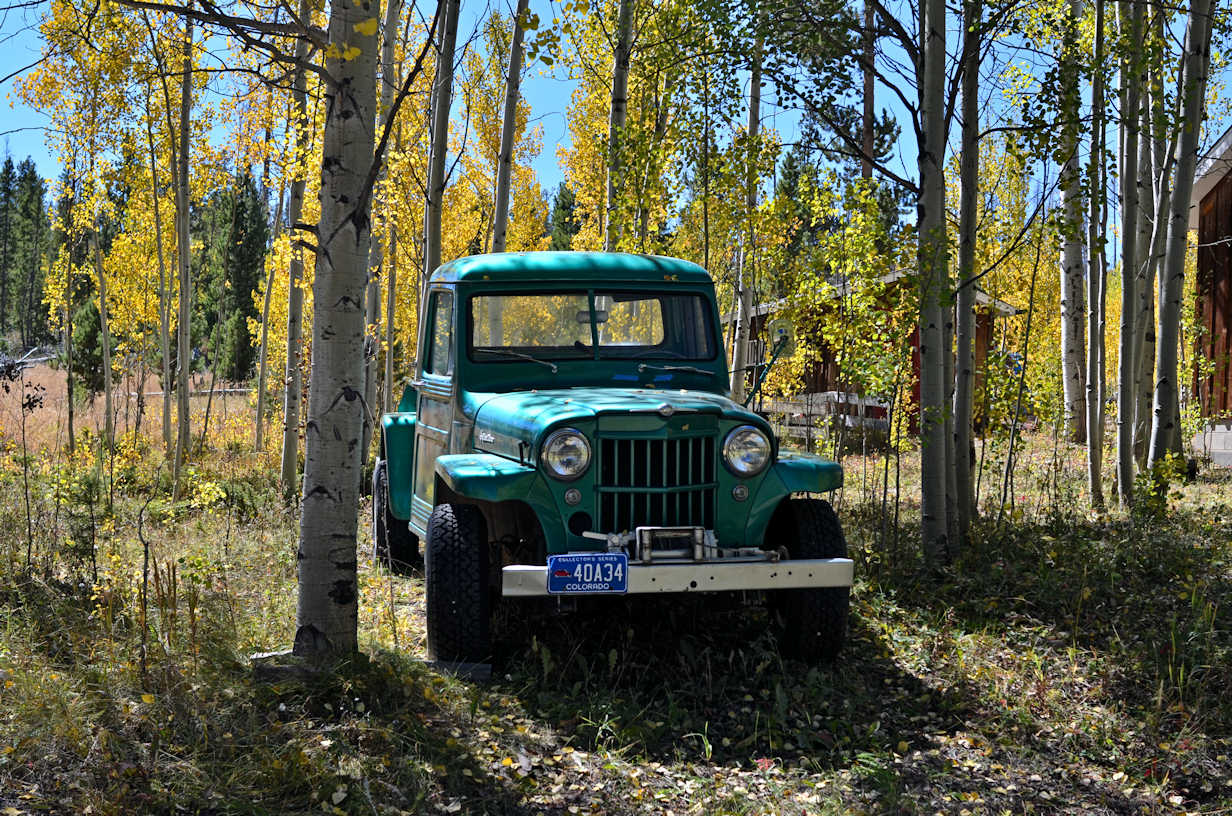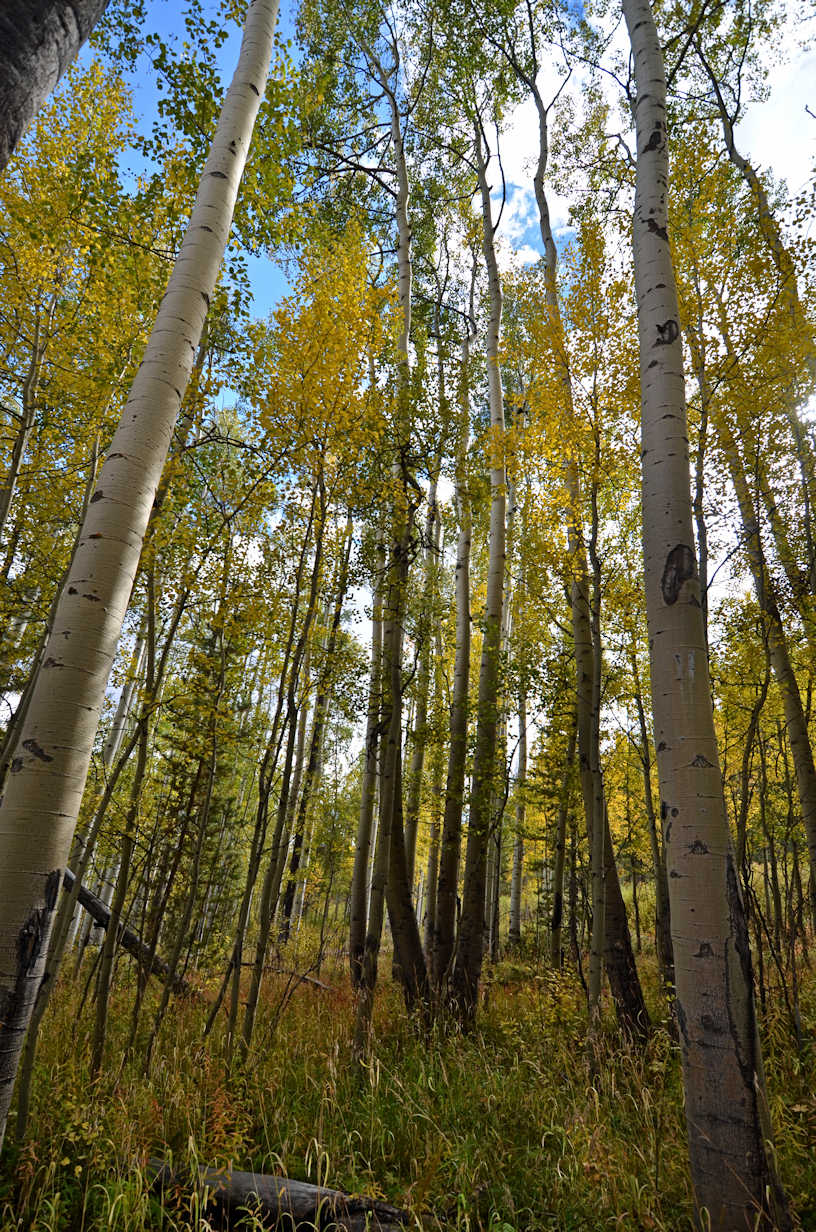 Step into the woods.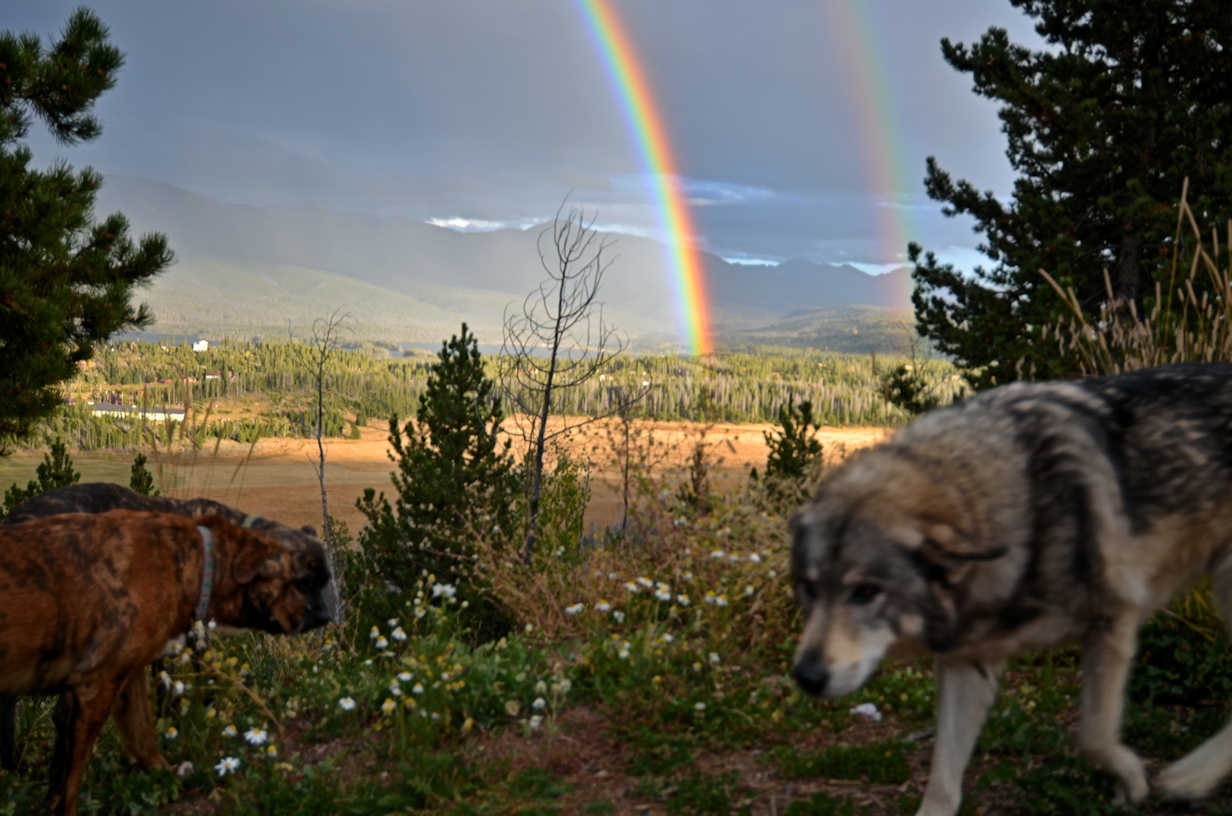 Sunday, September 6, 2015: boating action on Shadow Mountain Lake. Click on photo to » visit the $199,000 condo with this view AND a boat dock!
Be sure to scroll way down and see our High Country Ranching series.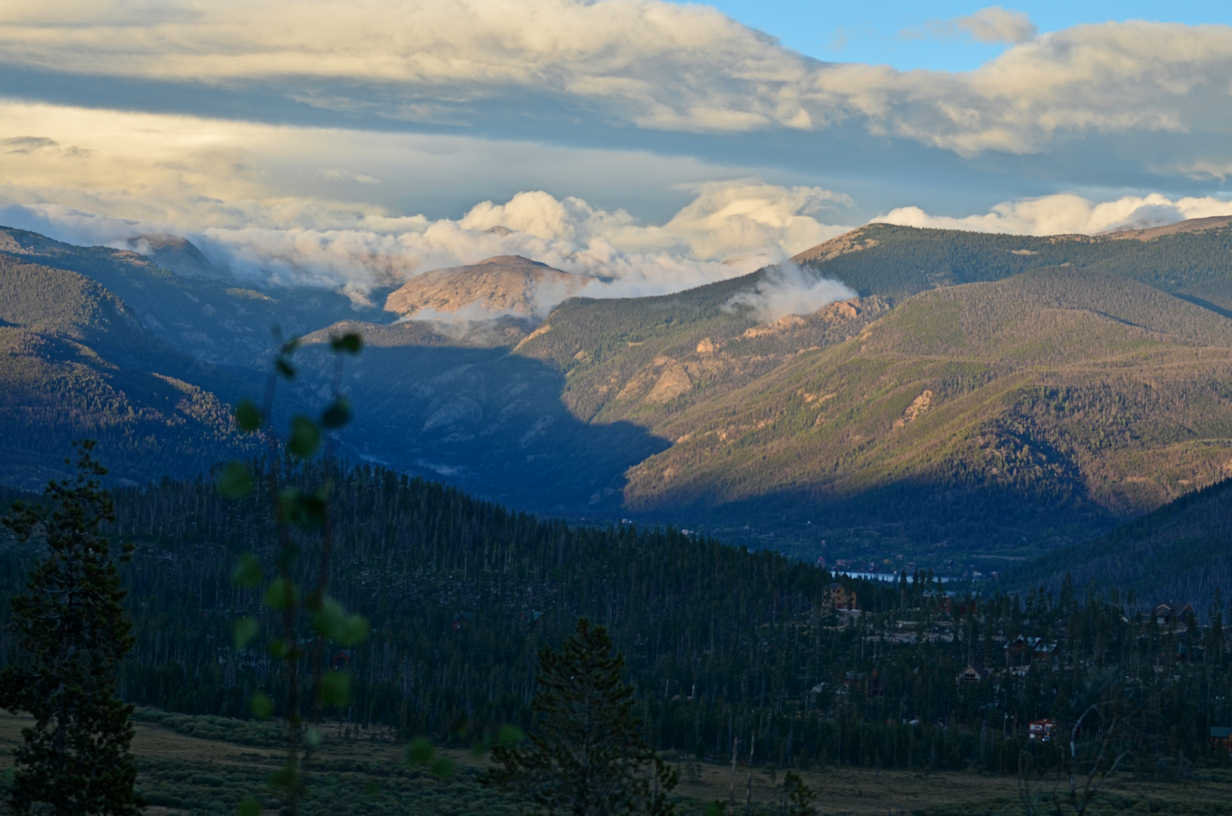 Clouds gathered around the Flat Top Mountain pass to Estes Park.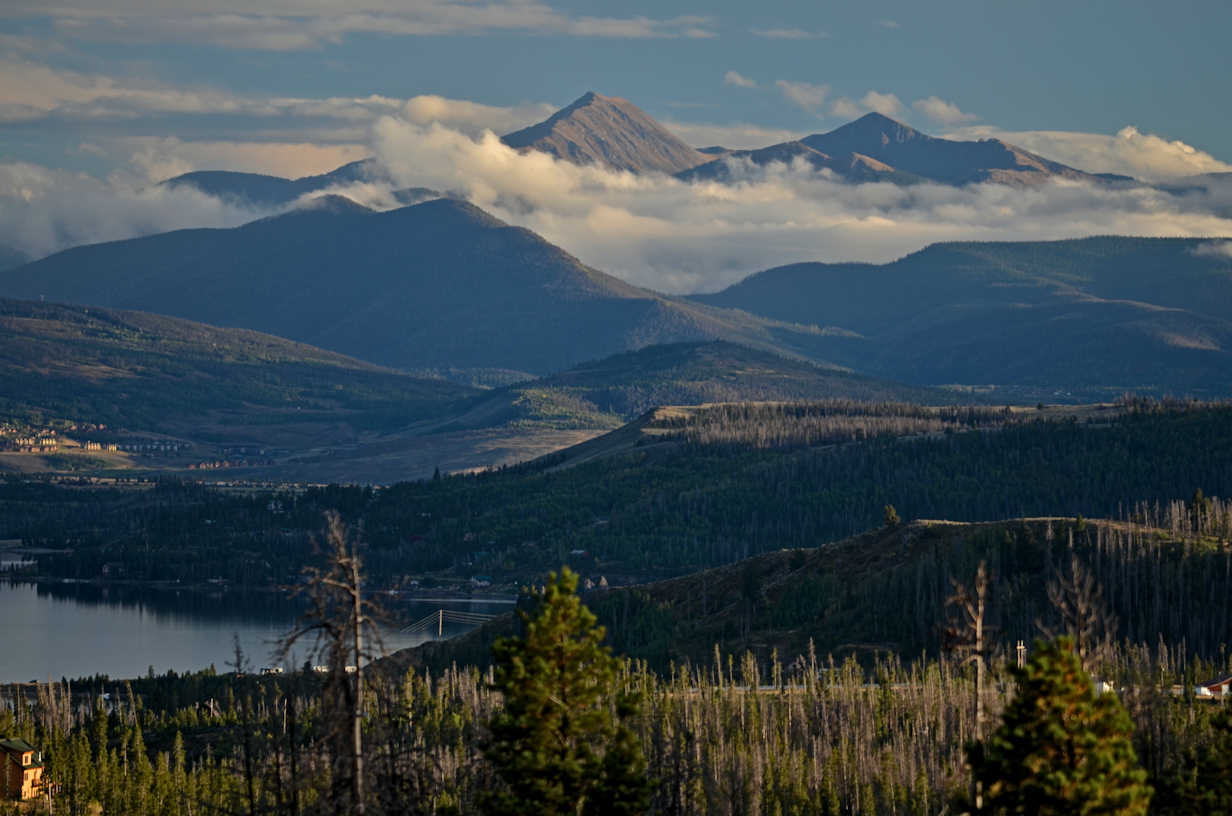 Clouds gathered below Byers Peak. Scroll down . . .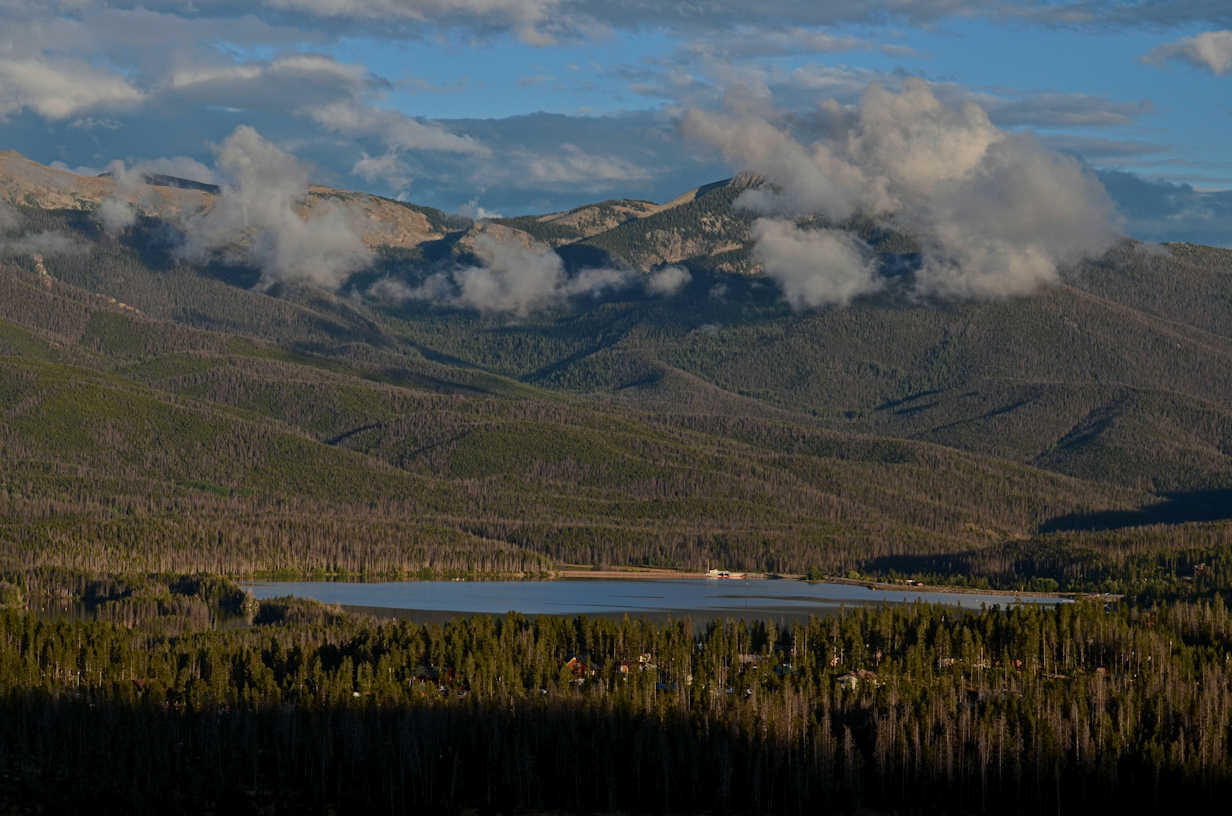 Clouds over the south end of Shadow Mountain Lake.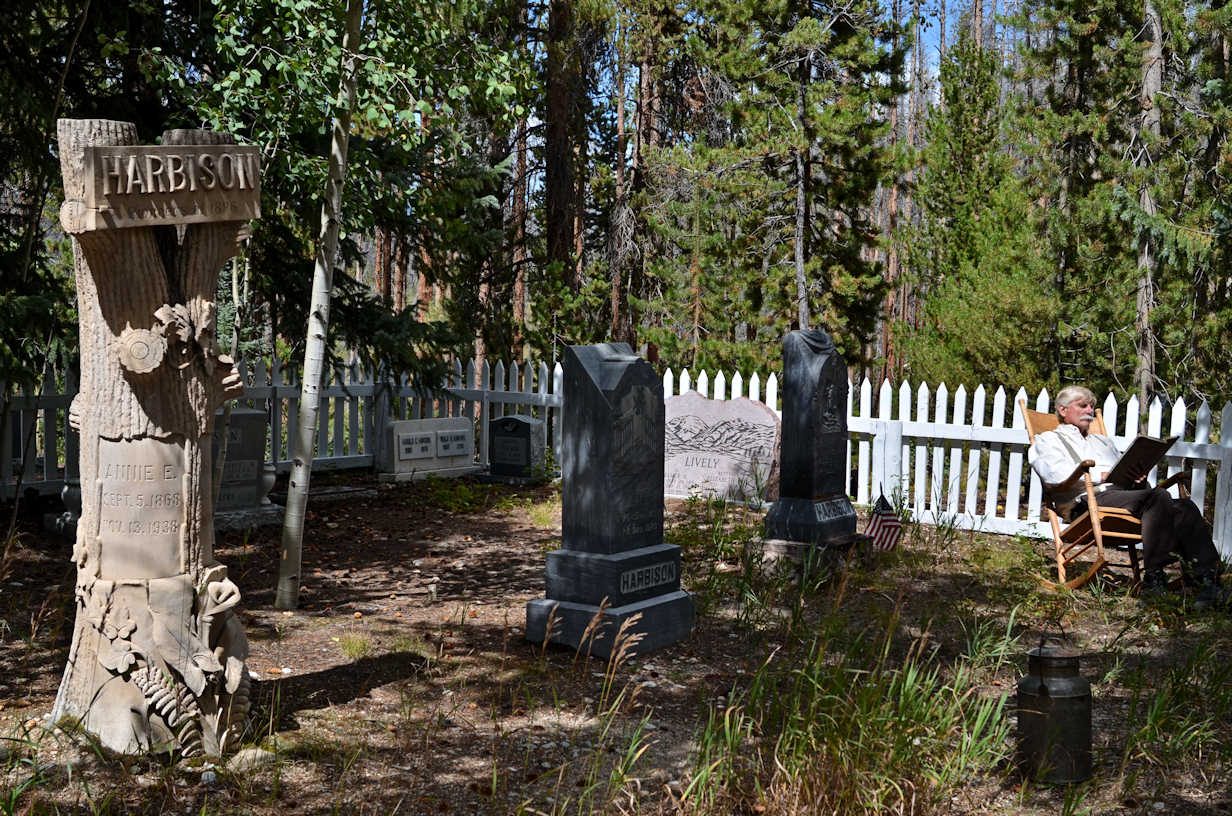 Ranching, old and new . . . . .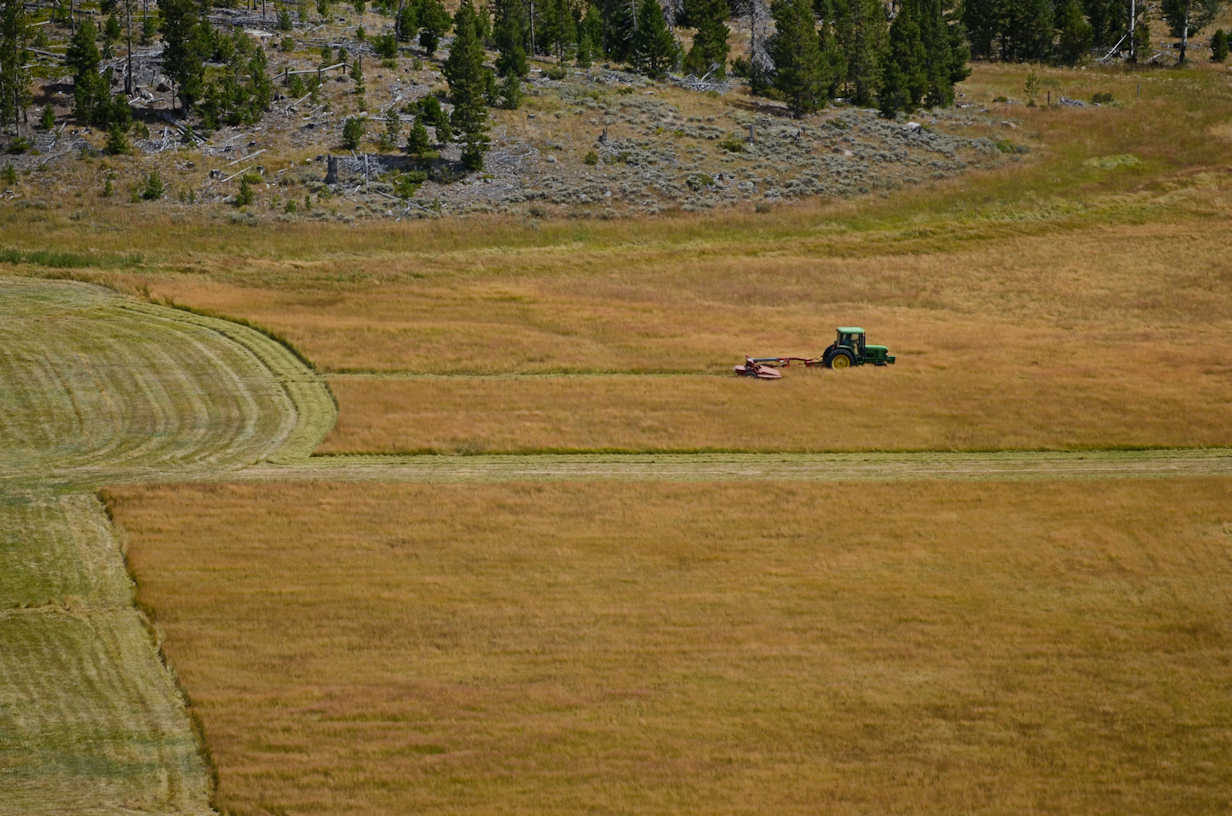 The timothy grass rises to the axle of tractor. Scroll down for a medley of photos celebrating our one cut of hay that comes in late August or early September.
Dodging the rain showers is half the battle.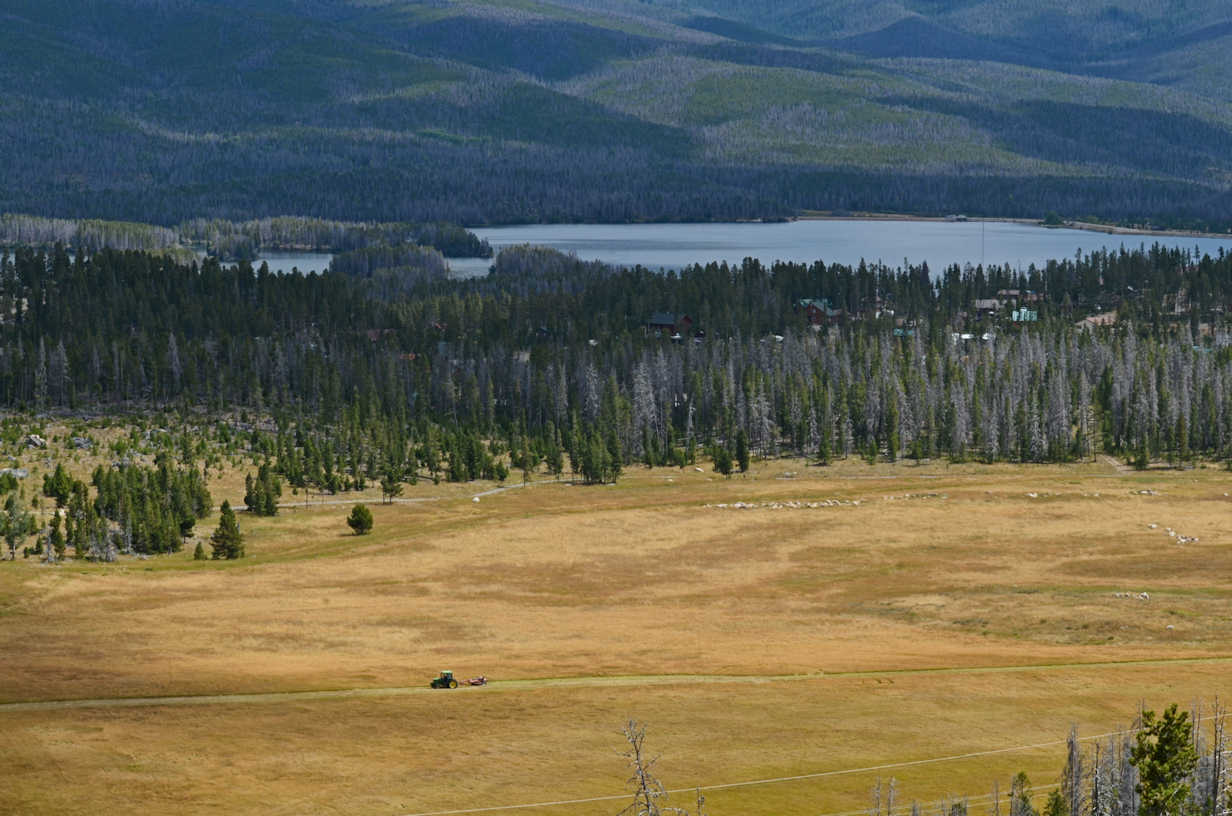 Scroll down to see the cut hay being raked.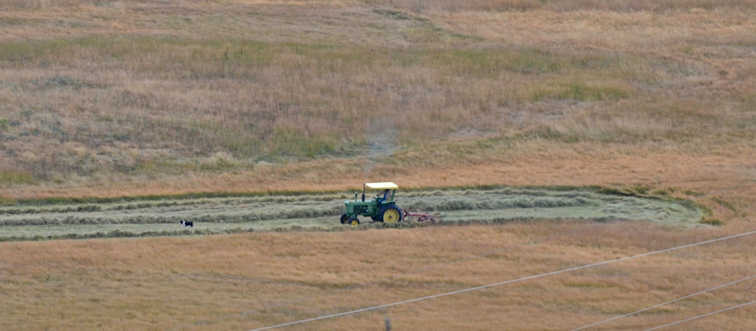 A Grand County super dog leads the way. Scroll down to see the bailer.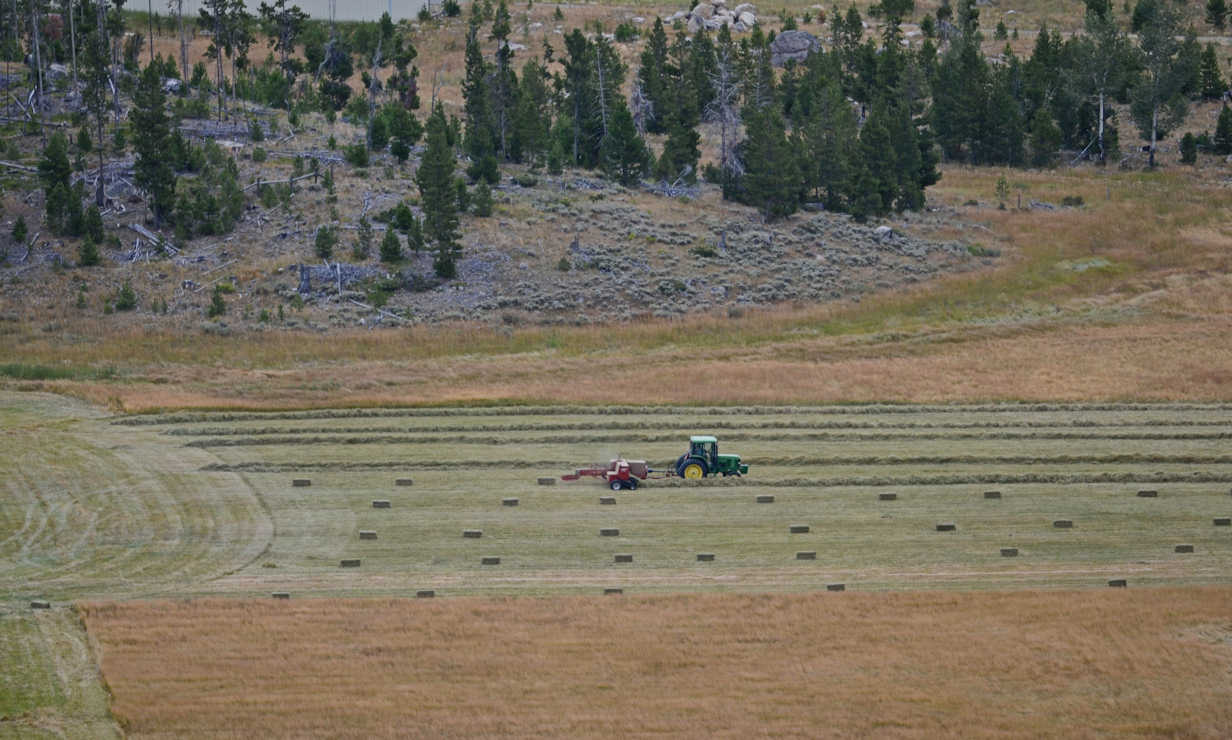 Scroll down to see the bails being gathered.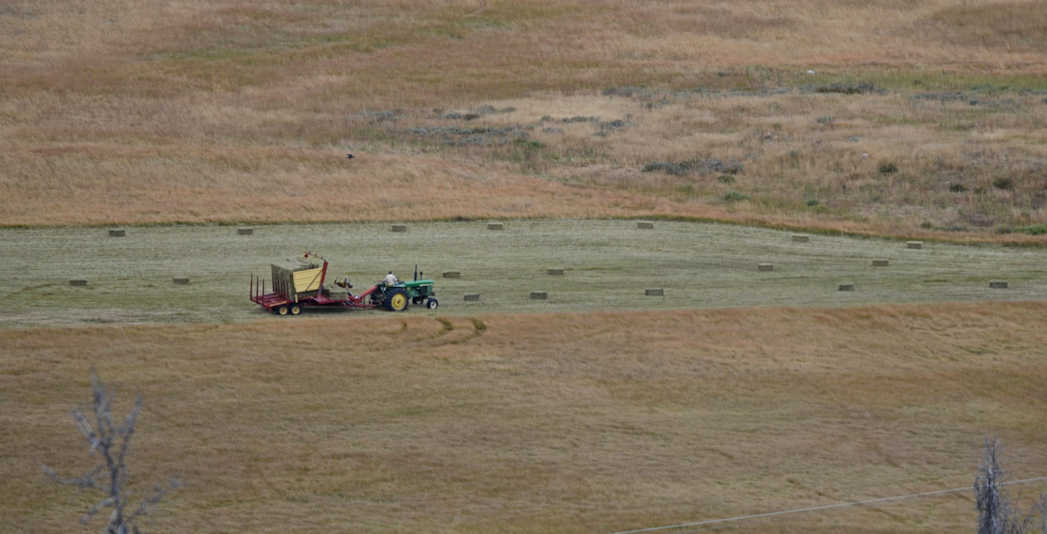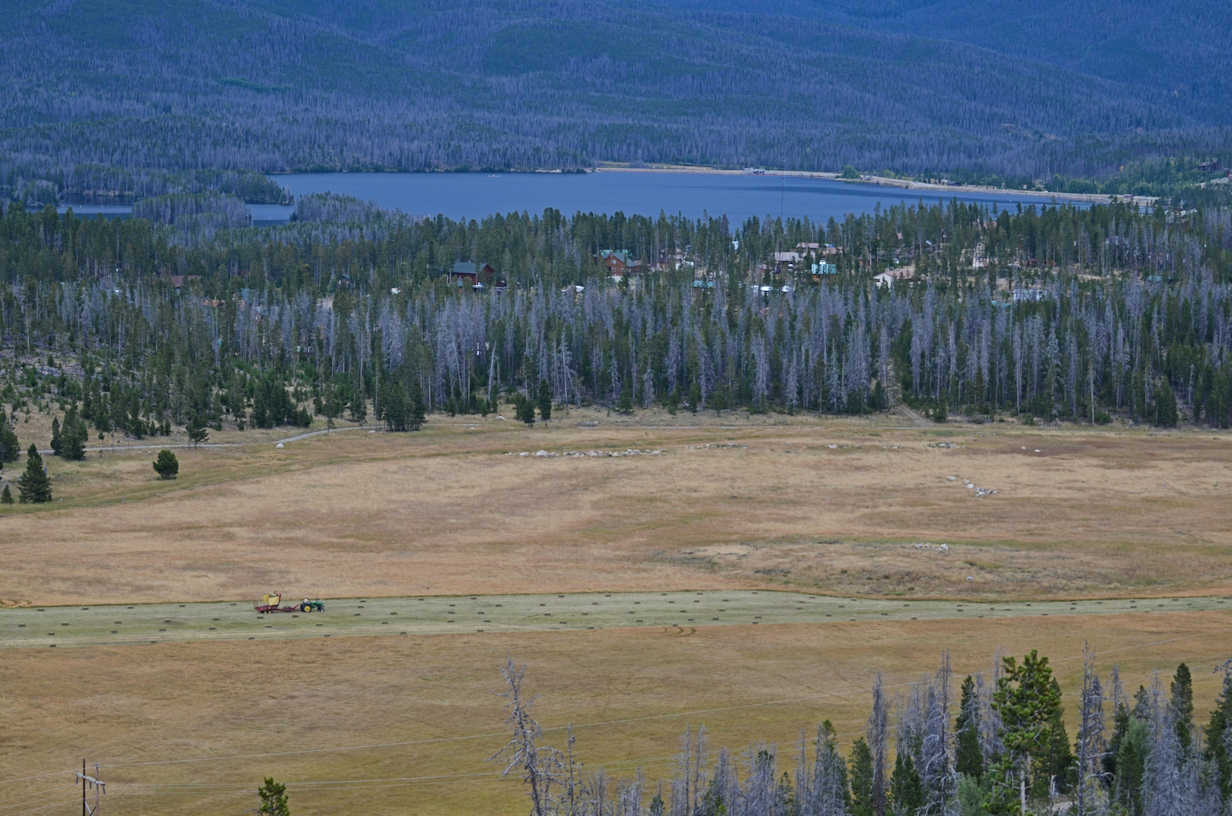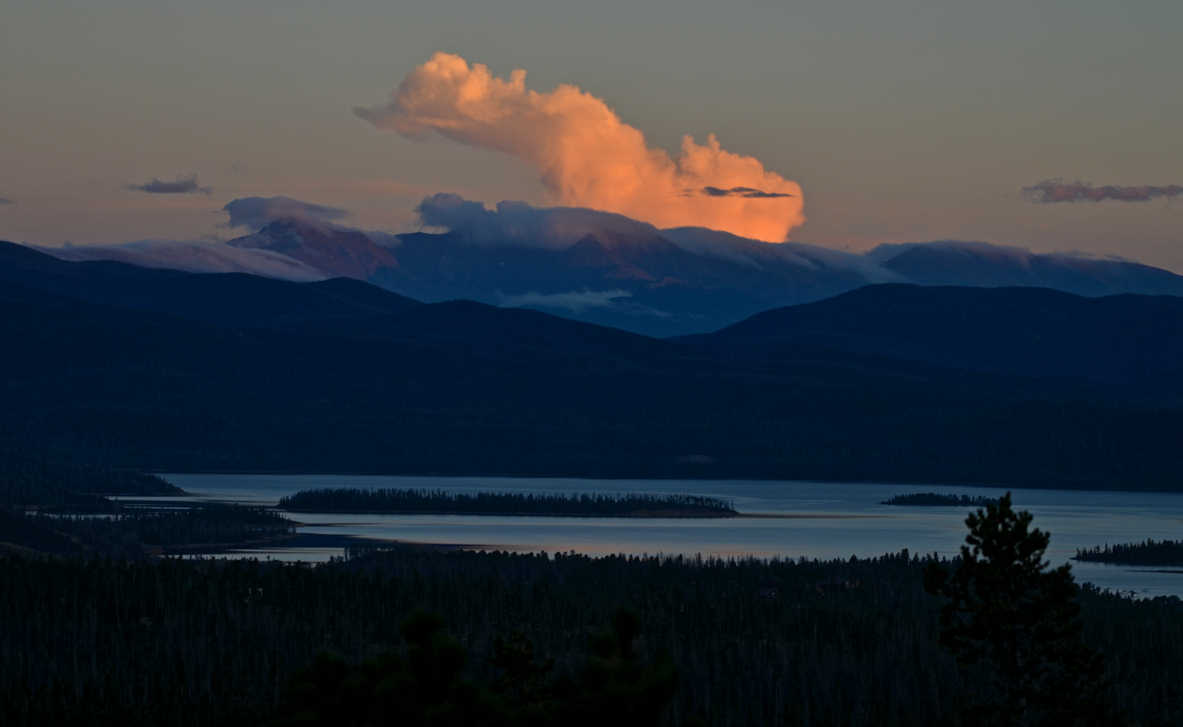 More cloud spotting. This glowing beast could be over Mount Evans . . . scroll down for auto testing scenes on the highest paved road in America.



The corn is as high an elephant's eye : Loki the malamute in a rich pasture of Timothy and clover. 131 acres, water rights |and three
year-round cabins can be yours for $1,400.000. Click on photo for details and a sensory experience into a meadow whose rich textures
of grasses and clovers envelope one with a sense of well being. The Timothy grass sends its blooms as high as a pony.
The purple tops of Red Top clover sway under the clacking of aspen. Scroll down for many more recent images.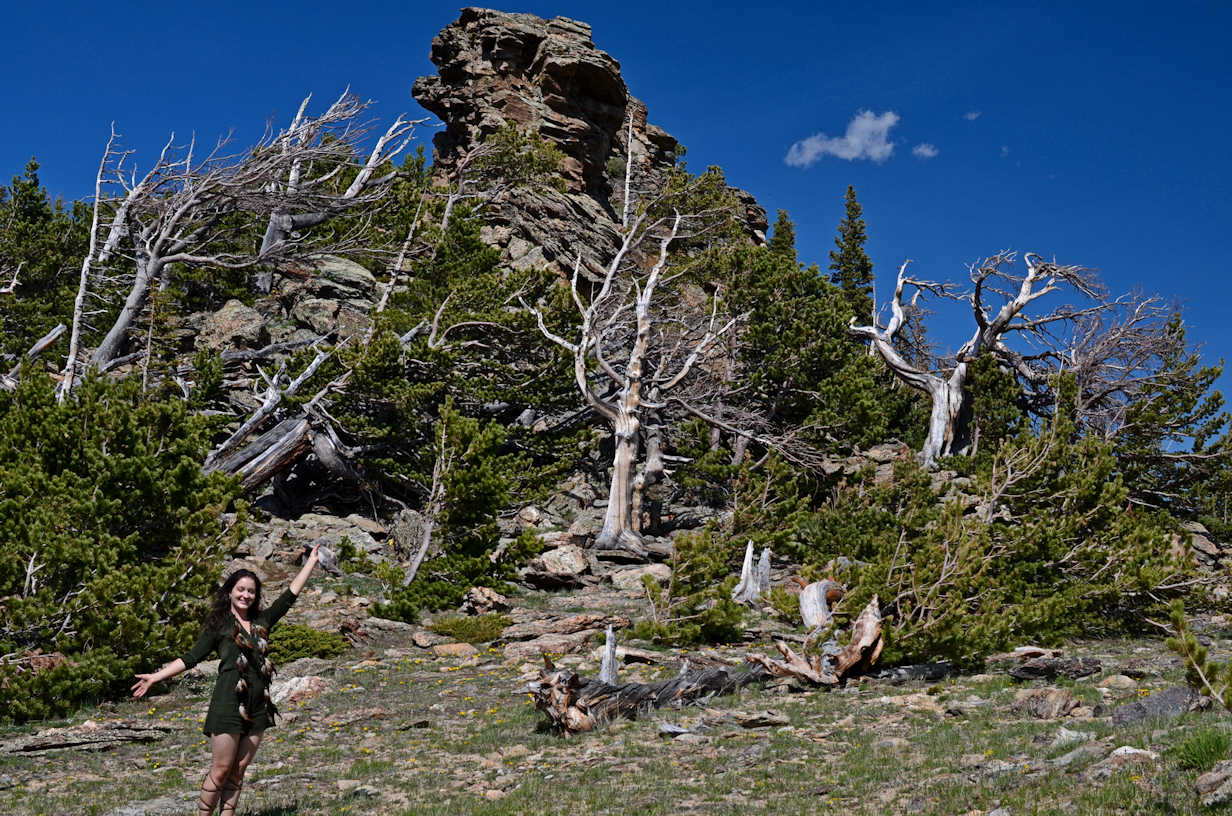 Rocky Mountain National Park has visitors from around the world for its 100th birthday party.
The iconic mammals from Big Horn Sheep, to Goats, Elk, wolf*, bear and marmots .... watched over by eagles ...
everyone has stepped out, even the plants after vigorous rains to create a bouquet of wildlife for the centenary.
Scroll down for a 3 minute druid walk into one of The Park's 100 unique folds and pockets.




Moss land ... Click here to » see on the video at our youtube channel 2Grand Lake.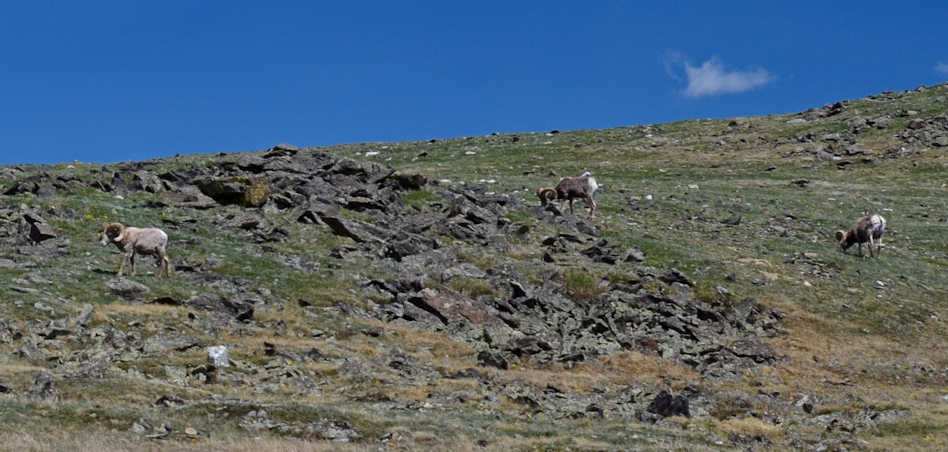 The iconic images of Rocky Mountain National Park are on full display. Goats, sheep, elk, wolf or coyote going after marmots have all been seen
along the 12 miles of rolling tundra at the top of Trail Ridge Road. With a quarter million acres of extremely varied land, there are
going to be some especially deep pockets, little Edens, where the buzzing and humming of life has been going on since the last Ice Age.
Every mountain has many pockets. We hope you find yourself in one in celebration of Rocky Mountain National Park being 100 years old/young.


====================

Visit us in the winter too: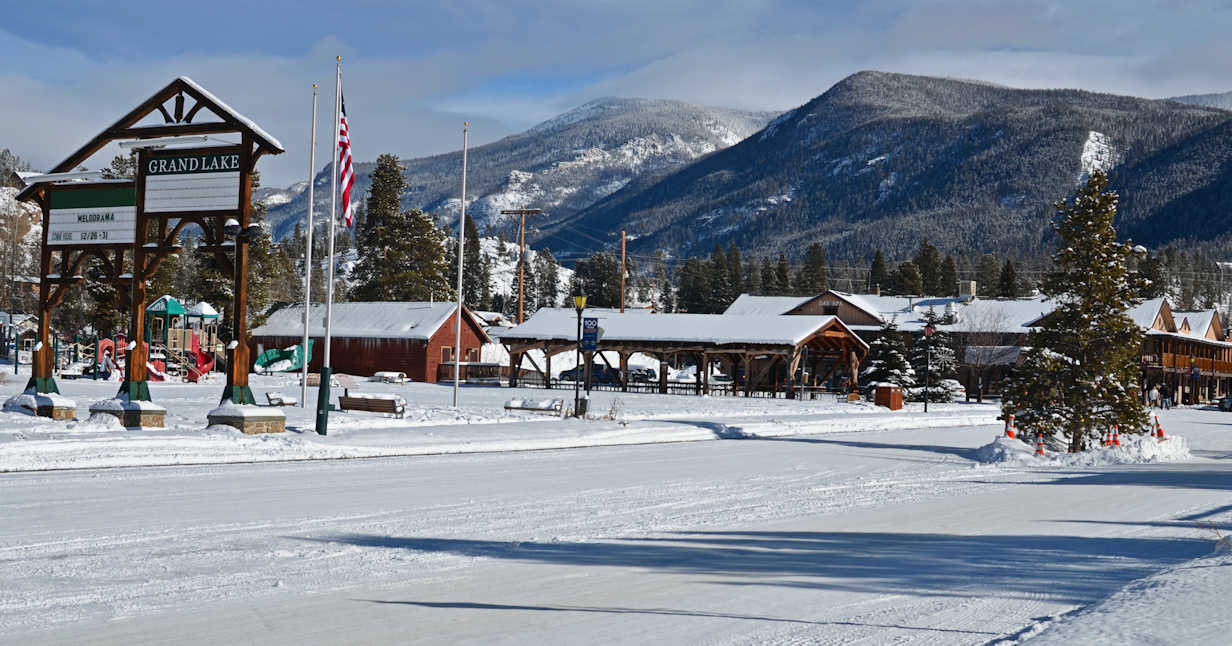 The white streets of Grand Lake . . .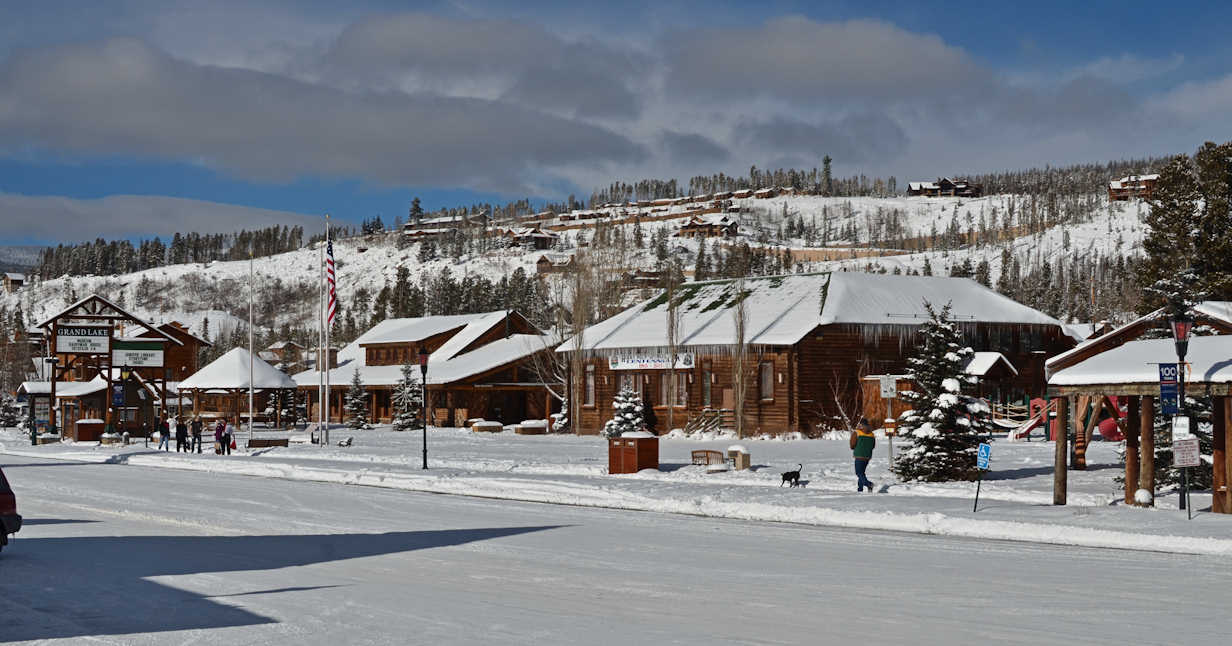 We have our own channel now to bring Grand Lake to you.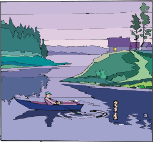 Jump to Homes ... Land ... Businesses ... Main Menu ... What's New
Grand Lake Village is about 8400' high (2570 meters).
The lake surface is kept at 8369'; homes a few miles away can be several hundred feet higher.
Latitude = 40.25° North; Longitude = 105.85º West.
The best prognosticator of our weather is the serpentine Jet Stream.
A huge amount of moisture is carried in this lofty stream. When it is
flows over Colorado, we get lots of rain and snow. Often a high pressure
dome in Utah causes the jet stream to arch far to the north of Colorado.
Our precipitation (if any) is then quick (with rain and rainbows) and
concentrated around our higher ridges and peaks. Climate models for the
northern Colorado Mountains are remarkably uncertain. There is a well
understood branch of the jet stream through Montana and Yellowstone
National Park in northern Wyoming. There is also a predictable branch
through Arizona and southern Colorado. We are between these branches
and in a very difficult to predict area. Our weather is often the inverse of
what is occurring in Denver and Boulder; media reports on Colorado are
often quite misleading for Grand County.
For our high and rugged setting, our weather is remarkably sunny. We have
deep, verdant forests and enough snow in the winter to give Winter Park,
Colorado the highest ten year average for snow among all of Colorado's ski
resorts. How do we manage to sneak in enough rain and snow to fill our lakes
and water our forests and yet provide hundreds of beautiful days for relaxing,
skiing and snowmobiling? The key is our unique location on the west slope of
the Continental Divide where it projects further to the east than anywhere else
in North America. Arapaho Peak defines this eastern most projection.


© Text & Structure of this site is Copyrighted 5/1/96.