To search specifically for land choices, be sure to use the include the word site in the search box.
Grand Lake area Vacant Land is listed below in order of price.
Jump to Land from 0-$80,000 ... $80,000-$160,0000 ... over $160,0000
At the bottom of this page we have important tips on buying land.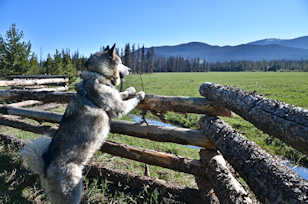 Give me land, lots of land! All of the properties we feature at
www.MountainLake.com are on the WESTERN SLOPE of the Rockies at the beginning
of the Colorado River. This is where snow-melt is collected for thirsty residents on the
Denver and Boulder side of the Front Range. We are blessed with high precipitation
amounts and gorgeous cloudscapes as moisture from the Pacific Ocean reacts to the
vast terrain that is above treeline (11,000 feet) and swaths of rolling tundra and high peaks in the sky.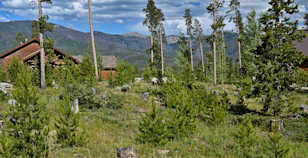 Home site in Grand View Park with views to high peaks that
beckon with trails in the summer and shine like beacons in the winter. Corner site, ideal for a home
with its driveway and optional garage even with the home's main level and a walkout recreation
room on the lower level. Quarter acre. Buried electric and gas lines. Drill a well for water. $29,900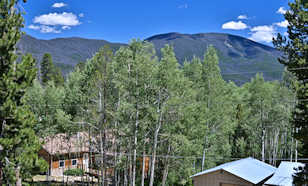 4/10th of an acre with mountain views to the east over
a hidden meadow and aspen forest.Land is approximately a square rising up from
its road frontage. Good location for building over a garage. $39,000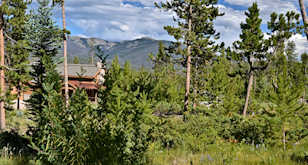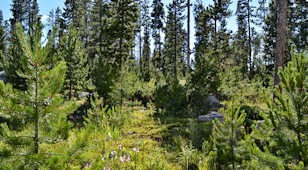 Attractive home site
in Grand View Park with lots of potential for mountain views. 100' x 100' square with
climbing boulders along one side. Easy to build on with buried electric and gas lines
in the road. Drill a well for water. $39,900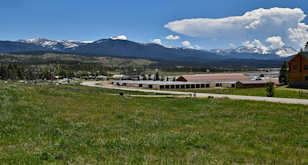 Home site with lake view and mountain views. The Continental Divide
becomes crisp and then glows as it reflects the setting sun and nightfall fills the valley with shadows.
Easy to build on with underground electricity, telephone, cable television & community sewer close by.
After you build, National Recreation Area fishing and boating will be practically at your doorstep
along with one of the best National Forest access routes for snowmobile and ATV trails.
$39,900 with well already drilled!
Home site near Lake Granby. Road ends a
little before the site along its lower border. Design a home with decks and levels
that step up the hill to take advantage of the views. Two thirds of an acre. $39,900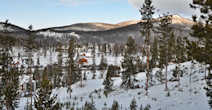 Views of the Colorado River and across the valley
to National Forest land. One third acre. Land spans from upper road to lower road;
you select where to build. Peaceful location away from highway noise. Listen to the River! $38,000

Cabin site between Lake Granby and popular National Forest land
for snowmobiling and 4-wheeling. Gently sloped quarter acre with a partial view of Lake Granby. $39,900

Half-acre with pastoral views just off paved Road 4, one mile from
Lake Granby and a mile from National Forest trails. In the winter, one can take a snowmobile adventure
all the way to Grand Lake and back. Gently sloped, lightly treed. Fine view to Gravel Mountain
and its snowy mantle. Seller is open to an exchange in the Apache Junction area of Arizona. $49,000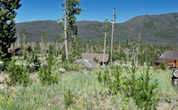 Exceptionally large and elevated corner site for the Grand View Park area.
Over a third of an acre with open mountain views. Underground utilities. Drill a well for water.
Lot 17. #22 Trail Ridge. $49,000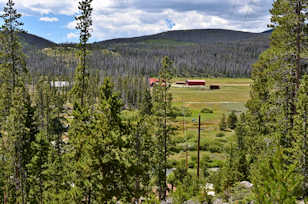 Idyllic view across the Colorado River Valley to National Forest
land rising in the west. Easy to build on site along a wide ridge with no one to block your view.
$59,000

Level acre of land in the beautiful Trail Creek Valley
with fine mountain views across active hay meadows. Price includes well already set. $59,900
Columbine Lake area home site bordering Rocky Mountain National Park.
Level and ready to build on. All of the desired utilities can be quickly tapped into. Pay water and sewer taps
when you are ready to build. In the meantime, visit your land, enjoy the community clubhouse and pool,
take a paddleboat for two out onto the lake. Your family will love the ambiance of Columbine Lake. $65,000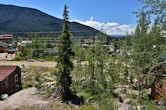 Cabin site in town with southern exposure as the land descends
from its road frontage in back along Mountain Avenue. View of Grand Lake from the top.
All utilities are close by including town water and community sewer. $65,000

Home site on a hill overlooking Lake Granby. Two sites; build on
one and save the other for expansion or resale or use all of the 0.43 acre from the start. Fine views
to National Forest lands to the west where one may have been to treeline by snowmobile!
Lake Forest 1st Add: Lot 1, Block 2 (north & south halves): $68,000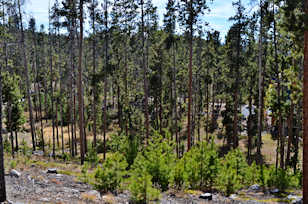 Home site at the top of The Shores of Shadow Mountain, ideal for a home
that has its entrance and Great Room easy to walk into from outside and the rest of the home stepped down
the hill for bedrooms. From the home's entrance and parking area one could look across the cul-de-sac to
Shadow Mountain Lake and northward to Mount Ida shining like a Great White Mountain in Rocky Mountain
National Park. You'll love stepping outside and walking out to your little edge of the world and feeling the
mood of the sky over the lake and mountains. Hard to put a price on that, yet here it is: $69,000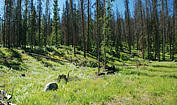 Two lots together for $69,000. The north part of the home site is by a
hidden and protected meadow. The west side borders Recreation District Land, ideal for
hiking and exploring with your favorite dogs and children! Peaceful, yet close to town!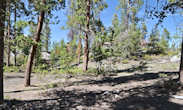 $69,900 home site in Grand Lake Estates comes
with affordable boat docking privileges in the marina! Close to the bridge over the channel between
Grand Lake & Shadow Mountain Lake, near two lakeside parks. Watch for moose!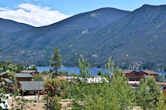 Lake View Cabin Site at the top of a back road in Grand Lake Village ~
short walk to beach, boardwalk and restaurants. Land slopes down to the south with wide open views.
On Mountain Avenue ... $75,000

Enjoy the sights and sounds of the Colorado River from
this half-acre home site across a private road from a long greenbelt protecting the river.
You have access to a third of a mile for fishing and exploring along the stream;
this stretch in Mountain Meadows is wild and natural. Live through the seasons
with the river accentuating each month in special ways. Select how far up the hill
you would like to build to optimize your views of river, ranch land and mountain.
Drill a well for water. Connect to sewer in the road below you. $87,500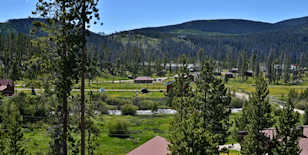 Views of the Colorado River and up its valley!
Peaceful setting on the back side of a ridge with no highway noise ... listen to the river!
Driveway and building pad are started so that you can enjoy the land right away as a short-term
campsite while you make plans for your mountain getaway. Excellent location for drilling a well.
Two adjoining lots priced together as one convenient package: 0.65 Acre. Price includes a survey.
Use the extra lot for additional parking, boats and snowmobiles. $88,000

Level acre on the high ridge just west of town towards Golf Course Road.
Property extends from one road to another with fine views towards Mount Baldy. $89,900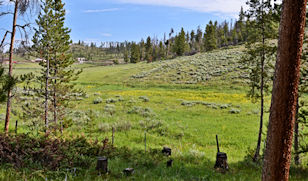 Lightly forested 2/3 of an acre by a meadow.
Price includes valuable water and sewer taps already paid. $90,000

In town with views of Mount Baldy and Shadow Mountain Lake.
Home site near the west end of Grand Lake Village. Land is gently sloped, rising up from its road access
to give you open lake and mountain views. Extra deep lot: 50' x 150' deep. $99,000.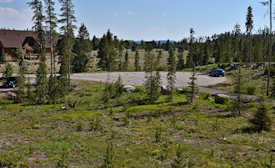 Home site in The Shores rising gently from its road then more quickly
to border National Forest land in back and make a perfect curve for sledding! The extra large lot
of almost three-fourths of an acre has easy road access for construction, underground utilities and
parking in the future. The south facing land has open views over over parts of a 24 acre community
greenbelt that reaches the fishing canal. $99,000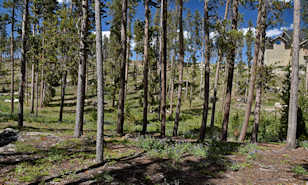 Home site in The Shores of Shadow Mountain with a nice level area
in the middle of the roll of a hill. Lightly treed. Underground utilities and paved roads.
Short walk from acres of community open space following the fishing canal to
Shadow Mountain Lake. 0.46 acre. $99,000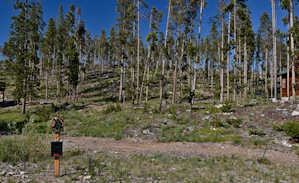 Almost a half acre of land in The Shores rising gently and with southern exposure,
Quiet location in The Shores of Shadow Mountain with acres of community open space a short walk away.
Paved roads, underground utilities, ready to build on in the center of Three Great Lakes. $99,000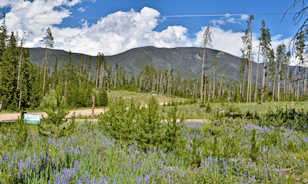 Four peaceful acres in Mountain Shadows. The lightly treed land
is almost level. A seldom used road wraps around three sides of the property. A short walk takes one
to a community greenbelt that borders the fishing canal. Continue along the canal, watch for osprey
and arrive at Shadow Mountain Lake close to Rocky Mountain National Park and Colorado River trails. $99,000


The West Side of Rocky Mountain
National Park has an immense U-shaped, glacial valley that gathers the current for the Colorado River.
This long and verdant valley, The Kawuneeche Valley, broadens as it runs southward beyond The Park.
It runs parallel to Shadow Mountain Lake a short ways to the west on the far side of a low ridge.
One may build a home on the level part of the ridge and have the Colorado River flowing below.
In the afternoon, sunlight makes the river sparkle as one takes in the green valley and National Forest
land rising up and making clouds. 0.63 acre. $99,900 with river music!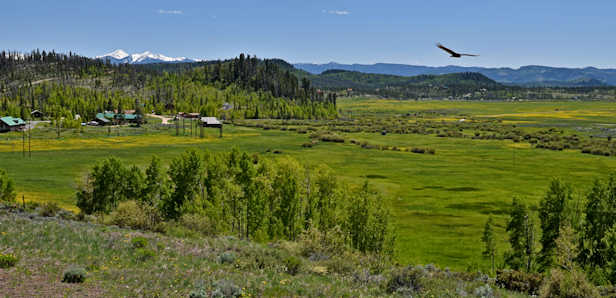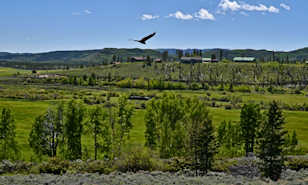 Enjoy the tour of this land by great birds!
Two Acres overlooking Nature Valley Ranch. Cool mountain water flows along the bottom of the home site
in one of Grand County's oldest and largest irrigation channels. It's like having your own moat! You'll love
watching shadows and sunlight slip across the meadows. As you gaze to the west, your eyes runs along pasture
and then aspen and pine forests to patches of snow in the tundra. To the east, one can see cloudscapes along
The Continental Divide. To the south, there is Byers Peak and part of the Gore Range. Wide open southern exposure.
Short drive to National Forest snowmobile and ATV trails up Road 4 or Lake Granby down the road.
Well is drilled and an area is excavated for building your home. $100,000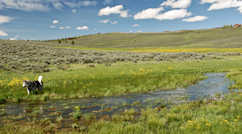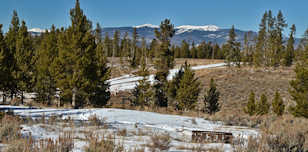 5˝ Acres of wide open space
and western sky within the huge Legacy Park Ranch area of fine homes. 70% of the Ranch's 1800 acres
is held in reserve in its natural state for the benefit of those who have joined its special community.
There is a new driveway to where one can overlook a huge meadow with a small summer stream
running close by. This level site is ready to build on with an excellent well already drilled. $115,000

Wooded land in Grand Lake Estates comes with boat docking privileges.
Ideally located close to two lakeside parks - one on each lake, and a peaceful walk down quiet
back roads to the shops and restaurants along the Boardwalk. $129,000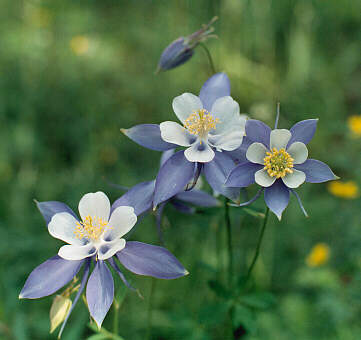 2.8 acres overlooking Trail Creek Valley. You'll love the
seasons as the valley comes alive and imbues the air with new growth from aspen, pine and columbines
gathered in the shade of trees. Clouds spawned from the surrounding peaks look close enough to touch.
To the north, National Forest lands beckon with stream banks and snowfields blooming with wild flowers.
Add your plans for a mountain getaway and you'll be on your way to making fond memories in your dream home.
A driveway has been started and a water well has been set at the top of the property. $139,000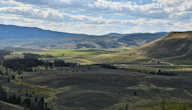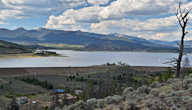 Already subdivided,
17 adjoining lots, 3.6 acres, in an undeveloped area with lake, mountain and valley views.
Group the lots together to make room for garages, parking and more flexible home designs.
$139,000 for all 17 lots
Aspen Pine Estates! Wooded two acre
parcels, ten minutes northwest of Grand Lake Village in an area frequented by wildlife.
Tucked away in a pocket of private lands between National Forest (for hiking with dogs, riding ATV's,
side-by-sides and snowmobiling) and Rocky Mountain National Park (where one may enjoy fishing,
hiking, peace and quiet). Ownership comes with a membership granting access to private stocked Sun Valley Lake.
$150,000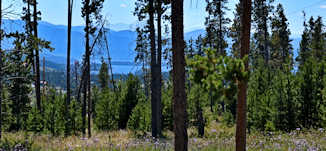 Six level acres, partially wooded.
Mountain views and a bit of lake view can be seen through the trees. $159,000

Scroll down for larger spreads or higher demand locations.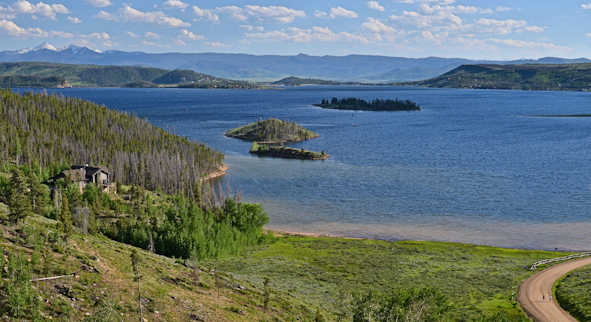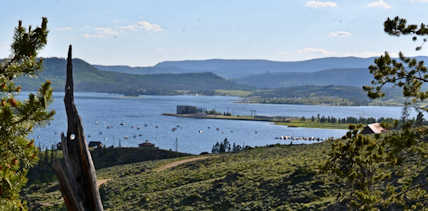 Lake view site
poised at the top of an outcrop overlooking Lake Granby. 4.43 acres in Mountain Shadows.
The shoreline below the site is undeveloped National Recreation Area land.
To the far west, the land rises into Arapaho National Forest and snow-capped peaks. $165,000
9.3 acres west of
Shadow Mountain Lake and bordering the southern reach of 500 acres of dog-friendly
Recreation District land. Perched on a somewhat level mesa with curious lily ponds
and a variety of aspen, pine and grasses. Ready to build on with a long driveway set
and many trees removed. $199,900

Grand views of both Grand Lake and Shadow Mountain Lake.
Home site with a 40' x 60' garage already built on the lower part of its 1.8 acres of land.
Fine views of the Never Summer Mountains from this high point of land.
Located west of Shadow Mountain Lake. $229,000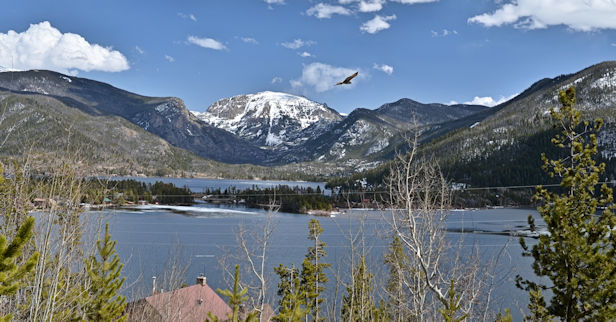 Half acre with magnificent views of Grand Lake, Shadow Mountain Lake
and Mount Baldy! Located near the entrance to Grand Lake Village with a private road shared with only
a few other property owners. Drill a well for water; community sewer is in the road.
Three 50 feet wide by 160 feet deep sites offered together for $275,000.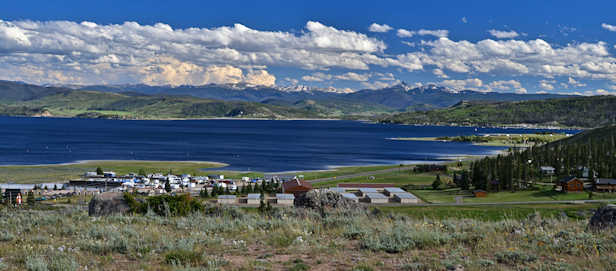 17 ACRE hilltop site close to Lake Granby and in the center of it all.
Your own private hill with panoramic lake and mountain views. Watch the mountains be weather makers along
a great expanse of the Continental Divide from Winter Park to deep into Rocky Mountain National Park.
Fine views also to the west of high tundra and National Forest land for snowmobiling and ATVs.
In the late fall season, you'll be awed as mists rise from the lake at dawn and twirl into a thousand shapes.
Build the home of your dreams with room to spare. $299,000
Two Great Lakes shine
with a backdrop of mountains and Grand Lake Village laid out along the northwest shore of Grand Lake.
Panoramic views from within in a small community of homes near the Grand Lake Lodge.
Gated access with a paved road and impressive landscaping. Grand views of both Grand Lake
and Shadow Mountain Lake (similar to what you may recall from the porch of The Grand Lake Lodge). $299,000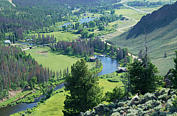 Already subdivided. Over 4 Acres overlooking the Colorado River,
Lake Granby and the Continental Divide. The land is a cluster of 32 lots and hundreds of feet of
undeveloped roads. There are no covenants. It's a clean slate, ready for your creativity.
Build an exemplary home on a portion of the property. Improve the roads that are roughed-in
to open up the remaining lots for resale or future construction. Property is a mile south of Lake Granby.
See maps in this presentation for details. $299,000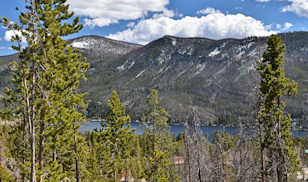 Savor views of both
Grand Lake and Shadow Mountain Lake. Over 4 Acres bordering Rocky Mountain National Park
and just a couple of blocks from Grand Lake's Town Square, shops and restaurants. This is an
unusually large parcel so close to town. It has varied terrain and is close to a rushing stream
and two trails that enter Rocky Mountain National Park. $525,000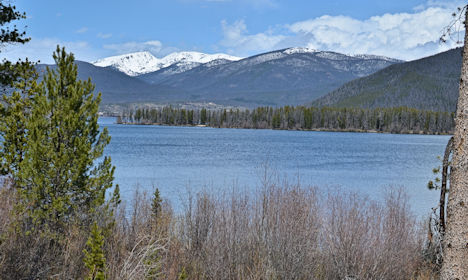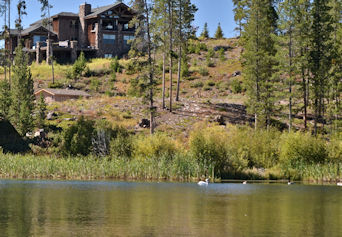 Lakefront home site on Shadow Mountain Lake.
Located in the Shores of Shadow Mountain by the south end of the lake with a rich natural shoreline and
serene views from morning to evening. After you build, your boat dock is a couple hundred feet away.
You'll love watching the Never Summer Mountains and high peaks deep in Rocky Mountain National Park
change with the seasons and weather. Water flowing into the lake from the nearby fishing canal creates
open water year-round and a world class play area for kayaking and fishing. $529,000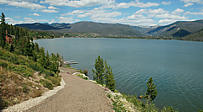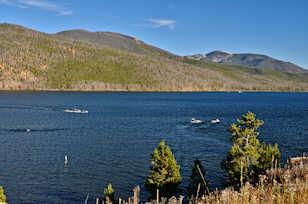 Moose Ridge: New lakeside home sites
with protected views across the lake of Rocky Mountain National Park—a shore that will never be built on.
Expansive views from the north end of Shadow Mountain Lake to the islands at the south end!
Driveway to the footprints and access road to the water's edge are in; community water
and sewer are to the sites; just pay the sewer tap when you are ready to build. 1˝ miles south
of Grand Lake Village; go by boat in the summer and by snowmobile in the winter!
Each site is $750,000 - you get the first choice!
. . . . . .

End of the list of land available in the Grand lake area.

To search specifically for land choices, be sure to use the include the word site in the search box.
For each property that interests you, try to estimate what it costs to prepare it
for a home. We can help you with this. Some of these properties are in communities
with utilities close by. Other sites might need road work, a well and a septic system.
Remote areas might need electric power lines or solar electricity.

Click here for a little more incentive to own a bit of country ...
even something very simple. A brief word from Walt Disney.
Land prices are determined by their location, size and views.
If you want lakefront property, you'll have to go to the top price ranges.
If you accept property which is simply across a road from a lake, you'll
pay considerably less. To move quickly through the list, use your PageDown
key (or spacebar), or select a price range. Write down the page titles that
interest you, then call us so that you may personally inspect the real estate.
Mountain Lake Properties: 970-627-3103, toll-free: 1-866-296-1949
Send e-mail to relax@MountainLake.com If you can't find what you
saw before, check What's New for properties with a sale pending at the bottomof the page.
Our property lists and photos are updated every week. Call us and
we'll make sure you have the latest information and will tell you of
properties available through other local and national real estate companies
like Re/Max, Century 21 and Coldwell Banker. We share all our listings
with other offices and they reciprocate by bringing in sale. We show
their listings and sell them also. Utility situations vary widely in the Grand
Lake area. We will go over these in detail in person. Ask concerning camping
and RV parking for vacations & while you build. It is not allowed everywhere.
Your lowest cost approach is often to modify an existing dwelling to your personal taste.
See our Homes (listed in order of price) for possibilities and for an inside look into fine
homes to get your mind swirling with ideas.
Click here for » Cabins and Condominiums for under $200,000.
Our property lists and photos are updated every week. Call us
and we'll make sure you have the latest information and inform you
of properties available through other sources.
Mountain Lake Properties:
970-627-3103
USA toll-free: 866-296-1949.
Send e-mail to relax@MountainLake.com
Jump to .. Top .. Main Menu .. Homes
© Text & Structure of this site is Copyrighted 5/1/96.