What's New!
Jump to Weather Update .. or .. to MainMenu ..
Use your refresh button to get all of the recent updates. Clear your browser's cache. Reload.
We have been busy. Click here to see properties sold in 2014

Thursday, August 21, 2014: ... just added, more coming ...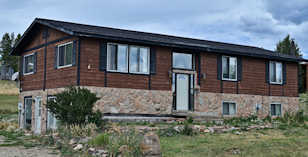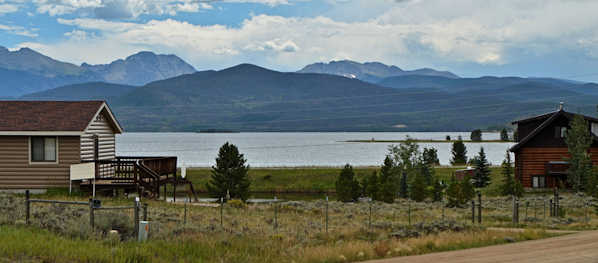 Lake and mountain views.
Short walk from miles of National Recreation area shoreline and a boat launch by Lake Granby.
Spacious Great Room plus recreation room. 4-5 bedrooms, 3 baths. Detached garage.
A marina is a close-by. $269,900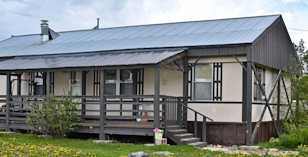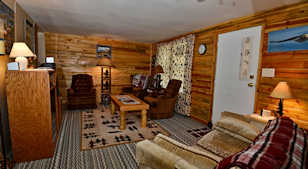 No covenants! Comfortable
three bedroom, two bath home with detached garage and storage building. Attractive wood finish inside.
Covered porch. Circle driveway on 1/3 acre near the end of a quiet county maintained road.
Great floor plan with master suite at one end, 2 guest rooms at the other. In between is a large living room,
updated kitchen and dining area. Motivated seller. Priced reduced to $175,000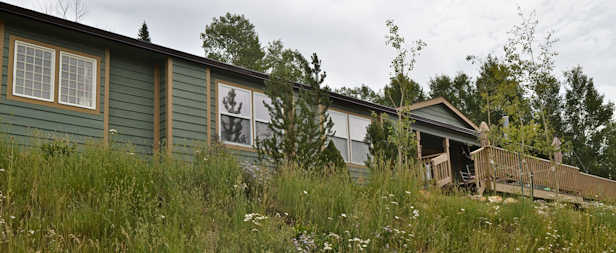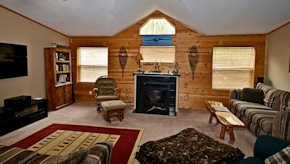 Listen to the stream from your ranch style
home on an acre overlooking Trail Creek Valley. National Forest access is just down the road. Wake up to aspen,
sage and wild grasses as your eyes run up the valley to high tundra. Master suite has clerestory windows and
a his 'n hers bath design that is worth emulating. (Builders and home designers will appreciate the detailed
photos ... to use as a template.) Spacious living areas, 2 guest rooms. Raised ceilings in most every room.
2200 sq. ft. plus double garage and deck. $279,000 (new photos added)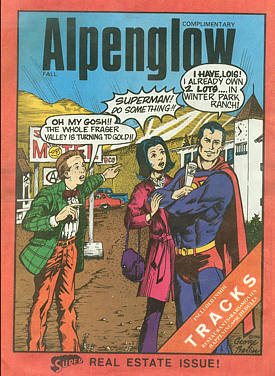 Come Visit Trail Creek Valley and its rich aspen forests.
In a couple of weeks it will all turn to gold.

the older leaves on our Weather page with scenes around Grand Lake
will fall off in a few days. If you have not seen them, be sure click to » your Weather page
and scroll all the way down to see our recent treasures before they get buried with scarcely a map.

Sunday, August 17, 2014: let your mountain home pay for itself with the following interesting choice: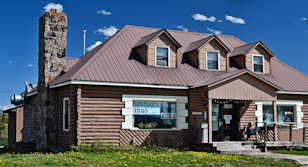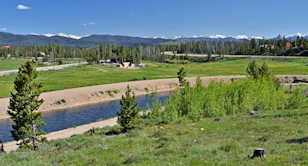 Possible brewery. Potential coffee roastery.
Viable as a Bed & Breakfast. Space for an Antique Store/Barn. 3.7 Acres along the Fishing Canal with open views
of snow-capped mountains. Main Lodge has an wide open floor plan with a stone fireplace and log beams on
the ceiling. A commercial kitchen and a separate prep room are in back. This corner location has a long history
as a meeting place for travelers and musicians (the latter would get room 'n board). Property is currently a full
service restaurant and liquor store. Owners would like to retire and make it all available for your family's ideas.
Two separate living quarters are on site. Precious water rights have been purchased for expansion to help you
to create more income. Over 3000 sq. ft. of heated interior space. $499,000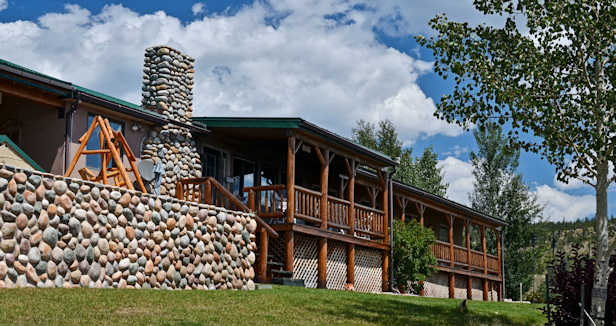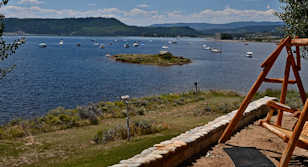 Your own retreat hidden at the end of a secret point
on Lake Granby. A place for bonding and happy memories. An intimate bed & breakfast like setting with its
curved shore line joining the shore and beaches of National Recreation area land. You and your guests will
love the relaxing views from the long sunny covered porch. Four distinctive bedrooms, three of which have
their own private baths and outside entrances. The stone fireplace,the large dining area and country kitchen
by the lake view add up to create a special and cozy lodge. $737,000 (new photos added)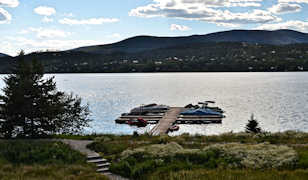 Lakeside townhome with Boat Dock,
Lake and mountain views from all three levels. Warm southwest exposure. Located a few steps from
hiking trails into Rocky Mountain National Park (including a long easy trail along the entire east shore
of Shadow Mountain Lake. In the afternoon, the sun shines strongly beckoning you to slip out
into the water … maybe cruise over to Grand Lake. Afterwards, relax by the river rock
fireplace in the Great Room by the large covered deck. Two master suites on upper level.
Two guest bedrooms on lower walkout level. 2120 sq. ft. plus garage and decks.
Shoreline Landing 2A, #5. #611 Shoreline. $598,000 (new photos added)


Seller Financing to a qualified purchaser (with a substantial amount down).



Saturday morning ... glorious opening with sunshine melting away thick mists over the lakes.
Hints of fall colors are starting to show! Come up and enjoy.

Thursday-Friday, August 14-15, 2014: just added ...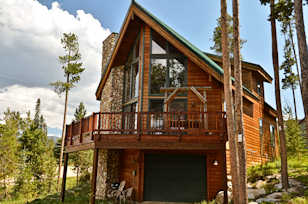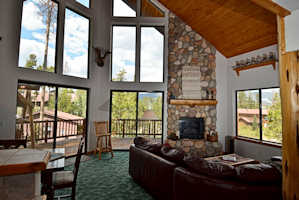 Columbine Lake area chalet with river rock fireplace.
2000 sq. ft. plus spacious double garage for toys.Lots of glass and no glare (because it looks to the north).
This is the mountain design that many want. Three bedrooms, three baths. Recreation room on lower level
by garage and shop. Man-cave, woman's quarters or both. Corner location with road access possible
from the top or bottom of its quarter acre of land. $389,000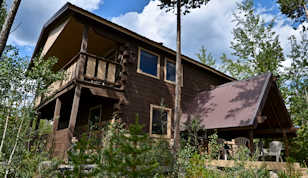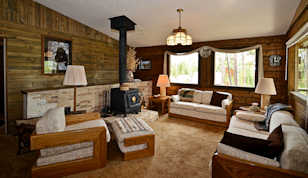 Columbine Lake area log home
with lake and mountain views. The large corner lot has room for camping and playing ...
and a future garage. Covered patio is cleverly designed to shed snow away from the roof
and to give you a convenient side entrance in the winter. Three bedrooms plus recreation
room to handle guests (they will come). 1790 sq. ft. plus covered deck and patios. $279,000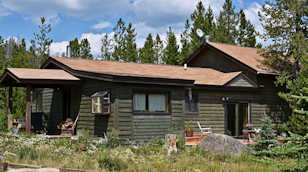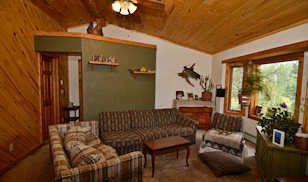 Four bedroom, 2½ bath Home on 5 Acres
(almost level) bordering 500 acres of Recreation District land.Wood covered ceilings and walls in some rooms.
Brand new redwood deck is just now being completed. Living room, rec room and kitchen all have raised ceilings.
Heated garage. Wood-burning stove in rec room. Lots of road frontage (on both sides of the road) along the longest
side of a triangular shaped land. In the winter, one can ski on directly onto Nordic ski trails and head to the
Sly Fox Restaurant by the Golf Course. $369,000 S




Moose Dancing in the Rain! Click here for an amazing video from
Jack Nemec's deck at Shadow Mountain Yacht on Sunday morning, Aug. 10, 2014.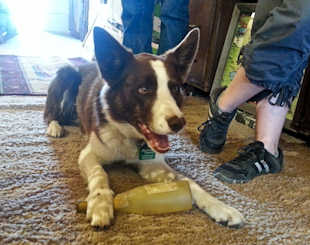 Vote for Ruff! $1.00 per vote.* I am the adorable Boardwalk Dog
in Grand Lake who welcomes you to Mountain Lake Properties and Candy Lane ~ the only dog
who can say his name with his toy in his mouth! I love for you to pet me and to throw toys for me.
I am a cinnamon colored four year old border collie who is proud of my big brother Pepper;
he is the stocky black and white gent who hangs out at the door to the Sagebrush. We live by
a dog park with 500 acres of Recreation Area Land ~ all the way to the Colorado River.
Life sure is good when you're a dog. *All money goes to the local Animal Shelter & Advocates
(assisting victims of domestic violence).Vote Online at gcpetpals.org. Scroll down to the Grand Dog
logo in the yellow box, and that will bring you to a page where you can click on a box to see the candidates.
Click on the name "RUFF" then, there is a "donate now" button. You can donate quickly with your pay
pal account. If you don't have a pay pal account you can sign up for one there or pay with a credit card.
If you have cash or checks, you can drop them off at any Grand Mountain Bank location or mail it to
Grand County Advocates
P.O. Box 155
Hot Sulphur Springs, CO 80451
Please make checks out to Grand County Advocates.
Please put RUFF and Will on the check.
Appreciatively, Ruff ...
.... to the right is a previous Grand Dog!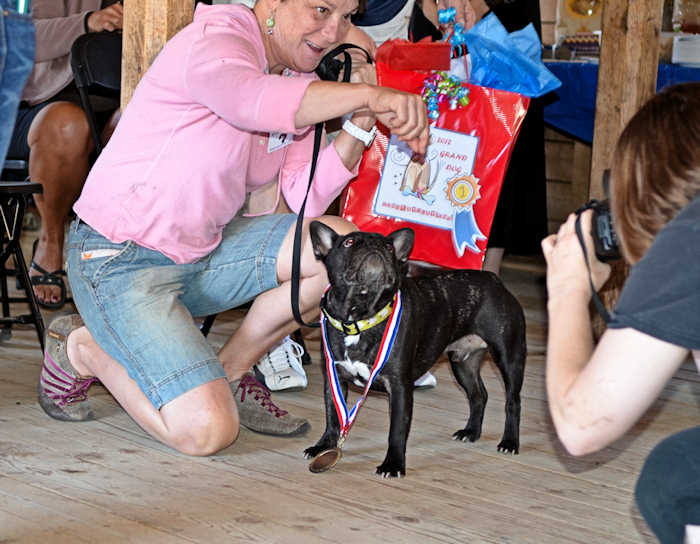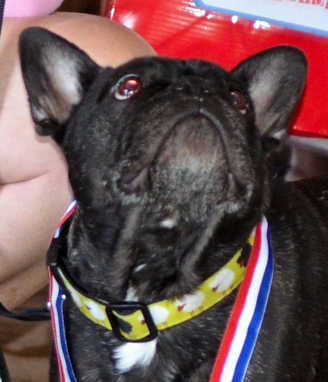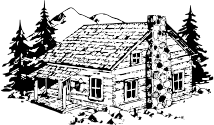 We have been very busy selling homes. For raw vacant land,
however, interest in new construction has not been as strong as in the past. Recent land sales
have often involved neighbors adding on to their property (because the adjoining land has become
quite affordable). The decline in construction is a bit ironic because the quality of tools and materials
for what you wish to design gets better with every decade. What people labored over in the past
can now be done faster and safer. The main reason for the tepid interest in virgin land may be the
tempting supply of older homes that can be purchased at a discount and remodeled over a leisurely
financial period. Directly below are two examples at newly reduced prices.
An additional reason for the decrease in new construction could be a generational shift
to be more laid back and less interested in doing improvements and building up sweat equity
in one's home. For the young, there could also be a skill barrier or a familiarity barrier.
Young boys do not grow up with saws and hammers. Their excitement is not in creating a fort,
but instead in making something virtual and online. Maybe that's a phase that has peaked.
People can rediscover the satisfaction in dreaming up and assembling real and tangible designs from scratch.
We didn't get the flying cars of the future (they never made gravitational sense), however, we have
arrived upon the the George Jetson button-pushing desk jobs. Our time at work and play in this
electronic age is moments of stillness punctuated with button pushing (key pressings and mouse clicks).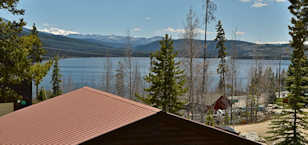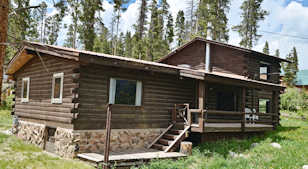 Log Home with big lake view of
Shadow Mountain Lake, one mile from Grand Lake Village. Raised wood ceilings with exposed beams.
Covered porch on the lake side. Back side has a covered entrance, partly enclosed, great for keeping
items handy. Master bedroom suite on the upper level has an adjoining lakeside room—perfect for an office.
Main level has 3 bedrooms and a full bath.1580 sq. ft. plus garage and decks. Price includes a stone-finished
Detached Double Garage on its own lot situated to protect the home's fabulous lake view. $269,900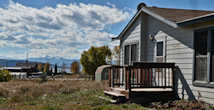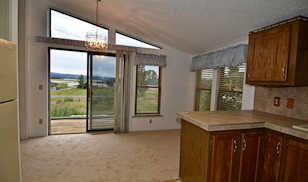 Two 2-car garages, both oversized 24'x28'
come with this Lake View home on almost half an acre. Keep your boat, ATV and snowmobile well protected
and ready to enjoy the National Forest Trails and our huge lakes. You'll even have room for your friends to store
their toys. You'll appreciate the sunshine while enjoying fine views of the Continental Divide. Great Room,
master suite, guest bedroom and bath. New paint and new carpet. Lake accesses & a marina are within
walking distance, easy for your family to enjoy the largest of our lakes. $189,000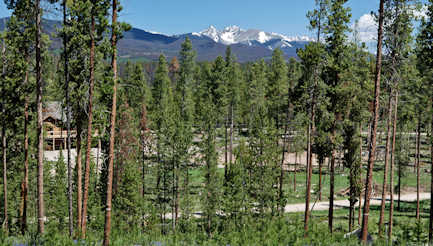 4½ Acres with views down the land of the Never Summer Mountains.
Gently sloped, north facing with a healthy growth of trees.Each of your Mountain Shadows neighbors
also owns large acreage.This choice site, R-8, borders open space and is close to the Fishing Canal,
four miles south of Grand Lake Village and Rocky Mountain National Park. $149,000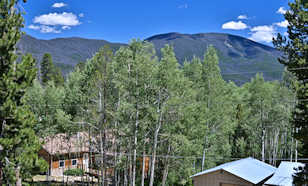 4/10th of an acre with mountain views to the east over
a hidden meadow and aspen forest.Land is approximately a square rising up from
its road frontage. Good location for building over a garage. $39,000

Monday, July 28, 2014: ... We hope you are enjoying Colorado in its full summer bloom.
Thanks for tuning in. We have lots of updates and area photos in progress.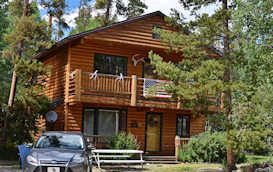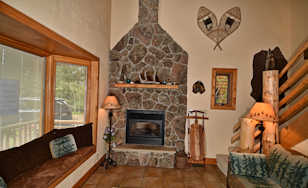 Log-sided Lemmon Lodge area home
with private shared access to Grand Lake and the North Inlet Stream. Home is a few hundred feet
from boardwalk shops and restaurants. Immaculate 2 bedroom, 2 bath home with huge loft.
Raised ceiling in living room with two story fireplace. Adjoining vacant lot included at $569,000.
New final construction photos are added to the following: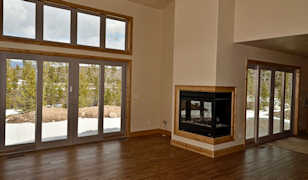 New, just now completed
at The Shores! This is the only new home that is for sale in the Grand Lake area.
Home borders 9 acres of community open space in back that reaches National Recreation Area land.
With ownership you also have private access to 24 acres of open space along the fishing canal
to Shadow Mountain Lake. Located along a paved road in a lovely area with underground utilities near the
Boat Launch at the south end of Shadow Mountain Lake and close to miles of hiking trails
along the lake's east shore and the Colorado River. $629,000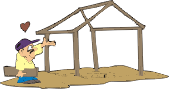 Have you seen our article in the new Grand County Living magazine?
It is in a special edition to get your juices going on new construction. Every day that you are lucky to create
something new is a happy day from which one can say "never been better".
After we add a few more nuggets to our online Design Tips, we will post a link here.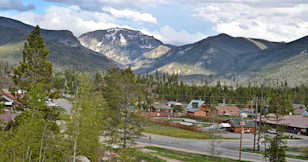 Views of Mount Baldy and Shadow Mountain Lake from this home site
near the west end of Grand Lake Village. Gently sloped, rising up from its road access to give you an open view.
Extra deep lot: 50' x 150' deep. $79,000


Friday, July 25, 2014: properties have been selling. Come to our office near the east end
of Grand Lake's main street (on your left) for the latest print version of your our Wish Book
to be released any day now. Lake Granby is full. We just had a refreshing rain shower.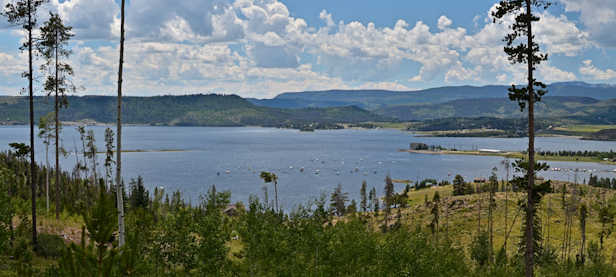 Walk out onto a cloud (not every day). This uniquely
poised site gives you the opportunity of doing so each year as Lake Granby mists and steams
with the approach of winter. Panoramic Lake and Mountain Views. 6.6 acres, mix of aspen,
pine and ground covers. This home site is ready to build on with a building pad looking out to infinity.
Part of the acreage touches National Forest land that reaches down to Lake Granby (see map below).
At the southern most tip of the property one can step out into thousands of acres of National Forest ...
which reach the lake's shore. $179,900 with well already drilled.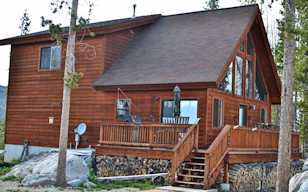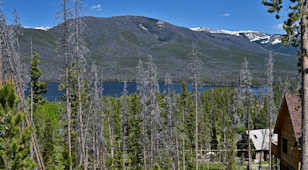 Views to the east over Shadow Mountain Lake
to high peaks along the Continental Divide. Views to the west over the verdant Colorado River Valley.
Spacious chalet with upper level master suite and 2 guest rooms and a loft area. The attractive detached
double garage has room for all of your toys; there is also a big storage area below the home. $359,900
Saturday, July, 19, 2014: see our Weather page for recent scenes.
See Ron's family car from Harry Potter World tooling through the channel from Grand Lake
to Shadow Mountain Lake. Beach scenes and much more to keep you cool.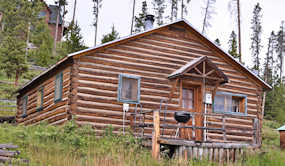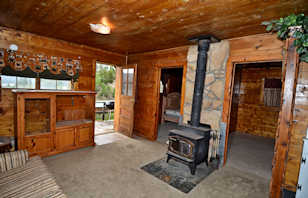 $159,900. Faded glory ...
TLC welcomed. Cluster of log or bark-sided cabins with a history of being run as
getaways for short and long term rentals. Amongst the six cabins on almost an acre
of land, there has been a compact kitchen and private bath in three of them.
The original and still current appeal of the area is its proximity to excellent
year-round fishing and kayaking (see maps in presentation). The largest cabin
is a proper Log Cabin with wood floors and an all wood finish on its walls and ceilings.
Three of the cabins have been used as an office, pump house and bath house. $159,000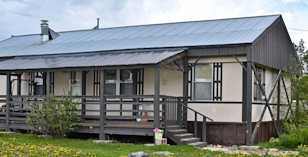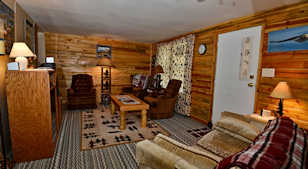 No covenants! Comfortable
three bedroom, two bath home with detached garage. Attractive wood finish inside. Covered porch,
circle driveway on 1/3 acre near the end of a quiet county maintained road. Great floor plan with master suite
at one end, 2 guest rooms at the other. In between is a large living room, updated kitchen and dining area. $189,000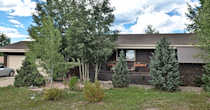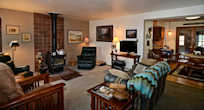 Ranch Style home overlooking a 17 acre meadow.
3 bedrooms, 2 baths plus an appealing family room/den in addition to front living room. 1560 sq. ft. on one convenient
level plus double garage. Fenced patio area in back with storage shed.Quiet residential area near the north shore of
Lake Granby, conveniently located close to lake accesses, three restaurants, and a marina for renting boats. $239,000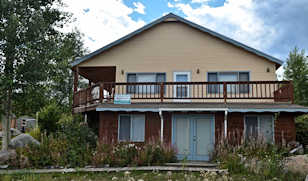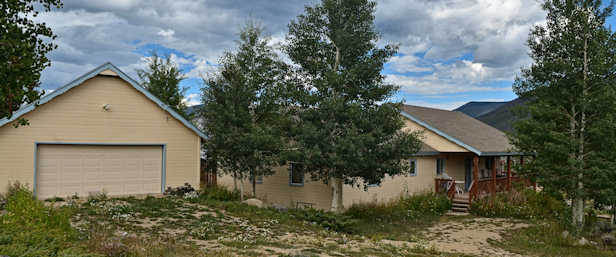 Spacious home with big views
across Shadow Mountain Lake of mountains in Rocky Mountain National Park. Fireplace in living room.
4 bedroom suites, each with its own bath; two open onto a walk-out sun room with lovely wood finish.
There is room for hobbies and toys in the large detached garage; it has a wood-burning stove, windows
and a man-door. Gently sloped yard with lots of aspen: property is .045 of an acre. Wraparound deck
is covered by the home's main entrance to create a nice open porch (as shown below).
Located 2½ miles south of Grand Lake. $299,900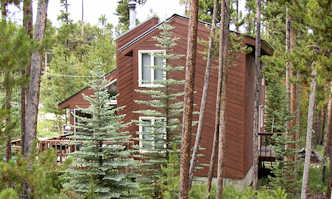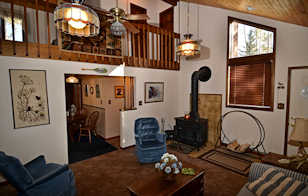 Columbine Lake area cabin with high
wood-finished ceiling in its living room and large loft. Short walk from Recreation District Trails.
2 bedrooms, 2 baths plus the loft. 1100 sq. ft. plus decks. Nicely wooded property with aspen
and a variety of evergreens.Wood-burning stove has a full outside chimney
(in case you wish to convert to a fireplace). $219,900 .. as is.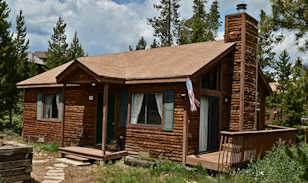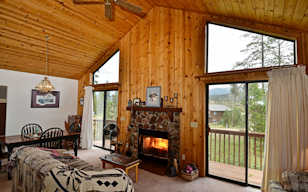 Classic log-sided cabin with fireplace.
768 sq. ft., all on one level. Two bedrooms, one bath. Short walk from the fishing canal between
Shadow Mountain Lake and Lake Granby (great for dog walks). If you don't catch anything,
three restaurants are within walking distance. $210,000
Friday, July 18, 2014: ... Welcome to Grand Lake, Colorado!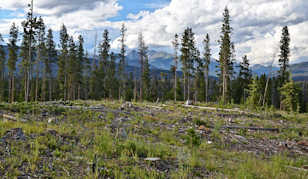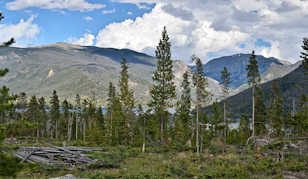 You'll love the Panoramic Lake
and Mountain Views from this gently sloped high plateau 1.5 miles southwest of Grand Lake.
Unusually fine views of Mount Baldy and the Never Summer Mountains. Behold the Grandeur ...
Share the nearby Recreation District's trails with family and friends; these trails permit dogs
and mountain bikes. Go for a sunrise exploration and have a hearty breakfast at the Sly Fox Restaurant.
Or take a drive into the Rocky Mountain National Park and pick up a snack at Sloopy's Grill to enjoy along the way.
Two adjoining lots: $99,000 for 0.98 acres. $79,000 for 0.83 acre to the east.
Thursday, July 17, 2014: .... much more coming, thanks for visiting, stay tuned.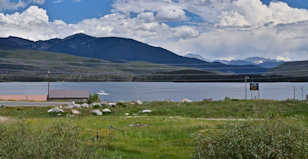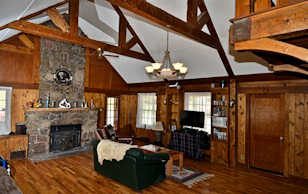 Lake view subdivision: tourist zoning
allows nearly infinite possibilities ~ including simply a spectacular place to live! Panoramic views
across Shadow Mountain Lake into Rocky Mountain National Park from all four one acre lots.
Shared highway access for future development. Commercial well and augmentation plan approved
through the State to serve the entire property. On one of the acre sites is a unique and historic home
moved and reconstructed before the Lake flooded the original homestead. The Great Hall inside features
open beams and a fireplace that make you feel as though you were in a tavern for travelers from times
almost forgotten. Classic upper New York State woodworking hearkens from an older world of
dining halls and roaring fireplaces, lanterns along the walls ... and a huge kitchen through a
busy doorway. 4 bedrooms, two baths, great outdoor porch with the view of the lake. $488,000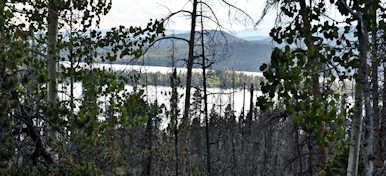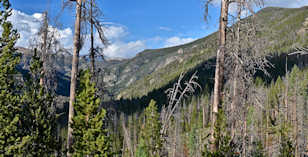 2.8 acres with shiny views
of both Grand Lake and Shadow Mountain Lake. Big view in the opposite direction up Summerland
Park to tundra along the Continental Divide. Land is a short walk from town and Grand Lake's beach.
The northeast portion of the land borders Rocky Mountain National Park.
With a little machinery (even just one chain saw for a couple of hours), the views and access
to the land can be brought closer to their full potential. An old driveway's terrace is almost hidden
were you would pull in at the highest point of the land's road access. $169,000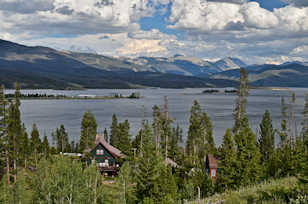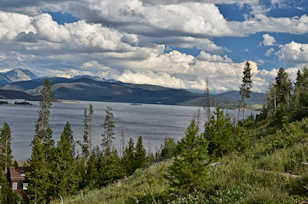 3.8 Acres on a hill with panoramic views
of Lake Granby and The Continental Divide. You'll love the afternoon and evening lighting as
the high tundra and clouds are infused with alpenglow. Be with the clouds as they hover over
wide expanses of Lake Granby and then blossom as they reach 13,500' Arapaho Peak. $129,000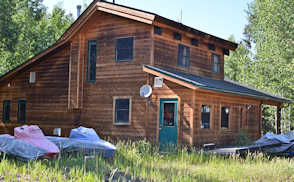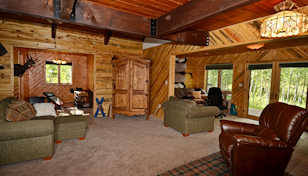 Cozy Columbine Lake area home
in a grove of aspen frequented by moose! Attractive wood finish throughout inside. 2 bedrooms,
1260 sq.ft.with room on this corner land to add a garage later if you choose. $215,900
(new interior photos added)


Thursday, July 10, 2014: ... just added ... more coming ...
Go to our Weather page for recent beach and fireworks photos.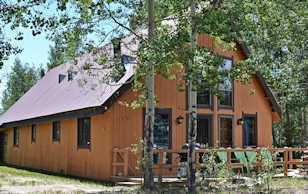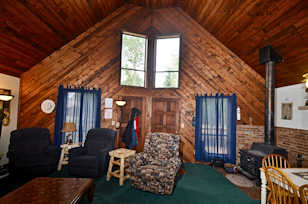 Columbine Lake area Cabin
bordering Recreation District Lands! Rich wood interior with high ceiling in Great Room.
Peaceful views of aspen through the windows. 4 bedrooms plus loft. Lush back yard.
All new kitchen and laundry appliances. Drive-through snowmobile garage. Nice view
of Mount Baldy from the back yard picnic area by the tall grass for elk beds. $248,000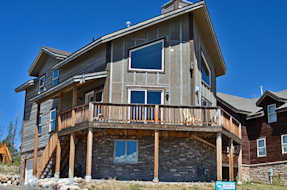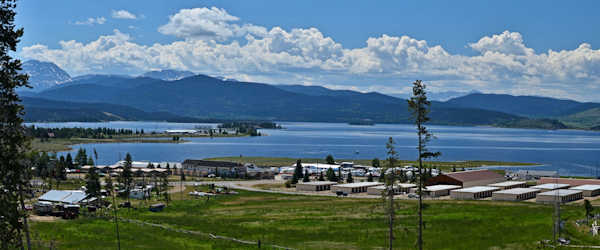 You'll love the Panoramic Lake and
Mountain Views from this recently built home with a prow-shaped Great Room, fireplace and wraparound deck.
Three bedrooms on main level plus a master bedroom suite on the upper level with loft. Beautiful granite
counter tops, bamboo floors, two fine baths.1730 sq. ft. heated plus decks, double garage and unfinished basement.
Home is near Lake Granby and Road 4 access to National Forest lands. $298,000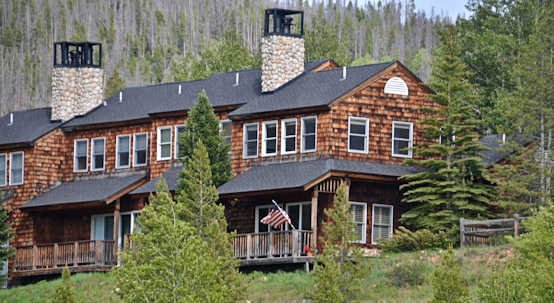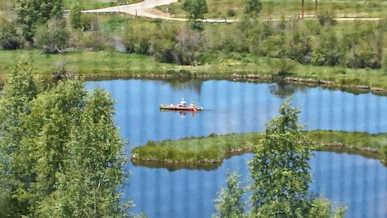 Ouray Ranch: tranquil community with private
trout ponds 'n fly fishing along the Colorado River. Two bedroom Townhome with peaceful views over the ponds.
This corner unit is the closest one to the storybook community Lodge and front yard. The Townhome has two
fireplaces, one in the Great Room and the other on the upper level which is entirely a master bedroom suite
with its own steam shower. The main level bedroom has its own private patio/garden. The attached garage
with three windows can be adapted to accommodate more guests. Your friends will love visiting and enjoying
the excellent trout habitat and riparian atmosphere. Membership includes use of equestrian center, pastures
and extensive riding paths. A world unto itself across hundreds of acres centrally located in Grand County,
just 30 minutes from Winter Park skiing. $325,000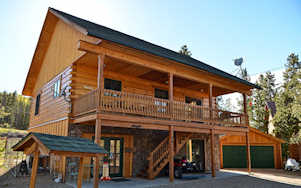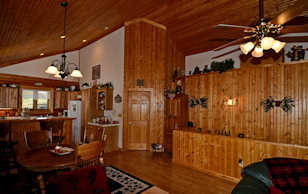 Log Home close to Lake Granby with big covered
porch. Lovingly cared for with attractive wood floors and ceilings. 3 bedrooms plus recreation room.
Drive-through Double Garage plus cute storage shed with a little covered porch. Well-designed shared
bath on main floor, one side with laundry. Third bedroom "hunting and fishing suite" has its own
double door entrance on the lake side. Short walk from two restaurants and a marina.
A National Recreation Area Boat Launch is across Rainbow Bay. $319,000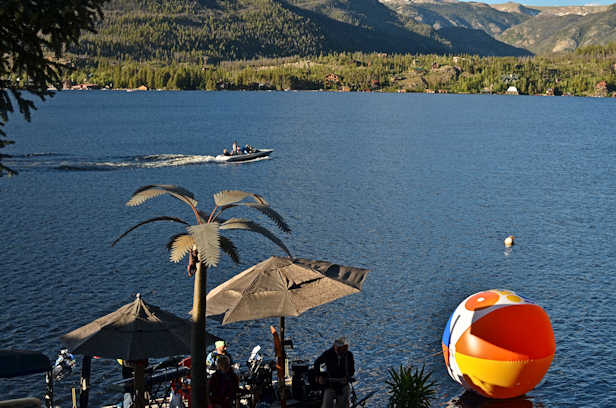 Thursday, July 3, 2014: We have a full raft of new photos
and properties to share. Stay in touch. Summer is here. Lake Granby is full. Get out and Enjoy!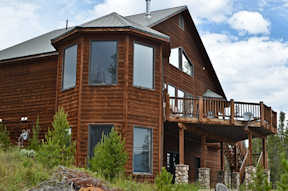 Enjoy the privacy of almost
seven acres in a pastoral setting with horses grazing in the meadow and giant peaks rising in the distance.
The view of Lake Granby from the deck and most rooms is big and wide. High end finish inside.
Log posts and beams with lots of character. Massive wrought iron light fixtures. Massive wrought iron
light fixtures. 3000 sq. ft. plus garage and decks. Three luxurious and spacious bedrooms. 4½ baths.
Master suite has gas fireplace, beautiful pine ceiling, a seating area with amazing views and a bath
to make you feel like royalty. Lower walkout level is a complete world of its own, perfect for receiving guests.
You are a short distance in every direction to prime recreational fun from boating,
to skiing to golf to National Forest and National Park trails. $799,000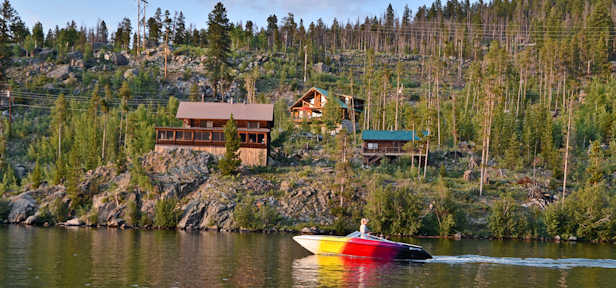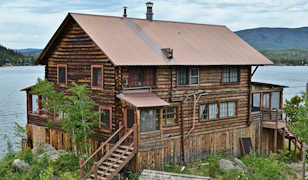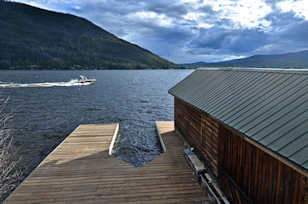 First time on the market in 96 years! Eight Lakefront lots along Grand Lake's sunny north shore!
1.7 acres with over 400 feet of lake frontage along a shoreline that is still in its natural state;
the classic 4 bedroom home originally built in 1918 rests on bedrock. From the lake side, you feel
like you are on a boat; all you see is the water from the huge windows along the dining area and lakeside porch
(a choice spot to relax and enjoy a nap). Home is looking for a new family in time for the centennial celebration
of Rocky Mountain National Park! Property includes a boat house with a wraparound boat slip. $2,900,000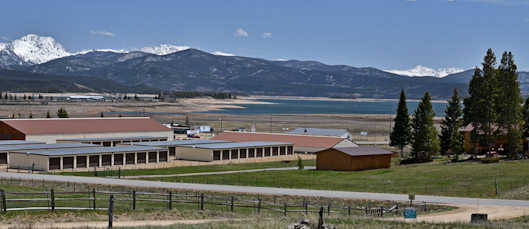 Level home sites with lake and mountain views. The front of
your view across the road is a working hay meadow. Easy to build on sites with underground utilities.
Drill a well for water. Wide open views from North to East to South. Two adjoining lots: buy one or
buy two so that you can have room for the home and driveway design that works best for you and
your family. A paved boat launch is a half mile away. National Forest ATV and snowmobile
trail system is just two miles away. $18,500 each.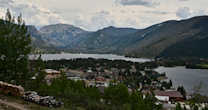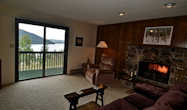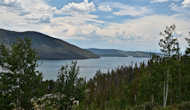 Condominium overlooking both Grand Lake and Shadow Mountain Lake. Wood-burning
fireplace in living room by covered deck. Two bedrooms, 1½ baths. Walkout lower level
#120 in Shadow Park West, on the hill west of the entrance to Grand Lake. $159,000 (price reduced)

Monday, June 23, 2014: just added, more coming ...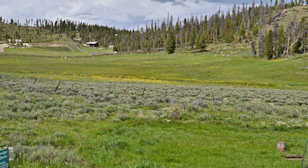 Swing together on your porch by a hidden meadow.
4/10th of an acre with lots of road frontage. Peaceful back road a mile from Hwy. 34
between Lake Granby and Shadow Mountain Lake. $59,900
Thursday, June 19, 2014: sparkling clear with mountains of snow still on the high peaks
watering our alpine gardens. The two river view properties below have big price reductions.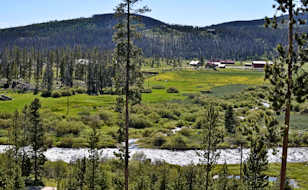 Idyllic view across the Colorado River Valley to National Forest
land rising in the west. Easy to build on site along a wide ridge with no one to block your view. $69,000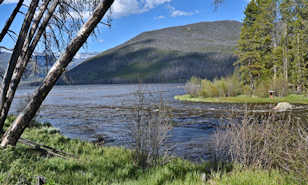 Home site poised where the Colorado River flows
into Shadow Mountain Lake. Protected views with Pine Beach Park across the River.
Ideal location for kayaking and wildlife watching. There is a level bench of land
on top for your riverside retreat. Quarter acre. $125,000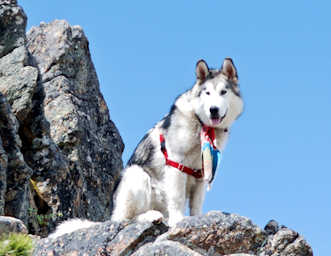 Your very own private mountain top
like location in the heart of the Great Lakes of the Rockies. Panoramic lake and mountain views plus
million year old rock formations! Interesting saddle setting for your dream home. $159,000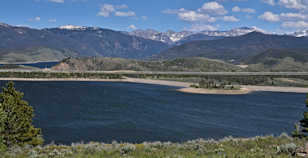 Panoramic lake and mountain views from secluded home site
bordering National Recreation Area land on Table Mountain (great for short and spectacular hikes
and picnics). Gently slopping with access from a privately maintained cul-de-sac. When you are
ready to build, plan to drill a well and install a septic system. Close to miles of public beaches
and to the Sunset Point boat launch at the south end of Lake Granby, the largest of our lakes.
Fine views of Abe Lincoln lying in repose along the Continental Divide. $99,000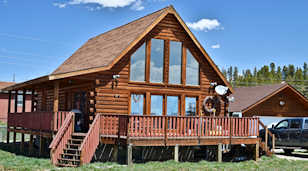 Log Cabin near Lake Granby.
Great Room with high ceiling, lots of glass and granite counter space. Three bedrooms;
one on each level. Two full baths plus laundry area. Lake view loft plus private bedroom
on upper level. Main level bedroom has space for an office or nursery. Lower level bedroom
is by a recreation room. Fenced pet area in back, detached garage. Home is within walking
distance of school bus stop and a few blocks from lake access, a marina and 3 restaurants. $269,000

Click on the presentation below for bird photos .... more are on our Weather page.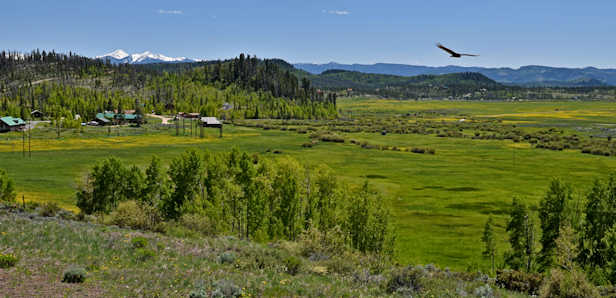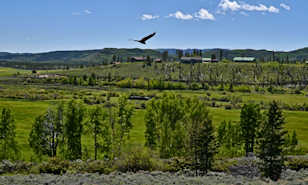 Enjoy the tour of this land by great birds!
Two Acres overlooking Nature Valley Ranch. Cool mountain water flows along the bottom of the home site
in one of Grand County's oldest and largest irrigation channels. It's like having your own moat! You'll love
watching shadows and sunlight slip across the meadows. As you gaze to the west, your eyes runs along pasture
and then aspen and pine forests to patches of snow in the tundra. To the east, one can see cloudscapes along
The Continental Divide. To the south, there is Byers Peak and part of the Gore Range. Wide open southern exposure.
Short drive to National Forest snowmobile and ATV trails up Road 4 or Lake Granby down the road.
Well is drilled and an area is excavated for building your home. $79,000


Try your luck or click here » for Keywords to Open the Right Doors in your Search


Click here for » the online version of our Wish Book catalog.


Click to our Weather Page for recent scenery and wildlife photos.
Mountain Living
Let every weekend be a 4-day weekend! On Thursday afternoon, you are wrapping up
four power days at the office and telling your friends that you are heading that evening
to Grand Lake, two hours away yet worlds apart. You've got your mobile devices and
are ready to work on the bigger picture. Friday morning, you wake up in your mountain
retreat and already .... you are thinking is more clear as you plan ahead and tie neat little bows
on completed tasks. Saturday dawns and you are fully attuned to your alpine environment
and tingling with life. The great outdoors beckons with its newness, immensity and wildlife.
Or maybe you'll just have it out your window or beyond your deck while you enjoy some
private time with your family ... or a neglected hobby ... or a book. Saturday afternoon or eve,
you are ready to hobnob with some of the other lucky fellows enjoying their extended weekend.
Dine at a restaurant, walk the boardwalk, do some shopping, cruise by the beach ....
remind yourself to have your boat ready (even if its just a kayak) for Sunday.
Sunday morning you do some outdoor church time. Now your head is really stuffed
with plans. You get a head start on them on Sunday eve and then sleep like a rock.
Early Monday morning, you zip back to work ready to hit the floor running.
Traffic is not an issue and everyone is amazed with how much you get done ...
and how young you look!


Try your luck or Click here » for Keywords to Open the Right Doors in your Search


Great Lakes of the Rockies

Grand Lake

Shadow Mountain Lake

Lake Granby

---
.. to MainMenu .. Homes .. Land .. Commercial .. or .. to top of this page

Enter the MOSAIC and be Teleported

© Text & Structure of this site is Copyrighted 5/1/96.