Affordable getaways at the end of the rainbow! What's New!
New on the market for Summer of 2017, stay tuned, thanks for visiting:


This full log home sits at the end of a
quiet cul-de-sac in the Columbine Lake area. Main Level: Spacious Great Room with new flooring
plus two guest rooms and full bath.Master suite on upper level by loft. 1700 sq. ft. plus large
unfinished basement. Covered porch overlooks a small garden. $429,000 mostly furnished.

Delightful home in town,
easy to live in with everything on one easy level. Double garage in front plus a
drive-through snowmobile garage in back on the home's extra-large, landscaped property.
Great Room with elevated ceiling, electric fireplace and wood floors. Master bedroom suite
beyond one end of the Great Room plus two guest rooms and a full bath
at the opposite end ~ a great floor plan for having company.
Boat docking privileges in the marina a couple of blocks away. $496,400
Cozy cabin on over two acres,
just a couple of blocks from thousands of acres of National Forest trails for year round adventure.
Fairly level, usable land with mountain views. Bedroom and bath on each of two levels,
with loft above living area. $385,000
$285,000 for lake view fixer-upper
with vacant land included.3 bedroom, 2 bath with log home with panoramic views of Lake Granby.
Located across from Rainbow Bay and Sunset Point Boat Launch, near the southwest portion of Lake Granby.

Are you looking for a remote mountain retreat with no covenants?
Consider this 2500 square foot home built in 2004 on over an acre near the National Forest up Road 4.
Enjoy views of an expansive mountain range across Lake views from Great Room and wrap around deck
as well as peaceful views across a meadow.Long tandem garage. Quiet location about 3/4 mile from
a county maintained road. Private well and septic system, angled south/southeast
for passive solar advantage, propane for in-floor heat. $495,000 furnished.

Charming riverfront lodge in town,
dates back to the turn of the last century. Large room along the river features a huge fireplace.
Terrific location just a block off Grand Lake's boardwalk and two blocks from the beach.
Bedrooms are on the upper level. $550,000

Columbine Lake Home with wonderful
elevated deck and great views of Mount Baldy.Great room with two story fireplace; circulate easily
into the kitchen and out onto the deck.2400 square feet: upper level master suite with spacious loft.
Main level: two guest bedrooms with a full bath. Lower level recreation area with a convenient half bath.
Vacant lot to the right (as you face the home) gives lots of space to play; that big yard is included. $469,000

Enjoy the sights and sounds of the Colorado River from
this half-acre home site across a private road from a long greenbelt protecting the river.
You have access to a third of a mile for fishing and exploring along the stream;
this stretch in Mountain Meadows is wild and natural. Select how far up the hill
you would like to build to optimize your views of river, ranch land and mountain.
Drill a well for water. Connect to sewer in the road below you. $79,500
Listen to the river and follow her rhythms through each month of the year.
Join in the grand symphony as the seasons change around Grand Lake, Colorado.

Mobile home park plus 4-unit apartment
building, fully remodeled. Four oversized commercially zoned lots just 200 feet from our main street offer
steady income for now and great potential for the future with this 2/3 of an acre. You do not own
the mobile homes. Simply collect space rent from 13 of them! No competition. $595,000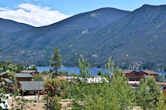 Lake View Cabin Site at the top of a back road in Grand Lake Village ~
short walk to beach, boardwalk and restaurants. Land slopes down to the south with wide open views.
On Mountain Avenue ... $65,000
Six acres with lake views in Mountain Shadows.
Land extends down from its driveway roughed in on top to a lower road.
As one walks through the land, many fine views open up through the trees
of Lake Granby and high mountains, clad in snow from November to June. $160,000
Log-sided home with 5 car garage
on over 4 acres close to National Forest land. Pastoral views across ranch land towards Lake Granby and
snow-capped mountains. Easy access to thousands of acres of National Forest Land just up the road! $599,000

Wrap-around views of Lake Granby from a scenic point in Mountain Shadows. Grand home with cathedral ceilings
and everything on one level. Master bedroom suite in the east wing, two bedrooms plus a 2nd office in the west wing.
Impressive architectural design with unique furnishings that fit right in. Over 2500 sq. ft. plus double garage and
covered decks. 2.8 acres of land. $850,000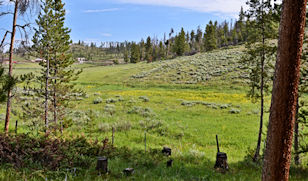 Lightly forested 2/3 of an acre by a meadow.
Price includes valuable water and sewer taps already paid. $90,000

Columbine Lake area home site bordering Rocky Mountain National Park.
Level and ready to build on. All of the desired utilities can be quickly tapped into. Pay water and sewer taps
when you are ready to build. In the meantime, visit your land, enjoy the community clubhouse and pool,
take a paddleboat for two out onto the lake. Your family will love the ambiance of Columbine Lake. $65,000

Lakefront Living on Grand Lake
in a home that can please everyone. Level to the lake! Level walk from parking areas to lake and most
everything in-between. Lakeside living room with large wood & gas fireplace. Deeper in the home,
enter a lodge-style recreation room with a wood-burning fireplace. Everyone will love the kitchen
and the way it makes work fall away as you take in the views and the happy sounds of children and guests.
For the young at heart, the home will be a complete adventure land with secret passageways, a covered
boat slip, docks and your own private zip-line! 100' of lake frontage. $2,900,000

Ground-level, Shadow Park West
condominium overlooking Grand Lake, its village and mountains. Wood-burning fireplace.
Two bedrooms, 1½ baths, all on one convenient level. $205,000 furnished

Brand New, with Big Views
of Grand Lake and Shadow Mountain Lake from an easy-to-walk-to, in-town location!
Master suite on main level, three more bedrooms on upper level, two designed as suites.
8 foot wide picture windows, bringing in the views from the east to the southwest.
3400 sq.ft. plus a 900 sq.ft. garage. $699,000
The long and delicious days of June have arrived. Rivers sing of deep snows resting high in mountains in every direction.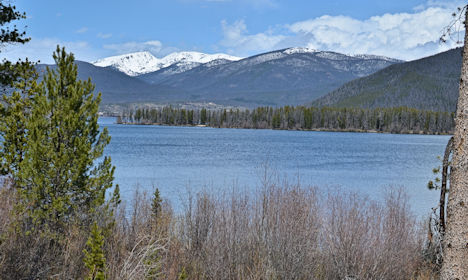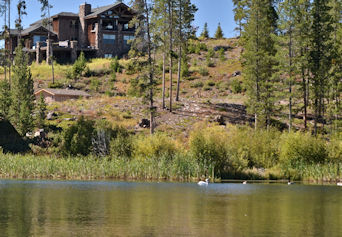 Lakefront home site on Shadow Mountain Lake.
Located in the Shores of Shadow Mountain by the south end of the lake with a rich natural shoreline and
serene views from morning to evening. After you build, your boat dock is a couple hundred feet away.
You'll love watching the Never Summer Mountains and high peaks deep in Rocky Mountain National Park
change with the seasons and weather. Water flowing into the lake from the nearby fishing canal creates
open water year-round and a world class play area for kayaking and fishing. $529,000


Boardwalk Lofts - on the current site
of the old bowling alley, right next to Rocky Mountain Repertory's Live Theater (celebrating their
50th anniversary). The present building is coming down and construction is scheduled to begin this summer.
Each will have fine finishes and a linear fireplace. Plan on occupancy in the summer of 2018.
Studio/efficiencies are $189,900. One bedrooms are priced from $229,900 and two bedrooms from $359,900.

At your choice, own the one bedroom condominium next door for an extra $100,000 with your full price purchase of this home:


Lakefront home with Boat House and Sun Deck on Shadow Mountain Lake.
Enjoy views from the north end of the Lake all the way to the islands at the south end.
To the east, Rocky Mountain National Park rises from the far shores of Shadow Mountain Lake.
No one can build along these protected shores or higher up. An enclosed sun porch lets one savor
the views year-round. Great Room has raised cathedral ceilings and a wood-burning fireplace
set in a huge rock wall. Lots of glass on the lake side to bring in the views. $1,400,000


Thanks for visiting . . . . . more coming . . . . stay tuned.

Try your luck or click here » for Keywords to Open the Right Doors in your Search


If you see a property you like, please confirm that it is in the list of actively available properties.
We try to remove oldie goldies, however, the closing process can take months!



Click to our Weather Page for recent scenery and wildlife photos.
Mountain Living
Let every weekend be a 4-day weekend! On Thursday afternoon, you are wrapping up
four power days at the office and telling your friends that you are heading that evening
to Grand Lake, two hours away yet worlds apart. You've got your mobile devices and
are ready to work on the bigger picture. Friday morning, you wake up in your mountain
retreat and already .... you are thinking is more clear as you plan ahead and tie neat little bows
on completed tasks. Saturday dawns and you are fully attuned to your alpine environment
and tingling with life. The great outdoors beckons with its newness, immensity and wildlife.
Or maybe you'll just have it out your window or beyond your deck while you enjoy some
private time with your family ... or a neglected hobby ... or a book. Saturday afternoon or eve,
you are ready to hobnob with some of the other lucky fellows enjoying their extended weekend.
Dine at a restaurant, walk the boardwalk, do some shopping, cruise by the beach ....
remind yourself to have your boat ready (even if its just a kayak) for Sunday.
Sunday morning you do some outdoor church time. Now your head is really stuffed
with plans. You get a head start on them on Sunday eve and then sleep like a rock.
Early Monday morning, you zip back to work ready to hit the floor running.
Traffic is not an issue and everyone is amazed with how much you get done ...
and how young you look!


Try your luck or Click here » for Keywords to Open the Right Doors in your Search


Great Lakes of the Rockies

Grand Lake

Shadow Mountain Lake

Lake Granby

---
.. to MainMenu .. Homes .. Land .. Commercial .. or .. to top of this page

Enter the MOSAIC and be Teleported

© Text & Structure of this site is Copyrighted 5/1/96.