What's New!
Jump to Weather Update .. or .. to MainMenu ..
Use your refresh button to get all of the recent updates. Clear your browser's cache. Reload.
We have been busy. Click here to see properties sold in 2014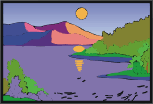 Fall Special, price fallen to the ground ... this can be yours: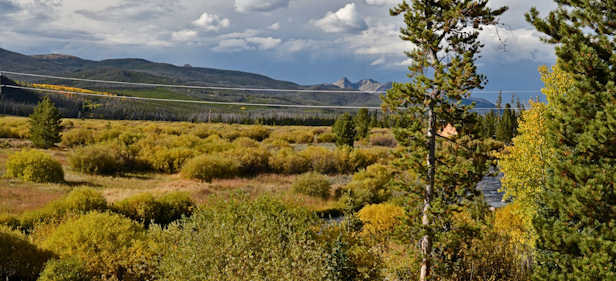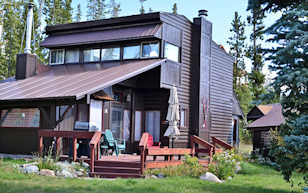 Home along the Colorado River on
two lots in Mountain Meadows: Vermont Casting style stove in living room plus fireplace by dining area.
Gourmet kitchen with open beam lattice in its ceiling. Master bedroom upstairs is large enough to make
into 2 bedrooms. Views up the Kawuneeche Valley to the Never Summer Mountains, especially from
the bank of windows in the unique side room by the large bedroom on the upper level.
Detached garage. Across the private road is a half a mile of protected greenbelt along the river.
Classic rough-bark storage cabin in back. Partly landscaped. 0.46 acre. $258,000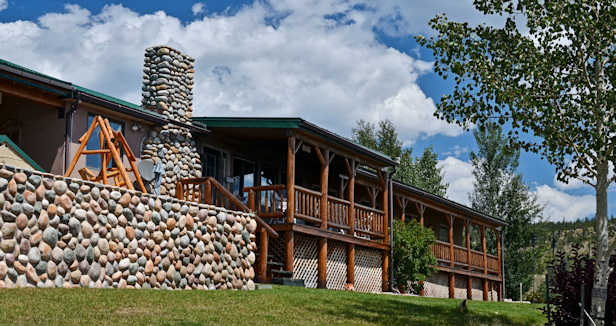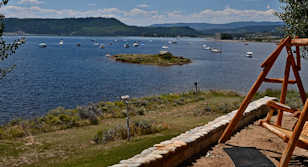 Your own retreat hidden at the end of a secret point
on Lake Granby. A place for bonding and happy memories. An intimate bed & breakfast like setting with its
curved shore line joining the shore and beaches of National Recreation area land. You and your guests will
love the relaxing views from the long sunny covered porch. Four distinctive bedrooms, three of which have
their own private baths and outside entrances. The stone fireplace,the large dining area and country kitchen
by the lake view add up to create a special and cozy lodge. $689,000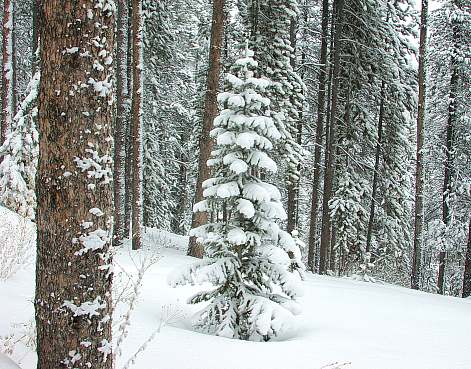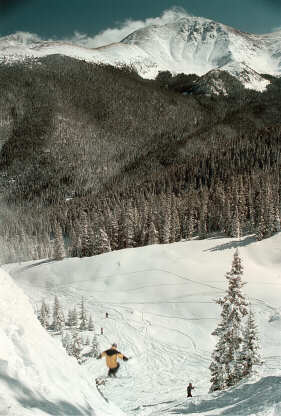 Winter is coming. Click here for » winter preparation reminders.
Let it snow ... Let it snow ... the fire is aglow and you feel so warm. Click here to be ready for winter: turn off water supply,
reduce pressure in the lines, double check heat tapes and back-up heat ... Let Winter be a joy! On the coldest mornings there
are spectacular formations of clouds and mists over the lakes. The moods are entirely different from what you'll see the rest of the year.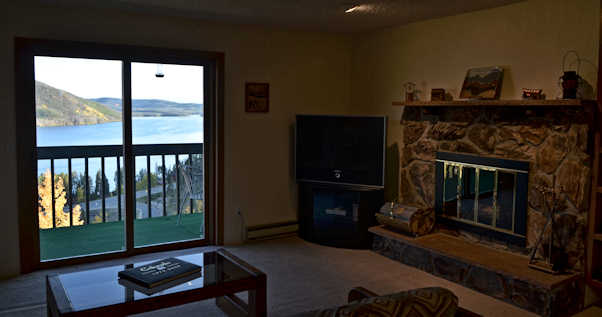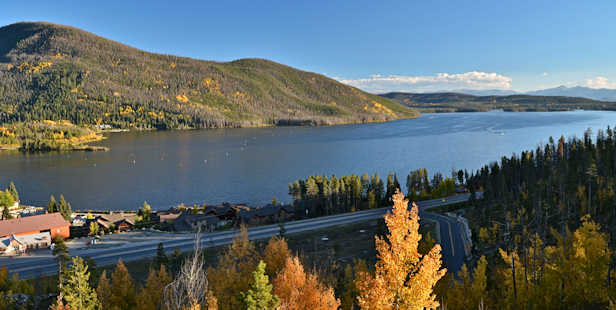 Enjoy panoramic views over Shadow Mountain Lake from this beautifully cared-for
condominium on a hill. Two bedrooms, 1¾ baths. Attractive wood-burning fireplace.
Nice views also of Mount Baldy and Grand Lake. 830 sq. ft., all on one convenient level,
close to parking. $179,000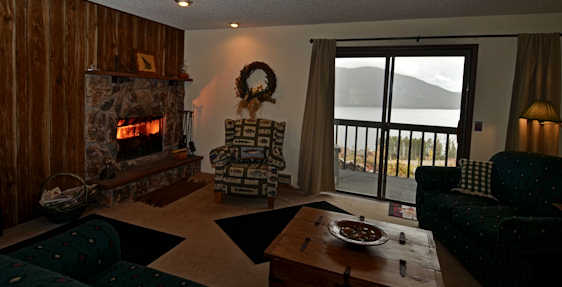 Relax with views over Grand Lake and Shadow Mountain Lake and deep into Rocky Mountain
National Park. As the alpenglow rises to the stars, your fireplace adds atmosphere and keeps you cozy.
Two bedrooms, 1½ baths. Approx. 830 sq. ft. inside. $159,000
Sunday, October 5, 2014: just added, more coming ... we have been busy and enjoying Fall's golden close.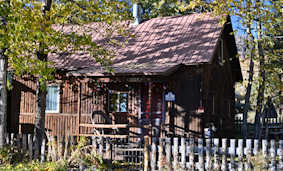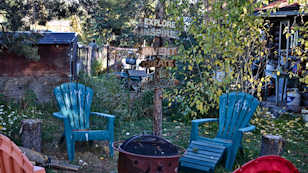 Charming Cabin in the heart of
Grand Lake Village, directly across from the town's central park. Bedroom suite with new bath
on the main level. Sleeping areas and bath on the upper level (upper ceilings are low).
Fine wood pattern on kitchen floor. Appealing garden and gathering places around the yard.
$219,000 furnished. ... interior photos might not all be added; refresh your browser.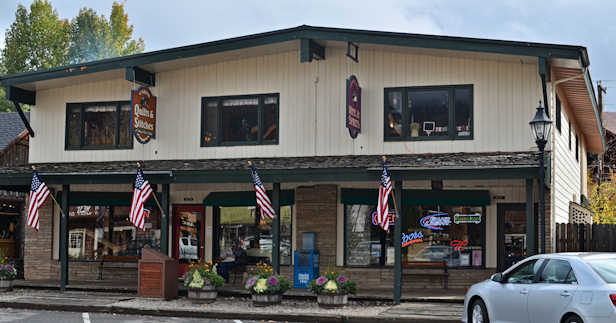 Two large side-by-side retail
spaces along the covered Boardwalk in Grand Lake Village. One is an active liquor store with lots of storage
and a living/kitchen area behind for relaxing between customers' visits; this business has a long history and
offers the only sales of wine and spirits to go,on the boardwalk. The other is an attractive two story retail space
with elevated ceilings. Both spaces are under one roof. Living quarters (2 bedroom, 1 bath) over one of the shops
open onto a huge covered porch with mountain views.3,000 sq. ft. There is off-street parking for three vehicles
plus parking in front for customers. $599,000 for the building and prime location and building alone.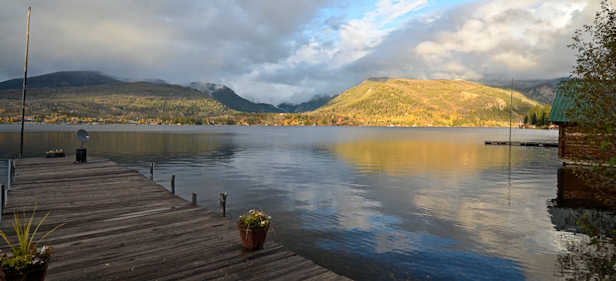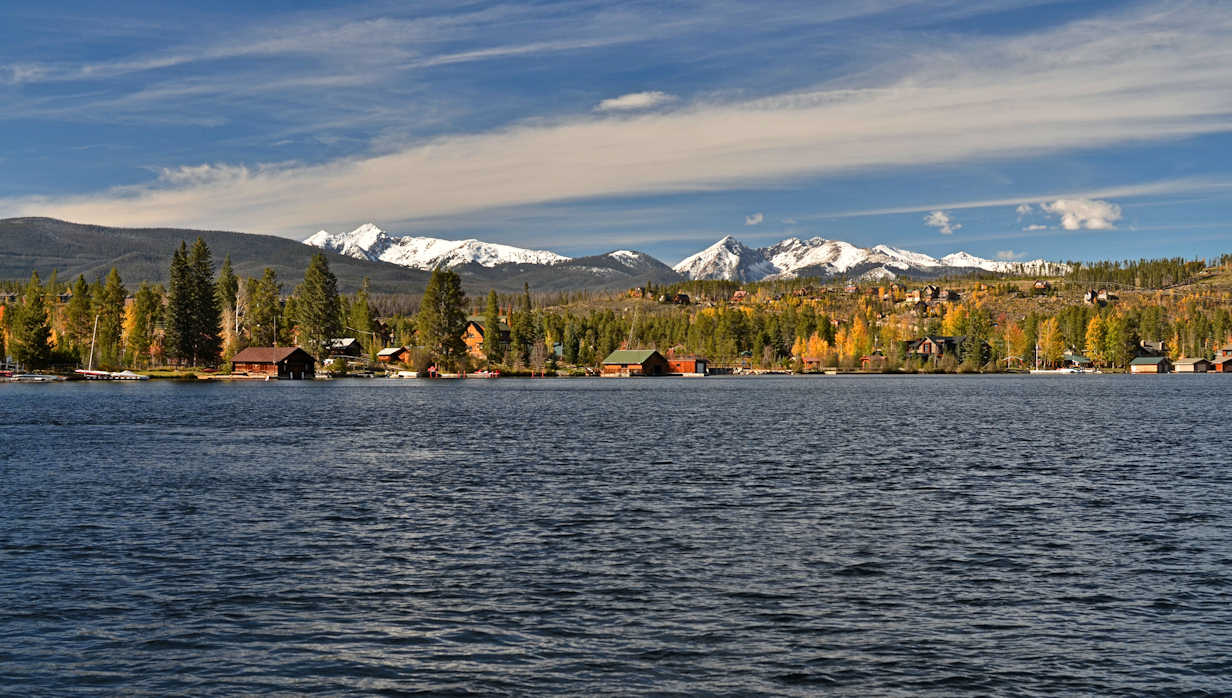 .
On Grand Lake! Historic home at the beginning of the south shore was designed by famous
architect Aaron Gove and built by Charles Hanington. Huge boathouse on vacant lot is
included at the price of $2,200,000, giving your family the option to build new, sell off,
or treasure forever this site of the original homestead of famous sculptor A. Phiminster Proctor.
Approx. 176 feet of Lake Frontage. 4 bedrooms plus bunk room (which has three beds and a sitting area).
2½ baths plus a half-bath in bunk room. The extra wide boat house has two slips a generous
amount of space around each space to make loading and getting around easy. The wide dock
has room for a table and chairs. Let God paint a fresh picture for you every day!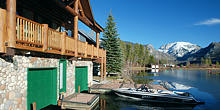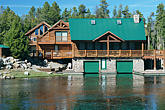 Waterfront Log and Stone
home on the channel with excellent views of Mount Baldy, Grand Lake and Shadow Mountain Lake.
Do you like outdoor cafes where you can relax and watch the world go by? This home is among
the very few that is uniquely poised to let you enjoy from your wrap-around deck the year-round action
by Rainbow Bridge and the Channel connecting Grand Lake with Shadow Mountain Lake. $1,398,000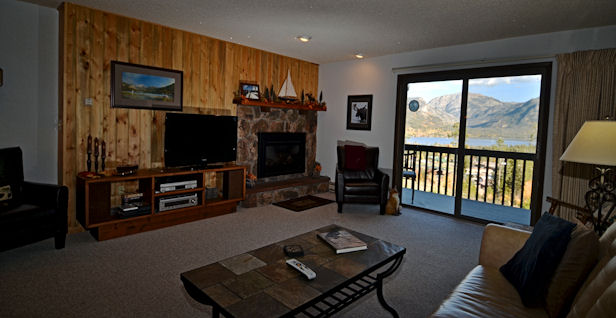 Fantastic Views
from a ridge west of Grand Lake. Developer's chosen location overlooking both Grand Lake and
Shadow Mountain Lake. Every week the views change to Mount Baldy and Byers Peak.
The colors, reflections, lights and shadows shift as you watch them from your covered deck
or by the fire. Two bedrooms, 1½ baths. Country kitchen. Terrific value at $179,000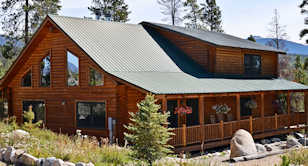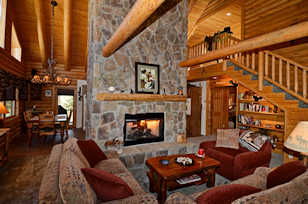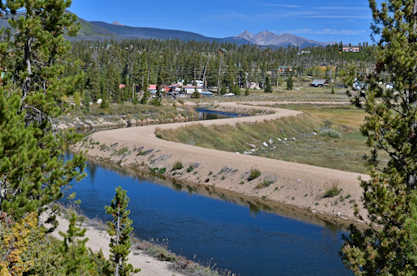 Log home
by the fishing canal with a central 2-story fireplace that you can enjoy from either the kitchen side
or the living room. The central stonework and log posts up to the high wood finished ceiling.
This custom home features extra large bedrooms and suites; they could be partitioned to meet your needs.
3 bedrooms, 2½ baths. Big covered porch plus back porch on the canal side by the kitchen. $479,00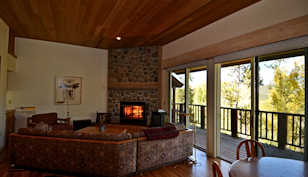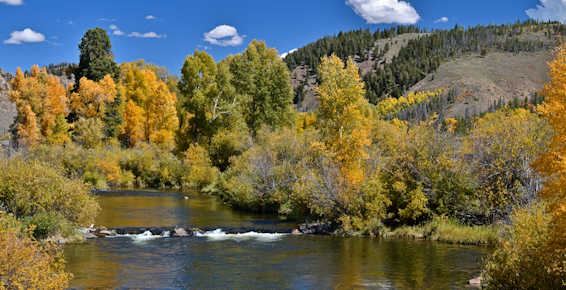 Two bedroom townhome at Ouray Ranch:
a tranquil community with private troutponds & gold medal fishing along the Colorado River.
Fireplace in Great Room. Membership includes use of lodge & equestrian center. $299,900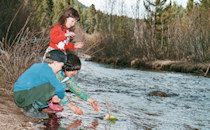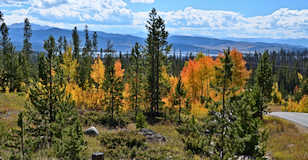 Relax with the sounds
of a summer stream while you gaze across the valley over Lake Granby to an array of high peaks
from your private 2½ acre setting. Land has an amphitheater shape with the stream wrapping around a
ridge for your home and driveway. National Forest trails are one third of a mile away and within reach
from your home via snowmobile or ATV. These trails extend for over a 100 miles deep in the Arapaho
National Forest. In the winter, one can snowmobile all the way to Grand Lake Village. $95,000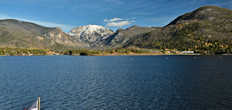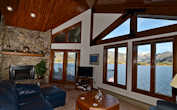 Like being over the water on a great ship: rich open beams, moss rock fireplace and a galley/kitchen
and dining area with views to make every day feel like a special occasion. Captain's lakeside quarters
with private shower and jacuzzi tub.Two guest bedrooms. Oversized garage. Boat dock in close view
from your windows and covered deck. Pleasant walk or bike ride from parks, shops and restaurants.
Amazing views of Mount Baldy and Rocky Mountain National Park. Furnished at $368,000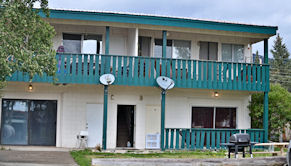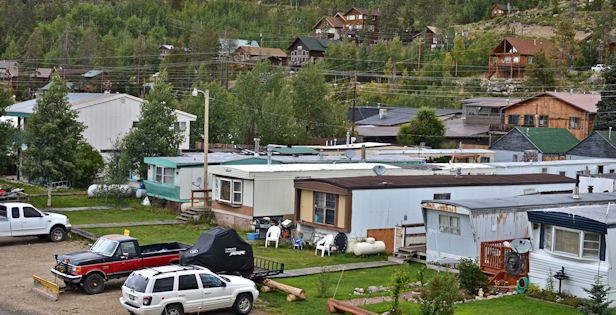 Mobile home park plus 4-unit apartment building.
4 oversized commercially zoned lots just 200 feet from our main street offer steady income for now & great potential
for the future with this 2/3 of an acre. You do not own the mobile homes. Simply collect space rent from 13 of them!
No competition. $479,000

Thursday, September 18, 2014: just added directly below, easy living condo in like-new condition for $168,000.
Also coming here soon: a cabin by the Colorado River (just added below) and a log home by the fishing canal
with a massive central fireplace. Come winter, you'll savor the fire from either side.
Call for details and setup appointments: 970-627-3103
Check back soon for photos of new choices and our timeless and heavenly alpine setting.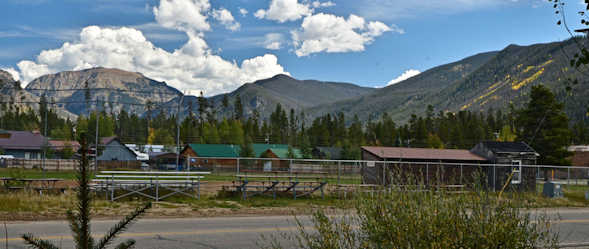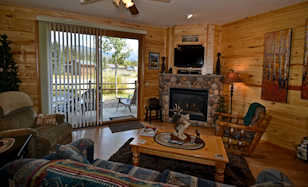 Convenient ground-level condominium
in Grand Lake Village across from a play-field to give you big views of Mount Baldy and Shadow Mountain.
Great Room has a river rock fireplace and an attractive wood finish on some of its walls. Master bedroom suite
plus guest bedroom. Two full baths plus laundry area. New dining bar. New refrigerator. New window treatments
with energy-saving woven blinds that open from the bottom or top for privacy. New state-of-the-art hot water
heater and boiler for the radiant in-floor heat. Patio is wrapped around with river rock. Short walk from lakeside
parks and boardwalk shop and restaurants. $168,500

Links are fixed on the following: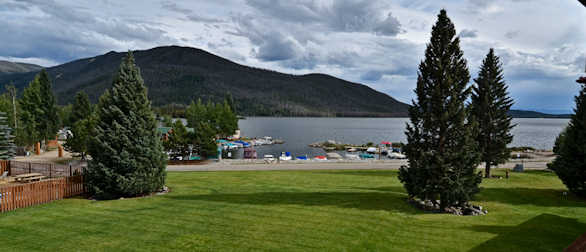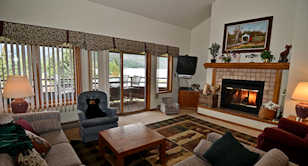 Upper level condominium at Shadow
Mountain Yacht Club with fireplace and raised ceilings. 3 bedrooms, three baths. Boat Dock. Detached garage.
Upper level has its own lake and mountain views; it can be a second master suite or be reserved for guests and
children. An outdoor pool is by the clubhouse across the lawn. Location is a short walk from fishing points,
beach, shops and restaurants in town. $375,000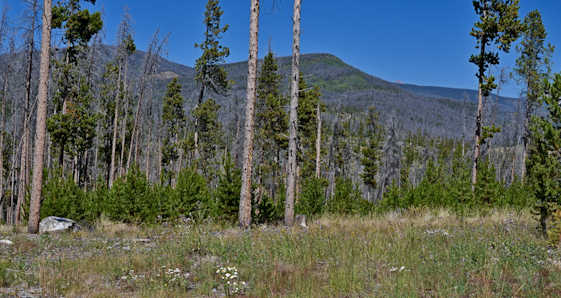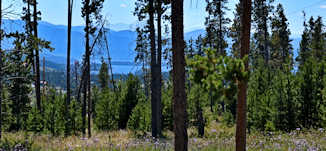 Six level acres, partially wooded.
Mountain views and a bit of lake view can be seen through the trees. $159,000 Ask about including the
adjoining six acres to give you over 12 acres or purchase it separately for $159,900 with a well already drilled.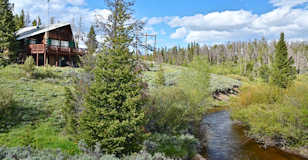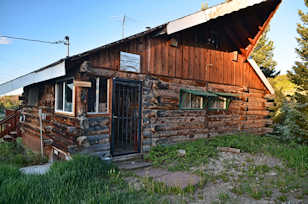 FIVE acres overlooking a ranch
and a summer stream with great views to the south and to the east of the snowy Continental Divide.
1960's log cabin just off County Road 4, a half mile from the National Forest with 100 miles of
groomed snowmobile trails. Outer walls of the main level are interlocking logs. $248,000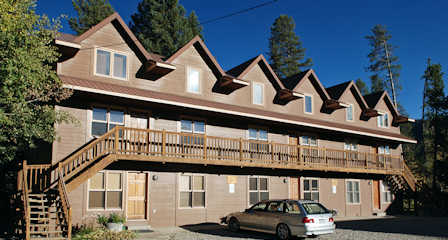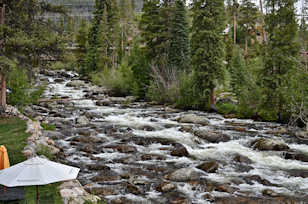 Riverfront condominium with flexible
floor plan. A private suite on the parking side can be rented or used for guests while you enjoy the riverside.
Community property along the river (shown above) is perfect for riverside picnics. An open garage under
the dwelling can be used to protect snowmobiles or small boats. Rent out the riverside for a premium and
you'll still have access to the river and be a short walk from shops restaurants and Grand Lake's beach.
A wood-burning fireplace is close to a magical bed that folds out of the wall. $219,000 furnished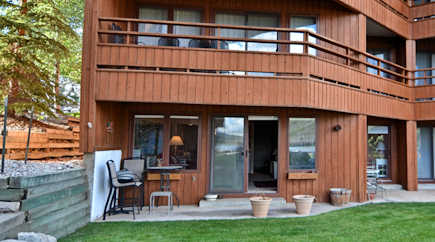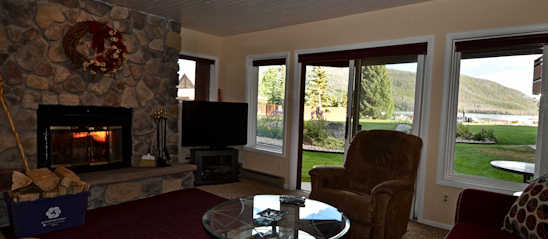 Lakefront Lifestyle in the
Town of Grand Lake! 2 bedroom, 2 bath condominium by Shadow Mountain Lake. Boat dock and
detached garage are included. Convenient ground level unit opening out to an emerald green
lawn with lake views. A clubhouse with summer pool is across the lawn. Pleasant walk
to Boardwalk, fishing points, beach, shops and restaurants in town. $339,000
Thursday, Sept. 4, 2014: lots of updates coming, we have been busy!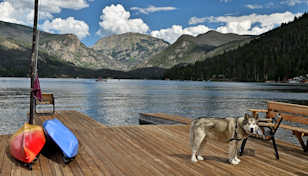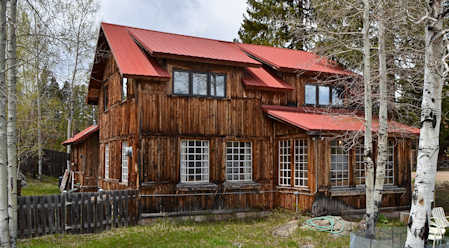 By Grand Lake: historic log-sided home
with guest cabin. Level walkways to both homes, lake and dock. Classic views of Mount Baldy from a
peaceful cove near the southwest corner of Grand Lake. Timeless living room with wood-burning stove,
stone chimney and adjoining sun-porch with lots of Adirondack style windows. Three bedrooms, one bath
-- all upstairs, in main home. Detached guest cabin has a private bedroom, bath, living room and its own kitchen.
Boat dock with slip and seating area, all in great condition. $1,100,000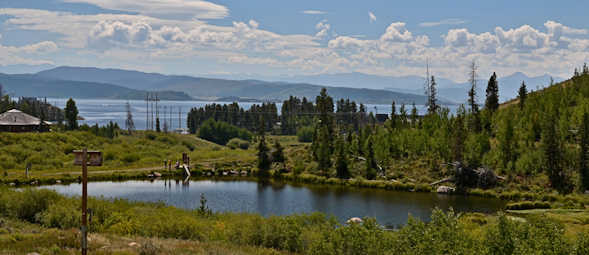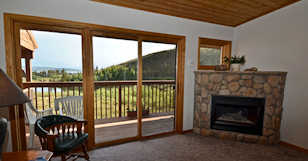 The main fishing pond
is directly below your long and covered deck. Beyond is the big lake, Lake Granby, spread out far
and wide. A line of mountains stretches our beyond the lake. Wood-finished ceiling in Great Room.
River rock fireplace. Two bedrooms, two baths. ... all on one level. Detached garage. Like-new inside. $189,900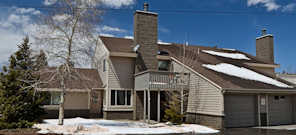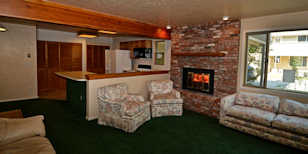 Spacious Townhome with 3 bedrooms,
3 baths in Grand Lake Village. Nice view of Mount Baldy from the private upper level deck. Great Room
with wood-burning fireplace. $219,900 (price reduced, motivated seller)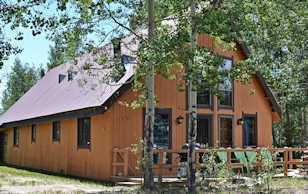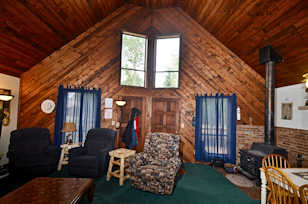 Columbine Lake area Cabin
bordering Recreation District Lands! Rich wood interior with high ceiling in Great Room.
Peaceful views of aspen through the windows. 4 bedrooms plus loft. Lush back yard.
All new kitchen and laundry appliances. Drive-through snowmobile garage. Nice view
of Mount Baldy from the back yard picnic area by the tall grass for elk beds. $235,000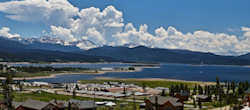 360 degrees views. Grand Views of Lake Granby
and the Continental Divide. Home site is set high over its neighbors to give you protected
views. Unique view to the northwest to Gravel Mountain aka "Chicken Hill"!
Snowmobile to it leisurely with your family and enjoy the views without being a daredevil.
This presentation has amazing images to show you what's up there. Well is already drilled.
$69,900 subject to short sale approval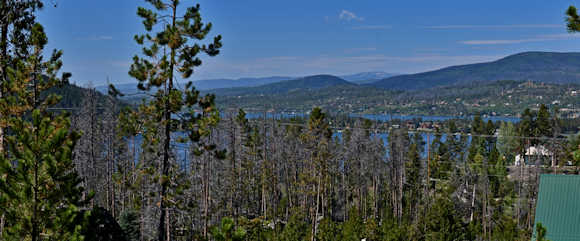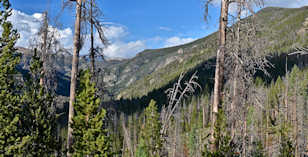 2.8 acres with shiny views
of both Grand Lake and Shadow Mountain Lake. Big view in the opposite direction up Summerland
Park to tundra along the Continental Divide. Land is a short walk from town and Grand Lake's beach.
The northeast portion of the land borders Rocky Mountain National Park. With a little machinery
(even just one chain saw for a few hours), the views and access to the land can be brought closer
to their full potential. $169,000
Before summer winds down, here are three diversions to refresh you on your way to Grand Lake: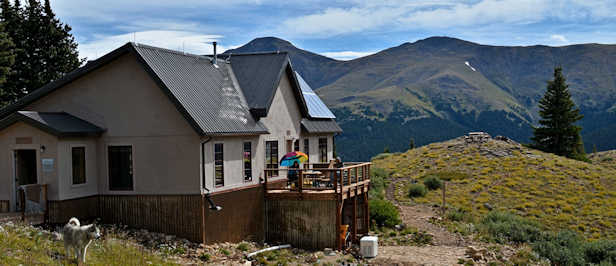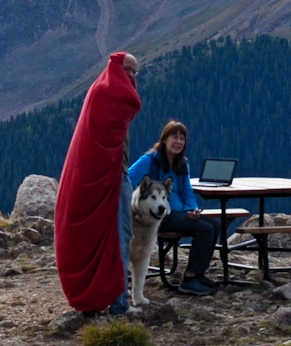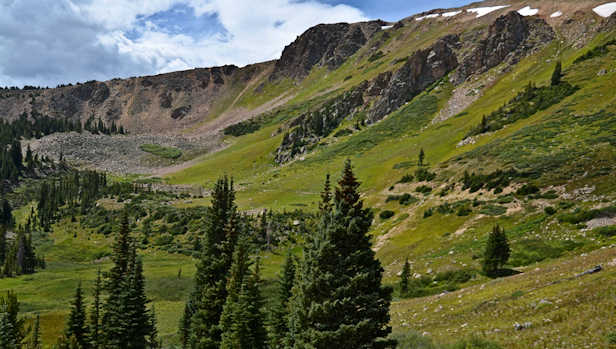 New Feature for August of 2014: short Family Side trips along the Grand County side of Berthoud Pass.
See the just built in 2013, Broome Hut above Second Creek (mile marker 240). It's open to visitors.
Make a reservation. Further down, take a breather amongst towering trees at Robbers Roost near
the first hairpin curve at the base of the pass.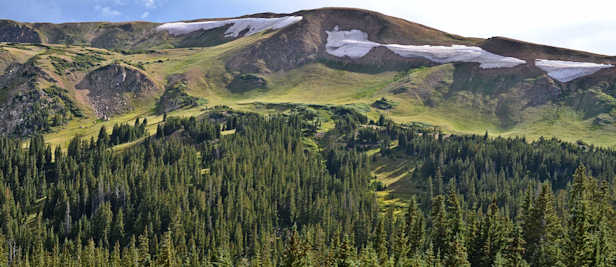 Current Creek: last big pullout near top of Berthoud Pass.
Alternate scenic route past an alpine lake to Broome Hut in next basin over. Peaceful stream video to be added soon.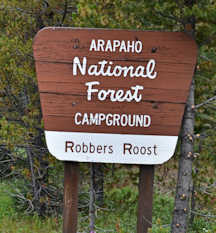 Robbers Roost: last chance for a woodsy break before reaching Winter Park.

Thursday, August 21, 2014: ... just added, more coming ...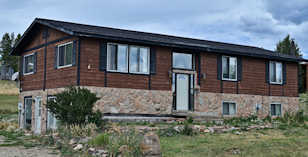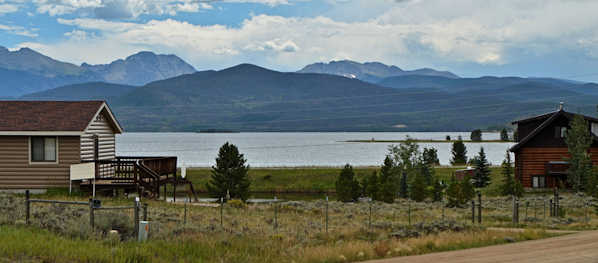 Lake and mountain views.
Short walk from miles of National Recreation area shoreline and a boat launch by Lake Granby.
Spacious Great Room plus recreation room. 4-5 bedrooms, 3 baths. Detached garage.
A marina is a close-by. $269,900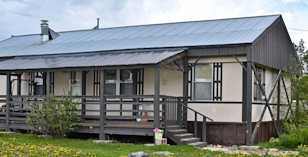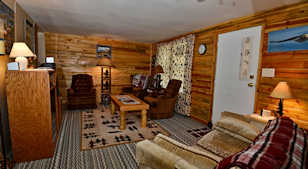 No covenants! Comfortable
three bedroom, two bath home with detached garage and storage building. Attractive wood finish inside.
Covered porch. Circle driveway on 1/3 acre near the end of a quiet county maintained road.
Great floor plan with master suite at one end, 2 guest rooms at the other. In between is a large living room,
updated kitchen and dining area. Motivated seller. Priced reduced to $175,000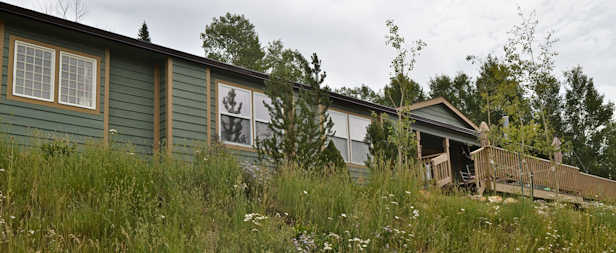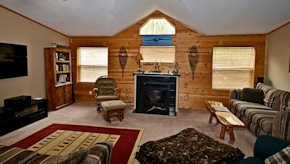 Listen to the stream from your ranch style
home on an acre overlooking Trail Creek Valley. National Forest access is just down the road. Wake up to aspen,
sage and wild grasses as your eyes run up the valley to high tundra. Master suite has clerestory windows and
a his 'n hers bath design that is worth emulating. (Builders and home designers will appreciate the detailed
photos ... to use as a template.) Spacious living areas, 2 guest rooms. Raised ceilings in most every room.
2200 sq. ft. plus double garage and deck. $279,000 (new photos added)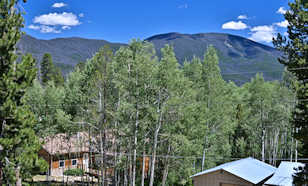 4/10th of an acre with mountain views to the east over
a hidden meadow and aspen forest.Land is approximately a square rising up from
its road frontage. Good location for building over a garage. $39,000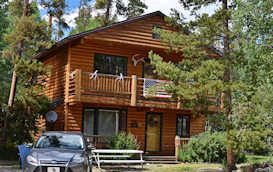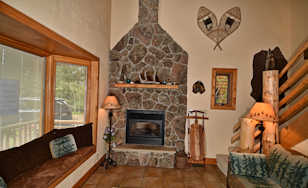 Log-sided Lemmon Lodge area home
with private shared access to Grand Lake and the North Inlet Stream. Home is a few hundred feet
from boardwalk shops and restaurants. Immaculate 2 bedroom, 2 bath home with huge loft.
Raised ceiling in living room with two story fireplace. Adjoining vacant lot included at $569,000..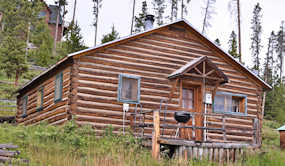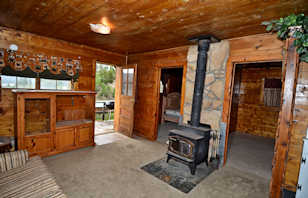 $159,900. Faded glory ...
TLC welcomed. Cluster of log or bark-sided cabins with a history of being run as
getaways for short and long term rentals. Amongst the six cabins on almost an acre
of land, there has been a compact kitchen and private bath in three of them.
The original and still current appeal of the area is its proximity to excellent
year-round fishing and kayaking (see maps in presentation). The largest cabin
is a proper Log Cabin with wood floors and an all wood finish on its walls and ceilings.
Three of the cabins have been used as an office, pump house and bath house. $159,000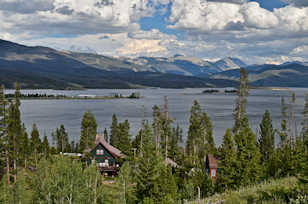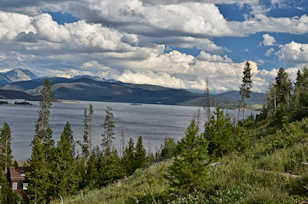 3.8 Acres on a hill with panoramic views
of Lake Granby and The Continental Divide. You'll love the afternoon and evening lighting as
the high tundra and clouds are infused with alpenglow. Be with the clouds as they hover over
wide expanses of Lake Granby and then blossom as they reach 13,500' Arapaho Peak. $129,000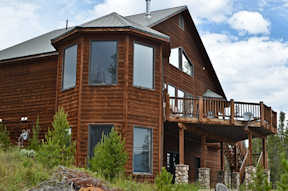 Enjoy the privacy of almost
seven acres in a pastoral setting with horses grazing in the meadow and giant peaks rising in the distance.
The view of Lake Granby from the deck and most rooms is big and wide. High end finish inside.
Log posts and beams with lots of character. Massive wrought iron light fixtures. Massive wrought iron
light fixtures. 3000 sq. ft. plus garage and decks. Three luxurious and spacious bedrooms. 4½ baths.
Master suite has gas fireplace, beautiful pine ceiling, a seating area with amazing views and a bath
to make you feel like royalty. Lower walkout level is a complete world of its own, perfect for receiving guests.
You are a short distance in every direction to prime recreational fun from boating,
to skiing to golf to National Forest and National Park trails. $799,000

Try your luck or click here » for Keywords to Open the Right Doors in your Search


Click here for » the online version of our Wish Book catalog.


Click to our Weather Page for recent scenery and wildlife photos.
Mountain Living
Let every weekend be a 4-day weekend! On Thursday afternoon, you are wrapping up
four power days at the office and telling your friends that you are heading that evening
to Grand Lake, two hours away yet worlds apart. You've got your mobile devices and
are ready to work on the bigger picture. Friday morning, you wake up in your mountain
retreat and already .... you are thinking is more clear as you plan ahead and tie neat little bows
on completed tasks. Saturday dawns and you are fully attuned to your alpine environment
and tingling with life. The great outdoors beckons with its newness, immensity and wildlife.
Or maybe you'll just have it out your window or beyond your deck while you enjoy some
private time with your family ... or a neglected hobby ... or a book. Saturday afternoon or eve,
you are ready to hobnob with some of the other lucky fellows enjoying their extended weekend.
Dine at a restaurant, walk the boardwalk, do some shopping, cruise by the beach ....
remind yourself to have your boat ready (even if its just a kayak) for Sunday.
Sunday morning you do some outdoor church time. Now your head is really stuffed
with plans. You get a head start on them on Sunday eve and then sleep like a rock.
Early Monday morning, you zip back to work ready to hit the floor running.
Traffic is not an issue and everyone is amazed with how much you get done ...
and how young you look!


Try your luck or Click here » for Keywords to Open the Right Doors in your Search


Great Lakes of the Rockies

Grand Lake

Shadow Mountain Lake

Lake Granby

---
.. to MainMenu .. Homes .. Land .. Commercial .. or .. to top of this page

Enter the MOSAIC and be Teleported

© Text & Structure of this site is Copyrighted 5/1/96.