What's New!
November vanishes into the mountains as slow yet persistent snows accumulate in the silence.
Just added, much more coming after the snows bring out December's subtle and slanted rays.


Fixer upper property with lake views,
just a block from Town Square! $289,000 for one older home and three primitive cabins from
Grand Lake's past. Land size is extra deep - 100 by 170 feet, just under a half acre!

When you visit us in Grand Lake, ask for our New Year 2017 Almanac
with a full year of calendar events to keep everyone hopping in Grand Lake!
Peradventure, you cannot visit us soon along the boardwalk,
send an email to readydonna@gmail.com and ask for a calendar.



. . . a couple of inches of snow hanging on the pine boughs.

Log home in a peaceful setting
a short walk from Lake Granby and the Fishing Canal. Great Room with vaulted ceilings
and wood-burning stove. Warm wood finish throughout. 950 sq. ft. on main level plus loft
plus lower level with recreation room. Almost half an acre of land. $315,000

November 8, 2016: just added . . .


Landscaped property features trees positioned thoughtfully, Wyoming pink moss rock boulders
and a waterfall. Ideally located close to Grand Lake's Golf Course and cross country ski trails.
Five minutes from Grand Lake Village and from National Park and snowmobiling.
Views of the Never Summer Mountains and the top of Mount Baldy! 3 bedrooms,
2 baths, separate hobby room, garage, circle driveway. 1.2 acre of land. $339,000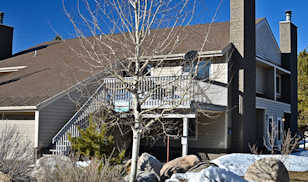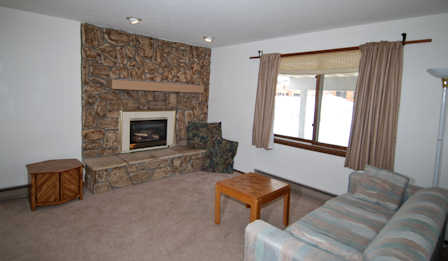 Townhome in Grand Lake Village
with no one above or below you. Short walk to lakes, shops and restaurants. Moss rock natural gas fireplace.
Two bedrooms, 2½ baths. 1000 sq. ft. of living space plus attached garage, carport and deck.
Outside stairway to private balcony off master suite. Views of Mount Baldy from the deck.
Neighbors say, "Watch for the moose parades! They love this area." $225,000



131 acres of alpine meadow with winding brooks and lush hay fields tucked in the heart of Colorado.
The property comes with a comfortable two bedroom year-round home for your family plus guest cabins
for extra income. After honoring the rentals for this year, consider letting those be accommodations for
extra help, family and friends or continue to rent the cabins as you wish to paying guests.
Create a Dude Ranch! Offer a stable and a place to ride for people who own horses, llamas, ponies ...
The whole package with the 131 acres, 3 cabins and valuable water rights is only $988,000.

Wednesday, September 28, 2016: new photos added to the following:

Aspen Pine Estates!
Wooded two acre parcels, ten minutes northwest of Grand Lake Village in an area frequented by wildlife.
Tucked away in a pocket of private lands between National Forest (for hiking with dogs, riding ATV's,
side-by-sides and snowmobiling) and Rocky Mountain National Park (where one may enjoy fishing,
hiking, peace and quiet). Ownership comes with a membership granting access to private stocked Sun Valley Lake.
$150,000

Monday, September 26, 2016: sunny 'n dazzling with mists rising over the lakes and vanishing.
New photos added to the following along with links to a home on adjoining land that
one could buy and use for several years while one's dream home slowly materializes.

9.3 acres west of
Shadow Mountain Lake and bordering the southern reach of 500 acres of dog-friendly
Recreation District land. Perched on a somewhat level mesa with curious lily ponds
and a variety of aspen, pine and grasses. Ready to build on with a long driveway set
and many trees removed. $199,900


Sunday, September 25, 2016 with the mountain tops trying out new winter coats.
Just added:

Brand new, 4 bedroom, 3½ bath home
in town with lake and mountain views. Workers are busy completing the interior. The home will have wood floors
on its main level, alder doors and trim. Carpeting on the upper level. Granite countertops. Two decks. $449,000


Mountain Shadows home
with views of Lake Granby. Great Room with high ceiling and stone fireplace. 3 bedrooms plus sleeping loft,
Large rec room on upper level baths. Master suite on main level with Japanese soaking tub. Large rec room
on upper level on upper level has room for office and crafts. 2860 sq. ft. plus garage and decks. Furnished at $699,000.


Level acre of land in the beautiful Trail Creek Valley
with fine mountain views across active hay meadows. Price includes well already set. $59,900
Enjoy the sights and sounds of the Colorado River from
this half-acre home site across a private road from a long greenbelt protecting the river.
You have access to a third of a mile for fishing and exploring along the stream;
this stretch in Mountain Meadows is wild and natural. Live through the seasons
with the river accentuating each month in special ways. Select how far up the hill
you would like to build to optimize your views of river, ranch land and mountain.
Drill a well for water. Connect to sewer in the road below you. $87,500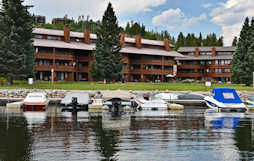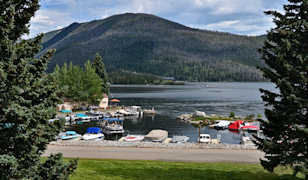 Lakeside living
with mountain views. Top level Shadow Mountain Yacht Club dwelling with a view of one's
dock across a green lawn. Three distinctive bedrooms, three baths. Wood-burning fireplace
with lots of rock work in the Great Room. The large recreation area in the loft can help
with sleep-overs when everyone wants to be in Grand Lake. Elevated ceilings in most
every room. Detached garage. Clubhouse with pool privileges. Totally furnished with
impressive log furniture, turnkey. $469,900
Thursday, September 8, 2016: here's the one you have waited for all these years:


Lakefront living in a Cozy Log Home along Grand Lake's South Shore.
Easy access from a paved road, far from the sounds of the highway.
Boat house with party deck. 3 bedrooms, 3½ lovely baths plus laundry room.
Built in 2006 by craftsmen with the best techniques and materials
Boathouse and lakefront design can not be duplicated with current regulations.
$1,675,000

Grand new home with lake and meadow views.
Spacious Great Room. Master suite on upper level.1700 sq. ft. plus heated double garage plus upper deck.
3 bedrooms, 2 baths. Custom log work, wood-finished ceilings and fine wood floors.
Quality construction throughout; start enjoying almost maintenance free for years ahead.
On two lots, 7/8th of an acre, with ample room for boats and parking. $460,000

Mountain home midway between
Shadow Mountain Lake and Lake Granby. Master suite upstairs with his and hers baths.
Guest room and half bath on main floor. Mountain Views. Backs up to a summer stream.
1100 sq. ft. plus garage and decks. $269,900

The West Side of Rocky Mountain
National Park has an immense U-shaped, glacial valley that gathers the current for the Colorado River.
This long and verdant valley, The Kawuneeche Valley, broadens as it runs southward beyond The Park.
It runs parallel to Shadow Mountain Lake a short ways to the west on the far side of a low ridge.
One may build a home on the level part of the ridge and have the Colorado River flowing below.
In the afternoon, sunlight makes the river sparkle as one takes in the green valley and National Forest
land rising up and making clouds. 0.63 acre. $99,900 with river music!

Thanks for visiting . . . . . more coming . . . . stay tuned.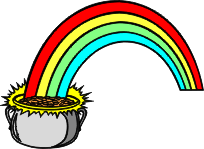 Affordable getaways at the end of the rainbow!



Try your luck or click here » for Keywords to Open the Right Doors in your Search


If you see a property you like, please confirm that it is in the list of actively available properties.
We try to remove oldie goldies, however, the closing process can take months!



Click here for » the online version of our Wish Book catalog.


Click to our Weather Page for recent scenery and wildlife photos.
Mountain Living
Let every weekend be a 4-day weekend! On Thursday afternoon, you are wrapping up
four power days at the office and telling your friends that you are heading that evening
to Grand Lake, two hours away yet worlds apart. You've got your mobile devices and
are ready to work on the bigger picture. Friday morning, you wake up in your mountain
retreat and already .... you are thinking is more clear as you plan ahead and tie neat little bows
on completed tasks. Saturday dawns and you are fully attuned to your alpine environment
and tingling with life. The great outdoors beckons with its newness, immensity and wildlife.
Or maybe you'll just have it out your window or beyond your deck while you enjoy some
private time with your family ... or a neglected hobby ... or a book. Saturday afternoon or eve,
you are ready to hobnob with some of the other lucky fellows enjoying their extended weekend.
Dine at a restaurant, walk the boardwalk, do some shopping, cruise by the beach ....
remind yourself to have your boat ready (even if its just a kayak) for Sunday.
Sunday morning you do some outdoor church time. Now your head is really stuffed
with plans. You get a head start on them on Sunday eve and then sleep like a rock.
Early Monday morning, you zip back to work ready to hit the floor running.
Traffic is not an issue and everyone is amazed with how much you get done ...
and how young you look!


Try your luck or Click here » for Keywords to Open the Right Doors in your Search


Great Lakes of the Rockies

Grand Lake

Shadow Mountain Lake

Lake Granby

---
.. to MainMenu .. Homes .. Land .. Commercial .. or .. to top of this page

Enter the MOSAIC and be Teleported

© Text & Structure of this site is Copyrighted 5/1/96.