What's New!
Spacious retreat on an acre of land,
close to snowmobile trails into town and dog-friendly Recreation District land. Enjoy your mountain bike
and follow the trails to the Colorado River. By car, Rocky Mountain National Park is just a mile away.
Stop at Sloopy's and then with shakes and more, and head into The Park and watch for elk and moose!
You'll love the Great Room for entertaining and a smaller fireplace room for quiet conversation.
Two bedrooms plus large loft sleeping area, two baths. Walkout lower level can be finished as
a large rec room with an adjoining bedroom and a full bath. $439,000
Grand View Villas
condominium in town with big views of Shadow Mountain Lake. River rock gas fireplace,
wood finished ceilings, 2 bedrooms 2 baths all on one level. Lake views from each bedroom.
910 sq. ft. plus large covered deck. Beautifully appointed inside, $219,000 furnished, turn key.

On Columbine Lake with boat dock. 62 feet of lake frontage! Large stone fireplace.
Step into the 1970's! 3 bedrooms, 2 baths, orange shag carpeting.
Located a couple of blocks from the clubhouse with heated pool.
To assist in cost of updating, price now reduced from $499,000 to $469,900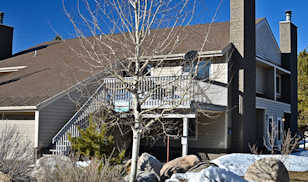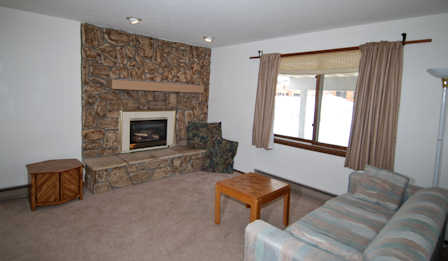 Townhome in Grand Lake Village
with no one above or below you. Short walk to lakes, shops and restaurants. Moss rock natural gas fireplace.
Two bedrooms, 2½ baths. 1000 sq. ft. of living space plus attached garage, carport and deck.
Outside stairway to private balcony off master suite. Views of Mount Baldy from the deck.
Neighbors say, "Watch for the moose parades! They love this area." $225,000

New photos added: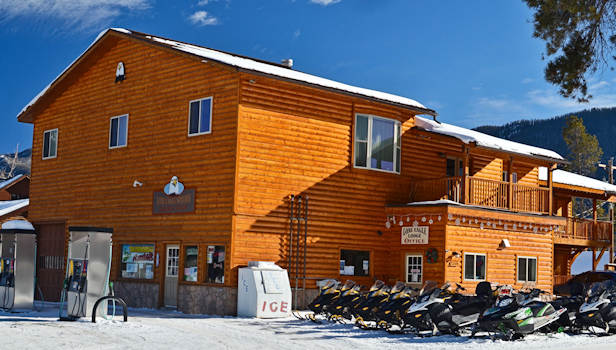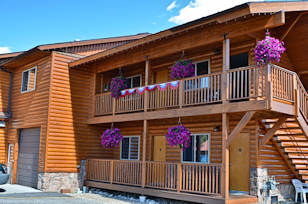 Log-sided Motel Lodge, Gas Station
with full service bay and convenience store.Three spacious apartments plus 17 nightly rental units.
Everything is meticulously upgraded and maintained with mountain living charm.
Main street location in the heart of Grand Lake Village. Most of the units are ground level with
ample parking by the door and enough covered space in front of each unit to create a private-feeling
porch that that gives one protection from the weather and keeps the building's log siding out of the elements.
Part of the exterior wall extends out & folds back in to create corner nooks inside and outside. $1,695,000



131 acres of alpine meadow with winding brooks and lush hay fields tucked in the heart of Colorado.
The property comes with a comfortable two bedroom year-round home for your family plus guest cabins
for extra income. After honoring the rentals for this year, consider letting those be accommodations for
extra help, family and friends or continue to rent the cabins as you wish to paying guests.
Create a Dude Ranch! Offer a stable and a place to ride for people who own horses, llamas, ponies ...
The whole package with the 131 acres, 3 cabins and valuable water rights is only $988,000.

From September into October we go . . .


Home on an acre overlooking Lake Granby with wide windows taking in the views.
Two bedrooms, one bath. New paint, carpet, flooring. Large detached, insulated and heated garage.
This site was selected by the family decades ago. The tiny Christmas trees they planted
have become a northern forest! Lakeside or forest side, your kids will love them both.
$239,000


Wednesday, September 28, 2016: new photos added to the following:

Aspen Pine Estates!
Wooded two acre parcels, ten minutes northwest of Grand Lake Village in an area frequented by wildlife.
Tucked away in a pocket of private lands between National Forest (for hiking with dogs, riding ATV's,
side-by-sides and snowmobiling) and Rocky Mountain National Park (where one may enjoy fishing,
hiking, peace and quiet). Ownership comes with a membership granting access to private stocked Sun Valley Lake.
$150,000

Monday, September 26, 2016: sunny 'n dazzling with mists rising over the lakes and vanishing.
New photos added to the following along with links to a home on adjoining land that
one could buy and use for several years while one's dream home slowly materializes.

9.3 acres west of
Shadow Mountain Lake and bordering the southern reach of 500 acres of dog-friendly
Recreation District land. Perched on a somewhat level mesa with curious lily ponds
and a variety of aspen, pine and grasses. Ready to build on with a long driveway set
and many trees removed. $199,900


Sunday, September 25, 2016 with the mountain tops trying out new winter coats.
Just added:

Brand new, 4 bedroom, 3½ bath home
in town with lake and mountain views. Workers are busy completing the interior. The home will have wood floors
on its main level, alder doors and trim. Carpeting on the upper level. Granite countertops. Two decks. $449,000


Mountain Shadows home
with views of Lake Granby. Great Room with high ceiling and stone fireplace. 3 bedrooms plus sleeping loft,
Large rec room on upper level baths. Master suite on main level with Japanese soaking tub. Large rec room
on upper level on upper level has room for office and crafts. 2860 sq. ft. plus garage and decks. Furnished at $699,000.


Level acre of land in the beautiful Trail Creek Valley
with fine mountain views across active hay meadows. Price includes well already set. $59,900
Enjoy the sights and sounds of the Colorado River from
this half-acre home site across a private road from a long greenbelt protecting the river.
You have access to a third of a mile for fishing and exploring along the stream;
this stretch in Mountain Meadows is wild and natural. Live through the seasons
with the river accentuating each month in special ways. Select how far up the hill
you would like to build to optimize your views of river, ranch land and mountain.
Drill a well for water. Connect to sewer in the road below you. $87,500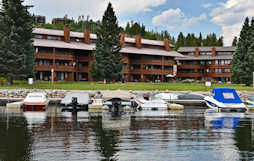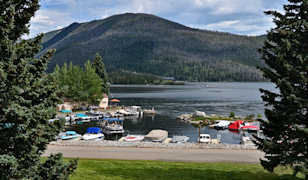 Lakeside living
with mountain views. Top level Shadow Mountain Yacht Club dwelling with a view of one's
dock across a green lawn. Three distinctive bedrooms, three baths. Wood-burning fireplace
with lots of rock work in the Great Room. The large recreation area in the loft can help
with sleep-overs when everyone wants to be in Grand Lake. Elevated ceilings in most
every room. Detached garage. Clubhouse with pool privileges. Totally furnished with
impressive log furniture, turnkey. $469,900
Thursday, September 8, 2016: here's the one you have waited for all these years:


Lakefront living in a Cozy Log Home along Grand Lake's South Shore.
Easy access from a paved road, far from the sounds of the highway.
Boat house with party deck. 3 bedrooms, 3½ lovely baths plus laundry room.
Built in 2006 by craftsmen with the best techniques and materials
Boathouse and lakefront design can not be duplicated with current regulations.
$1,675,000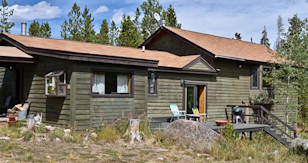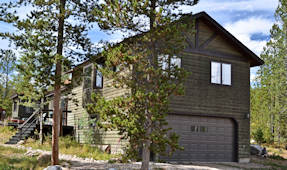 Home on FOUR ACRES of useable
property bordering hundreds of acres of Recreation District land. Two miles from Grand Lake Village.
3-4 bedrooms, 2½ baths. Some of the rooms have wood ceilings and walls. Living room, rec room and kitchen
all have raised ceilings. Big heated garage. Redwood deck. In the winter, one can cross country ski directly
onto Nordic ski trails and head to the Sly Fox Restaurant by the Golf Course. $369,000
Grand new home with lake and meadow views.
Spacious Great Room. Master suite on upper level.1700 sq. ft. plus heated double garage plus upper deck.
3 bedrooms, 2 baths. Custom log work, wood-finished ceilings and fine wood floors.
Quality construction throughout; start enjoying almost maintenance free for years ahead.
On two lots, 7/8th of an acre, with ample room for boats and parking. $460,000

Mountain home midway between
Shadow Mountain Lake and Lake Granby. Master suite upstairs with his and hers baths.
Guest room and half bath on main floor. Mountain Views. Backs up to a summer stream.
1100 sq. ft. plus garage and decks. $269,900

Tri-level getaway in the only townhomes
built along Lake Granby's vast shoreline. The Great Room has an attractive corner fireplace as does the
Master Bedroom suite on its own upper level. The walkout lower level has two bedrooms and a full bath.
The garage has cabinets along both sides for storing seasonal items. In the deep winter, one can snowmobile
directly onto the lake; see everything from a new perspective and try ice-fishing. 1800 sq. ft. plus garage. Furnished $395,000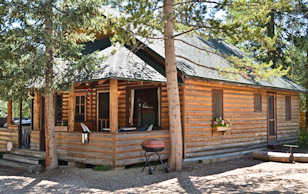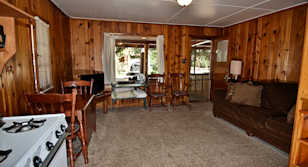 Lemmon Lodge area, prime lake
and river access in the heart of Grand Lake Village. $229,000 for half of a mountain duplex:
furnished one bedroom getaway with community private access to a crescent beach on Grand Lake
and to where the North Inlet stream meets Grand Lake. Located a block from boardwalk shops and restaurants!
$229,000 furnished.


Live over the water! Three bedroom Boathouse on Grand Lake in immaculate condition,
ready for your family to move in and enjoy. Live where earth, water and sky paint a vast picture
every hour in tune with the seasons! Amazing view of The Never Summer Mountains reflected in Grand Lake.
Summer cabin with three bedrooms, one bath and Great Room on one convenient level with a wraparound deck.
Like-new boat dock. Three enclosed bays, two for small boats, one for a larger boat.
$1,098,000 (paved access to upper entrance)
Log Chateau on a hill with panoramic
lake and mountain views. Lodge style Great Room with massive see-through fireplace sending its glow into the
living and dining areas.Large recreation room on walkout lower level with wide views and an adjoining media room.
Luxurious master suite. Versatile floor plan for accommodating guests and storing seasonal items.
Expansive deck for dining, relaxing .. hot tubbing ... Three-quarter acre of land close to lakeside parks,
boat launches and trails to the sky. Over 5000 sq. ft. plus garages and expansive deck. $995,000
Make it your castle on a hill overlooking a lake framed by mountains.

The West Side of Rocky Mountain
National Park has an immense U-shaped, glacial valley that gathers the current for the Colorado River.
This long and verdant valley, The Kawuneeche Valley, broadens as it runs southward beyond The Park.
It runs parallel to Shadow Mountain Lake a short ways to the west on the far side of a low ridge.
One may build a home on the level part of the ridge and have the Colorado River flowing below.
In the afternoon, sunlight makes the river sparkle as one takes in the green valley and National Forest
land rising up and making clouds. 0.63 acre. $99,900 with river music!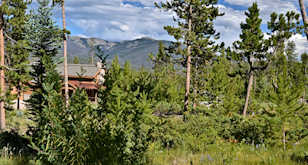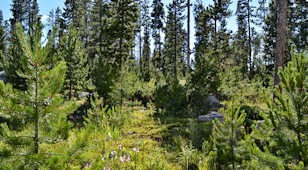 Attractive home site
in Grand View Park with lots of potential for mountain views. 100' x 100' square with
climbing boulders along one side. Easy to build on with buried electric and gas lines
in the road. Drill a well for water. $39,900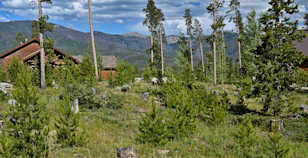 Home site in Grand View Park with views to high peaks that
beckon with trails in the summer and shine like beacons in the winter. Corner site, ideal for a home
with its driveway and optional garage even with the home's main level and a walkout recreation
room on the lower level. Quarter acre. Buried electric and gas lines. Drill a well for water. $29,900

Level acre on the high ridge just west of town towards Golf Course Road.
Property extends from one road to another with fine views towards Mount Baldy. $89,900


Home site on a hill overlooking Lake Granby. Two sites; build on
one and save the other for expansion or resale or use all of the 0.43 acre from the start. Fine views
to National Forest lands to the west where one may have been to treeline by snowmobile!
Lake Forest 1st Add: Lot 1, Block 2 (north & south halves) : $68,000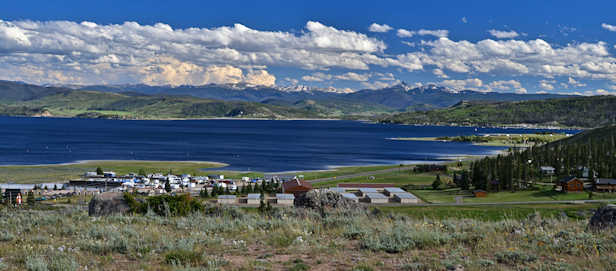 17 ACRE hilltop site close to Lake Granby and in the center of it all.
Your own private hill with panoramic lake and mountain views. Watch the mountains be weather makers along
a great expanse of the Continental Divide from Winter Park to deep into Rocky Mountain National Park.
Fine views also to the west of high tundra and National Forest land for snowmobiling and ATVs.
In the late fall season, you'll be awed as mists rise from the lake at dawn and twirl into a thousand shapes.
Build the home of your dreams with room to spare. $299,000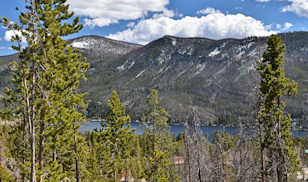 Savor views of both
Grand Lake and Shadow Mountain Lake. Over 4 Acres bordering Rocky Mountain National Park
and just a couple of blocks from Grand Lake's Town Square, shops and restaurants. This is an
unusually large parcel so close to town. It has varied terrain and is close to a rushing stream
and two trails that enter Rocky Mountain National Park. $525,000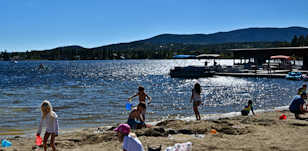 New photos on our weather page every few days

Thanks for visiting . . . . . more coming . . . . stay tuned.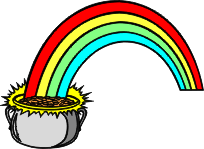 Affordable getaways at the end of the rainbow!



Try your luck or click here » for Keywords to Open the Right Doors in your Search


If you see a property you like, please confirm that it is in the list of actively available properties.
We try to remove oldie goldies, however, the closing process can take months!



Click here for » the online version of our Wish Book catalog.


Click to our Weather Page for recent scenery and wildlife photos.
Mountain Living
Let every weekend be a 4-day weekend! On Thursday afternoon, you are wrapping up
four power days at the office and telling your friends that you are heading that evening
to Grand Lake, two hours away yet worlds apart. You've got your mobile devices and
are ready to work on the bigger picture. Friday morning, you wake up in your mountain
retreat and already .... you are thinking is more clear as you plan ahead and tie neat little bows
on completed tasks. Saturday dawns and you are fully attuned to your alpine environment
and tingling with life. The great outdoors beckons with its newness, immensity and wildlife.
Or maybe you'll just have it out your window or beyond your deck while you enjoy some
private time with your family ... or a neglected hobby ... or a book. Saturday afternoon or eve,
you are ready to hobnob with some of the other lucky fellows enjoying their extended weekend.
Dine at a restaurant, walk the boardwalk, do some shopping, cruise by the beach ....
remind yourself to have your boat ready (even if its just a kayak) for Sunday.
Sunday morning you do some outdoor church time. Now your head is really stuffed
with plans. You get a head start on them on Sunday eve and then sleep like a rock.
Early Monday morning, you zip back to work ready to hit the floor running.
Traffic is not an issue and everyone is amazed with how much you get done ...
and how young you look!


Try your luck or Click here » for Keywords to Open the Right Doors in your Search


Great Lakes of the Rockies

Grand Lake

Shadow Mountain Lake

Lake Granby

---
.. to MainMenu .. Homes .. Land .. Commercial .. or .. to top of this page

Enter the MOSAIC and be Teleported

© Text & Structure of this site is Copyrighted 5/1/96.