What's New!
Jump to Weather Update .. or .. to MainMenu ..
Use your refresh button to get all of the recent updates. Clear your browser's cache. Reload.
We have been busy. Click here to see properties sold in 2015

Seller says this is the best site in Grand View Park!
Gently rising from the road, the building site takes advantage of the amazing mountain views.
No wonder this area is named Grand View Park!Natural boulders add Rocky Mountain character.
Easy to build on with underground utilities close by. Drill a well for water.
Located midway between Shadow Mountain Lake and Lake Granby. $39,900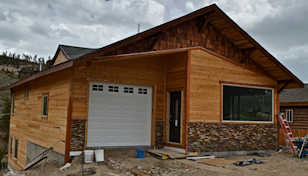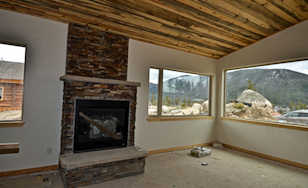 Brand New home in
Grand Lake Village in its final phase of construction. Give your life a boost by living
in Grand Lake's alpine environment! Enjoy mountain scenery around views of Grand Lake.
Attractive wood ceiling, fireplace and lovely kitchen give lots of character.
Over 2000 sq. ft. plus garage. 3 bedrooms, 2 baths. Recreation Room on walkout lower level.
Main level has everything for a couple on one convenient level with a master suite and a half-bath.
Natural gas fireplace. Walk-out recreation room plus two guest rooms and a second bath are on the lower level.
Just a block off main street, enjoy walking to wherever you like to go. $379,000
134 acres of classic Colorado high country:
aspen-lined meadows rising towards snow-capped peaks. The curved contours give depth to the views that
extend up the mountains and high tundra that can be reached by snowmobile almost directly from the ranch.
In the opposite direction, a little more than a mile away. a paved boat launch on Lake Granby beckons on
lazy summer days. From the beginning, you can enjoy comfortable year-round living space for your family
plus guest cabins for extra help, family and friends and paying guests. Rent the cabins out as you wish.
Create a Dude Ranch! Offer a stable and a place to ride for people who own horses, llamas, ponies...
The whole package with the 134 acres, 3 cabins and water rights is only $1,400,000.


Panoramic lake and mountain views from mountain chalet on over 2 acres in a peaceful setting near Lake Granby,
the largest of our lakes.Great floor plan with master suite and guest room separated by Great Room featuring a
grand fireplace and a wall of south-facing windows. Lower level rec room with separate wood-burning fireplace,
guest room on each end. A lake view from each of the four large bedrooms! 2700 sq.ft. plus wraparound deck.
Privately maintained road adds to the privacy. Wildlife love this area. $439,000
Friday, May 8, 2015: just added ... affordable Log Home near Columbine Lake plus
two new lakefront choices. (The 3rd choice below is a lakefront townhome for $399,000).

Log Cabin on two lots across a road
from open space along Columbine Lake. A full vacant lot is included between you and the lake.
Trim out the views to complement your favorite sitting areas. Let kids play adventure land on the
naturally preserved land between you and the lake. 3 bedrooms, 2 baths on 2 levels. $287,000
Lakefront home with Boathouse
on Shadow Mountain Lake, near the channel into Grand Lake. Beautifully finished inside and out
with every location unique and inviting.The grand kitchen opens out to the living room and its
two story fireplace. Beyond is the covered deck with water lapping along the shore and boathouse.
3 bedrooms plus recreation room and an open loft with office. Double boathouse has lifts and walk
around decking and an extended dock and bulkhead with additional tie offs and boat buoy bumpers
(room for lots of boats). Sandy Beach – water-ski from the beach! Double garage; clean as a whistle.
Log Accents. 3 Plank Hickory Oak Hardwood Flooring. Wolf Range with grill. $1,400,000
Seller financing considered with a large down payment

Waterfront at its closest! Three-level lakeside
townhome at The Harbor, with fireplace in Great Room. 3 bedrooms, 2½ baths ~ ~ Boat slip out in front.
Share about 300 feet along the water ~~ including a sandy beach area. Peaceful setting for vacation home owners;
no nightly/weekly rentals are permitted.Across the water, the protected eastern shore of Shadow Mountain Lake
rises up into Rocky Mountain |National Park, celebrating its 100 year anniversary this year. $399,000 mostly furnished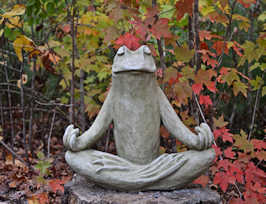 Colorado is blessed with an abundance of rain and snow.
The lakes are full and the streams are just now revving up. When the sun returns,
it will be near its full strength. The plants will love it; creatures large and small
take pleasure amongst the blooms and filigree.

Tuesday, May 5, 2015: just added, more coming .... We got an inch of moisture
in places yesterday with much of it a snowy hail. Everything is turning green!

Stream-side living in a spacious cabin,
close to town, yet far enough away to be in a world of its own. 3 bedrooms, 2 baths. 1400 sq. ft.
plus large deck. River rock fireplace. Leave your windows open in the summer and let the river
share with you its sounds and rhythms. Cabin borders the North Inlet Stream whose watershed reaches
all the way to the Continental Divide with most of it in Rocky Mountain National Park. $469,000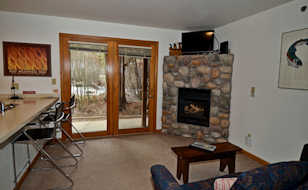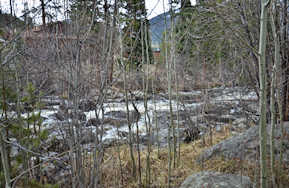 Riverside Living along the North Inlet Stream
in the heart of Grand Lake Village! Charming one bedroom condominium with fireplace. Patio opens
out to the rapids, 30 feet from your door! One private bedroom. For variety or company, fold out a
bed by the gas fireplace and listen to the river. Riverview Condominium #1. $169,000
Overlook the greenbelt and a small stream that naturally flows
from Columbine Lake year-round. The cabin site's long Long east-west orientation creates
interesting morning and evening perspectives through the land. Come up and be amazed
by the rapid transition in the last few weeks from our April photos after the snow had
mostly melted away. Lake and pool and amenities are a short walk away. $59,000

On Golden Pond
by Rocky Mountain National Park. Moose, Elk ... all critters great and small love these
2.4 acres on the edge of Rocky Mountain National Park's wild kingdom. Land is mostly level
and reaches from one private pond to another. Water frontage on two small lakes!
Ranch style home with everything on one convenient level. Patio areas have been expanded
and enhanced to make relaxing in this location as easy as an afternoon nap. Attractive doors,
light fixtures and wood floors. Wood-burning fireplace. The completely redone kitchen has
a new location to serve the patio areas and bring in the views. 1450 sq.ft. Large storage shed
is included. There is ample room for parking and building a garage if needed. 3 bedrooms,
one full bath. There is room for a second bath in the large laundry room. $429,900
Ideal mountain retreat, not too big,
not too small, perfect in every way! Log-sided with log accents. Great Room with fireplace
and raised ceiling. Big covered porch. Wide mountain views. 3 bedrooms, 2 baths. Garage.
4 miles south of Grand Lake in Grand View Park. $279,900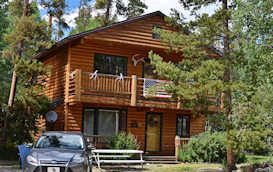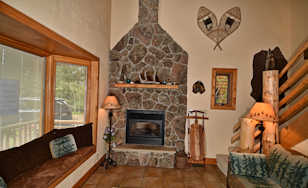 Best of worlds: close to town,
semi-private beach on Grand Lake and river frontage! Log-sided Lemmon Lodge area home
with community shared access to Grand Lake and the North Inlet Stream. Home is a few hundred feet
from boardwalk shops and restaurants. Immaculate 2 bedroom, 2 bath home with huge loft.
Raised ceiling in living room with two story fireplace. $489,000.
Bay window in dining area extends over onto the adjoining vacant lot so that land must be
purchased at the time of closing for another $49,000. That gives you even more possibilities!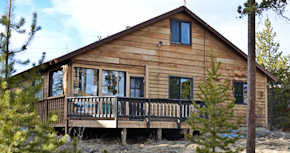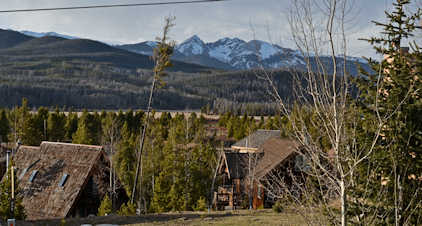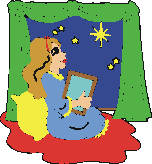 $239,000: 5 bedrooms, 2 baths, sun room plus single garage. Needs TLC. Wood-burning
fireplace in living room. Views of Never Summer Mountains. Enjoy Columbine area's pool,
lake and clubhouse amenities. There was a child whose family would drive into the mountains
for holidays, rest and relaxation. On the upper level, there's a bedroom overlooking the
driveway and road.Beyond the road, and over a valley looms a most magnificent mountain.
It glows with moonlight at night. It catches the first rays of dawn, turns gold and and dazzles
the child with its snowy hair. By noon, clouds roil around the mountain and it disappears from view.
Every day is different. It was not long before the child would ascend the shoulders of the
mountain and bring back memories. A long conversation transpired between the child
and the old mountain out the window.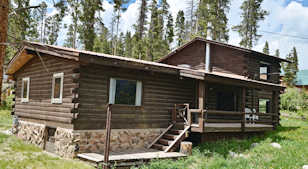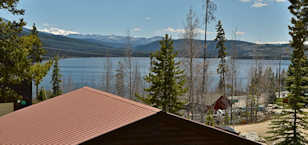 $269,900 for 4 bedroom
Log Home with big lake view, one mile from Grand Lake Village. Wood interior, raised wood
ceilings with exposed beams. Covered porch on the lake side.Price includes a nice large detached
double garage with matching stone finish, on its own lot,protecting your view across the lake and
into Rocky Mountain National Park. Master bedroom suite on the upper level has an adjoining
lakeside room—perfect for an office. Main level has3 bedrooms and a full bath. 1584 sq. ft.
plus garage and decks. Grand Lake's Recreation District lands are 2 blocks to the west, with
dog friendly trails that take you and your furry friends all the way to the Colorado River.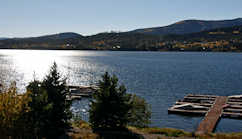 Celebrate the Centennial
of Rocky Mountain National Park in your Lakeside townhome, right by Park hiking trails
along the shallow warm waters on the east shore of Shadow Mountain Lake. Great water
views from all three levels.Warm southwest exposure. From your boat slip, head out into the water …
even cruise over to Grand Lake. Relax by the river rock fireplace in the
Great Room by the large covered deck. Four bedrooms include two master
suites on upper level.2120 sq. ft. plus garage and decks. Close enough to hike
or bicycle to shops and restaurants along Grand Lake's Boardwalk. $559,000
Shoreline Landing 2A: #5. #611 Shoreline. R159430

Friday, April 10, 2015: ... Springtime in the Rockies! The streams are coming alive!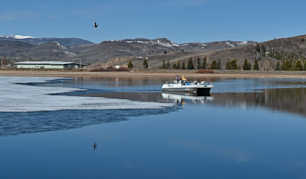 See our weather page for photos of the first boats on Lake Granby.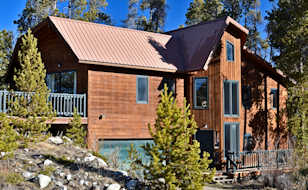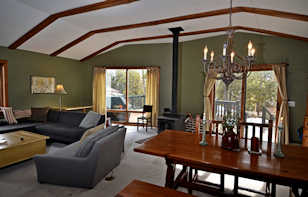 Spacious home in town on
Lakeside Drive with extra large deck and patio areas.Vaulted ceiling in Great Room.
4 bedrooms, 2 baths. 2150 sq.ft.+ garage.Across Rainbow Bridge from a waterfront park.
Ask about boat docking privileges and about buying the adjoining lot. $429,000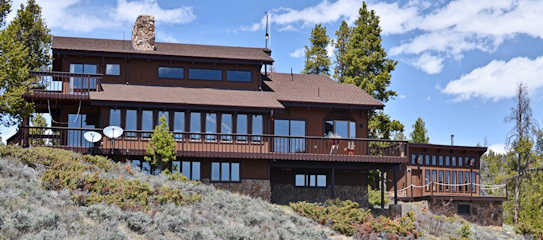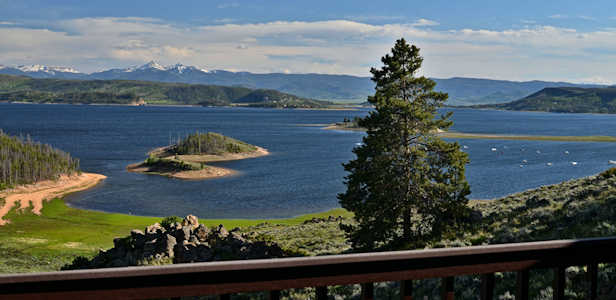 Amazing 6 acres secluded
on a panoramic peninsula overlooking Lake Granby and the snow-covered mountains. Sundeck, sun-room,
Great Room with 2-story stone fireplace.Gourmet kitchen. Fireplace in master bedroom suite.
Main level has 3 bedrooms, 2 baths and laundry area; master bedroom suite and office on upper level.
Inviting recreation room with stone fireplace, bar, fifth bedroom and fourth bath on walkout lower level
by attached double garage/workroom.Discover the separate retreat with wood-fired sauna featuring
Lake and Mountain Views. Picturesque detached barn style garage on the long private driveway. $998,000
March 26, 2014: March gives us a last roar before she ends as a lamb.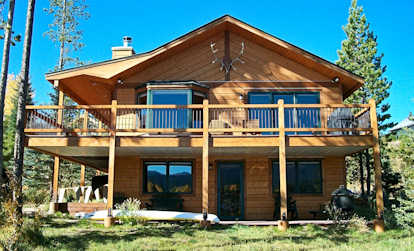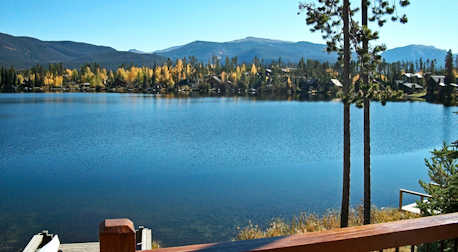 Lakefront home on Columbine Lake.
Gorgeous fireplace, new kitchen and baths, fantastic views. Everything for a base camp that's so fine
you won't want to leave. 4 bedrooms plus rec room. 2000 sq. ft. plus garage and wraparound deck
and patio. $689,000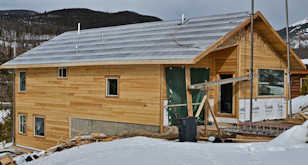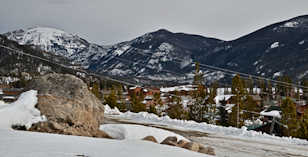 Brand New home in Grand Lake
Village in its final phase of construction. Set up home in a few weeks and give your life a boost with
living in Grand Lake's alpine environment!Make plans now for summer of 2015 to be a big one for
your family's album. Enjoy wide views of mountains wrapping around with views of Grand Lake.
Wood finished ceiling gives lots of character. Over 2000 sq. ft. plus garage. Main level has everything
for a couple on one convenient level with a master suite and a half-bath. Natural gas fireplace.
Recreation room on the lower walkout level is by two more bedrooms and a second full bath. $379,000

The following Lakefront homes may now be within your reach: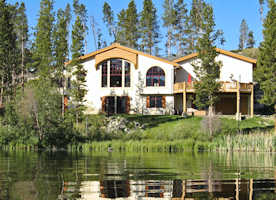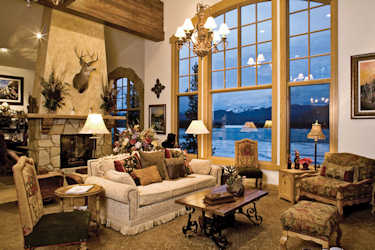 Architect's Lakefront home along the
south shore of Shadow Mountain Lake. Quality in every detail imbues the home and raises
one's senses. Dramatic windows ... hand-painted open beams .. a walk-around double-sided fireplace
that looks grand from every angle. Over 5000 sq. ft. of interior space plus heated triple garage and decks.
Low maintenance European Chalet design. Paved access, community utilities. Year-round comfort
and convenience. 5 bedrooms, 3½ baths. Exquisite interior: natural stone flooring, granite counters,
premium appliances. $1,989,000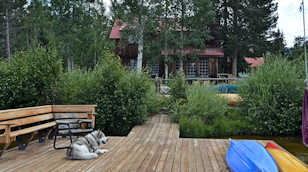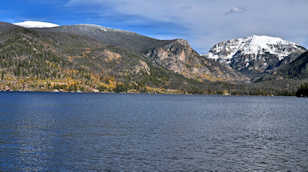 If you were the first pioneer
coming to Grand Lake and you could settle anyplace along the water, which location would
you select? In the 1880's, the firsthomes and hotels were built on this western shore.
By Grand Lake: historic bark-sided home with guest cabin. Level walkways
to both homes, to lake and dock. Postcard views of Mount Baldy from a peaceful cove
near the southwest corner of Grand Lake. Log beams, fine wood finish in living room.
Detached guest cabin has one bedroom, bath, living room and its own kitchen.
Boat dock with slip and seating area, all in great condition. $999,000
Move in and add start enjoying right away. Get to know the home and take your time
using the price savings to customize the home as you wish.

Thursday, March 12, 2015: tap into Colorado's alpine environment at your dream home site: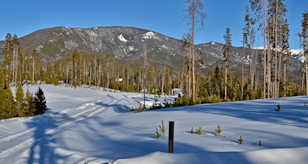 Four peaceful acres in Mountain Shadows. The lightly treed land
is almost level. A seldom used road wraps around three sides of the property. A short walk takes one
to a community greenbelt that borders the fishing canal. Continue along the canal, watch for osprey
and arrive at Shadow Mountain Lake close to Rocky Mountain National Park and Colorado River trails. $99,000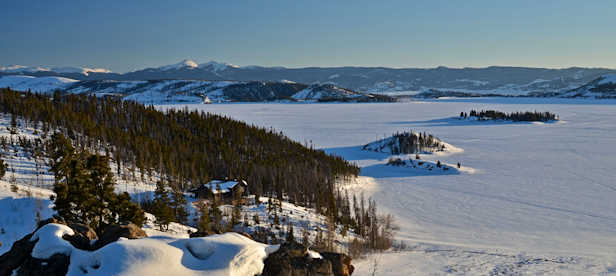 Lake view site poised at the top of an outcrop overlooking
Lake Granby. 4.43 acres in Mountain Shadows. The shoreline below is undeveloped National Recreation
Area land. Mountain views to the west into Arapaho National Forest. $165,000
more coming .... check back in a few ....



new scenery photos are on our Weather page.

Wednesday, February 25, 2015: ... powder snow all around!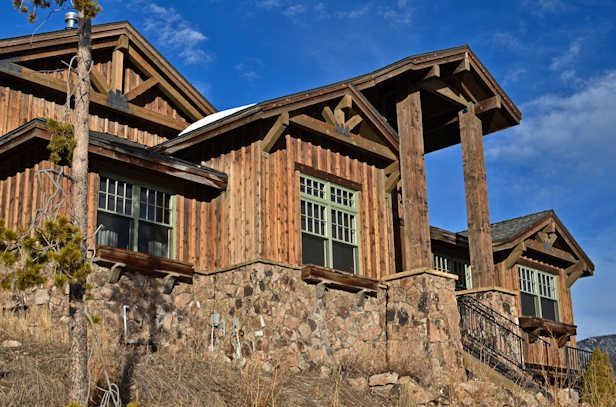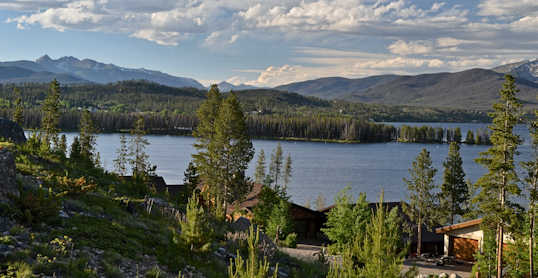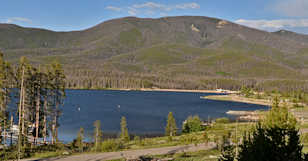 Extraordinary home with Lake and Mountain Views. Top of the line with three distinctive levels and
an elevator. From the decks and windows one can see one's company enjoying the fishing canal or the
nearby paved boat ramp. 5-6 bedrooms, 5½ baths. Media room plus exercise room, both with lake views.
4900 sq. ft. plus double garage and large decks. $1,199,000

Friday, February 20, 2015: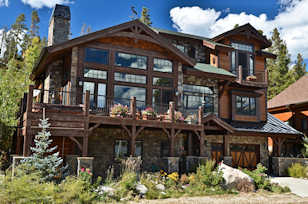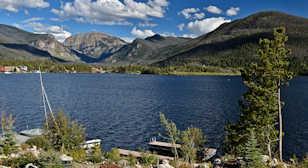 Fabulous custom home on
Shadow Mountain Lake with perfectly framed views of Mount Baldy. Post and Beam design
with stonework, arched front door and lots of windows to bring in the views across the lake of
Rocky Mountain National Park. Furnished with every amenity plus a centrally located elevator
to lift you to the home's three distinctive levels. Your private boat dock has a landscaped patio
for you to relax and drink in the views. Boat under Rainbow Bridge into Grand Lake and tie up
at the public docks while you enjoy dining, shopping and theater.Center level features a Great Room
with fireplace, dining area and gourmet kitchen. Master bedroom suite is on its own upper level
with fireplace, luxurious his and hers baths and indoor and outdoor balconies. Walk-in level
guest suite plus bunk room, entry area, garage and Summer Garden Picnic Area.
Sellers have impressive rental records. $1,459,000

Friday, February 13, 2015: ... just added, more coming, thanks for tuning in ...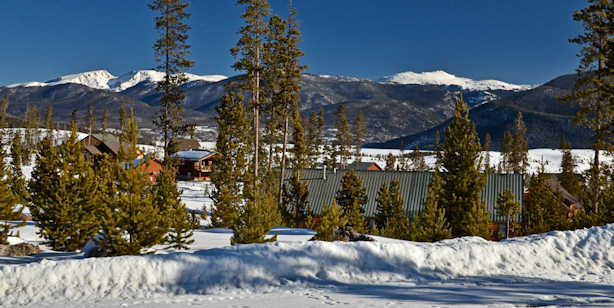 Level site at the end of a quiet cul-de-sac with lake and mountain views.
The home site borders 2.4 acres of open space that is nicely treed and has a picnic area. Easy to build on
with underground utilities ready to tap into. Drill a well for water. $49,000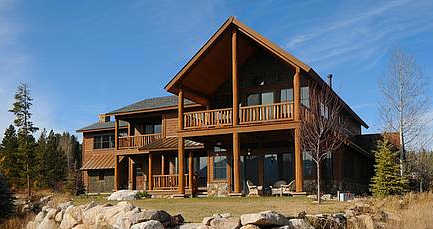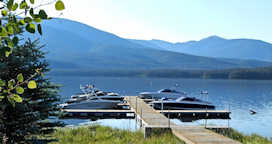 By Shadow Mountain Lake! Well-appointed home with a boat slip several hundred feet away.
Alderwood floors, trim and doors, Wolf appliances, cherry cabinets, granite countertops, hand-crafted
built-in chests of drawers, lots of storage. Great room with fireplace opening onto the patio is ideal
for entertaining.Master bedroom suite has its own fireplace, coffee bar and an elegant bath with heated floors.
Unique dry stack stone work inside and out. $1,525,000 (new photos added of architect's home)





Try your luck or click here » for Keywords to Open the Right Doors in your Search


Click here for » the online version of our Wish Book catalog.


Click to our Weather Page for recent scenery and wildlife photos.
Mountain Living
Let every weekend be a 4-day weekend! On Thursday afternoon, you are wrapping up
four power days at the office and telling your friends that you are heading that evening
to Grand Lake, two hours away yet worlds apart. You've got your mobile devices and
are ready to work on the bigger picture. Friday morning, you wake up in your mountain
retreat and already .... you are thinking is more clear as you plan ahead and tie neat little bows
on completed tasks. Saturday dawns and you are fully attuned to your alpine environment
and tingling with life. The great outdoors beckons with its newness, immensity and wildlife.
Or maybe you'll just have it out your window or beyond your deck while you enjoy some
private time with your family ... or a neglected hobby ... or a book. Saturday afternoon or eve,
you are ready to hobnob with some of the other lucky fellows enjoying their extended weekend.
Dine at a restaurant, walk the boardwalk, do some shopping, cruise by the beach ....
remind yourself to have your boat ready (even if its just a kayak) for Sunday.
Sunday morning you do some outdoor church time. Now your head is really stuffed
with plans. You get a head start on them on Sunday eve and then sleep like a rock.
Early Monday morning, you zip back to work ready to hit the floor running.
Traffic is not an issue and everyone is amazed with how much you get done ...
and how young you look!


Try your luck or Click here » for Keywords to Open the Right Doors in your Search


Great Lakes of the Rockies

Grand Lake

Shadow Mountain Lake

Lake Granby

---
.. to MainMenu .. Homes .. Land .. Commercial .. or .. to top of this page

Enter the MOSAIC and be Teleported

© Text & Structure of this site is Copyrighted 5/1/96.