Affordable getaways at the end of the rainbow! What's New!
Free-standing gas fireplace in living room.
Nice floor plan for a family. Affordable 3 bedroom, 2 bath home with storage building and fenced back yard,
midway between Grand Lake and Granby. $285,000 Click on images for a tour inside and around the home.

$235,000 for lake view fixer-upper
along the highway by Lake Granby. 3 bedroom, 2 bath Log home with panoramic lake views.
Located across from Rainbow Bay and Sunset Point Boat Launch, close to a popular fishing area.

In a grove of aspen near Lake Granby,
this older home does have personality! Wood-burning fireplace in cozy living room. Master suite on main level.
Upstairs: charming miniature play loft, music room/office and guest bedroom with bath.
Deep garage with entrances from front road or back road. $295,000

Seller financing is available for this home site close to Shorewood Park,
near the edge of hundreds of acres of dog-friendly Recreation District lands which extend all the way
to the Golf Course and the Colorado River.Drill a well for water. Connect to public sewer and natural gas
and have the architectural review committee look over your plans when you are ready to build.
County plowed road. $39,000

9.3 acres west of
Shadow Mountain Lake and bordering the southern reach of 500 acres of dog-friendly
Recreation District land. Perched on a somewhat level mesa with curious lily ponds
and a variety of aspen, pine and grasses. Ready to build on with a long driveway set
and many trees removed. $199,900
Free-standing gas fireplace in living room. Nice floor plan for a family.
Affordable 3 bedroom, 2 bath home with storage building and fenced back yard, midway between
Grand Lake and Granby. $285,000

Mountain Cabin near Lake Granby with
big wood-burning fireplace in Great Room. Bedroom and bath on main level. Two more bedrooms
with a bath in one of them, upstairs off the walkway. Covered porch. $319,000

You'll love the wide views of both Grand Lake and Shadow Mountain Lake from many
of the rooms of this brand new home, just now being finished. Master suite on main level,
three more bedrooms on upper level, two designed as suites. 8 foot wide picture windows,
bringing in the views from the east to the southwest. 3400 sq.ft. plus an extra-deep
900 sq.ft. garage with windows. Easy-to-walk-to, in-town location! $669,000

Seller financing is available to help you to purchase this home site
in Grand View Park with views of forested mountains rising to the east in Rocky Mountain National Park.
Level, ready to build upon with all utilities along the road frontage. Quarter acre . . . .
Grand View Park: Lot 43. $33,000 Also available for just $33,000: quarter acre,
inner Lot 45 along the cul-de-sac. (Seller says that he will look at any reasonable offer.)

Just a couple of blocks south of Grand Lake, this aspen-covered
Villa Harbor home site has fine views across Shadow Mountain Lake and deeper in Rocky Mountain
National Park to Mount Baldy. Ready to build on with a paid sewer tap. $99,000
Shadow Park West condominium
overlooking our town and Grand Lake. Wood-burning fireplace. Master suite with half bath
plus a guest bedroom and hall bath. $199,000 mostly furnished.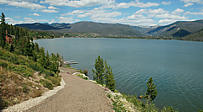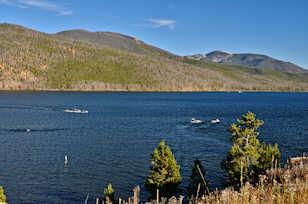 Moose Ridge: Lakeside home sites
with protected views across the lake of Rocky Mountain National Park—a shore that will never be built on.
Expansive views from the north end of Shadow Mountain Lake to the islands at the south end!
Driveway to the footprints and access road to the water's edge are in; community water
and sewer are to the sites; just pay the sewer tap when you are ready to build. 1˝ miles south
of Grand Lake Village; go by boat in the summer and by snowmobile in the winter!
Each site is $595,000 - you get the first choice!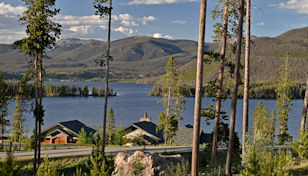 Exquisite view site in The Shores of Shadow Mountain. Birdwatchers' will delight
in this 6/10th of an acre cupped like a bowl with panoramic lake and mountain views. A paved road wraps up and
around on three sides. Home site is a short walk from year-round open water on Shadow Mountain Lake and a
paved boat launch. One can travel to Grand Lake by boat from Shadow Mountain Lake. $295,000

From the covered deck, one has panoramic views with Mount Baldy centered across the length of Shadow Mountain Lake.
The view changes by the hour and day. Across Lake Kove Drive, one can see one's boat dock in a small community
of 5 docks and a lakeside picnic area. Step into the Great Room and see the tall fireplace and impressive open beam design;
lovely kitchen and half bath are on this level. Two bedrooms, 2 baths on middle floor plus an interior stairway to the
finished garage with another half-bath. Only five owners in this association; fee is $200/month for this well-kept building.
$489,000 furnished/ turn key.

Enjoy the sights and sounds of the Colorado River from
this half-acre home site across a private road from a long greenbelt protecting the river.
You have access to a third of a mile for fishing and exploring along the stream;
this stretch in Mountain Meadows is wild and natural. Select how far up the hill
you would like to build to optimize your views of river, ranch land and mountain.
Drill a well for water. Connect to sewer in the road below you. $79,500
Listen to the river and follow her rhythms through each month of the year.
Join in the grand symphony as the seasons change around Grand Lake, Colorado.


Thanks for visiting . . . . . more coming . . . . stay tuned.

Try your luck or click here » for Keywords to Open the Right Doors in your Search


If you see a property you like, please confirm that it is in the list of actively available properties.
We try to remove oldie goldies, however, the closing process can take months!



Click to our Weather Page for recent scenery and wildlife photos.
Mountain Living
Let every weekend be a 4-day weekend! On Thursday afternoon, you are wrapping up
four power days at the office and telling your friends that you are heading that evening
to Grand Lake, two hours away yet worlds apart. You've got your mobile devices and
are ready to work on the bigger picture. Friday morning, you wake up in your mountain
retreat and already .... you are thinking is more clear as you plan ahead and tie neat little bows
on completed tasks. Saturday dawns and you are fully attuned to your alpine environment
and tingling with life. The great outdoors beckons with its newness, immensity and wildlife.
Or maybe you'll just have it out your window or beyond your deck while you enjoy some
private time with your family ... or a neglected hobby ... or a book. Saturday afternoon or eve,
you are ready to hobnob with some of the other lucky fellows enjoying their extended weekend.
Dine at a restaurant, walk the boardwalk, do some shopping, cruise by the beach ....
remind yourself to have your boat ready (even if its just a kayak) for Sunday.
Sunday morning you do some outdoor church time. Now your head is really stuffed
with plans. You get a head start on them on Sunday eve and then sleep like a rock.
Early Monday morning, you zip back to work ready to hit the floor running.
Traffic is not an issue and everyone is amazed with how much you get done ...
and how young you look!


Try your luck or Click here » for Keywords to Open the Right Doors in your Search


Great Lakes of the Rockies

Grand Lake

Shadow Mountain Lake

Lake Granby

---
.. to MainMenu .. Homes .. Land .. Commercial .. or .. to top of this page

Enter the MOSAIC and be Teleported

© Text & Structure of this site is Copyrighted 5/1/96.