What's New!

Beautifully upgraded Soda Springs Ranch Club condominium. Kitchen and dining areas
have been opened up and flow nicely into the living room with its attractive free-standing gas stove.
Views over a big meadow to Lake Granby and Byers Peak. Two bedrooms, 1½ baths.
1150 sq. ft. plus garage. $189,000

Half-acre with pastoral views just off paved Road 4, one mile from
Lake Granby and a mile from National Forest trails. In the winter, one can take a snowmobile adventure
all the way to Grand Lake and back. Gently sloped, lightly treed. Fine view to Gravel Mountain
and its snowy mantle. Seller is open to an exchange in the Apache Junction area of Arizona. $49,000
Grand View Villas condominium,
in town with an appealing interior. Turn key with views to Shadow Mountain Lake.
River rock fireplace. Master bedroom suite plus a second bedroom, all on one convenient level.
1000 sq. ft. plus deck and a 260 sq.ft. garage. $225,000 furnished. Under contract, accepting backups!


Log Home in town a couple of blocks from restaurants and the boardwalk to the south
and two "blocks" from to National Park trails to the north. Views of Grand Lake from
the deck and the Great Room. Warm wood finish. 2600 sq. ft. plus garage and deck. $535,000.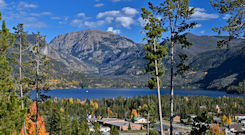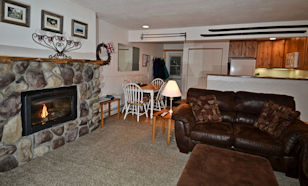 Shadow Park West condominium with
grand views of Grand Lake, Mount Baldy and Shadow Mountain Lake. Ground floor two bedroom,
1¾ bath dwelling with easy walk-in, walk out areas to distinctive Building #10.
Upgraded natural gas fireplace in living room. Over 800 sq. ft. heated. $229,000 mostly furnished.


Lakefront home with Boat House and Sun Deck on Shadow Mountain Lake.
Enjoy views from the north end of the Lake all the way to the islands at the south end.
To the east, Rocky Mountain National Park rises from the far shores of Shadow Mountain Lake.
No one can build along these protected shores or higher up. An enclosed sun porch lets one savor
the views year-round. Great Room has raised cathedral ceilings and a wood-burning fireplace
set in a huge rock wall. Lots of glass on the lake side to bring in the views. $1,400,000

Mountain Shadows home
with views of Lake Granby. Great Room with high ceiling and stone fireplace. 3 bedrooms plus sleeping loft,
Large rec room on upper level baths. Master suite on main level with Japanese soaking tub. Large rec room
on upper level on upper level has room for office and crafts. 2860 sq. ft. plus garage and decks. Furnished at $699,000.
Columbine Lake area home site bordering Rocky Mountain National Park.
Level and ready to build on. All of the desired utilities can be quickly tapped into. Pay water and sewer taps
when you are ready to build. In the meantime, visit your land, enjoy the community clubhouse and pool,
take a paddleboat for two out onto the lake. Your family will love the ambiance of Columbine Lake. $65,000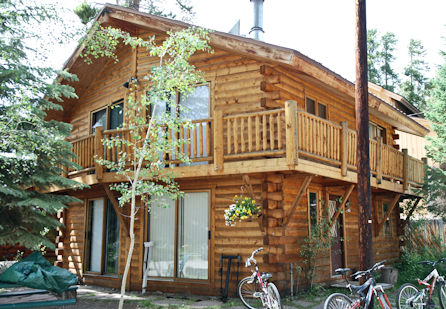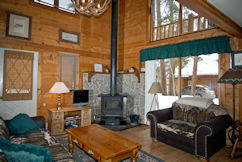 Log Home in a private community
bordering both Grand Lake and the North Inlet Stream. You'll love the scenic fishing point ...
terrific for long afternoons while you and the kids launch kayaks and paddleboards ...
and cook on the grill! Two bedrooms, two baths plus a loft for additional guests (they will come!).
Wood-burning stove in the Great Room enhances the peaceful mountain setting.
Boardwalk Shops and Restaurants are just two blocks away. $569,000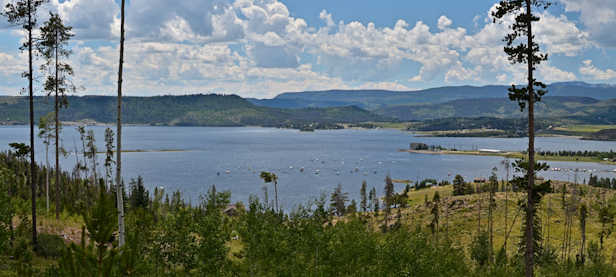 Six acres perched over Lake Granby in Mountain Shadows.
Panoramic Lake and Mountain Views. mix of aspen, pine and ground covers. Ready to build on
with a building pad situated for an infinity pool. Part of the acreage has a long tongue of land that
reaches National Forest land that rolls down to Lake Granby. Create your own
ATV paths within your own property; young children will love it. $215,000 with well already drilled.
When you visit us in Grand Lake, ask for our New Year 2017 Almanac
with a full year of calendar events to keep everyone hopping in Grand Lake!
If you cannot visit us soon along the boardwalk, send an email
to readydonna@gmail.com and ask for a calendar.


Thanks for visiting . . . . . more coming . . . . stay tuned.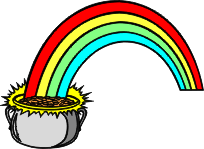 Affordable getaways at the end of the rainbow!



Try your luck or click here » for Keywords to Open the Right Doors in your Search


If you see a property you like, please confirm that it is in the list of actively available properties.
We try to remove oldie goldies, however, the closing process can take months!



Click to our Weather Page for recent scenery and wildlife photos.
Mountain Living
Let every weekend be a 4-day weekend! On Thursday afternoon, you are wrapping up
four power days at the office and telling your friends that you are heading that evening
to Grand Lake, two hours away yet worlds apart. You've got your mobile devices and
are ready to work on the bigger picture. Friday morning, you wake up in your mountain
retreat and already .... you are thinking is more clear as you plan ahead and tie neat little bows
on completed tasks. Saturday dawns and you are fully attuned to your alpine environment
and tingling with life. The great outdoors beckons with its newness, immensity and wildlife.
Or maybe you'll just have it out your window or beyond your deck while you enjoy some
private time with your family ... or a neglected hobby ... or a book. Saturday afternoon or eve,
you are ready to hobnob with some of the other lucky fellows enjoying their extended weekend.
Dine at a restaurant, walk the boardwalk, do some shopping, cruise by the beach ....
remind yourself to have your boat ready (even if its just a kayak) for Sunday.
Sunday morning you do some outdoor church time. Now your head is really stuffed
with plans. You get a head start on them on Sunday eve and then sleep like a rock.
Early Monday morning, you zip back to work ready to hit the floor running.
Traffic is not an issue and everyone is amazed with how much you get done ...
and how young you look!


Try your luck or Click here » for Keywords to Open the Right Doors in your Search


Great Lakes of the Rockies

Grand Lake

Shadow Mountain Lake

Lake Granby

---
.. to MainMenu .. Homes .. Land .. Commercial .. or .. to top of this page

Enter the MOSAIC and be Teleported

© Text & Structure of this site is Copyrighted 5/1/96.