What's New!
Jump to Weather Update .. or .. to MainMenu ..
Use your refresh button to get all of the recent updates. Clear your browser's cache. Reload.
We have been busy. Click here to see properties sold in 2014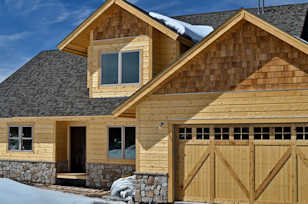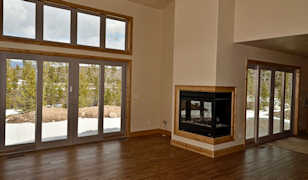 New, just now completed
at The Shores! This is the only new home that is for sale in the Grand Lake area.
Home borders 9 acres of community open space in back that reaches National Recreation Area land.
With ownership you also have private access to 24 acres of open space along the fishing canal
to Shadow Mountain Lake. Located along a paved road in a lovely area with underground utilities near the
Boat Launch at the south end of Shadow Mountain Lake and close to miles of hiking trails
along the lake's east shore and the Colorado River. $629,000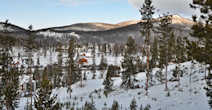 Views of the Colorado River and across the valley
to National Forest land. One third acre. Land spans from upper road to lower road;
you select where to build. Peaceful location away from highway noise. Listen to the River! $39,900
Price reduced due to college expenses plummeting from $48,000 to $39,900.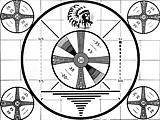 MountainLake.com recently had its domain transferred to a
new Internet Service Provider. There has been some instability with the website
winking in and out of existence. We apologize for the inconvenience and are trying
to get everything working smoothly before we create enhancements for the whole site.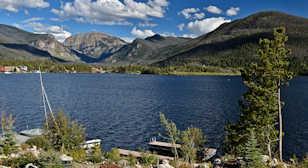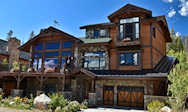 Fabulous custom home on
Shadow Mountain Lake with perfectly framed views of Mount Baldy. Post and Beam design
with stonework, arched front door and lots of windows to bring in the views across the lake of
Rocky Mountain National Park. Furnished with every amenity plus a centrally located elevator
to lift you to the home's three distinctive levels. Your private boat dock has a landscaped patio
for you to relax and drink in the views. Boat under Rainbow Bridge into Grand Lake and tie up
at the public docks while you enjoy dining, shopping and theater.Center level features a Great Room
with fireplace, dining area and gourmet kitchen. Master bedroom suite is on its own upper level
with fireplace, luxurious his and hers baths and indoor and outdoor balconies. Walk-in level
guest suite plus bunk room, entry area, garage and Summer Garden Picnic Area.
Sellers have impressive rental records. $1,599,000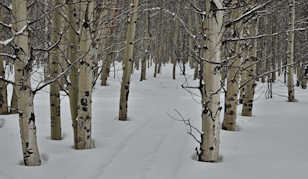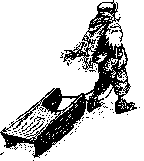 April Sledding and Aspen snowscapes are on our weather page.

Sunday, March 30, 2014: ...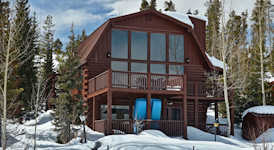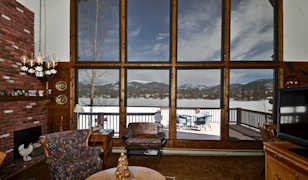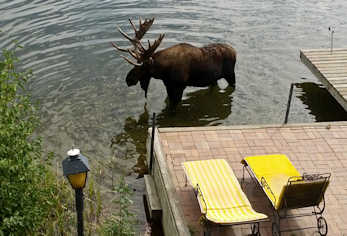 Lakefront Log Home
with boat dock on Columbine Lake. Panoramic lake and mountain views, including "Mount Baldy". Great Room
has a wall of glass for lots of sunshine and natural lighting, a gas fireplace and a high ceiling.
Country style kitchen. 4 bedrooms, 2.5 baths plus laundry area. 2230 sq. ft. plus great decks and
spring form boat dock. From the road, this charming home is hidden behind tall evergreens. $579,000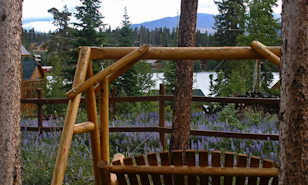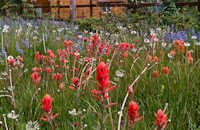 Lake view site on a quiet cul-de-sac
near Columbine Lake. Large and flat, easy to build on. Summer photos from the owner
show wildflowers carpeting the land. $89,000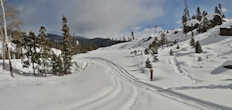 $49,000 to 59,000. Make an offer! Two adjoining
home sites tucked away along Tunnel Road in Grand Lake Village. Each site is approximately
one third of an acre. Short walk from shops and restaurants yet hidden along a paved back road
into town.Across the road to the northwest is a conservation easement (a no build zone)
enjoyed by wildlife and another large acreage to the northeast.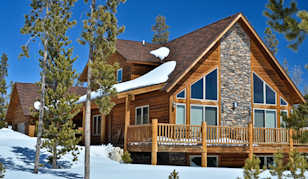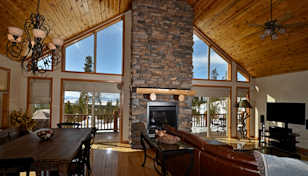 Bright and cheery Great Room
with two story fireplace, lots of glass and views to Lake Granby. Wood ceilings and floors,
log accents, granite countertops. Attractive breezeway from the home to the heated detached
double garage. Spacious loft with master bedroom suite on the upper level. Two bedrooms
on main level. Big recreation room with two bedrooms and bath on its own level.
Over 3000 sq. ft. of heated interior space with 5 bedrooms, 3 baths plus laundry room.
3/4 of an acre, gently sloped. $525,000
Saturday, March 29, 2014: ... thanks for tuning in! Lots of updates coming very soon.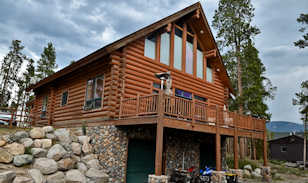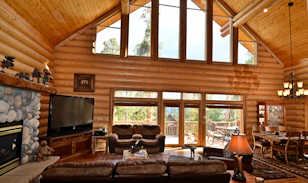 Grand Log Home: huge Great Room
with vaulted ceiling and stone fireplace. Fine kitchen and baths. 2600 sq. ft. plus deck and double garage.
3 bedrooms, 3 baths, (bed and bath on each level). Home is a couple hundred yards from the fishing canal,
great for dog walks. Gazebo in back has a hot tub and lots of privacy towards a 26 acre tract in back.
Lake and mountain views through the trees from the home's 0.86 acre of land. $529,000


Panoramic Lake and Mountain Views across
three lots. Fantastic view of The Continental Divide, all very affordable. Almost 3/4 of an acre.
Drill a well for water, plan for septic system and say goodbye to water and sewer bills.
Located by the southwest end of Lake Granby, by Rainbow Bay, a paved boat ramp
and a popular fishing area year-round.In the heart of the Rockies and everything Grand,
90 minutes from the edge of Denver and 30 minutes from Winter Park. Seller Financing. $59,900
Wednesday, March 26, 2014: ...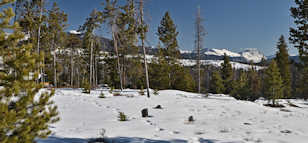 Home site in the Timberlane Heights community. Level,
easy to build on with views to the Continental Divide through the trees. Land is a short walk from
the misty fishing and pump canal ~ great for fishing and hiking. Quarter acre. Lot 6, Block 5. $29,500

Sunday, March 23, 2014: just added ...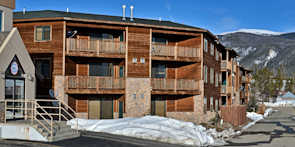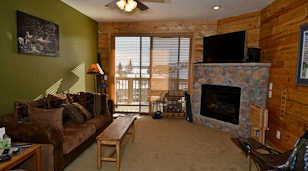 Lakeview condominium in
Grand Lake Village with river rock fireplace. Great Room, two bedrooms, two baths all on one level.
Lake views from the master bedroom suite, Great Room and deck. The sunny southwest facing balcony
looks over a town maintenance area and beyond with wide views of Shadow Mountain Lake and Byers Peak.
Attractive wood finish near the gas fireplace. Short walk to Boardwalk and lakeside parks and fishing. $159,900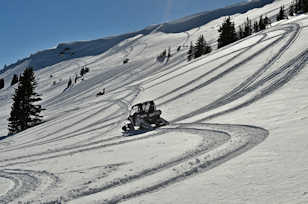 Click here for many more mid-March scenes on our weather page
of the high country west of Grand Lake. Winter Park Ski Area is well on its way to being blessed
with 365"of snow for the 2013-2014 season. This coincidence with the number of days in a year
happens often enough that one can buy T-shirts celebrating the 365 inches. The snow is piled up
like giant dollops of whipped cream. We have mountains of snow and more is coming.
Click here for snow tracks below the crest of Gravel Mountain that may remind you of
fabulous play areas for dune buggies! Scroll through the photos and watch for the fairy-like
approach to the White Cliffs of Dover! We had the opportunity to test-drive a side-by-side ATV
outfitted with tracks for over-the-snow travel. The tracks need not come off in the spring.
For less than half the cost of a snowmobile, you can have 4-season year-round use of your ATV
or UTV (side-by-side).It's like micro-Snow-Catting. Have your very own snowcat skiing and sledding.
Have a picnic at 11,000 feet! Relish being at the upper edge of a rich and green alpine forest.
From the huge jamboree grounds, you'll love the sweeping views of The Continental Divide and our Three Great Lakes.


Thursday, March 13, 2014: just added, more coming ...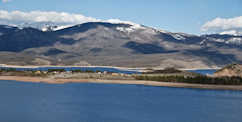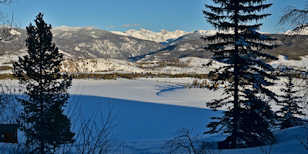 Panoramic lake and mountain views
from secluded home site bordering National Recreation Area land on Table Mountain (great for short and
spectacular hikes and picnics). Gently sloping with access from a privately maintained cul-de-sac.
When you are ready to build, plan to drill a well and install a septic system. Close to miles of public beaches
and to the Sunset Point boat launch at the south end of Lake Granby, the largest of our lakes.
Fine views of Abe Lincoln lying in repose along the Continental Divide. $99,000
Monday, March 10, 2014: just added, more coming ....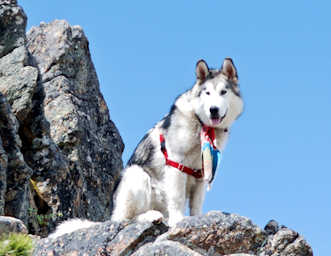 Your very own private mountain top
like location in the heart of the Great Lakes of the Rockies. Panoramic lake and mountain views plus
million year old rock formations! Interesting saddle setting for your dream home. $159,000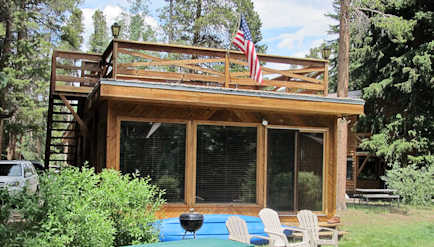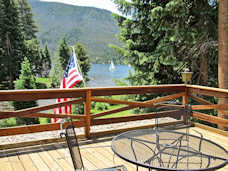 Riverside cabin by community open
space that borders both Grand Lake and the North Inlet Stream! Level, landscaped area with
crescent beach, fishing point and lots of tall evergreens. In town yet secluded and private feeling.
Short walk from Boardwalk shops and restaurants. The cabin is shaped like a house boat with a
large sun deck on top with lake and mountain views.Rich wood finish throughout inside.
Updated kitchen. Two bedrooms, one bath. $599,000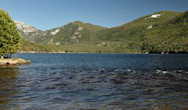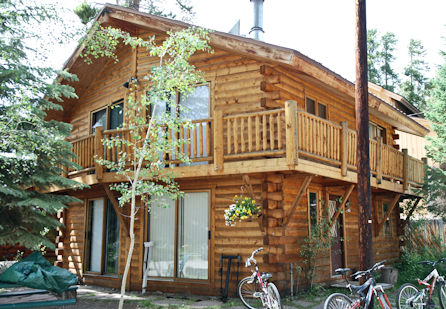 Log Home in a private community
bordering both Grand Lake and the North Inlet Stream. You'll love the scenic fishing point ...
terrific for long afternoons while you and the kids launch kayaks and paddleboards ...
and cook on the grill! Two bedrooms, two baths plus a loft for additional guests (they will come!).
Wood-burning stove in the Great Room enhances the peaceful mountain setting. When you're ready
for more people, The Boardwalk shops and restaurants are within two blocks of the cabin ...
or you can along Grand Lake's public beach and docks to live theatre and coffee shops in the summer.
Life is good. $545,000
An aerial view from the Shadow Mountain Fire Tower has been added to the following: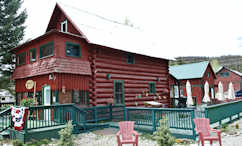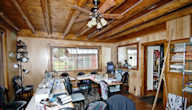 Log home on Park Avenue,
two blocks from Grand Lake's beach. Lovingly renovated. Living room has open log beams
in its ceiling.Three levels for kids to explore. Enclosed porches and inviting deck areas
make it fun to entertain ~ a real retreat for vacationers! There is even a two story game room/
hobby space in back. 1500 sq. ft. of heated space plus deck and back cabin. Nice mountain views,
especially from the upper level. Commercial transitional zoning gives you a wide range of uses
(with town approval). Live upstairs and do business downstairs. What a novelty! $279,000

3 maps have been added to the following: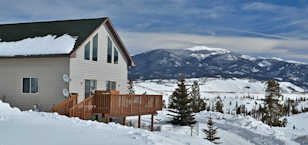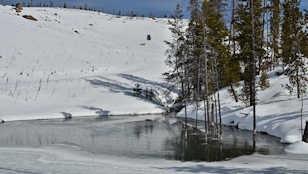 Seventy Acre equestrian paradise.
70 Acre Ranch: corrals and fencing for raising horses, Miniature Horses, ponies, cows, emu, buffalo ....
or let the elk and deer run wild amidst your own ATV, snowmobile and hiking trails. You could even
invite Dudes! ... as in re-creating the Dude Ranching experience that used to be a very big industry
in Grand County, Colorado, right near here where Lake Granby is now located. 70 Acres of rolling hills
with wonderful mountain views, hidden streams, ponds and meadows.Comfortable home has views of
The Colorado River and even the spillway by Lake Granby. Secluded, yet close to Lake Granby with
a beautiful drive along a hidden county maintained road by the Colorado River. Two hours from Denver,
yet in a world of its own and surrounded by other large parcels of land. Your very own Colorado Ranch
with low operating costs!This is a Legacy Property to pass on to your grandchildren! $1,295,000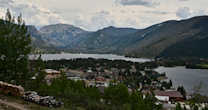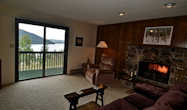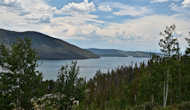 Condominium overlooking both Grand Lake and Shadow Mountain Lake. Wood-burning
fireplace in living room by covered deck. Two bedrooms, 1˝ baths. Walkout lower level
#120 in Shadow Park West, on the hill west of the entrance to Grand Lake. $164,000


Fresh snow keeps on coming. We are in a snow-globe!
Visit our » Weather page for recent scenes around Grand Lake, Colorado.
We have been getting fresh snow almost every day in 2014! The snow up high
is as deep as it gets. The winds have swept the landscape and made it look like no one
has been around. Even the main trails have deep powder, so be careful and try to stay
on the hidden packed surfaces or you may be up to your neck in snow.
Here is a link to » Grand Lake Trailgroomers.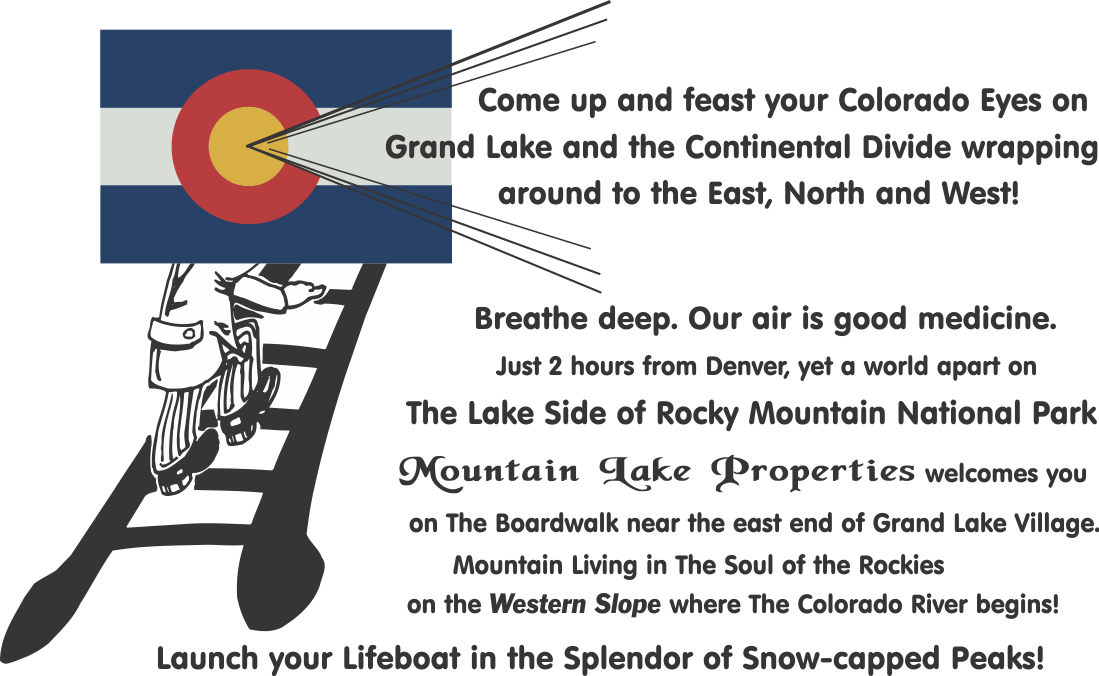 Try your luck or click here » for Keywords to Open the Right Doors in your Search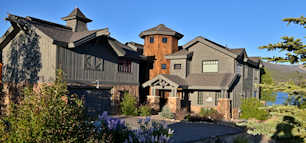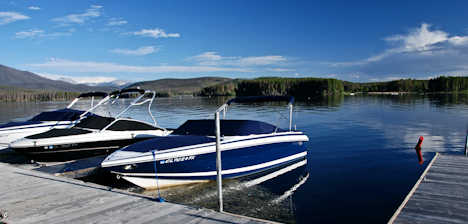 Lakefront Living at its finest.
This 4,700 square foot home raises your senses. You'll love its classic look with moss rock, barnwood, hand-hewn
timbers and ski lift-cable railings. Two story stone fireplace in Great Room plus a fireplace outside on the lakeside patio.
Next to the fine recreation room there is a large movie theater. Heated Double Garage. Boat dock is a few hundred
feet away, so you enjoy an open, protected view across the water to Rocky Mountain National Park. $1,398,000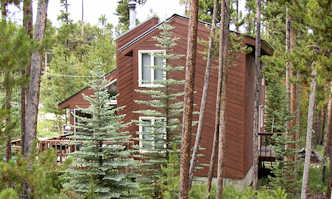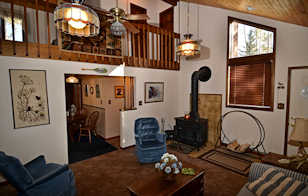 Columbine Lake area cabin with high
wood-finished ceiling in its living room and large loft. Short walk from Recreation District Trails.
2 bedrooms, 2 baths plus the loft. 1100 sq. ft. plus decks. Nicely wooded property with aspen
and a variety of evergreens.Wood-burning stove has a full outside chimney
(in case you wish to convert to a fireplace). $239,000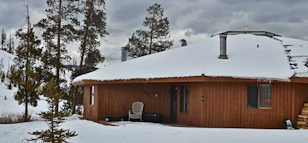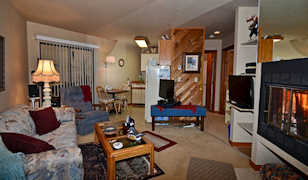 $59,000. Sellers are ready
to travel in a motorhome! Do you own one now? Exchange lifestyles! Make an offer or trade.
One bedroom condominium views of Lake Granby from its deck, living room and bedroom.
Wood-burning fireplace. Interior atrium shared with 5 other units has a glass domed ceiling.
Ownership includes access to the nearby athletic club.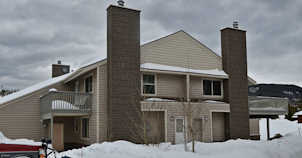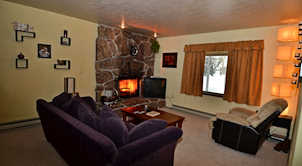 Townhome in town with moss rock fireplace,
spacious kitchen and dining area. 2 bedrooms, 2 baths plus a half bath on the main level. Private sundeck by
master bedroom suite. Nicely finished inside with warm and pleasing colors. Single car garage. $199,000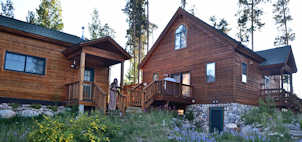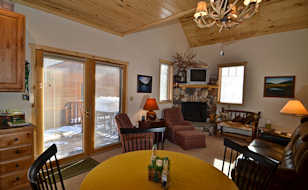 Columbine Lake area home with attractive
exterior with arched windows. Warm pine finish on walls or ceilings inside. Detached dream garage.
Gas fireplace. Two bedrooms plus recreation room, loft and hobby room. Master bedroom suite on upper level.
Three levels with a bath on each level. Private-feeling deck for cookouts with lake and mountain views
through the trees. Located at the end of a cul-de-sac. Short walk to community pool and lake access.
Over 2000 sq. ft. plus decks and Heated Double Garage. $369,000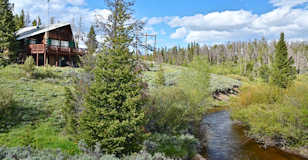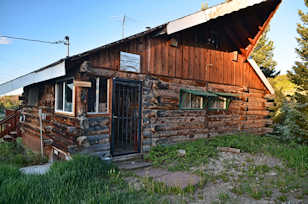 FIVE acres overlooking a ranch
and a summer stream with great views to the south and to the east of the snowy Continental Divide.
1960's log cabin just off County Road 4, a half mile from the National Forest with 100 miles of
groomed snowmobile trails. Outer walls of the main level are interlocking logs. $268,000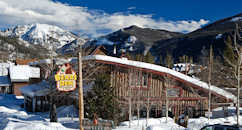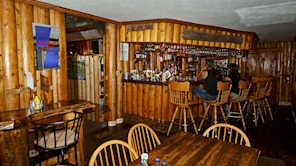 $399,000 for Four prime over-sized sites
zoned commercial with a 5,000 square foot building along Grand Lake's main street. Great atmosphere
for a mountain brewery. Vertical log structure is presently set up as a restaurant and western bar with
spacious and flexible dining areas, western bar and an extra large commercial kitchen. Primitive living
quarters are on the upper level. This is one of the first properties that visitors see as they pull into
Grand Lake and gaze upon Mount Baldy looming at the far end of Main Street. It has an inviting
right-hand side of the road pull off with ample parking visible round the building. Inside, the building
has a classic Log Cabin look and feel that invites patrons to relax a while. Sunny patio on the west side
helps with extra busy days and events. There is also a private dining/party room with its own access to the kitchen.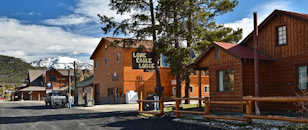 Log-sided Motel Lodge, Gas Station with full service bay
and convenience store.Three spacious apartments plus 17 nightly rental units. Everything is meticulously
upgraded and maintained with mountain living charm. Main street location in the heart of Grand Lake Village.
Most of the units are ground level with ample parking by the door and enough covered space
in front of each unit to create a private-feeling porch that that gives one protection from the weather
and keeps the building's log siding out of the elements. Part of the exterior wall has an
accordion-like shape which makes the units more interesting from both inside and outside. $1,695,000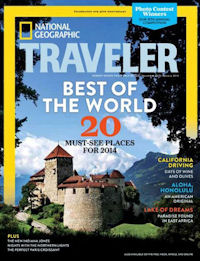 SEVEN commercial properties have sold in the Grand Lake area within the past 6 months.
Own a business now! The centennial for Rocky Mountain National Park is the year 2015;
celebrations start this fall. Be Ready for solid bookings. National Geographic Traveler
magazine has Rocky Mountain National Park in its December 2013/January 2014 issue:
"Best of the World, 20 must-see places for 2014". "Starting in September, the time of year
when aspens flare to gold, a yearlong celebration will mark the park's centennial
anniversary--a mere pebble in the life of a mountain, a milestone for a national park." (pg.82).
Many have heard of Estes Park. The world is just now discovering The Lake side of The Park.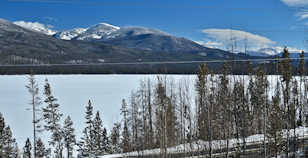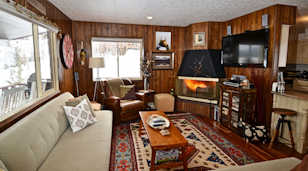 Cozy Cabin with panoramic lake and
mountain views over Shadow Mountain Lake! Wraparound deck with covered porch on the lake side.
Fireplace, gorgeous wood floors, granite countertops, new stainless steel appliances.
Everything is in excellent condition and ready for carefree mountain living. 2 bedrooms, one fine bath.
910 sq. ft. on one level. Across the road from the home is National Forest land for picnicking by the water. $269,900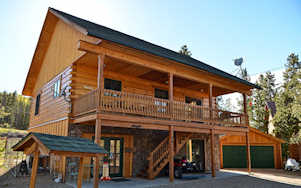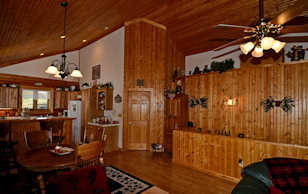 Log Home close to Lake Granby with big covered
porch. Lovingly cared for with attractive wood floors and ceilings. 3 bedrooms plus recreation room.
Drive-through Double Garage plus cute storage shed with a little covered porch. Well-designed shared
bath on main floor, one side with laundry. Third bedroom "hunting and fishing suite" has its own
double door entrance on the lake side. Short walk from two restaurants and a marina.
A National Recreation Area Boat Launch is across Rainbow Bay. $338,000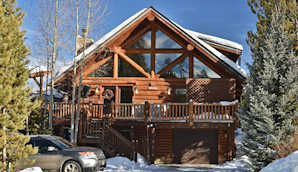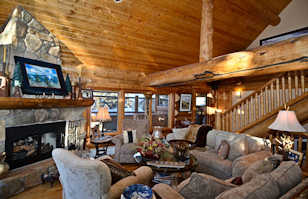 Log Home built from huge 150-year-old
Colorado Spruce timbers. Gourmet dream kitchen opens into the Great Room with fireplace.
2 log bedrooms share the full bath on main level. Spacious Master suite on upper level with fireplace.
Lower level recreation room with bath. 2800 sq. ft. plus garage and lots of perfectly planned deck
space and landscaping from which to make memories. Close to a Lake access. Columbine Lake area
lake and pool amenities are a short walk away. $559,000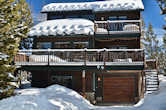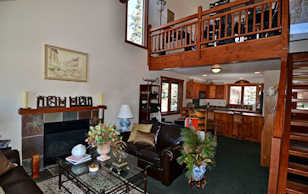 Columbine Lake area cabin with three distinctive levels.
The higher you go the bigger the mountain view! Upper level master bedroom suite has an adjoining loft/office.
The main level has a Great Room, bedroom, full bath and decks at opposite ends. The walk-in drive-in ground
level has a recreation room and a third bath. In addition to the garage there is lots of storage space and
an attractive storage shed in back. 2 bedrooms, 3 baths plus laundry area. 1820 sq. ft. plus garage, decks
... and a lovely outdoor fire pit. $319,000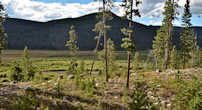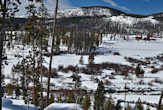 Idyllic view across the
Colorado River Valley to National Forest land rising in the west. Easy to build on site
along a wide ridge with no one to block your view. $85,000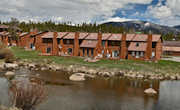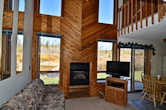 Affordable condominium in a peaceful
and pastoral setting by the back ponds of Soda Creek. Attractive wood finish in Great Room
with fireplace and high ceiling to open loft. Two bedrooms plus loft. Two baths plus wet bar.
880 sq. ft. plus decks. $139,900 (price reduced)
Sunday, January 26, 2014: just added, more coming soon. Thanks for visiting!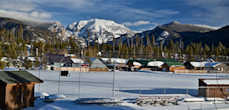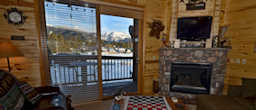 Where else can you have views
like this in a efficient, modern and attractive dwelling for just $169,000. Located in Grand Lake Village
across from a ball park for kids. River rock gas fire place.Warm and appealing pine finishes on some
of the walls. Covered deck with view shown below. Master bedroom suite plus guest bedroom.
Radiant in-floor heat. Corian countertops. All on one convenient level plus a
detached single car garage outside by a play area.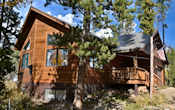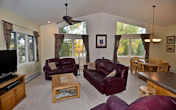 Columbine Lake area retreat with spacious Great Room
for family gatherings. 3 bedrooms, 2 baths plus recreation room. 1900 sq. ft. plus deep garage and covered porch
with mountain view. Home is a short walk from the lake and indoor pool and spa. $309,000 (price reduced)

Powder hounds: we have what you love.
We have been getting fresh snow every day. The snow up high
is about as deep as it gets. The winds have swept the landscape and made it look
like no one has been around. Even the main trails have deep powder, so be careful and try to stay
on the hidden packed surfaces or you may be up to your neck in snow.
Here is a link to » Grand Lake Trailgroomers.


Fresh snow keeps on coming. We are in a snow-globe!
Visit our » Weather page for recent scenes around Grand Lake, Colorado.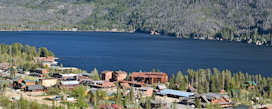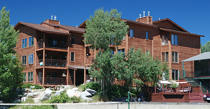 By Grand Lake!
Elegant condominium with large dining area, wood floors, sauna and even an elevator!
Two bedrooms, two full baths plus sauna. Grand views of the lake and action from your covered deck.
Gas stove in living room with attractive rock work. Handicap Friendly. Eagle's Spirit: #3.
Price includes one full year's association fee prepaid. $399,900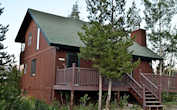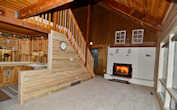 Columbine Lake area cabin
on a large corner lot on Alpine Circle. Upgraded kitchen and interior with multi-colored
pine finish and new carpeting.Wood-burning fireplace plus large windows in Great Room.
Bedroom and a bath on the main level. Upstairs is a play room plus two bedrooms which
access a bath between the two and share a long covered porch in back. Enjoy views from
the back into the Rocky Mountain National Park, which is only 200 feet away!
Attractive new deck in front. Ample room to expand or add a garage. $229,000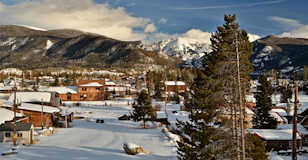 Three-quarter acre zoned Commercial. Land along Grand Lake's
main street. Four extra deep building sites with views of Mount Baldy. Consider retail use or multifamily housing.
Make plans now for new construction so that you'll be ready to build, come summer. $189,000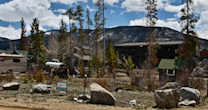 $78,000 for Corner site at Park Avenue & Vine Street.
Commercial transitional zoning offers multiple opportunities. Nice home site for a mountain cabin,
just off the boardwalk and within walking distance of beaches and restaurants. Or use as retail space
with special use permit or just parking to enhance development of nearby income properties.


Click here for » the online version of our Wish Book catalog.

December 21, Winter Solstice: recent additions are directly below.
Visit our office on Grand Lake's boardwalk for holiday treats and drinks.
Be sure to get our latest Wish Book, Calendar and schedule of events.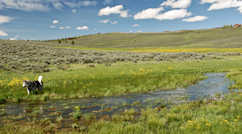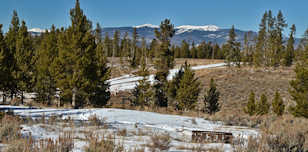 5˝ Acres of wide open space
and western sky within the huge Legacy Park Ranch area of fine homes. 70% of the Ranch's 1800 acres
is held in reserve in its natural state for the benefit of those who have joined its special community.
There is a new driveway to where one can overlook a huge meadow with a small summer stream
running close by. This level site is ready to build on with an excellent well already drilled. $129,000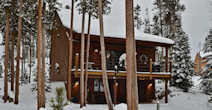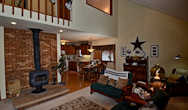 Lovingly cared for Columbine Lake
area cabin. 3 bedrooms, 2 baths. Walkout Recreation room. 1750 sq.ft. plus garage and deck.
Located at the end of a cul-de-sac. $319,000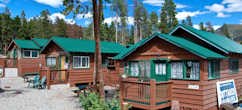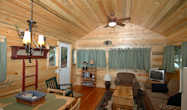 Six cozy cabins in the heart
of Grand Lake Village—one block from town square and two blocks from the largest natural lake
in Colorado. Each cabin has been beautifully upgraded with a new wood interior, new kitchens
and baths.Completely upgraded for winter use. A spacious central courtyard around the cabins
make this an appealing place to gather for reunions, weddings, etc. $399,900
Select one or two cabins for your family and reserve the rest to pay towards the mortgage.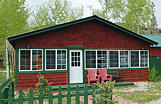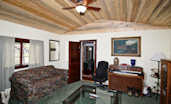 What's the next best thing to owning property
on The Boardwalk? Owning on Park Avenue, of course. This 100 foot wide avenue is parallel to and
one block north of Grand Lake's main street. It borders Grand Lake's town square and is only
two blocks from the parks near Grand Lake's beach. For as little as $175,000 you can have a
comfortable and attractive one bedroom cabin a block from Town Park and the Boardwalk.
Commercial transitional zoning gives you a wide range of uses (with town approval).
National Park hiking trails start a few blocks directly behind the cabin.
625 sq. ft. plus big screened in porch as in the olden days. $175,000


News Desk: Everyone asks, "How has business been?" The short answer is, "Pretty amazing!"
Shrewd buyers have dramatically reduced the inventory of homes, especially those for under $250,000.
These buyers will invest time and money into their homes and after five, six, seven years, put them back
on the market for more money. We love and salute individuals who improve homes and invest in our community.
Since it is less expensive to remodel an existing home than to build from scratch, our land sales have been
anemic since 2009. There has been a slight improvement; out of 18 land sales so far this year, 14 were to
neighbors who could finally afford to own the property next to them. We hope to see lots of new pioneers
in the next few years balancing out our community. The homes featured above are excellent examples
of a starter properties for new arrivals.


Have a Druid Moment and click on the following presentation and behold the
Winter Soltice lighting effects. This home comes with its own perched balancing rock.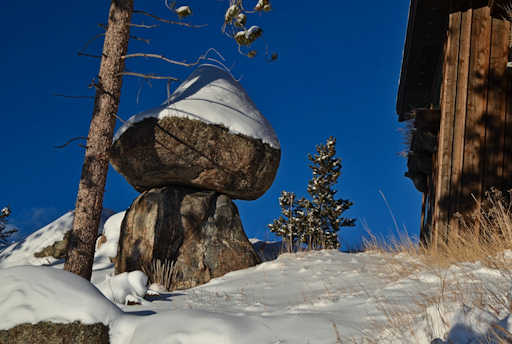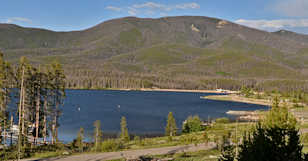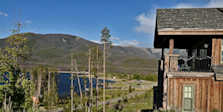 Extraordinary home
with Lake and Mountain Views. Top of the line with three distinctive levels and an elevator. From the decks and windows
you can directly see your friends enjoying the fishing canal or the nearby paved boat ramp. 5-6 bedrooms, 5˝ baths.
Media room plus exercise room, both with lake views. 4900 sq. ft. plus double garage and large decks. Recently built
and new on the market. $1,499,000 (priced below construction cost) Click on the presentation for big views of the hanging rock.

Our 2014 Calendar with Grand Lake area images is off to the printer.
Visit us on the boardwalk around Christmas or New Years and ask for it.
If you cannot visit soon, send your mailing address to relax@MountainLake.com and
we will have it in the mail to you when it is ready. We also have a compressed online digital version.
It is chocked full of events and photos that you can zoom in on.
Click here to » download 2 megabyte PDF called 2014Calendar.pdf
Scroll down to see each month. Enjoy. Put it on your Smart Phone!
After it shows on your screen, save the calendar directly on your device where you can find it quickly.
While the supply lasts, ask for a professionally printed version when you visit our office.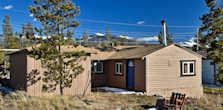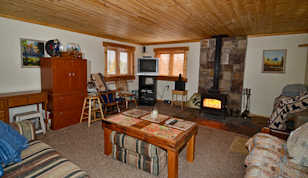 Elegant interior will amaze you.
Take a look at these photos of the kitchen and bath. Large living room with wood-burning stove/glass door.
One bedroom getaway, ideal for one or two people who appreciate fine finishes. 700 sq. ft. plus detached garage.
$118,000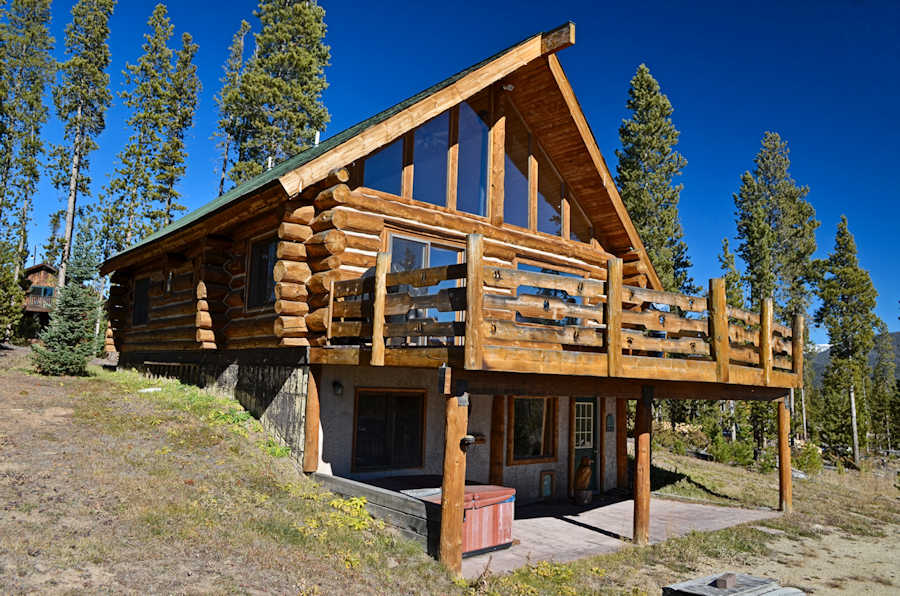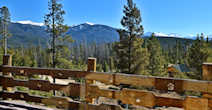 Classic Log Cabin with wilderness appeal and animal carvings!
Set in a wooded area with open mountain views from its big sunny deck. Rich wood interior with log posts & beams.
Master bedroom suite on upper level. Two bedrooms and bath on main level. Walkout lower level has a media room
with bar, a 4th bedroom and an attractive bath. 2200 sq. ft. plus deck. 8/10th of an acre. $338,888

Properties are selling (and taking longer than ever to close).
We have substantially revised and slimmed down our printed Wish Book. Click here for links
to the Companion Magazine to www.MountainLake.com. If you cannot make it to our office
near the east end of Grand Lake's boardwalk and would appreciate having a printed
copy of our Wish Book, send your regular mailing address to relax@MountainLake.com
Let us know what is on your wish list. We can include maps and individual property flyers.
Service can be fastest if you call directly: 970-627-3103
You may qualify for seller financing. Save big on closing costs and start enjoying your property
right away. Cut Out the Middlemen and the six weeks involved in getting a conventional loan!
Owner Financing is all you need to reduce costs and gain a whole season of access to the property
you desire. Many owners are ready to sell and finance with 20+% down and a credit check.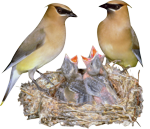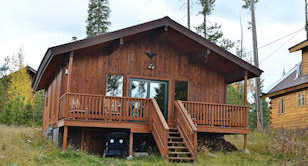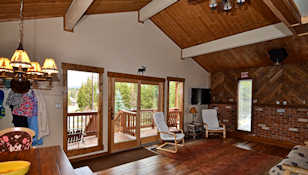 For years, the sellers
have enjoyed and upgraded this cozy one bedroom cabin near Columbine Lake. Now they have twins!
Although there is lots of room for expansion on this land, it is time for them to move on and for new people
to enjoy this home with some lake and mountain views. $199,000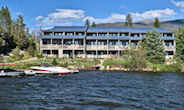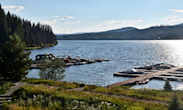 Lakeside townhome with Boat Dock and
wide lake views from all three levels.Warm southwest exposure. Located a few steps from hiking trails
into Rocky Mountain National Park (including a long easy trail along the entire east shore of
Shadow Mountain Lake). In the afternoon, the sun shines strongly beckoning you to
slip out into the water … maybe cruise over to Grand Lake. Afterwards, relax by the
river rock fireplace in the Great Room by the large covered deck. Two master suites
on upper level. Two guest bed rooms in lower level walkout. 2120 sq. ft. plus
garage and decks. Terrific value at $544,000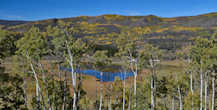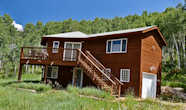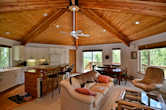 Imagine overlooking a small lake in an idyllic valley. Quaking aspen liven the breeze.
Down your driveway, a mountain rises like a great pyramid, yet it's green and beautiful!
In your Great Room, wood beams rise to a central peak below a spacious kitchen island.
Two bedrooms at opposite ends, 3 baths, plus a lake view recreation room for media
and to accommodate visitors. Free-standing gas stoves on each level. Located about
6 miles west of Lake Granby, away from traffic, yet only a mile from National Forest trails.
1295 sq. ft. plus garage and spacious deck. 1.2 acres of land. $329,000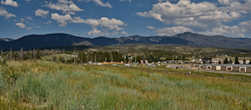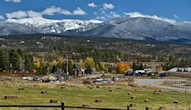 Home site across a meadow with open views deep into Rocky Mountain National Park and
along the Continental Divide to Winter Park. There is also a view of Lake Granby over the low
buildings of a nearby neat and tidy storage center. Save on building a garage and rent from nearby
all the space you need for boats, jet skis, ATV's and snowmobiles. Great location for your base
camp with easy year-round access. Lake Granby boat launches and parks are close by as is also
our primary road to National Forest Trails for four-season motorized recreation. Almost level,
easy to build on site with underground utilities. Drill a well for water. $38,500
Make an offer. Ask about financing options.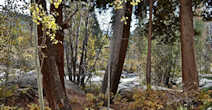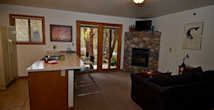 Lively sights and sounds
of the ever-changing waters rushing out of the Rocky Mountain National Park are yours to enjoy from this
lovely riverside condominium. Walkout end unit with big windows, one private bedroom; place a fold-out
bed by the gas fireplace. Amazing location just a couple of blocks from beach and boardwalk shops
and restaurants. $189,000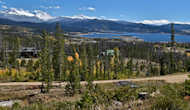 Overlook Lake Granby from your large 2˝ acre home site close to popular
National Forest trails. Land is approximately a square, 350' x 330', rising gently from east to west. Located
in the Stillwater Small Tracts area, two miles northwest of Lake Granby, the largest of our lakes, and seven
miles from Grand Lake Village. Install well and septic system when you build. $154,900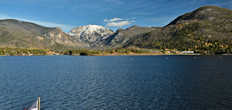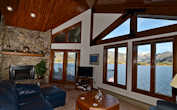 Like being over the water on a great ship: rich open beams, moss rock fireplace and a galley/kitchen
and dining areawith views to make every day feel like a special occasion. Captain's lakeside quarters
with private shower and jacuzzi tub.Two guest bedrooms. Oversized garage. Boat dock in close view
from your windows and covered deck. Pleasant walk or bike ride from parks, shops and restaurants.
Amazing views of Mount Baldy and Rocky Mountain National Park. Furnished at $399,900


The best deals in terms of square footage and possible uses, are in our list of commercial opportunities.
Two of them have recently been purchased. Here is a new choice with acreage, space and visibility.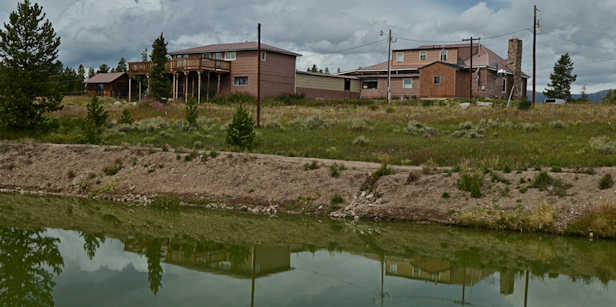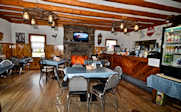 3.7 Acres along the Fishing Canal with open views
of snow-capped mountains. Main Lodge has an wide open floor plan with a stone fireplace and log beams on
the ceiling. A commercial kitchen and a separate prep room are in back. This corner location has a long history
as a meeting place for travelers and musicians (the latter would get room 'n board). Property is currently a full
service restaurant and liquor store. Owners would like to retire and make it all available for your family's ideas.
Two separate living quarters are on site. Precious water rights have been purchased for expansion to help you
to create more income. #10658 Highway 34. $595,000


Click to our Weather Page for recent scenery and wildlife photos.
Mountain Living
Let every weekend be a 4-day weekend! On Thursday afternoon, you are wrapping up
four power days at the office and telling your friends that you are heading that evening
to Grand Lake, two hours away yet worlds apart. You've got your mobile devices and
are ready to work on the bigger picture. Friday morning, you wake up in your mountain
retreat and already .... you are thinking is more clear as you plan ahead and tie neat little bows
on completed tasks. Saturday dawns and you are fully attuned to your alpine environment
and tingling with life. The great outdoors beckons with its newness, immensity and wildlife.
Or maybe you'll just have it out your window or beyond your deck while you enjoy some
private time with your family ... or a neglected hobby ... or a book. Saturday afternoon or eve,
you are ready to hobnob with some of the other lucky fellows enjoying their extended weekend.
Dine at a restaurant, walk the boardwalk, do some shopping, cruise by the beach ....
remind yourself to have your boat ready (even if its just a kayak) for Sunday.
Sunday morning you do some outdoor church time. Now your head is really stuffed
with plans. You get a head start on them on Sunday eve and then sleep like a rock.
Early Monday morning, you zip back to work ready to hit the floor running.
Traffic is not an issue and everyone is amazed with how much you get done ...
and how young you look!


Try your luck or Click here » for Keywords to Open the Right Doors in your Search


Great Lakes of the Rockies

Grand Lake

Shadow Mountain Lake

Lake Granby

---
.. to MainMenu .. Homes .. Land .. Commercial .. or .. to top of this page

Enter the MOSAIC and be Teleported

© Text & Structure of this site is Copyrighted 5/1/96.