What's New!
Jump to Weather Update .. or .. to MainMenu ..
Use your refresh button to get all of the recent updates. Clear your browser's cache. Reload.
We have been busy. Click here to see properties sold in 2013

We are getting a foot of snow from Dec. 3 to 4. The Weather Channel named the storm Cleon.
We are calling it Crow. Seee our weather page for photo of Crow arriving.



Big Freeze for Denver! Click here for timely reminders to
ensure that your Colorado Winter Experience is as enjoyable as possible.
Friday, November 29, 2013: interior photos are all in on the following terrific value: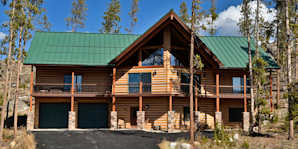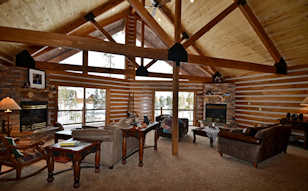 Solid OAK Log home in The Shores area
of fine homes. Uphill behind the home is National Recreation land with amazing views up the length of
Shadow Mountain Lake. Two master suites, one with fire place. Great Room plus walk out recreation/media
room are perfect for entertaining. Double garage. $575,000



Our 2014 Calendar with Grand Lake area images is off to the printer.
Visit us on the boardwalk around Christmas or New Years and ask for it.
If you cannot visit soon, send your mailing address to relax@MountainLake.com and
we will have it in the mail to you when it is ready. We also have a compressed online digital version.
It is chocked full of events and photos that you can zoom in on.
Click here to » download 2 megabyte PDF called 2014Calendar.pdf
Scroll down to see each month. Enjoy. Put it on your Smart Phone!
After it shows on your screen, save the file directly on your device where you can find it quickly.
While the supply lasts, ask for a professionally printed version when you visit our office.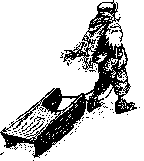 Our Events page is like a Christmas Stocking bulging with a oranges and grapefruits.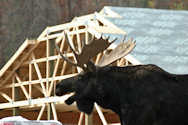 Wally Moose says "planning your new home can be great fun
and a project that involves your whole family." Look at the deal directly below for just $10,900!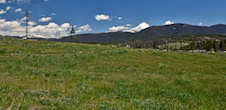 $10,900 for land with lake and mountain views. Easy to build on.
Located 5 miles south of Grand Lake Village, close to a boat launch and along the main route to over
100 miles of groomed snowmobile trails through the National Forest. Underground utilities are in for
natural gas, electricity, telephone, cable television & community sewer. Drill a well for water.
Land is 77 feet wide and 125 feet deep. An equal bit of community open space is across from
the land's road frontage.


Home site with lake and mountain views.
Easy to build on with underground electricity, telephone, cable television & community
sewer close by. After you build, National Recreation Area fishing and boating will
be practically at your door along with one of the best National Forest access routes for
4-season recreation. $39,900 with well already drilled.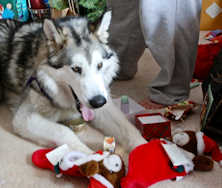 Look at the affordable cabins directly below that are ready
for you to move into for the holidays.Save on home costs and budget more for personal decorations and toys.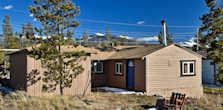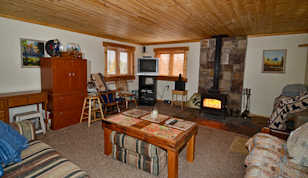 Elegant interior will amaze you.
Take a look at these photos of the kitchen and bath. Large living room with wood-burning stove/glass door.
One bedroom getaway, ideal for one or two people who appreciate fine finishes. 700 sq. ft. plus detached garage.
$118,000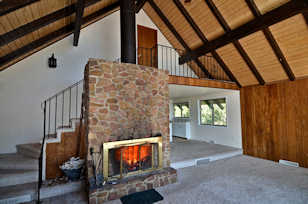 Chalet in an aspen grove in Grand Lake Village.
When the leaves fall, the view to Shadow Mountain Lake jumps out. Great Room with high ceilings,
open beams and wood-burning fireplace. Two bedrooms, full bath plus laundry area. 990 sq. ft.
Customize the kitchen to suite your family when you are ready. $179,900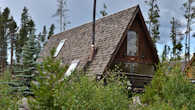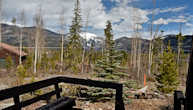 Columbine Lake area A-frame
at the end of Primrose Lane and across a greenbelt with a stream frequented by moose.
You'll love the peaceful and serene views of Mount Baldy from this secret little corner.
1360 sq. ft.; two bedrooms plus a large loft. Attractive wood floors. $189,000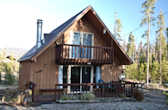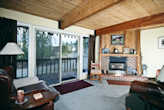 $199,000 for a 3 bedroom chalet with fireplace along a paved road!
936 sq.ft. + deck. For $235,000 the adjoining corner land is included. It is level and gives you more playing area for picnics
and outdoor parties. Home comes with all Columbine Lake area privileges. Lake Access is a couple of blocks away.
The Columbine Lake area clubhouse is even closer, featuring an indoor heated pool with waterfall jacuzzi and games.
Association fee of $58/month covers all of this plus stocked lake, snow & trash removal.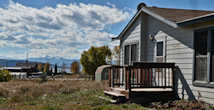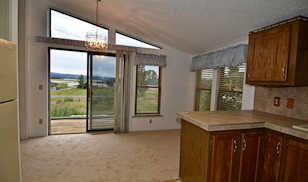 Supersized three car garage comes with this
Lake View home on almost half an acre. Keep your boat, ATV and snowmobile well protected and ready
to enjoy the National Forest Trails and our huge lakes. You'll even have room for your friends to store their toys.
You'll appreciate the sunshine while enjoying fine views of the Continental Divide. Great Room, master suite,
guest bedroom and bath. New paint and new carpet. Lake accesses & a marina are within walking distance,
easy for your family to enjoy the largest of our lakes. $199,000


Saturday, November 9, 2013: Elk on the Run. Click on the photo to see them run or go to our YouTube channel: 2GrandLake.
New and recent scenes are on our Weather Page. The original video is in High Definition. If you go to the settings cog
in the lower right of the YouTube video window, you can choose to see the video in 720 HD. You want to see the red HD symbol
to make out the detail in the video. This HD setting requires a fast internet connection. Be that as it may, the original video
is filmed in in three times the resolution that YouTube has available. For special filming rights to the original, contact us.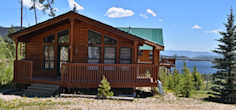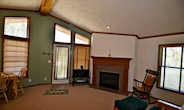 Cozy and immaculate two bedroom
hilltop chalet, furnished. Vaulted ceiling. Great Room with gas fireplace. Covered porch in front, lake view
from side deck. Everything is on one convenient level. On "Woodpecker Hill" in Grand Lake Village. $214,000
Attractive wood and stone home
with a turret and beautiful wood finish inside.Raised wood ceilings, wood floors, granite countertops.
See photos for the architectural accents and built-in features. Spacious Great Room plus media room.
Three distinctive bedrooms, 2½ baths. 2240 sq. ft. plus garage and deck. Located close to Lake Granby
and our main access road to National Forest fun and adventure. $379,000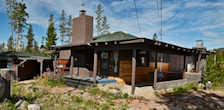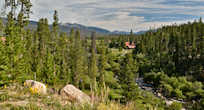 Cozy 2 bedroom cabin,
approx. 1000 sq. ft. with fireplace and mountain views. Big game room for making memories
with friends and family. Covered porch and open flagstone patio. Quarter acre of level land.
3½ miles south of Grand Lake. $159,000
Saturday, November 2, 2013: just added ... more coming.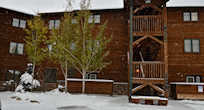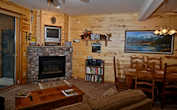 Two private patios ideal for pets,
each with sliding glass doors to bring in natural lighting. Furnished condominium at Grand View Villas
at the entrance to Grand Lake Village. River rock fireplace and attractive wood walls accent the Great Room.
Master suite plus guest bedroom and bath. Garage with easy access right around the corner. $162,000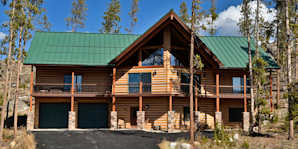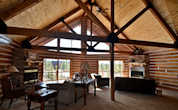 Solid OAK Log home in The Shores area
of fine homes. Uphill behind the home is National Recreation land with amazing views up the length of
Shadow Mountain Lake. Two master suites, one with fire place. Great Room plus walk out recreation/media
room are perfect for entertaining. Double garage. $575,000
Seller financing ... save on closing costs and start enjoying right away.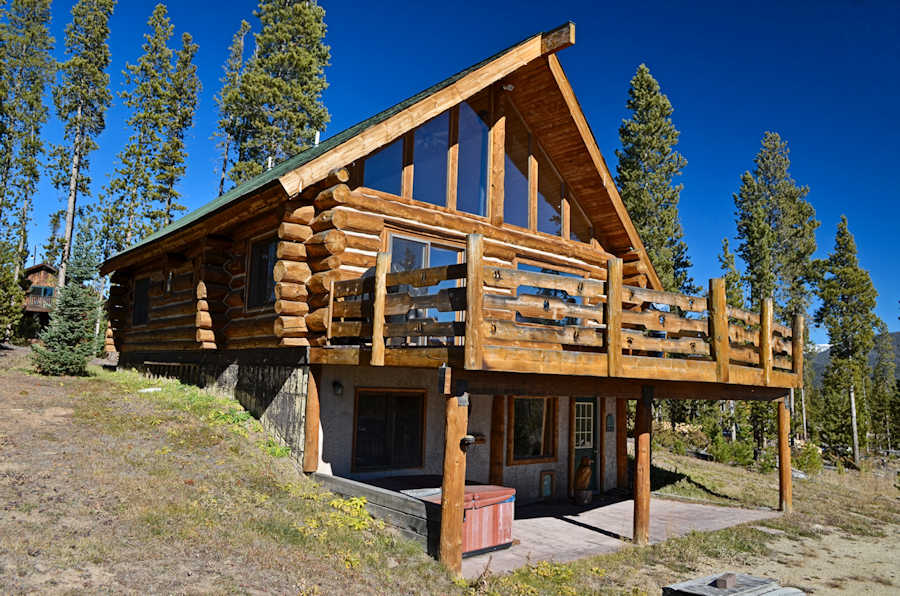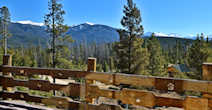 Classic Log Cabin with wilderness appeal and animal carvings!
Set in a wooded area with open mountain views from its big sunny deck. Rich wood interior with log posts & beams.
Master bedroom suite on upper level. Two bedrooms and bath on main level. Walkout lower level has a media room
with bar, a 4th bedroom and an attractive bath. 2200 sq. ft. plus deck. 8/10th of an acre. $338,888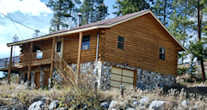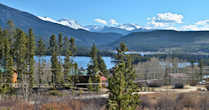 Log & stone sided home with a
matching detached double garage (in addition to the garage below the home's spacious main level).
Over two acres with your own private meadow. 3 separate yard areas for children and family pets.
There are two fenced in areas on the property that are great for dogs and for young kids to use motorized toys.
Wide and deep views of Shadow Mountain Lake and 13,500 foot high Arapaho Peak along the Continental Divide.
Over 2000 sq. ft. Two moss rock walls, one with a wood-burning stove. Kitchen with twice the storage you would
expect plus a built-in gun cabinet! Two bedrooms & bath on upper level, separate suite on lower level. $329,000

Properties are selling (and taking longer than ever to close).
We have substantially revised and slimmed down our printed Wish Book. Click here for links
to the Companion Magazine to www.MountainLake.com. If you cannot make it to our office
near the east end of Grand Lake's boardwalk and would appreciate having a printed
copy of our Wish Book, send your regular mailing address to relax@MountainLake.com
Let us know what is on your wish list. We can include maps and individual property flyers.
Service can be fastest if you call directly: 970-627-3103
You may qualify for seller financing. Save big on closing costs and start enjoying your property
right away. Cut Out the Middlemen and the six weeks involved in getting a conventional loan!
Owner Financing is all you need to reduce costs and gain a whole season of access to the property
you desire. Many owners are ready to sell and finance with 20+% down and a credit check.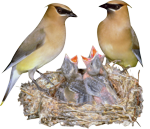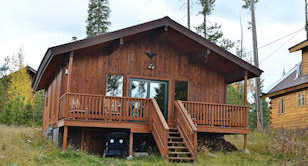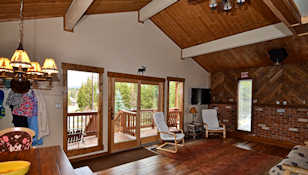 For years, the sellers
have enjoyed and upgraded this cozy one bedroom cabin near Columbine Lake. Now they have twins!
Although there is lots of room for expansion on this land, it is time for them to move on and for new people
to enjoy this home with some lake and mountain views. $199,000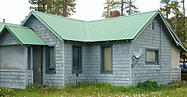 Cozy Cabin in town, close to everything.
It is small and efficient and can be lived in year round. $129,000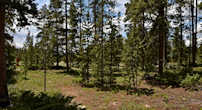 Level home site by a meadow (perfect for star-gazing) in WildAcres,
a short walk from open space along the Colorado River. Peaceful site nestled in with trees. Easy to
build on with underground utilities. Drill a well for water. As you drive in from Highway 34,
you pass through the south end of 500 acres of dog friendly Recreation District land
(click on presentation for maps). $79,000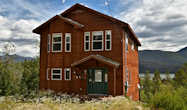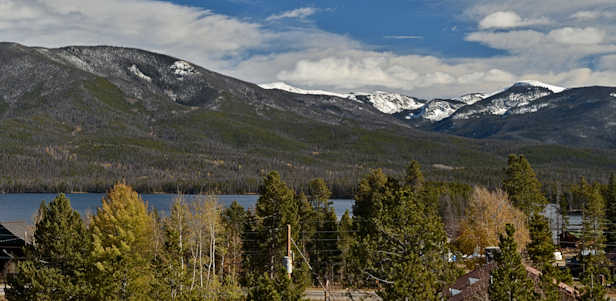 Enjoy fine views over a lush aspen grove
to Shadow Mountain Lake and into Rocky Mountain National Park.Lake view cabin with 1820 sq. ft. plus
two lakeside decks. Below the home there is a heated garage and a work space for snowmobiles, small boats,
ATVs and seasonal gear. Three bedrooms, 2½ baths plus laundry closet. Spacious Great Room.
Home is within earshot of the Colorado River and is a short walk from Pine Beach Park where
the river flows into Shadow Mountain Lake. $329,000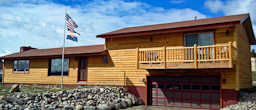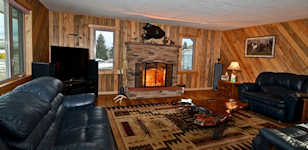 Lakeview home with boat garage.
Beautifully finished interior with multicolored pine and wood flooring.Living room features an attractive
wood-burning fireplace with gas piping in case you choose to convert it to gas. Three bedrooms, 1½ baths.
Owner has upgraded almost every detail to assure that this is a maintenance free home for you to relax and
enjoy all of the amenities that are close by. Home has new log siding, deck and log railings.
New triple pane windows with honeycomb blinds. New alder doors and wood wainscoting.
1560 sq. ft. + attached garage, boat garage and shed. Big back yard. 0.4 acre of land. $244,000


Tuesday, October 15, 2013: The presentations directly below have fall photos with fresh snow and shimmering aspen.
Visit our Weather page for recent scenery highlights.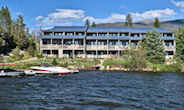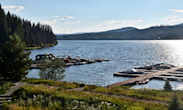 Lakeside townhome with Boat Dock and
wide lake views from all three levels.Warm southwest exposure. Located a few steps from hiking trails
into Rocky Mountain National Park (including a long easy trail along the entire east shore of
Shadow Mountain Lake). In the afternoon, the sun shines strongly beckoning you to
slip out into the water … maybe cruise over to Grand Lake. Afterwards, relax by the
river rock fireplace in the Great Room by the large covered deck. Two master suites
on upper level. Two guest bed rooms in lower level walkout. 2120 sq. ft. plus
garage and decks. Terrific value at $544,000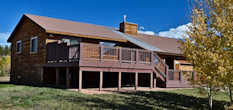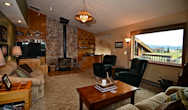 Perfect family home or weekend
getaway across a paved road from open space and fishing year round. Snowmobiling and boating out your
front door. Upgraded with granite countertops in the kitchen and two baths, beautiful wood floors, and
window treatments. The lady of the home will love the custom kitchen. The man will like the heated
double garage with ample room for tools and toys and a large storage area over the garage.
Together you'll love the Great Room and the free-standing gas fireplace and rockwork.
3 bedrooms. 2200 sq. ft. plus garage and deck. Extra deep back yard. 0.46 acre. $339,500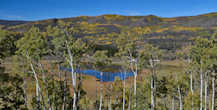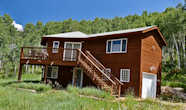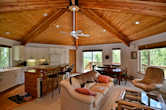 Imagine overlooking a small lake in an idyllic valley. Quaking aspen liven the breeze.
Down your driveway, a mountain rises like a great pyramid, yet it's green and beautiful!
In your Great Room, wood beams rise to a central peak below a spacious kitchen island.
Two bedrooms at opposite ends, 3 baths, plus a lake view recreation room for media
and to accommodate visitors. Free-standing gas stoves on each level. Located about
6 miles west of Lake Granby, away from traffic, yet only a mile from National Forest trails.
1295 sq. ft. plus garage and spacious deck. 1.2 acres of land. $329,000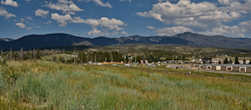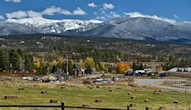 Home site across a meadow with open views deep into Rocky Mountain National Park and
along the Continental Divide to Winter Park. There is also a view of Lake Granby over the low
buildings of a nearby neat and tidy storage center. Save on building a garage and rent from nearby
all the space you need for boats, jet skis, ATV's and snowmobiles. Great location for your base
camp with easy year-round access. Lake Granby boat launches and parks are close by as is also
our primary road to National Forest Trails for four-season motorized recreation. Almost level,
easy to build on site with underground utilities. Drill a well for water. $38,500
Make an offer. Ask about financing options.

In the presentation below, be sure to scroll down its pages and see the home's grand setting from the water.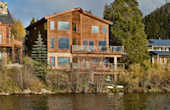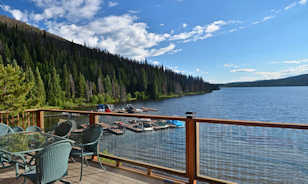 Enchanting setting near the National Park lands
and easy hiking trails along Shadow Mountain Lake. Contemporary mountain hideaway: spacious
5 bedrooms and 4½ baths with lovely finishing. Enormous windows bring in light bouncing off
the lake to the very large Great Room and to the huge rec room below. See-through fireplace in
upper level master is shared with its elegant bath. As you slip out from your Boat dock, wide views
of the Never Summer Range open to you. 4230 sq.ft. plus decks and garage. $1,499,000
Home site on almost 2 acres with Classic Colorado View
of a hidden aspen valley in ranching country. Close to everything we love about Colorado
and yet worlds apart from the helter-skelter of the modern world. $98,000.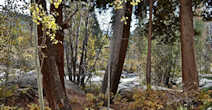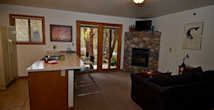 Lively sights and sounds
of the ever-changing waters rushing out of the Rocky Mountain National Park are yours to enjoy from this
lovely riverside condominium. Walkout end unit with big windows, one private bedroom; place a fold-out
bed by the gas fireplace. Amazing location just a couple of blocks from beach and boardwalk shops
and restaurants. $189,000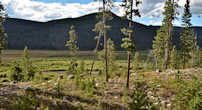 Idyllic view across the Colorado River Valley to National Forest land
rising in the west. Level, easy to build on site along a wide ridge with no one to block your view. $85,000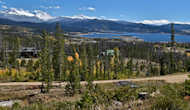 Overlook Lake Granby from your large 2½ acre home site close to popular
National Forest trails. Land is approximately a square, 350' x 330', rising gently from east to west. Located
in the Stillwater Small Tracts area, two miles northwest of Lake Granby, the largest of our lakes, and seven
miles from Grand Lake Village. Install well and septic system when you build. $154,900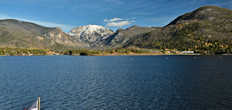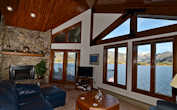 Like being over the water on a great ship: rich open beams, moss rock fireplace and a galley/kitchen
and dining areawith views to make every day feel like a special occasion. Captain's lakeside quarters
with private shower and jacuzzi tub.Two guest bedrooms. Oversized garage. Boat dock in close view
from your windows and covered deck. Pleasant walk or bike ride from parks, shops and restaurants.
Amazing views of Mount Baldy and Rocky Mountain National Park. Furnished at $399,900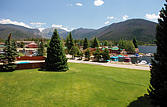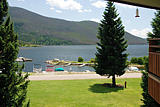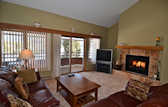 Top Level,
Shadow Mountain Yacht Club home with boat dock and fine views over the lawn and private marina to
Shadow Mountain Lake and Mount Baldy. Newly upgraded throughout. One owner, developer's personal
dwelling. Spacious Great Room with fireplace. Elevated ceilings in most every room. Three bedrooms plus
loft; three baths. Detached garage. Clubhouse with pool privileges. #C16. $399,900 furnished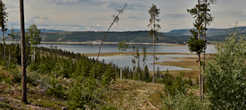 Panoramic Lake and Mountain Views. 6.6 acres, mix of aspen, pine and
ground covers. Your building "pad" is ready. Well is drilled. Part of the acreage touches National Forest land
that reaches down to Lake Granby. $179,900
Come play at the cove! Affordable waterfront
home with three spacious levels and a large playhouse at the water's edge, great for kids and multiple
families to share. Convenient layout for extended families and guests. Three fireplaces. Bath on each
level; two finished in slate tile. Pet free and smoke free. Ideal location for launching kayaks where
the Colorado River pours into Shadow Mountain Lake and the wildlife is abundant. $449,000

The best deals in terms of square footage and possible uses, are in our list of commercial opportunities.
Two of them have recently been purchased. Here is a new choice with acreage, space and visibility.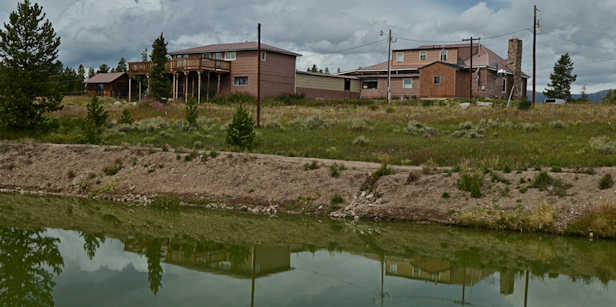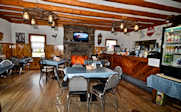 3.7 Acres along the Fishing Canal with open views
of snow-capped mountains. Main Lodge has an wide open floor plan with a stone fireplace and log beams on
the ceiling. A commercial kitchen and a separate prep room are in back. This corner location has a long history
as a meeting place for travelers and musicians (the latter would get room 'n board). Property is currently a full
service restaurant and liquor store. Owners would like to retire and make it all available for your family's ideas.
Two separate living quarters are on site. Precious water rights have been purchased for expansion to help you
to create more income. #10658 Highway 34. $595,000

Home site on almost 2 acres with Classic Colorado View
of a hidden aspen valley in ranching country. Close to everything we love about Colorado
and yet worlds apart from the helter-skelter of the modern world. $98,000

Click to our Weather Page for recent scenery and wildlife photos.
Mountain Living
Let every weekend be a 4-day weekend! On Thursday afternoon, you are wrapping up
four power days at the office and telling your friends that you are heading that evening
to Grand Lake, two hours away yet worlds apart. You've got your mobile devices and
are ready to work on the bigger picture. Friday morning, you wake up in your mountain
retreat and already .... you are thinking is more clear as you plan ahead and tie neat little bows
on completed tasks. Saturday dawns and you are fully attuned to your alpine environment
and tingling with life. The great outdoors beckons with its newness, immensity and wildlife.
Or maybe you'll just have it out your window or beyond your deck while you enjoy some
private time with your family ... or a neglected hobby ... or a book. Saturday afternoon or eve,
you are ready to hobnob with some of the other lucky fellows enjoying their extended weekend.
Dine at a restaurant, walk the boardwalk, do some shopping, cruise by the beach ....
remind yourself to have your boat ready (even if its just a kayak) for Sunday.
Sunday morning you do some outdoor church time. Now your head is really stuffed
with plans. You get a head start on them on Sunday eve and then sleep like a rock.
Early Monday morning, you zip back to work ready to hit the floor running.
Traffic is not an issue and everyone is amazed with how much you get done ...
and how young you look!


Great Lakes of the Rockies

Grand Lake

Shadow Mountain Lake

Lake Granby

---
.. to MainMenu .. Homes .. Land .. Commercial .. or .. to top of this page

Enter the MOSAIC and be Teleported

© Text & Structure of this site is Copyrighted 5/1/96.