What's New!
Jump to Weather Update .. or .. to MainMenu ..
Use your refresh button to get all of the recent updates. Clear your browser's cache. Reload.
We have been busy. Click here to see properties sold in 2015
The Grand Lake area sells itself all summer; families are out enjoying hiking, boating,
wildlife, shops and restaurants. By the time Autumn comes they are thinking they want
to be a part of it all. Fall is a decision making time.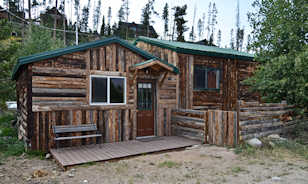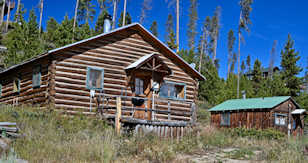 A small irrigation stream flows by
the cabins featured here to help create a leafy setting. The Log-sided 2 bedroom cabin has recently
been renovated and given new carpeting. Also included is a small 3 bedroom cabin. and almost
an acre of land with other out buildings. Own this with family or friends. $228,000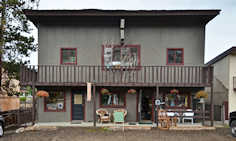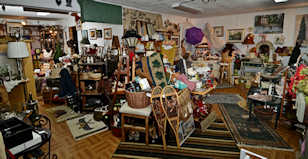 $259,000 for retail/warehouse property
along Grand Lake's main street. This summer, the building came alive with 16 mini-shoppes in the building!
Various members of the community came together to display their wares for sale - unique and one-of-a-kind.
The great turnover in inventory shows that this can be a successful business concept, meeting a need for locals,
vacation home owners and tourists, in this prime location on the right as you enter the main street of Grand Lake's
year round resort village! Approx. 5000 square feet including a huge warehouse which

does not need to be heated

.
Hidden stairway does not meet current code yet it is terrific as a secret feature in this building with a lot of history!
One working bath. Add heat in the retail area if you plan to stay open and cater to the winter visitors to the snowmobile capital of Colorado.

Real Estate Opportunity of the Decade! Twelve lots in a row along Grand Lake's main street -
all on the right hand side as you enter this year round resort village. As soon as one piece sells,
this unique opportunity for designing the future will be gone in a flash!

First time on the market in almost 100 years! Older home along
Grand Lake's main street with 4 lots (stretching from the corner by the hardware store all the way
to the "Bear's Den"). Property includes FOUR level sites in the heart of town, zoned commercial. $469,000
The home belonged to the second Park Ranger for Rocky Mountain National Park's west side and is still in his family, to this day.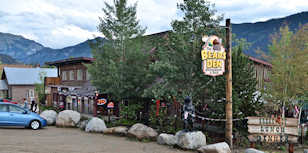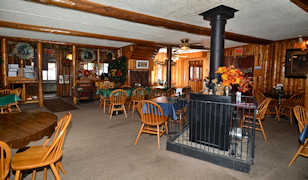 $375,000 for Four prime over-sized sites
zoned commercial with a 5,000 square foot building along Grand Lake's main street. Great atmosphere
for a mountain brewery or coffee roastery. Vertical log structure is presently set up as a restaurant and western bar
with spacious and flexible dining areas, western bar and an extra large commercial kitchen. Primitive living
quarters are on the upper level. This is one of the first properties that visitors see as they pull into
Grand Lake and gaze upon Mount Baldy looming at the far end of Main Street. It has an inviting
right-hand side of the road pull off with ample parking visible round the building. Inside, the building
has a classic Log Cabin look and feel that invites patrons to relax a while. Sunny patio on the west side
helps with extra busy days and events. There is also a private dining/party room with its own access to the kitchen.


Three-quarter acre of commercially zoned land along Grand Lake's main street.
Four extra deep building sites with views of Mount Baldy. Consider retail use or multifamily housing. $189,000

. . . . . .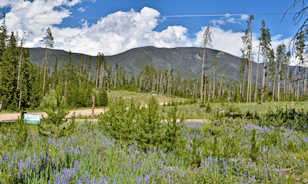 Four peaceful acres in Mountain Shadows. The lightly treed land
is almost level. A seldom used road wraps around three sides of the property. A short walk takes one
to a community greenbelt that borders the fishing canal. Continue along the canal, watch for osprey
and arrive at Shadow Mountain Lake close to Rocky Mountain National Park and Colorado River trails. $99,000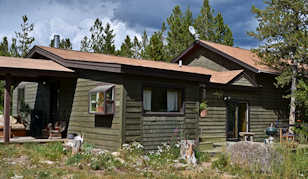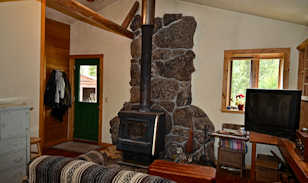 Home on 4 Acres of useable property
bordering hundreds of acres of Recreation District land. Two miles from Grand Lake Village,
boardwalk and beach. New carpeting in living room. Three small bedrooms, 2½ baths.
Some of the rooms have wood ceilings and walls.Living room, rec room and kitchen
all have raised ceilings. Really nice heated garage. Redwood deck. In the winter,
one can cross country ski directly onto Nordic ski trails and head to the
Sly Fox Restaurant by the Golf Course. $369,000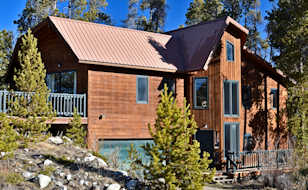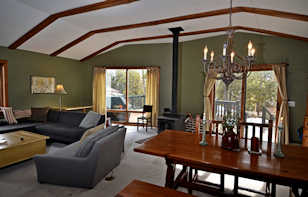 Spacious home in town on
Lakeside Drive with extra large deck and patio areas.Vaulted ceiling in Great Room.
4 bedrooms, 2 baths. 2150 sq.ft.+ garage.Across Rainbow Bridge from a waterfront park.
Ask about boat docking privileges and about buying the adjoining lot. $399,000


Spacious family home in Grand Lake Village
with fine views of Mount Baldy. Interior stone wall has fireplaces in both the living and dining areas.
Four bedrooms plus walkout lower level recreation room with wood-burning stove. Located close to
3 lakeside parks, shops and restaurants. 2700 sq, ft. Fenced & shaded pet area. $469,000


Mountain home with big deck
and mountain views through the trees on a 1/3 acre corner site, 3 miles south of Grand Lake Village,
just a mile and a half from boat launch and Colorado River hiking trails. Two bedrooms.
Unique touches on fireplace in living room. Separate party room with wood-burning stove
has its own private entrance (could be a large third bedroom). Spacious deck plus a screened
porch in back (great for pets). 1000 sq. ft. plus deck with everything on one convenient level. $210,000


Spacious home with 2000 sq. ft. plus
decks and workshop. Great Room with raised ceiling and lots of glass. Open loft has views of
Shadow Mountain Lake. Bedroom and full bath on main level. Lower level has a recreation
room and a large second bedroom plus a full bath and laundry closet.
The home sits on a 8/10th of an acre (shaped almost like a square). $269,900

Lake view Log Cabin in Shorewood,
one mile from Grand Lake Village. Extra wide lot has a garden path, fire ring and two storage "sheds",
one of which is a tiny yet historic cabin from the olden days. Fireplace and wood-finished ceiling add
to the mountain home ambiance. Three bedrooms, one full bath. 900 sq. ft. of interior space
on one convenient level. $228,000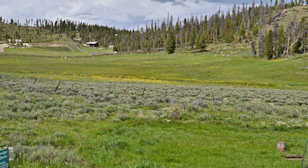 Swing together on your porch by a hidden meadow.
4/10th of an acre with lots of road frontage. Peaceful back road a mile from Hwy. 34
between Lake Granby and Shadow Mountain Lake. $39,900


Two Great Lakes shine
with a backdrop of mountains and Grand Lake Village laid out along the northwest shore of Grand Lake.
Panoramic views from within in a small community of homes near the Grand Lake Lodge.
Gated access with a paved road and impressive landscaping. Grand views of both Grand Lake
and Shadow Mountain Lake (similar to what you may recall from the porch of The Grand Lake Lodge). $299,000

NEW PHOTOS added showing the completed construction ....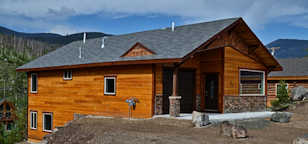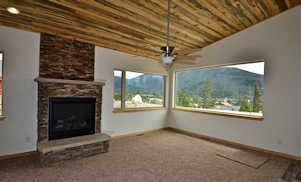 Enjoy all 4 Seasons of Grand Lake's
alpine environment from the comfort of this new home in Grand Lake Village on Park Avenue. Lake and
mountain views are right out your window a short walk from lakes, parks and restaurants. Attractive wood
ceiling, gas fireplace and distinctive baths give lots of character. Over 2000 sq. ft. plus garage.
3 bedrooms, 2½ baths. Recreation Room on walkout lower level. Main level has everything for
a couple on one convenient level with a master suite and a half-bath. $379,000


Waterfront at its closest!
Three-level lakeside townhome at The Harbor, with fireplace in Great Room. 3 bedrooms, 2½ baths.
Boat slip out in front. Share about 300 feet along the water ~~ including a sandy beach area.
Peaceful setting for vacation home owners; no nightly/weekly rentals are permitted.
Across the water, the protected eastern shore of Shadow Mountain Lake rises up into
Rocky Mountain National Park, celebrating its 100 year anniversary this year. $359,900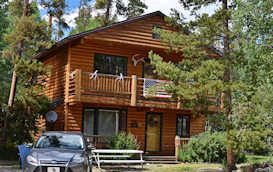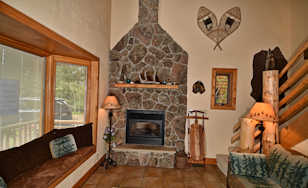 Best of worlds: close to town,
semi-private beach on Grand Lake and river frontage! Log-sided Lemmon Lodge area home
with community shared access to Grand Lake and the North Inlet Stream. Home is a few hundred feet
from boardwalk shops and restaurants. Immaculate 2 bedroom, 2 bath home with huge loft.
Raised ceiling in living room with two story fireplace. $469,000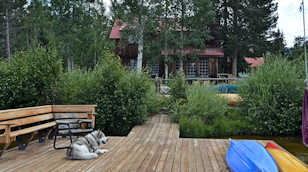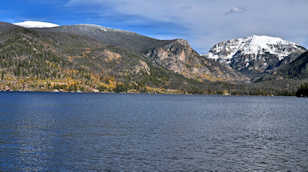 If you were the first pioneer
coming to Grand Lake and you could settle anyplace along the water, which location would
you select? In the 1880's, the first homes and hotels were built on this western shore.
By Grand Lake: historic bark-sided home with guest cabin. Level walkways
to both homes, to lake and dock. Postcard views of Mount Baldy from a peaceful cove
near the southwest corner of Grand Lake. Log beams, fine wood finish in living room.
Detached guest cabin has one bedroom, bath, living room and its own kitchen.
Boat dock with slip and seating area, all in great condition. $975,000

Lakefront home with boat dock on Shadow Mountain Lake: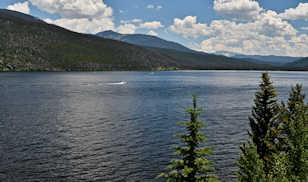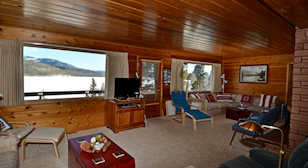 Lakefront home on Shadow Mountain Lake with attractive boat dock/slip and a
golden wood finish inside. Four bedrooms, 3 baths. Great design for entertaining
and accommodating guests. 1870 sq.ft. plus double garage and wraparound deck.
Landscaped garden spot with a variety of evergreens and aspen. $838,000


$157,000 for commercial building along the main street of
Grand Lake's year round resort village. Storage buildings up the hill are included in this price;
land stretches all the way to the alley above. Appealing design with bright and cheery interior
to display your goods and have a well lit studio. Next to Dairy King and a busy grocery store.
Current business is not included.


Saturday, July 25, 2015: gorgeous summer day! Just added, more coming:

Imagine a meadow whose rich textures of grasses
and clovers envelope one with a sense of well being! The Timothy grass sends its blooms as high as a pony.
The purple tops of Red Top clover sway under the clacking of aspen leaves. The summer rains have produced
a bountiful yield that can keep many animals fed and happy during the winter. Each harvested handful is like a
"meadow in a can," an explosion of seasonings. Imagine sinking one's hobbit toes into a meadow so deep
that it it tickles all the way up one's leg. 131 acres of classic Colorado high country: aspen-lined meadows
rising towards snow-capped peaks. From the beginning, one has comfortable year-round living space
for one's family plus two more guest cabins for extra help. $1,400,000 with water rights

This is and will be the only marina
on Shadow Mountain Lake! It serves both Shadow Mountain Lake and Grand Lake and includes over 100
boat slips plus moorings. The main building has a large service bay for working on two boats at a time.
The middle part of the building has a large customer greeting area and a long covered porch.
Food and restaurant service could possibly be developed. . . . . The northern end of the building
might be used as a small year-round family dwelling. $1,750,000
Thursday, July 23, 2015: a toast to the top of Summer!

When one leaves Hwy. 40 and turns northward onto Hwy. 34
to Grand Lake, the road takes one by large ranches and then ramps up to Coffee Divide. Just as the
road levels off, a grand vista pops out of Lake Granby rimmed by the Continental Divide and clapped
with clouds. From Lake Granby and onward to Shadow Mountain Lake, a panorama of lakes, mountains
and sky accompanies one along the way to Grand Lake. Across the road from where Lake Granby first
leaps into view, almost half of an acre of level land quietly waits for someone to frame its living view
through the windows of their living room. Located less than two hours from Denver in a sunny world
of its own by a high alpine lake. Boat ramps, marina and a restaurant are close by. $59,900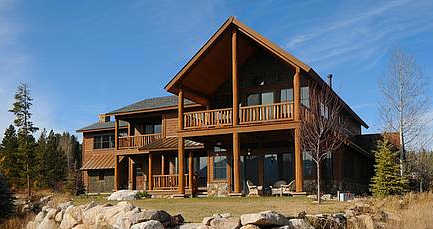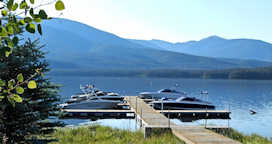 By Shadow Mountain Lake! Well-appointed home with a boat slip several hundred feet away.
Alderwood floors, trim and doors, Wolf appliances, cherry cabinets, granite countertops,
hand-crafted built-in chests of drawers, lots of storage. Great room with fireplace opening
onto the patio is ideal for entertaining. Master bedroom suite has its own fireplace, coffee bar
and an elegant bath with heated floors. Unique dry stack stone work inside and out. $1,375,000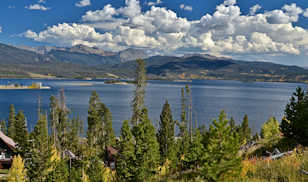 3.8 Acres on a hill with panoramic views
of Lake Granby and The Continental Divide. You'll love watching the lithgs and shadows move
over the waters and up the forested mountains. As the day closes, snow-capped peaks shimmer
with alpenglow; nightfall brings out the stars and perhaps two moons, one in the sky and one
reflected in the water. Be with the clouds as they hover over Lake Granby and then blossom
as they reach 13,500' Arapaho Peak. A paved public boat launch is practically at your feet.
National Forest access is two miles up nearby Road 4. $89,000

You'll love sitting back
on your covered porch taking in the mountain air and enjoying the views to Grand Lake and
Rocky Mountain National Park through the trees. River rock gas fireplace. Master bedroom
suite plus a guest bedroom and full bath. Condominium on a hill at the west end of Grand Lake Village. $197,000

Level, easy to build on acre of land just west of Grand Lake Village
(near Golf Course road). Short bicycle ride from restaurants, shops and trails. $79,000
Lake view home in town with 3 bedrooms,
2 baths and lots of character. Country style kitchen and dining area with open log beams. Bright and cheery
living room with lots of glass. Leafy setting in an aspen grove surrounded by wild flowers! $339,900
Saturday, July 11, 2015: sun is out and smiling, new photos added ... more coming ...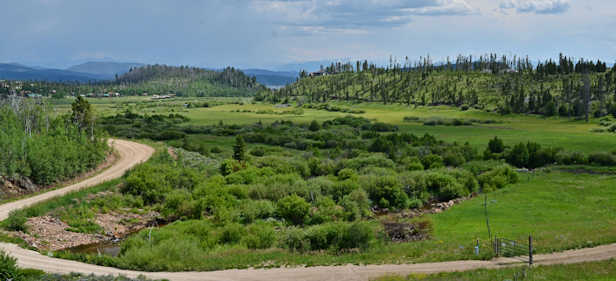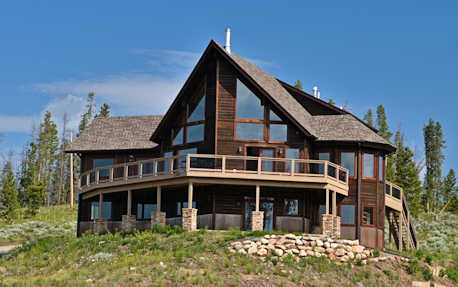 Grand home on almost 3 acres
overlooking green meadows. A natural stream flows through the property, creating pleasant sounds
and attracting wildlife. Great Room with immense fireplace and lots of glass. Rounded dining wing,
gorgeous kitchen with granite topped island. Each of the three bedrooms is its own luxurious suite.
Large recreation room on walkout lower level, perfect for media room and entertaining guests.
3 bedrooms, 3 baths. Over 3000 sq. ft. plus Double Garage and decks. $729,000

Wake up to nature's bouquet
right out your windows. Soda Creek condominium at Soda Springs overlooking Soda Creek's
final flourish of plants and wildlife before she joins Lake Granby. Fishing points and parks along
the lake are a short walk away. Two nearby restaurants are ready to serve, regardless of what you catch.
Three bedrooms, two baths with a particularly grand upper level bedroom or office overlooking
water slipping through the willows unseen. 1360 sq. ft. plus decks and a garage with two large windows
(great for your personal shop and studio). River rock gas fireplace. $199,000 furnished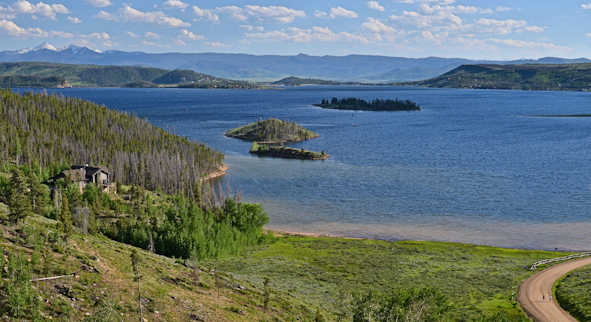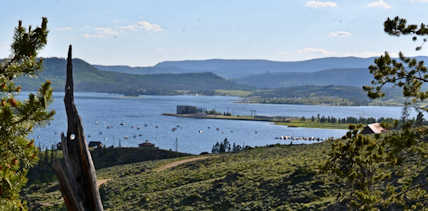 Lake view site
poised at the top of an outcrop overlooking Lake Granby. 4.43 acres in Mountain Shadows.
The shoreline below the site is undeveloped National Recreation Area land.
To the far west, the land rises into Arapaho National Forest and snow-capped peaks. $165,000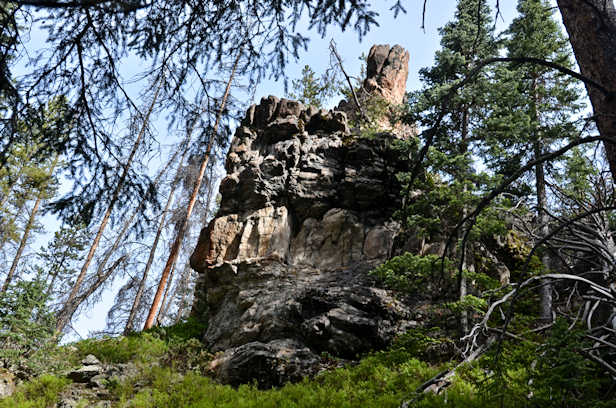 Click to » druid walk & recent National Park images on our weather page.



Log Chateau on a hill with panoramic lake and mountain views. Lodge style Great Room with massive see-through
fireplace sending its glow into the living and dining areas. Large recreation room on walkout lower level with wide
views and an adjoining media room. Luxurious master suite. Versatile floor plan for accommodating guests and
storing seasonal items. Expansive deck for dining, relaxing .. hot tubbing ...Three-quarter acre of land close to
lakeside parks, boat launches and trails to the sky. Over 5000 sq. ft. plus garages and expansive deck. $1,050,000

Try your luck or click here » for Keywords to Open the Right Doors in your Search


Click here for » the online version of our Wish Book catalog.


Click to our Weather Page for recent scenery and wildlife photos.
Mountain Living
Let every weekend be a 4-day weekend! On Thursday afternoon, you are wrapping up
four power days at the office and telling your friends that you are heading that evening
to Grand Lake, two hours away yet worlds apart. You've got your mobile devices and
are ready to work on the bigger picture. Friday morning, you wake up in your mountain
retreat and already .... you are thinking is more clear as you plan ahead and tie neat little bows
on completed tasks. Saturday dawns and you are fully attuned to your alpine environment
and tingling with life. The great outdoors beckons with its newness, immensity and wildlife.
Or maybe you'll just have it out your window or beyond your deck while you enjoy some
private time with your family ... or a neglected hobby ... or a book. Saturday afternoon or eve,
you are ready to hobnob with some of the other lucky fellows enjoying their extended weekend.
Dine at a restaurant, walk the boardwalk, do some shopping, cruise by the beach ....
remind yourself to have your boat ready (even if its just a kayak) for Sunday.
Sunday morning you do some outdoor church time. Now your head is really stuffed
with plans. You get a head start on them on Sunday eve and then sleep like a rock.
Early Monday morning, you zip back to work ready to hit the floor running.
Traffic is not an issue and everyone is amazed with how much you get done ...
and how young you look!


Try your luck or Click here » for Keywords to Open the Right Doors in your Search


Great Lakes of the Rockies

Grand Lake

Shadow Mountain Lake

Lake Granby

---
.. to MainMenu .. Homes .. Land .. Commercial .. or .. to top of this page

Enter the MOSAIC and be Teleported

© Text & Structure of this site is Copyrighted 5/1/96.