»» .. to splash page »» www.MountainLake.com «« Jump to Homes ... Land ... Businesses ... Weather .. What'sNew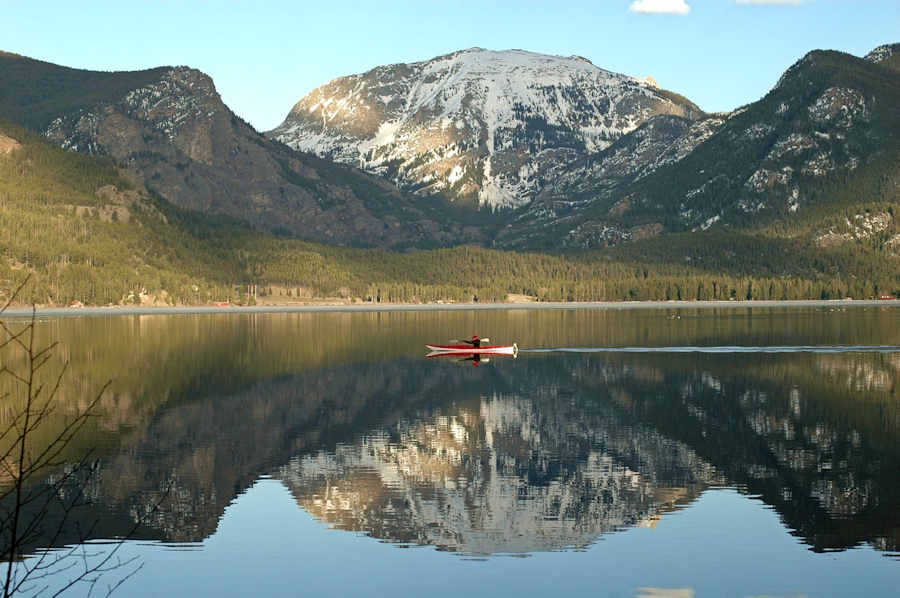 Scroll down for a wider view.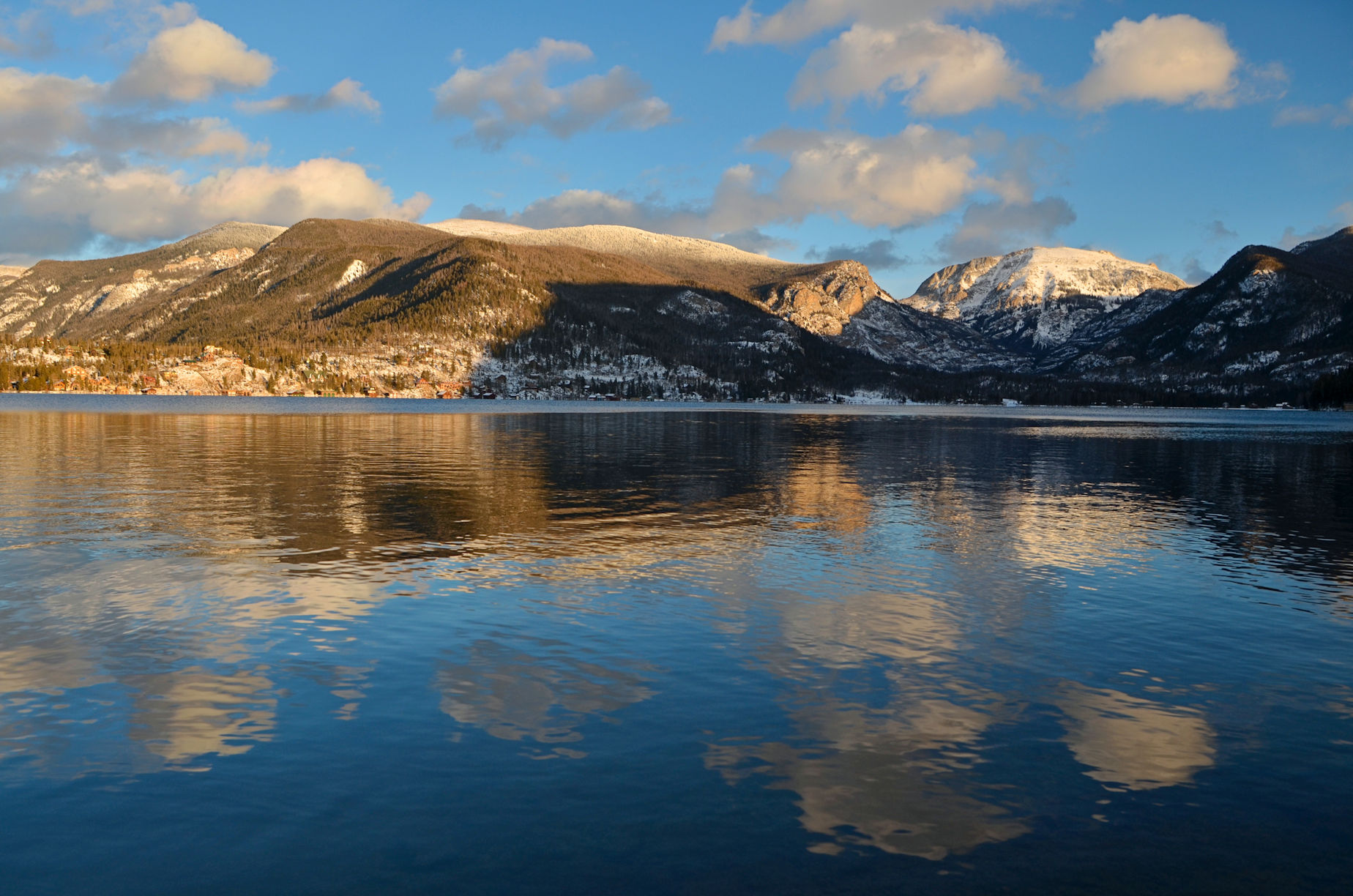 Scroll down to see more to the left into Rocky Mountain National Park.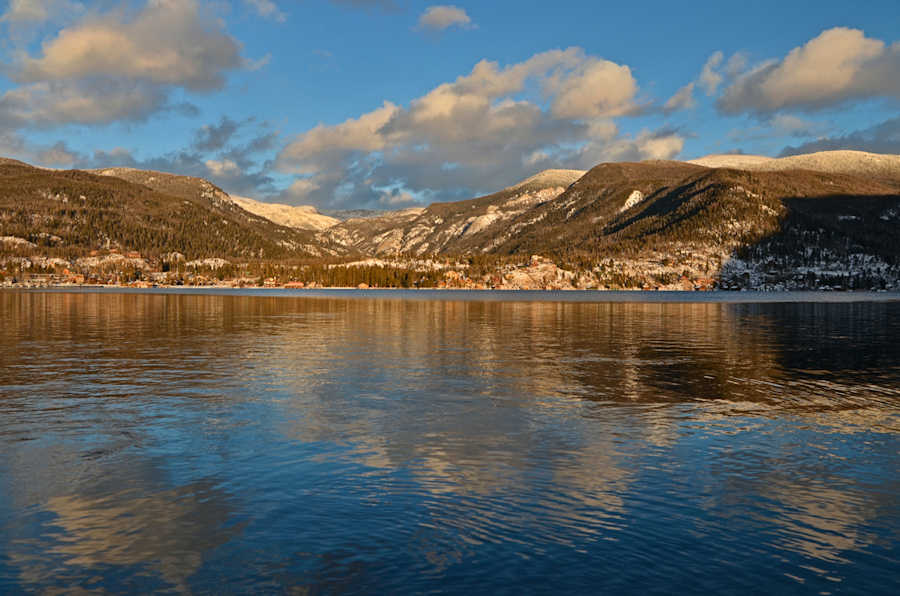 Scroll down for summer views ... click on a photo to see more.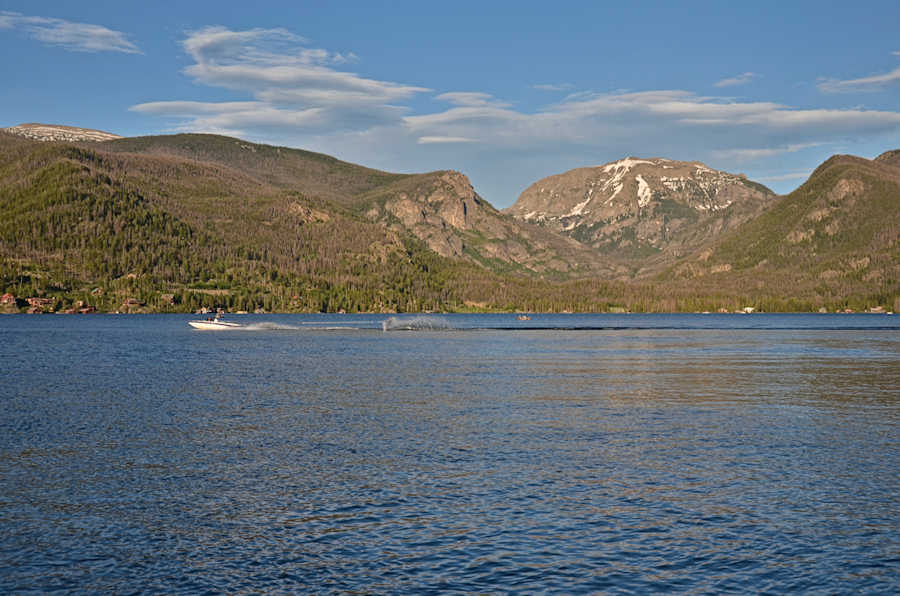 Scroll down for sailing on Grand Lake ...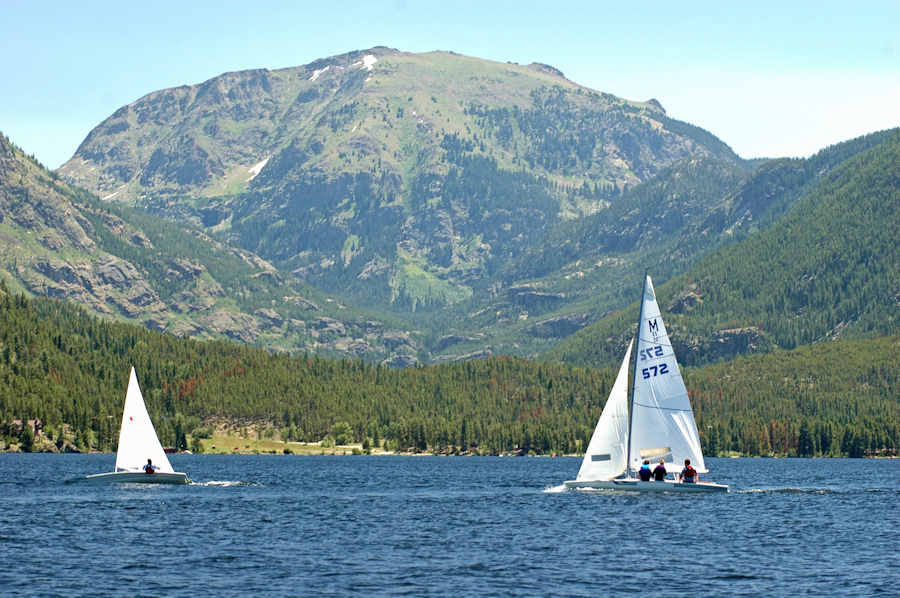 Scroll down for 3 more views of Grand Lake.

Click on a photo for more scenes around the lake.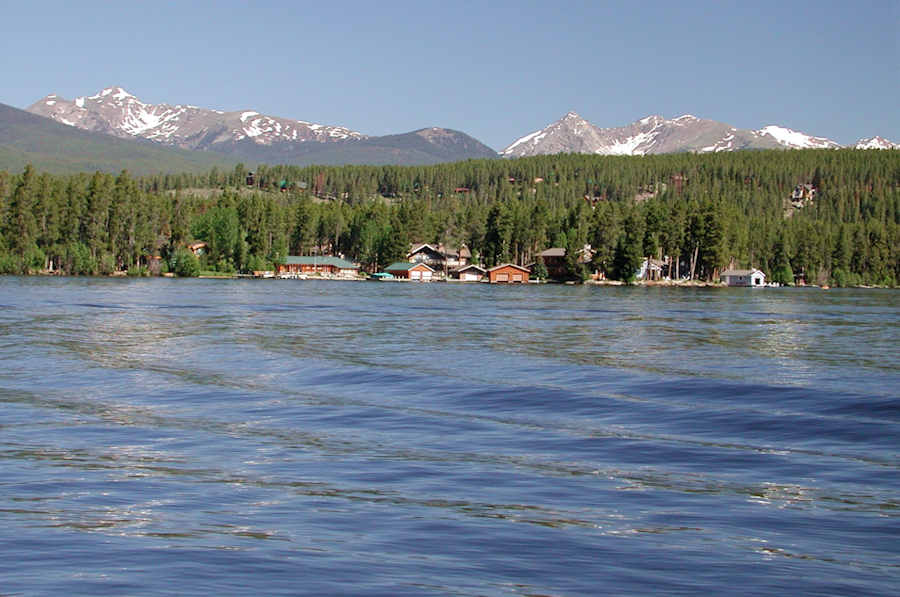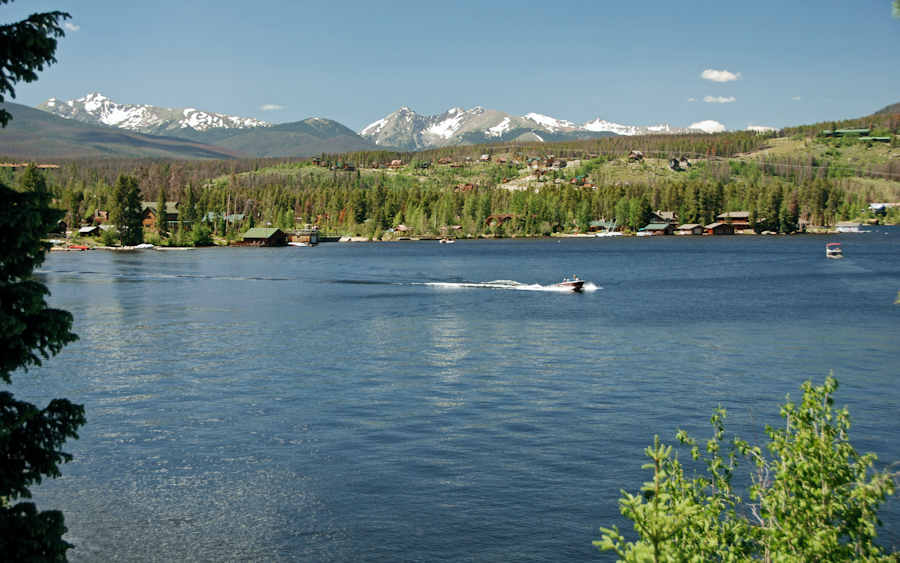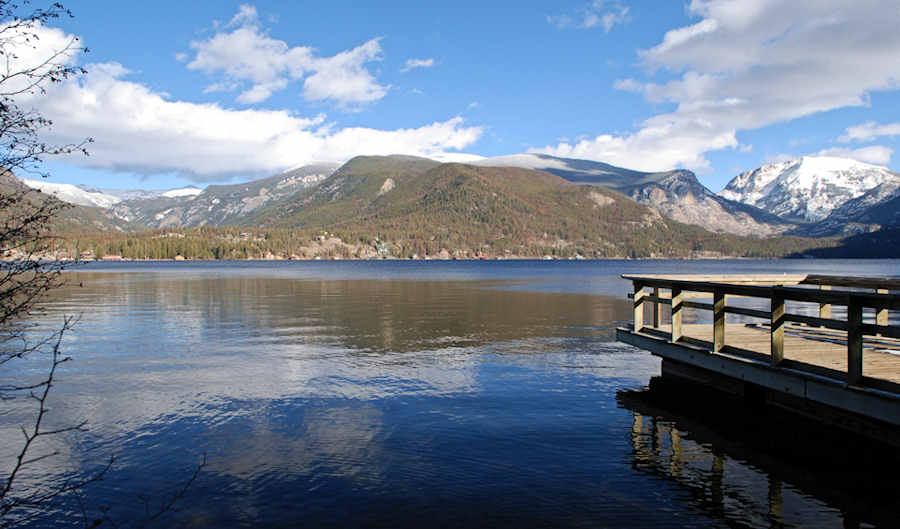 Click on photo for more scenes around Grand Lake, Colorado.

Click here for Beach Scenes and boat docks! Although Grand Lake is right in the heart
of Grand Lake Village, it can actually be missed. It is located one block south of Grand Lake's
busy main street and boardwalk. The Great Lakes that one sees as one approaches the Grand Lake
area and makes the final turn off of Highway 34 into town are Shadow Mountain Lake and Lake Granby.
Grand Lake is the largest natural lake in Colorado. It is at the headwaters of the Colorado River
and receives all of its water from Rocky Mountain National Park which surrounds three sides of the lake.
Grand Lake is on the western slope of the Continental Divide. The official Continental Divide Trail
runs right through Grand Lake Village. The alpine lake lies peacefully at 8,369 feet above sea level.
The lake is some 260 feet deep. In many locations, the water is 50 to 100 feet deep a short ways out
from the rugged shoreline. The steep north face of Shadow Mountain plunges right into the lake.
One can enjoy going by boat from Grand Lake to Shadow Mountain Lake. There is a interconnecting
water channel between the two lakes which flows strongly (free of ice) even in the depths of winter.
A veritable river of water, as much as 500 cubic feet per second, artificially flows from Shadow
Mountain Lake to Grand Lake and then disappears through a 13 mile tunnel that runs under the Continental
Divide to Estes Park. This transmountain diversion is part of the Colorado-Big Thompson Project.
The 9' diameter tunnel is big enough for a jeep to easily drive in it. This fresh water for thirsty people
and plants on the Great Plains side of the mountains is collected by Grand Lake, Shadow Mountain Lake,
Lake Granby and several smaller lakes. Water is pumped up to Lake Granby from Willow Creek Reservoir
and also from where the Fraser River meets the Colorado River at the small Windy Gap reservoir west of
Granby. Lake Granby is a large and terrific lake to explore by boat, however, it is not connected to Grand
Lake or Shadow Mountain Lake. A huge volume of water is pumped each year up from Lake Granby to a
popular "fishing" canal that flows into the south end of Shadow Mountain Lake. All of this water movement
creates open water conditions even during the coldest part of the winter. The Continental Divide wraps
around three sides of the Grand Lake area to the east, north and west. This is why it is The Gem
of the Rockies with a perfect year-round alpine environment.
In addition to the public beach, fishing and boat docking areas in the heart of Grand Lake Village,
there are also two more fine parks along Grand Lake. One is at the far east end where there is a
boat launch and a popular trail head to Adams Falls and points beyond all the way to the top of
Mount Baldy and/or around to its mythical back side. Another terrific park is Point Park where the
Channel meets Grand Lake. This park has picnic tables, excellent fishing and picture perfect views.
There is a large paved boat launch area at the south end of Shadow Mountain Lake
near the Green Ridge Campground area of your Arapaho National Recreation Area.

Click here for » more scenes around the lake.

Great Lakes of the Rockies

Grand Lake

Shadow Mountain Lake

Lake Granby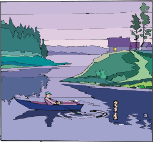 Jump to Homes ... Land ... Businesses ... Weather .. What'sNew

.. to Scenery Gallery and Virtual Hikes ..


We have our own channel now to bring Grand Lake to you.
Ready for a Road Trip? Click here for the Summer Route to Grand Lake
via Trail Ridge Road over Rocky Mountain National Park ... from Estes Park.

Save on gas and see more! Park your car and »» explore the deep back country ««
Buy a cabin in the mountains so that you'll be ready and rested when the hills and skies beckon.
Learn to work from your home, located where YOU want to be. Telecommute.



to .. Main Menu .. .. to Real Estate choices ..
Enjoy this media while you peacefully dream of visiting Grand Lake.
..
Please do not save photographs without explicit permission from Mountain Lake Properties.
© Text & Structure of this site is Copyrighted 5/1/96.