Try the search above or Click here » for Keywords to Open the Right Doors in your Search


Your family can enjoy Mountain Lake Property whether you own on the water or not.
If the search feature shows you a home you like, please confirm that it is in the list of actively available homes below.
We try to remove oldie goldies, however, the closing process can take months!
The list below is ordered by price.

S
croll way down for Waterfront Vacation Homes in the Grand Lake area.


Scroll way down this page to see grand homes and waterfront opportunities.
Properties are listed in order of price. Click here to jump up to higher ranges: ... over $400,000 ... over $500,000
... click here to » see vacant land for your dream home in the mountains.

$105,000 for Brand New Tiny Home! Two bedrooms,
each with a bath, on opposite ends of the open living/dining/kitchen area. 860 square feet
of living area plus two covered porches and one open deck. Home was built in 2017. |
1728 sq ft. all on one convenient level!
Custom home features large, lovely kitchen in enormous Great Room with master suite on one side
and 2 guest rooms with bath on the other. Wonderful garage with 14 foot doors for an RV or lift;
it has four big windows up high to let in lots of light without anyone seeing inside.
Half acre of usable land and lots of parking on a quiet back road with no covenants,
near the north shore of Lake Granby. $345,000
Columbine Lake Home with wonderful
elevated deck and great views of Mount Baldy.Great room with two story fireplace; circulate easily
into the kitchen and out onto the deck. 2400 square feet: upper level master suite with spacious loft.
Main level: two guest bedrooms with a full bath. Lower level recreation area with a convenient half bath.
$399,000 (This is no longer under contract. The offer was contingent on selling a home that did not sell.
The sellers have repaired items that came up on the home inspection. Move in and start enjoying right away.)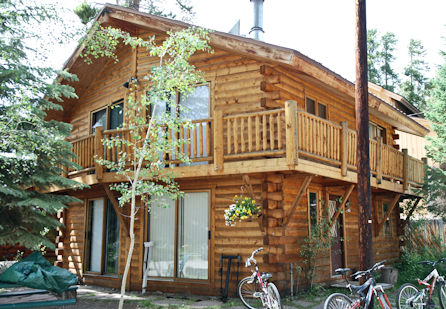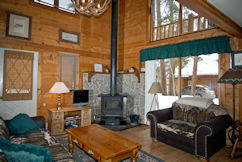 Log Home in a private community
bordering both Grand Lake and the North Inlet Stream. You'll love the scenic fishing point ...
terrific for long afternoons while you and the kids launch kayaks and paddleboards ...
and cook on the grill! Two bedrooms, two baths plus a loft for additional guests (they will come!).
Wood-burning stove in the Great Room enhances the peaceful mountain setting.
Boardwalk Shops and Restaurants are just two blocks away. $569,000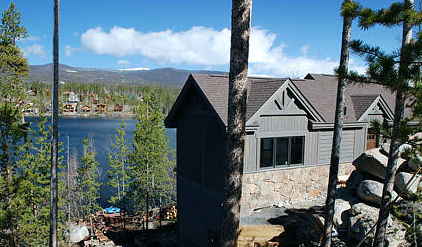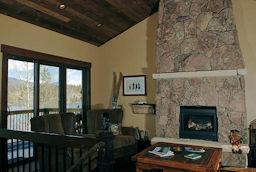 Lakefront home with uplifting views
of the Never Summer Mountains beyond Columbine Lake. Built in 2007 with top of the line finish.
You'll love the fine wood and tile floors, the raised ceiling, and the heavy stone fireplace.
Outside there is a large patio plus your own boat dock and fire ring by the lake for telling stories.
Three bedrooms plus recreation room. $789,400
At your choice, own the one bedroom condominium next door for an extra $100,000 with your full price purchase of this home:


Great rental potential: Lakefront home with Boat House and Sun Deck on Shadow Mountain Lake.
Enjoy views from the north end of the Lake all the way to the islands at the south end.
To the east, Rocky Mountain National Park rises from the far shores of Shadow Mountain Lake.
No one can build along these protected shores or higher up. An enclosed sun porch lets one savor
the views year-round. Great Room has raised cathedral ceilings and a wood-burning fireplace
set in a huge rock wall. Lots of glass on the lake side to bring in the views. $1,400,000


End of the list of homes available in the Grand lake area.


Try our luck or click here for » Keywords to Open the Right Doors in your Search


If the search feature shows you a home you like, please confirm that it is in the list of actively available homes below.
We try to remove oldie goldies, however, the closing process can take months!


For each home, we have inside and outside photos and often views from the decks.
Click on the pictures to move through any presentation. Relax and enjoy!
Follow the water! Live by Colorado's Great Lakes.
Nothing holds its value better than a home by water.

Each property's price is primarily determined by its location, size and views.
If you want lakefront property, you'll have to go to the top price ranges.
If you accept property which is simply across a road from a lake, you'll pay much less.
Our lakes have many open parks, beaches and boat ramps for everyone's enjoyment.
Affordable and spacious housing has always been here, tucked away on back roads
that outsiders eventually discover and buy into, while town planners endlessly dream
of affordable housing the government way in the town centers. It's here now!

Print the pages which interest you, then call us at 970-627-3103
so that you may personally inspect the real estate. We can send you detailed property
flyers and inform you of similar properties which might be available through other
sources. For telephone numbers and details about us, click on our name here:
Mountain Lake Properties. Ask for our weekly updated color brochure to help
you peruse our huge selection. This website however, is the best way to keep up.
Send e-mail to readydonna@gmail.com.

For general exploring, go to our Main Menu. If you cannot find what you saw before,
check the Solds page that lists properties with an offer pending. The list restarts (in order of price)
further down the page for transactions that have completely closed in the current year.
Every week we share our listings with other real estate offices. We sell their listings
and they sell ours. We want to be sure that you see the whole selection.


Our property lists and photos are updated every week. Call us and we'll make sure you
have the latest information and inform you of properties available through other sources.
Mountain Lake Properties: 970-627-3103.
Send email to readydonna@gmail.com

Click here to » see home sites -- buy land and design your own retreat.
Hopefully your are viewing our latest edition of this page.
Refresh, close windows, clear cache. Wash. Rinse. Repeat.
Maximize your screen and scroll down each page that opens.

Let it Snow! Click here for timely reminders to ensure
that your experience in Grand Lake's Winter Wonderland is magical.
Jump to .. Top of page .. Land .. Commercial .. What's New.
© Text & Structure of this site is Copyrighted 5/1/96.