Try the search above or Click here » for Keywords to Open the Right Doors in your Search


Your family can enjoy Mountain Lake Property whether you own on the water or not.
If the search feature shows you a home you like, please confirm that it is in the list of actively available homes below.
We try to remove oldie goldies, however, the closing process can take months!
The list below is ordered by price.

S
croll way down for Waterfront Vacation Homes in the Grand Lake area.


Scroll way down this page to see grand homes and waterfront opportunities.
Properties are listed in order of price. Click here to jump up to higher ranges: ... over $400,000 ... over $500,000
... click here to » see vacant land for your dream home in the mountains.

Ground-level, Shadow Park West
condominium overlooking Grand Lake, its village and mountains. Wood-burning fireplace.
Two bedrooms, 1½ baths, all on one convenient level. $205,000 furnished

Rustic Cabin with big deck and
mountain views through the trees on a 1/3 acre corner site, 3 miles south of Grand Lake Village,
just a mile and a half from boat launch and Colorado River hiking trails. Two bedrooms.
Unique touches on fireplace in living room. Separate party room with wood-burning stove
has its own private entrance (could be a large third bedroom). Spacious deck plus a screened porch
in back (great for pets). 1000 sq. ft. plus deck with everything on one convenient level. $225,000

$285,000 for lake view fixer-upper
with vacant land included.3 bedroom, 2 bath with log home with panoramic views of Lake Granby.
Located across from Rainbow Bay and Sunset Point Boat Launch, near the southwest portion of Lake Granby.
Boardwalk Lofts - on the current site
of the old bowling alley, right next to Rocky Mountain Repertory's Live Theater (celebrating their
50th anniversary). The present building is coming down and construction is scheduled to begin this summer.
Each will have fine finishes and a linear fireplace. Plan on occupancy in the summer of 2018.
Studio/efficiencies are $189,900. One bedrooms are priced from $229,900 and two bedrooms from $359,900

Cozy cabin on over two acres,
just a couple of blocks from thousands of acres of National Forest trails for year round adventure.
Fairly level, usable land with mountain views. Bedroom and bath on each of two levels,
with loft above living area. $385,000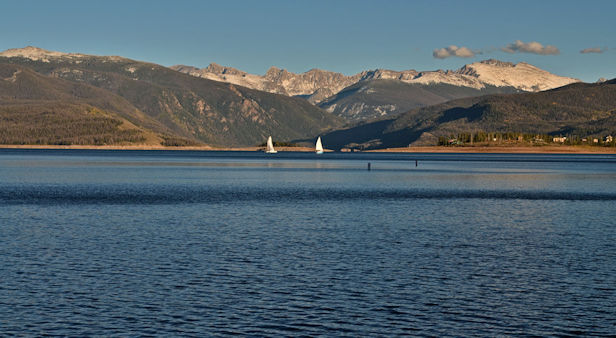 Home with new 60' x 30' garage just now
being completed on almost an acre of land conveniently located across Hwy. 34 from Lake Granby's Rainbow bay.
The lake will charm you through the year with its many moods. One has protected views across the water to snowy
peaks in Rocky Mountain National Park and the rugged Indian Peaks. Worlds apart from Denver yet less than two hours
away with all the room you need for seasonal toys and activities. Three bedrooms, bath on each level. $395,000

Open and spacious Great Room
next to a large covered porch. Mountain views. Four bedroom, 3 bath home with fireplace.
1880 sq. ft. plus attached garage and large covered porch. $399,000


This full log home sits at the end of a
quiet cul-de-sac in the Columbine Lake area. Main Level: Spacious Great Room with new flooring
plus two guest rooms and full bath.Master suite on upper level by loft. 1700 sq. ft. plus large
unfinished basement. Covered porch overlooks a small garden. $429,000 mostly furnished.
Columbine Lake Home with wonderful
elevated deck and great views of Mount Baldy.Great room with two story fireplace; circulate easily
into the kitchen and out onto the deck.2400 square feet: upper level master suite with spacious loft.
Main level: two guest bedrooms with a full bath. Lower level recreation area with a convenient half bath.
Vacant lot to the right (as you face the home) gives lots of space to play; that big yard is included. $469,000

Delightful home in town,
easy to live in with everything on one easy level. Double garage in front plus a
drive-through snowmobile garage in back on the home's extra-large, landscaped property.
Great Room with elevated ceiling, electric fireplace and wood floors. Master bedroom suite
beyond one end of the Great Room plus two guest rooms and a full bath
at the opposite end ~ a great floor plan for having company.
Boat docking privileges in the marina a couple of blocks away. $496,400
Are you looking for a remote mountain retreat with no covenants?
Consider this 2500 square foot home built in 2004 on over an acre near the National Forest up Road 4.
Enjoy views of an expansive mountain range across Lake views from Great Room and wrap around deck
as well as peaceful views across a meadow.Long tandem garage. Quiet location about 3/4 mile from
a county maintained road. Private well and septic system, angled south/southeast
for passive solar advantage, propane for in-floor heat. $495,000 furnished.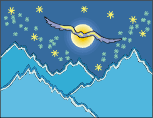 There is no place in the world tucked away like Grand Lake in the heart
of a great country. Scroll down for homes to treasure for generations.

---
\

Scroll down for Special Homes for over $500,000

Charming riverfront lodge in town,
dates back to the turn of the last century. Large room along the river features a huge fireplace.
Terrific location just a block off Grand Lake's boardwalk and two blocks from the beach.
Bedrooms are on the upper level. $550,000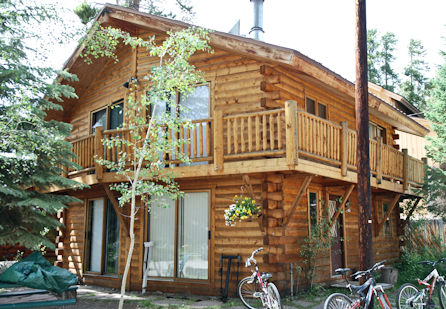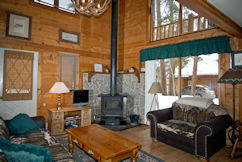 Log Home in a private community
bordering both Grand Lake and the North Inlet Stream. You'll love the scenic fishing point ...
terrific for long afternoons while you and the kids launch kayaks and paddleboards ...
and cook on the grill! Two bedrooms, two baths plus a loft for additional guests (they will come!).
Wood-burning stove in the Great Room enhances the peaceful mountain setting.
Boardwalk Shops and Restaurants are just two blocks away. $569,000

Mobile home park plus 4-unit apartment
building, fully remodeled. Four oversized commercially zoned lots just 200 feet from our main street offer
steady income for now and great potential for the future with this 2/3 of an acre. You do not own
the mobile homes. Simply collect space rent from 13 of them! No competition. $595,000
Log-sided home with 5 car garage
on over 4 acres close to National Forest land. Pastoral views across ranch land towards Lake Granby and
snow-capped mountains. Easy access to thousands of acres of National Forest Land just up the road! $599,000

Brand New, with Big Views
of Grand Lake and Shadow Mountain Lake from an easy-to-walk-to, in-town location!
Master suite on main level, three more bedrooms on upper level, two designed as suites.
8 foot wide picture windows, bringing in the views from the east to the southwest.
3400 sq.ft. plus a 900 sq.ft. garage. $699,000


Wrap-around views of Lake Granby from a scenic point in Mountain Shadows. Grand home with cathedral ceilings
and everything on one level. Master bedroom suite in the east wing, two bedrooms plus a 2nd office in the west wing.
Impressive architectural design with unique furnishings that fit right in. Over 2500 sq. ft. plus double garage and
covered decks. 2.8 acres of land. $850,000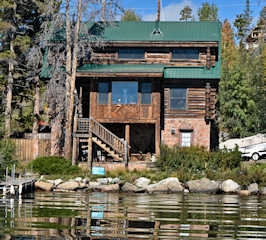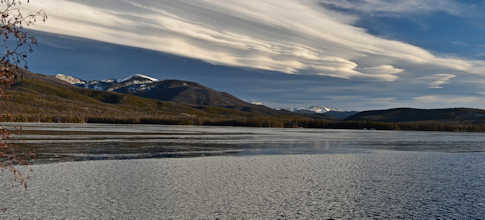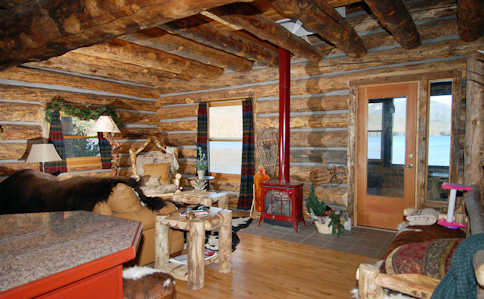 Lakefront Log Home set just a few feet back from Shadow Mountain Lake's constant water level.
40' long boat dock. Classic rustic timbers, wood flooring and ceilings. Panoramic views across the lake.
to National Park land. Lakeside dining room has lake view on three sides. 4 bedrooms, 2¼ baths (½+¾+1).
Each of the bedrooms has its own lake view. 2070 sq. ft. plus double garage. $995,000

At your choice, own the one bedroom condominium next door for an extra $100,000 with your full price purchase of this home:


Lakefront home with Boat House and Sun Deck on Shadow Mountain Lake.
Enjoy views from the north end of the Lake all the way to the islands at the south end.
To the east, Rocky Mountain National Park rises from the far shores of Shadow Mountain Lake.
No one can build along these protected shores or higher up. An enclosed sun porch lets one savor
the views year-round. Great Room has raised cathedral ceilings and a wood-burning fireplace
set in a huge rock wall. Lots of glass on the lake side to bring in the views. $1,400,000


End of the list of homes available in the Grand lake area.


Try our luck or click here for » Keywords to Open the Right Doors in your Search


If the search feature shows you a home you like, please confirm that it is in the list of actively available homes below.
We try to remove oldie goldies, however, the closing process can take months!


For each home, we have inside and outside photos and often views from the decks.
Click on the pictures to move through any presentation. Relax and enjoy!
Follow the water! Live by Colorado's Great Lakes.
Nothing holds its value better than a home by water.

Each property's price is primarily determined by its location, size and views.
If you want lakefront property, you'll have to go to the top price ranges.
If you accept property which is simply across a road from a lake, you'll pay much less.
Our lakes have many open parks, beaches and boat ramps for everyone's enjoyment.
Affordable and spacious housing has always been here, tucked away on back roads
that outsiders eventually discover and buy into, while town planners endlessly dream
of affordable housing the government way in the town centers. It's here now!

Print the pages which interest you, then call us at 970-627-3103
so that you may personally inspect the real estate. We can send you detailed property
flyers and inform you of similar properties which might be available through other
sources. For telephone numbers and details about us, click on our name here:
Mountain Lake Properties. Ask for our weekly updated color brochure to help
you peruse our huge selection. This website however, is the best way to keep up.
Send e-mail to readydonna@gmail.com.

For general exploring, go to our Main Menu. If you cannot find what you saw before,
check the Solds page that lists properties with an offer pending. The list restarts (in order of price)
further down the page for transactions that have completely closed in the current year.
Every week we share our listings with other real estate offices. We sell their listings
and they sell ours. We want to be sure that you see the whole selection.


Our property lists and photos are updated every week. Call us and we'll make sure you
have the latest information and inform you of properties available through other sources.
Mountain Lake Properties: 970-627-3103.
Send email to readydonna@gmail.com

Click here to » see home sites -- buy land and design your own retreat.
Hopefully your are viewing our latest edition of this page.
Refresh, close windows, clear cache. Wash. Rinse. Repeat.
Maximize your screen and scroll down each page that opens.

Let it Snow! Click here for timely reminders to ensure
that your experience in Grand Lake's Winter Wonderland is magical.
Jump to .. Top of page .. Land .. Commercial .. What's New.
© Text & Structure of this site is Copyrighted 5/1/96.