Mountain Lake Properties in the Grand Lake, Colorado area for under $200,000.
Listed below in order of price is a wide selection of mountain getaways
for under $200,000! Click here to » see larger homes over $200,000.
.. or click here to » see home sites -- buy land and build your own retreat.

Classic and charming
cabin with nice yard to stretch out on lawn chairs and soak up the sun or gather around the
fire-pit and make S'mores. Moose frequent the area behind the house where a small stream flows.
Make s'more memories inside the cozy one bedroom, one bath cabin which owners have kept
nicely updated with new kitchen countertops and sink, stove and microwave, carpet, new roof,
and many other upgrades, including a nice sized log-sided storage shed on deck. Enjoy the
cozy wood burning fireplace all times of year as this is a year round cabin. $94,500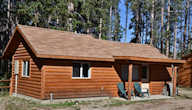 $103,000 for log-sided cabin with attractive log posts and beams.
Spacious new kitchen/dining and sitting area plus adjoining room with a queen bed and a double bed.
New shower in the tiled ¾ bath. Nestled near the back of the Daven Haven area.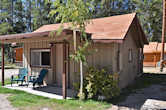 Indian Paintbrush Cabin #34 at the Daven Haven Resort in Grand Lake Village.
Comfortable living area. Full size kitchen and appliances. Private bedroom with log beams on the ceiling.
Attractive new tile shower in 3/4 bath. Main room with wainscoting.Renovated for year round comfort.
New log siding included at $112,000.

Downsize your home in Denver and have a retreat in an alpine environment just two hours away.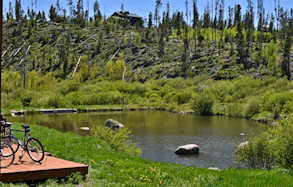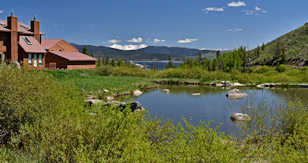 Affordable condominium in
a peaceful and pastoral setting by the back ponds of Soda Creek. Attractive wood finish in
Great Room with fireplace and high ceiling to open loft. Two bedrooms plus loft.
Two baths plus wet bar. 880 sq. ft. plus decks. $139,900



$159,900 for nicely furnished two bedroom condominium
with protected views of mountains and meadow from its dining area and master suite. Great Room has an
attractive gas fireplace that can efficiently keep your place warm while you are away.
Sun-room off the master is a great for office … or … nursery. Patio borders your maintenance-free
open space lawn. 955 sq. ft. plus decks and detached garage. 18 months of HOA dues shall be paid
at closing with a full price offer.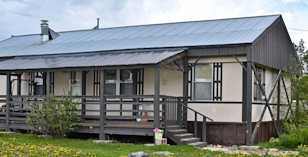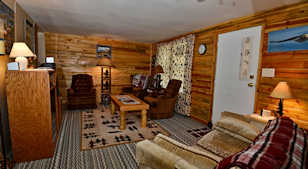 No covenants! Comfortable
three bedroom, two bath home with detached garage and storage building. Attractive wood finish inside.
Covered porch. Circle driveway on 1/3 acre near the end of a quiet county maintained road.
Great floor plan with master suite at one end, 2 guest rooms at the other. In between is a large living room,
updated kitchen and dining area. Motivated seller. Priced reduced to $175,000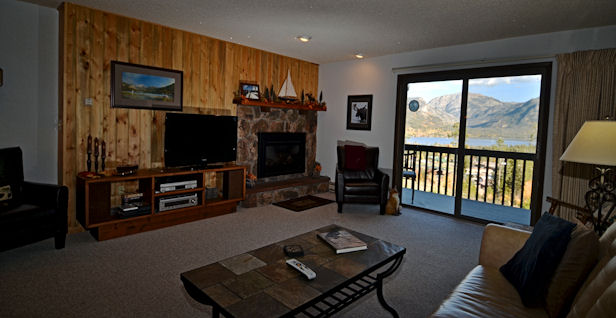 Fantastic Views
from a ridge west of Grand Lake. Developer's chosen location overlooking both Grand Lake and
Shadow Mountain Lake. Every week the views change to Mount Baldy and Byers Peak.
The colors, reflections, lights and shadows shift as you watch them from your covered deck
or by the fire. Two bedrooms, 1½ baths. Country kitchen. Terrific value at $179,000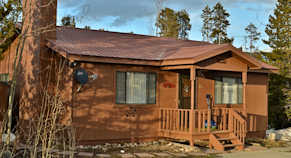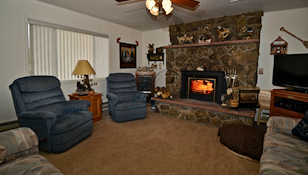 Columbine Lake area two bedroom home
with paved circle driveway on a corner site. Wood-burning fireplace in Great Room. Couple of blocks
from club house and lake access. View of the top of Mount Baldy from one of the bedrooms and its
side deck. 896 sq. ft. plus decks, all on one level. $187,500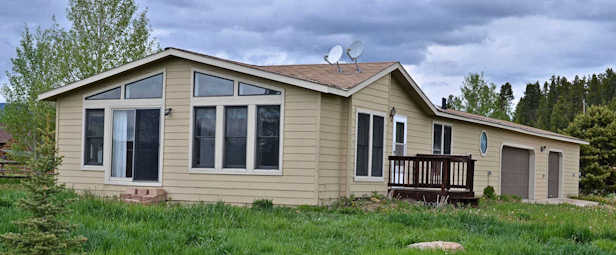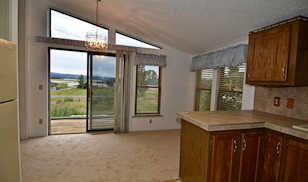 Two extra large attached garages
come with this Lake View home on almost half an acre. Keep your boat, ATV and snowmobile protected and
ready to enjoy the National Forest Trails and our huge lakes. You'll even have room for your friends to store
their toys. You'll appreciate the sunshine while enjoying fine views of the Continental Divide. Great Room,
master suite, guest bedroom and bath. New paint and new carpet. Lake accesses & a marina are within
walking distance, easy for your family to enjoy the largest of our lakes. $195,000
---

Click here for » Keywords to Open the Right Doors in your Search

For each home, we have inside and outside photos and often views from the decks.
Click on the pictures to move through any presentation. Relax and enjoy!
Follow the water! Live by Colorado's Great Lakes.
Nothing holds its value better than a home by water.

Each property's price is primarily determined by its location, size and views.
If you want lakefront property, you'll have to go to the top price ranges.
If you accept property which is simply across a road from a lake, you'll pay much less.
Our lakes have many open parks, beaches and boat ramps for everyone's enjoyment.
Affordable and spacious housing has always been here, tucked away on back roads
that outsiders eventually discover and buy into, while town planners endlessly dream
of affordable housing the government way in the town centers. It's here now!

Print the pages which interest you, then call us 970-627-3103
so that you may personally inspect the real estate. We can send you detailed property
flyers and inform you of similar properties which might be available through other
sources. For telephone numbers and details about us, click on our name here:
Mountain Lake Properties. Ask for our weekly updated color brochure to help
you peruse our huge selection. This website however, is the best way to keep up.
Send e-mail to relax@MountainLake.com.

For general exploring, go to our Main Menu. If you can not find what you saw
before, check What's New for properties under contract at the bottom of it's page.
Every week we share our listings with other real estate offices and often they create
contracts that sell property that you see presented here.


Our property lists and photos are updated every week. Call us and we'll make sure you
have the latest information and inform you of properties available through other sources.
Mountain Lake Properties: 970-627-3103, USA Toll Free: 866-296-1949
Send e-mail to relax@MountainLake.com


Let it Snow! Click here for timely reminders to ensure
that your experience in Grand Lake's Winter Wonderland is magical.
Hopefully you are viewing our latest edition of this page.
Refresh, close windows, clear cache. Wash. Rinse. Repeat.
Maximize your screen and scroll down each page that opens.
Jump to .. Homes over $200,000 .. Land .. Commercial ..

Click here to visit our EVENTS page

© Text & Structure of this site is Copyrighted 5/1/96.