»» .. to splash page »» www.MountainLake.com «« Jump to Homes ... Land ... Businesses ... YouTube .. What'sNew

For Archives: click here » to look back to year 2011 activity ... click here » to look back to year 2010. Use your back button to return to here.
SOLD activity for year 2012
---
HOMES SOLD in 2012 through Mountain Lake Properties:

An affordable place to stay in the mountains and to keep
your seasonal items for year round recreation; better than renting. Comfortable mobile home in
Lakeshore, near Lake Granby. Spacious living, dining and kitchen area. Bedroom at each end. $7,000

One bedroom cabin at Daven Haven (#29) for $102,000.
Two bedroom cabin with fireplace. Daven Haven Cabin #31. $129,000
Cabin in Lake Forest: $137,500

"Honey, pack the kid's stuff!
We are moving to the mountains. Bring mother too!" Two homes plus an industrial-sized garage located on
a peninsula of land by Lake Granby. Main home connected to the garage has two bedrooms and 1¾ baths.
It has a large living room with wood-burning fireplace on the main level. From the dining room by the patio
from it is just a few steps to the two bedroom one bath mobile home with snowroof that is included with the
quarter acre of land. Use the garage as your own Santa's Workshop or rent out its space and the mobile
for additional income. $175,000

Cozy vacation cabin in the trees with lake views,
just like your grandparents enjoyed. On almost an acre of land, 2½ miles south of Grand Lake Village.
Views across Shadow Mountain Lake are into Rocky Mountain National Park. Fireplace, one bedroom
plus adventure loft. $179,000

Ranch style home with large yard
and aspen grove. Pastoral views across a ranch to National Forest and snowy peaks. Detached
garage plus storage cabin. Two to three bedrooms. Home is located less than a mile up Road 4
from Lake Granby and Highway 34. This is our primary road to National Forest Trails for ATV
and snowmobile use. Turn west near Dillie Docks and the Hwy. 34 Storage Center.
A paved Lake Granby is boat launch is only a mile from the home. $199,000
Seller Financing is available on this property.

Lakeview cabin with garage and lots of
storage space. Spacious Great Room. 3 bedrooms, 2½ baths. 1300 sq. ft. plus garage and decks.
$199,000

$199,000 Log Cabin by
Lake Granby, overlooking the Continental Divide and vast protected National Forest lands
on the west shore of our largest mountain lake. Cozy interior is a great base for fishing,
exploring trails, beaches & the many coves and waterways; if a summer storm comes up,
just tie up at the island, dash across the road and wait it out in your cabin until the sun comes
out again! Overlooks a very popular fishing location on Lake Granby, especially when water is
rushing in from the water diversion projects; watch from your covered porch or sunny
patio as your children and/or friends catch dinner.

Cozy cabin with fireplace dating back to the pioneer days. Nice kitchen from this century,
private bedroom with bath on the main level, two more sleeping areas upstairs with a unique bath.
Peaceful back yard with flagstone patio. Ideal location across from Grand Lake's Town Square.
$199,000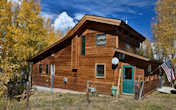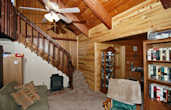 Cozy Columbine Lake area home
in a grove of aspen frequented by moose! Attractive wood finish. 3 living areas, 2 bedrooms,
one bath for now. 1260 sq.ft. with room on this corner land to add a garage
later if you choose. $219,900
Two acres, just a mile and a half south of Grand Lake Village,
on Road 466. Enjoy lake and mountain views from this Aframe with big front deck.
1500 sq.ft. with 2 bedrooms plus loft. Tract 7, Shadow Estates. $239,000

Boat Docking privileges come
with this immaculate home in Grand Lake Estates. Paved drive to enormous garage with workshop.
Big alpine trees for privacy, small lawn by large deck on south side. Huge amount of interior storage
space. Located across a road from Shadow Mountain Lake in Grand Lake Village. Parking for a
motorhome or boat along the private west property line. $239,900
Country home with relaxing
views of a meadow with two ponds and snowcapped mountains rising in the distance.
Pleasing interior with wood and stone finish, nice fireplace. 1700 sq. ft. plus detached
garage and shed. 3 bedrooms, 1¾ baths. Home is centrally located between Shadow
Mountain Lake and Lake Granby and yet with its long private driveway, it lifts you into
its own world by a meadow with a playful fox. Perfect for family barbecues
and tossing horseshoes. $223,900

Log-sided home in Grand Lake Estates with
boat docking privileges! Quiet side road within walking distance of fine dining,
shopping and lakes. Master suite on upper level. 2 guest rooms with bath on
main floor. Single car garage. Great fenced back yard which borders a large
acreage in the heart of the village. $229,900

Home near Sun Valley Lake: $275,000

S
Step back through layers of Grand Lake's
history and still relish the conveniences of this new century, all in this mountain cabin in the heart of our
year round resort village -- just off the Boardwalk. Wood-burning fireplace and airtight Jötul stove in
living room is the heart of the home, open to the kitchen. Just past the wet bar you enter the family room
with two guest rooms and a ¾ bath on the west end of the home. Classic old style porch with attractive
windows, fully enclosed.. Master bedroom with access to full bath & laundry is at the east end of the
Great Room. $278,000
2400 sq.ft. plus extra large garage.
Lots of entertainment space. This family home in a wooded area of Grand Lake Village
comes with boat docking privileges, Call us for details: 970-627-3103. Huge deck.
Rich wood ceiling with beams in Living Room. Separate kitchen and dining room.
Two free-standing stoves, one in the family room with wet bar. Entryway for boots and jackets.
Short walk to lakeside parks, dining, shopping and theatre. $279,900

Snowmobile from your door onto over 100 miles of groomed trails.

Enjoy magnificent views of the
Never Summer Mountain Range from the yard of this mountain home. Located on a half acre
between the Rocky Mountain National Park and thousands of acres of National Forest
land, bordering an open space horse meadow lends a pastoral feel to this setting.
Four bedrooms, 1½ baths in 1800 sq. ft. plus a great garage. $285,000
Lake View cabin a few steps from the
beginning of the Fishing Canal (great for walks with family and pets). Impressive mountain views to the
Continental Divide from the large deck. Big Stone fireplace. Warm wood-finished walls. 3 bedrooms,
1¾ baths. The largest bedroom is by a brand new bath and laundry area. Spacious Great Room.
Detached garage in back. Room for parking your toys in front and back. Short drive to boat ramps on
Lake Granby and Shadow Mountain Lake. Half acre of land. $294,000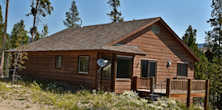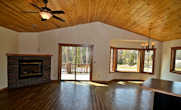 Recently built home in a private setting
near National Park land and winter snowmobiling trails to town and National Forest. Great Room with
raised wood ceiling, fireplace and attractive wood floor. Bayed window in dining area. Attractive cabinets
and gas range in kitchen. Three bedrooms, two full baths plus laundry room with cabinets. 1440 sq.ft. plus
decks and large garage with high ceiling for storage of seasonal items. There is also a walk-in storage room
under the home. $298,000

Home bordering Grand Lake's Rocky Mountain High Golf Course: $299,000
This home was the birthplace of 2 moose
in early June. Click on presentation to see the babies and the proud mother.
Views of Lake Granby are terrific; lake access is right across the paved road in front.
No one can build in front of you and block your view. Big back yard with covered porch,
extra large double garage, paved circle drive. Comfortable floor plan, 1450 sq.ft. on one
convenient level. Attractive fireplace. $299,880

Ranch style home on 9/10ths of an acre
a couple hundred yards from Rocky Mountain National Park. The augmented domestic well gives you
the option of watering horses. Level and fenced site with outbuildings for storage and hobbies plus a
log-cabin dog house! The home has been updated throughout to give you an inviting interior with
3 bedrooms and two full baths. 1400 sq. ft. plus wrap around covered porch for shooting
the breeze and spinning yarns. $299,900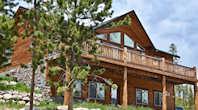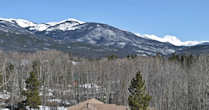 Mountain home in a secluded
area with views, 3 miles southwest of Grand Lake and Rocky Mountain National Park.
3 separate suites, one on each end of the Great Room, and one on lower level, which
could double as a recreation room. 1700 sq. ft. plus deck and double garage. $299,900
Spacious like-new home on an level acre near
Recreation District land. Wood-burning stove in Great Room. Master bedroom suite plus
two bedrooms on upper level. 2100 sq. ft. plus extra large double garage. Located a mile
west of Grand Lake Village. $329,000

Mountain home on a back road in Grand Lake
Village with 3 lots to give you plenty of privacy. You are only a couple of blocks from boardwalk shops,
restaurants and the beach. 2200 square feet with wood-burning fireplace, recreation room,
plus terrific deck with mountain views. $329,000


Only $338,000 for a 5 bedroom, 3500 sq. ft.
home by large meadows with lake and mountain views. Great Room with attractive wood finish on walls
and ceiling. Recreation room features a western bar with log countertop. Large covered porch.
Enormous garage: 15 feet high! 33 foot long room over the garage with fine views of Lake Granby
and the Continental Divide could be finished as a party room, crafts center, or would make a dream office;
it has terrific views of Lake Granby and the Continental Divide. Over a half acre of land bordering Open Space. $338,000


Masterfully crafted home with log beams
and finish outside. Appealing roof lines and architectural detail throughout. Great Room with
fireplace and new kitchen. Wraparound deck has a big sunny area plus a covered cooking area
overlooking a protected grove of aspen and wildflowers. 2384 sq. ft. plus large heated garage.
3 bedrooms plus rec room, 2½ baths. $359,000


Colorado River Music! Leave the
windows open all summer long! Covered decks with views of the Never Summer
Mountains. Great room with large windows, attractive fireplace, wood floors and
elevated ceilings opens to big kitchen with charming cook stove. 3+ bedrooms,
3 baths, rec room, garage. $370,000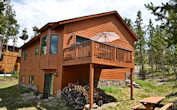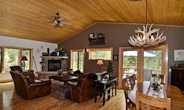 Columbine Lake area home with deep views
into Rocky Mountain National Park. Elegant Great Room has corner fireplace, raised wood ceiling and
an attractive wood floor. Hickory cabinets in kitchen. Dining area bay takes full advantage of the
mountain views. 2240 sq. ft. plus garage and decks. Three bedrooms, 2½ baths. Walkout recreation room
on lower level. Located at the end of a quiet cul-de-sac with views of Grand Lake's golf course and
cross-country ski area. $379,000



Listen to the River! Classic country home
with big covered porch and a deck with grand views across the Colorado River Valley to National Forest lands.
Great Room with vaulted ceiling. 4 bedrooms, 2½ baths. Wood floors. Master bedroom suite on main level.
Log posts and railings. 1876 sq. ft. plus double garage and decks on a "half acre". $399,000


Impressive log, stone and tile finishes
throughout this new mountain retreat with wide views into Rocky Mountain National Park.
Wildlife love this area! Only the Elk Creek Campground property separates you from the
National Park boundary. Snowmobile from your door to restaurants & shops in Grand Lake
Village or onto 100 miles of groomed trails! Terrific views from master suite on main floor
and from the awesome great room shown below. Full rec room and guest bedrooms on lower
level. 2500 sq..ft. + garage and decks. (Price reduced from $499,000). $399,000


Spacious Great Room plus party deck
overlooking both Grand Lake and Shadow Mountain Lake! Recreation room with Mount Baldy
framed in the big picture window! 4 bedrooms, 2¾ baths.Extra land, lawn, fire pit, 2½ car garage.
At the top of the hill in Grand Lake Village.2350 sq. ft. plus garage and decks. $425,000


Secluded, with views, on 1.7 acres near
National Forest! Retreat into a different world of ranch land and gentle mountain vistas
down Road 41, 6 miles south of Grand Lake and west of Lake Granby. From the moment
you walk through the door, you know you are in a special place. A local builder created
this in the year 2000 to be his "forever" home yet has now moved south. Fine finishing.
3000 sq.ft. plus a double garage + huge unheated storage area. Main floor master suite +
2-3 guest rooms.Loft overlooking great room. Bath on each level. Entertainment area
with wet bar in spacious rec room. $439,000


Fine home in Pine Meadows behind Soda Springs: $449,000

Lakefront Log Home with pleasant views
across Columbine into Rocky Mountain National Park - built new in 2003. Inviting Great Room
with fireplace and main floor master suite. Sun drenched entry with long bench - perfect for kids
coming in and out. Walkout recreation room on lake side by 2 guest bedrooms. $599,000

$799,000 Make memories and/or waterfront
rental income for now; plan for your dream home in this idyllic location for the future! Triple Boat House
with Sun Deck above, along 140 feet of frontage on Shadow Mountain Lake. Across the sparkling water,
your view is of protected Rocky Mountain National Park lands with Mount Baldy in the distance.
Lush yard with special features for children,friends and family. Wood-burning fireplace and gas stoves
add to the atmosphere in this rambling year round home of 2000 square feet + Double garage. Easy access.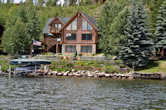 Hideaway on Shadow Mountain Lake!
Log Home tucked in a grove of aspen. Boat carport and dock by the terraced lawn.
Protected views across the lake are of Rocky Mountain National Park. Cozy mountain
feel with lots of room for special guests. 4 bedrooms plus rec room in 2600 sq.ft.
built in 1998. Large garage & lots of storage. $986,000
Seller Financing to a qualified purchaser. Start enjoying right away.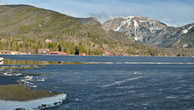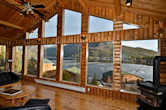 $988,000 for Boathouse slip on Grand Lake
plus Two Homes, just a couple of blocks from the boardwalk shops, restaurants and live theater! Enormous
windows from the Great Room look out across the water. 3 gas fireplaces. Step back in time as you settle
into this five bedroom retreat. 3 guest rooms upstairs with old-fashioned bath. Rustic private suite with
side entrance. Lower bedroom with sauna room and free-standing gas stove. Why cook when you can walk
to many different fine restaurants during a week at your mountain retreat? 1/3 acre is wide at the road and
narrows to your boathouse. As you approach from the road by the garage, you pass your separate two-level
Guest Home with wood-burning fireplace in the gathering room. If you enjoy and appreciate history and
are ready to own a waterfront retreat, this property is beckoning.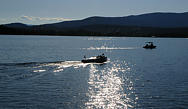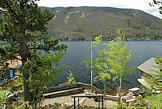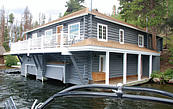 Two Properties on Grand Lake: 4 bedroom, 3 bath Cabin over Double Boathouse plus vacant land with boat dock!
Enjoy a unique opportunity to relax above the waters along the sunny north shore of Grand Lake. Build later across the
property line, halfway up the hill and enjoy a new home connected to the lower dwelling which can be your guest quarters.
Current regulations prevent boathouses and living quarters over a boathouse, thereby making this home truly irreplaceable.
Wait until you drive your boat right up to the bar in the lower level! This home is like several others on Grand Lake
which buyers have passed up only to realize years later the great opportunity they missed. The new price of
$1,295,000 for both properties allows room for you to customize the property at a fraction of new construction costs!
Located 7/10th of a mile from boardwalk entertainment.


Grand New River Home,
one block from Grand Lake's boardwalk and beach! Exquisite finish throughout with attention to everything
you need and want. Great Room for entertaining plus a unique recreation room with adjoining home theater.T
This new home has a commanding presence that makes it look like it has been here for a generation. It is however,
one of the newest homes built in the the Grand Lake area! It has design elements that make it a delight to move
around the home inside and to visit its private rooms deep inside. 4500 sq. ft. plus double garage and patios. $1,250,000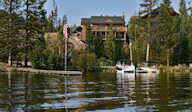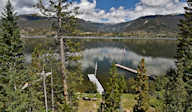 Lakefront Home on Grand Lake.
Classic style with rough log siding and big covered porch with wood ceiling. Ideally located in
an ideal cove with fine views across the lake and deep into Rock Mountain National Park.
Updated interior with attractive wood finish. Large country style kitchen. Two distinctive
dining rooms.Romantic master suite with fireplace and large screened in porch on its own level.
Two bedrooms and full bath plus powder room on main level. Additional walk out lakeside room
is perfect for an office or 4th bedroom. Easy year round access with almost no steps to the
main entrance and log detached garage. $1,350,000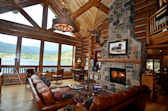 On Grand Lake's South Shore!
Over 3 Acres with 160 feet of lake frontage to savor views of the Never Summer Mountains,
North Inlet Valley and Mount Baldy! Massive log retreat with grand fire places: 3900 sq.ft. + decks +
lake side boat garage. Lots of parking for cars as well as for boats! Property includes ancient lake forest
extending up the hill to the National Park lands. Moose Landing: #1092 Road 697 $1,950,000

CONDOMINIUMS SOLD in 2012 through Mountain Lake Properties: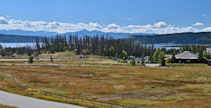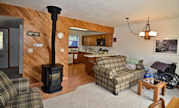 $138,000 for a Soda Springs Condominium.
Views across a protected meadow to Lake Granby. Two bedrooms. Attractive wood finish behind the
pellet stove and also on lower level. Affordable $185/month association fee. Ranch Club: #D4
Escape the heat and relax by exclusive fishing ponds
close to Lake Granby. Soda Springs Meadow Brook condominium: end unit totally upgraded with new fireplace,
paint and carpeting. Turnkey: start enjoying immediately. Price includes all the new furnishings:
leather sofa, television, DVD player, bed and bath linens, kitchenware, all beds (new with new mattresses),
small kitchen appliances, etc. New gas grill on the peaceful deck by the pond. New washer and dryer.
Building exterior and deck were stained in fall of 2011. 2 bedrooms plus loft with skylight.
Bath on each level. Fine view of the ponds from large windows inside. $155,000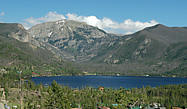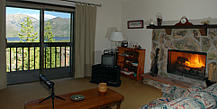 You'll love the terrific views over
Grand Lake to Mount Baldy. More directly below is Grand Lake Village, twinkling at night.
You also look over two ponds and deep into Rocky Mountain National Park. Two bedroom,
1½ bath condominium with wood-burning fireplace. $169,000

Shadow Park West: Lovely lake & mountain
views from a peaceful setting by open space above Grand Lake Village. Upper level condominium in a building of
only 4; private balcony. Open living/kitchen/dining with wood-burning fireplace. Two bedrooms, 1½ baths.
Fine view of The Never Summer Mountains from the covered entrance and back bedroom. $174,000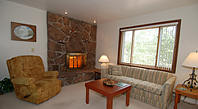 Immaculate Shadow Crest
condominium in the Town of Grand Lake offers an outdoor patio screened by
beautiful aspen trees. Fireplace ambiance in the living room will be enjoyed
from the nearby dining area, just off the kitchen and half bath. 2 bedrooms,
plus one and ¾ baths are on the upper level. Attached garage. Popular townhome
style with no one above or below you. In your future: pleasant walks to the lake,
restaurants, shopping. Views of "Mount Baldy". 306 Elk Lane #3C. $198,000

You'll love the rich wood floors, granite counter-top
and luxurious baths in this almost new condominium on Grand lake's main street (short walk to beach, lakes
and restaurants). Gas fireplace in Great Room. Three bedrooms, 2 baths. 1320 sq. ft. plus garage and decks.
#504 Ravenwood Townhomes, B1. $239,000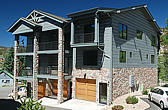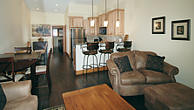 $259,900. Beautifully finished
Ravenwood townhomes in Grand Lake Village, short walk from restaurants,
shops, sledding hill and lakeside parks. Step inside and you will be impressed
with the fine interiors: hand hewn walnut floors, granite countertops, classy baths
with superior fixtures. Terrific value with no compromises in quality. 3 bedrooms,
2½ baths. Extra deep garage. Low maintenance decks. Radiant floor heat.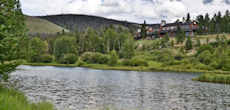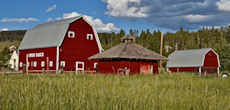 Ouray Ranch: tranquil community
with private trout ponds 'n fly fishing along the Colorado River. Two bedroom Townhome with fireplace and fine views.
Your friends will love visiting and spinning yarns in the community fishing lodge. Membership includes use of equestrian
center, pastures. and extensive riding paths. A world unto itself of community property. Centrally located in Grand County,
just 30 minutes from Winter Park skiing. Clubhouse has rooms that can be rented by the night to accommodate visitors.
$299,900
LAND SOLD in 2012 through Mountain Lake Properties:
Never Summer Mountain Range is in your view!
Well is already drilled. This almost level wooded home site is 3½ miles
south of Grand Lake, along a county maintained road. $49,000
Lake View Cabin site with a grove
of aspen and an impressive climbing rock in one corner. Almost half an acre, gently sloped towards
the lake and mountain views. $69,000

3½ acre home site with mountain views. Varied terrain
from level meadow to moderate slope with potential lake view on top.
Natural rock garden in one area. Lots of aspen. Land has excellent year round
access and is centrally located between Lake Granby and National Forest to
the northwest. Drill a well for water. Natural gas and community sewer are in
the cul-de-sac. Fox Ridge Estates: Tract 2. $99,900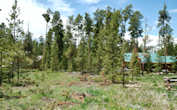 In Grand Lake Village: short walk from parks, lake access, shops and
restaurants. Level, easy to build on home site in a great neighborhood. Quarter acre.
Grand Lake Estates 1st: Lot 3, Block 2. #833 Cairns. $109,000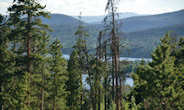 3½ Acres with Mountain & Lake Views close to the
charming east end of Grand Lake Village! Views to the north, east and south
are of Rocky Mountain National Park. Secluded and peaceful, yet just a
half mile from the boardwalk activities, Grand Lake's Beach and (in the other
direction) Adams Falls Trail and the east Boat Launch. Double garage.
You also have the ultimate playhouse - a miniature log cabin! $249,900


Never before on the market! 2.8 acres be tween the Grand Lake Lodge & a gated community.
Land borders Rocky Mountain National Park! The protected view over both lakes
is as good as it gets. Development parcel or Legacy site for your family. $659,000
COMMERCIAL Property SOLD in 2012 through Mountain Lake Properties: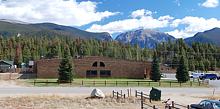 Three level lots in town, zoned commercial.
$69,000 price for each lot includes a paid sewer tap worth $7500 for each lot.
Property is across the street from the elementary school and its playground
with protected mountain views to the east. Our office can help you explore
options for this site and plan for parking and other needs. The combined
dimension of the three lots is 150' wide by 150' deep. $35,000 each with
paid sewer tap on each. At this low price, the sale is subject to short sale approval.

Prime retail space in the heart of the boardwalk. 800 sq. ft. (with high ceilings)
across from Town Square. Built in the year 2000. This is the most recent commercial structure for retail stores
built from the ground up in the Grand Lake area. It meets modern standards. Located a short block from
Grand Lake's beach. $220,000

$299,000 for Income Property bordering Grand Lake's Town Square! What an affordable
way to live in the heart of the village and have others pay you! There are SIX year round
residences plus a workshop. South facing 4 bedroom home with fenced yard. In the two
level duplex, each side is a 2 bedroom apartment. Another 2 bedroom apartment is on an
upper level. The cute one bedroom cabin is a piece of Grand Lake's history. The Studio
Apartment and Workshop both access from the north side. Have a barbecue and watch
the world go by!

»» .. to splash page »» www.MountainLake.com «« Jump to Homes ... Land ... Businesses ... YouTube .. What'sNew
---
Jump to Weather Update .. or .. to MainMenu ..
Use your refresh button to make sure you see recent updates.
Clearing your browser's cache is also a good and safe practice.
.. to MainMenu .. Homes .. Land .. Commercial .. or .. to top of this page
© Text & Structure of this site is Copyrighted 5/1/96.