»» .. to splash page »» www.MountainLake.com «« Jump to Homes ... Land ... Businesses ... YouTube .. What'sNew

Have you seen the large new building go up southeast of Granby along Hwy 40? It's a new Medical Center
that opened on January 1 of 2012. It will give Grand County residents and visitors peace of mind knowing
that being in Grand County in no way compromises the medical attention they need. With their intimate
one-on-one one service, your loved one's individual needs are more likely to be recognized and remembered.
Click here to dive into the www.MPMC.org website for the Middle Park Medical Center. Below are 16 photos
taken by your webmaster during an open house for Granby chamber members. (Mountain Lake Properties is also
a chamber member with Grand Lake and also Winter Park and Fraser). The center was already busy with patients,
so we were not able to show you some of the areas which were closed off to keep them absolutely clean and private.
Scroll down to see all 16 photos. There is then a short essay and a list of services and doctors and contact information.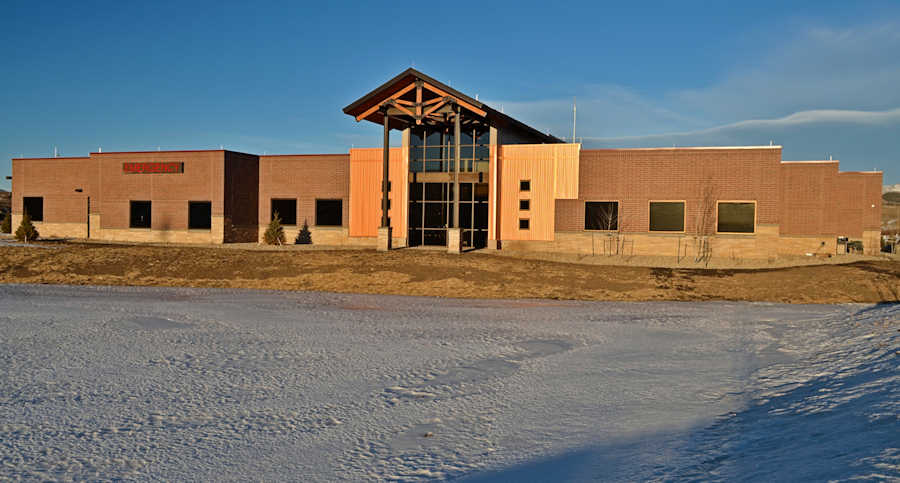 View of the Middle Park Medical Center from near Highway 40. Foreground is a pond which has been cleverly designed to allow for expansion
of the building towards the highway. Scroll down for scenic views of the Helipad behind the building on its east side.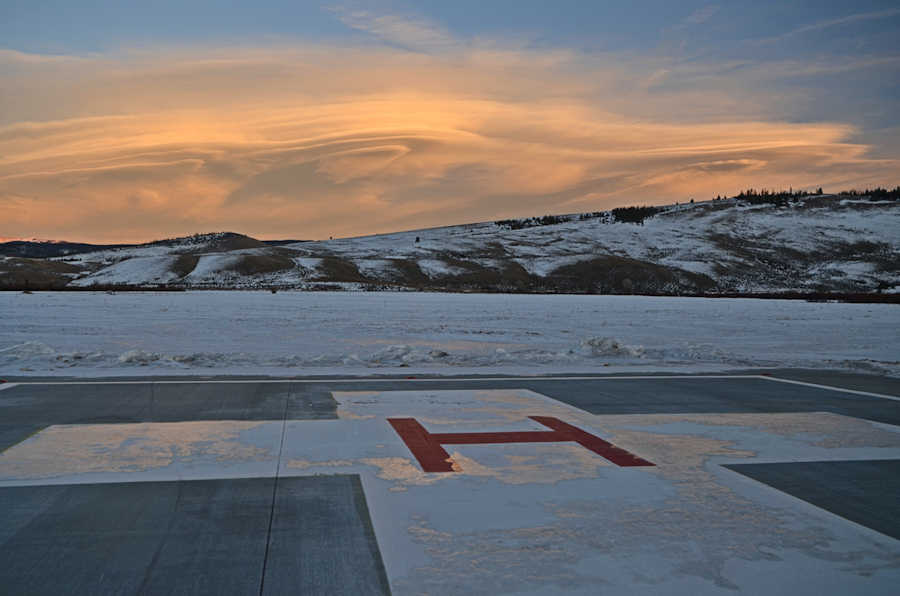 Evening view .... scroll down for many more images.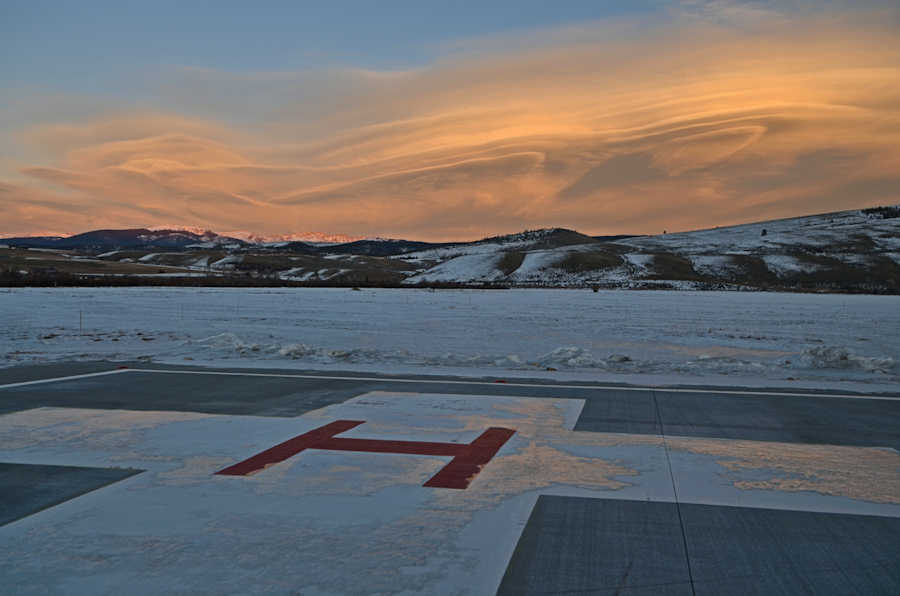 Scroll down ... to see the east side of the medical center.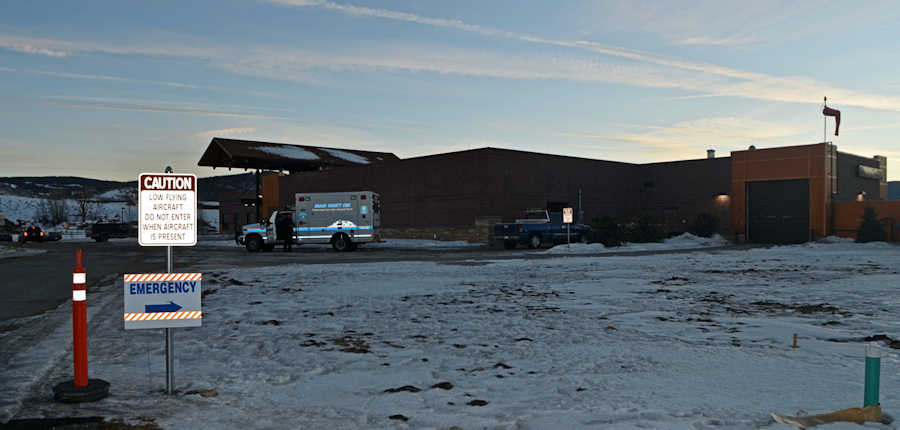 As you drive in you'll see the sign that says, "Low Flying Aircraft. Do Not Enter when Aircraft is present." Scroll down to see the main entrance.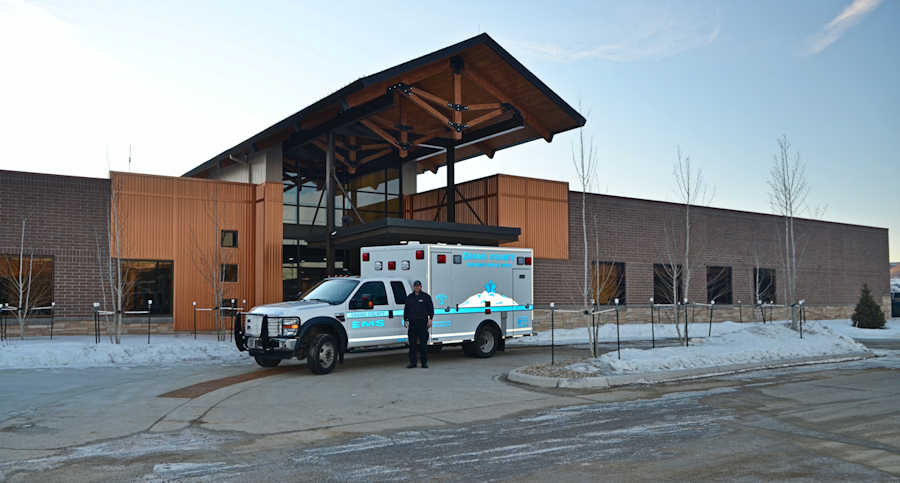 Scroll down for one more view from outside. We will then show you inside.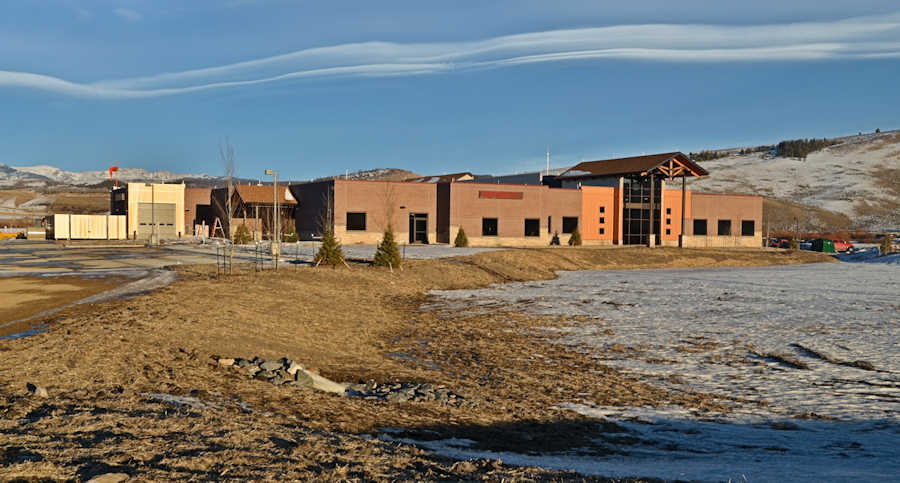 Scroll down to step inside.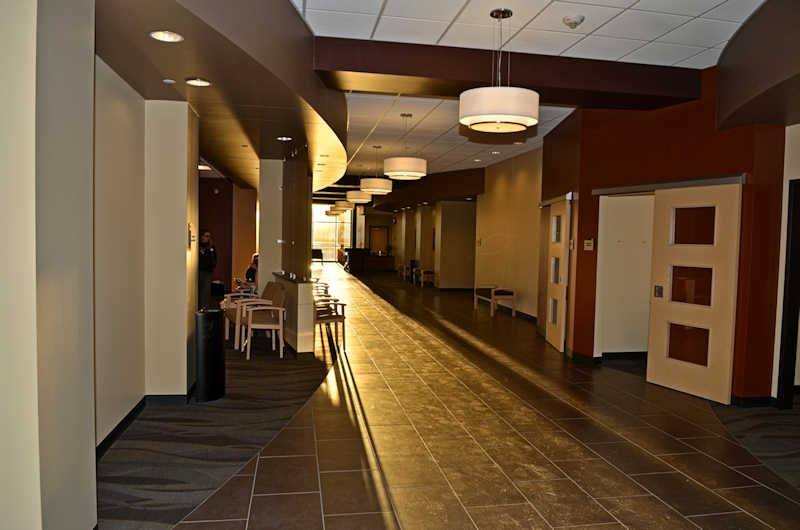 Every front office you need is along this main corridor. Scroll down to see the waiting area at the far end.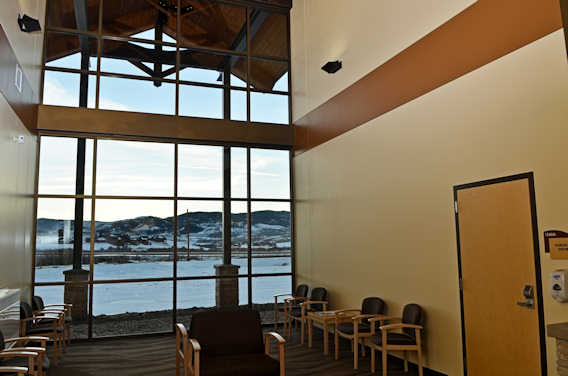 Scroll down to look back down the main hall.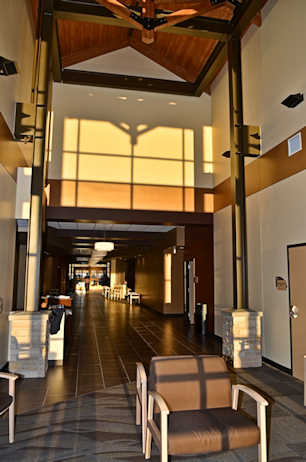 Scroll down for more. Below the photos is much more info.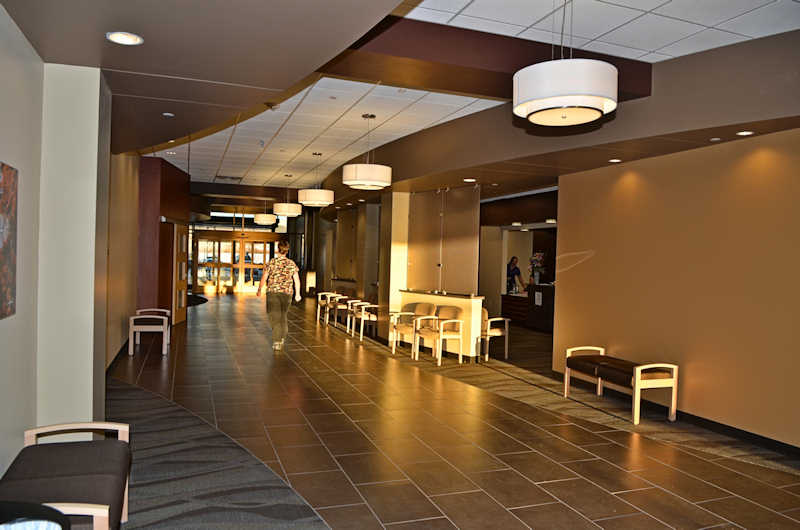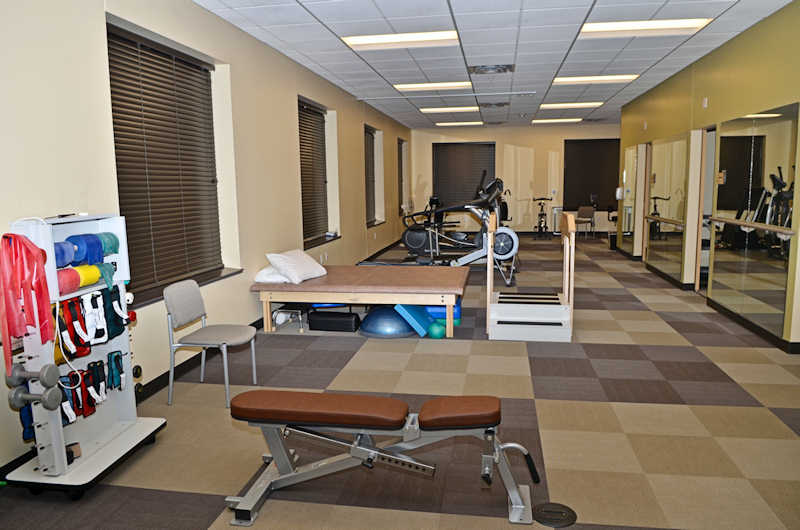 When you first enter you'll notice this rehabilitation area with windows facing the parking area on the east side.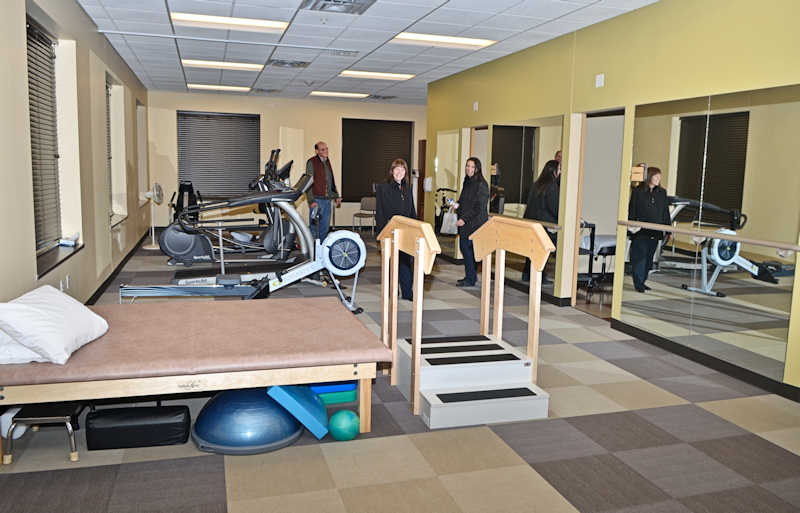 Scroll down to see a few of the center's special rooms.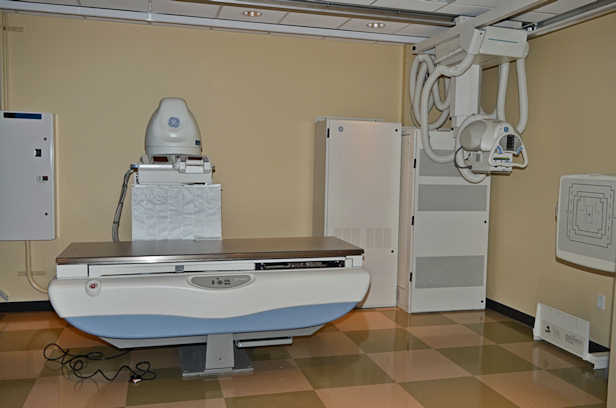 X-ray room. Scroll down to see the room for mammograms.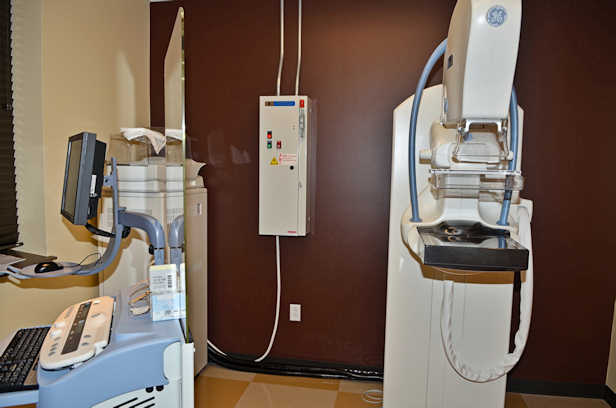 Scroll down to see a post-surgery recovery room.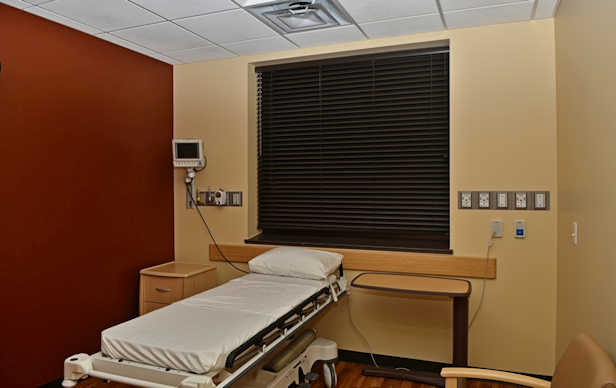 Scroll down to see some of our 24/7 EMT's.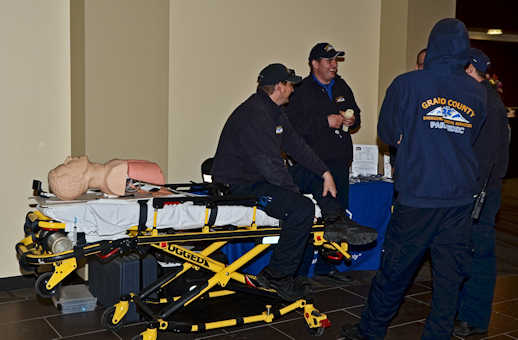 Whether you are new to Grand County, Colorado or have been a resident or visitor for decades,
the new year 2012 comes with a Grand new presence for your quality of life. On January 1,
a new state-of-the-art medical center opened along Highway 40 southeast of Granby.
We hope you personally inspect it before you or a loved one has an emergency.
We think you will find it to be a loving, caring place that has already anticipated your needs,
not just for emergencies, but for the regular well being of all of your family members,
regardless of age. Its motto is "Keeping LIFE Grand".
This new facility is a big deal for Grand County. You may have noticed it slowly being built
and wondered what it was all about. Many people in Colorado and beyond would love to live
in Grand County; however, there has been an assumption that the local medical coverage is not
adequate to cover all the potential needs for one's extended family. People like to have fairly
close access to a hospital complex, even if they know (from experience) that they are going to be
barely more than a statistic in a large hospital. With the new medical center in Grand County,
a personal level of service can be achieved that you simply can't get in a big city hospital.
There need not be any compromise in quality or the technological sophistication.
You can visit the center and see this for yourself and learn about the specialists, testing,
imaging and expertise that is available immediately in person … or …
virtually through the Internet … or on a weekly or monthly rotation.
When someone close to you needs medical attention … especially for ongoing long term
quality of life issues, we hope you find the Grand County solutions to be more than satisfactory.
The new medical center wants to earn your trust. The more of your trust it gets,
the more the center itself can attract the best doctors and medical staff.
They too want to make Grand County their home.
Medical issues are complex and cures do not come easily or faster whether one's loved ones
are in a really large hospital or a small one. We want our doctors to do more than the best they can do.
We want them to do miracles … or help miracles to happen. Frankly, having this new and bold
medical facility open in 2012 Grand County is a miracle in itself.
We hope you find the care it provides to also be miraculous.
The Emergency Department is present 24/7. This is also a Family Medical Clinic.
Doctors prefer to anticipate problems rather than deal with emergencies.
Diagnostic Imaging includes MRI, CAT Scan, Ultrasound, Mammography, Flouroscopy,
Echocardiograms and DEXA Scan. There are full lab services.
Visiting specialists come from all of the following fields and more: Orthopaedics, Cardiology,
Internal Medicine, Urology, General Surgery, Otolaryngology, OB GYN, Dermatology, and Plastic Surgery.
We hope these specialist make Grand County their second or first home!
There is a Surgical Department and Gastrointestinal Laboratory. Patient Beds. Physical, Occupational & Speech Therapy / Cardio and Pulmonary Rehabilitation.
Medical Center Phone Number: 970-887-5800. Address: 1000 Granby Park Drive South, Granby, Colorado 80446.
Website: www.MPMC.org
Below is a list of doctors posted on January 1, 2012.
Mark Paulsen, M.D., John Wisneski, M.D., Randi Wagner, D.O., Meghan Monte, D.O., Michael France, M.D., Lynnette Telck, M.D.,
Shane Tong, D.O., Jason Stuerman, M.D., Rob Anderson, M.D., Preston Nein, M.D. with Dianne Wettersten, P.A.
Independent physicians who will be credentialed and have privileges are: Jim Kennedy, M.D., Kelley Glancy, M.D., Jeff Lipke, M.D., Astrid Lampey, M.D., Patrick Barry M.D.


Thank you for visiting and Keeping LIFE Grand!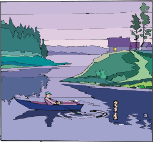 Jump to Homes ... Land ... Businesses ... Weather .. What'sNew


Send questions and inquiries via email to relax@MountainLake.com
We prefer that you speak to us directly by telephone or walk into
our office on main street, just past the the town square and
one block from Grand Lake's public beach. Please call us:

970-627-3103 Grand County Colorado voice line (locally dial 627-3103)
866-296-1949 Toll Free nationwide
970-627-3003 Local Fax line
Send letters & documents to P.O. Box 1350, Grand Lake, Colorado 80447
Donna Ready's email address for discussing contracts is donnaready@hotmail.com


»» .. to splash page »» www.MountainLake.com «« Jump to Homes ... Land ... Businesses ... YouTube .. What'sNew

..

Photos (and videos) from this website can be used if you give a photo credit as follows: photos courtesy of www.MountainLake.com
© Text & Structure of this site is Copyrighted 5/1/96.