»» .. to splash page »» www.MountainLake.com «« Jump to Homes ... Land ... Businesses ... YouTube .. What's New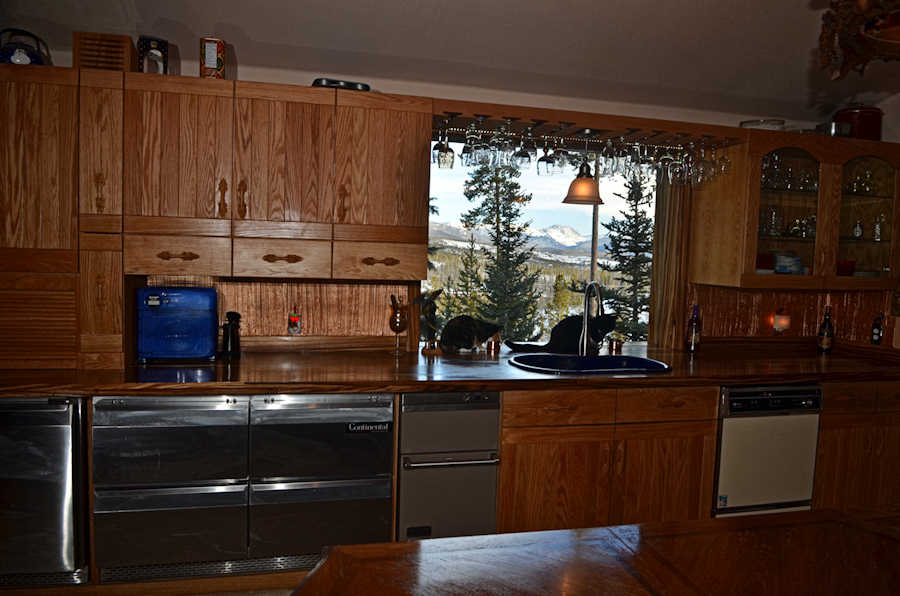 Scroll down for two more views and an in-depth description of what you see here.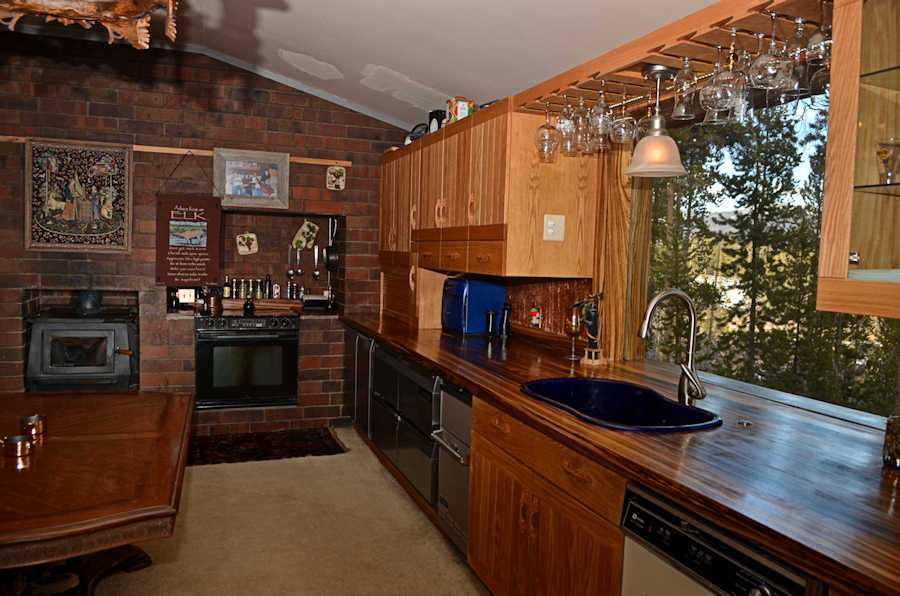 Scroll down for a closer view of the sink and window and an in-depth description of what you see here.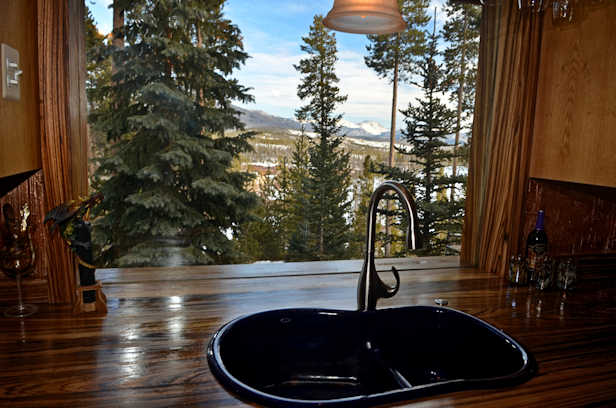 The design tips below focus on the following items in order of importance: ... 32" deep countertop ...
... zebra wood countertop ... infinity window ... under-counter refrigeration .... deep overhead cabinets ...
... smart-divide sink ... backsplash finish ... over-sink wine glass holder ... microwave oven ...


32" Deep Countertop. You can never have too much counter space. It is time to break the mold
on the standard counter top depth of 24". Not many of us live in tight apartments. Kitchens burst
forth from their back rooms long ago. The kitchen has become an entertainment center! We need
more than the minimal counter space for food preparation. Islands address this issue, and yet,
we can go much further. The major issue holding you back is the box cabinets that are standard fare.
Just say "No." Pay more and get a whole lot more real estate and functionality. After you go deeper,
you will have options like overhead cabinets that are deeper than a single dinner plate and spacious
under-counter refrigeration. Plants will fit behind your sink ... pictures, pets and more.



Wood Countertop. Before Formica, before Granite, most countertops from homes rich or poor and
from wagons to ships were made of wood! With the 20th century all of that versatile wood work area
shrank down to a mere cutting board, and then even those became synthetic. Wood is beautiful and
is actually nourished by many of the foods that we prepare on our countertops. Wood will not chip
your glasses or plates. It has a pleasant sound and a look and feel that you want to run your eye down and caress!

The particular counter shown here is made of 1" thick zebra wood planks. It has only natural oils like
Tung Oil in it. No polyurethane-like finish is used. With many woods, one could instead lay down
1/4" thick planks carefully matched to create the bookmarking effect you see in fine veneers.


Infinity Window. Notice how the countertop goes right up to the window glass and then flows
through the glass to the great outdoors. See how the wood around the window is on the same plane
from inside to outside (on all 4 edges). We call this an infinity window because it reminds one of
infinity pools that have no lip and let your eye run unimpeded over the water and out to the horizon.

The kitchen here is a remodel of what was originally a basic kitchen with a Formica countertop
and open shelves. The brick wall, drop-in range and wood-burning stove are from almost twenty
years ago. The window is unchanged from twenty years ago except that its trim is updated to
create the infinity window effect. Scraps from the new countertop were set on each side of
and behind the range.



Under-counter Refrigeration. To the left is a 3' wide 10-cubic-foot freezer. To the right is a 4' wide
15-cubic-foot refrigerator. Its drawer design causes you to lose 20% of its space. However, it is a joy
to come home from the grocery store, set your grocery bags on the countertop and then quickly slip food into
the drawers. If you have a system as to what goes in which drawer, then food preparation is quick and
natural because you don't have to pivot around to get to your refrigerator!
The conventional under-counter refrigerators you see in wet bars are designed for 24" deep countertops.
They have only 5 cubic feet of space and are expensive. The freezer and refrigerator shown
here are by Continental and are from a restaurant supply store in Denver, Colorado.
They have three drawbacks which can be partially overcome. The first one is that
they need more outside air than a conventional refrigerator. In the application shown here,
the kitchen floor is over an open "crawl space". The floor beams span open air piers.
There are short vent pipes under the refrigerators bringing in outside air. The freezer's
vent pipe also has small fans inside of it, the same quiet fans that are used in some
gaming computers. The 2nd drawback with the Continental refrigerators is that the cooling
fins of their compressors need to be cleaned every few months (for restaurant use, the
manufacturer suggests every two months). Once you roll them out from under the counter,
a bit of vacuuming and a few shots of compressed air does the trick. The 3rd drawback is
that the refrigerators are louder than average. Sound-studio insulation behind the refrigerators
helps a little, but not much. With a bit more money and patience there is a way to overcome
all three drawbacks at once. The idea is to let the compressors be completely under the floor
or completely outside as you may have seen in some commercial applications. Moving the
compressors farther away would dramatically increase the capacity of your freezer and refrigerator
and give you more of the old ice-box look. The cooling load for for the additional cubic footage
is easily managed by giving the original compressors a cooler and more ventilated environment
in which to operate. One could do this customization on any sort of refrigeration.
It would be quieter and reduce your air-conditioning load.

If you are set on using an upright refrigerator, remember that with extra deep countertops,
you have the option of setting a conventional refrigerator flush with your countertop and
base cabinets. With 24" deep countertops, you might shell out over five thousand dollars
for an extra-wide and shallow Sub-Zero like model. Instead of paying a premium for a
shallow-depth refrigerator, apply that money towards having deep countertops and
then get a regular refrigerator.



Deep Overhead Cabinets. Wouldn't it be convenient if your over counter shelves were
wider than a single dinner plate? The overhead cabinets shown here have an interior shelf
depth of 18". Glass shelves and windows in the china cabinet keep it light and airy.
The wooden handles blend in nicely with the lightly oiled red oak finish on the cabinets.
By having the cabinets custom made, the vertical strips of wood on the cabinet doors are
set to an exact fraction of the door sizes so that everything is even with no filler pieces.
Custom cabinets costs more; however, with some luck, you might find a craftsman with
a garage full of fine tools that s/he would love to put to work for you.
It's not rocket science and it's time that we break the mold on box cabinets.



Kohler Smart Divide Sink. The pre-dishwasher era of double sinks is over.
The peanut shape design makes sense. The lower divide makes it easier to
work with large items and it greatly reduces the amount of water that splashes
onto the countertop. Notice the subtle push-button switch for the garbage disposal.
With an extra deep countertop, it is going to be more difficult to reach for switches
mounted in the backsplash area. This switch design for the disposal and placing
the light switches on the side of the cabinet makes these easy to reach.


Backsplash. The lower part of the backsplash is the same zebra wood used on the countertop.
The upper portion is drywall mud that has been stroked once with a whisk broom and then given
a metallic copper paint: Benjamin Moore latex Metallic glaze studio finish.


Over Sink Wine Glass Holder. Great way to fill out this open space and very pretty with your
best glasses lit from behind! Be sure to have stops to keep the glasses from being pushed beyond the rails.
Once again, the extra deep countertop pays off. The design here allows for three large glasses per row
plus a large gap behind for curtains or for a hidden window covering to drop down. A motorized unit
would be best, since short people are not going to be able to reach the curtain pulls very well.
A motorized unit would keep even tall people from touching the window treatment with wet hands.

Microwave. The blue appliance is a compact microwave by Sharp from long ago.
It is called a half-pint and is from the same era as the translucent Apple iMac G3.


We hope you enjoyed this quick summary. Watch our Design page for more out-of-the-box ideas
in and outside of your dream home. We hope to inspire you to build something ~ anything that is for
you. Let the whole family be involved!


Click here to go to Designs Big 'n Small front page.


This Pinterest link is preset to search for Dream Home Designs.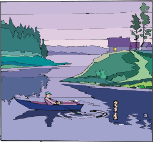 Jump to Homes ... Land ... Businesses ... Weather .. What's New



Send questions and inquiries via email to relax@MountainLake.com
We prefer that you speak to us directly by telephone or walk into
our office on main street, just past the the town square and
one block from Grand Lake's public beach. Please call us:

970-627-3103 Grand County Colorado voice line (locally dial 627-3103)
866-296-1949 Toll Free nationwide
970-627-3003 Local Fax line
Send letters & documents to P.O. Box 1350, Grand Lake, Colorado 80447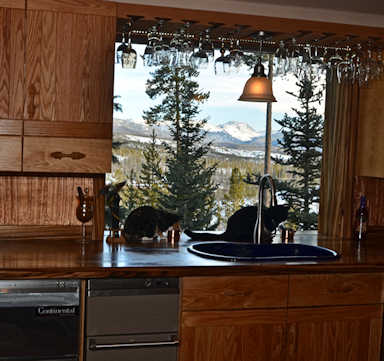 »» .. to splash page »» www.MountainLake.com «« Jump to Homes ... Land ... Businesses ... YouTube .. What's New
..
Photos (and videos) from this website can be used if you give a photo credit as follows: photos courtesy of www.MountainLake.com
© Text & Structure of this site is Copyrighted 5/1/96.