»» .. to splash page »» www.MountainLake.com «« Jump to Homes ... Land ... Businesses ... YouTube .. What'sNew


For Archives: click here to » look back to year 2015 sales .... » year 2014 sales..... » year 2013 sales .... » year 2012 sales. Use your back button to return to here.
Year 2016 activity .... sales completed

---
HOMES SOLD in 2016 through Mountain Lake Properties (not all are shown here)
Mobile home with a quarter acre of land.
Big snow roof creates additional room for storage plus a large protected deck. Two bedrooms.
Attractive bath. New on-demand water heater. Fenced inner yard. $87,500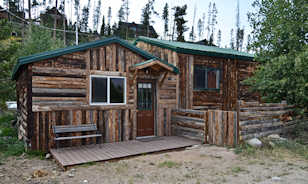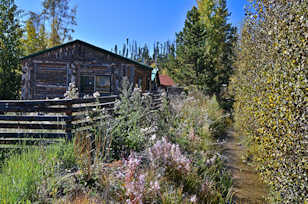 Log-sided 2 bedroom cabin renovated this summer;
ready for its new owner. Plenty of parking within the fenced side yard.A small irrigation stream flows by
to create a leafy setting. Property includes the corral (show below) and a tiny one room cabin that in its day,
was a check-in office for fishing cabins that sprung up when Lake Granby and Shadow Mountain Lake were formed. $88,000

$89,000 Two bedroom
retreat on a back road near Lake Granby. Mobile on its own land, almost half an acre;
Off Road 44, 4˝ miles south of Grand Lake.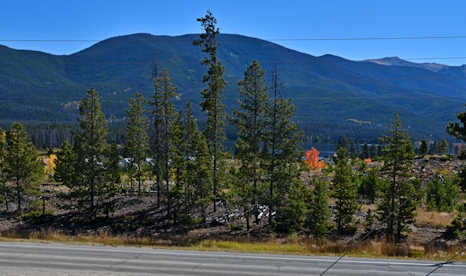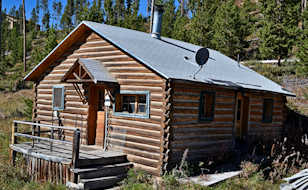 Three bedroom log cabin with some lake view.
Two other fixer upper cabins are included with it at $140,000. Wood finish throughout inside. An interior
rock wall frames a centrally located wood-burning stove. Located along Highway 34, midway between
Shadow Mountain Lake and Lake Granby, short drive from boat launches, fishing and hiking trails in
Arapaho National Recreation Area and Rocky Mountain National Park.

Tiny House! Miniature Log Cabin
in the heart of Grand Lake Village ~ one block from the Boardwalk, two from the beach.
Classic log cabin interior with exposed wood ceilings and open beams.
Compact kitchen along one side of the living area. One private bedroom. Small 3/4 bath.
Outside, there is plenty of room to build a garage or give the cabin wings. $169,000

$169,900. Great Room in the middle
with bay window and a sunny deck facing south towards Lake Granby, the largest of our lakes.
Three bedrooms, two baths. Large heated work shop plus double garage with high ceilings.
Almost half an acre of level usable land plus lots of parking.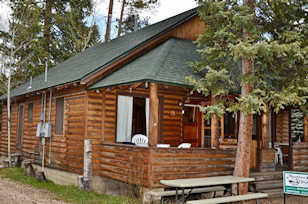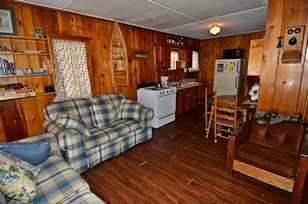 Half a log-sided duplex with
exclusive lake and river access. One bedroom, one bath dwelling in the Lemmon Lodge
area a few hundred feet from boardwalk shops and restaurants. Your family will love
being in the heart of town with private community access to Grand Lake and the
North Inlet Stream. Relax on your porch with enticing adventures and scenery
a few steps away and different in every direction. $199,000
Columbine Lake area home bordering Rocky Mountain National Park.
Because of its choice location, this 2 bedroom home with double garage was one of the first built when
the area was subdivided. This shell of a home dates back to 1973. The interior is ready for a rebirth.
Create a new inside in this irreplaceable location, a mile from Grand Lake Village. Wildlife stroll
through the yard. When winter comes, you are right by the snowmobile trails. $219,000

3 bedroom cabin with great yard for children, sunny deck.
Beautiful moss rock fireplace. Half-acre yard with fire-pit for evening fun. Freshened up with
new appliances and TLC. Start enjoying right away. $229,000
Lake view Log Cabin
in Shorewood, one mile from Grand Lake Village. Extra wide lot has a garden path,
fire ring and two storage "sheds", one of which is a tiny yet historic cabin from the olden days.
Fireplace and wood-finished ceiling add to the mountain home ambiance. Three bedrooms,
one full bath. 900 sq. ft. of interior space on one convenient level. $239,000 mostly furnished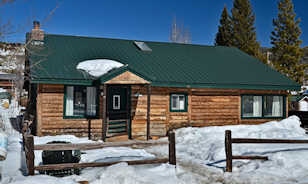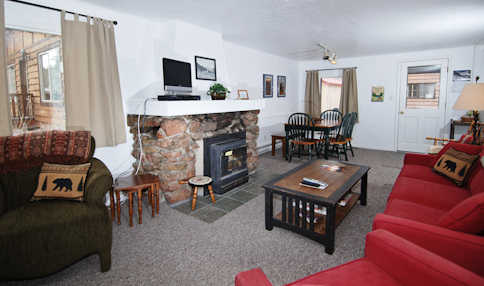 Comfortable family home
in Grand Lake Village on a quiet back road near the sledding hill! Short walk from lakeside
parks, boardwalk shops, restaurants and theatre. Two bedrooms plus guest quarters.
Big yard in back for hobbies. $249,000
Spacious home with 2000 sq. ft. plus
decks and workshop. Great Room with raised ceiling and lots of glass. Open loft has views of
Shadow Mountain Lake. Bedroom and full bath on main level. Lower level has a recreation
room and a large second bedroom plus a full bath and laundry closet.
The home sits on a 8/10th of an acre (shaped almost like a square). $259,000

Lake view home in town with 3 bedrooms,
2 baths and lots of character. Country style kitchen and dining area with open log beams. Bright and cheery
living room with lots of glass. Leafy setting in an aspen grove surrounded by wild flowers! $299,000

Columbine Lake area Log home with soothing pastoral views to the Never Summer Mountains!
Great Room with lots of glass. Spacious deck for dining. Two bedrooms plus extra large loft
with its own full bath. 1580 sq. ft. plus deck and matching log storage shed. $339,000

Columbine Lake area home
with lake & mountain views from every room. Three bedrooms, two baths. New fireplace
and floor coverings. Designed for families to gather and make memories. Vaulted wood ceilings
with exposed beams. 1200 sq.ft. plus large deck for dining. Home comes with two lots, 0.44 acre
with room for a detached garage. Heated community pool is a short walk away past the community gazebo.
Great for kids and adults! Seller would prefer a cash contract: $339,000 includes vacant lot.

Boat slip comes with ownership of this 3 bedroom
cabin a few steps away from a shared lake access and a sandy beach. You'll love the views from the deck and
inside across Shadow Mountain Lake into Rocky Mountain National Park. Presently 1270 sq.ft. $349,000

Relax and enjoy over 1700 sq. ft. in this beautiful
Shorewood home, on two lots, a mile south of Grand Lake Village. Beautiful tongue 'n groove pine throughout,
like-new kitchen with hickory cabinets and upgraded appliances. Extensive landscaping draws one out for a
morning walk into the greenbelt of community open space below the home's private west side.
Warm and inviting inside with custom built-ins. 3 bedrooms, 2 baths. Walkout lower level has a recreation room,
full bath, the 3rd bedroom plus flexible space for storage and multiple uses. The whole property feels large
as it stretches across two lots! New deck, railing, steps, stain . . . all ready for Grand Lake's
champagne-powder-snow for many winters ahead! $359,900
Spacious home with grand views
and living space on one level over a large double garage and workshop. Beautifully landscaped.
Lot's of storage space. Inviting Great Room with mountain views and gas fireplace.
3 bedrooms, 2 baths. $368,000

Tri-level getaway in the only townhomes
built along Lake Granby's vast shoreline. The Great Room has an attractive corner fireplace as does the
Master Bedroom suite on its own upper level. The walkout lower level has two bedrooms and a full bath.
The garage has cabinets along both sides for storing seasonal items. In the deep winter, one can snowmobile
directly onto the lake; see everything from a new perspective and try ice-fishing. 1800 sq. ft. plus garage. Furnished $395,000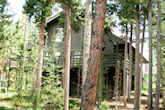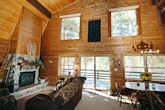 Log Home by Grand Lake's Golf Course
with lake and pool privileges at Columbine Lake. Living Room is like a Great Hall
for gathering friends & family around the fireplace below the high wood ceiling.
Bedroom and bath on each of the three levels. Huge deck. Walkout lower level
has a large family room with pool table and a Lopi gas stove. In the winter one
can cross-country ski from your door onto the golf course's groomed trails. $399,000


Log Home on 2.5 acres in a pastoral setting close to National Forest. Relax on the spacious deck
as clouds sail through a Colorado blue sky. The warm wood finish and gas fireplace give everything
a pleasing glow. Master suite plus guest bath on main level plus a large sleeping loft with its own half-bath.
Heated 900 sq. ft. garage can be reached through a convenient passageway for storing items.
National Forest trails begin half a mile away. 1700 sq. ft. plus garage and large deck in like-new condition.
Huge logs, just seven to make a full height wall; Swedish cope design. $399,000

Home in immaculate condition
on a half an acre in Aspen Pine Acres with Sun Valley Lake fishing privileges. As one drives
to the home one passes along meadows in Rocky Mountain National Park, crosses the
Colorado River running like a creek and and continues almost to Sun Valley Lake a quarter mile away.
Beyond the lake one, the road turns into a National Forest trail that is on Grand Lake's groomed trail system.
Snowmobile from your home to high tundra in twenty minutes! Or take your time.
2100 sq. ft. plus deck and covered porch. Two bedroom suites plus a third bedroom. 3 baths.
Beautifully finished inside. Granite kitchen island. $435,000
Columbine Lake area home with a grand interior:
2-story fireplace, beautiful wood finish throughout. Two master suites on upper level; one has big views
of The Never Summer Mountain. You'll love seeing the mountains change with the seasons and the way
the lights and shadows play on their shoulders. Tiled floor in kitchen, granite countertops, hickory cabinets,
stainless steel appliances. Inviting patio in a quiet corner in back. Three bedrooms, 3 baths.
Each room drawn to perfection. 2300 sq. ft. plus garage and covered porch. $444,000

Spacious log-sided home
on 3/4th of an acre, beautifully finished and landscaped along a meadow near the
fishing canal between Lake Granby and Shadow Mountain Lake. 3350 sq. ft. plus
double garage, deck and patio. Great Room has a tiled wood-burning fireplace in
like-new condition, wood floors, a bayed window and a recessed (coffered) ceiling.
French doors invite one to the adjoining study/office. Many of the home's doors
and cabinets have artistic beveled glass. Four bedrooms (3 on upper level,
one on the garden level); baths on each level. $488,000

Landscaped and furnished
3 bedroom home at The Ridge at Elk Creek, close to Grand Lake Village, between Columbine Lake
and Rocky Mountain National Park. 3-sided gas fireplace, high beamed ceiling in Great Room.
3 bedrooms, 3 baths with custom cabinets. 2100 sq. ft. plus double garage and decks.
Lower level recreation room has a walkout to a hidden Zen-like pond just beyond the property.
Inside, you'll love how the grains flow in the rec room's granite countertop.
$489,000 mostly furnished
Columbine Lake area log-sided home
with inviting mountain interior ~ new in 2007. Almost 3000 square feet with sleeping space
on each level. Great Room with fireplace, lots of glass and log timbers. Four bedrooms,
three baths. One could live in this home comfortably with everything on one level inside and out.
Partly finished lower level could be fine place for a recreation room or a man-cave "work"shop
with double doors to the great outdoors. $489,000


Secluded and private setting on two acres of land,
just a few hundred feet from Grand Lake's Golf course/Nordic Ski Area, five minutes from Rocky Mountain National Park
and ten minutes from Grand Lake Village. Amazing Great Room with huge windows framing wonderful mountain views
and a fireplace set in an enormous wall of impressive stone. Wood floors, fine finishings. Master suite on main level
with two guest rooms upstairs. $525,000

Lake Views, River Views
and Mountain Views wrap all around this unique home. Every direction shows off our dramatic environment
as the seasons and weather play over Shadow Mountain Lake to the east and a thousand acre ranch to the west.
3400 sq. ft. plus a heated triple garage and a wraparound deck that makes one gaze in wonder when one steps outside.
Master bedroom suite has an office wing to stroke one's creativity. 5 bedrooms, 3 baths.
0.58 acre. Protected views. Land borders open space to the west. $525,000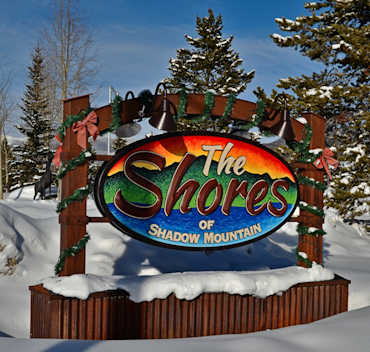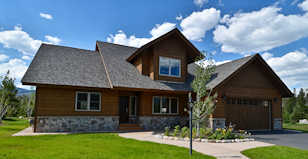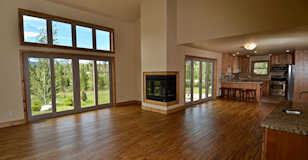 New Home at The Shores bordering community open space that reaches National Recreation Area land.
With ownership you also have private access to 24 acres of open space along the fishing canal to
Shadow Mountain Lake. Peaceful area with paved roads and underground utilities. A mile away
you'll find an excellent boat launch and hiking trails along Shadow Mountain Lake and the
Colorado River. 3-4 bedrooms, 3 baths. Spacious Great Room with raised ceiling and wood floor. $539,000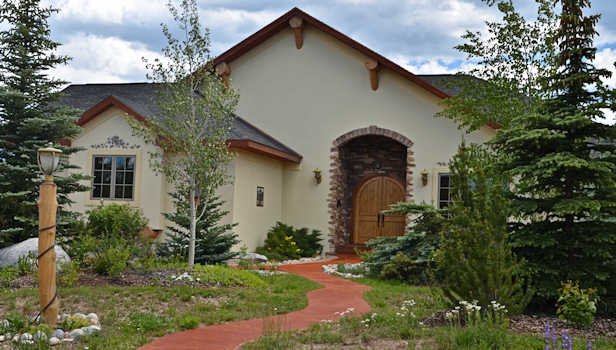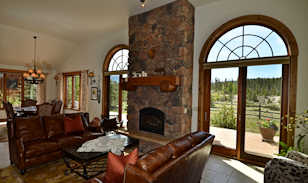 Chalet in The Shores of Shadow Mountain
bordering the fishing canal and a short walk from Shadow Mountain Lake. Large arched windows make
everything bright and spacious in the Great Room around the fireplace. Fine finish and craftsmanship
throughout with everything designed for comfort on one convenient level. ADA accessible.
Three distinctive bedrooms, 2˝ baths. 2370 sq. ft. plus garage and extensive patio areas.
Views to the east of high peaks in Rocky Mountain National Park. $549,000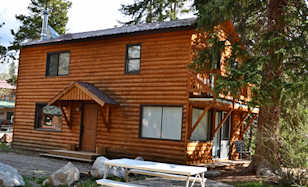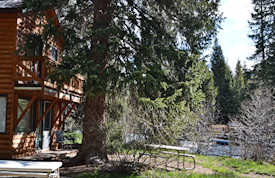 Closer to the stream than one may build today!
Riverside cabin by community open space where you share a private sandy beach along Grand Lake
and can fish or kayak from the North Inlet Stream! Level, landscaped area with lots of tall evergreens.
In town! By the water, yet just a couple of blocks from Boardwalk shops and restaurants. Attractive
wood finish inside. Dining and kitchen area with all glass looking over the river plus spacious
living room with a wood-burning stove for ambiance. Two large bedrooms on the upper level,
with walls which can be open or closed, as you choose. Furnished, arranged to sleep 7 comfortably.
Priced below appraisal at $550,000

Expansive home near Sun Valley Lake with fishing privileges. You'll love driving by open meadows
in Rocky Mountain National Park and crossing the Colorado River (as a small stream) on the way to
this home tucked by National Forest trails. In the winter, one can snowmobile directly from home to trails
that reach the high tundra. By the Great Room there is a master suite, a study and a formal dining room.
The upper level has a second bedroom suite and two guest rooms. Spacious double garage.
Half-acre of land. $679,000 furnished.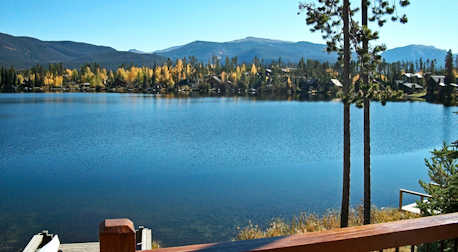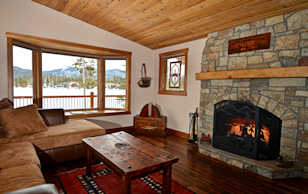 Lakefront home on Columbine Lake.
Gorgeous fireplace, new kitchen and baths, fantastic views. Everything for a base camp that's so fine
you won't want to leave. 4 bedrooms plus rec room. 2000 sq. ft. plus garage and wraparound deck and patio.
$689,000

Log Home on Acreage near Sun Valley Lake
by Rocky Mountain National Park. Mountain living with stone fireplaces and open beams.
Shared access to private lake for fishing and canoeing! Covered open air entertainment area by kitchen
has a central fire place for special gatherings. 3,400 sq. ft. plus garage and decks. Snowmobile or ATV
directly onto National Forest land from the home. The home's 2.5 Acres back up to community
open space bordering National Forest land. $815,000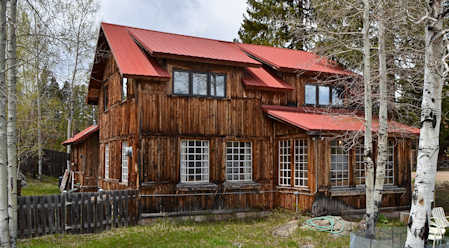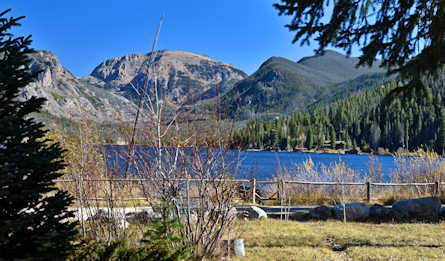 If you were the first pioneer
coming to Grand Lake and you could settle anyplace along the water, which location would
you select? In the 1880's, the first homes and hotels were built on this western shore.
By Grand Lake: historic bark-sided home with guest cabin. Level walkways
to both homes, to lake and dock. Postcard views of Mount Baldy from a peaceful cove
near the southwest corner of Grand Lake. Log beams, fine wood finish in living room.
Detached guest cabin has one bedroom, bath, living room and its own kitchen.
Boat dock with slip and seating area, all in great condition. $975,000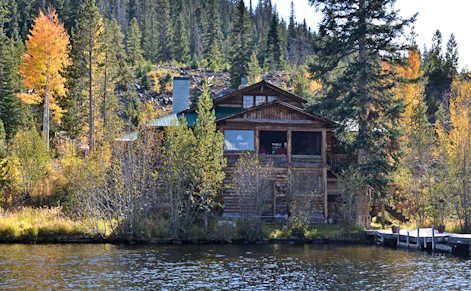 On Grand Lake!
Historic summer home at the beginning of the South Shore. Enchanting Great Room with fireplace
and magical screened porch transport you to Grand Lake's Olden Days. At approximately 2500
square feet, the home offers 4 bedrooms plus a bunk room with private lake side entrance.
The wide dock has room for an outdoor table and chairs. $1,450,000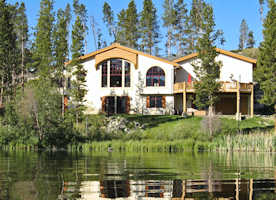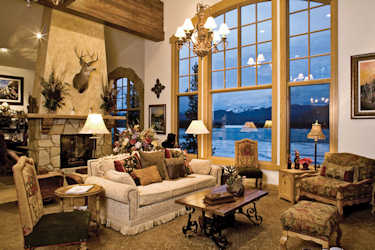 Architect's Lakefront home along the
south shore of Shadow Mountain Lake. Quality in every detail imbues the home and raises
one's senses. Dramatic windows ... hand-painted open beams .. a walk-around double-sided fireplace
that looks grand from every angle. Over 5000 sq. ft. of interior space plus heated triple garage and decks.
Low maintenance European Chalet design. Paved access, community utilities. Year-round comfort
and convenience. 5 bedrooms, 3˝ baths. Exquisite interior: natural stone flooring, granite counters,
premium appliances. $1,989,000
---
CONDOMINIUMS SOLD in 2016 through Mountain Lake Properties: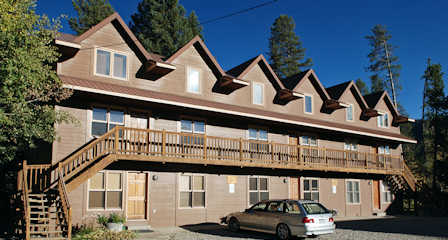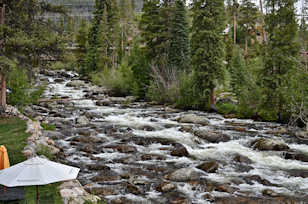 Riverfront condominium with flexible
floor plan. A private suite on the parking side can be rented or used for guests while you enjoy the riverside.
Community property along the river (shown above) is perfect for riverside picnics. An open garage under
the dwelling can be used to protect snowmobiles or small boats. Rent out the riverside for a premium and
you'll still have access to the river and be a short walk from shops restaurants and Grand Lake's beach.
A wood-burning fireplace is close to a magical bed that folds out of the wall. Rapids Condominiums #3.
$199,000 furnished

Soda Springs Soda Springs condominium with lake, meadow and mountain views.
Middle level has a Great Room with a free-standing gas stove. Adjoining balcony
has views over a meadow to Lake Granby. Upper level has two bedrooms and a
full bath separate from the half-bath on the middle level. Ranch Club condominium #C1. $125,000

Soda Springs Soda Springs condominium with lake, meadow and mountain views.
Middle level has a Great Room with a free-standing gas stove. Adjoining balcony
has views over a meadow to Lake Granby. Upper level has two bedrooms and a
full bath separate from the half-bath on the middle level. Ground level has lots
of storage space, laundry area and a garage. Ranch Club condominium #F2
with athletic club privileges. $128,500

Soda Springs Ranch Club condominium
near Lake Granby. Attractive end unit with free-standing gas stove. 2 bedrooms, 1˝ baths. Garage. $148,000


Upgraded condominium with splendid views of both Grand Lake and Shadow Mountain Lake.
In April, one can watch from the covered deck as Spring arrives and makes the open water at each end
of the channel fan out to the far lake shores. Kayaking opportunities abound while Osprey soar overhead.
This is the only Shadow Park West condominium currently on the market. Like new inside.
New pine wood doors and trim including closet doors. Heat and Glo® gas fireplace.
Two bedrooms, 1˝ baths. $182,900 mostly furnished

$189,000 for a one bedroom
lakefront condominium with boat slip on Shadow Mountain Lake. South end unit: 400 sq. ft.
Step back into 1966. Update as you wish after you get to know the amazing setting.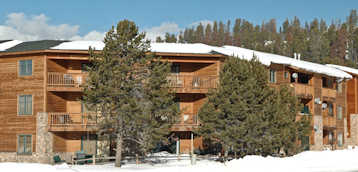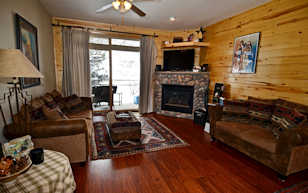 Grand View Villas in Grand Lake! Two just came onto the market! Each is a 2 bedroom, 2 bath with detached
single car garage. Each has a lovely river rock fireplace. Ground level #110 is along the buildings broad and
landscaped corner. Gorgeous new floor in the Great Room. Short walk to Boardwalk and lakeside parks.
Mostly furnished at $189,900.

Condominium in town with a panoramic mountain view centered around Mount Baldy.
Two bedrooms, 2 full baths. Great Room features a river rock gas fireplace and
a warm wood finish on its living room walls. Spacious kitchen with Corian countertops,
new refrigerator and dishwasher. In-floor radiant heat. Turnkey with most
furnishings included. Toys and seasonal items can be stored in the single car garage.
Short walk to lakes and boardwalk restaurants. $192,000

Seller financing
to a qualified purchaser with relatively low down payment! Three to four bedroom townhome,
end unit with views. Wake up to nature's bouquet right out your window as Soda Soda Creek
fans out with a flourish of plants and wildlife before she joins Lake Granby. A short walk away,
one can fish at lakeside parks along Lake Granby. Two nearby restaurants are ready to serve,
regardless of what you catch. Spacious master suite / office on the upper level has broad windows
overlooking the greenbelt. 1360 sq. ft. plus decks and a garage with two large windows
(great for your personal shop and studio). River rock gas fireplace. $199,000 furnished

Ground-level Grand View Villas
condominium, in town, short walk from lakes and parks. River-rock corner fireplace with a
pine wood finish reaching out to the rest of the Great Room. Master bedroom suite plus a
second bedroom and bath. 980 sq, ft plus patios and 260 sq. ft. garage. Two patios, ideal
for pets, each with sliding glass doors to bring in the daylight and make it easy for owners
and pets to check on each other. $205,000 furnished.
Waterfront at its closest!
Three-level lakeside townhome at The Harbor, with fireplace in Great Room. 3 bedrooms, 2˝ baths.
Boat slip out in front. Share about 300 feet along the water ~~ including a sandy beach area.
Peaceful setting for vacation home owners; no nightly/weekly rentals are permitted.
Across the water, the protected eastern shore rises up into Rocky Mountain National Park.
$329,000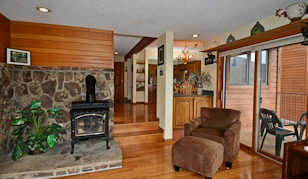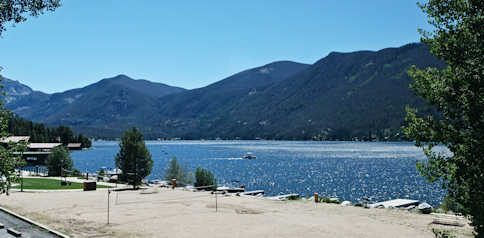 By Grand Lake, just off the Boardwalk!
Condominium with elevator, sauna, covered lake view deck overlooking three blocks of beachfront fun.
Gas stove in living room with attractive rock work. Handicap Friendly with lovely tiled shower for master suite.
Guest bedroom and bath inside. A third bedroom and bath are available for an occasional extra guest. $379,000

Lakeside living at the
Beacon Marina on Lake Granby. Townhome with beautiful gas fireplaces in both the Great Room
& the master bedroom suit. Three bedrooms, 2˝ baths. 1800 sq. ft. plus garage and decks. $382,900
---
LAND SOLD in 2016 through Mountain Lake Properties: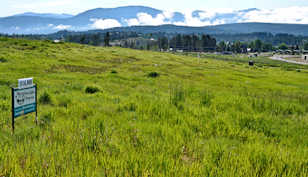 $14,900 for Cabin site with lake and mountain views. Easy to build on.
Located 5 miles south of Grand Lake Village near a Boat Launch and along the main route to over 100 miles
of groomed snowmobile trails and ATV trails in Arapaho National Forest. Underground utilities are in for natural gas,
electricity, telephone, cable television & community sewer. Drill a well for water. Land is 77 feet wide and 125 feet deep.
An equal bit of community open space is across from the land's road frontage.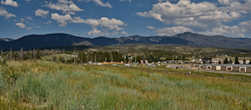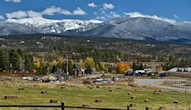 Home site across a meadow with open views deep into Rocky Mountain National Park and
along the Continental Divide to Winter Park. There is also a view of Lake Granby over the low
buildings of a nearby neat and tidy storage center. Save on building a garage and rent from nearby
all the space you need for boats, jet skis, ATV's and snowmobiles. Great location for your base
camp with easy year-round access. Lake Granby boat launches and parks are close by as is also
our primary road to National Forest Trails for four-season motorized recreation. Almost level,
easy to build on site with underground utilities. Drill a well for water. $38,500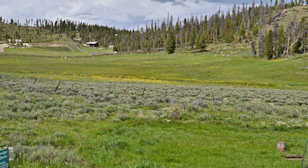 Swing together on your porch by a hidden meadow.
4/10th of an acre with lots of road frontage. Peaceful back road a mile from Hwy. 34
between Lake Granby and Shadow Mountain Lake. $39,900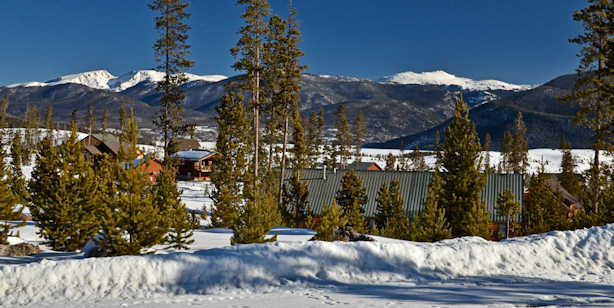 Level site at the end of a quiet cul-de-sac with lake and mountain views.
The home site borders 2.4 acres of open space that is nicely treed and has a picnic area. Easy to build on
with underground utilities ready to tap into. Drill a well for water. $49,000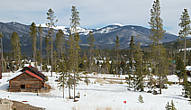 Easy to build on home site in Grand View Park with
underground utilities already in (except water well). Land rises just a little from
front to back. Nice mountains views to the east and northeast. Located between
Lake Granby and Shadow Mountain Lake. Lot 49. Quarter acre. $49,900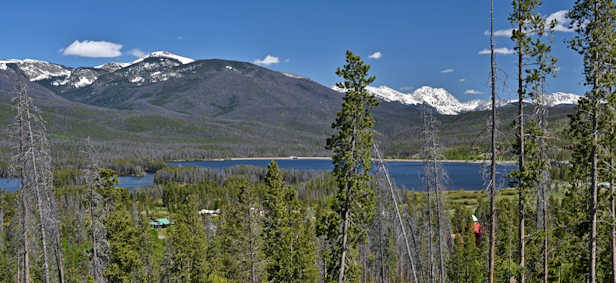 $59,000 for land with awesome lake views
across Shadow Mountain Lake. Property is along a ridge with views deep into Rocky Mountain
National Park (to the east). To the west, you can gaze across a valley to National Forest land.
Nice level area on top for your home and driveway.

When one leaves Hwy. 40 and turns northward onto Hwy. 34
to Grand Lake, the road takes one by large ranches and then ramps up to Coffee Divide. Just as the
road levels off, a grand vista pops out of Lake Granby rimmed by the Continental Divide and clapped
with clouds. From Lake Granby and onward to Shadow Mountain Lake, a panorama of lakes, mountains
and sky accompanies one along the way to Grand Lake. Across the road from where Lake Granby first
leaps into view, almost half of an acre of level land quietly waits for someone to frame its living view
through the windows of their living room. Located less than two hours from Denver in a sunny world
of its own by a high alpine lake. Boat ramps, marina and a restaurant are close by. $59,900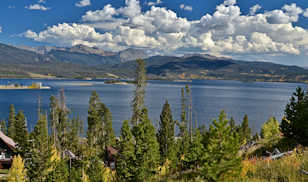 3.8 Acres on a hill with panoramic views
of Lake Granby and The Continental Divide. You'll love watching the lights and shadows move
over the waters and up the forested mountains. As the day closes, snow-capped peaks shimmer
with alpenglow; nightfall brings out the stars and perhaps two moons, one in the sky and one
reflected in the water. Be with the clouds as they hover over Lake Granby and then blossom
as they reach 13,500' Arapaho Peak. A paved public boat launch is practically at your feet.
National Forest access is two miles up nearby Road 4. $89,000
Four acres, mostly level and lightly treed with mountain views
in the distance. Easy to build on and surrounded by other large parcels. $89,900
One acre home site perched at the edge of the world bordering hundreds
of acres of Recreation District land on two sides. Views across a valley to National Forest land rising
to the west. Unique corner location tucked away, with year round access off of Highway 34, up Road 47. $98,000

Not a home, yet a great start at $114,000. Could be used for one's business while one lives closer to schools.

Deluxe garage, brand new being built on its own land with summer water
for now. Drill a well when you are ready to expand ... or ... keep as a garage. A full size motor home can
|drive into one side; a pickup with a camper can fit through the door on the other side. Each half has its
own 100 amp electric service. The halves may be rented out separately (one to yourself) without tools
getting mixed between the two. A partition wall down the center and two man doors let two families
control their own side. Milled log siding with a corrugated metal wainscoting. Concrete floors.
2x6 exterior framing. $114,000


$119,900 for Corner property at Park Avenue & Vine Street. Commercial transitional
zoning offers multiple opportunities. Nice home sites for a mountain retreat, with just a short walk to boardwalk,
beach and restaurants in Grand Lake Village. One may use this site as retail space (with a special permit)
or let it be parking to enhance development of nearby income properties.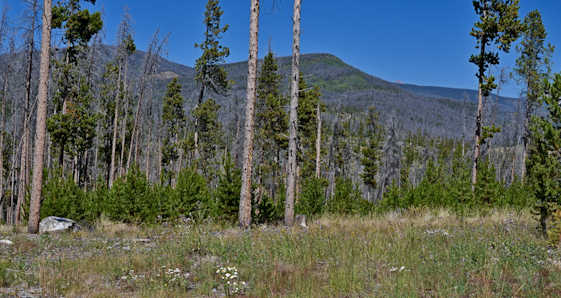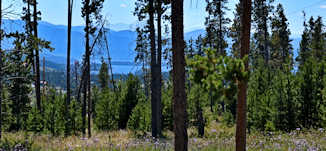 Six level acres, partially wooded.
Mountain views and a bit of lake view can be seen through the trees. Well is already drilled. $129,000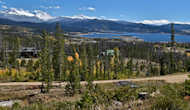 Overlook Lake Granby from your large 2˝ acre home site close to popular
National Forest trails. Land is approximately a square, 350' x 330', rising gently from east to west. Located
in the Stillwater Small Tracts area, two miles northwest of Lake Granby, the largest of our lakes, and seven
miles from Grand Lake Village. Install well and septic system when you build. $154,900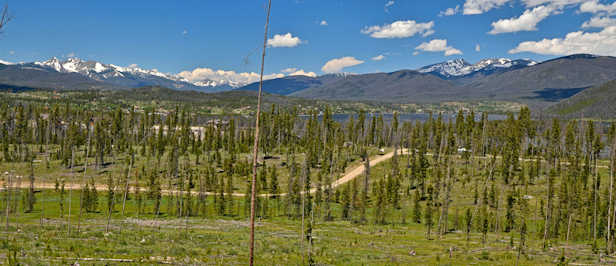 NINE Acres near Shadow Mountain Lake and bordered by other large tracts.
Land rises gently from a meadow. Create your own hiking (and snowmobile) paths to the top of the property and savor
the wide lake and mountain views. $159,000


Dramatic Lake View site bordering a treasury of US land
extending along original Colorado River habitat and reaching deep in Rocky Mountain National Park
and The Indian Peaks Wilderness. 1.35 Acre. Ready to build on with well and septic in already completed. $160,000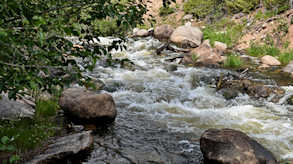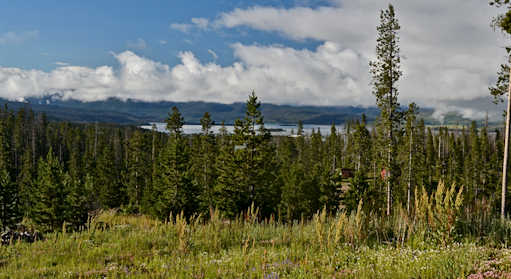 Relax with the sounds of a summer stream
while you gaze across the valley over Lake Granby to an array of high peaks from your peaceful "5 acres"
with views of Lake Granby. Land has an amphitheater shape with the stream wrapping around a ridge for your
home and driveway. Snowmobile and ATV directly onto National Forest trails that start one third of a mile away
and extend deep into Arapaho National Forest. In the winter, one can snowmobile all the way to Grand Lake Village. $189,900

SEVEN Acres overlooking Shadow Mountain Lake.
Directly below the acreage is the fishing canal that runs year-round and creates a large
open water area where it flows into the lake and attracts fish. Roadwork and driveway
have been completed to give you dreamy views from the home site.
Level easy to get around property, already loved by wildlife. $199,000
---
COMMERCIAL Property SOLD in 2016 through Mountain Lake Properties:
$59,000 : Commercially zoned building site bordering public parking,
along Park Avenue just off Grand Lake's boardwalk. 50 by 100 feet. Half block from town square,
3 blocks from Grand Lake's beach. Wraparound mountain views. Level, easy to build on with all utilities close by.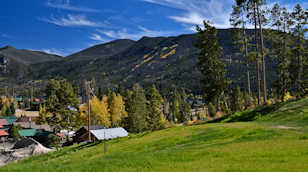 Three-quarter acre of commercially zoned land
along Grand Lake's main street. Four extra deep building sites with views of Mount Baldy.
Consider retail use or multifamily housing. $189,000

Carwash with three drive-through bays conveniently located along a
wide street near the entrance to Grand Lake Village. The bays can be partly closed off and adapted
for a variety of uses from hosting open markets to doggy baths to art fairs. Water and electricity
are already set. Natural gas is in the road. With some additional permitting a restaurant may be possible.
The open mountain views to the east over a Little League baseball field are not likely to blocked
by construction on the other side of the street. $199,000
»» .. to splash page »» www.MountainLake.com «« Jump to Homes ... Land ... Businesses ... YouTube .. What'sNew
---
Jump to Weather Update .. or .. to MainMenu ..
Use your refresh button to make sure you see recent updates.
Clearing your browser's cache is also a good and safe practice.
.. to MainMenu .. Homes .. Land .. Commercial .. or .. to top of this page
© Text & Structure of this site is Copyrighted 5/1/96.