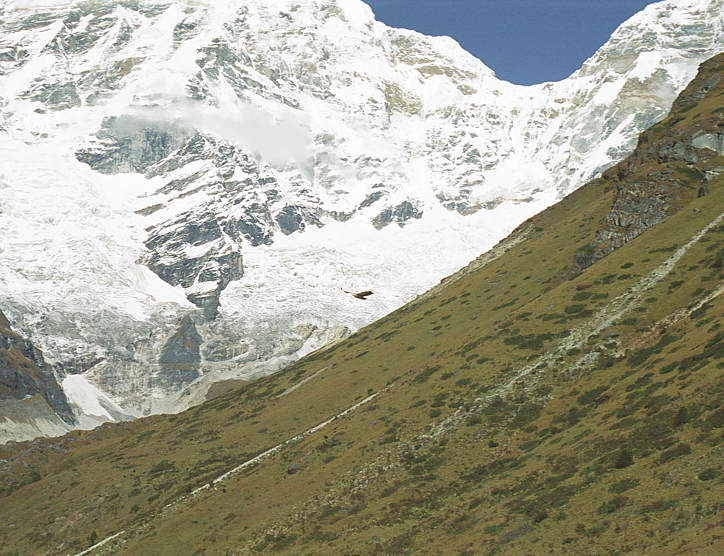 Himalayan condor or griffon by 24,000 foot high Jhomolhari*, in northwest
Bhutan. This is just over the border from Tibet. Click on photo to land in
Bhutan. Greetings, armchair explorers and philosophers. For ecological and
deeper reasons, a journey was made in October of 2003 to the verdant Eastern
Himalayas on the opposite side of the world from Grand Lake. This is a study
in similarities and contrasts, in opportunities and possibilities. It is also, a
visual orgy! For optimum viewing, use a large monitor in a darkened room.
After this page, photographs will be in the order they were taken. The First
Installment of 20 photographs takes you 2 days off the road and toward
Jhomolhari. The Second Installment will show you the environment immediately
around this Great White Mountain. For the physically fit, detailed instructions
are given on how to comfortably walk to its base. Scroll down to make sure you
don't miss the commentary, or just click on the top photos and enjoy.
The 3rd Installment begins on a huge cube of rock by Jhomohari's glacier.
The 4th Installment to complete the Grand Circuit will be ready in January of 2004.
For immediate travel information, please write Linda Fessette. She's your first
step to www.exoticbootan.com and also Rainbow Tours based in Bhutan.
Click on this line for general info about Bhutan, cultural tours and treks.
Click here for current events from Bhutan's national newspaper.
One of my travel companions has made himself available to answer
questions. He has visited the country in different seasons and in a variety
of areas. He is deeply interested in the whole Bhutan phenomenon. Later,
he might contribute an essay that we will include in this presentation.
For in-depth help, Ask Bob Anything! My mountain guide was Karma Namgny.

To move through the presentation click on the photos or the griffon.
* Alternative spellings for Jhomolhari include Jomolhari, Jumolhari, Chomolhari...
The "original" language is far removed from English and uses an alphabet,
that is quite attractive and flowing (a bit like Thai). All of the proper names
in this presentation suffer from being translated out of the environment
in which they were born.
* Jhomolhari is pegged at 7314 meters (a hair under 24,000 feet). Its snow depth
in places is humongous. It's a huge, somewhat rounded glacier-filled mass.
* The conversion factor from meters to feet is 3.2808 feet per meter.
The reciprocal is 0.3048 meter per foot.
* It is illegal and sacrilegious to summit a peak in Bhutan over 6000 meters
(19,700± feet). For this reason and others, Bhutan does not attract the macho-
climbers that come to Nepal. The highest peak in the "lower 48" states of the USA
is Mount Whitney in California at 14,494 feet. Colorado has many peaks almost as
high (54 over 14,000 feet). Mount McKinley in Alaska (Denali) is 20,320 feet.
Aconcaqua in Chile is 22,841 feet. Mount Kilimanjaro in Tanzania is 19,340 feet.
Mount Blanc in the French Alps is 15,771 feet. The Matterhorn is 14,692 gruelling
feet high. Mount Elbrus in Russia-Georgia is 18,510 feet high. Punkak Jaya, the
"Carstensz Pyramid" in Indonesia is 16,023 feet high. The highest peak in Bhutan
is 24,740 foot high Gangkhar Puensum. Jichu Drake by Jhomolhari is 22,290 feet high
(photo coming).
* The photo above is NOT taken with a telephoto. Almost all of the photos in this
series were taken with a Nikon N-90 with a 35-70mm lens. A few were taken with
a wide-angle 20mm lens. The 35-70mm range gives one a bit of room to compose
shots in the usual 50mm range. To save on weight, I didn't bring my 200mm telephoto.
Professional wildlife photographers often use a 600mm lens.

Kodak's new "high definition" 400 speed film was used. All of the pictures came out,
although the negatives suffered being scratched in their printing. The negatives are
individually scanned in a Nikon Super Coolscan 4000. Scratches and dust are tediously
removed. Some of the pictures in the 2nd installment are scanned at a very high resolution
so that they may be used for poster art, calendars or books. Write us if you have
a project that can put the photographs to good use.

The color balance in the photographs has not been manipulated. Every effort is made to
make the photographs as true as possible. Constructive criticism is welcomed. We have
high resolution TIFF originals and can make adjustments, especially in the final output
size. Individual monitors and printers will shift the colors and contrast, even among
themselves as room temperature and lighting changes.

Some of the photos need to be blown up as big as a wall to do justice to the landscape.
Even then, they would only be 2-dimensional and frozen representations. A photo cannot
convey the physical exertion or mental discipline it takes to move through the Himalayas.
The emotional satisfaction is too complex to record. Several times, Linda's eyes were
moist with tears. She often heard the soundtrack to "Himalaya" composed by Bruno Coulais.