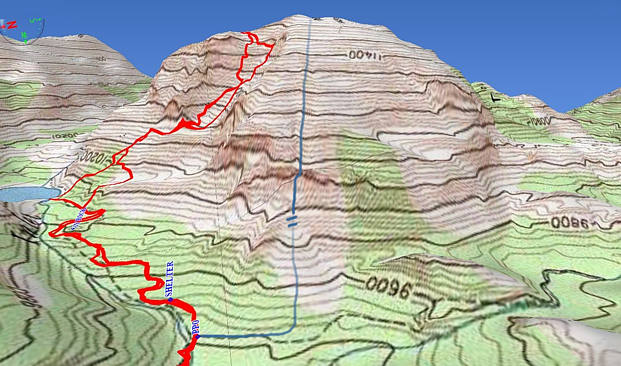 The red paths show the routes that were taken up and down. They are the tracks that
a GPS device recorded of our actual progress. The blue path is a hand-drawn version
of an alternate direct route up the mountain that your writer here has used on a
number of occasions over a 28 year period. It looks simpler, but it might have
a few places that are more difficult than the red route. A few feet off either route
can put you in front of serious rock cliffs. The journey posted here and the older
one (up the blue route posted earlier) is intended to be non-technical, meaning that
on a clear day, it can be achieved with no special climbing gear. This is assuming
that the weather doesn't make things more complicated. If you are traveling in a group,
you need to be extra careful to stay close together and not dislodge rocks on the heads
of those below you. A climbing helmet, especially for younger kids, is advised.
At the bottom of this page is a large scale map showing the 4 miles of trail to the
base of the mountain. Click on any one of the maps to start the climb from the East
Inlet trailhead by Grand Lake. There is no actual trail or even traces of paths up
Mount Baldy. The small alpine lake by the mountain is Lone Pine Lake.
Click here to jump ahead to the new photos we have of the Lone Pine Lake area.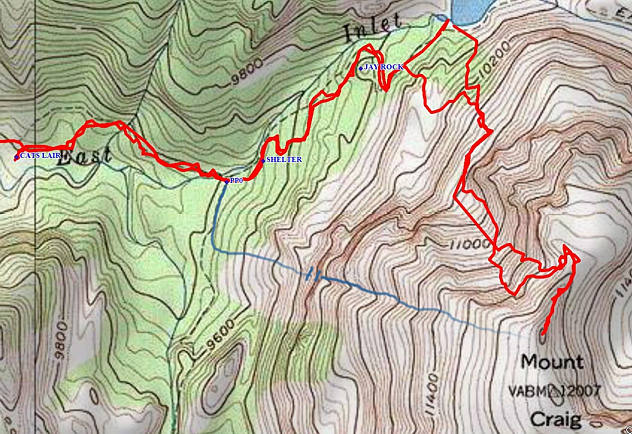 It says "Cats Lair" at the far left of the topo map above. Cats Lair was our basecamp.
In years past, I have walked the 4 miles in and taken the hidden blue route directly up
and back out all in one exhausting day. I later learned that everyone else first goes to
Lone Pine Lake and then heads up from there. Either way, one is likely to encounter
rock faces that one has to intelligently get around. Don't try going up them. Even if you
succeed. They won't help you with getting back down when the weather could be much
more challenging and wet. I had company from out-of-state and decided to try the Lone
Pine Lake area options. It avoids the difficult to find "blue route" in pathless Paradise Park.
Our timing was very early June, which is generally too early and snowy for attempting the
Lone Pine Lake route, but after walking ahead the previous evening from Cats Lair,
we decided that the red route looked doable. Of course, mountains look much simpler
from a distance than they really are.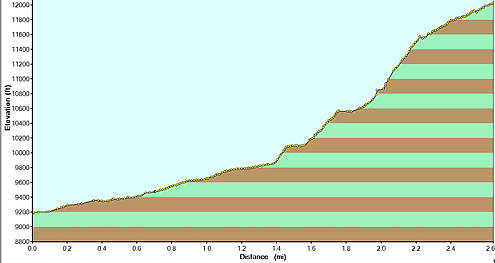 This graph on the elevation profile is from Cats Lair (9200') to the summit (12,007')
over a 2.6 mile distance. We followed the trail from Cats Lair to Jay Rock and a
little farther to almost Lone Pine Lake. We turned off the trail 1.4 miles from Cats
Lair at 9,800 feet and started up the first steep section up the mountain. You can see that
in the middle of the profile. The total distance to the top from Cats Lair was 2.6 miles.
It took over five hours! to make the climb from 9800' to 1200' at a leisurely pace,
and half as long for the descent. Many of sections in the profile have a slope of
over 40 degrees. Mount Craig Mount Baldy is a serious climb.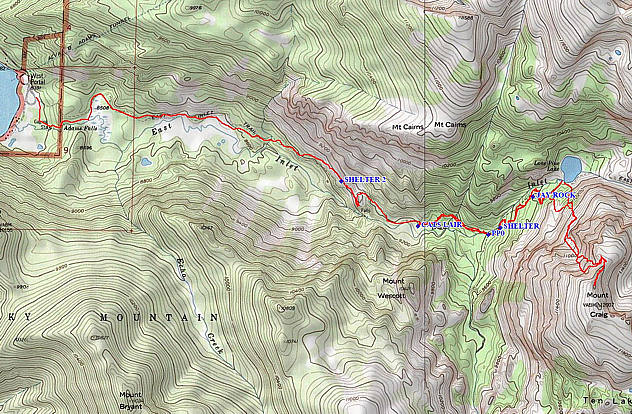 The entire backcountry route is shown above. The ascent can be made in one very
long day hike, if you are willing to walk parts of it after dark or before sunrise.
It is a strenuous feat. For our early June of 2007 ascent with my brother Craig,
(yes, Craig wanted to climb Mount Craig), I managed to have Sombrero Stables
in Grand Lake pack in camping equipment and food so that we could walk in
comfortably and spend the night at Cats Lair. We carried our equipment out at
the end of the climb. One more night at Cats Lair would have given us more time
to explore the vast land (Ten Lake Park) beyond the top of Mount Craig. The
Jay Rock campsite farther in would be desirable if you choose to take one of the
red routes. You would however, have to carry your gear in to and out from a
significantly higher elevation. Cats Lair is just 800 feet higher than the trailhead.
Jay Rock is another 450 feet higher. The Jay Rock campsite was not open when
we made our camp reservation with Rocky Mountain National Park. Cats Lair is
for stoves only. Jay Rock has a designated fire ring and a privy with a view.
You do need a National Park permit to camp.
The 2007 winter brought a little less snow than average. By early June,
there was no snow on the trail all the way to Jay Rock. Along the south edge
of Lone Pine Lake, however, the snow was several feet deep.
Cell phones do not work on the lower portions of the trail. We have added to the
map possible emergency shelter locations in case you get caught in a severe storm.
There is a natural shelter created by huge rocks between Cats Lair and Jay Rock.
Its GPS coordinates are North 40º 13.603' West 105º 44.451'.
Cats Lair is just 3.5 miles in from the trailhead by Grand Lake.
About three-fourths of a mile west of Cats Lair there is rock shelter
with the following GPS coordinates: North 40º 13.876' West 105º 45.667'.
At www.Grandexp.com and at the Grand-Lake Google Group there was a
preliminary announcement of intentions to organize an expedition up Mount Baldy.
Our early June schedule along with the fickle weather made the whole trip a bit
uncertain until the last minute. Will O'Donnell from our office gave tremendous support.
He and Craig are in the photo below. The presentation here can hopefully help others
to trek in when the wildflowers are abundant. August can be beautiful,
but it brings many more thunderstorms (and shorter days).
Click here to start at the beginning of the trail just below Adams Falls by Grand Lake.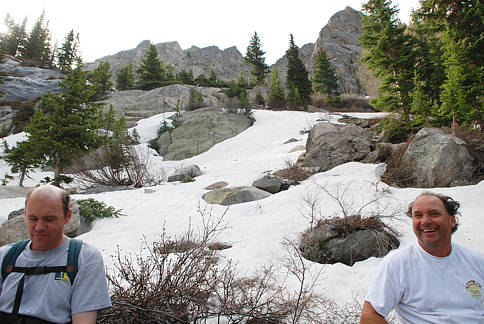 Resting above the first ledge! Click on photo to start from the beginning of the trail.
.. return to Scenery2 page ..