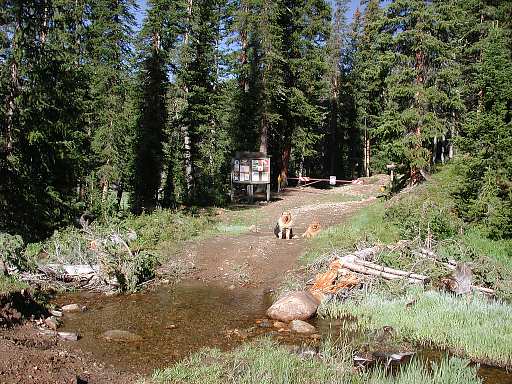 Click on photo to continue up the trail.
Our Journey to Ruby Lake begins at this trailhead 10 miles deep
in the Arapaho National Forest. You can drive a regular car to here.
Near the north end of Lake Granby, you turn west off of Hwy. 34 onto
County Road 4 (by the storage center). Two miles up Road 4, you enter
the National Forest. At the third mile, there is a major fork in the road.
For this journey, continue northward (right fork) towards the Never
Summer Mountains, the North Supply Creek and Blue Ridge area.
The old and smooth logging road is called #120 on some maps. It is not
road #123 that goes over Stillwater Pass. Ruby Lake is to the north,
between Ruby and Bowen mountains. Most of this hike is along the
Continental Divide Trail (CDT). The hike there and back is about 13
miles, but it can feel like 20. Grand Lake is the only town that has the
CDT running right through it. The CDT follows the east shore of Shadow
Mountain Lake, crosses the channel and then enters the Town of Grand Lake.
It then veers to the west and up the North Supply Creek Trail to the gate
shown in the photo above.