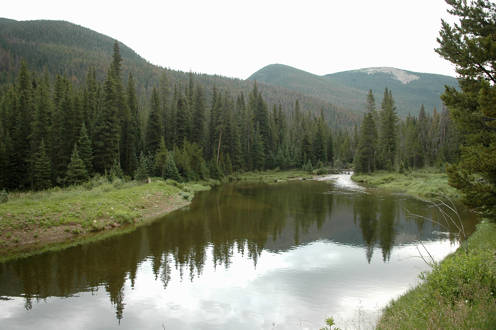 Click on photo for maps and to continue up the trail. Scroll down for details.
Mountain bike and hike through a primal forest and up to alpine gardens
and St. Louis Lake! Trailhead is deep in the Fraser Experimental Forest.
Starting (by car) from the center of the Town of Fraser, turn west off of
Highway 40, cross the railroad tracks and head southwest and west to Road 73.
You will thread through a few blocks of the original residential community
of Fraser and then be on a well maintained dirt road that heads to Byers Peak.
You follow the broad valley and road deep into the Experimental Forest
along St. Louis Creek. It's almost straight and level. You'll suddenly
meet a gate that prevents you from going further by car. There is a Denver
Water Board aquaduct and pond structure (shown above) where you park.
From here, you start the mountain biking phase up the gated road. It's not
rugged. Parts of it are steep enough to put you in first gear, but with a good
bike, you should be able to pedal three miles in to where you'll then park
your bike and hike the last 2.7 miles by foot. The total round trip of this hike,
including the biking part and some off trail exploring is twelve miles. Trail
elevation runs from 9500 feet to 11,600 feet. Get an early start and your chances
for fair weather will be good. On your return by foot, you'll greatly appreciate
having your mountain bike waiting for you to coast the 3 miles back down to
your car. For the hike shown here, it took almost 2 hours, with ample breaks
and time to take photographs to complete the uphill portion by bike. The coast
down at the end of the day took only 20 minutes. Yahoo!
Click here to continue and to see maps.
.