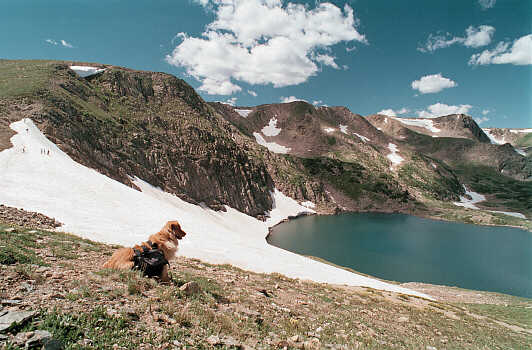 Click on photo to zoom in on the skiers. Click here to jump to the high patch of snow.
King Lake, elevation 11,431', (3485 meters) just below the top of Corona Pass,
aka Rollins Pass. During the summer, you can drive a regular car to this location.
Snowmobilers come here in the winter. To get here you simply follow the 14 miles
of historic railroad bed starting near the Moffat Tunnel by the Winter Park Ski Area.
The road begins on the east side of Hwy. 40, a few 100 yards south of where the
Fraser River (and bike trail) go under Hwy. 40. The road can be difficult to notice,
however it has a sign labeling its historic significance. Many people bicycle up this
gently graded road. Click here for a virtual hike from here to Devils Thumb
several miles to the north along the high tundra.
.. return to scenery list ..