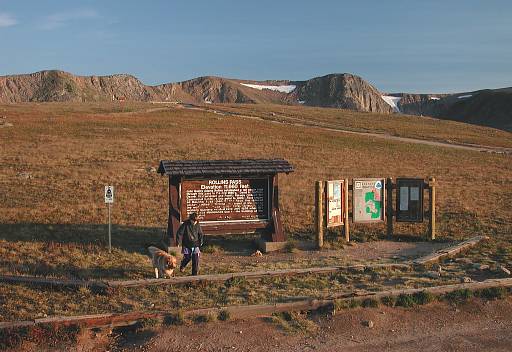 Sunrise at Rollins Pass. Click on photo to walk to a beautiful alpine pool
a short ways beyond the gentle hill. Our virtual hike begins on the tundra
here on the Continental Divide at 11,660'. A regular car can be driven here
with care during the summer and early fall. It is a fourteen mile drive up from
Highway 40 near the Winter Park Ski Area. The turnoff is not well marked
until you are actually on it. As you drive from the ski area towards the Town
of Winter Park, you very soon cross the Fraser River. The turn off for the
Rollins Pass Road (aka Moffat Road) is several hundred yards before the river.
It has a large sign describing the roads history as a railway bed.
The big sign in the photo above says the following:
Rollins Pass
Elevation 11,660 feet
John Quincy Adams Rollins established a toll wagon road through this pass
in the mid 1860's. David H. Moffats Denver, Northwestern and Pacific
Railway crossed the Continental Divide at this point in 1903. First known
as Boulder Pass then Rollins Pass, the railroad workers dubbed it "Corona",
the crown of the "Top of the World". A railroad station hotel, restaurant and
workers' quarters existed here until 1928 when the railroad was abandoned
due to the building of the Moffat Tunnel.