Scroll far down the page to see everything.


Scroll down to look out from the covered deck and entrance. Click on a photo to step into the Great Room.

Columbine Lake area amenities come with this neat and clean home with an expansive Great Room and hardwood floors.
Two bedrooms plus full bath with laundry. Over 900 sq. ft. plus covered deck entrance and heated double garage with storage above.
Home is a short walk from the lake, and National Park trails. Go by snowmobile in the winter or by foot in the summer . . .
and in a country mile, you'll be in downtown Grand Lake. For a convenient halfway point and excuse for refreshments,
you have Sloopy's Grill by the willows at the edge of the The Park. $299,000
#43 GCR 4942 (Alpine Circle). Columbine Lake: Lot 42, Block 3. R152250


Alpine Circle loops around to Columbine Lake. Come visit us and see the snow-white roads all around the Grand Lake area.
Click on the covered deck to step back into the Great Room.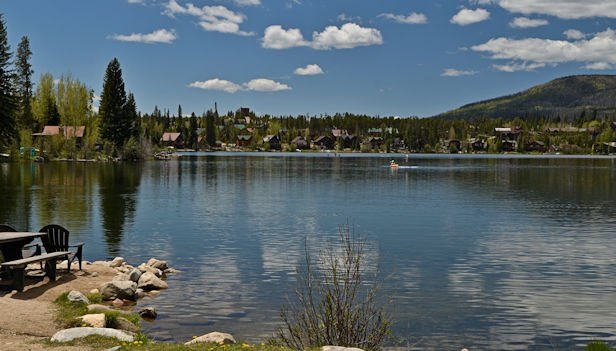 Click on water for a quick tour of the Columbine Lake area.
The home featured here is a short walk from the lake's North Shore fishing point shown here.
Fresh water flows in from Rocky Mountain National Park and finds Columbine Creek a short ways off to the left,
whereby she flows downhill to join Shadow Mountain Lake (passing by Sloopy's Grill along her mostly hidden ways).
To the right of this image, there used to be a fish hatchery before Columbine Lake became an alpine community of homes.

..

.. return to list ..