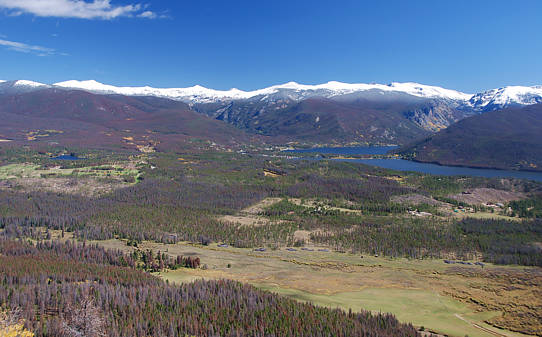 Scroll down for maps and directions. Click on a photo to see the forest on the way up.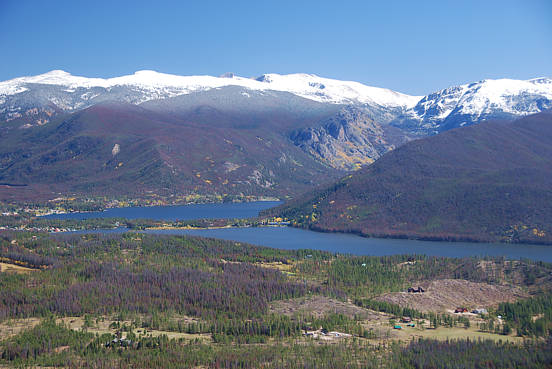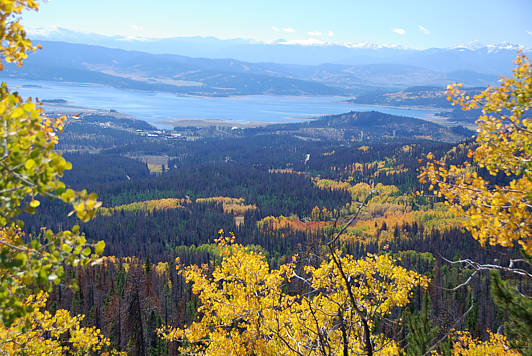 View to the south over Lake Granby. The first part of the drive to here
is along the aspen forest in the valley directly below.
These impressive views are just 3/10ths of a mile up from National Forest
Road 120. Starting from the intersection of Highway 34 and County Road 4,
near the northwest end of Lake Granby, one follows paved Road 4 for two
miles and then enters the Arapaho National Forest. Year-round with
a regular car, one can drive the next mile up to the Stillwater staging
area where many people bring their snowmobiles and ATV's. Just before
the staging area there is a major for in the road, with one fork labeled
Forest Road 123 and the other (right) fork, called Road 120 heading
to the north. The red path on the bottom map starts at this fork. It is
still a major road, but it closed to just snowmobiles from November
through April and still closed in May. There are major logging operations
going on up both roads, so be wary of huge trucks and support vehicles.
Here's the easy part. From the beginning of Road 120, you drive just
3/4 of mile to where it widens for the big southeast facing curve. This
is the best place to park a vehicle. There are no established trails to
the scenic overlooks just a quarter of mile walk up the mountain.
You can only go by foot. It's not a difficult forest. Simply head
upward angling a bit to your right (north) and you shouldn't get lost.
Click on any of the photos or maps of this page to see the forest
as you go up.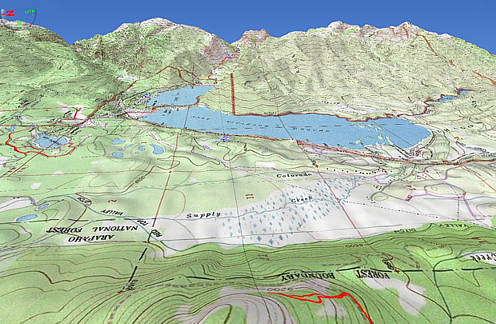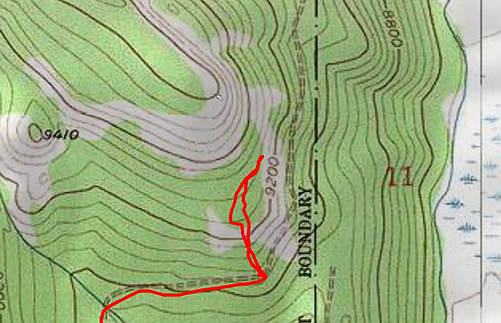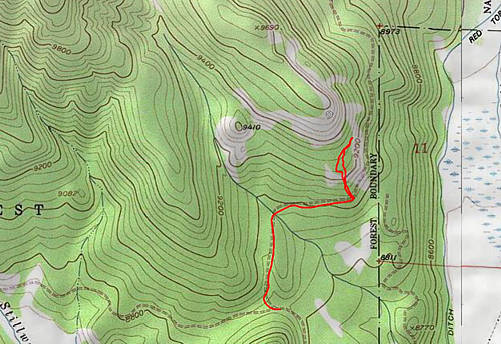 Starting elevation for the walk is 9050 feet. The views are grand just
200 to 300 feet higher along a conspicuous deer trail. With more time
one can continue up to the "summit" at about 9600 feet. Click on any
of the photos or maps of this page to see the forest as you go up.
.. return to Scenery2 page ..