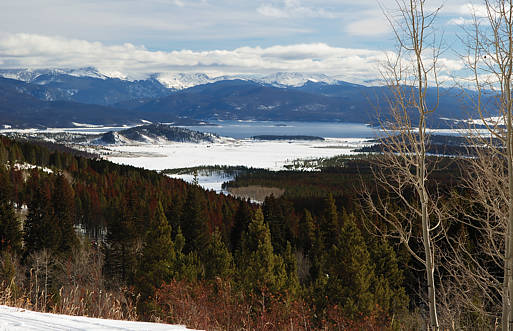 Welcome! With this series, we are going to show you some amazing
snowmobile (and summer 4-wheelin') routes to fine homes for sale.
The Trail Creek Estates area has a somewhat hidden National Forest
access that is a boon to property owners in the area. There is no parking
at the Forest access; its use for the general public has not been encouraged,
so please don't overwork it. Respect the property rights of the homeowners
and ranchers. One can reach the Trail Creek Valley from the popular Idleglenn
staging area 3 miles up from Lake Granby on Road 4 (the Stillwater Pass road;
its National Forest Road number is as easy as 123). One can also start from
Grand Lake Village and take the North Supply or South Supply Creek Trails up
to groomed Road 120. From their, you can follow a giant loop around clockwise
or counter-clockwise to reach several places where you can descend into the
Trail Creek Valley. The lower part of the loop takes you through the Idleglenn
staging area. The upper loop sends you way up to treeline and tundra, past
Porphyry Peaks and through the high meadows of Pony Park. The photo
at the top is a view of Lake Granby from about 3 miles west of the
Idleglenn staging area. Click on a photo to continue another half-mile
to where you have a good view of Gravel Mountain.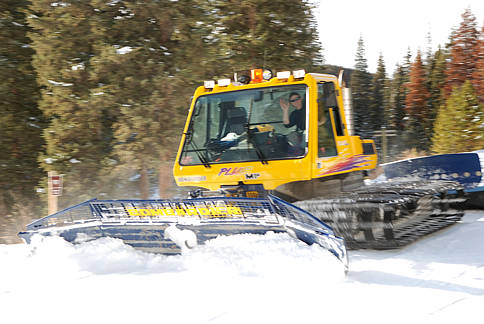 Click on photo to see Gravel Mountain and for maps. The Bombardier
machine shown here is funded by donations and operated by Grand
Lake Trail Grooming, Inc. They have also created an excellent foldout
map of the trail system that can be picked up for free from retailers or
from the Grand Lake Chamber of Commerce. Donations are appreciated
and can be sent to Grand Lake Trail Groomers, P.O. Box 1247,
Grand Lake, Colorado 80447.

..

.. return to Scenery2 page ..