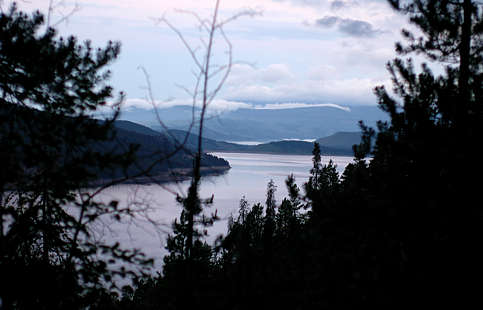 Click on photo to continue up to the Roaring Fork Stream.
Greetings, travelers and Colorado enthusiasts! This is a long series,
so dim the room, sit back and relax. We start from Arapaho Bay,
where Lake Granby reaches into the Indian Peaks Wilderness.
There is an excellent campground here by the Roaring Fork Stream.
Monarch Lake is a little farther to the east. We are going to show an
almost never traveled route from here to Grand Lake through some
of the deepest and wildest wilderness in Colorado. We will trek to the
very end of Hell Canyon and cross over into Paradise Park, a trailless
bio-reserve closed to camping and dedicated to scientific research.
Will O'Donnell and I made this trip on June 29 and 30 in the year 2005.

Click here to jump ahead to the remote entrance to Paradise Park.
.. return to Scenery2 page ..