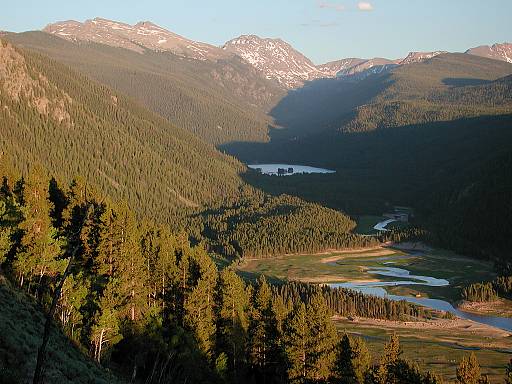 Click on photo for an evening view of Arapaho Peak in the distance.
The upper lake is Monarch Lake. We are about to meet the Continental
Divide Trail that runs along Lake Granby from Grand Bay to Arapaho
Bay. The remaining portion down is the extremely steep Knight Ridge.
Its southern slope has an astonishing array of plants from cacti to alpine flowers.
An alternative route (particularly if you are ascending from here) would be
via the Roaring Fork Trail on the far side of the tricky stream. Once upon a time
there was a town in this valley with a railroad track to it that is now part of
the gunbarrel from Granby to Grand Lake. At the southern end of Lake Granby,
you can turn off of Hwy. 34 and head east to the Indian Peaks. In the center
of the photo below there is a very nice campground for families. You can walk
your children to where this image was captured and watch it change.