Scroll far down the page to see everything.


Building E is to the far left. Scroll down to see the views across the meadow towards Lake Granby. Each dwelling includes the floors over it.
Click on a photo to see inside the tri-level, one unit in from the end of Building E shown here.


Affordable Soda Springs Ranch Club condominium kept to original specifications.
Located in Building E with particularly good views towards Lake Granby. Two bedrooms on upper level.
Great Room and bath on mid-level. Garage, laundry area and kids hideout area on lower level. $139,000
#226 Road 442 (Heritage Ranch Road). Soda Springs Ranch filing one, unit 4E. R183590


Scroll down to see more of the lake and meadow to the right.



Across the meadow one has a fine restaurant, the Stillwater Grill. A short walk up from the fire station to the far left one has the Roadhouse restaurant and bar.
Public park land and fishing spots along Lake Granby are a little beyond the fire station. Scroll down for a map of the area.



Click on map to see inside the Soda Springs Ranch Club condominium featured here in Bldg E at the top of the map and Soda Springs meadow.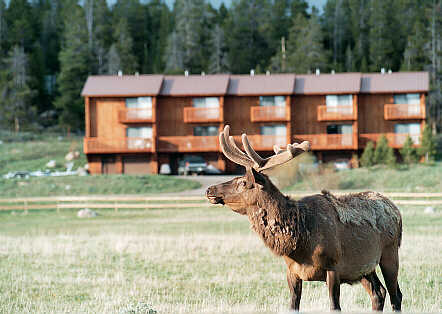 The Soda Springs meadow joins up with ever larger measures reaching deep into Rocky Mountain National Park.
The whole Kawuneeche Valley flows to here.


..


.. return to list ..