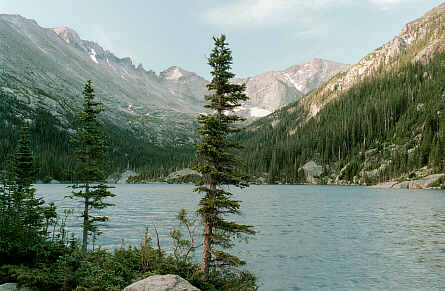 This lake is named after Enos Mills, poet, photographer and founder
of Rocky Mountain National Park. It is 2½ miles up the Glacier Gorge Trail.
To hike this trail, you first park your car about ½ mile before the popular
Bear Lake area on the east side of Rocky Mountain National Park.
Bear Lake Road joins Trail Ridge Road (aka Hwy. 34) near the Park's
visitor center on the east side. Start early so that you may journey deep into
the picture. The mountains at the far end are less than 3 miles away.
Click on photo to see an Alpine Water Slide right up the trail.
.. return to scenery list ..