Scroll far down the page to see everything.


Scroll down to see more to the right and for views of the site from its road frontage.

Half acre home site on a small hill within listening distance of the Colorado River.
You'll love the wide views of the mountains rising over Shadow Mountain Lake.
Hidden a short ways upstream of the bridge close to Grand Lake Plumbing,
2.8 miles south of Grand Lake. Ready for your dream home. $39,900
#1011 GCR 465 (Lakeview Drive). Pine Beach: West part of Lot 1, Block 1. R179961



Alpenglow climbs the slopes in the evening and joins the sky. From here ,one can see the Continental Divide at the far end of Summerland Park.
Snow melt from the high pass leading towards Estes Park flows into Grand Lake's North Inlet Steam.
Scroll down to look up at the home site from its road frontage just past the short trees directly ahead.



Scroll down for two glimpses of the Colorado River from the property corner to the left on top.



Scroll down to see a bit more of the river's dark thread in the deep valley to the right.




The river flows around huge boulders and creates a wide range of sounds and patterns through our seasons.



Click here for a video of this portion of the river.
Video starts with a tiny stream that has not yet made it to the river . . .


Drill a well for water. This area is known for great clear cold water and lots of it! Public sewer is a few hundred feet away; tap fee is $9,600.
The little stretch from here to Highway 34 is not county maintained. A lot of snowplow guys are for hire in the area so you need not maintain it by yourself.

A short walk from the home site to the other side of Highway 34, you can enjoy Pine Beach Park,
a hidden gem of a day-use park that is right where the Colorado River spills into Shadow Mountain Lake.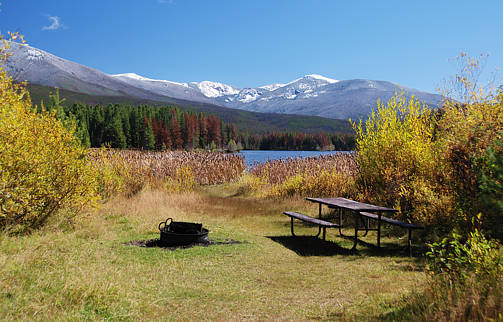 ..

.. return to list ..