Scroll far down the page to see everything.


Scroll down to see the views from the deck and the large yard with room for expansion.

Honeymoon Cottage overlooking Columbine Lake with Mount Baldy centered in your view.
As winter gives way to summer, the lake below changes from looking like a big white meadow
to a blue fishing hole beckoning you to slip out onto its quiet waters in a kayak or canoe.
Great Room with new kitchen. Lower level has a cozy bedroom, bath with shower and a laundry area.
Lots of storage space under the deck. Steps outside lead to a firepit. $279,000
# 35 GCR 4980 (Kinnikinnick). Columbine Lake: Lot 128, Block 8. R156480



Scroll down to look up at the home from its property corner below and off to the left.



The land stretches from from here to the home. The level area at the bottom makes for a great campfire area.
Owner has a new and detailed topography map to help you plan an addition in the future that can be fitted next to the shaded north side of the home (to the right in the photo above).
Scroll down to see the home from its driveway at top.



Home is surrounded by majestic Alpine Fir, Engelman Spruce and aspen, some almost a foot wide in diameter.
Scroll down to walk up the path to the front door and deck.



Scroll down to zoom in on Mount Baldy and Paradise Park to its right side. Click on a photo to step into the home.




Click on photo to step into the home with this view.
.....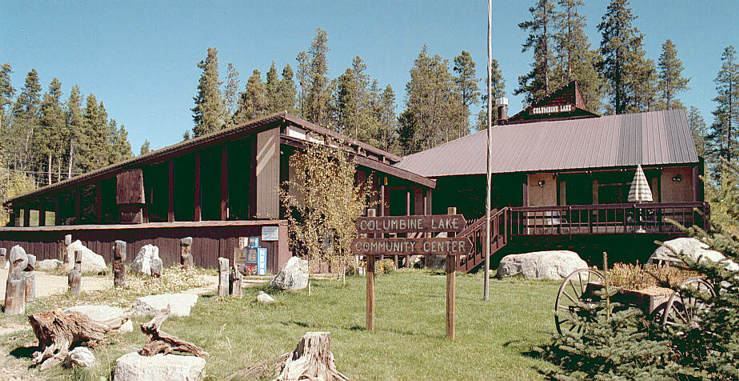 Click here for a tour of the Lake accesses and Club House for owners in the Columbine Lake area.

Photo from owner showing Columbine Lake dappled like a painting.


Click on moose to walk in from the deck and step into the home's Great Room.

..

.. return to list ..