Scroll far down the page to see everything.


Scroll down to see the far side with its boulders being added. Click on a photo to see inside the home.

Hummingbirds will soon return to this landscaped property with waterfall and moss rock garden.
Ideally located close to Grand Lake's Golf Course and cross country ski trails.
Five minutes from Grand Lake Village and from National Park and snowmobiling.
Views of the Never Summer Mountains and the top of Mount Baldy!
3+ bedrooms, 2 full baths, separate hobby room, storage garage, covered drive-through snowmobile area.
Circle driveway offers plenty of parking. 2300 sq. ft. of living space (3 sources of heat). Over an acre of land. $339,000
#78 Road 4951 Lot 12, Block 1, Winding River Villa R160260
This site, located in the cradle of a Colorado River Valley has its own columns and flows of air over the Kawuneeche Valley.
On a Winter's morn, snow crystals gently descend through ever thicker and cooler layers of air. The flakes grow quickly
as they touch down on the almost steamy valley floor. They may continue to expand as they rest on the ground attracting more water into their fantastic, six-sided shapes.
On a clear morning with no clouds in the sky, flakes can be seen shimmering as columns of twinkling fairy dust twirling in the direction of the sun.
The home featured here receives some of the finest boutique powder snow in Colorado as shown at this website : RealSnowflakePhotography.com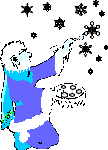 Photos here shows the landscaping in progress; it is complete and lovely now. Scroll down for a winter view to the Never Summer Mountains.



Unlimited snowmobiling from here to Wyoming on a fair day. Scroll down for a fall view to the northwest.
One also has views of the tops of mountains like Ptarmigan and Mount Baldy to the east.



Scroll down for a wide views of the driveway & level parking areas.



Scroll down for two views of the home with its heavy rock work being set in place.



Thousand pound moss-rock boulders hold the transition from this lower portion of the land to its upper portion to the left.
Scroll down to see the path rising up to the front door on the sunny side to the right. Click on a photo to see inside the home.



Large stone steps invite guests to the door. Scroll down to see the protected drive through area for snowmobiles along one side of the home.



Scroll down for close views of the handiwork in the landscaping.



This waterfall is on a YouTube video followed by a drinking scene with humming birds.



These fine plants will sleep under Winter's blanket of snow and dream of returning, renewed for next summer.



Scroll down to see one of the wild neighbors.




Tap on me to see inside the home while I stay our here and keep an eye out for everything.
Call Mountain Lake Properties: 970-627-3103 to personally see inside the home.


..


.. return to list ..