»» .. to splash page »» www.MountainLake.com ««



Trail Ridge Road on June 7, 2011 from Grand Lake to Estes Park side of Rocky Mountain National Park.
Learn how snow is made and follow the water. High Definition: 12 minutes. Allow time to buffer.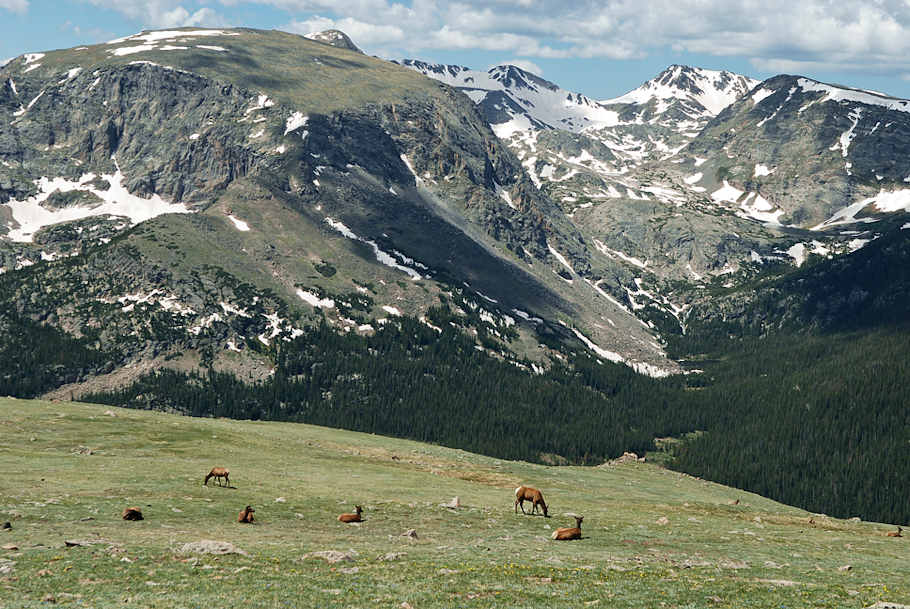 A big part of driving Trail Ridge Road is seeing the wildlife in their majestic setting. Scroll down for more.
Click on a photo to see the actual road and some of its many features.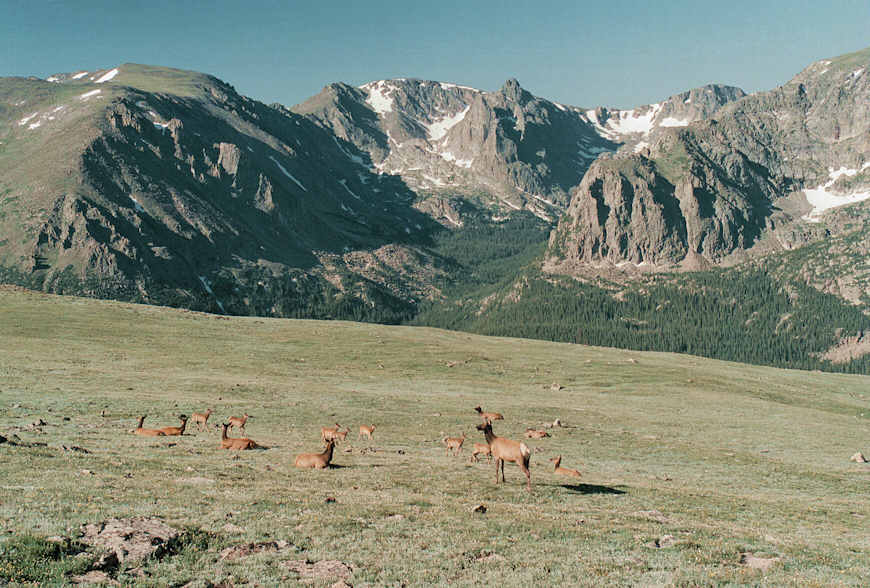 Scroll down for more elk, tundra flowers and marmots!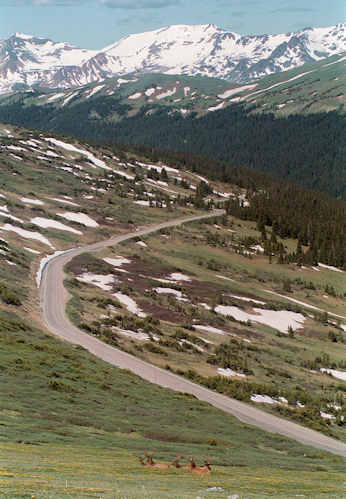 The landscape is so immense, that you may miss
seeing some of the animals that are right in front of you. Scroll down to zoom in the photo above.
This photo by www.MountainLake.com has been used with permission on a Colorado road map
for many years. Click here to » jump ahead in the presentation to »» HEAR an Elk Bugle ««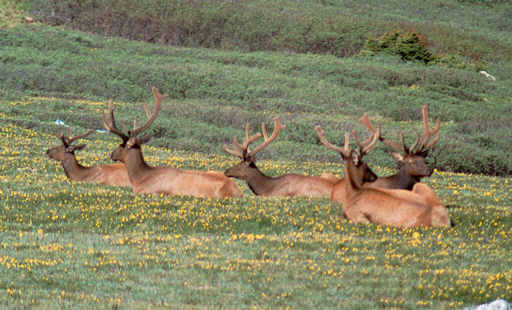 Scroll down to see wildflowers.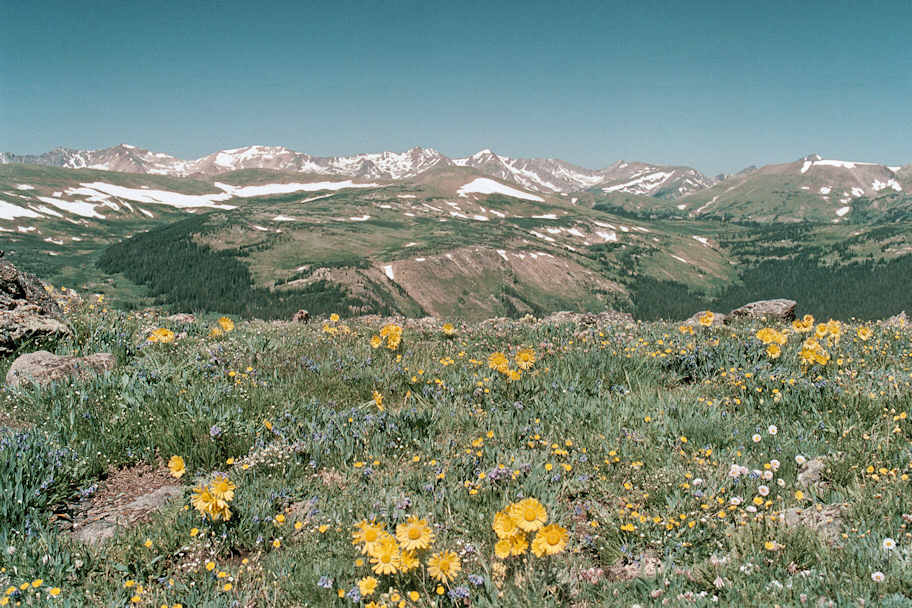 Old-Man-of-the-Mountain wildflowers bowed eastward as usual. The Never Summer Mountains
are in the far background. These are the only tundra flowers with such a broad head. Behind each head
is a hoary coat of fibers giving it the Old-Man name. These sunflowers are sometimes called Sun Gods
or Rydbergia grandiflora. They bloom only once, after several years of preparation, and then they die!
Scroll down to see miniature flowers.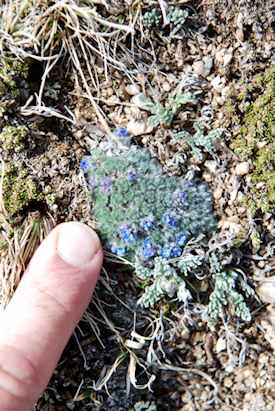 Alpine Forget-Me-Nots. Scroll down ...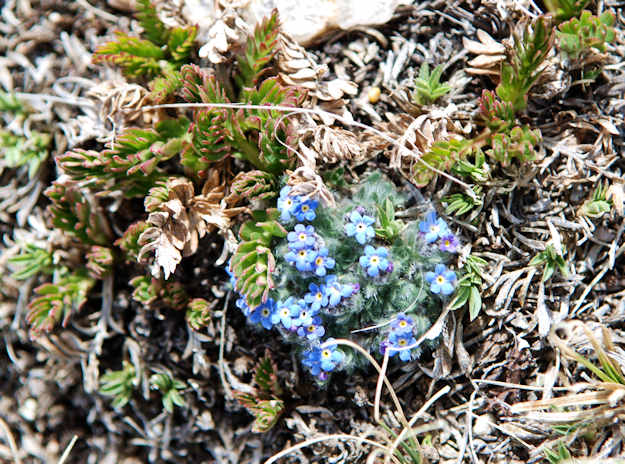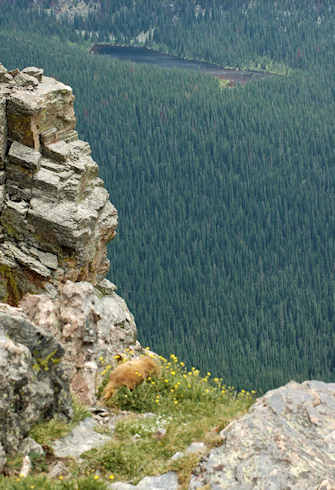 A few feet from the 12,183 foot high rock cut
at the top of the road is a thriving colony of marmots with fine southern exposure ...
and extreme winds. Scroll down to meet some of the family members.
Click on a photo to see the nearby road.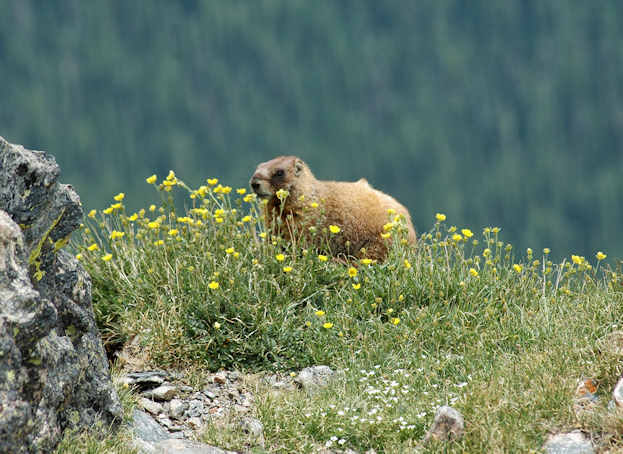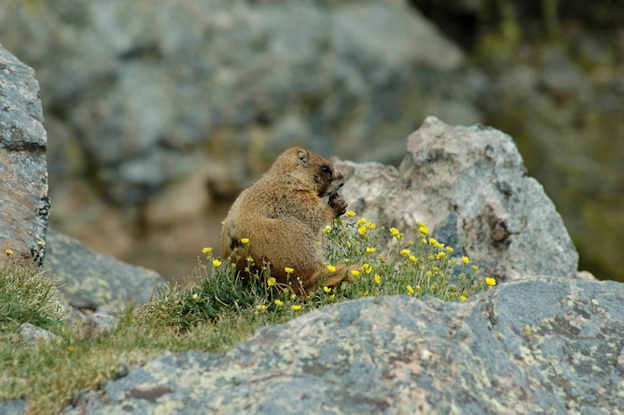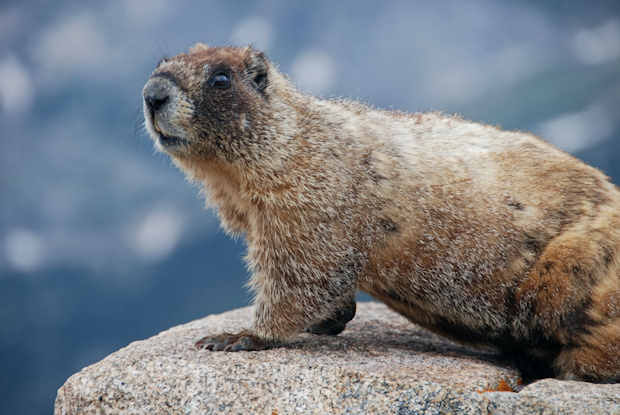 Click on me to see the road near where I live. From about mid-October through May,
the high road is closed and hidden by a very thick blanket of snow. It is the highest
continuous paved road in The United States. It maintains its elevation over 12,000
over many miles of rolling tundra. Click here to »» see the road.
Get some mountain driving practice first ...


Relish the Drive over Berthoud Pass. Put FUN back into your driving!
Click here for your special How to get to Grand Lake guide!
Here's to wishing you many pleasant driving experiences and for you to visit Grand Lake often
and to give your car and self opportunities to relax at your own Mountain Lake property.


We have our own channel now to bring Grand Lake to you.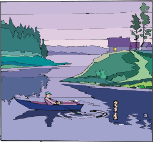 Jump to Homes ... Land ... Businesses ... Weather .. What'sNew



to .. Main Menu .. .. to Real Estate choices ..
Enjoy this media while you peacefully dream of visiting Grand Lake.
»» .. to splash page »» www.MountainLake.com ««
..
Please do not save photographs without explicit permission from Mountain Lake Properties.
© Text & Structure of this site is Copyrighted 5/1/96.