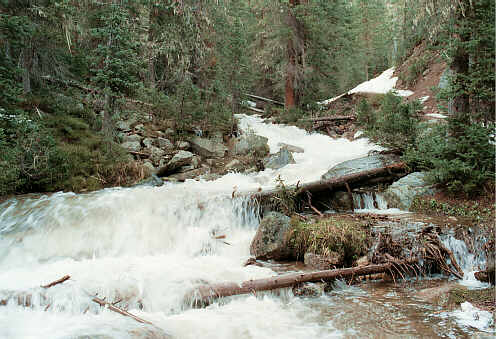 Pinnacle Pool is deep in the Never Summer Mountains with a trail for only
the first half of the journey from the Colorado River to the Grand Ditch. The
trail crosses Opposition Creek twice. On June 19, 1997, the first bridge was
almost washed out. The photo above is from the second bridge, 700 feet higher.
In this area (called "Hell's Hip Pocket"!) the trees were draped with lichen and
the air was cold. Snow was on the path as shown to the right, but further up,
there was no snow. Click on photo to arrive at the top of the trail at the Grand
Ditch. This trail used to be called the Red Mountain Trail but the Park's sign
now just says Grand Ditch: 2.8 miles. At the Grand Ditch a sign points down
and says Colorado River Trail: 3.1 miles.
.. return to scenery list ..